These fresh and healthy fish taco bowls are filled with blackened white fish, corn and black bean salsa, and topped with cilantro avocado crema!  On the table in about 30 minutes for a quick and easy dinner idea! 
These Blackened Fish Taco Bowls are a winner when it comes to weeknight dinners!  We love easy main dishes, like my Honey Lime Shrimp, and Honey Garlic Salmon. This is one of my Dinner recipes you'll definitely want in your recipe rotation!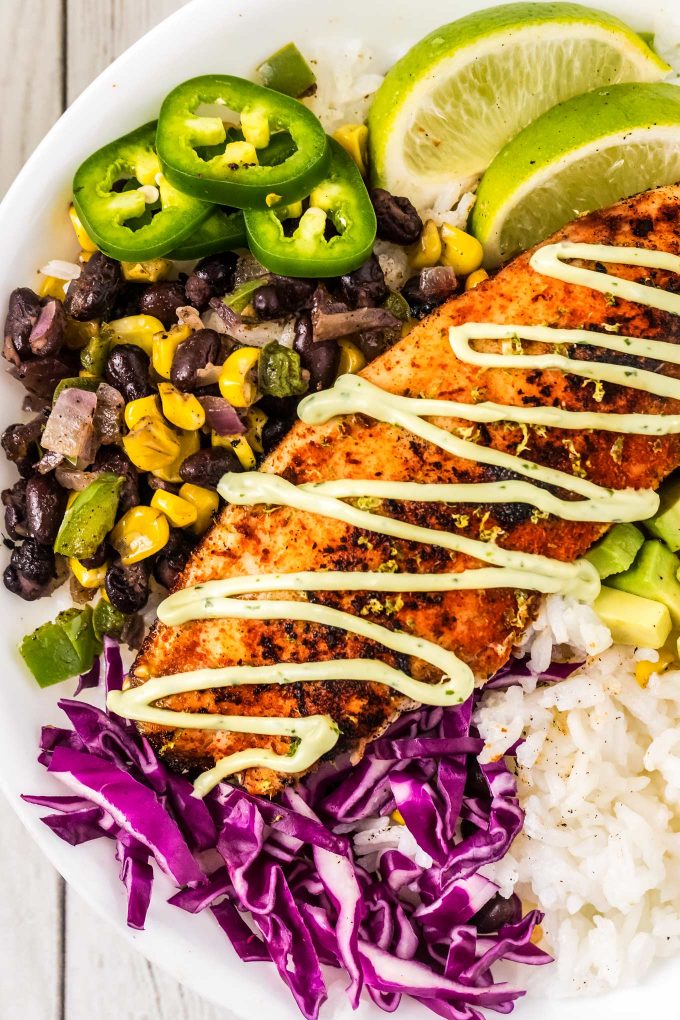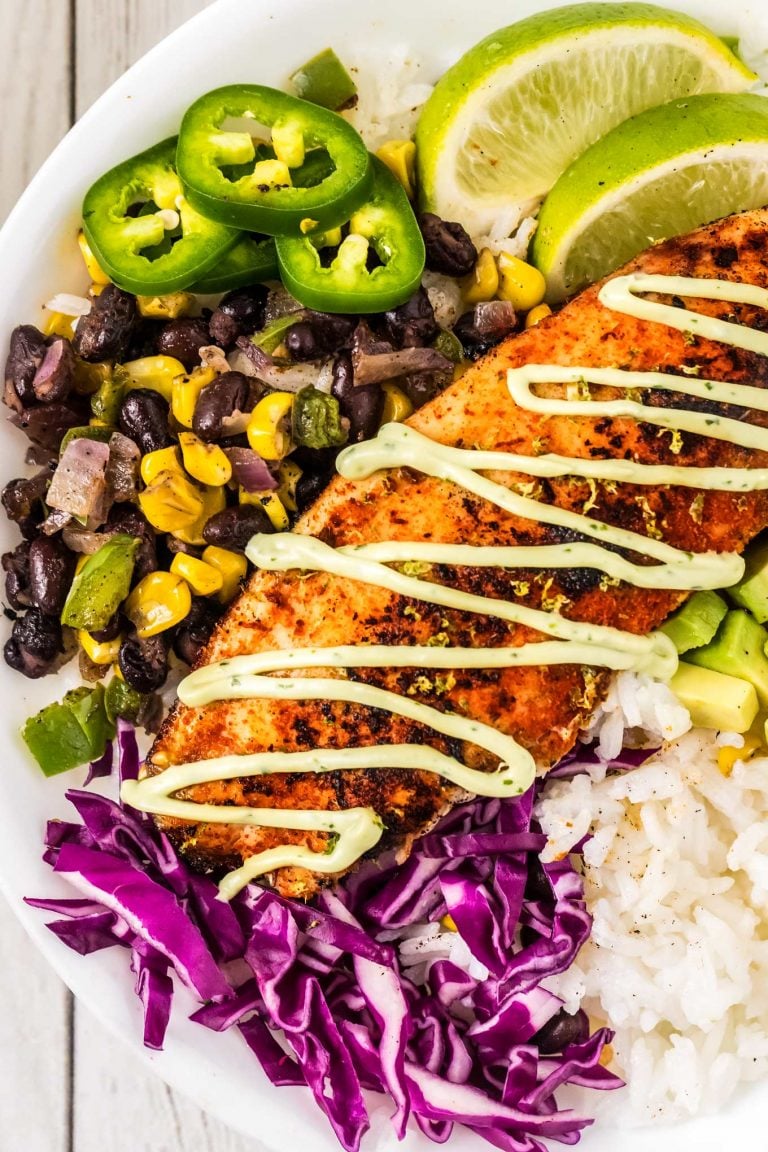 FISH TACO BOWLS
Growing up, and honestly into most of my 20's, I wasn't much of a seafood fan.
Living in Ohio, there's not exactly a huge abundance of fresh seafood lol.  And I think that's been my problem… when I'd tried fish in the past, it was frozen and/or not very fresh, and just tasted… well, not good.
So from now on we make sure to pick up only fresh fish, and I'm enjoying trying new and fun ways to incorporate fish into our diet.  Especially now that this chunky chef is on a mission to be a bit less "chunky" lol.
White fish is such a great source of low-fat protein, as well as various vitamins and minerals.  Something we all could use more of.
This recipe isn't a new one, in fact, it's been on the site for 5 years now… but it needed a serious makeover, as well as some much needed additional information.
It's LOADED with fresh, bold flavors, as well as being so versatile!  Turn it into a taco (or use lettuce wraps), a salad, rice bowl, or just dive in with a fork.
HOW TO MAKE
Making this recipe involves 3 parts, but I promise it's easy!
Make the crema. Just combine the crema ingredients in a food processor and give it a whirl.  Easy peasy.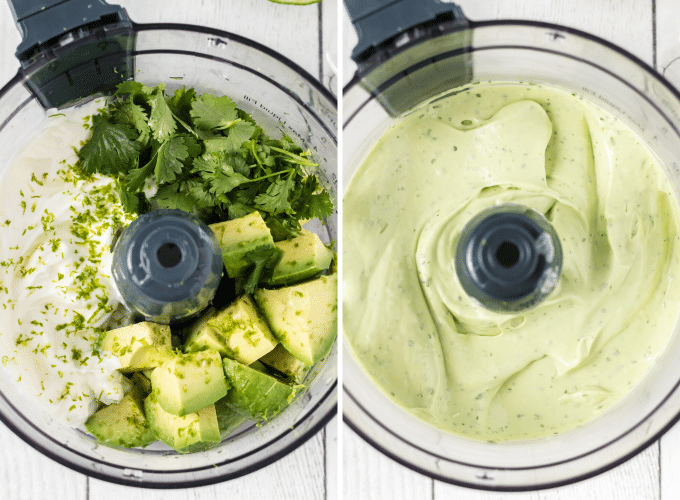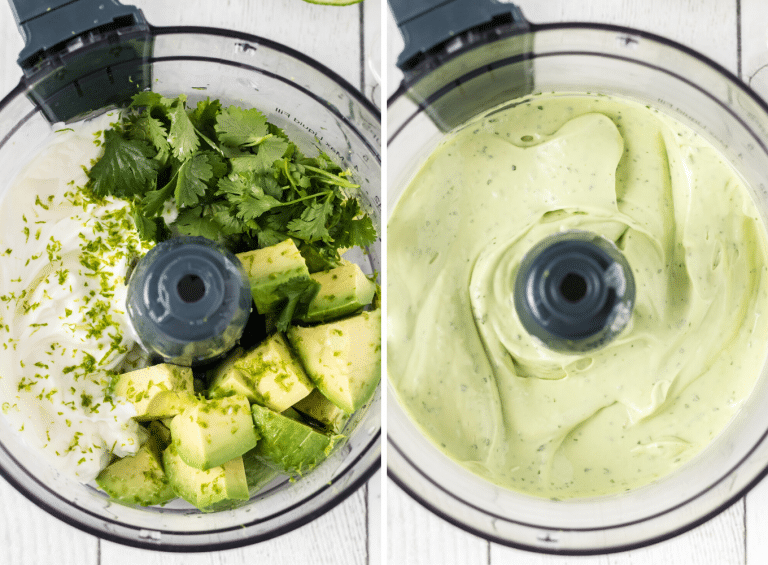 Season the fish.  I like to combine my seasonings in a small bowl first so I know they're evenly dispersed over the fish, then really rub them into the filets.
Cook the fish filets.  Heat a skillet over MED HIGH heat with a drizzle of oil, then add garlic and cook just a few seconds.  Add 2 fish filets and let them cook, undisturbed, for 2-3 minutes.  Flip and cook another 2 minutes.  Repeat with any remaining filets.
Let the fish rest.  Transfer the fish to a plate and sprinkle with lime zest.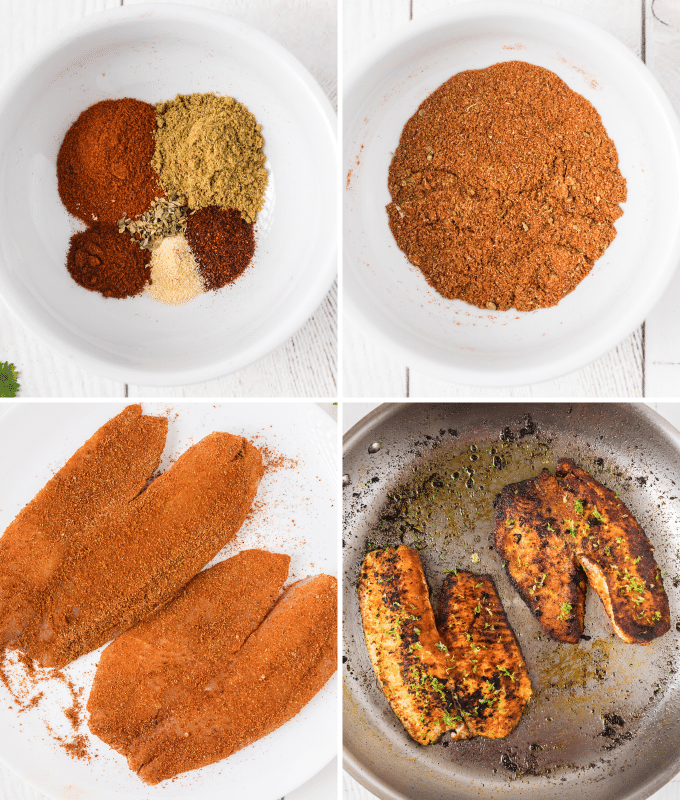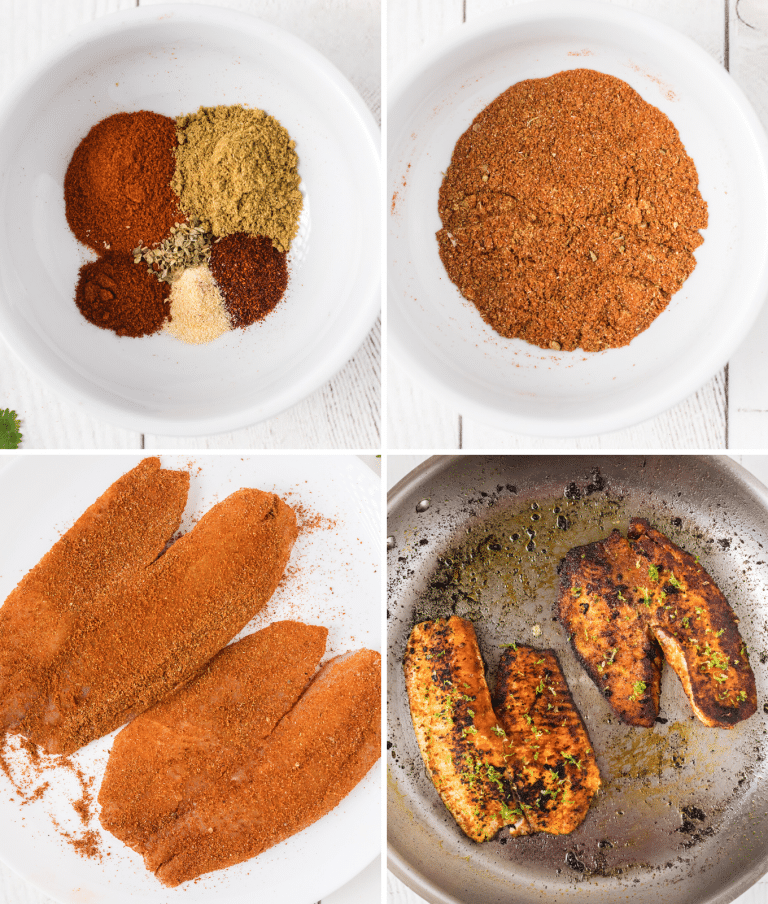 Cook the salsa.  Add the corn, onion and pepper to the same skillet and cook a few minutes until tender and slightly caramelized.
Stir in beans.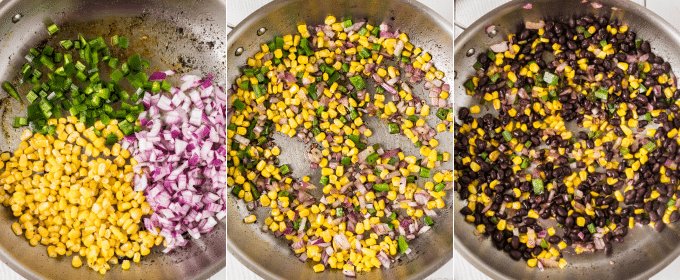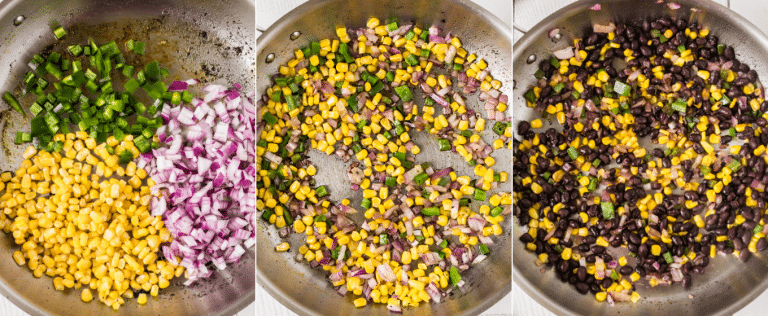 Assemble the bowl.  If you're using any rice, add it to a bowl, then top with corn salsa, fish, a drizzle of crema, and any toppings you like.
ADDITIONAL COOKING TIPS FOR FISH RECIPES
Buy good fish – I prefer to buy fresh fish from the grocery store, instead of frozen filets in bags, since those tend to be very thin.  Cooking Light has a great article on how to pick the best fish at the grocery store.
Use it quickly – Fish can go "off" or bad pretty quickly, so I prefer to buy my filets no more than 1 day ahead of time.
To skin or not to skin – I prefer to buy fish filets that are skinless, as we don't love the texture of fish skin.  But if you like it, by all means, pick the fish that you like 🙂
Don't overcook – Fish is prone to overcooking, and the line between not done enough and dry and overdone is pretty fine.  The USDA recommends fish be cooked to an internal temperature of 145 F degrees.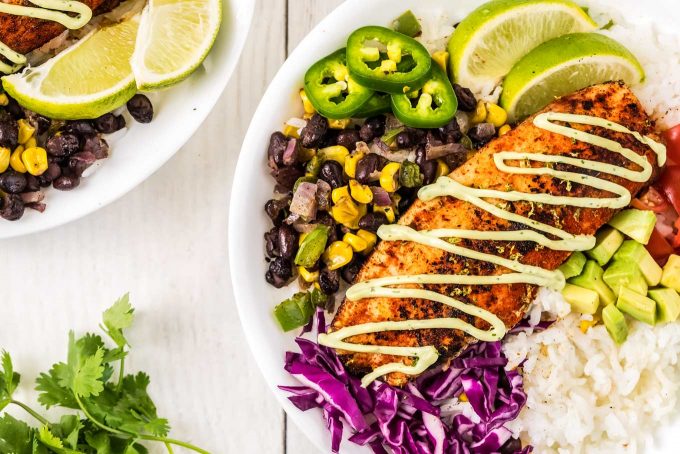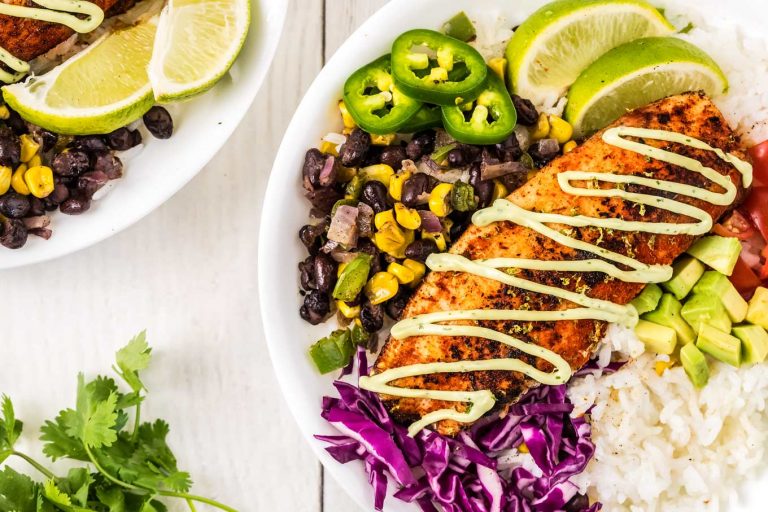 VARIATIONS OF THIS RECIPE
PROTEIN – I prefer to make this with a flaky white fish, like tilapia, cod, haddock or halibut.  Not a huge fish fan?  No worries, you can try this recipe with thinly sliced chicken, pork, or even shrimp!
RICE – I like to serve this dish over some Cilantro Lime Rice, white rice, brown rice, or even cauliflower rice when I'm watching my carbs.
SALAD – this combo of the blackened fish, corn salsa, and the avocado crema is great over some chopped romaine lettuce for a boldly flavored salad!
TACOS – this combination is fantastic in a traditional taco as well!  If you try this, definitely think about making my Homemade Flour Tortillas, the flavor is amazing and they're really easy to make.
SPICY – I would say this dish is between a mild and medium heat level, but if you'd like to ramp up the heat a bit, feel free to add more cayenne to the seasoning mix, add more jalapenos (or try a serrano) to the corn salsa.
MILD – to lower the heat level in this dish, you can reduce the amount of cayenne pepper in the seasoning, and/or use a green bell pepper in the corn salsa instead of the jalapeno.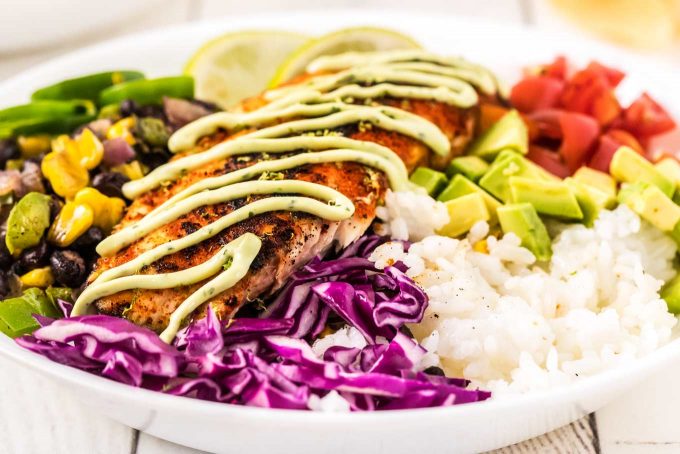 MAKING FISH TACO BOWLS AHEAD OF TIME
I think the flavor of white fish is best when made right before eating, and the same with the corn salsa.  However, if you're serving this over rice, that can definitely be made ahead of time.  The crema can also be made ahead of time and kept refrigerated.
All toppings and garnishes can be chopped ahead of time as well, with the exception of avocado, that's best to chop right before serving.
STORAGE
Leftover should be refrigerated in an airtight container and consumed within 3-4 days.
SPECIAL EQUIPMENT FOR THIS RECIPE
12″ wide skillet – I love this pan, and it's plenty big enough for you to cook the tilapia filets without overcrowding.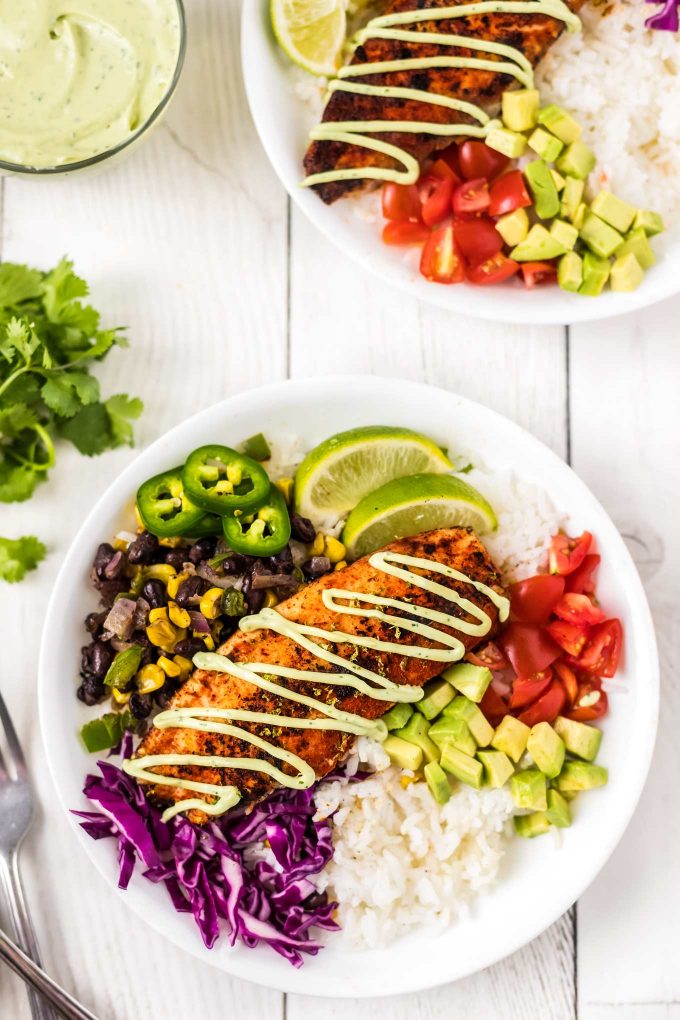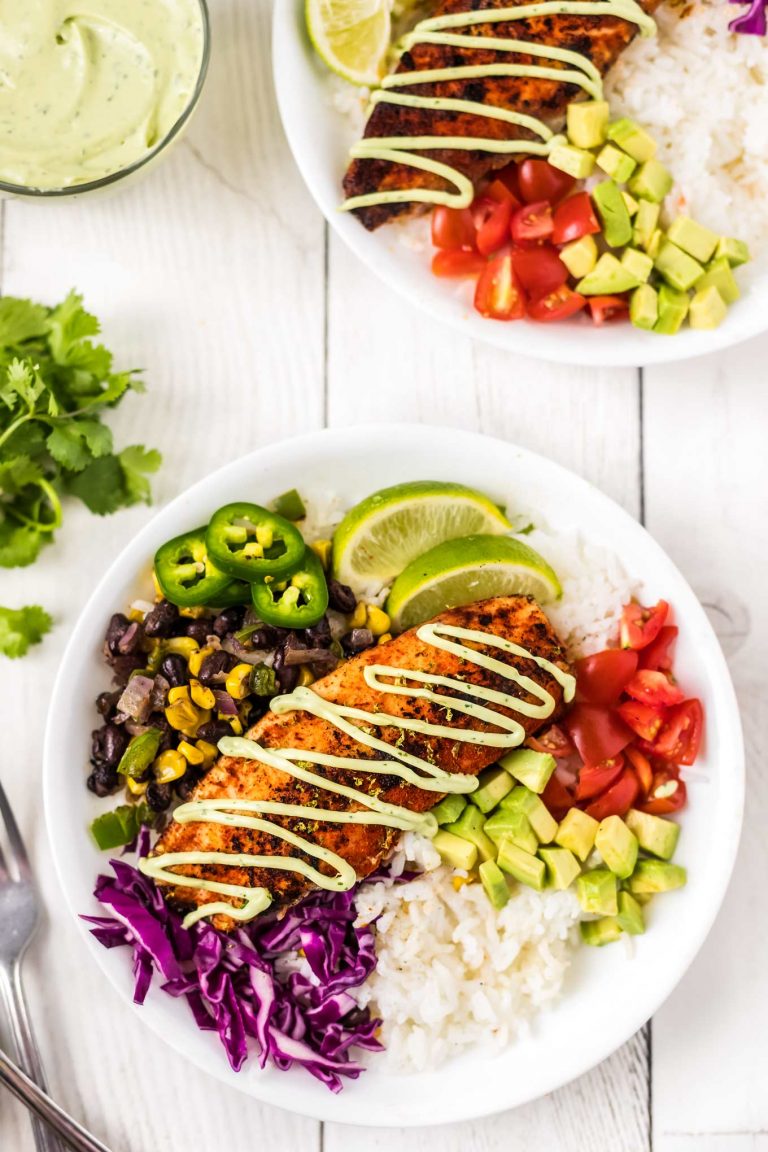 BE SURE TO SCROLL DOWN TO CHECK OUT OTHER READERS' COMMENTS FOR TIPS AND REVIEWS.
AND DON'T FORGET, IF YOU'VE MADE THIS RECIPE, LEAVE A COMMENT AND PLEASE GIVE IT A STAR RATING LETTING ME KNOW HOW YOU ENJOYED IT!
Did you make this? Be sure to leave a review below and tag me @the_chunky_chef on Facebook and Instagram!
These fresh and healthy fish taco bowls are filled with blackened white fish, corn and black bean salsa, and topped with cilantro avocado crema! 
Ingredients
AVOCADO CREMA
1 avocado pitted and roughly chopped
1 cup sour cream
1/4 cup fresh cilantro
zest of 1 lime
Juice of half a lime
pinch of kosher salt and black pepper
BLACKENED FISH
1 Tbsp chili powder
1 Tbsp cumin
1/2 tsp cayenne pepper or less, to taste
1/2 tsp smoked paprika
1/4 tsp onion powder
1/8 tsp dried oregano
1/2 -1 tsp kosher salt more or less, to taste
1/2 tsp black pepper
Zest of 1 lime
4-6 tilapia filets or other white fish filet of your choice
3 cloves garlic minced
drizzle of vegetable oil
CORN SALSA
1 cup corn kernels if using frozen - thaw them
2/3 cup red onion diced
1 jalapeno seeded and finely diced
10 oz can black beans drained and rinsed
TO SERVE
Fresh cilantro, diced avocado, shredded lettuce, shredded purple cabbage, lime wedges, sour cream, etc whatever you would like
Instructions
CREMA
Combine all crema ingredients in a food processor and pulse until smooth and creamy.
FISH
Combine seasonings (chili powder, cumin, cayenne, paprika, onion powder, oregano) in a small dish, then rub seasoning mix into the fish filets.

Heat a large skillet over MED HIGH heat with a drizzle of vegetable oil.  Add minced garlic and saute for about 20 seconds.  Then add 2 tilapia filets.

Once you add the filets, don't move them, let them really sear.  Cook for 2-3 minutes, then carefully flip over and cook another 2 minutes or so.

Fish should be cooked until opaque, white and flaky throughout.  Remove filets to a plate, sprinkle with half the lime zest and repeat with remaining filets.
CORN SALSA
Add another drizzle of vegetable oil to the same skillet, still over MED HIGH heat.  Add corn, red onion and jalapeno to the skillet.

Cook for 1-2 minutes without stirring, really letting them sear.  After 1-2 minutes, stir and cook another couple of minutes until they're tender and caramelized.

Add black beans and cook another minute.
ASSEMBLE
Add rice (if using any) to a bowl, then top with some of the corn salsa, pieces of blackened fish, a drizzle of avocado crema, and any additional toppings you'd like.
Want to save this recipe for later? Click the heart in the bottom right corner to save to your own recipe box!
Nutrition Disclaimer
The Chunky Chef is not a dietician or nutritionist, and any nutritional information shared is an estimate. If calorie count and other nutritional values are important to you, we recommend running the ingredients through whichever online nutritional calculator you prefer. Calories can vary quite a bit depending on which brands were used.