Soft, pliable, and sturdy, these Homemade Flour Tortillas are made from just 5 simple pantry ingredients (and no yeast – so no rising time!). So much better than store-bought, and they're also make-ahead and freezer-friendly!
This is one of my Pantry/Kitchen Basics recipes I know you'll want to keep on hand! These recipes are great homemade alternatives to store-bought items.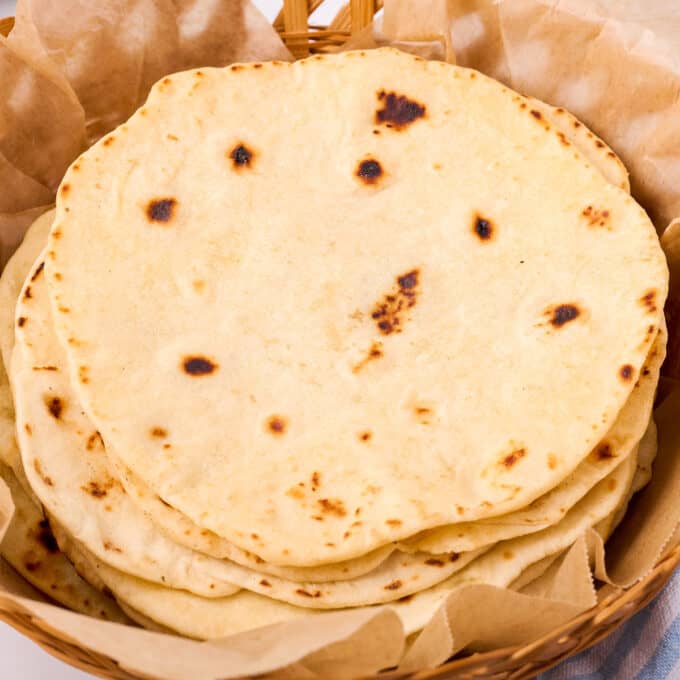 I know flour tortillas are readily available in grocery stores, and they're certainly convenient!
But if you've never made your own, you should try it at least once.
I promise it's not as difficult or as much work as you might think, and it's actually pretty relaxing and rewarding!
Plus, I think they taste absolutely incredible!
They're made using very simple ingredients that you probably have in your pantry, are perfect for making ahead of time, and are freezer-friendly.
How to make homemade flour tortillas?
This is just an overview; the full ingredients and directions are in the recipe card toward the bottom of this post.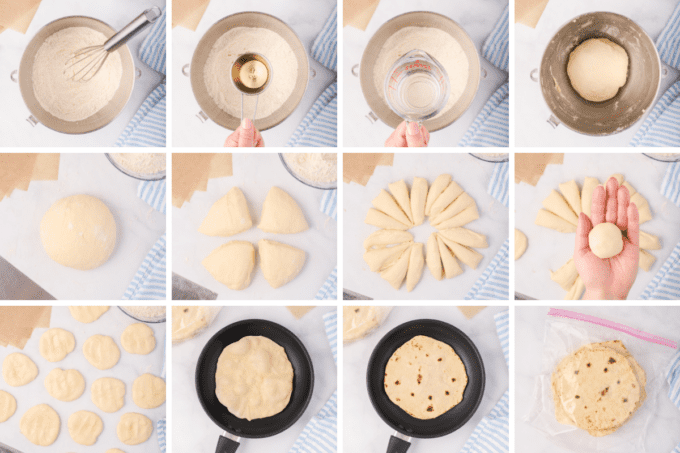 Combine dry ingredients. For this recipe, that's the flour, salt, and baking powder.
Add wet ingredients. I find it works best to make a well in the middle of the dry ingredients, and add the oil and water there.
Stir and knead. Stir until a loose and shaggy ball shape forms, then knead until a smooth ball of dough forms.
Cut. Cut the ball into 4 sections, then each section into 4 more sections.
Flatten and roll. Don't worry if they're not perfect circles!
Cook. These tortillas don't take long, so stay close to your stove.
Keep the tortillas warm. Adding the cooked tortillas to an airtight container keeps them soft and pliable so you can enjoy them right away.
Helpful Tip!
Be sure to watch for flour accumulation in the skillet, as it can start to burn. I recommend wiping out the skillet with a damp paper towel or kitchen towel after every 2-3 tortillas.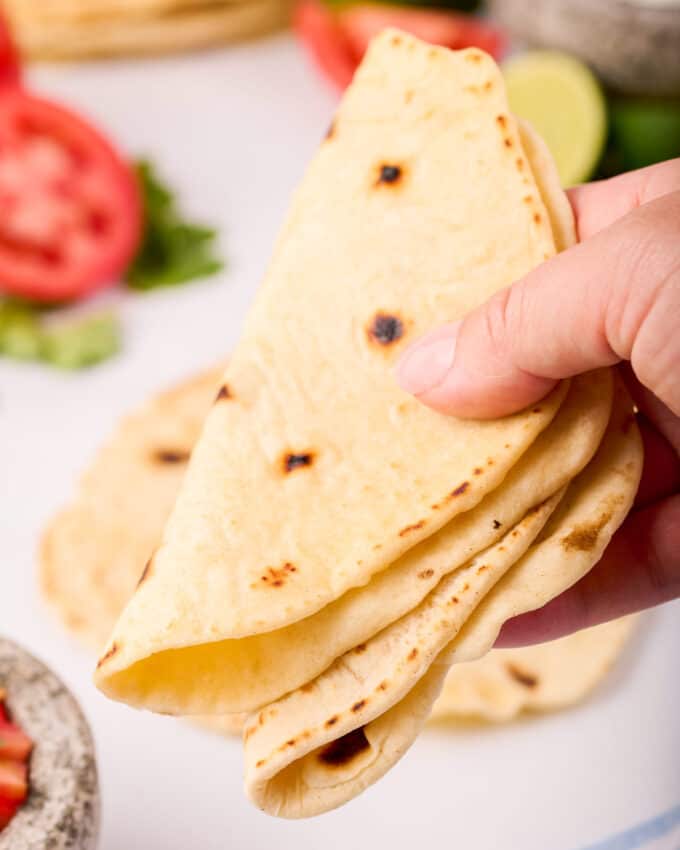 Variations of this recipe
Alternate fats – you'll want to use a neutral flavored oil, so we recommend vegetable, avocado, canola, or possibly coconut oil. Extra virgin olive oil and even melted butter will also work well.
Thickness – feel free to roll the tortillas a bit thinner or thicker than I have. Just keep in mind, that the thicker the tortilla, the less tender they'll be.
Skillet – you can use any skillet you'd like to cook the tortillas, no need for anything fancy. I like to use a skillet with a heavy bottom so the heat distribution is even.
Mixer – if you have a stand mixer, you can certainly use it for this recipe. The mixer can do the kneading for you, but a mixer is definitely not required to make these tortillas.
FAQ's
What's the best flour to use to make flour tortillas?
This recipe uses plain ol' all purpose flour, so no need to buy anything fancy. I haven't tested making these with other types of flour, so if you decide to experiment, feel free… just know that I can't say how the tortillas will turn out.
Do you need a tortilla press to make homemade tortillas?
Absolutely not. You can certainly use one if you have it, but there's no need to go buy one. This recipe is written using common tools most households would have; just a skillet and a rolling pin.
Making flour tortillas ahead of time
These homemade tortillas can be made completely ahead of time, and kept in an airtight container (see the storage instructions below).
You can also roll out the dough for the tortillas, and store them in an airtight container in the refrigerator (keep a piece of wax or parchment paper in between each tortilla so they don't stick together), for up to 5-6 days.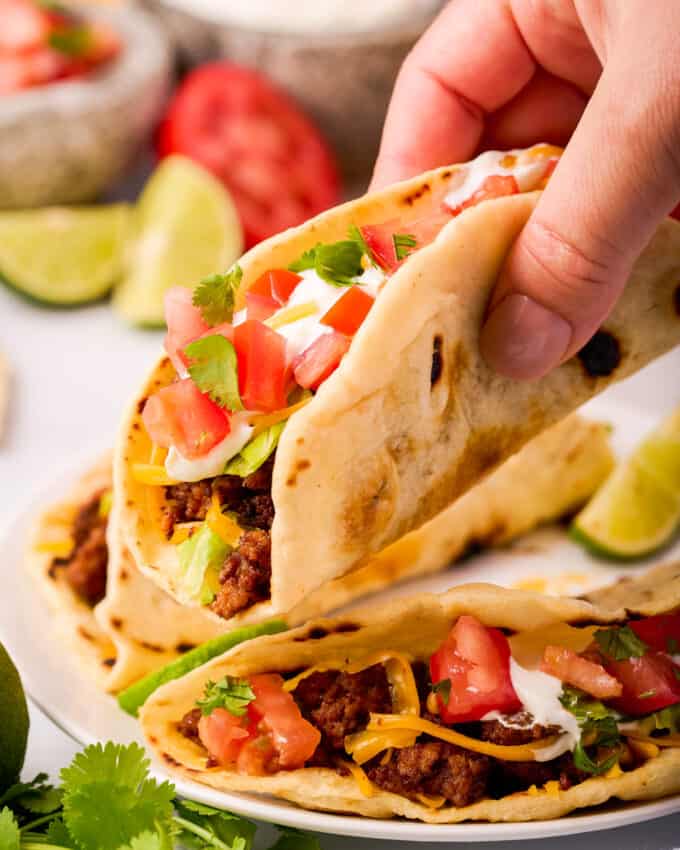 Storage
Leftover tortillas should be stored in an airtight container at room temperature for about 2-3 days, in the refrigerator for about 2-4 weeks, or in the freezer for up to 6 months.
To reheat, wrap tortillas in a damp paper towel and microwave for about 15-30 seconds, until warm and pliable.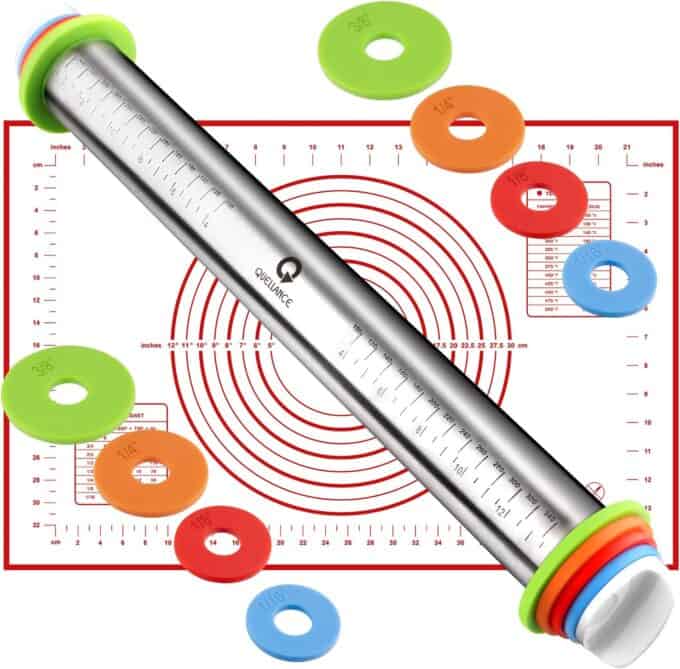 I love the adjustable rings on this rolling pin – it takes all the guesswork out of getting the right thickness, and the stainless pin is super easy to clean.
Did you make this? Be sure to leave a review below and tag me @the_chunky_chef on Facebook and Instagram!
Soft, pliable, and sturdy, these Homemade Flour Tortillas are made from just 5 simple pantry ingredients (and no yeast – so no rising time!).
Ingredients
3 cups all purpose flour
1 tsp kosher salt
1 tsp baking powder
1/3 cup vegetable or avocado oil you want a neutral or light flavored oil
1 cup warm water just warm to the touch, like bath water
Instructions
Prepare
Set out some wax or parchment paper, so the raw tortillas don't stick to the counter or work surface. Set them aside for now. Set out an airtight container, a pot with a lid (one that's just a bit bigger than the 7" tortillas), or a resealable plastic bag.
Combine ingredients
To a mixing bowl, add flour, salt, and baking powder. Whisk to stir to combine.

Make a well in the middle of the flour mixture, and add the oil and water.
Make the dough
Stir well, making sure your stirring utensil is getting all the way down to the bottom of the bowl, until there are no flour streaks remaining. Stir until the dough starts to form a shaggy loose ball shape.

Lightly flour a work surface (I use my counter), and turn the dough out onto it. Knead the dough for a couple of minutes, until it becomes a smooth dough. Shape into a ball.
Cut the dough
Slice the ball in 4 equal pieces, then slice each piece into 4 smaller pieces, so you end up with 16 similarly sized pieces of dough.
Rest the dough
Form each piece of dough into a ball, then flatten gently with the palm of your hand. Cover with a clean kitchen towel and let rest for at least 15 minutes (or up to a couple of hours).
Roll out the dough and prepare to cook the tortillas
Roll each dough ball into a roughly 6-7" circle and layer them with the wax or parchment paper you set out earlier.

If the dough keeps springing back when you're rolling it, that means the gluten needs more time to relax, so let the dough rest another 10 minutes or so and try again.

Preheat a skillet over MED heat. No need for oil or anything in the skillet, dry is what you want.
Cook the tortillas
When skillet is hot, add a tortilla to the skillet and cook about 1 minute, until the top is bubbly and the bottom has brown spots.

Flip tortilla over and cook another 20-30 seconds. Remove tortilla and place in an airtight container and cook remaining tortillas, adding them to the airtight container after they cook.

** Doing this allows the steam from the hot tortillas to keep the rest of them nice and soft/pliable **

If the skillet starts to accumulate flour, wipe it out with a damp paper towel. For best results, I like to wipe the skillet with a damp paper towel after cooking 2-3 tortillas, just so there's no risk of the flour burning in the skillet.
Serve
Serve hot/warm, or if making ahead, cool, then follow storage instructions written in the post above this recipe (just scroll up a tiny bit).
Want to save this recipe for later? Click the heart in the bottom right corner to save to your own recipe box!
Chef Tips
Prep/cook time does not include the resting time, since that will vary from person to person.
This recipe makes approximately 16  6-7″ tortillas.
Recipe from The Cafe Sucre Farine, which is from Genius Kitchen.
Making Flour Tortillas with a Stand Mixer:
Combine dry ingredients (flour, salt, baking powder) to the bowl of a stand mixer, and whisk until combined.
With the mixer running on a MED LOW speed, add vegetable oil and water, and keep mixing for about a minute, scraping down the sides of the bowl as needed.
When mixture comes together and starts to form a ball, reduce mixer speed to LOW, then mix another minute until dough is smooth.
Continue with the above cooking instructions, starting with the "Cut the dough" section.
Nutrition Disclaimer
The Chunky Chef is not a dietician or nutritionist, and any nutritional information shared is an estimate. If calorie count and other nutritional values are important to you, we recommend running the ingredients through whichever online nutritional calculator you prefer. Calories can vary quite a bit depending on which brands were used.