Amazing corn salsa that's loaded with bold flavors! Sweet corn, crunchy jalapeños and onion, buttery avocado and tangy lime juice… this salsa is perfect with a big bowl of chips, or loaded up onto tacos, burritos and more!
This is one of my Salsa recipes I know you'll want to keep on hand!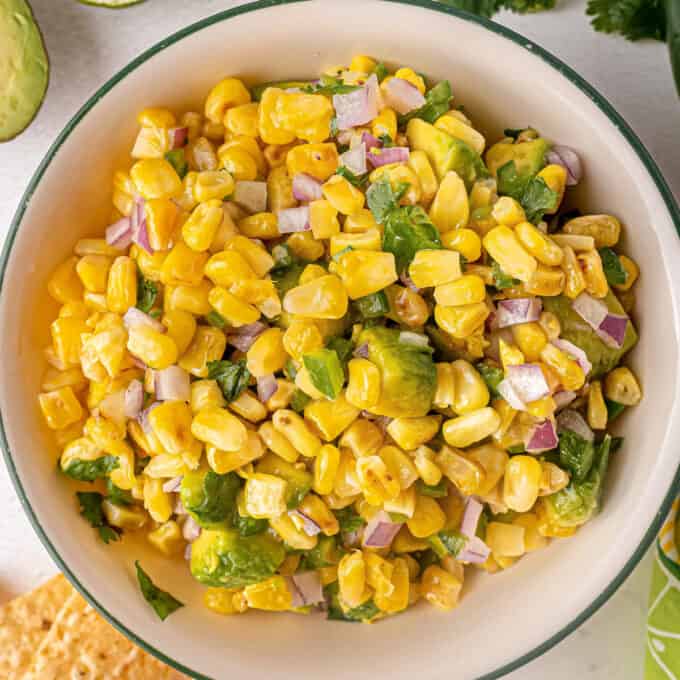 I don't know about you, but Tex-Mex style foods are some of my absolute favorites. Taco night is just about a weekly occurrence here for dinner, and whenever we go out to a local Mexican restaurant, I've discovered that I have zero self control when it comes to chips and salsa.
We love salsas of all kinds, but this avocado corn salsa is one of my favorites. It has that amazing sweet/savory/spicy flavor that I just can't get enough of!
And what's great about making your own salsa at home, is that you can control the amount of heat, the amount of sweetness, saltiness, etc.
So I consider this recipe to be more a guide, that you can tweak to make your own version of the best avocado corn salsa ever!
How to make avocado corn salsa?
This is just an overview; the full ingredients and directions are in the recipe card toward the bottom of this post.

Sear corn. This is optional, but we like the added depth of flavor it adds.
Mix. Mix together all salsa ingredients.
Serve. It's really that easy 🙂
Helpful Tip!
It can be tricky to tell when an avocado is ripe, but I have a few tricks for you.
These tips aren't foolproof, but they can help!
Look at the end – on one end of the avocado there should be a round little stem that looks a bit like a cap of a very small mushroom. If the stem comes off easily and shows green underneath, the avocado is ripe. However, if it reveals brown, the avocado is overripe.
Give it a gentle squeeze – when gently applying some pressure, the avocado should give slightly. If it gives a lot, and is squishy, it's overripe. If it's hard and doesn't give at all, it's not ripened yet.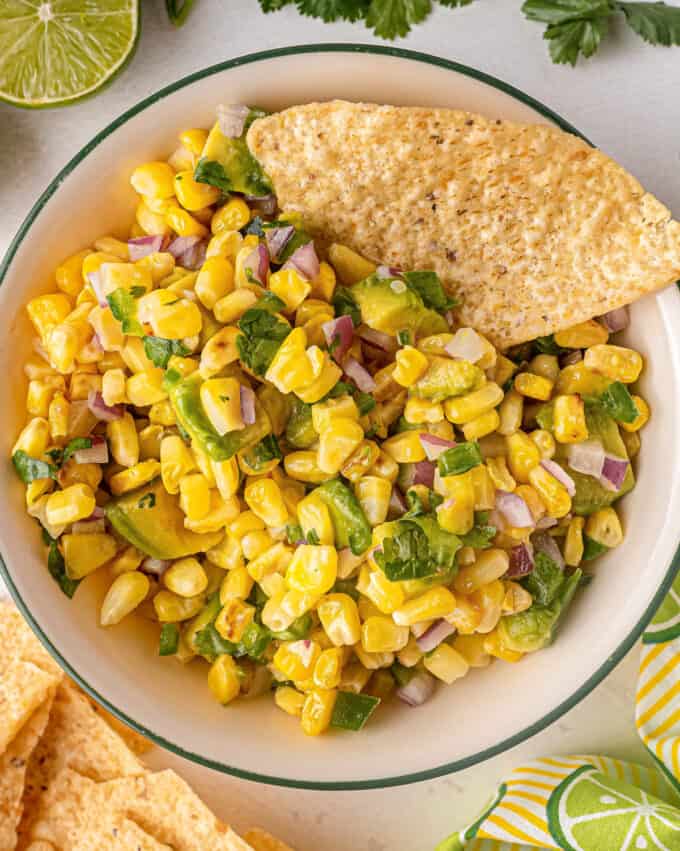 Variations of this recipe
Type of corn – I love to use fresh corn on the cob for this, but feel free to use frozen corn (that you've thawed), or even canned corn (that you've dried thoroughly).
Charred – for extra char, instead of searing the corn in a skillet, add the corn cobs to a baking sheet (along with the jalapeños if you want), and broil, turning the corn often, until charred to your liking.
Spicier – if you love heat, try adding additional jalapeños, leaving the seeds and ribs of the peppers in, or use serrano peppers instead.
Milder – the heat level of this salsa will vary depending on the jalapeños, but if you really don't want much heat, you could try using a poblano pepper, or even a green bell pepper.
More crunch – sometimes I like to add a small red bell pepper that's been seeded and minced. It adds a bit of sweetness and crunch.
Avocado – if you don't have any avocado, you can omit it from the recipe and still have a delicious corn salsa.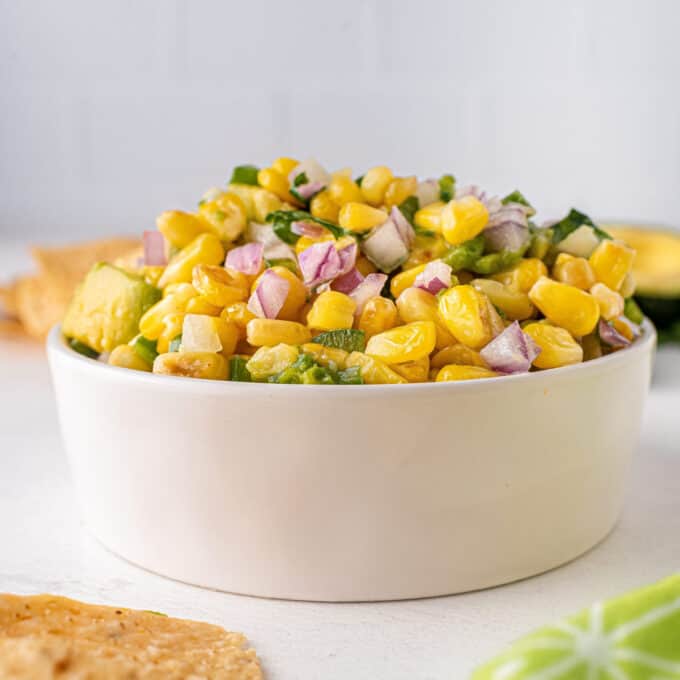 FAQ's
Is this corn salsa a Chipotle copycat?
No, although I do have plans to work on a great copycat of one of my favorite salsas! This salsa is similar, but has the added benefit of buttery avocado pieces.
Can this corn salsa be frozen?
Yes, but with one caveat… don't add the avocado. Make the salsa as directed, omitting the avocado, then freeze in an airtight freezer-safe container for up to 3 months. Thaw, then add diced avocado and serve.
Making corn salsa ahead of time
Due to the avocado, I don't recommend making this salsa ahead of time. Avocados turn brown relatively quickly, so it'll lose the vibrant fresh color and flavor.
However you could make the salsa, minus the avocado, a day ahead of time… then add the diced avocado right before serving.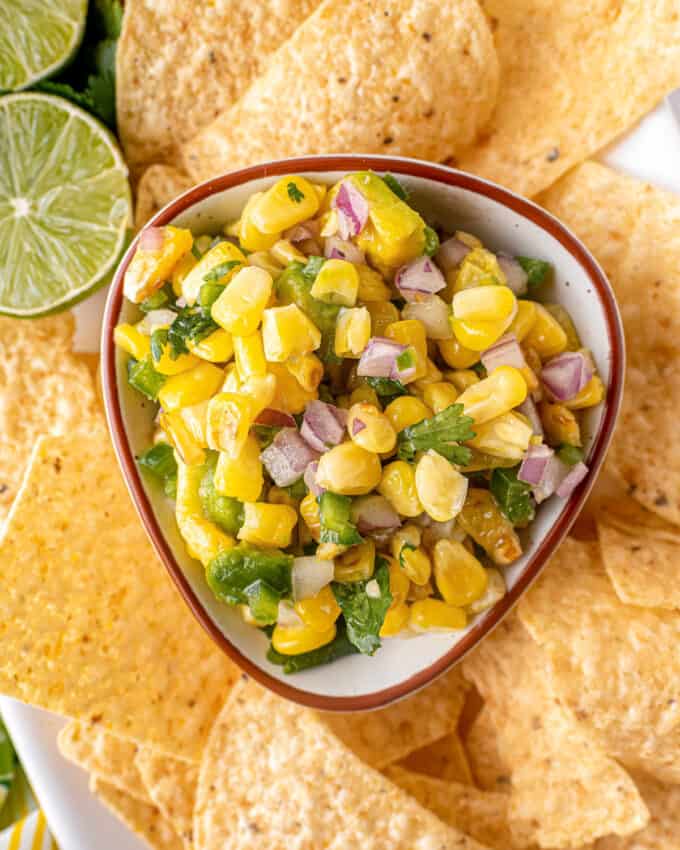 Storage
Leftover salsa should be refrigerated in an airtight container and enjoyed within a few days. The avocado will likely oxidize (turn brown), but it should still be edible.
To slow down the oxidation process, you want to keep the air away from the avocado in the salsa. The best way to do this is to store the salsa in an airtight container with a piece of plastic wrap pressed directly on the surface of the salsa.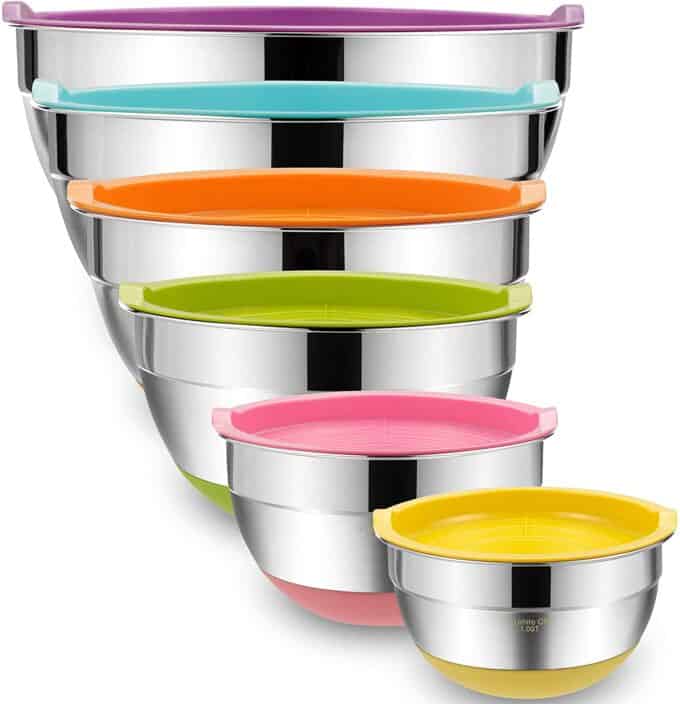 I love these mixing bowls for two main reasons: the non-slip bottoms make mixing easier, and the airtight lids mean you don't have to transfer the contents to another container to refrigerate!
Did you make this? Be sure to leave a review below and tag me @the_chunky_chef on Facebook and Instagram!
Sweet corn, crunchy jalapeños and onion, buttery avocado and tangy lime juice… this salsa is perfect with a big bowl of chips, or loaded up onto tacos, burritos and more!
Ingredients
2 cups corn kernels see note 1
2 fresh jalapeños seeded and minced
1/3 cup red onion diced
3 Tbsp chopped fresh cilantro
1/4 cup lime juice freshly squeezed will taste best
1 tsp granulated sugar optional but recommended, especially if using frozen corn
1/2 tsp kosher salt
1/4 tsp black pepper
1 small avocado pitted, peeled, then diced
Instructions
Heat a large skillet over HIGH or MED HIGH heat until very hot. Add a drizzle of vegetable oil and add corn kernels in an even layer. Cook 3-5 minutes, stirring often, until corn is charred, but not burnt.

Set aside to cool.

In a mixing bowl, combine cooled corn with jalapeños, red onion, cilantro, lime juice, sugar, salt, pepper, and avocado. Stir.

Serve immediately, or add a layer of plastic wrap directly on top of the salsa in the mixing bowl, then cover the entire bowl tightly and refrigerate before serving.
Want to save this recipe for later? Click the heart in the bottom right corner to save to your own recipe box!
Chef Tips
I love to use corn on the cob (you'd need about 4 ears of corn), or frozen corn that's been thawed and thoroughly dried.
You can skip step 1 (where you char the corn), if you would prefer.
This recipe makes about 3 cups of salsa, but the amount of servings you'll get out of that 3 cups is up to you.
Nutrition Disclaimer
The Chunky Chef is not a dietician or nutritionist, and any nutritional information shared is an estimate. If calorie count and other nutritional values are important to you, we recommend running the ingredients through whichever online nutritional calculator you prefer. Calories can vary quite a bit depending on which brands were used.