---
Tender chicken thighs are marinated in a homemade Jerk marinade, grilled, then topped with a fresh avocado and mango salsa that is out of this world!
---
Some chicken recipes can be boring and bland, but this one is sure to make your mouth water!  The homemade Jerk marinade is flavorful (with a customizeable heat level), but the avocado mango salsa is definitely the star of the flavor show!
This post is sponsored by the National Mango Board.  As always, all opinions here are my own.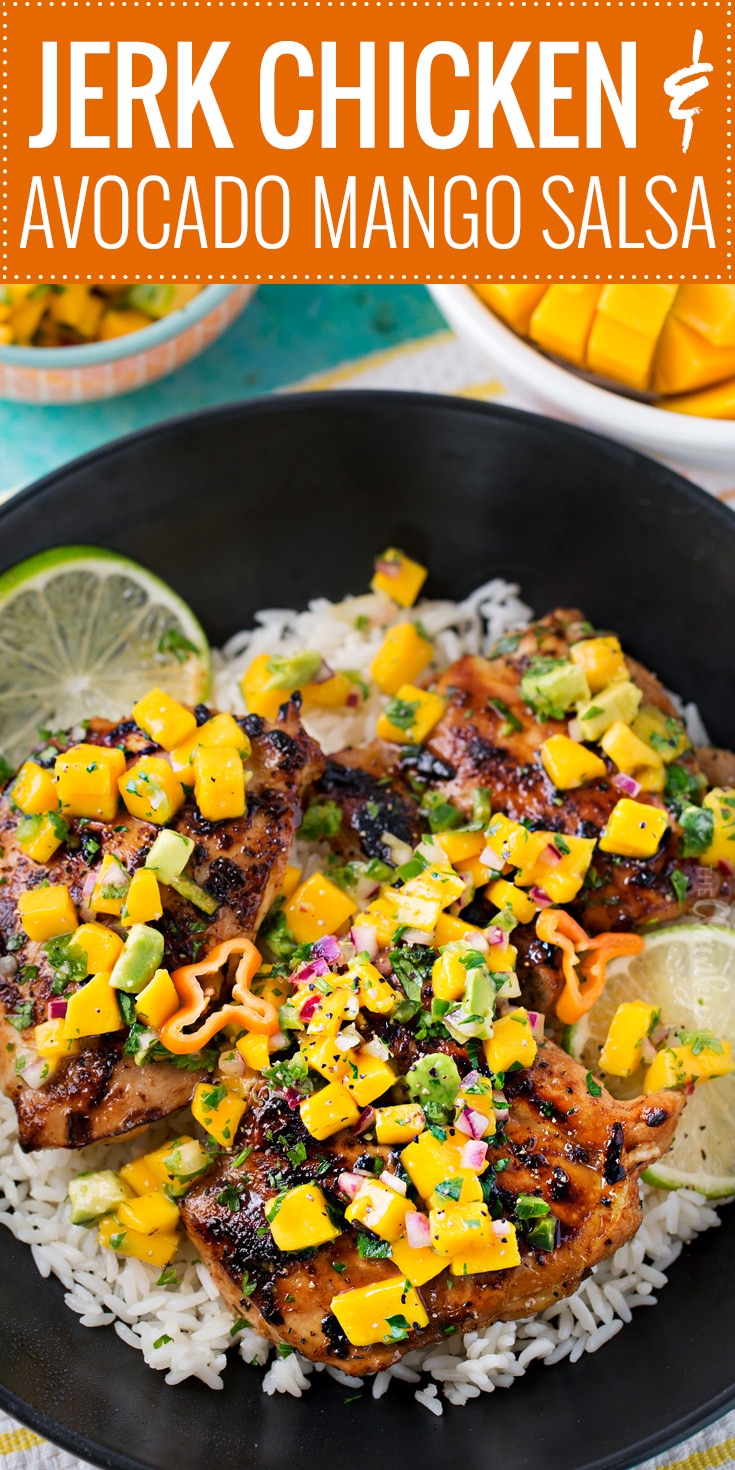 This is the best kind of chicken… it's jerk chicken, so you know its ULTRA flavorful!!  This may not be a traditional jerk marinade… for example I used a jalapeño pepper instead of the traditional scotch bonnet.
They're not that easy to find around here and I wanted this recipe to be something kids or people who don't like a ton of heat can enjoy.
While the marinade on these chicken thighs is amazing, the star is the avocado mango salsa!!  Summer may be winding down, you still have plenty time to grab some mangos from your local grocery store.  If mangos aren't your usual go-to fruit, check out these reasons why they should be!
Mangos are the most popular fruit in the world
Mangos are actually related to cashews and pistachios
1 cup of mango has 100% of your daily calcium, just 100 calories, and 35% of your daily vitamin A
Mangos contain over 20 vitamins and minerals, making them a superfruit!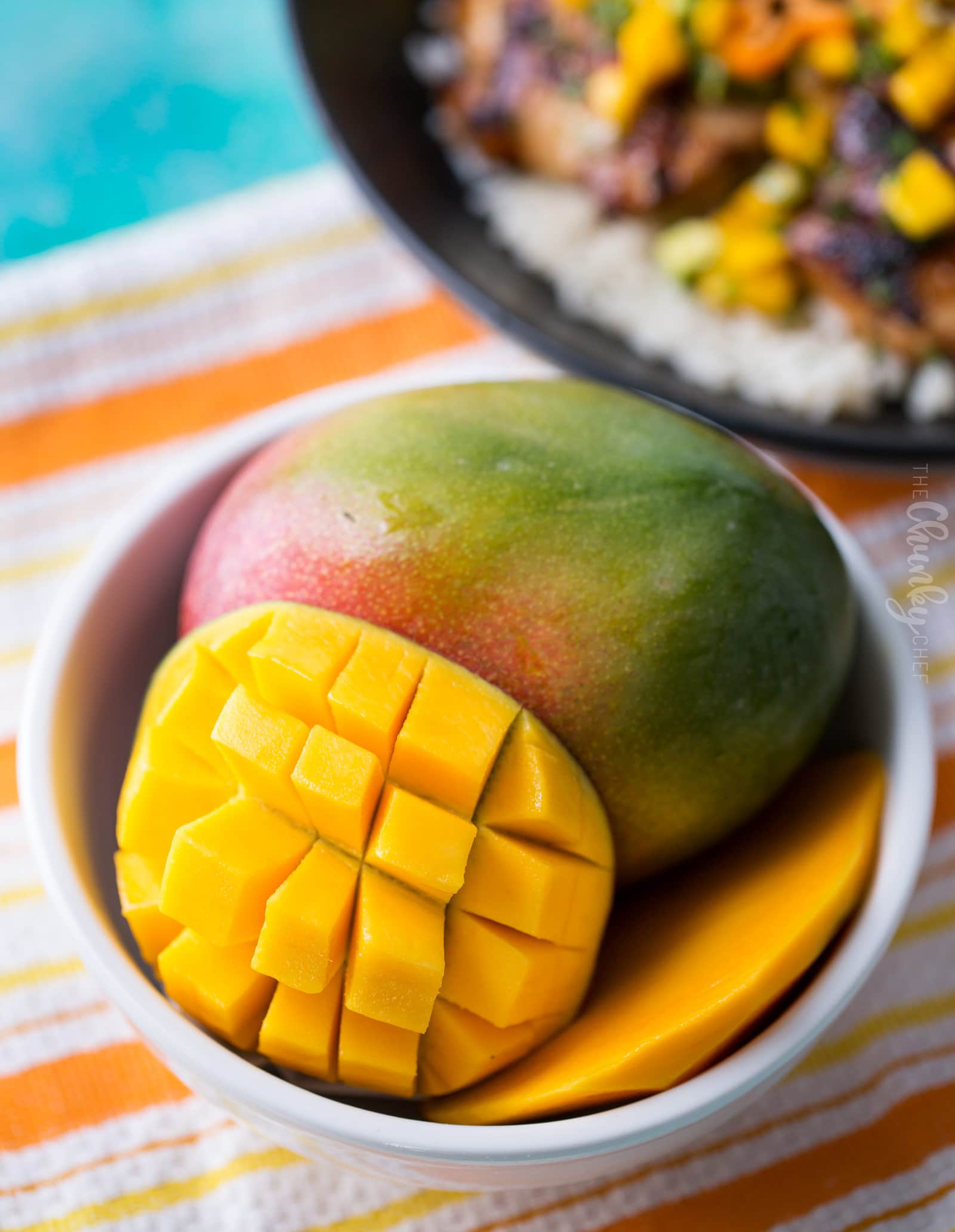 Also, did you know there are 6 main varieties of mangos?  I had no idea there were so many!  For this mango salsa recipe I used the Kent variety, but we also enjoy the Honey mangos as a sweet treat on their own!  Check out the National Mango Board's website for some great facts about mangos, plus recipes and more!
DO I HAVE TO USE CHICKEN THIGHS?
Absolutely not 🙂  I like to use the thighs for a few reasons – they're naturally thin, they're a perfect portion size, they tend not to dry out as much, and they're more affordable – but this recipe works wonderfully with boneless skinless chicken breasts as well!
If the breasts are on the thicker side, you'll want to either slice them in half to create two thinner breasts, or pound them to an even thickness, just to ensure even cooking.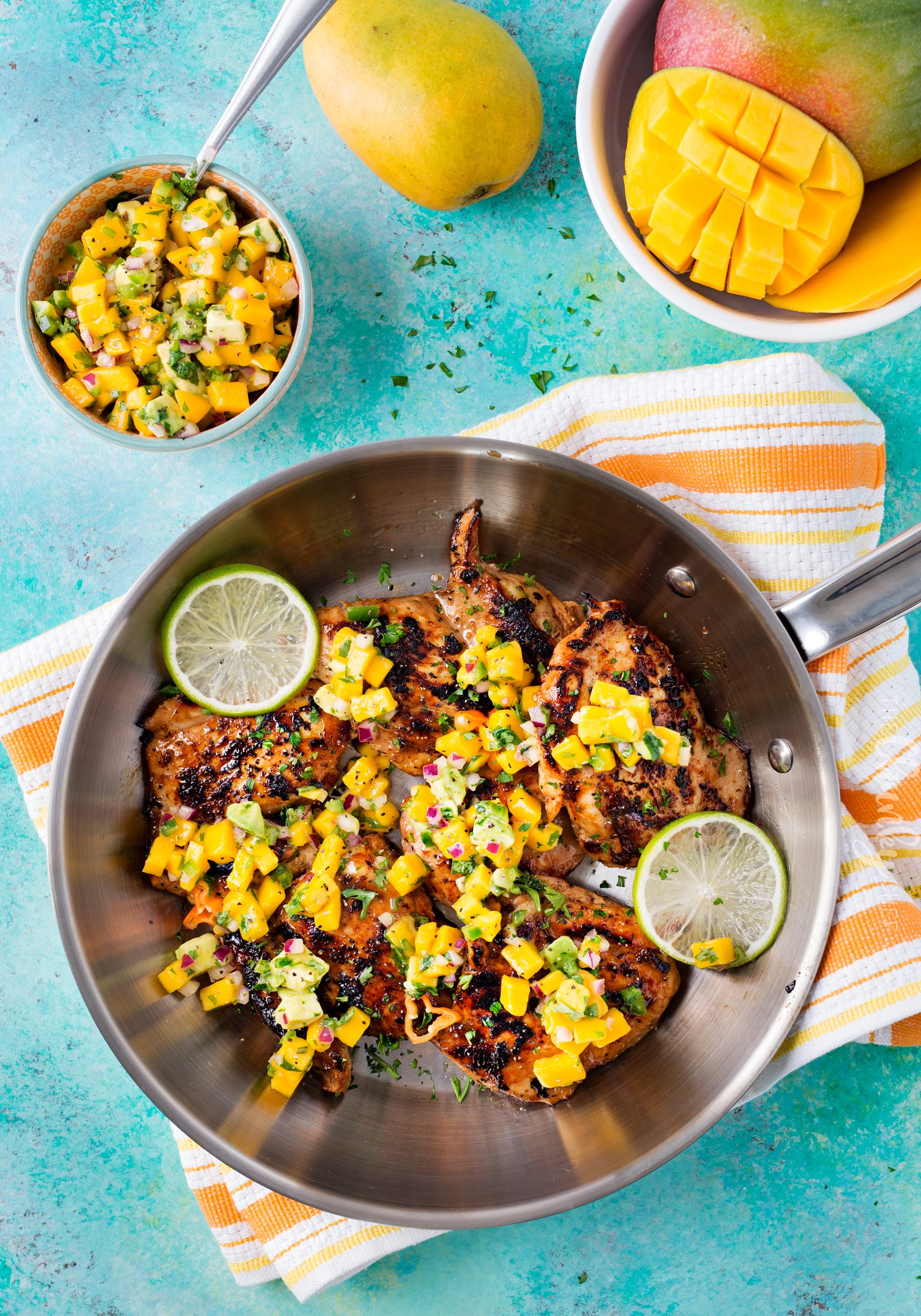 CAN I GRILL THE CHICKEN?
Ohhhh absolutely!  In the summer months we LOVE to grill, and this chicken tastes fabulous with the smoky grill flavor.
IS THE SALSA SPICY?
Slightly… but not too much.  There is a jalapeño in there, but the seeds and ribs are removed (which is where a LOT of the heat lives in a pepper).  But if you're still worried, the salsa tastes amazing without the jalapeño, so omit it.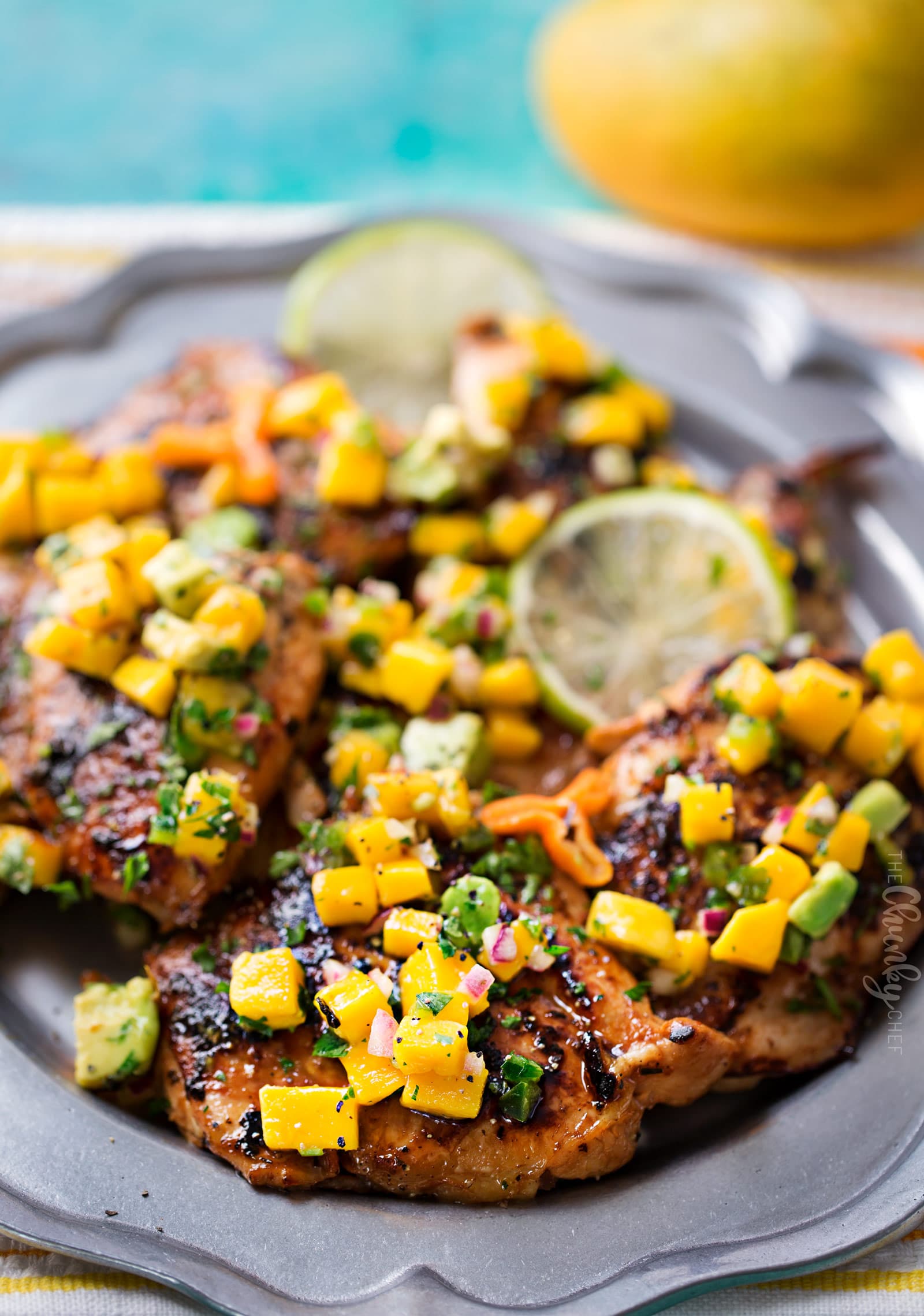 WHAT ABOUT PORK CHOPS?
Ahhh the other white meat.  Yes, pork chops would work in this recipe as well!  Pork is a relatively blank canvas, like chicken, so it will absorb the flavors of the marinade well, and pork pairs perfectly with fruit!
WHAT SHOULD I SERVE WITH THIS MEAL?
The sky is the limit!  I like to serve it over this coconut rice (don't worry, it's not too coconut-y), and some crispy tortilla chips (trust me, you'll want some with the amazing avocado mango salsa!).
I also think this would be great over a crisp green salad!  Just slice up the chicken, lay in on top of the salad and spoon plenty of the salsa over the top!  This meal is also fabulous as jerk chicken tacos with the avocado mango salsa!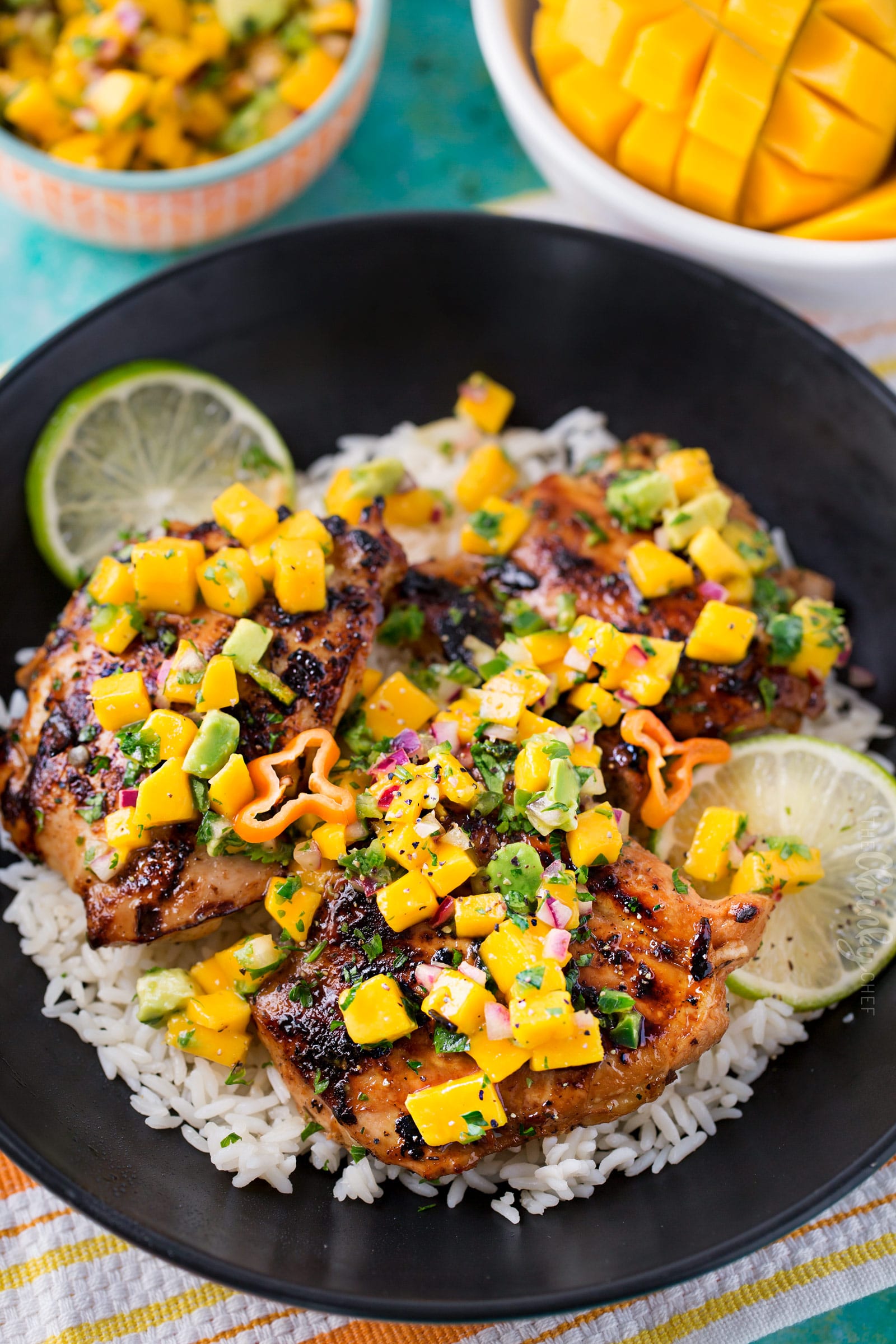 OKAY, I'M SOLD… I WANT TO MAKE THIS, BUT I DON'T KNOW HOW TO CUT A MANGO!!
First of all, yay!!!  I know you'll love it!  And secondly, you're in luck… the National Mango Board has made an awesome video to show you how to cut a mango… it's much easier than you'd think!!  Check out the video below:
WANT MORE CHICKEN RECIPES?
Did you make this? Be sure to leave a review below and tag me @the_chunky_chef on Facebook and Instagram!
Tender chicken thighs are marinated in a homemade Jerk seasoning sauce, grilled, then topped with a fresh avocado and mango salsa that is out of this world!
Ingredients
CHICKEN MARINADE:
6 boneless skinless chicken thighs (about 1 1/2 lbs) (can substitute chicken breasts)
6 green onions, white root ends cut off roughly chopped
1 jalapeno pepper, ribs and seeds removed roughly chopped
3 cloves garlic, roughly chopped
1/3 cup soy sauce
1/4 cup fresh lime juice
2 Tbsp olive oil (or vegetable oil)
1 1/2 Tbsp brown sugar
1 1/4 tsp ground ginger
1 tsp ground allspice
1 tsp ground black pepper
1/2 tsp dried thyme
1/2 tsp ground cinnamon
1/2 tsp ground nutmeg
AVOCADO MANGO SALSA:
1-2 ripe mangoes
1 ripe avocado
1 jalapeno pepper, seeds and ribs removed finely diced
1/3 - 1/2 cup cilantro, minced
1/4 cup red onion, finely minced
2 Tbsp fresh lime juice
Instructions
Add chicken thighs to a large resealable plastic bag. Add all other marinade ingredients to a blender or food process and pulse several times until it's semi-smooth. Pour marinade into bag with chicken, seal and place in the refrigerator for 3-8 hours.

To a small mixing bowl, add salsa ingredients and toss to combine. Set aside while you cook the chicken.

Heat a large skillet over MED-HIGH heat with a drizzle of vegetable oil. Remove chicken from marinade, patting lightly with paper towels to remove excess marinade, then place chicken in skillet. Cook approximately 4-5 minutes per side, until lightly charred and cooked through.

Set chicken aside to rest for several minutes, then serve with a couple of spoonfuls of avocado mango salsa over the top.
Want to save this recipe for later? Click the heart in the bottom right corner to save to your own recipe box!
Chef Tips
Prep time includes a 3 hour marinating time
To grill chicken:  Grill on MED to MED-HIGH heat for 4-5 minutes per side on lightly oiled grill grates.
For a spicier marinade:  Leave the seeds in the jalapeño, or substitute a habanero pepper (or even the traditional scotch bonnet)
To serve over rice:  I highly recommend this Coconut Rice 
Alternatively, you can skip the marinating and dip the chicken in the sauce and cook it right away (which will make the prep time only 10 minutes).  This will reduce the flavor, but is an option if you're running short on time!
Nutrition Disclaimer
The Chunky Chef is not a dietician or nutritionist, and any nutritional information shared is an estimate. If calorie count and other nutritional values are important to you, we recommend running the ingredients through whichever online nutritional calculator you prefer. Calories can vary quite a bit depending on which brands were used.
NEVER MISS A CHUNKY CHEF RECIPE: