30 Minute Mongolian Beef with Coconut Rice
---
Mongolian beef is such a classic and delicious Asian dish… and easy to make at home!  In just 30 minutes you'll have an incredible meal!
---
Deliciously savory and warm, this Mongolian beef is pan fried and coated in a finger-licking sticky sauce that will have you coming back for seconds!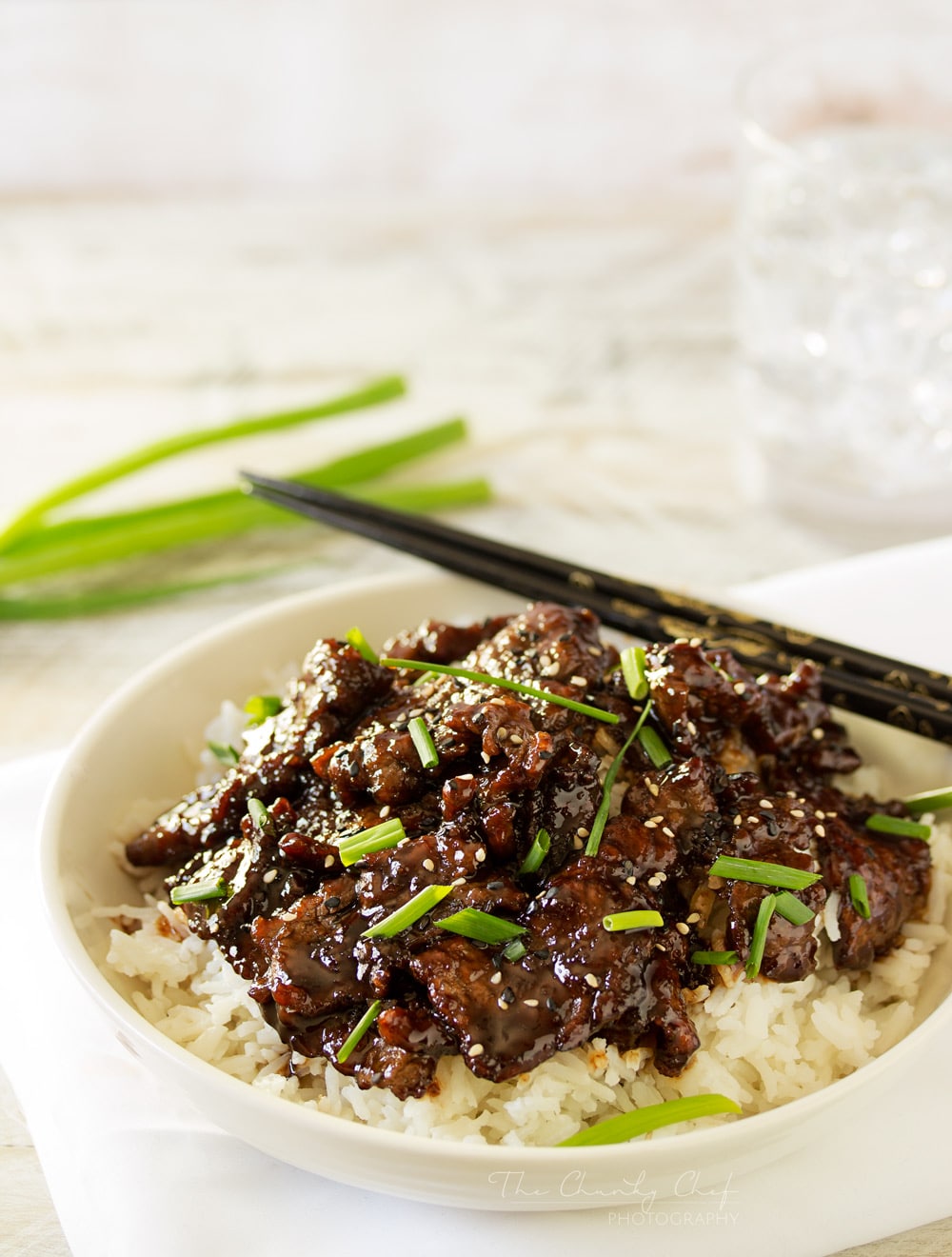 Who loves P.F. Chang's restaurant? *raises hand*… although it's been years since I've been there, I remembered that hubby loves their Mongolian Beef… so when I stumbled upon a recipe online, I knew I had to give it a try!  Simple and easy, this mongolian beef comes together quickly and packs a big flavor punch.  The one drawback is that it's not spicy like P.F. Chang's is (according to hubby), but I think next time I'll add some cayenne or sriracha to the sauce 🙂  The other good thing is that it uses flank steak, which is a relatively inexpensive cut of meat, and doesn't use any fancy ingredients… in fact, you probably have all the other ingredients in your kitchen right now 🙂  Don't you just love those kind of recipes?  We sure do!
To make dinner a little less hectic, I cooked my rice earlier in the afternoon, but you could easily cook it at any time.  You could also omit the rice completely and just serve over a bed of steamed broccoli or however you'd like it.  I boiled my rice in a mixture of coconut milk and water, so it had a creamy consistency and a slight hint of sweetness.  I love the creamy, sticky, texture of this rice, and the subtle sweetness really goes well with most Asian dishes.
If you've never seen a flank steak before, here's what it looks like… this is a 1.3 lb steak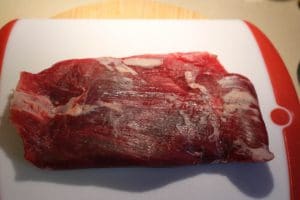 This particular cut of steak can be tough if not sliced properly, so here's the simple way to do it…. see those lines running horizontally through the steak?  That's the grain… as in the grain of a piece of wood.  You need to slice AGAINST the grain, meaning slice vertically.  It also makes it more tender if you slice at a 45 degree angle to the meat, instead of traditionally.
Okay, okay…enough of Meat 101 😛  I sliced my steak earlier in the day as well, and let it hang out in a ziploc bag in the refrigerator until I was ready to use it.  More prep ahead means less stress while cooking… haha, less stress… that's hard to say with a straight face while my 2 kids are running around like maniacs demanding food while I'm trying to cook lol.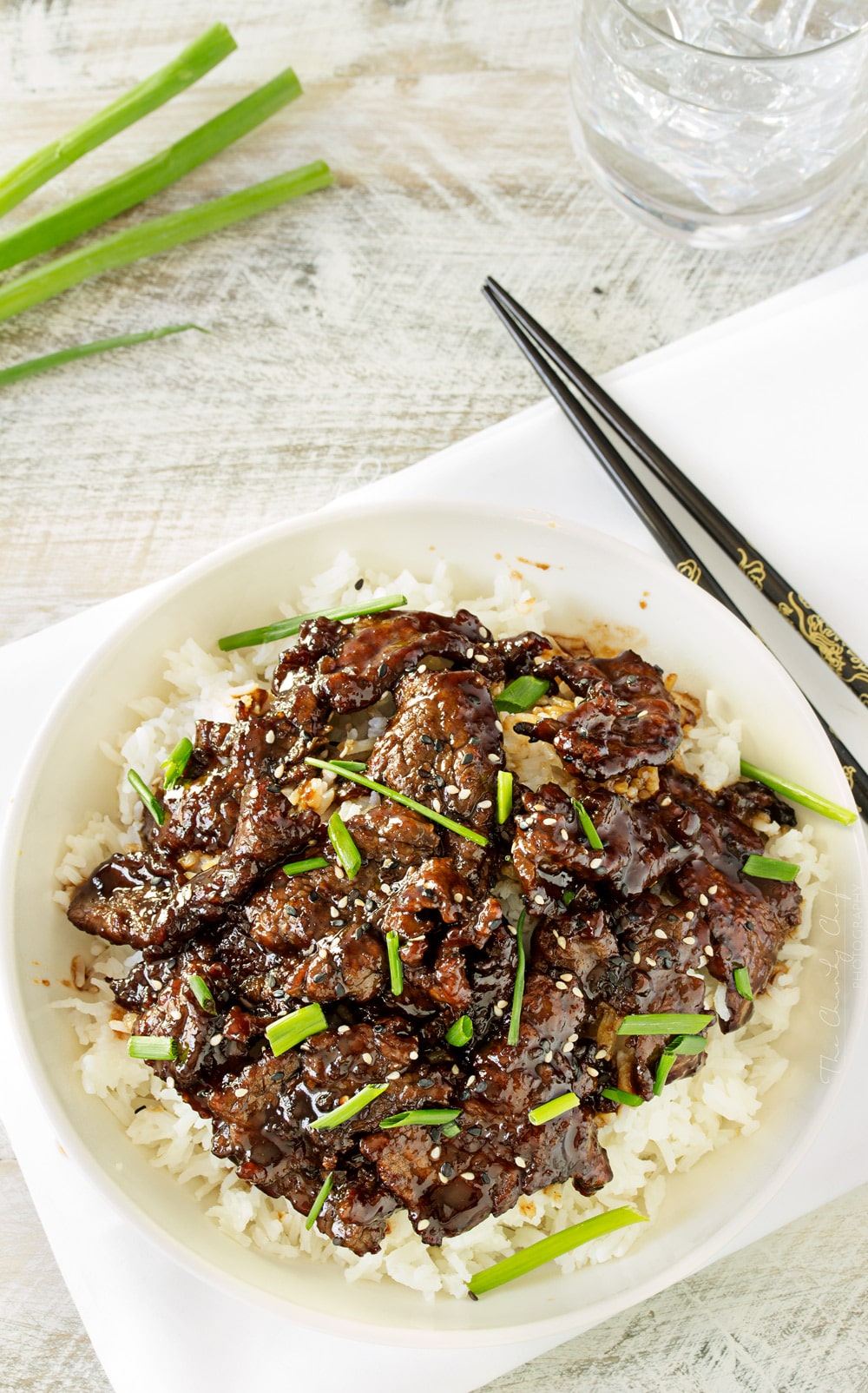 Okay, are you hungry now?  I am!!  Now if you're wondering what to do as a side dish for this meal, steamed broccoli would be a super quick and nutritious way to round out the meal.  In fact, I did steam some for the kiddos and snuck a few florets into the sauce, beef and rice on my plate… and ohhhh my… you should definitely try it!!  I also highly recommend my SMOKY CARAMELIZED CAULIFLOWER
Recipe adapted from Food.com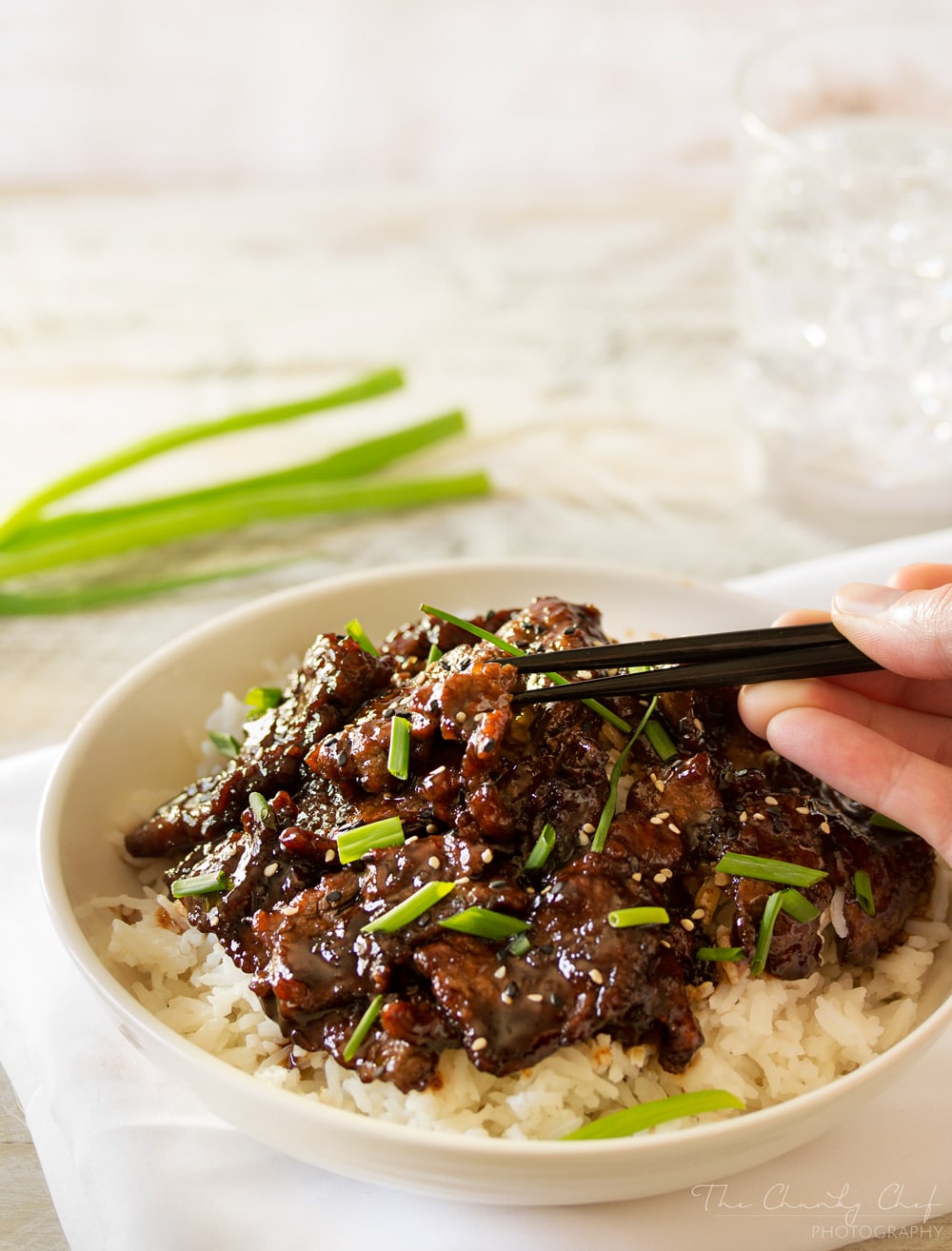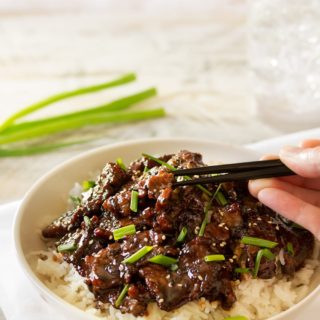 Mongolian Beef
Mongolian beef is such a classic and delicious Asian dish... and easy to make at home! In just 30 minutes you'll have an incredible meal!
Ingredients
2 tsp vegetable oil
3/4 tsp grated fresh ginger - could easily swap out 1/4 tsp of ground ginger instead
1 Tbsp garlic - minced
1/2 cup soy sauce
1/2 cup water
3/4 cup light brown sugar
approximately 1 cup vegetable oil - ,for frying your steak
2 green onions - sliced
1 lb flank steak
1/4 cup corn starch
2 Tbsp soy sauce
2 Tbsp hoisin sauce (these last two ingredients are optional - but I enjoyed the extra flavor)
Instructions
Slice your steak into strips, pat dry, place into ziploc bag. Add cornstarch, 2 Tbsp soy sauce and 2 Tbsp hoisin sauce to the bag, seal tightly, and smoosh around until the meat is coated. Let rest for 10 minutes.

Heat 2 tsp. vegetable oil in small saucepan over medium low heat. Add ginger, and garlic, cook for 20 seconds, then add 1/2 cup soy sauce and 1/2 cup water.

Dissolve brown sugar into sauce and bring to a boil. Boil gently for 2-3 minutes until it starts to thicken. Set aside to keep warm.

Heat 1 cup of vegetable oil over medium heat. Add beef and saute for 30 seconds - 1 minute per side. It doesn't matter if the beef isn't finished cooking yet, it'll continue to cook in the remaining steps.

Remove beef to drain on a paper towel. Drain oil from pan.

Place pan back on medium heat and slide your beef back in. Cook for 1 minute.

Add your sauce to the pan, cook for 1 minute. Add green onions, cook for 20 seconds.

Remove beef and onions to serving platter and reserve sauce in a bowl for drizzling over the meat.
Notes
Add 1/2 - 1 cup shredded carrots in step 6 for some amazing texture!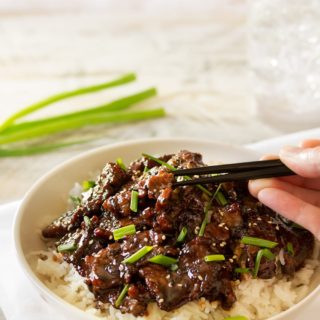 Sticky Coconut Rice
I love the creamy, sticky, texture of this rice, and the subtle sweetness really goes well with most Asian dishes
Ingredients
1 1/2 cups jasmine rice - basmati or long grain white rice works fine too
2 cups coconut milk - unsweetened
1 cup water
1/2 tsp salt
Instructions
Bring coconut milk and water to a boil, add salt and rice, stir to combine.

Cover and simmer for 15-20 minutes.

Remove from heat and let stand for 5 minutes.

Fluff with fork and either serve or place in airtight container and refrigerate until use.