---
This unique rice side dish is packed with Thai coconut flavors and is a mouthwatering dish to accompany just about any protein you'd like!
---
This fluffy and creamy Thai coconut rice is tossed with crisp veggies, salty cashews, sprinkled with fresh herbs, and drizzled with a spicy peanut sauce!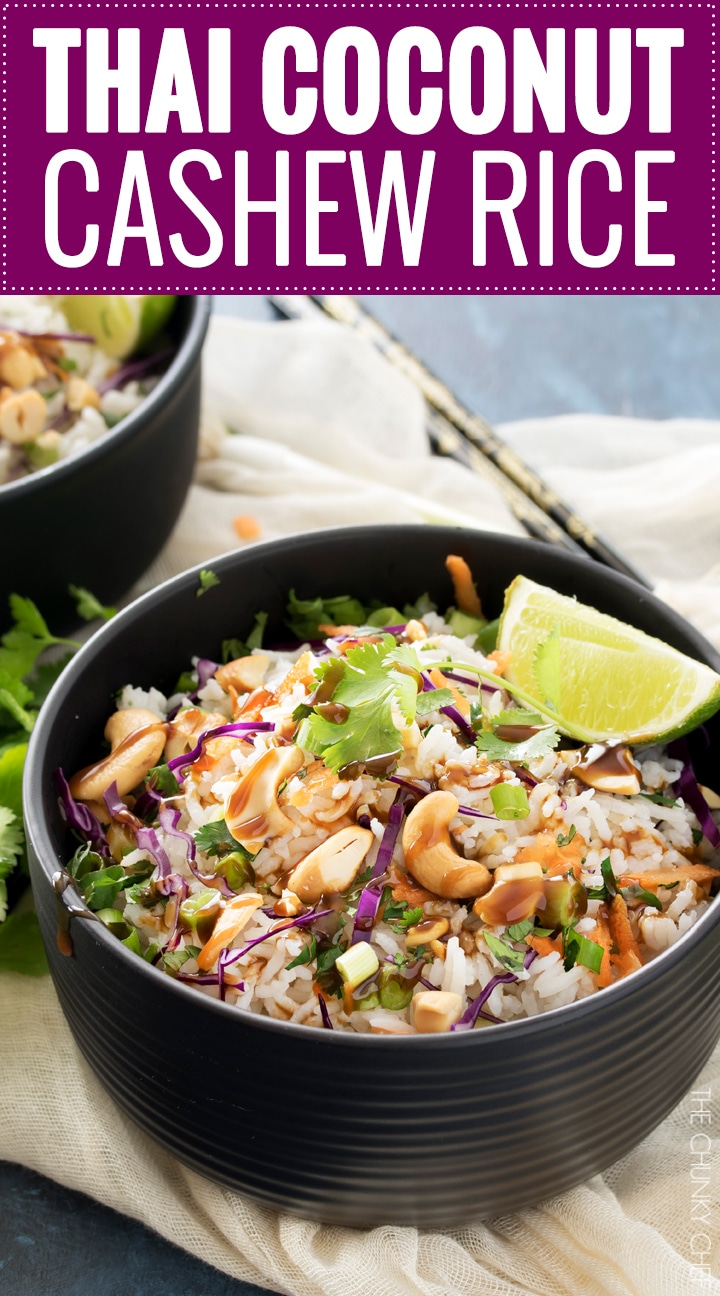 How often do you have rice with a meal?  For us, it's fairly often!  Sometimes it's the family favorite stick of butter rice, or just plain old white or brown rice.  But none of those compare to this incredibly delicious Thai coconut cashew rice!  There are so many great flavors and textures going on.  The creaminess of the coconut rice goes wonderfully with the crisp carrots and cabbage, salty, crunchy cashews,  the freshness of the herbs, and the spiciness of the sriracha peanut sauce!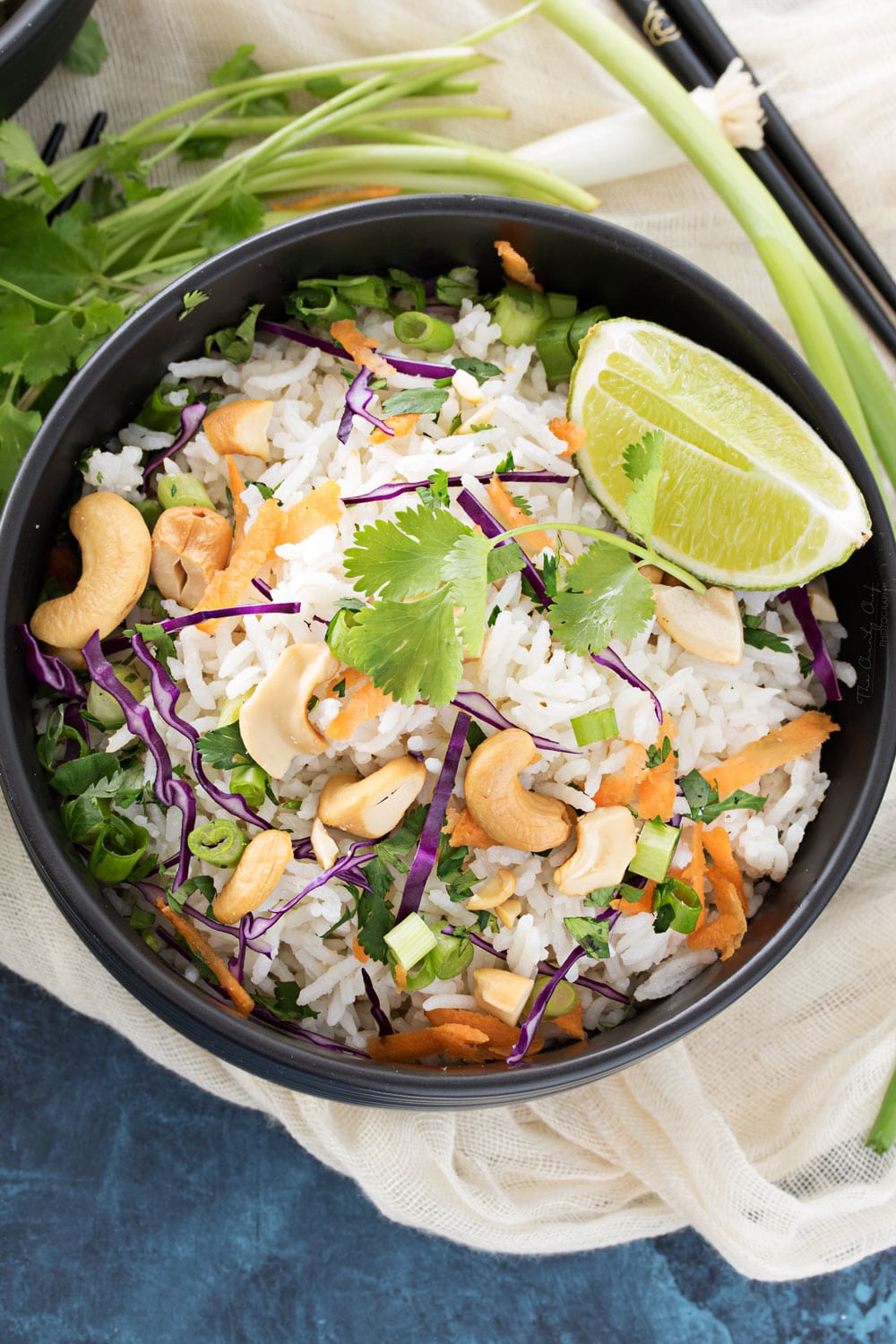 This recipe nearly didn't get posted you guys… not because it's not amazing, because it totally is… but because I'm having some Mama issues.  We enrolled our kiddos in a summer camp put on by our daughter's old preschool (and where our son will be attending preschool as well).  Our daughter (who's 6), is loving it, having a blast each day she's there.  Our son however (about to turn 3), is having SUCH a rough time with it.  He's been home with me up until now, so that's all he knows.  I know it's good for him… to be around other kids his own age, to spread his wings a little, be around the teachers, and learn new things.  But he just doesn't understand what's going on and I can't help but feel awful.  Like I'm abandoning him.  Because that's probably what he thinks when I drop him off and he screams and cries as I walk out the door.  It's really hard you guys.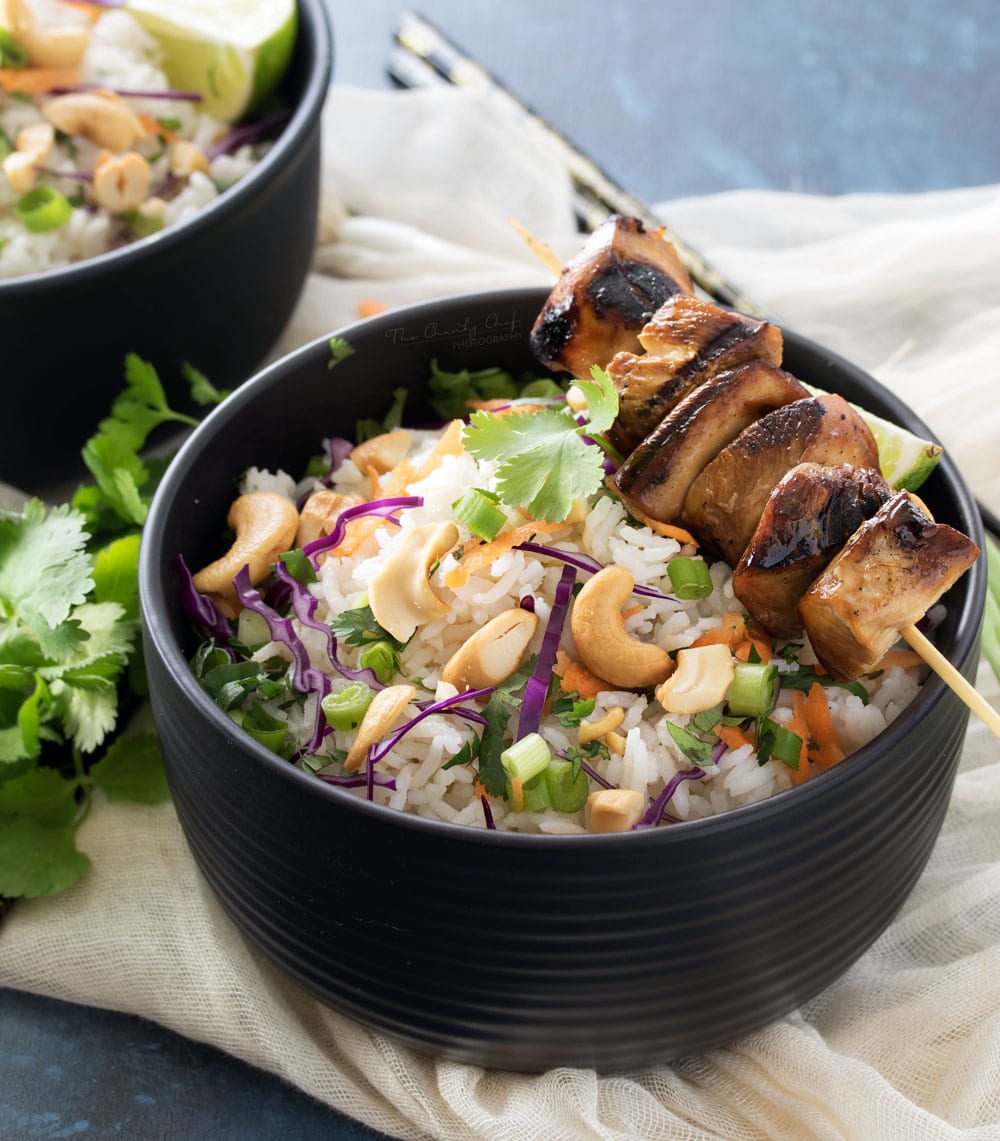 So while it's admittedly nice amazing to have the house to myself, be able to get housework done, run errands by myself, and catch up on the bazillion things to do blog-wise… there's always this voice in the back of my head that's saying, "he feels abandoned… he feels abandoned".  Hopefully things will get better each time we take him to camp, and he'll make friends and before long I'll be wishing for the days of him crying and not wanting me to go.  But until then… Mama is having a really hard time!
Ughhhh, okay, so you might be wondering what that has to do with not posting a recipe right?  Lol.  Well I was so distracted Sunday night, knowing what was going to happen Monday morning when I dropped him off, that I completely forgot to write this post!!  Bad, bad, bad.  So here I am, 7:30am, frantically finishing up a post that should have been completed and promoted on social media by now.  Yikes.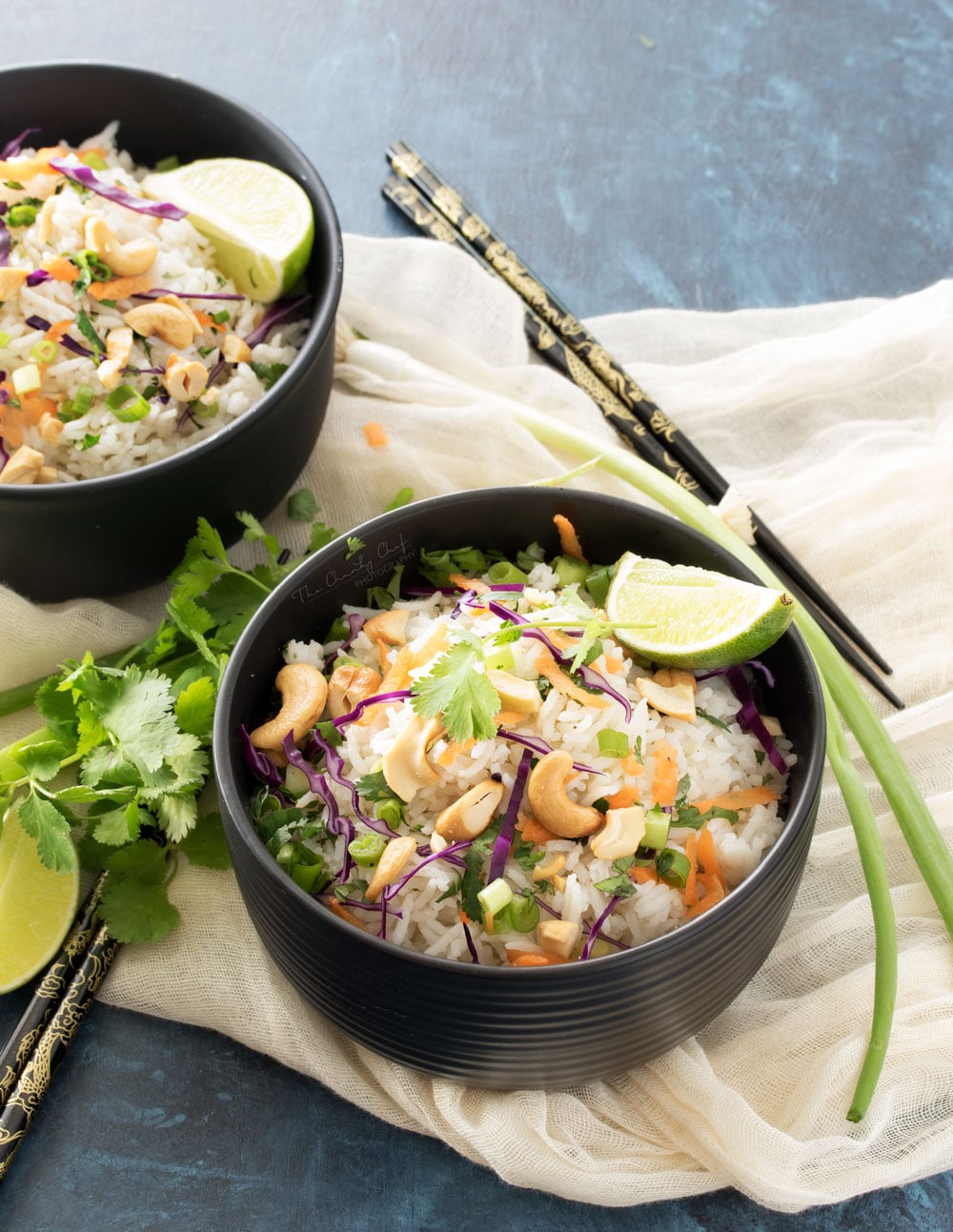 Enough rambling and back to the recipe Amanda!  This rice is perfect by itself, or with some protein to make a complete meal in a bowl.  I love to serve it with the chicken from my Thai Peanut Chicken Quesadillas, and cook the marinated chicken on skewers (like in the picture 2 photos up).  Beautiful presentation and delicious taste!
You can also just serve the spicy Thai peanut drizzle on the side, or omit it completely for a milder and more traditional rice dish.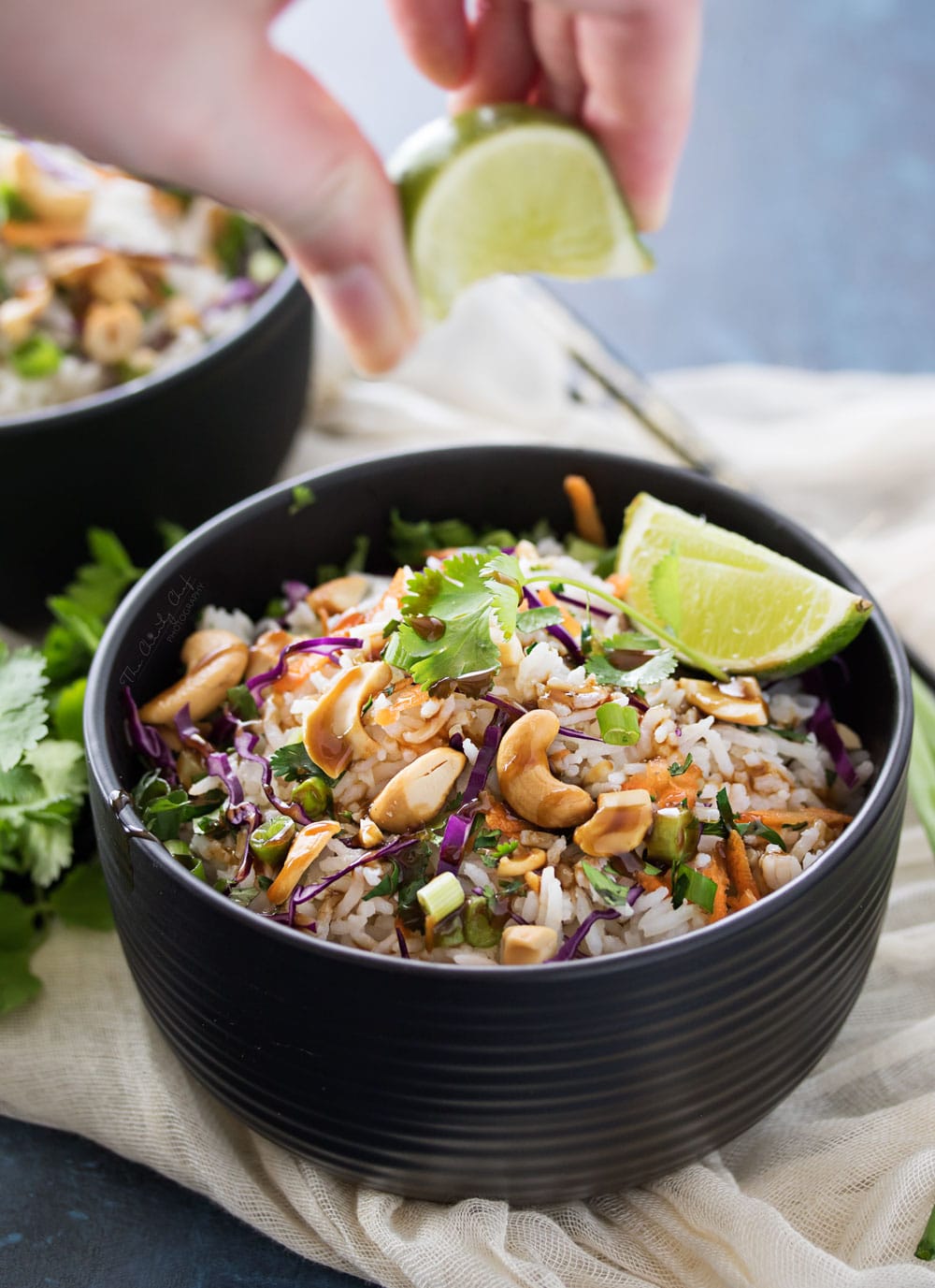 Either way you serve it, the extra squirt of lime juice adds the perfect finishing touch!
I hope you give this Thai coconut rice dish a try… I think you'll love it!!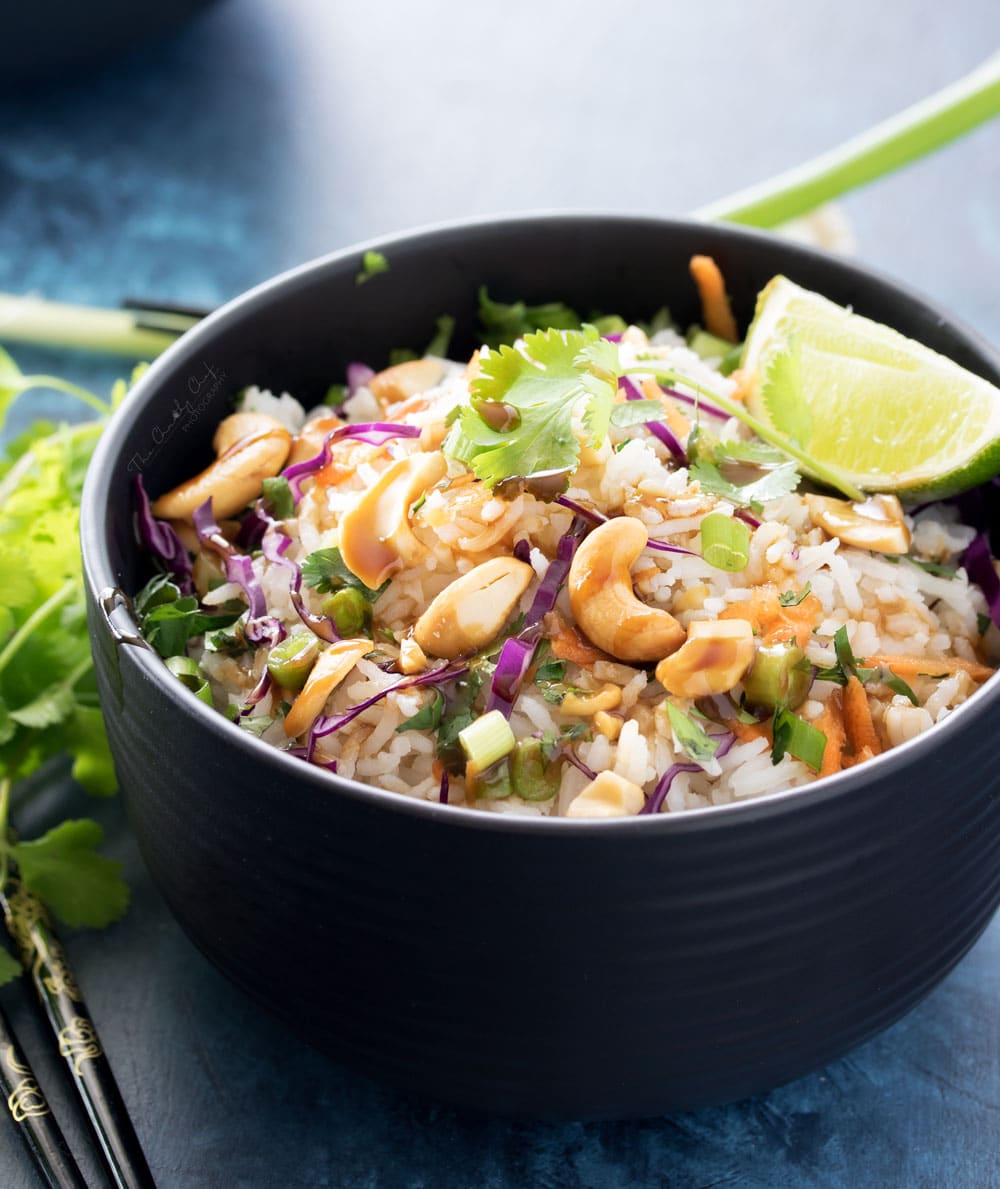 ---
Let's Connect!
You can find me on Facebook, Twitter, Pinterest, Instagram and Google +, so follow me if you'd like… I love keeping in touch with all of you 🙂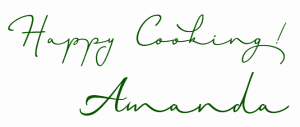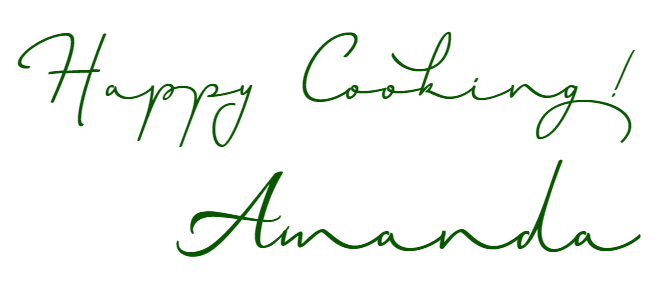 Did you make this? Be sure to leave a review below and tag me @the_chunky_chef on Facebook and Instagram!
This unique rice side dish is packed with Thai coconut flavors and is a mouthwatering side dish to accompany just about any protein you'd like!
Ingredients
RICE:
1 1/2 cups dry jasmine rice or basmati
15 oz unsweetened coconut milk from a carton or can
1 clove garlic minced
1 tsp salt
1 cup water
1 cup shredded red cabbage
1 cup shredded carrots
1/2 small red onion finely chopped
1 cup fresh cilantro chopped
3/4 cup green onions thinly sliced
1 cup cashews finely chopped
TO GARNISH:
Handful of whole cashews
Extra chopped cilantro
Lime wedges
SPICY THAI PEANUT SAUCE:
1/3 cup natural creamy peanut butter
1/4 cup coconut milk from a carton or can
1 1/2 Tbsp soy sauce
1 1/2 Tbsp tamari
1 1/2 Tbsp brown sugar
1 1/2 Tbsp minced fresh ginger
2 Tbsp lime juice
1 tsp minced garlic
1/2 tsp sriracha
1 tsp red curry paste
1 small shallot peeled and finely minced
Instructions
To a medium pot, add rice, coconut milk, minced garlic, salt and water. Stir together to combine, cover, and bring to a boil.

Once boiling, reduce heat to LOW and simmer for 25 minutes.

Remove from heat and let pot sit, still covered, for 10 minutes.

Remove lid and fluff rice with a fork.

While rice is cooking, chop cabbage, carrots, cilantro, green onions and cashews. Set aside.

Let rice cool slightly, and while it's cooling, prepare peanut sauce.

Add all Thai peanut sauce ingredients to a blender and blend until smooth or until your desired consistency. If sauce is too thick for your liking, add a splash of coconut milk at a time, blending until thinner.

Toss cooled rice with chopped ingredients in a large serving bowl.

Garnish and drizzle with peanut sauce.
Want to save this recipe for later? Click the heart in the bottom right corner to save to your own recipe box!
Chef Tips
1. Adjust spiciness of the Thai peanut sauce to your tastes, by adding more or less sriracha.
2. For a complete meal, serve with some grilled Thai peanut chicken
3. Recipe adapted from Host The Toast.
Nutrition Disclaimer
The Chunky Chef is not a dietician or nutritionist, and any nutritional information shared is an estimate. If calorie count and other nutritional values are important to you, we recommend running the ingredients through whichever online nutritional calculator you prefer. Calories can vary quite a bit depending on which brands were used.