These chicken tenders are crusted in an incredible cashew/coconut coating, and dipped in a simple, yet oh so delicious, fiery mango dipping sauce. Baked instead of fried, this easy chicken recipe is perfect for a weeknight meal!
This is one of my Chicken recipes I know you'll want to keep on hand!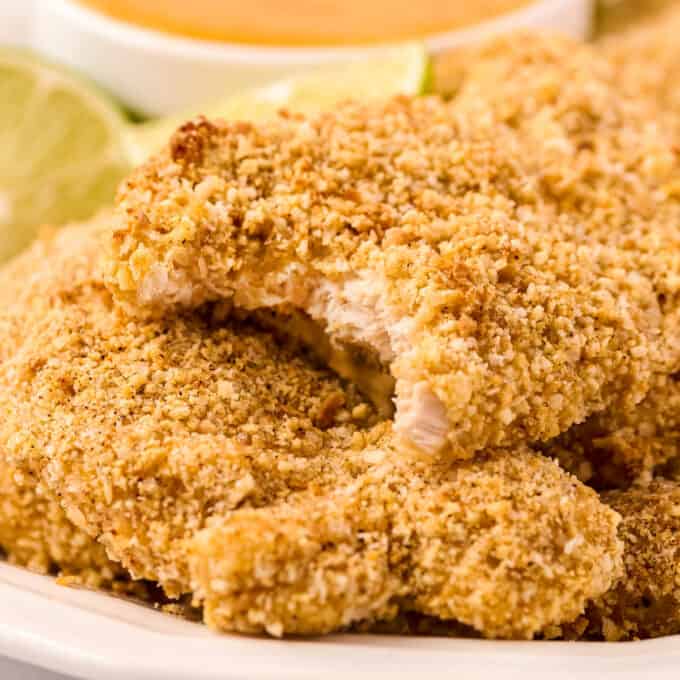 If you have kids, you know that for them, chicken tenders are basically an entire food group. But chicken tenders are definitely not just for kids… especially when they've been crusted in a mouthwatering breading.
And let me tell you, once you've tried chicken tenders that have been crusted in cashews and coconut… you'll never want to go back to plain breadcrumbs again.
Plus, these are baked in the oven, instead of fried, so you can feel good about sharing these with your family… or indulging in a big 'ol plate yourself.
How to make cashew crusted chicken tenders?
This is just an overview; the full ingredients and directions are in the recipe card toward the bottom of this post.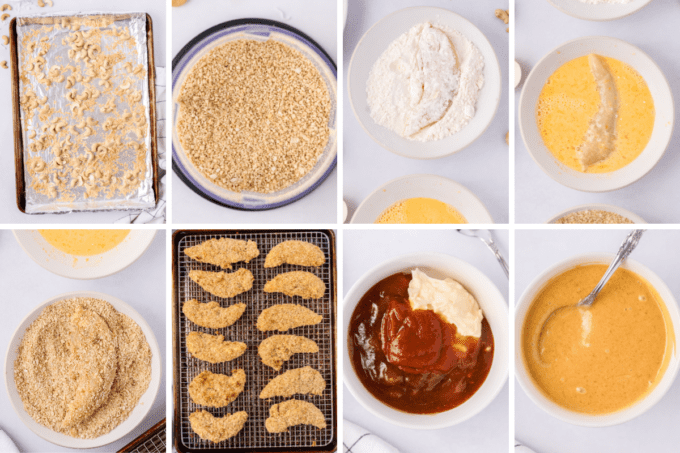 Toast. Toasting the cashews and coconut brings out their flavor.
Grind. I find it's easiest to grind up the cashews and coconut is to use a food processor, but you can finely chop them as well.
Bread. This is a three step breading process; flour, egg/lime, and cashews/coconut/spices.
Bake. Baking the chicken on a wire rack allows the air to circulate better, and keeps them nice and crispy.
Make dipping sauce. Nothing fancy here, just whisk and you're good to go!
Helpful Tip!
The trick to avoiding ending up with completely breading coated fingers is to set up a simple assembly line.
Set up your food from left to right (or vice versa if you're a lefty), in the following order: chicken tenders, bowl with flour, bowl with egg mixture, bowl with breading, and baking sheet topped with an oven-safe cooking rack.
Designate one hand the "wet" hand, and the other hand the "dry" hand.
Work from left to right, using your wet hand to add a chicken tender to the flour, then to the egg mixture, then add the chicken tender to the breadcrumbs.
Use your dry hand to coat the chicken in the breadcrumbs and add it to the baking sheet.
Repeat with remaining chicken pieces, being careful not to use the wet hand in the breadcrumbs.
It'll still be a little messy, but you shouldn't have completely breaded fingers at the end.
Alternately, you can use disposable gloves.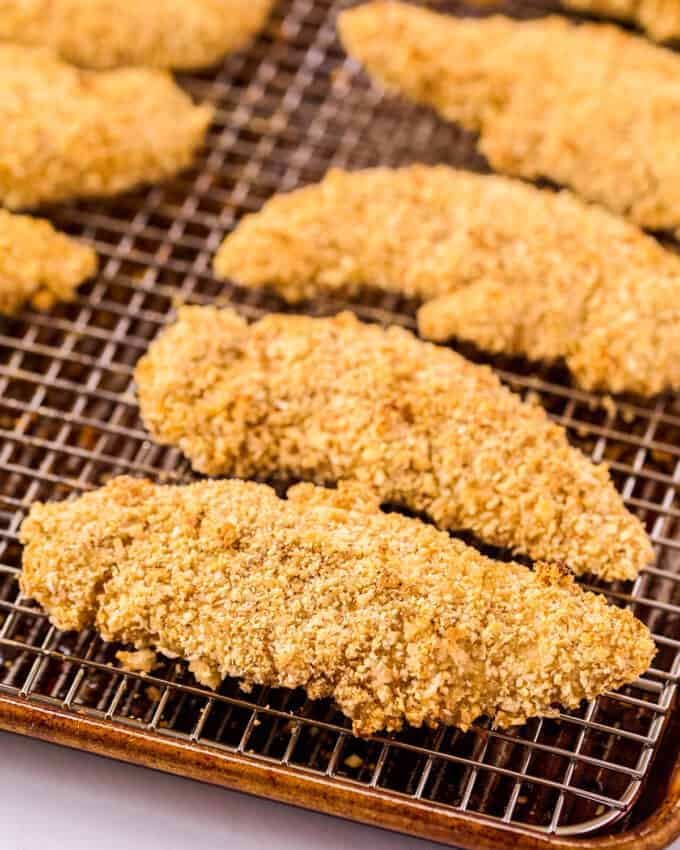 Variations of this recipe
Chicken – you can use chicken tenderloins, or use boneless skinless chicken breasts and slice them into strips (which is what I did here). You can use this method to bread and cook whole chicken breasts, but the cooking time will need to be increased.
Other protein – while I haven't tested it, I think this breading would taste great with other proteins, like white fish or pork chops.
Coconut – this recipe was tested with sweetened coconut flakes, but you can also use unsweetened if you prefer.
No food processor – if you don't have a food processor, you can absolutely make this recipe without one. Just use a sharp knife to chop the cashews and coconut into very small pieces.
Alternate cooking methods – I haven't tested cooking these chicken fingers in the air fryer, but I'm sure it could be done. If you do some experimenting, I'd love to know how it turns out, and I'll share your air fryer instructions in the recipe card (with credit to you of course!).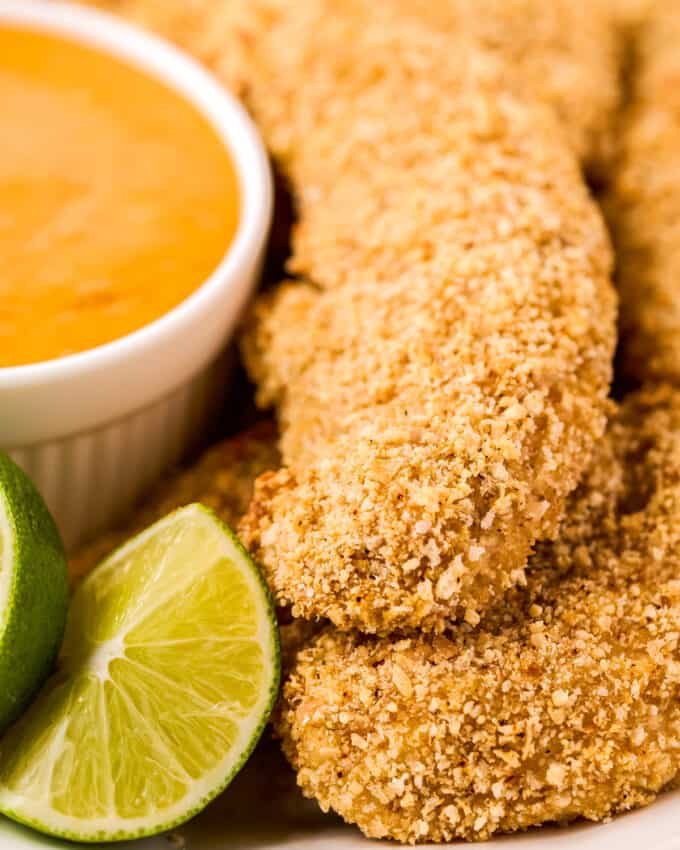 FAQ's
What type of cashews should be used for this recipe?
During testing, I found this crusted chicken tender recipe worked best with salted (or lightly salted) roasted cashews.
Are chicken fingers and chicken tenders the same thing?
Yes, chicken tenders (and fingers and strips) are all the same thing and are cut from the tenderloin part of the chicken breast.
Making baked chicken tenders ahead of time
While you can make these chicken fingers ahead of time, I don't recommend it. This is because they won't be as crispy as if you made them right before serving.
However, you can easily prep ahead and save yourself some time.
How to prep ahead for this recipe:
Chicken – if using chicken tenderloins, no prep is needed. But if using chicken breasts, they can be sliced into tenders and stored in an airtight container in the refrigerator for 1 day.
Breading – the cashews and coconut can be chopped in the food processor and stored in an airtight container at room temperature for several days.
Seasonings – any seasonings can be combined and stored a room temperature for several days.
Sauce – the dipping sauce can be made and stored in an airtight container in the refrigerator.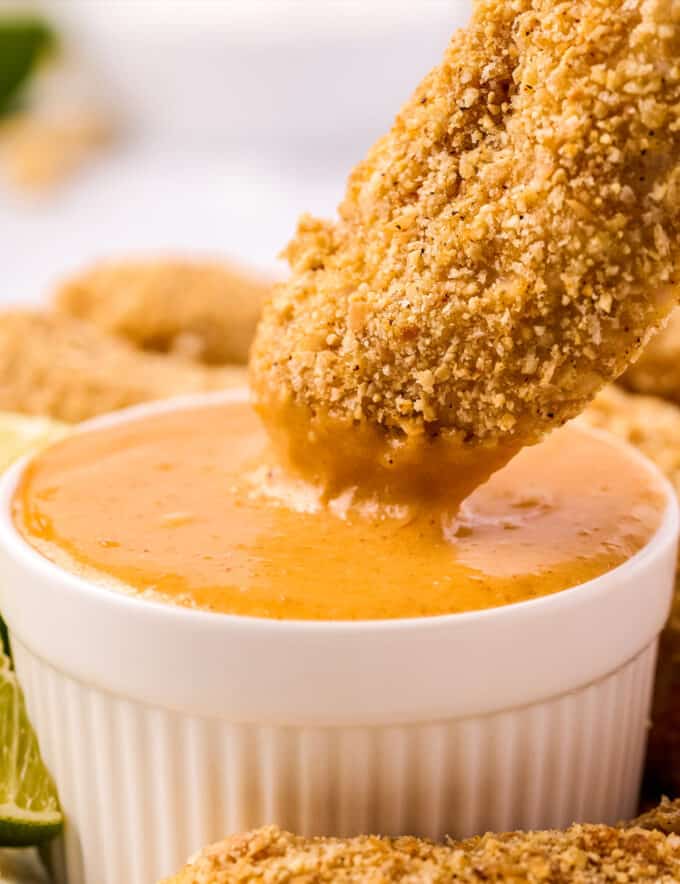 Storage
Leftover chicken tenders should be refrigerated in an airtight container and enjoyed within 3-4 days.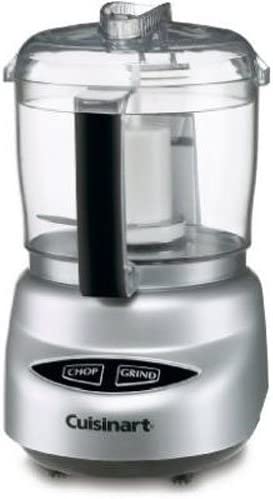 I have a huge food processor that's great for other purposes, but more often than not, I pull out this little guy. The food processor works like a champ, is relatively inexpensive, and easy to clean!
This recipe was originally published in July of 2015, and is a slightly adapted version of this coconut chicken tender recipe from Carlsbad Cravings. This post has been updated in 2023 with new photos, additional information, and another dipping sauce!
Did you make this? Be sure to leave a review below and tag me @the_chunky_chef on Facebook and Instagram!
These chicken tenders are crusted with an incredible cashew/coconut coating, and dipped in a simple, yet oh so delicious, fiery mango dipping sauce!
Ingredients
Chicken Tenders
2 lbs chicken tenders or chicken breasts cut into strips
2 large eggs
1 Tbsp lime juice
3/4 cup flour
1 cup cashews
1/2 cup sweetened coconut flakes
1 cup panko bread crumbs
1 Tbsp brown sugar optional
1 1/2 tsp garlic powder
1 tsp dried minced onion
1 tsp ground cumin
1 tsp salt
1/2 tsp black pepper
1/4 tsp cayenne pepper or more to taste
1/4 tsp ancho chipotle chile powder can substitute with regular chili powder
Mango Dipping Sauce
2/3 cup mayonnaise
1/2 cup mango chutney
2 – 3 tsp sriracha sauce
Instructions
Prepare
Preheat oven to 400°F and line a rimmed baking sheet with foil or parchment paper.

Toast the cashews and coconut

Spread out coconut and cashews on prepared baking sheet and bake for about 4-5 minutes, until lightly golden brown.

Add cashews and coconut to a food processor and pulse until small crumbs form.
Coat the chicken
Wipe off the baking sheet (to get rid of the crumbs) and top it with an oven-safe metal cooling rack. Spray rack lightly with nonstick cooking spray. **If you don't have an oven-safe cooling rack, you can bake the chicken right on the baking sheet.**

Set up a breading station by lining up 3 shallow bowls next to the baking sheet.  In the farthest bowl from the baking sheet, add the flour.  In the next bowl, add eggs and lime juice and whisk to combine.

In the last bowl, combine cashew/coconut crumbs, panko, brown sugar, garlic powder, dried onion, ground cumin, salt, pepper, cayenne, and ancho chipotle chile powder.  Stir with a fork or whisk to combine.

Add one chicken tender to the flour, shaking off the excess.

Next, add the chicken tender to the egg, turning to coat all sides, and letting the excess drip off.

Next, add the chicken tender to the breadcrumb mixture, turning and patting to coat all sides.

Finally, transfer the chicken tender to the prepared baking sheet.  Repeat with all remaining chicken tenders.
Bake
Lightly spray chicken tenders with an oil spray (we love to use avocado oil), and bake for about 20-25 minutes, until cooked through.

Broil for 1-2 minutes if desired to brown chicken a bit more.
Make sauce
While the chicken is baking, combine all sauce ingredients in a small bowl. Whisk or stir to combine. If your chutney has a chunky texture, and you'd like it smooth, add the sauce to a blender or food processor and process until as smooth as you'd like.
Serve
Serve chicken tenders hot, with the dipping sauce, and a lime wedge (if desired).
Want to save this recipe for later? Click the heart in the bottom right corner to save to your own recipe box!
Chef Tips
If you enjoyed the old recipe, rest assured the chicken tender ingredients and process haven't changed. But I've listed how to make the original chipotle pineapple bbq sauce below.
Smoky Chipotle Pineapple BBQ Sauce:
1 Tbsp vegetable oil
1/2 yellow onion, minced
2 cloves garlic, minced
2 cups ketchup
1/2 cup crushed pineapple with juice
2 1/2 Tbsp molasses
3 Tbsp apple cider vinegar
2 Tbsp packed light brown sugar
2 Tbsp dijon mustard
2 Tbsp worcestershire sauce
2 chipotle peppers in adobo sauce (more or less, depending on heat tolerance)
Heat oil in a saucepan over MED heat.
Saute onion and garlic for 5 minutes, stirring often, or until soft and tender.
Add remaining ingredients, stir to combine thoroughly, then reduce heat a bit and simmer (uncovered) for about 15 minutes.
Either leave as a chunky sauce, or add to a blender/food processor and process until desired consistency.
** Recipe slightly adapted from CARLSBAD CRAVINGS
Nutrition Disclaimer
The Chunky Chef is not a dietician or nutritionist, and any nutritional information shared is an estimate. If calorie count and other nutritional values are important to you, we recommend running the ingredients through whichever online nutritional calculator you prefer. Calories can vary quite a bit depending on which brands were used.