Chicken breasts marinated in a mix of tequila, citrus juices, lime zest and flavorful spices… get ready to fire up your grill and enjoy some of the best tasting chicken ever!
This is one of my Grilling recipes I know you'll want to keep on hand!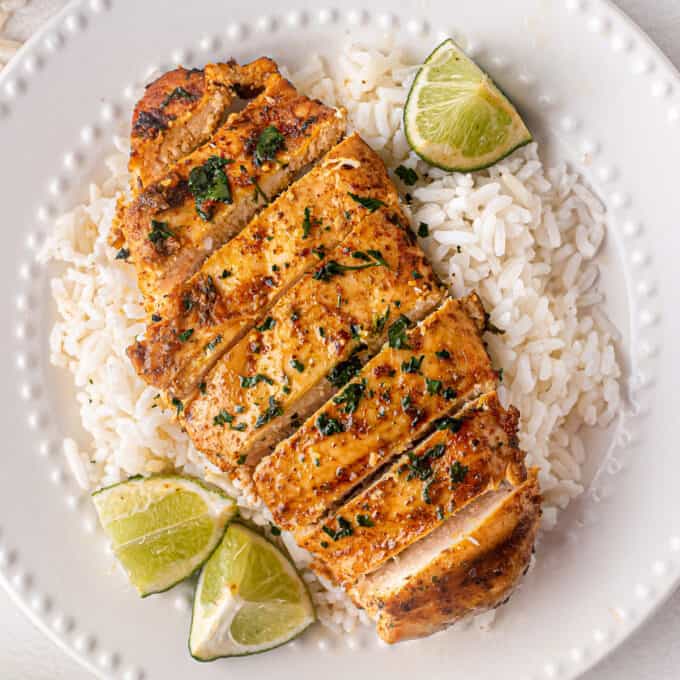 Who's ready for summer weather? Warm breezes, cold drinks, and grilled foods… those are my favorite things about summer!
If your family is anything like mine, no matter the season, you eat quite a bit of chicken. And after a while, you're desperate for a meal that isn't boring or the same as you normally make.
This grilled tequila lime chicken is definitely anything but boring! The boldly flavored marinade injects bright, citrusy flavors into the chicken, and the seasonings add smoky savoriness.
It's perfect as is, as a grilled chicken breast, but is also amazing sliced up in salads, bowls, tacos, burritos and more!
And you can take things to the next level by pairing it with a great salsa. Our favorites are this strawberry jalapeño salsa, and avocado corn salsa!
How to make grilled tequila lime chicken?
This is just an overview; the full ingredients and directions are in the recipe card toward the bottom of this post.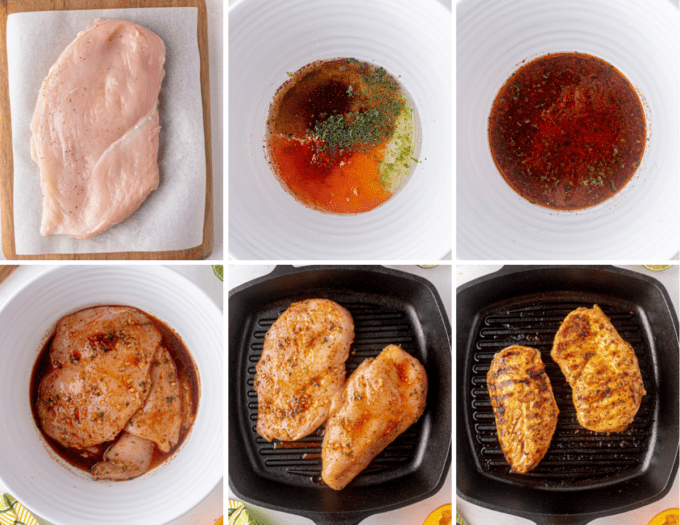 Pound chicken breasts. This is optional, but the grilling time assumes you've done this.
Make marinade. You can either make the marinade in a bowl, or in a resealable plastic bag.
Marinate chicken. I recommend at least 30 minutes, but it can marinate for up to 8 hours.
Grill. Grill chicken or cook on the stovetop.
Helpful Tip!
To ensure even, and quicker, cooking, I like to pound the chicken to about 1 inch thick. Some chicken breasts may not be as thick, and won't need pounding, so you may or may not need to do this.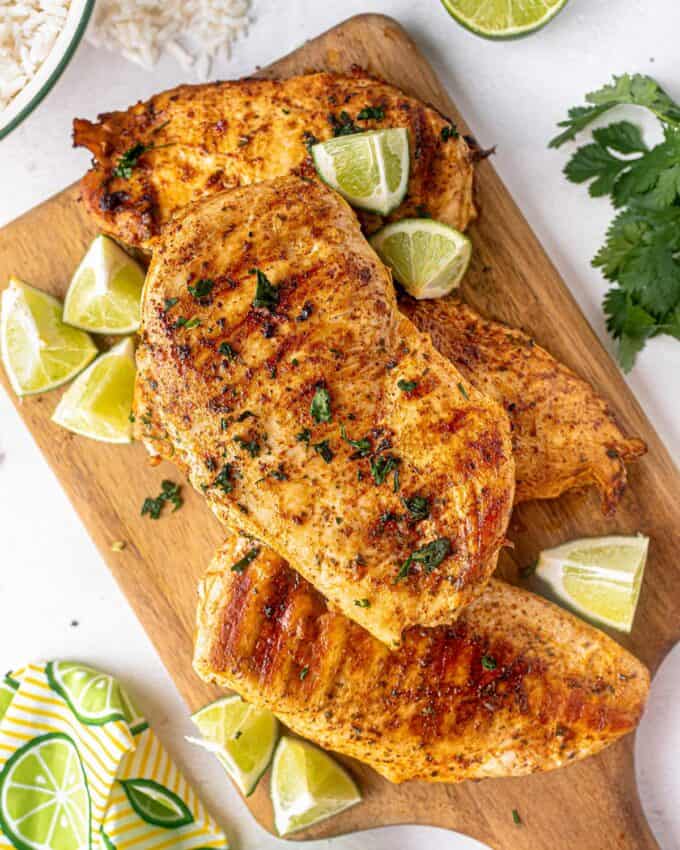 Variations of this recipe
Type of chicken – normally we prefer to use boneless skinless chicken breasts, but if you like chicken thighs, feel free to use those instead.
Other protein – the flavors in this marinade are great with not only chicken, but pork, seafood, and even tofu!
Lime juice – fresh lime juice is best, but you can use bottled if necessary.
No alcohol – if you can't use alcohol, you can use reduced sodium chicken broth instead. It won't have quite the same flavor, but you could add a bit of extra lime juice to add a little extra zing.
Stovetop – if you don't have a grill, or the weather just isn't cooperating, this chicken can be cooked on the stovetop as well. Check out all the details in the "Chef Tips" section right below the recipe.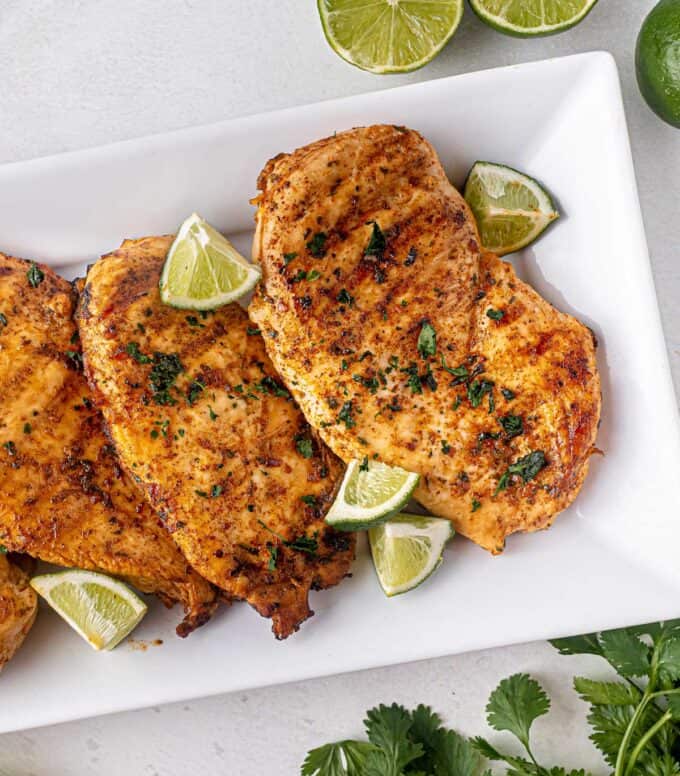 FAQ's
What kind of tequila should you use for tequila lime chicken?
Essentially any type of tequila you'd like. I wouldn't necessarily use top shelf tequila (save that for sipping, shots, or margaritas), but silver (aka blanco), reposado, añejo, etc will all work just fine.
How can you tell if grilled chicken is done?
The safest, and most accurate way, is to use an internal meat thermometer. Chicken breasts are done cooking when cooked to an internal temperature of 165°F. I've linked to my favorite inexpensive thermometer down below.
How can you keep grilled chicken juicy?
The first way to keep it juicy goes with the answer above, use an internal thermometer so you can monitor that it doesn't get overcooked. The second way is to let the chicken rest after its grilled. Just let it sit on a platter for 5-10 minutes and all the juices will redistribute throughout the meat.
Can this chicken recipe be put on skewers?
Sure thing! Slice chicken breasts into bite-sized pieces, then marinate as directed. Thread onto skewers and grill over medium high heat for about 8-10 minutes, flipping once or twice during cooking.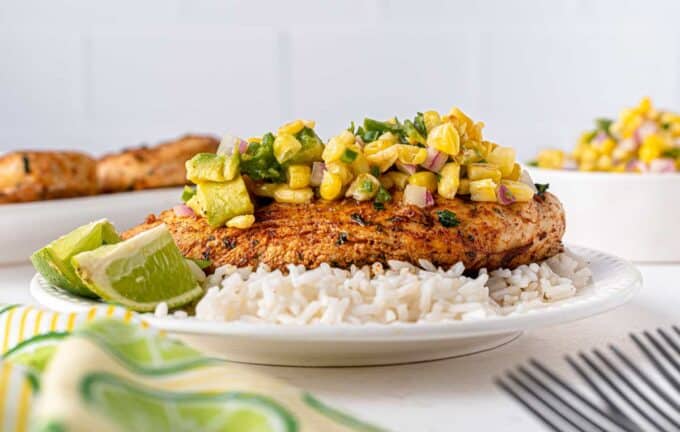 Making grilled chicken ahead of time
I don't recommend grilling them entirely ahead of time, as I think grilled food tastes best when it's fresh off the grill.
Since the chicken has to marinate for at least 30 minutes, this is sort of a slight make-ahead recipe, but you can have the chicken marinating for up to 8 hours if you want to make it more in advance.
Freezing
This marinade also freezes well! Feel free to make the marinade in a freezer-safe bag, add the chicken and combine, then seal and freeze for up to 3 months.
Thaw in the refrigerator, then grill as directed.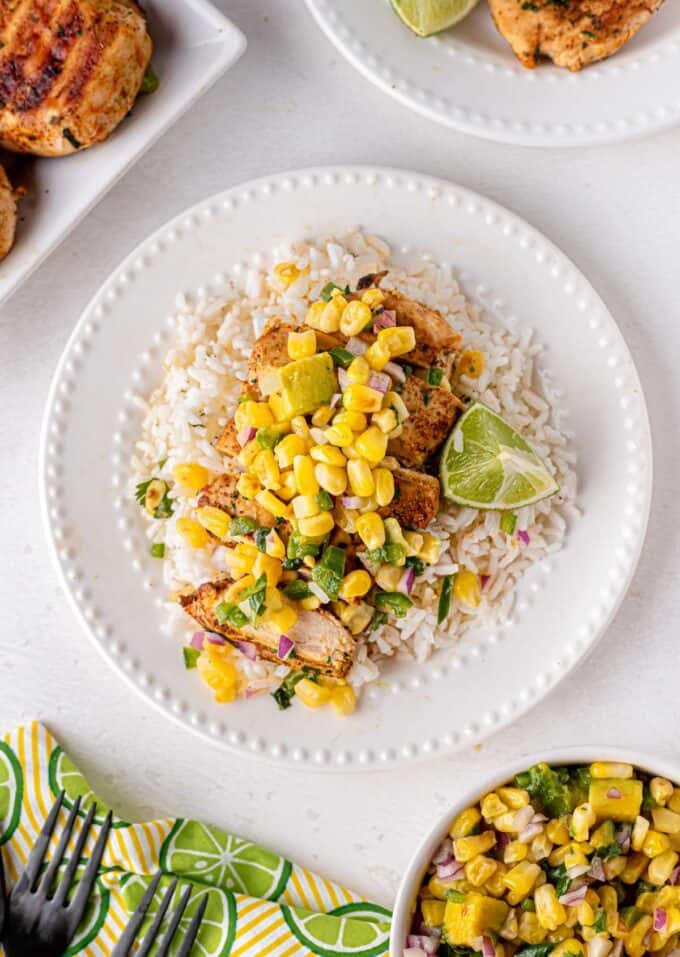 Storage
Leftover chicken should be stored in the refrigerator in an airtight container and eaten within 4-5 days.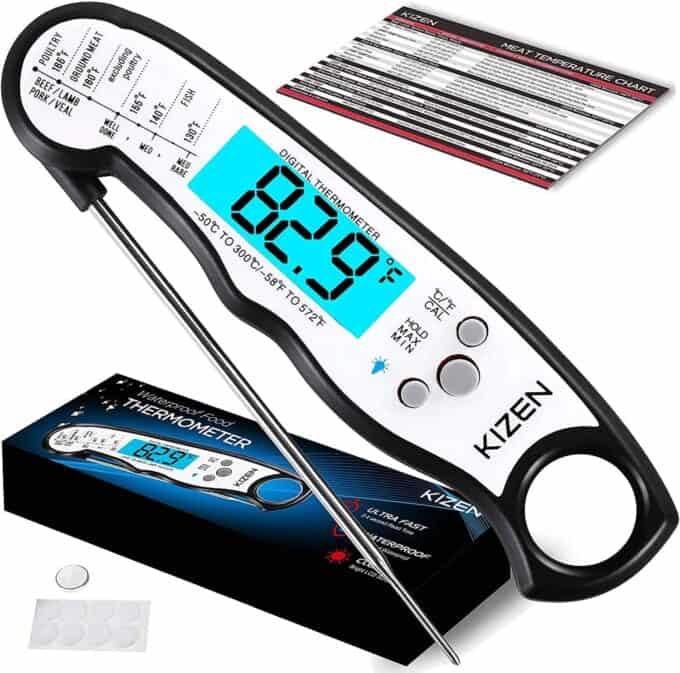 The key to great grilling is to use a meat thermometer. This one is inexpensive, accurate, and so quick! If you prefer a thermometer that stays in the meat and can alert you when the meat has reached a set temperature, try this ThermoPro!
Did you make this? Be sure to leave a review below and tag me @the_chunky_chef on Facebook and Instagram!
Chicken breasts marinated in a marinade of tequila, citrus juices, lime zest and flavorful spices!
Ingredients
Chicken
4 boneless skinless chicken breasts trimmed of excess fat
Tequila lime marinade
1/3 cup tequila any kind will work
1/3 cup avocado oil or vegetable oil
3 fresh limes zested and juiced
1 large orange juiced
1/2 Tbsp chili powder
1/2 Tbsp ancho chile powder
1 tsp dried minced onion
1 tsp kosher salt
1/2 tsp dried parsley
1/2 tsp black pepper
To serve
minced fresh cilantro
lime wedges
Instructions
Prep chicken
Top cutting board with wax paper, and top with a chicken breast. Top with another piece of wax paper and use the flat side of a meat mallet to pound chicken until about 1 inch thick.

Repeat with remaining chicken breasts, then set aside for a moment.
Make marinade
Combine marinade ingredients (tequila, oil, lime juice and zest, orange juice, chili powder, ancho chile powder, minced onion, salt, parsley and pepper) in a mixing bowl and whisk to combine. Alternatively, you could add the marinade ingredients to a zip top plastic bag, seal it, and shake well to combine.
Marinate chicken
Add chicken breasts to the marinade, and either cover the mixing bowl with plastic wrap or seal the plastic bag. Place in refrigerator for at least 30minutes or up to 8 hours.
Prep grill
Preheat grill over MED/MED-HIGH heat. Make sure grates are clean.
Grill chicken
Brush your grill with a little avocado or vegetable oil and grill chicken for about 5-6 minutes per side, until beautifully charred and cooked to an internal temperature of 165 F degrees.

Remove chicken from grill onto a plate or platter and let chicken rest for about 5 minutes to allow juices to redistribute.
To serve
Top chicken with sprinkle of minced cilantro and serve with a lime wedge alongside (for squeezing on top of the chicken).
Want to save this recipe for later? Click the heart in the bottom right corner to save to your own recipe box!
Chef Tips
Calorie count listed is for 1 serving (1 chicken breast), but may be inflated due to the nutritional calculator including the entire serving of oil, when in reality, you aren't consuming that amount.
Some photos show the chicken topped with this avocado corn salsa.
Cooking chicken on the stovetop
Prepare and marinate chicken as directed.
Preheat a grill pan or heavy bottomed skillet over MED HIGH heat.  Add a drizzle of vegetable oil, then add chicken, 2 breasts at a time (unless you have a huge skillet or pan).
Cook for 5-6 minutes per side, until beautifully charred and cooked to an internal temperature of 165°F.
Set chicken aside on a plate and let rest for 5 minutes.
Serve with a squeeze of lime and sprinkled with minced cilantro if desired.
Nutrition Disclaimer
The Chunky Chef is not a dietician or nutritionist, and any nutritional information shared is an estimate. If calorie count and other nutritional values are important to you, we recommend running the ingredients through whichever online nutritional calculator you prefer. Calories can vary quite a bit depending on which brands were used.