This bold and amazing creamy jalapeño dip is a very close copycat of the dip/sauce served at Chuy's restaurant. The tangy dip has just the right level of heat, and a creamy ranch flavor. You'll want to dip and drizzle this sauce on absolutely everything!
This is one of my Dip recipes I know you'll want to keep on hand!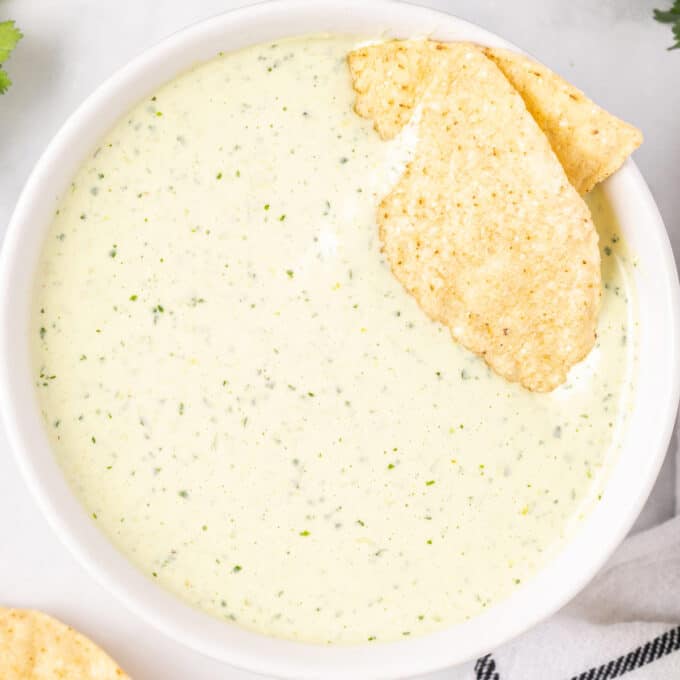 Have you eaten at a Chuy's restaurant? It's a popular Tex-Mex style restuarant that seems to be located mostly east of the Rocky mountains, so if you're on the west coast of the US you may not have had the opportunity to eat there.
But now you can have a delicious little taste of their food… at home!
However, if you have eaten there, you know how amazing their creamy jalapeño dip is. From the moment it's placed on the table with those deliciously crisp and thin tortilla chips, I'm in heaven.
The jalapeño dip/sauce is perfectly tangy, savory, and has a little kick of heat. It also has a ranch flavor… which is odd that I love it so much, since I'm not a huge fan of ranch dressing.
I know, I know, a midwesterner that doesn't like ranch… blasphemy! But with this dip, the ranch pairs SO well with the other flavors, and I could literally eat this dip with a spoon.
How to make creamy jalapeño dip?
This is just an overview; the full ingredients and directions are in the recipe card toward the bottom of this post.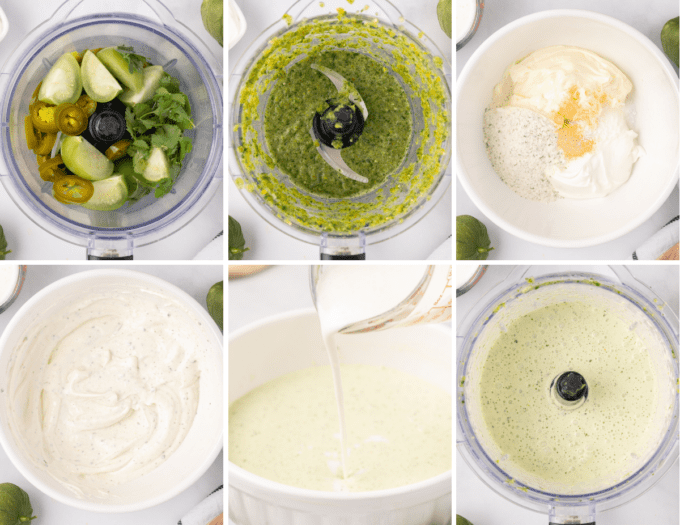 Process the "green" ingredients. This is the jalapeños, jalapeño juice, tomatillos, cilantro, and lime juice.
Stir together creamy ingredients. This is the sour cream, mayonnaise, ranch dressing mix, salt and garlic powder.
Combine both mixtures.
Add buttermilk. This amount will vary, depending on the consistency and thickness you want the dip to be.
Process. If the dip/sauce has lumps, add it to the food processor again until it's as smooth as you want.
Helpful Tip!
I prefer to make this recipe in stages, so I can control the texture and thickness. But if you're in a hurry, you can add all the ingredients (except buttermilk) to the food processor and process until smooth. Then pour the dip into a bowl and stir in the buttermilk until you like the thickness.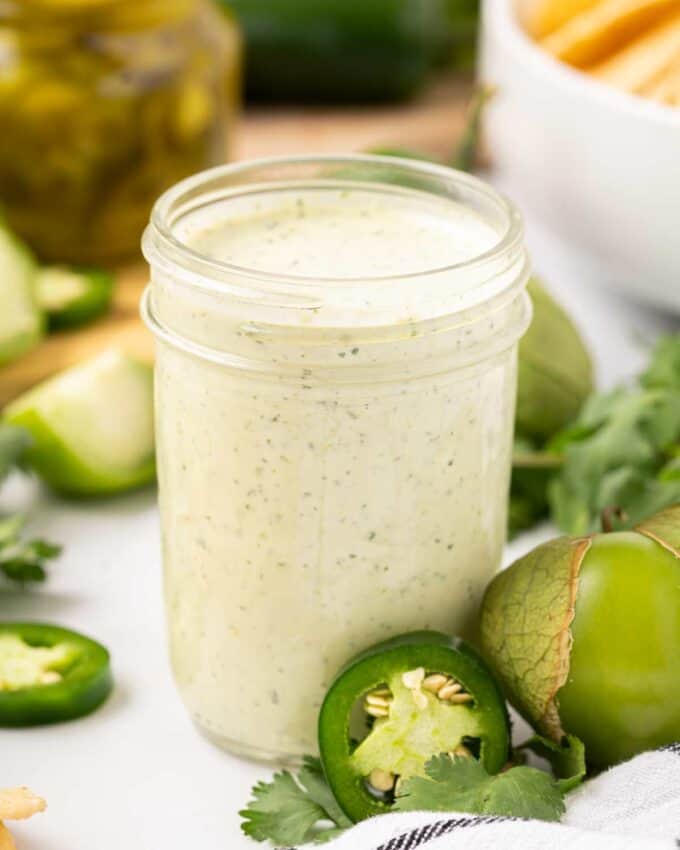 Variations of this recipe
Other dairy – if you don't have buttermilk, you can make a quick substitute, or use whole milk, half and half or heavy cream.
Buttermilk substitute – if you don't have buttermilk on hand, you can make your own! Mix 1 Tbsp lemon juice or white vinegar with whole milk and let it sit about 10 minutes. It will look a bit curdled. Stir and use.
Less tangy – reduce the amount of buttermilk used, or change up the ratio of sour cream and mayo to be heavier on the mayo.
Spicier – you can use fresh jalapeños (seeded or leave the seeds in), and/or increase the amount of jalapeños used.
Avocado – to really up the creaminess and green color, try adding 1/2 to 1 avocado (pitted and roughly chopped) to the food processor.
Lime – I'm a lime fanatic, so I always add a splash of lime juice to this recipe, but the amount will be up to you… give it a taste and see if you'd like more lime flavor.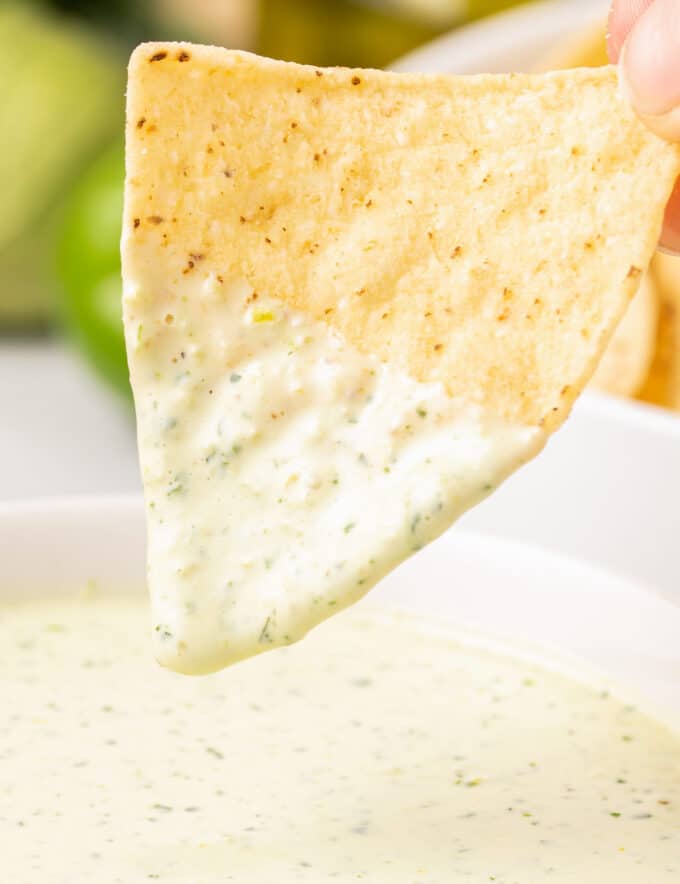 FAQ's
What type of jalapeños are used in this dip?
From testing, I found the pickled jalapeños (in jars at the grocery store) yielded a dip that tasted closest to the dip at Chuy's. We like to use the medium or mild variety (since the kids LOVE this dip), but you could certainly use hot. You could also use fresh jalapeños if you prefer.
What texture is this dip supposed to be?
If you've ever had this dip at Chuy's restaurant, you know it's definitely on the thinner side. However, this is your dip, and you can make it as thick or thin as you'd like. Just adjust the amount of buttermilk until the dip is the consistency you're looking for.
Making creamy jalapeño dip ahead of time
I love this recipe because it's actually better when you make it ahead!
The flavors really get a chance to meld together this way. I like to make this dip the day before, or early in the morning of the day we want to use it.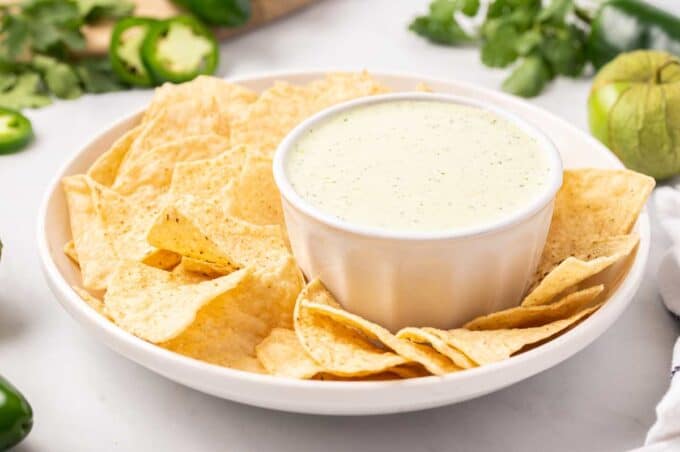 Storage
Jalapeño sauce should be stored in an airtight container in the refrigerator and enjoyed within 2 weeks.
What to serve creamy jalapeño dip with!
We think this sauce is perfect with so many Tex-Mex foods, and here are some of our favorites: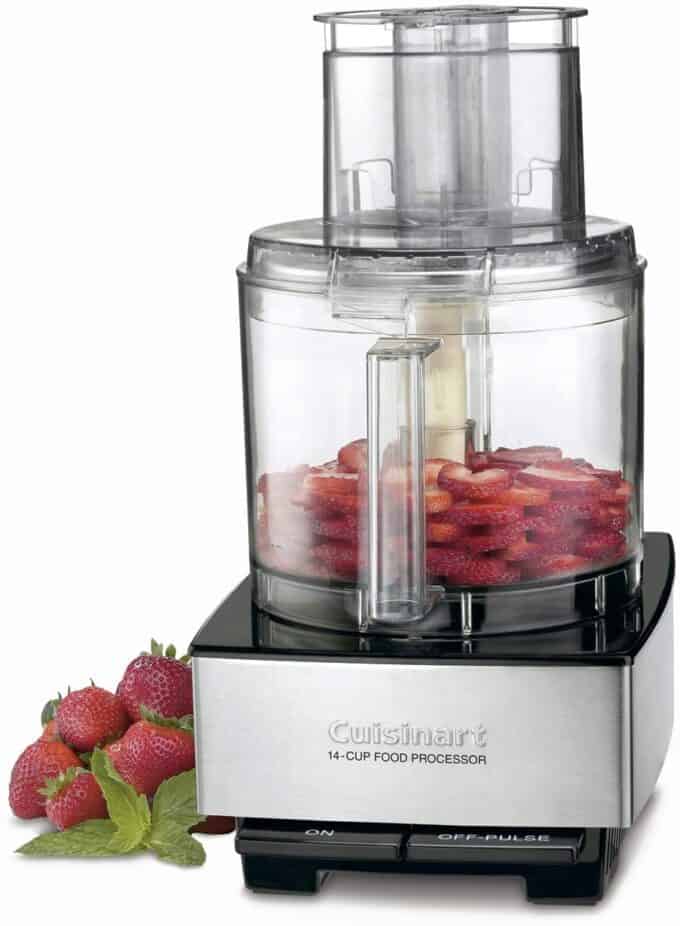 I've had this food processor for years, and I love it's efficiency and large capacity! It's certainly an investment, but one I feel has more than paid for itself over the years. However, any food processor will work for this recipe.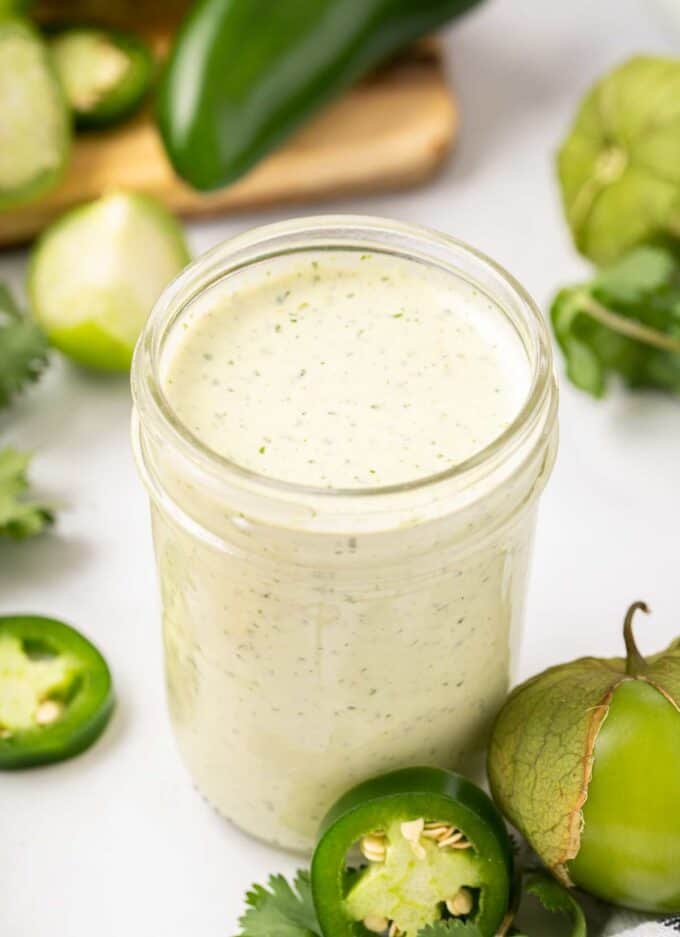 Did you make this? Be sure to leave a review below and tag me @the_chunky_chef on Facebook and Instagram!
This bold and amazing creamy jalapeño dip is a very close copycat of the dip/sauce served at Chuy's restaurant. The tangy dip has just the right level of heat, and a creamy ranch flavor!
Ingredients
1 cup sliced pickled jalapeños mild, medium, or hot (we normally use medium)
2 Tbsp juice from jalapeño jar
1 cup fresh cilantro packed (I just grab a generous handful)
2 fresh tomatillos husks removed, tomatillos washed and quartered
1 – 2 Tbsp lime juice fresh is best
1 cup sour cream full fat is recommended
2/3 cup mayonnaise full fat is recommended
1 oz packet powdered ranch dressing mix
1/2 tsp kosher salt
1/4 tsp garlic powder
1/4 – 1/2 cup buttermilk this amount will depend on how thin or thick you'd like the dip to be
Instructions
Prepare
Tomatillos come with a papery husk covering them. Pull that off, wash and scrub the tomatillos, then dry and quarter them.
Process "green" ingredients
To a food processor, add jalapeños, jalapeno juice, cilantro, tomatillos, and lime juice, then pulse until pureed.
Combine creamy ingredients and seasonings
Set aside. In a mixing bowl, add sour cream, mayonnaise, ranch dressing mix, salt, and garlic powder.
Combine the two
Add the pureed jalapeno mixture to the mixing bowl and stir into the sour cream mixture.

If sauce has lumps, add it back to the food processor to process again until smooth.
Add buttermilk
Stir in buttermilk until desired consistency is reached. Dip is supposed to be a little on the thinner side.
Chill and store
Transfer dip to an airtight container, then refrigerate for at least 2 hours. Keep refrigerated, and the dip will keep for about 2 weeks.
Want to save this recipe for later? Click the heart in the bottom right corner to save to your own recipe box!
Chef Tips
Dip makes about 2-3 cups, which I've estimated would comfortably feed 8 people.
If you like the consistency of your dip/sauce after combining the jalapeño mixture with the sour cream mixture, you can omit adding the buttermilk. I find I usually add about 1/4 cup.
The lime juice is optional and can be omitted if you'd like, we just love the tang and freshness it brings.
Nutrition Disclaimer
The Chunky Chef is not a dietician or nutritionist, and any nutritional information shared is an estimate. If calorie count and other nutritional values are important to you, we recommend running the ingredients through whichever online nutritional calculator you prefer. Calories can vary quite a bit depending on which brands were used.