You all know my obsession with chicken fajitas… okay any kind of fajitas…. okay, pretty much just  all Mexican food period 😉  And quesadillas are one of those things I love to order when we go out to eat.  They're easy to eat, fun to dip and top with things, and go great with a margarita!  So for this recipe, I found some great inspiration from Jo Cooks, and combined my love of chicken fajitas and quesadillas!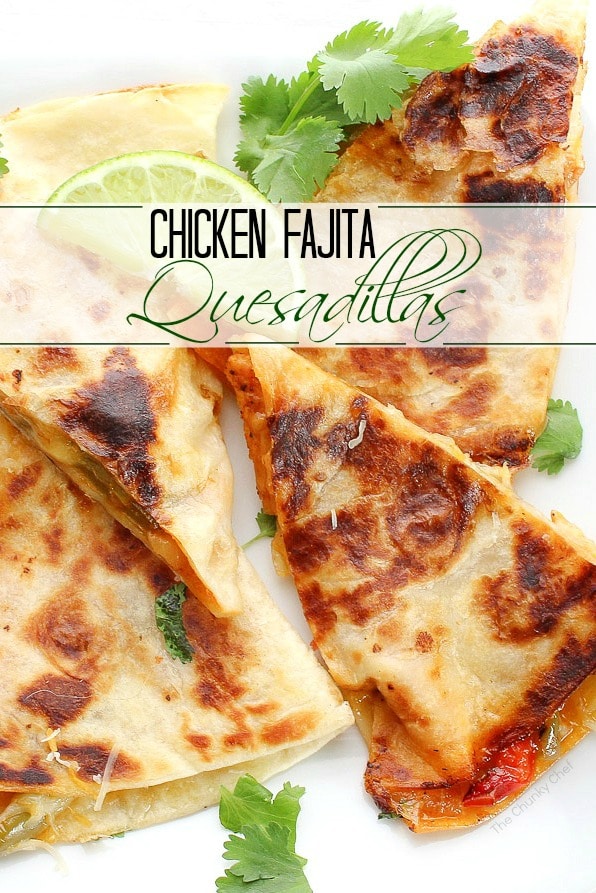 One of the great things about these quesadillas is that you can make your fajitas any way you want!  I prefer my set it and almost forget it Oven Baked Chicken Fajitas, but you could cook them in a skillet, or on a grill.  You could also toss in some different veggies if you'd like.
Chicken not your thing?  Switch up the protein and use steak, or shrimp, or any vegetarian protein!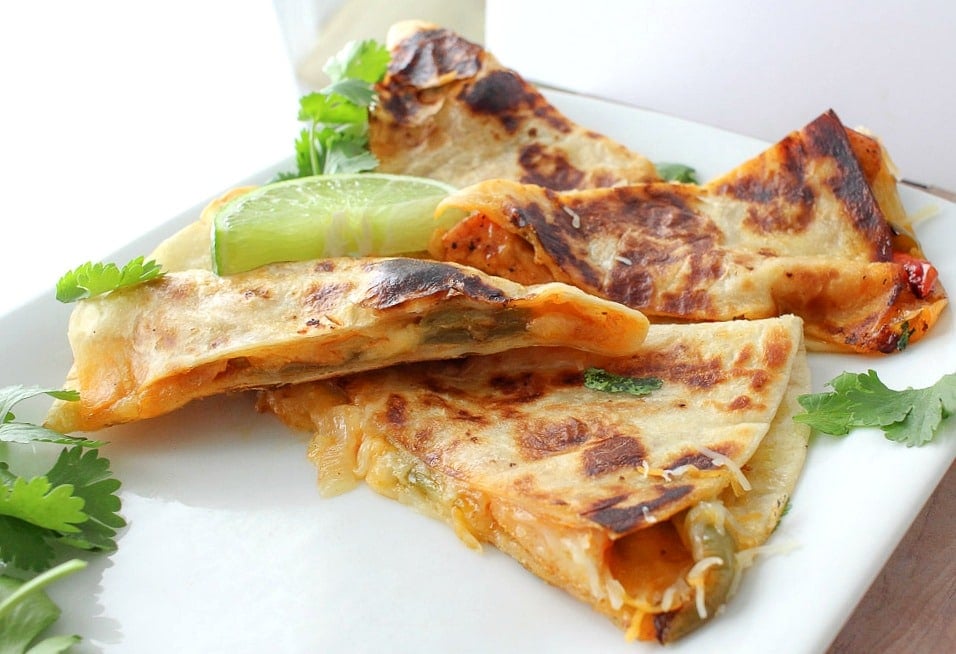 I used leftover oven baked chicken fajitas from the night before to make my quesadillas, so it all came together in about 10 minutes!  If you choose the skillet method to make your quesadillas, it'll come together in about 30 minutes.  You have to love a quick and easy meal that the whole family will love!
So if you want to cook your fajitas in the skillet, here's the quick breakdown:
Mix up your fajita seasonings (see recipe below) in a small bowl, slice up your onions and peppers, and dice your chicken into bite sized pieces.  Toss your chicken with the fajita spices.  Add a little oil to your big skillet and cook the chicken over medium/medium-high heat for about 7-10 minutes until it's cooked through and a little charred.
Remove the chicken to a plate, and add your onions and peppers to the skillet and saute for about 5 minutes until they're soft.  Add your chicken back to the pan and stir to combine everything well.  Now you have your chicken fajitas made and you're ready to make the quesadillas.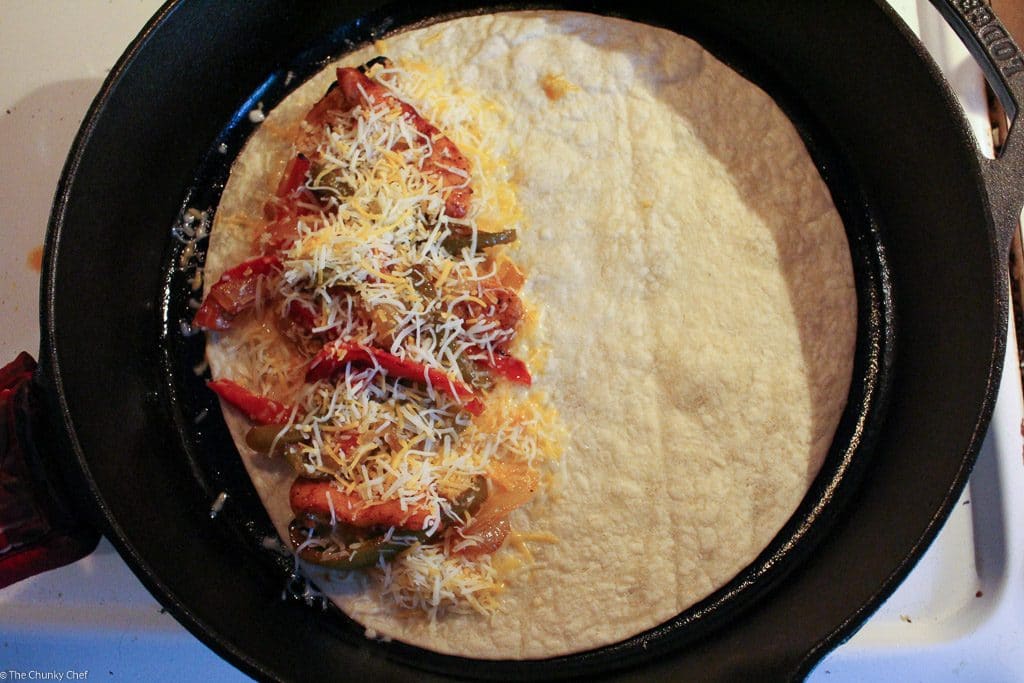 Remember, if you want a different twist to make your chicken fajitas, try the oven method!
Add a bit of butter or oil to a skillet over medium heat, (love my cast iron for this), and lay a flour tortilla in the skillet.  To one half of the tortilla, add a sprinkle of cheese, a handful of chicken fajita fillings, and another sprinkle of cheese.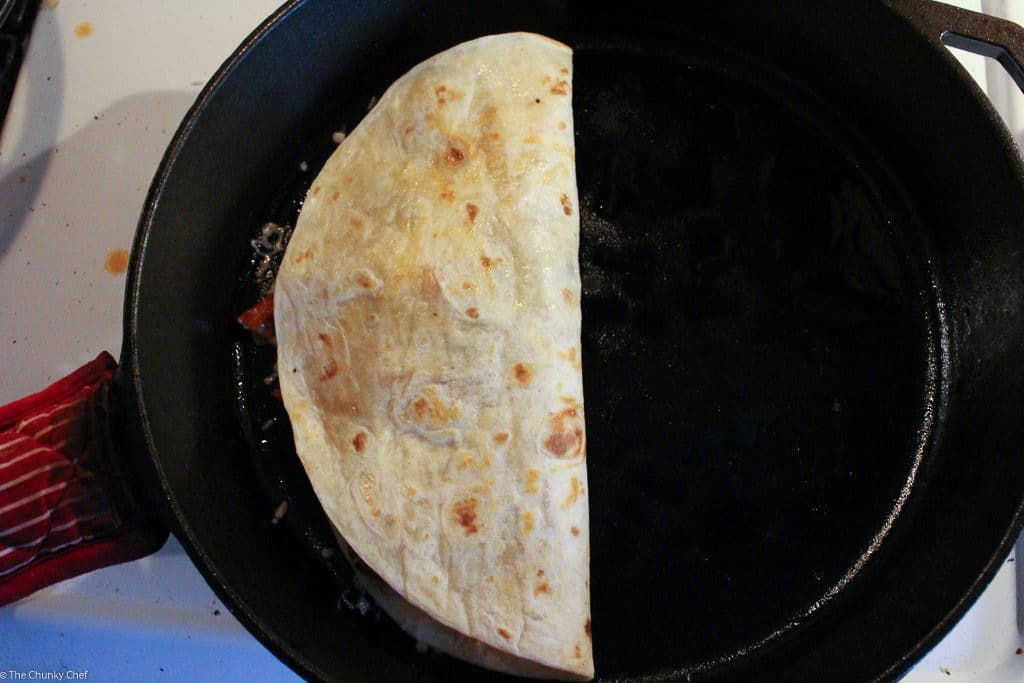 Let it cook for about half a minute, fold the other side over the top of the filling side and let it cook until the tortilla is golden brown.  Flip it over to brown the other side.  Ta-da!  You have yourself one amazing quesadilla!!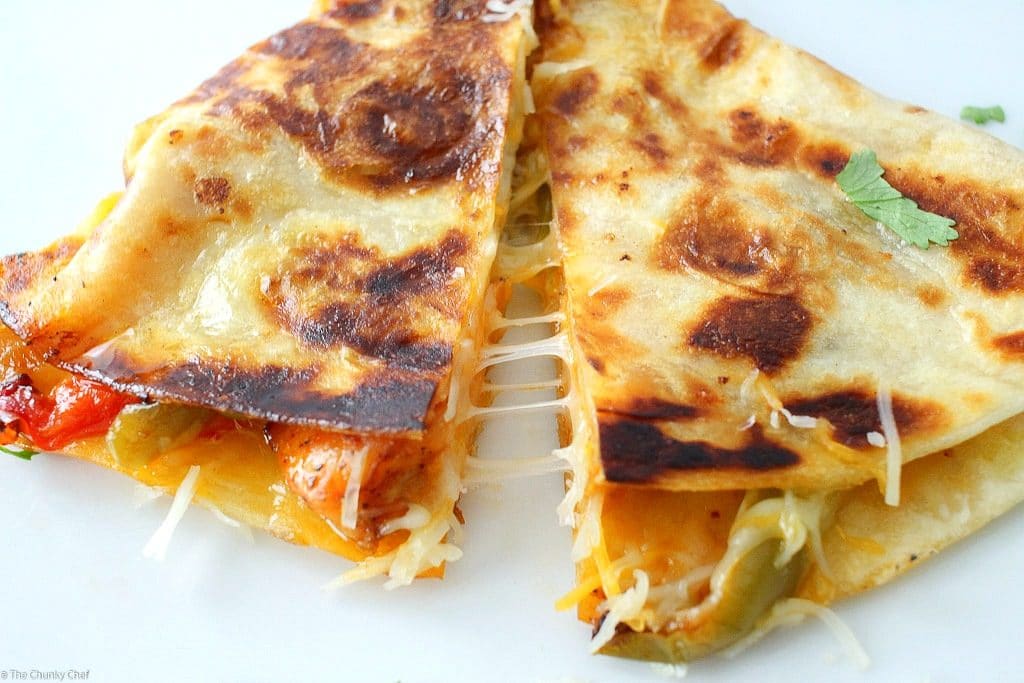 Cheesy, flavorful, crowd-pleasing, and fun to make!
Now what's a great quesadilla without a great dip?  Obviously sour cream is delicious, and I also love to serve this with some fresh guacamole.  I need to make that and put it on the blog… problem is, there's never any left and I can't keep my family's, (and my) hands out of it long enough to take a picture 😉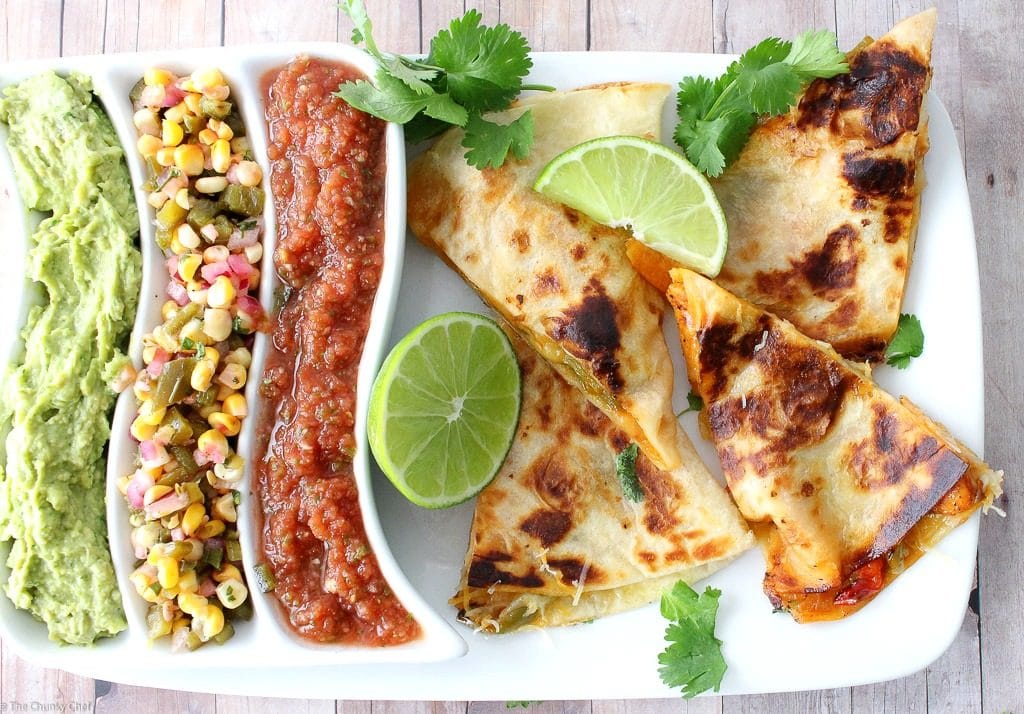 You can see in that picture that I also served this with my super tasty Restaurant-Style Salsa and Roasted Corn and Poblano Salsa.  Both of those are always a hit around here!  Garnish your plate with a few lime wedges and some cilantro and you have yourself a GREAT looking, and tasting, plate of food 😀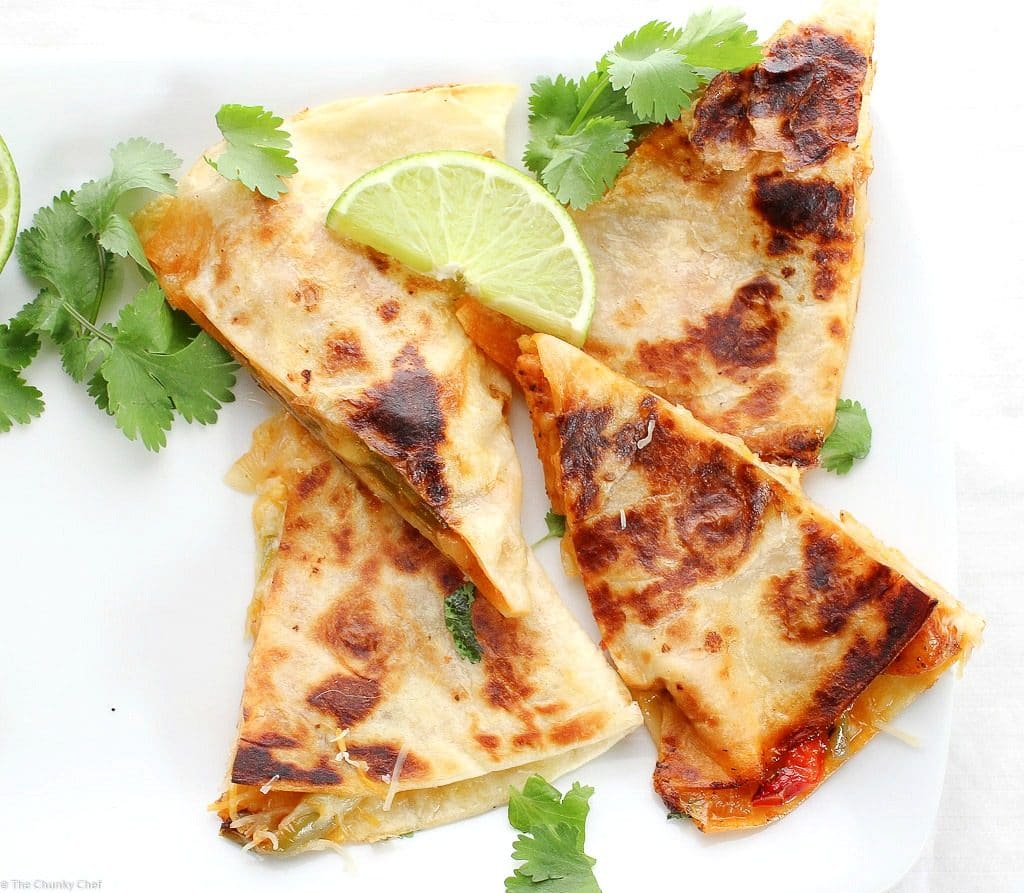 Are you ready for a fiesta??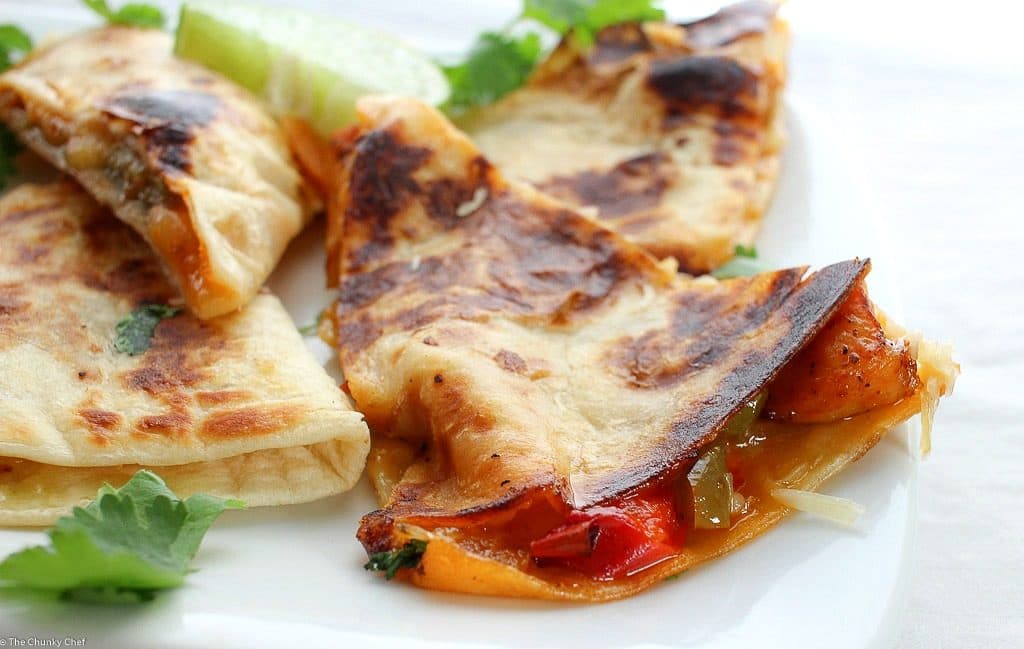 Did you make this? Be sure to leave a review below and tag me @the_chunky_chef on Facebook and Instagram!
Do you love chicken fajitas? Do you love quesadillas? Combine the two and you have one amazing quesadilla you'll want to make over and over!
Ingredients
FAJITA SEASONING:
1 Tbsp chili powder
1/2 Tbsp paprika
1/2 tsp onion powder
1/4 tsp garlic powder
1/4 tsp cumin
1/8 tsp cayenne pepper
1 tsp sugar
1/2 tsp salt
1/2 Tbsp corn starch
QUESADILLAS:
2 small yellow onion sliced
1 medium green bell peppers sliced
1 medium red bell pepper sliced
1 lb chicken breasts sliced into strips
2 Tbsp vegetable oil
1 cup shredded Mexican blend cheese
8 large flour tortillas burrito size
Instructions
OVEN-BAKED METHOD:

Preheat the oven to 400 degrees. Mix all of the ingredients for the fajita seasoning in a bowl

and set aside.

Cut the onion and bell peppers into strips. Place them in a large 13x9 baking dish. Slice the

chicken breast into thin strips and add it to the baking dish with the vegetables.

Sprinkle the seasoning over the meat and vegetables. Drizzle the vegetable oil over

everything and then use your hands to toss the ingredients until they are well coated. Bake

for 35-40 minutes, stirring once half way through.


ALTERNATE SKILLET METHOD:

In a bowl, sprinkle fajita seasoning over the chicken and toss to coat the chicken.

In a large skillet, heat 1 Tbsp of vegetable oil over medium/medium-high heat, and add the chicken.

Saute the chicken for 7-10 minutes until it's fully cooked and golden brown and slightly charred.

Remove chicken from skillet to rest on a plate.

Add the remaining Tbsp of vegetable oil to the skillet. Add the onion and peppers to the skillet and saute for about 5 minutes, until softened.

Add the chicken to the skillet, mix with peppers and onions and cook for about 1 minute.

TO MAKE THE QUESADILLAS:

Add a bit of butter or oil to a large skillet and heat over medium heat. Add 1 flour tortilla, sprinkle one half of the tortilla with a little cheese, then add a handful of cooked chicken fajitas, and top with another sprinkle of cheese.

Fold the other half over to create a half circle. Pat down with a spatula. Cook for a few minutes, until golden brown on the bottom.

Carefully flip the quesadilla over to cook the other side until golden brown. Remove to a plate, slice and serve.

Serve garnished with lime wedges and fresh cilantro.

Serve with whatever dips you'd prefer.
Want to save this recipe for later? Click the heart in the bottom right corner to save to your own recipe box!
Nutrition Disclaimer
The Chunky Chef is not a dietician or nutritionist, and any nutritional information shared is an estimate. If calorie count and other nutritional values are important to you, we recommend running the ingredients through whichever online nutritional calculator you prefer. Calories can vary quite a bit depending on which brands were used.