---
Bright and fresh, this salsa is the best you've ever tasted!  It takes just 5 minutes to make, and it's sure to "wow" anyone you make it for!
---
Who else loves chips and salsa?  I figured as much… it's such a classic snack!  I love salsa when it's fresh and smooth, with small pieces of tomato, onion, jalapeno, with cilantro and lime juice.  Bright and fresh with a kick, as the best salsa's are!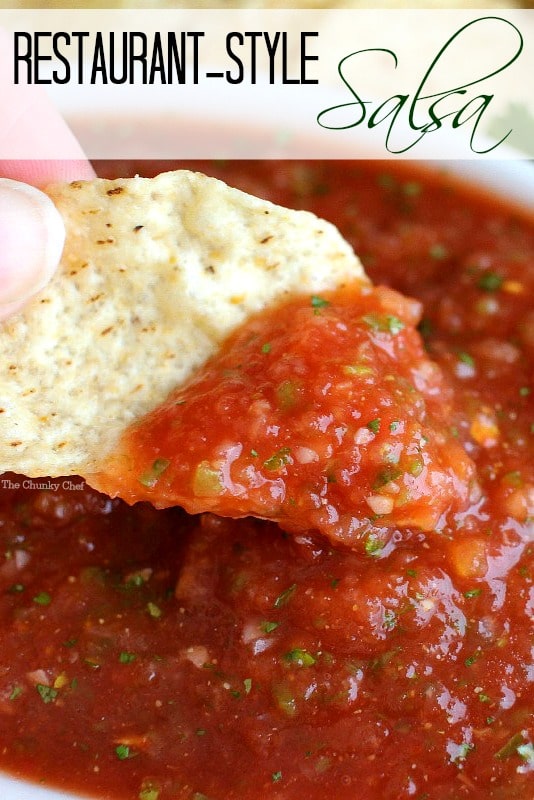 This salsa is ridiculously simple to make, just throw all the ingredients in your food processor or blender, process it, and ta-da!  Amazing salsa 😀
When I was pregnant with my son, I was completely addicted to Chili's salsa and chips.  I wanted to eat there ALL the time, and even when I wasn't eating there I was trying to convince my husband to stop there on his way home to pick up some take out chips and salsa lol.  He was always less than pleased.  I still love their salsa, but since it's not really cost effective to buy chips and salsa or go out to eat all the time, I figured that I would just find a way to make it at home 🙂
This salsa isn't exactly a copycat of Chili's salsa… it's a little thicker and has more cilantro taste to it… but want to know a secret?  I think I like it better!  I know, blasphemy!
Jarred salsa can be good, but let me tell you, making it fresh… whew… you won't want jarred anymore.  Fresh blows that out of the water.  Plus if you're into canning, I'm sure you could can this salsa yourself and have it fresh year round 🙂  You could also freeze it 🙂
Speaking of canning… I made it a goal this year to teach myself to can and make some great jams, applesauces, salsas, pickles, and whatever else my canning heart desires 🙂  So, just FYI, those posts will be coming this spring and summer lol.
Okay back to the salsa!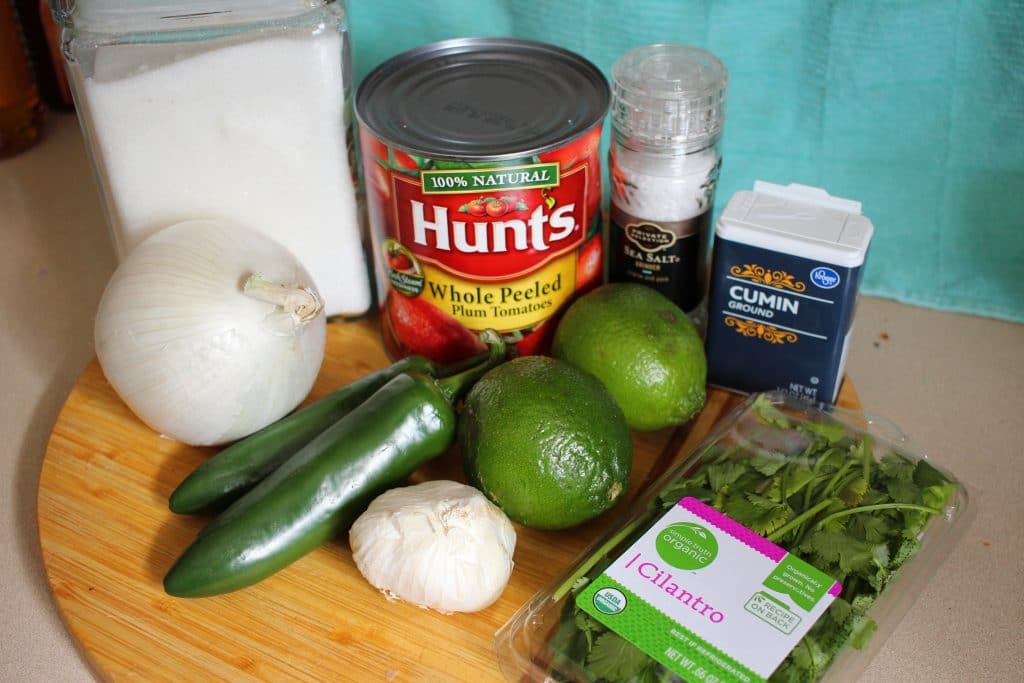 Just gather your ingrediets, of course you don't need to take a picture of them like I did lol.  Roughly chop your onion, and jalapeno.  Add the whole can of tomatoes, including juice, your chopped veggies, roughly chopped garlic, cumin, salt, sugar, a handful or more of cilantro, and juice some limes into your food processor.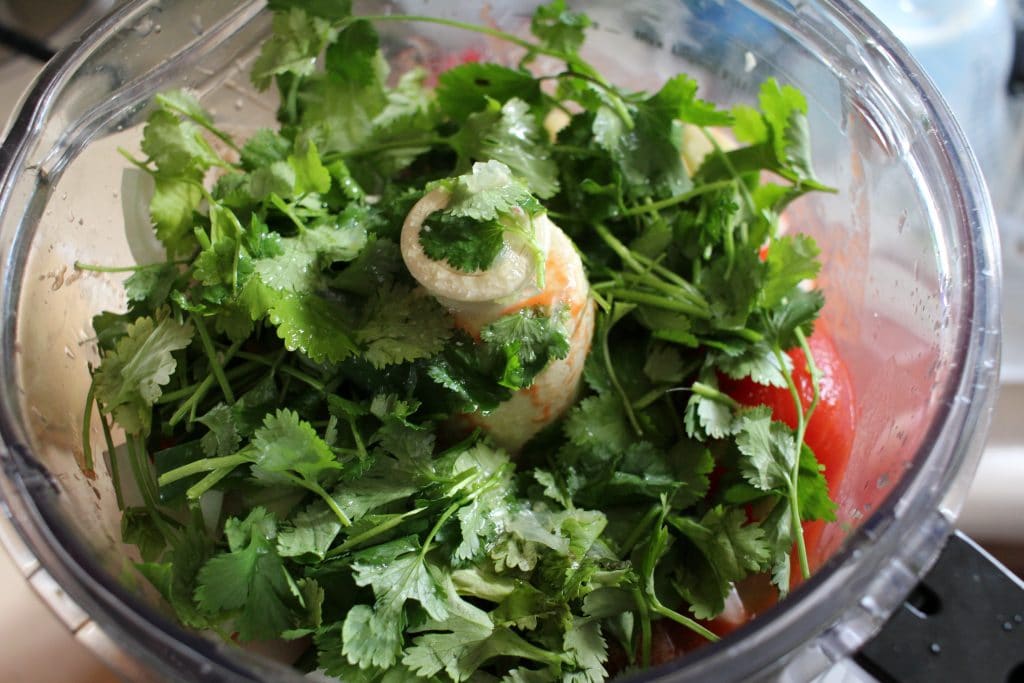 Pulse it a couple of times, then turn it on and process until the salsa is your desired consistency.  I like mine fairly smooth 🙂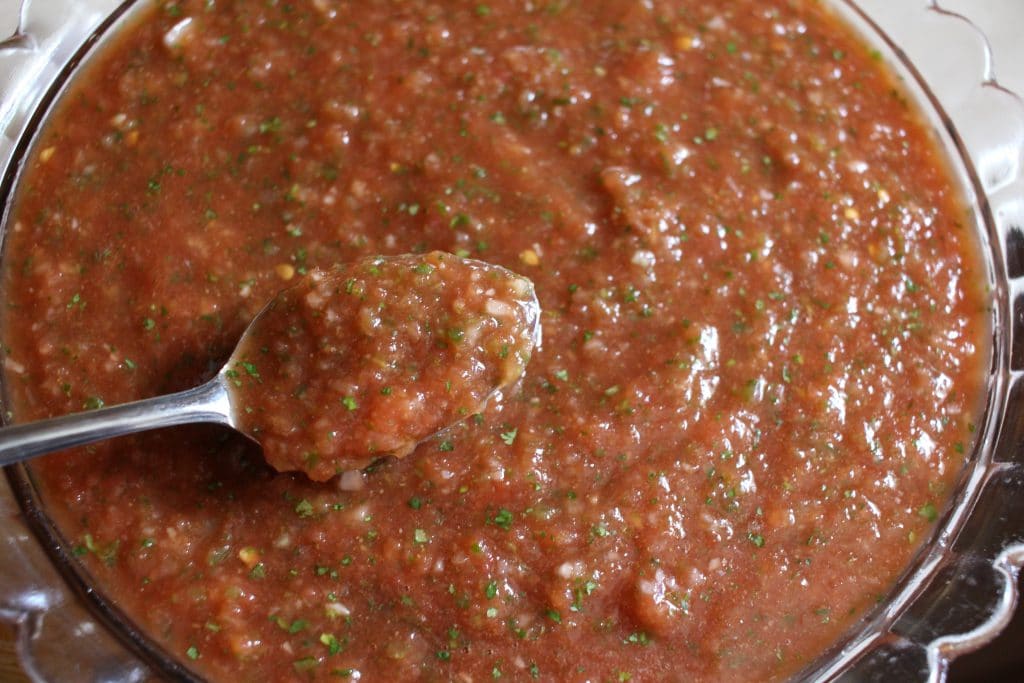 To let this salsa have the best flavor, put it in an airtight container and in the refrigerator for a couple of hours.  This lets the flavors really combine and get good and acquainted 🙂  And as a bonus, I like cold salsa, so that makes it even better.
Now just grab a bag of your favorite tortilla chips and sit down on the couch with some Netflix or your favorite movie… or hey, make this for Cinco de Mayo 😉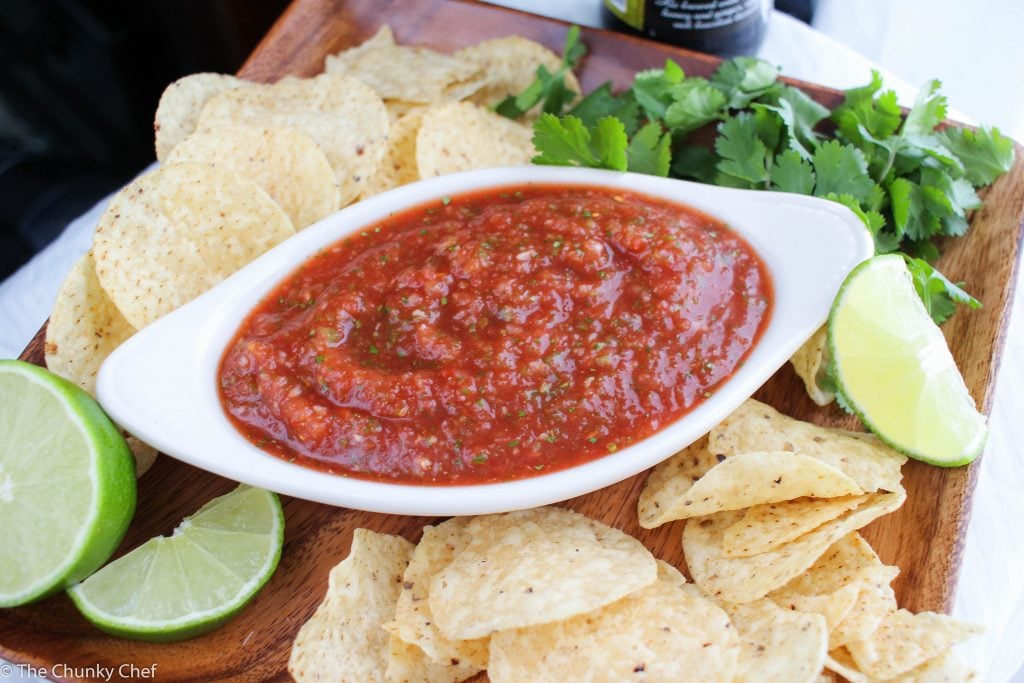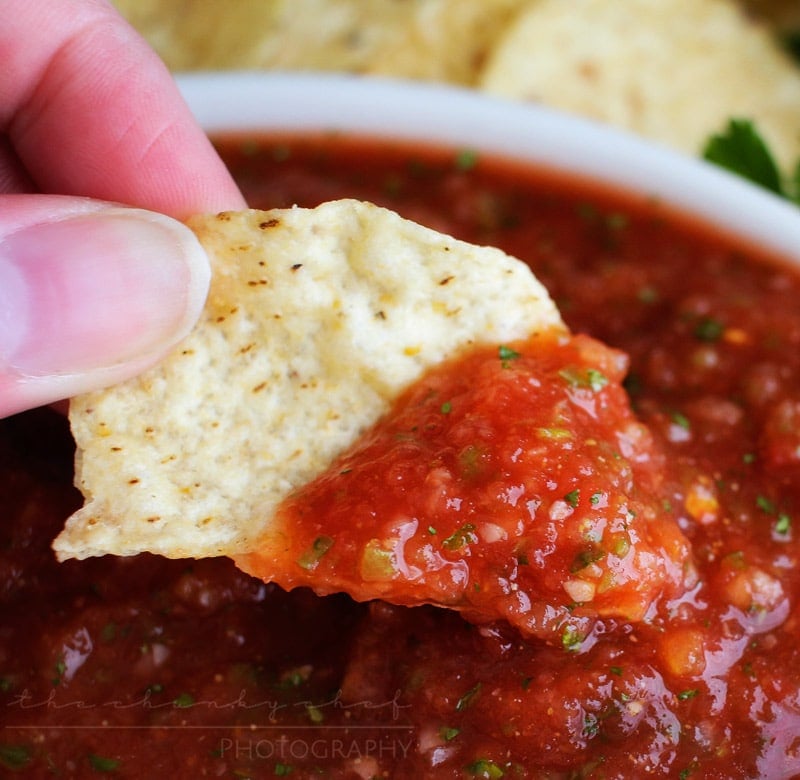 You know you want that chip I'm holding there… just imagine all those bright, salty, savory, fresh flavors.  Mmmmm!!!  So seriously, make this.  It's the best salsa you'll ever taste!
Recipe adapted from Averie Cooks
Helpful Tools for This Recipe:
---
Let's Connect!
You can find me on Facebook, Twitter, Pinterest, and Instagram, so follow me if you'd like… I love keeping in touch with all of you 🙂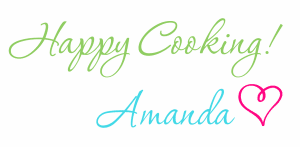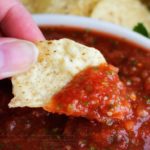 Restaurant Salsa
Bright and fresh, this salsa is the best you've ever tasted!
Print
Ingredients
28

ounce

can whole plum tomatoes

including juice

1

small white onion

peeled and roughly chopped

1 - 2

jalepeno peppers

seeded and chopped

3

cloves

garlic

chopped

1 1/2

teaspoons

ground cumin

or to taste

1

teaspoons

salt

or to taste

1/4 - 1

teaspoon

to 1 granulated sugar

optional and to taste

1 - 2

handfuls

cilantro

I prefer 2

About 3

tablespoons

lime juice
Instructions
Add all ingredients to

food processor

in the order listed. Pulse a few times to break up the large pieces, then process until texture is as smooth as desired.

Taste the salsa and based on personal preference, adjust as necessary.

Transfer to airtight container and let sit in the refrigerator for a couple of hours or 1 day for best flavor.

Serve with tortilla chips and enjoy!
Recipe Notes
** I remove the seeds from my jalapeno peppers to reduce the heat level. This way you'll get all the fresh jalapeno flavor and some heat, but not a crazy amount of heat.

** I also add the teaspoon of sugar to balance out the acidity of the tomatoes and I think it heightens the other flavors.

** If you'd like, you could stir in some corn kernels, black beans, or chopped tomatoes.