20 Minute Vegetarian Skillet Lasagna
---
 Fall comfort food at it's best, this vegetarian skillet lasagna has all the flavors of traditional lasagna, made in 20 minutes!  
---
Lasagna is such a great Italian meal, but can be difficult and time consuming to make.  This skillet lasagna version has an awesome vegetarian twist and has all the flavors of lasagna, made in one skillet!  You're 20 minutes away from a great meal!
This shop has been compensated by Collective Bias, Inc. and its advertiser.  All opinions are mine alone.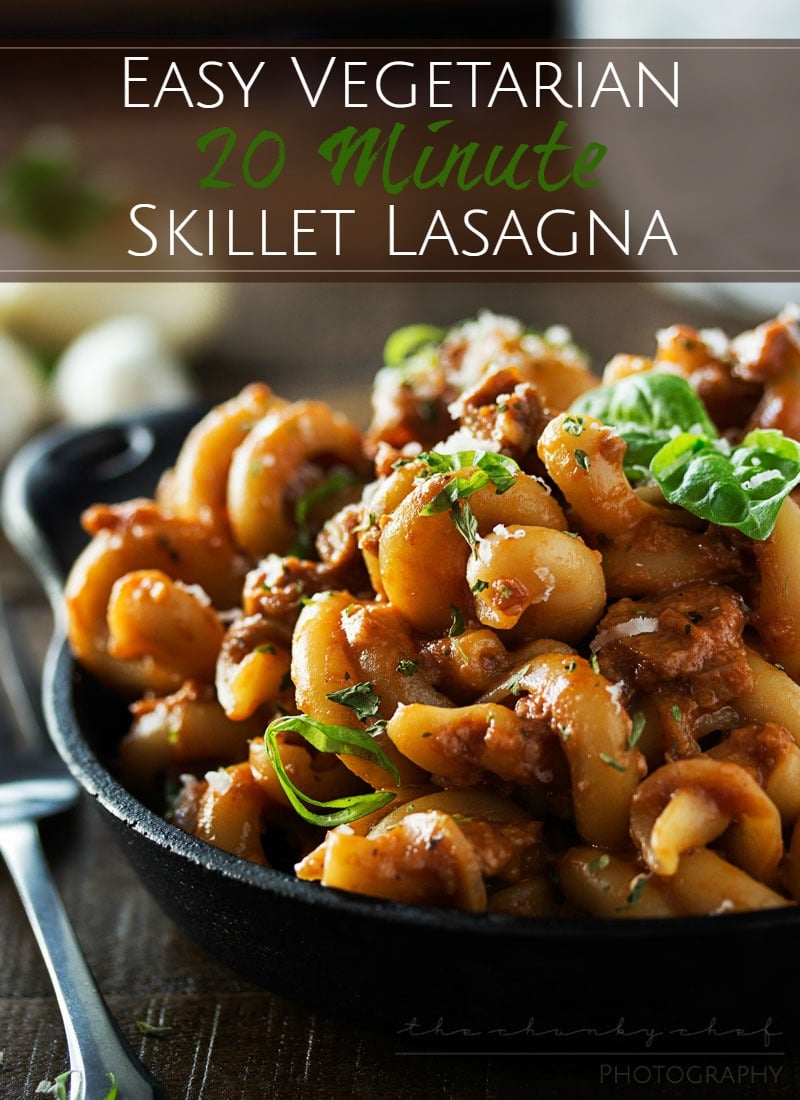 Pretty much everyone I know loves lasagna.  The hearty meat sauce, gooey cheese, and that rich creaminess to the whole dish… it's just the perfect comfort food!  But come on, it's not really practical for a weeknight meal.  All that fussing and long bake time… no way.  So for this twist, I followed the general idea of  what I think was the Pioneer Woman's Bowtie Lasagna… made it my own with a homemade sauce, extra herbs, and lightened it up a lot by making it vegetarian!
Now, looking at that picture above, you're probably wondering how it could be vegetarian when you can see what appears to be a hearty meat sauce.  I have a secret weapon… Morningstar Farms Grillers Crumbles!  A veggie cuisine that satisfies vegetarians and meat eaters alike!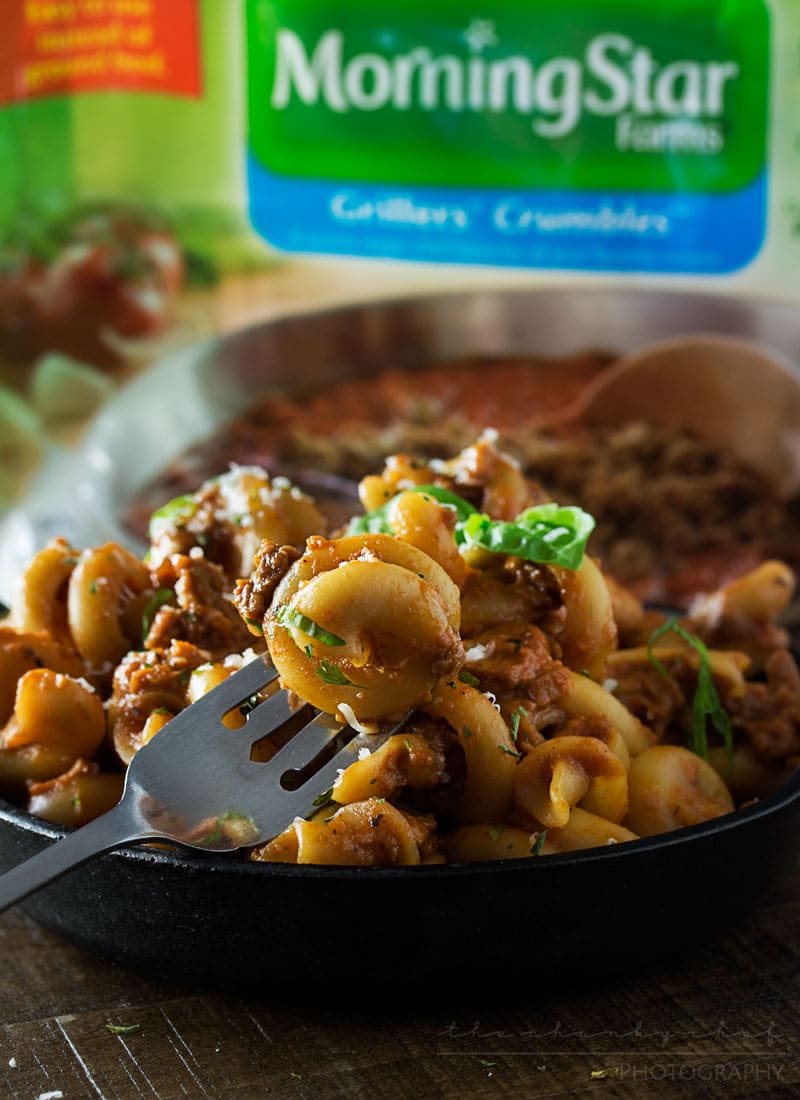 Is there anything more comforting than a big hearty bowl of satisfying pasta?  Pasta dishes are my ultimate comfort food, and while I eat it year round, in the Fall, I just crave it more 🙂
This is a dish that your whole family will absolutely love!  My kids love it, minus the fresh basil of course (heaven forbid anything green be on their food!).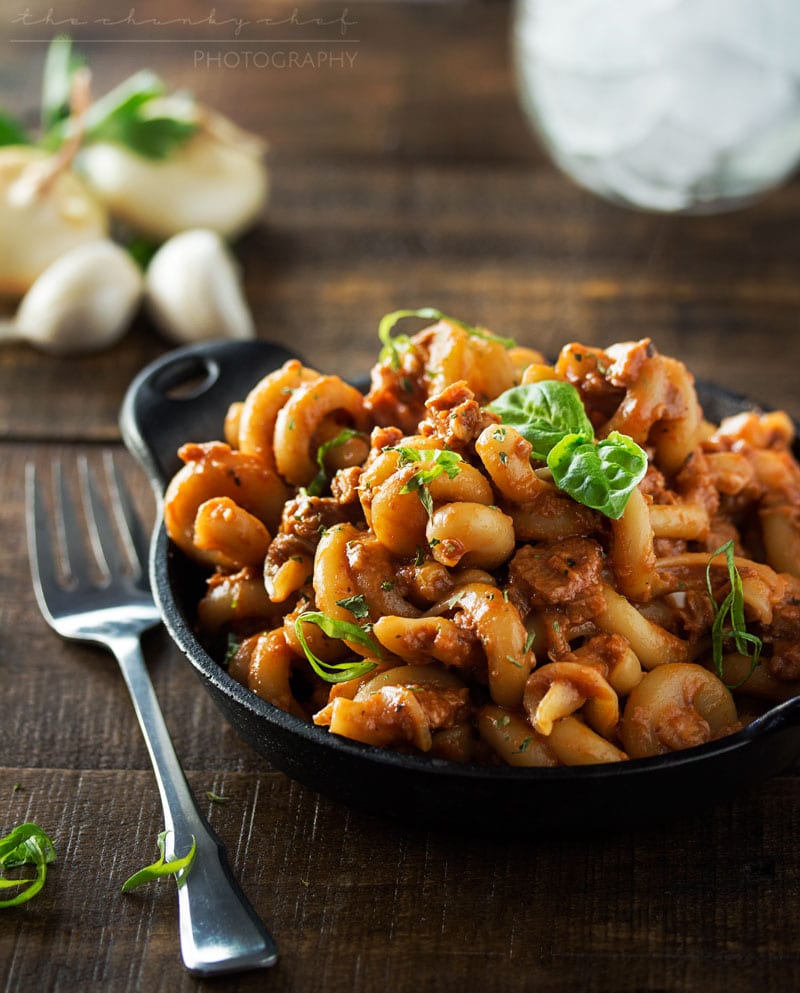 There's already plenty of cheese in this skillet lasagna, but I believe there is no such thing as too much cheese!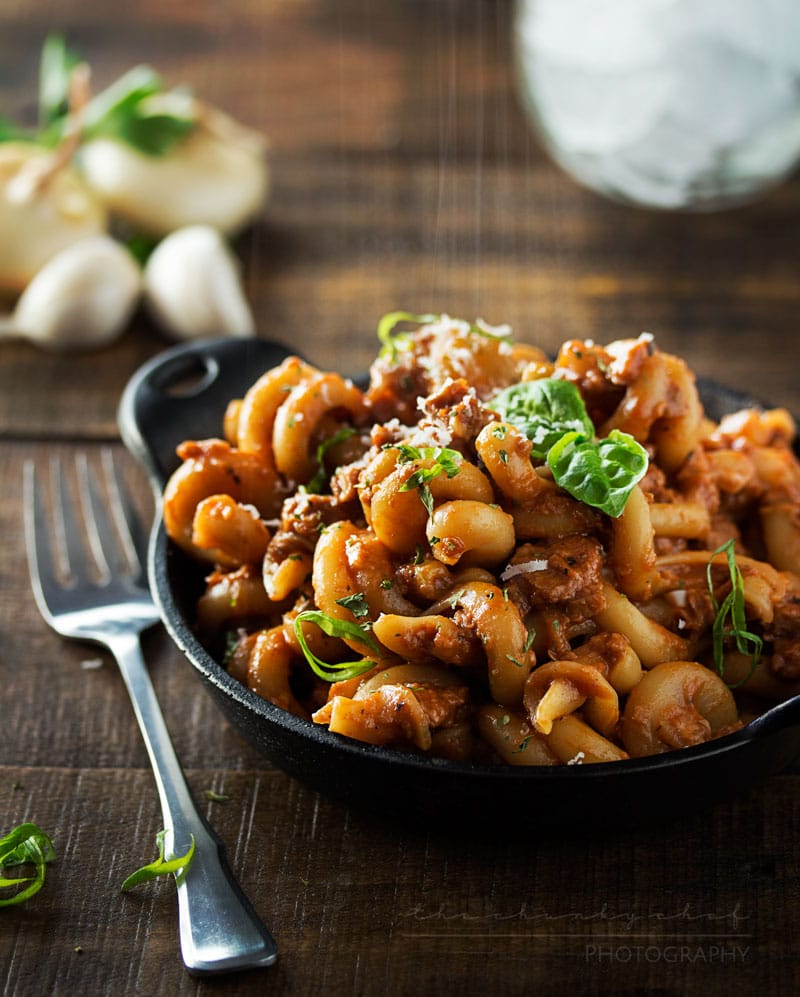 Makin' it rain Parmesan cheese!!  I feel like the waiters at Italian restaurants get annoyed with me when they come around and ask if you'd like some Parmesan.  Of course I say yes, and then let them just go to town grating it on my dish lol.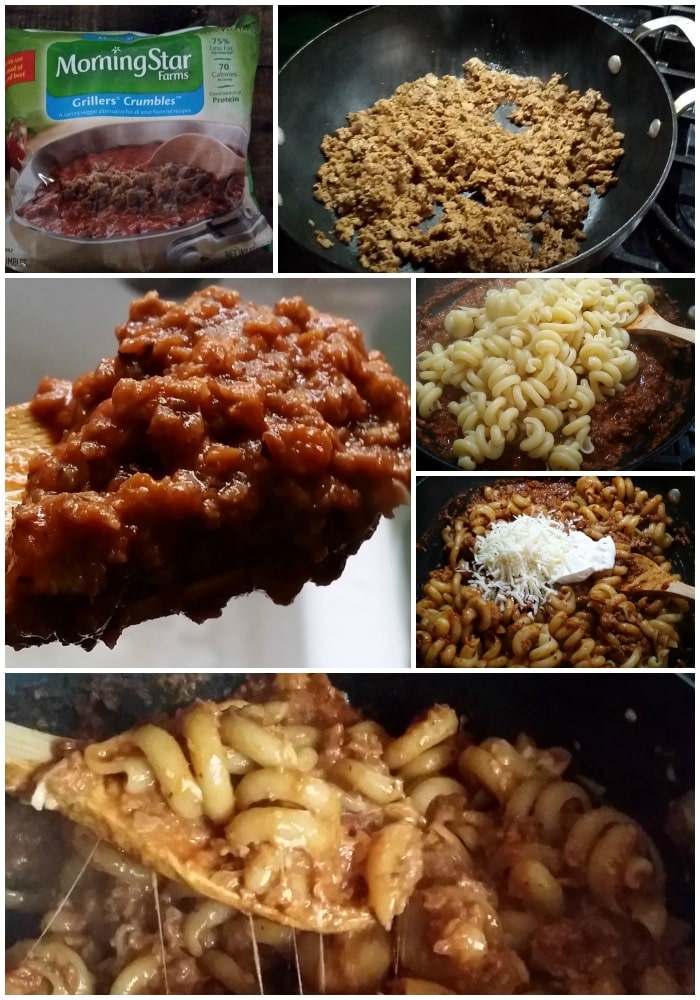 Making this pasta dish is really simple… just cook the Morningstar Farms Grillers Crumbles, add the sauce ingredients and simmer while you boil the pasta.  Drain the pasta and add it in with the sauce.  Top with cheese and sour cream and stir until cheese is melted.  Done!
Feel free to make things even easier by using a jar of your favorite marinara sauce instead of making your own if you'd like.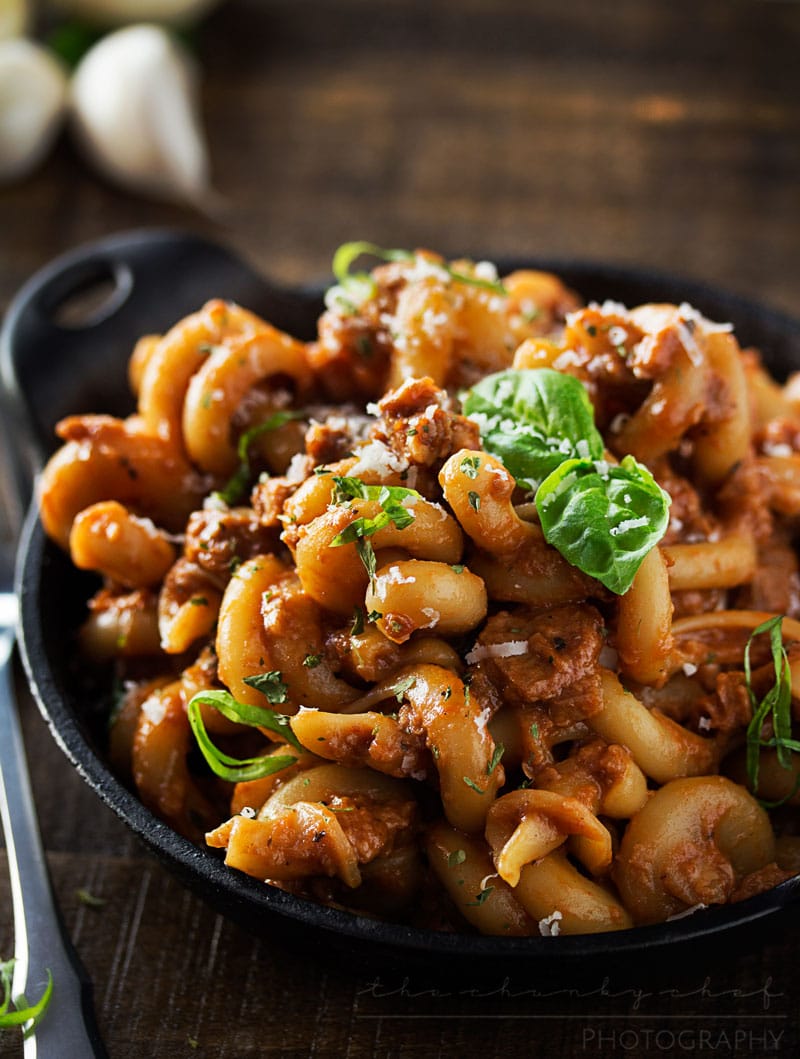 You can also swap any type of pasta that you'd like… I wanted something a little different, so I picked up a bag of trottole, they're just so cute!
One thing I can't get over is how super hearty this skillet lasagna is… despite it being vegetarian!  I bet you could even sneak this dish to a meat-lover and not tell them 😉  Not that I'd ever do such a thing… hehe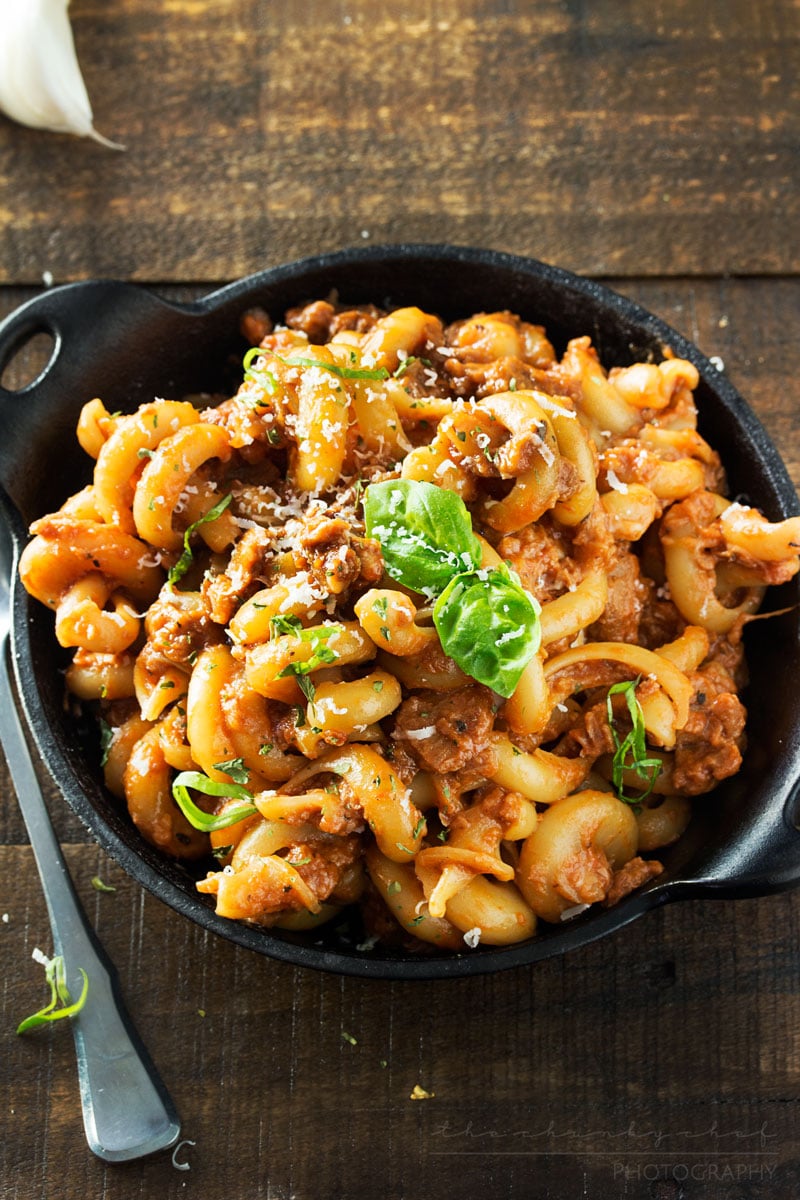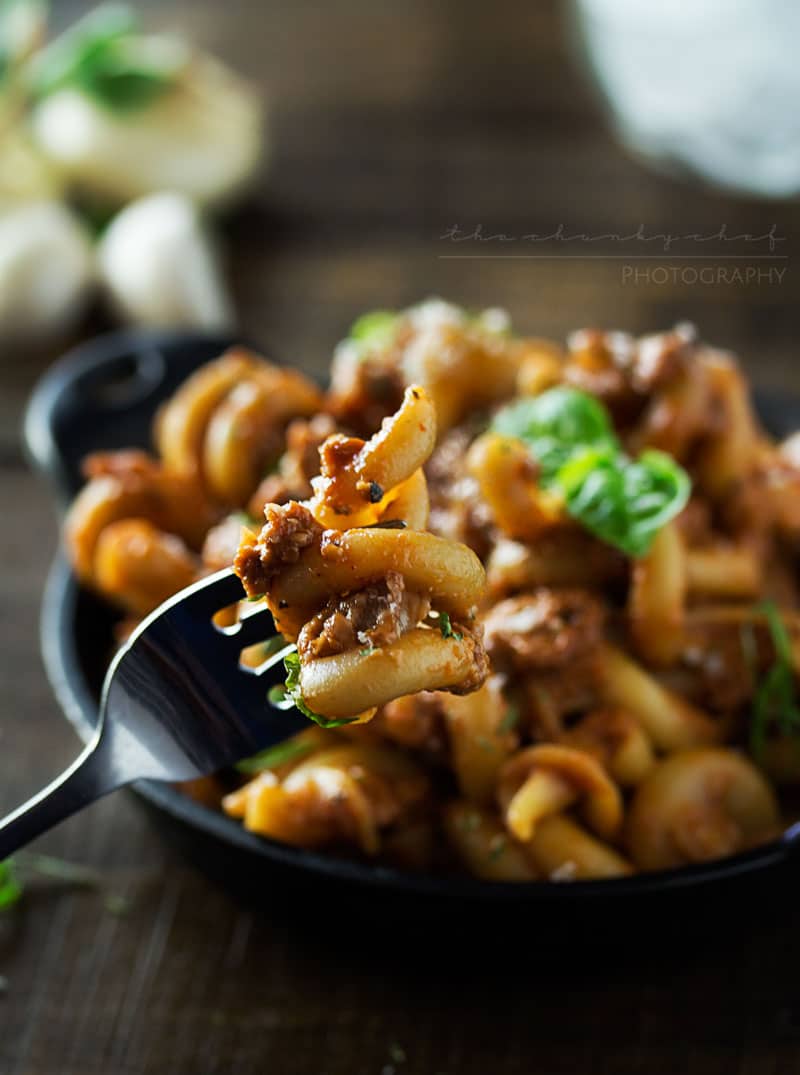 ENJOY!!
---
Never miss a recipe!
[mc4wp_form]
You can find me on Facebook, Twitter, Pinterest, Instagram and Google +, so follow me if you'd like… I love keeping in touch with all of you 🙂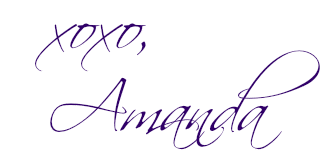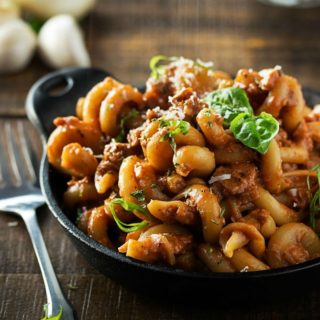 20 Minute Vegetarian Skillet Lasagna
Fall comfort food at it's best, this vegetarian skillet lasagna has all the flavors of traditional lasagna, made in 20 minutes!
Ingredients
1 bag Morningstar Farms Grillers Crumbles
1 lb pasta of your choice - I used trottole
Homemade Sauce - see below
1/2 tsp salt
Dash of Italian Seasoning
cup ½ Mozzarella Cheese
cup ½ Sour Cream
Sprinkle of Parmesan cheese
Homemade San Marzano Marinara Sauce:
1/2 cup olive oil
8 cloves garlic - finely minced
1/2 - 1 tsp crushed red pepper flakes
28 oz can San Marzano plum tomatoes - blended in food processor or blender
1/2 cup fresh basil leaves - minced
cup Very scant 1/4 fresh mint leaves - minced
1/4 cup fresh parsley - minced
1/2 tsp salt
1/2 tsp black pepper
Instructions
Bring large pot of water to a boil.

In a large deep skillet, cook Grillers Crumbles according to package directions.

Puree can of tomatoes (via food processor or blender), and set aside.

Add olive oil to skillet with Crumbles and heat over MED heat. Add garlic and cook for 2-3 minutes, stirring frequently.

Add pureed tomatoes, red pepper flakes, salt and pepper and cook over MED LOW heat for about 7-8 minutes. Stir occasionally so the sauce doesn't stick.

Toss some salt in the pot of boiling water and add pasta. Stir and boil about 3-4 minutes LESS than the package directions indicate.

Stir fresh herbs into the pasta sauce.

Drain pasta (reserving about 1/4 cup of the cooking water), and add pasta to the skillet with the sauce. Toss to coat the pasta in the sauce.

Add a dash of salt and Italian seasoning, cheeses and sour cream.

Stir until all ingredients are well combined and cheeses are melted.

Serve sprinkled with grated Parmesan cheese and a sprinkle of fresh minced basil