Spiced Honey Roasted Pumpkin Seeds
---
Waste not, want not… turn leftover pumpkins into a delicious treat!  These roasted pumpkin seeds are deliciously savory, with hints of spice and honey!
---
 Don't toss those un-carved pumpkins… turn them into a snack your whole family will LOVE!  A unique blend of spices and a drizzle of honey give these roasted pumpkin seeds their amazing flavor!
Post may contain affiliate links… meaning if you click on the link and make a purchase, I'll get a very small percentage in commission.  There's never any extra cost to you, and I only link to products I actually own and use.  Your support is greatly appreciated!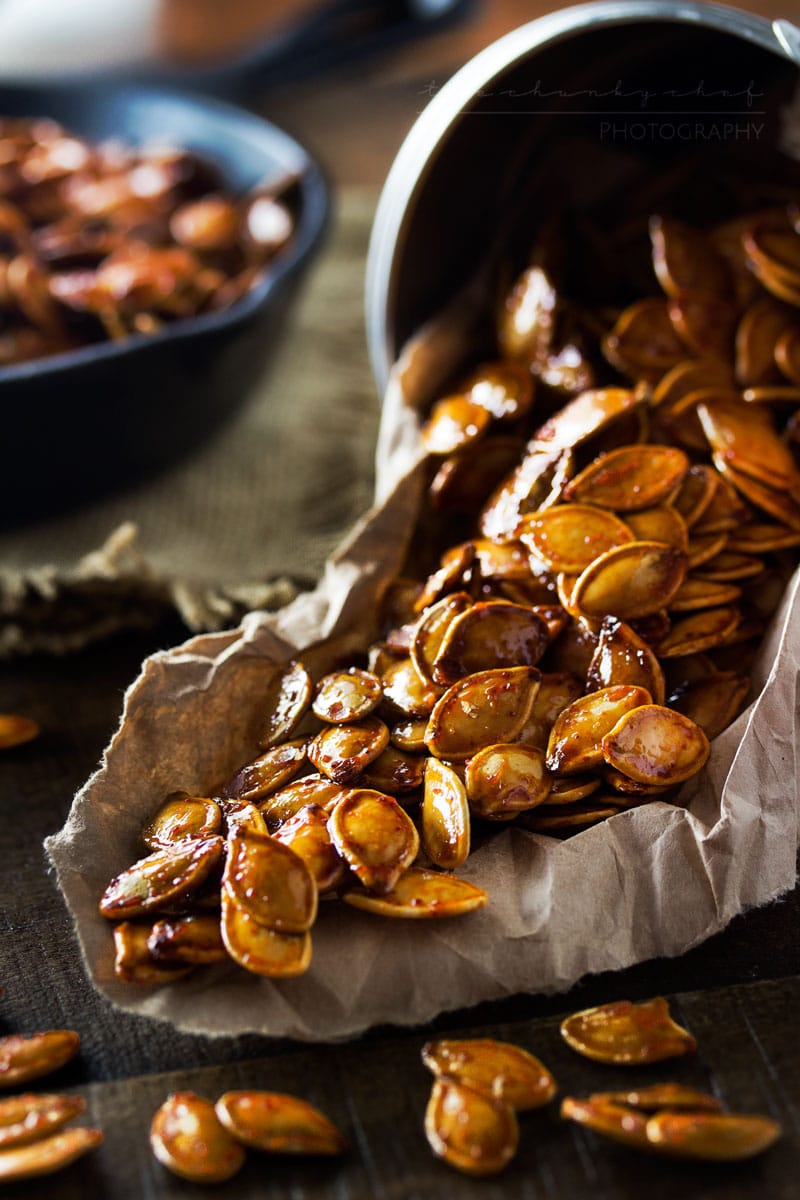 I hope you all had a great Halloween!  We sure did… it's definitely nice to have both kids be old enough to understand what's going on and enjoy the holiday 🙂  Plus, our oldest, was finally old enough to carve pumpkins this year!  Growing up, we carved pumpkins every year for Halloween, so I love being able to keep that tradition alive.  I saved all the "pumpkin guts" in an airtight container in the refrigerator because I KNEW I was going to roast the seeds!
If you've never had roasted pumpkin seeds before, you are in for a treat!  Scooping out the seeds is a messy endeavor, but a worthwhile one 🙂  You'll want to start by gathering a sharp knife, bowl to put the seeds in, and a smaller bowl for the pumpkin flesh that you'll be discarding.  I also line my kitchen table with old newspapers, just to make for an easier cleanup afterwards.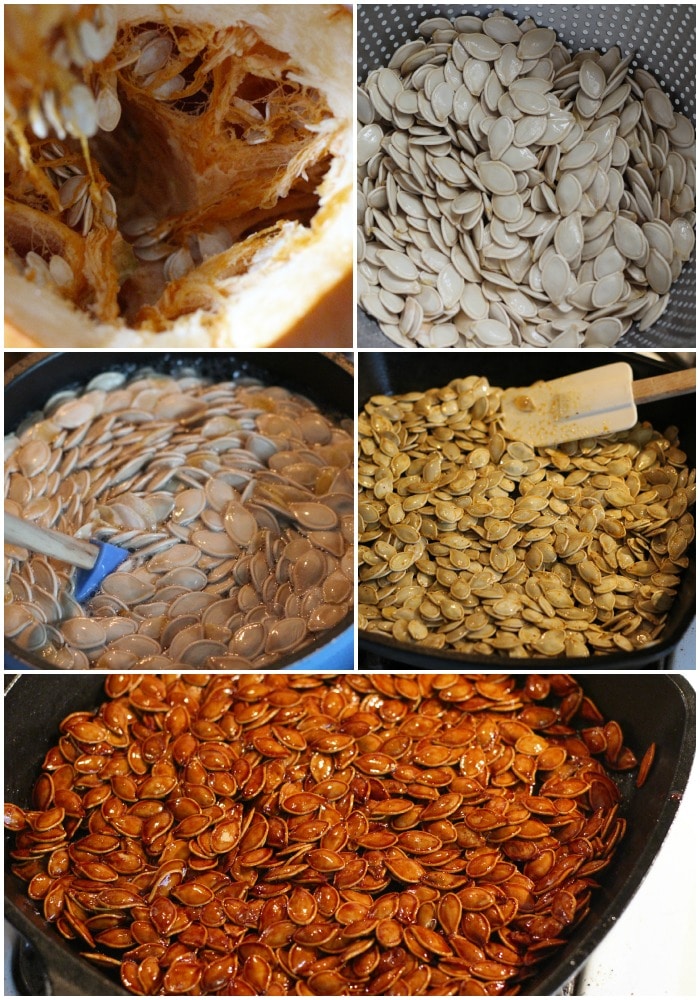 Cut the tops off and go to town scooping out the flesh and separating the seeds.  This, I gotta tell you… is gross.  It's slimy, but also, kinda cool to get your hands messy 🙂
Once you've gotten all the seeds out, transfer them to a colander and rise to remove all the bits of pumpkin flesh.. this may take several attempts.  Once you're finished you'll be left with clean and white seeds.
Now this next step is a trick I've just recently learned… to get a great, crispy seed, you need to boil them for a few minutes.  Sounds weird, but it works.  So boil them for about 2-3 minutes and drain, laying them out onto a paper towel to dry completely.  Just FYI, some of the seeds will stick to the paper towel, no big deal, just peel them off.
You know how I love my cast iron skillets… so I usually toss the seeds into my skillet and brown them in a little oil, and add the spices.
Alternatively, you could preheat a baking sheet lined with non-stick foil in the oven as it preheats.  Then once you've browned the seeds in a skillet on the stove-top, transfer them to the hot baking sheet.
Stir in the honey and pop the skillet in the oven.  When they're finished, they'll be deeply golden brown and slightly sticky.
Spread the seeds onto a sheet of parchment paper, sprinkle with salt, and allow to cool.
This recipe is more of a "method" than an actual recipe, because you can switch it up and use whatever spice combo you like!  I always say I'm going to try different combinations, but typically end up back at this one… it's so GOOD!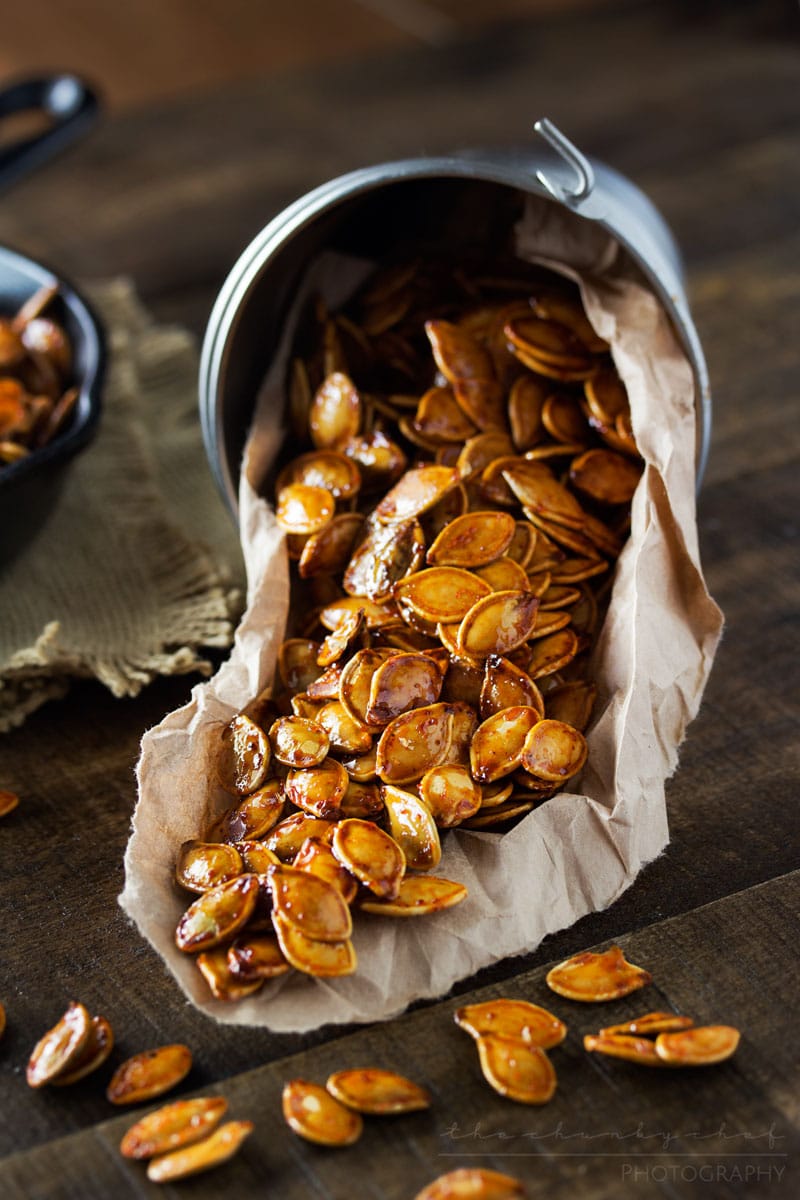 Happy roasting!
Helpful Tools for This Recipe:
---
Let's Connect!
You can find me on Facebook, Twitter, Pinterest, and Instagram, so follow me if you'd like… I love keeping in touch with all of you 🙂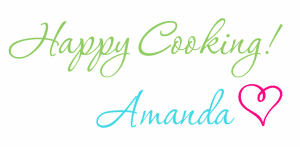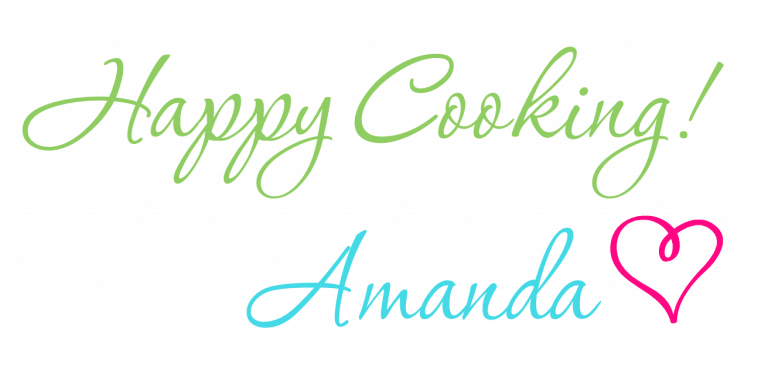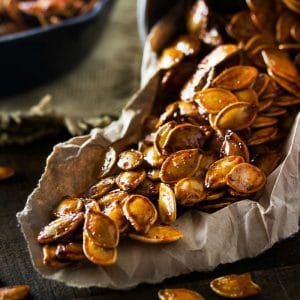 Spiced Honey Roasted Pumpkin Seeds
Waste not, want not... turn leftover pumpkins into a delicious treat! These roasted pumpkin seeds are deliciously savory, with hints of spice and honey!
Ingredients
2 cups pumpkin seeds - about 2 small pumpkins
2 tsp olive oil
1 tsp chili powder
1/4 tsp smoked paprika
1/8 tsp garlic powder
1/8 tsp cayenne pepper adjust per your taste
2 1/2 Tbsp honey
sea salt to taste
Instructions
Preheat your oven to 325 degrees. Cut open your pumpkins. Remove the pulp and stringy pumpkin flesh from the seeds.

Boil for 2-3 minutes, drain, and lay out on a paper towel to dry thoroughly. Pat dry if necessary.

In an oven-safe skillet, warm the oil over medium heat and saute the pumpkin seeds and spices until lightly golden, about 3 minutes. Add the honey and stir with a rubber spatula.


Transfer the skillet to the oven. Roast for about 30-40 minutes, stirring every 10-15 minutes so that they do not burn.


Taste one of the seeds. You want them crispy throughout, and not soft in the center.

Continue to cook if necessary.

When finished, lay the seeds out onto a parchment lined baking sheet or flat surface to cool.

While hot, sprinkle with salt to taste.
Notes
Feel free to change up the spices, making your own spice blend. This method will work for any flavor you'd like
If changing the recipe serving quantity, the recipe plugin will change the ingredient values for you, but it does NOT change the written instructions, those are manually added and not subject to a slider/button. You will have to extrapolate that multiplication to any amounts listed in the instructions.
For example: if an ingredient calls for 4 cups, and you doubled the recipe, it will automatically change to 8 cups. In the instructions, if I say "use 4 cups of cheese", you will have to realize that since you doubled it, you use 8 cups, not 4