This dish is the ultimate mac and cheese! Pureed savory roasted butternut squash is mixed with an ultra creamy Gruyere and white cheddar sauce!
This is one mac and cheese you'll NEVER get out of a box!  Butternut squash is roasted with garlic, pureed and added to a creamy, velvety Gruyere and white cheddar cheese sauce.  But that's not all… the rich mac and cheese is topped with a browned butter and sage breadcrumb topping and baked until crispy on top and lusciously smooth underneath!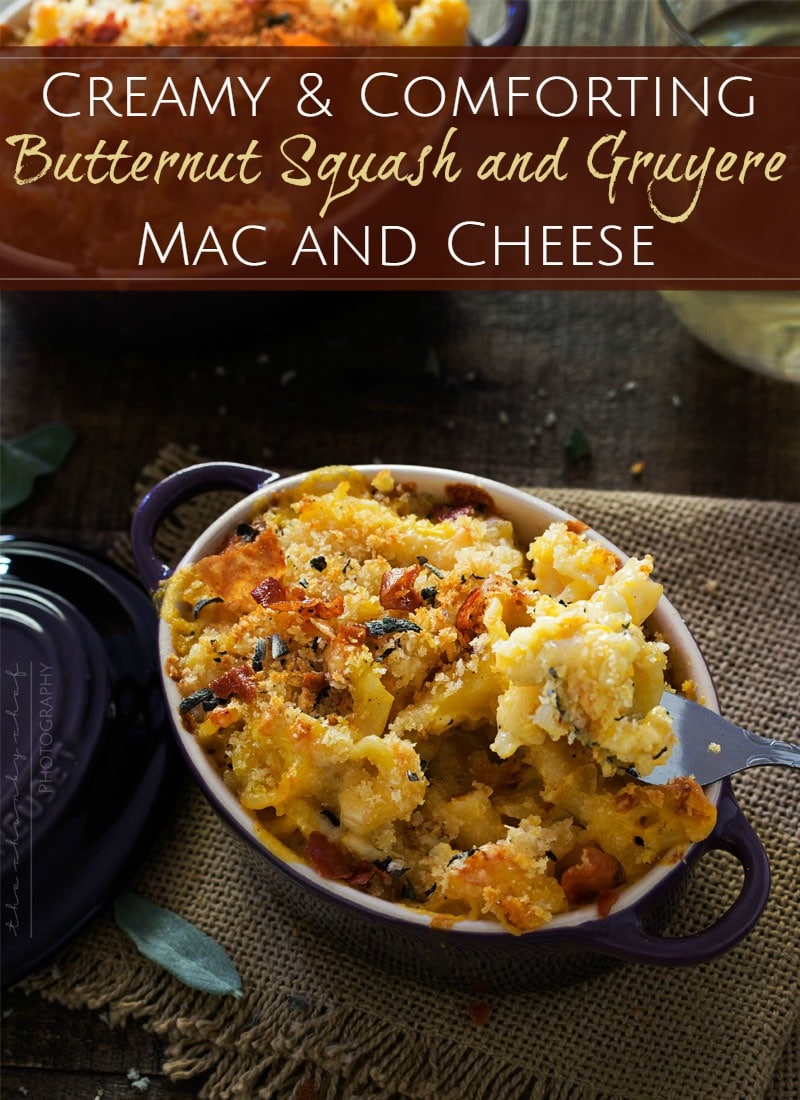 Okay, quick… what's your FAVORITE comfort food meal?  Many of you are probably thinking "mac and cheese"!  In all honesty… I never liked mac and cheese much.  I think I was the only kid around who didn't want dinner out of that little blue box.  Now, as an adult (I use that term loosely lol), I DO love mac and cheese… just the homemade, from scratch version!
I found a recipe from Williams-Sonoma for a Gruyere and Cheddar mac and cheese and I had a foodie "lightbulb moment".  That moment when you have a sudden recipe idea that just pops in your head and you just know it's going to be awesome 🙂  That recipe base from Williams-Sonoma would go perfectly with a savory roasted butternut squash!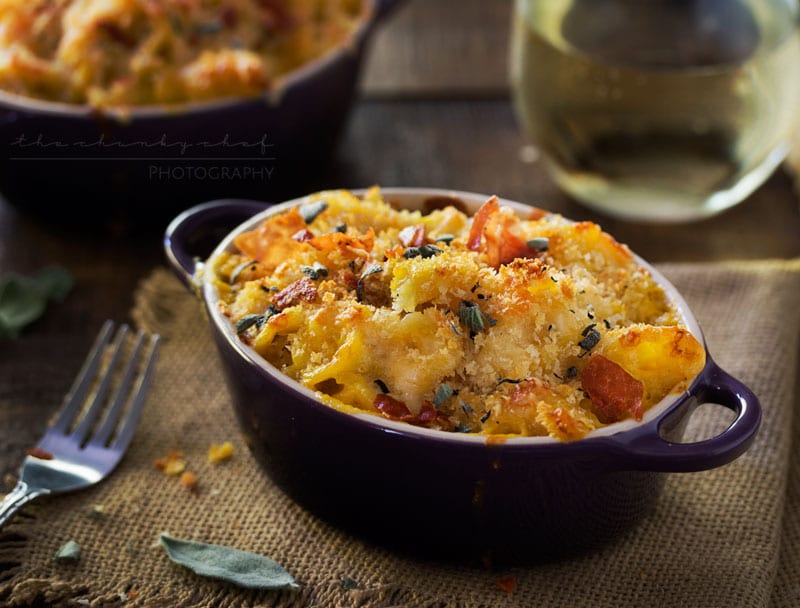 So this recipe isn't as easy as opening up a box, but TRUST me… it's sooooo worth it!  And really, it's not all that difficult… you can even roast the butternut squash the day before.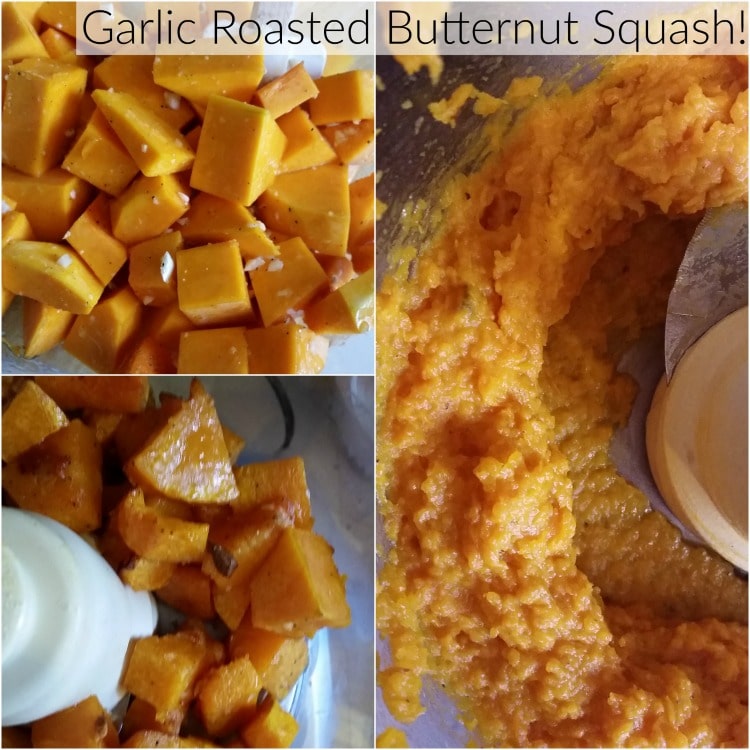 So many times, butternut squash is roasted and turned into something sweet… but not this time!  The squash is tossed with olive oil, salt, pepper, and minced garlic, then roasted in the oven until lightly golden and soft.
Toss it in the food processor and puree until mostly smooth.  You can either use it right away, or place it in an airtight container in the fridge for a couple days.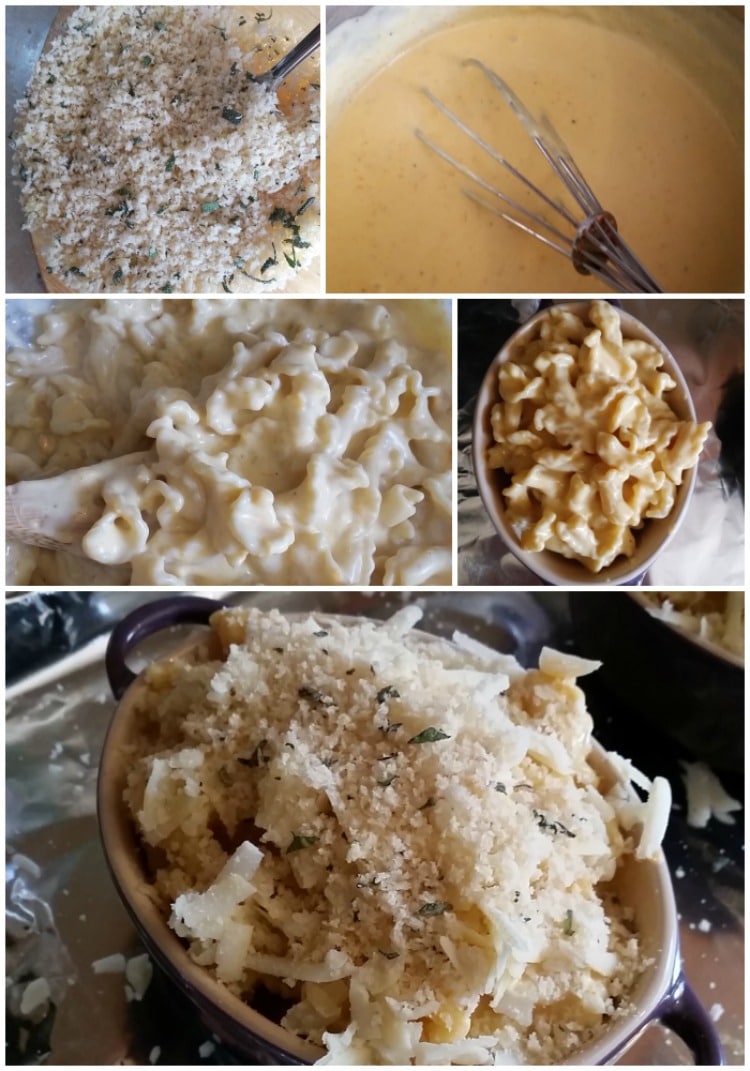 Making the rest of the mac and cheese is pretty straightforward. Add a bit of butter to a small saucepan and lightly brown it.
If you're unsure of browning butter, don't be.  This post is super informative!  Toss the browned butter with some panko and minced fresh sage and set aside.
Now just make the cream sauce and whisk in the cheeses and pureed butternut squash.  Toss the sauce with the cooked pasta and pour it into your baking container.
I chose to cook them in individual crocks, as they're just so cute, but you could use a regular 13×9 pan as well.  Bake until the breadcrumb topping is crispy and golden.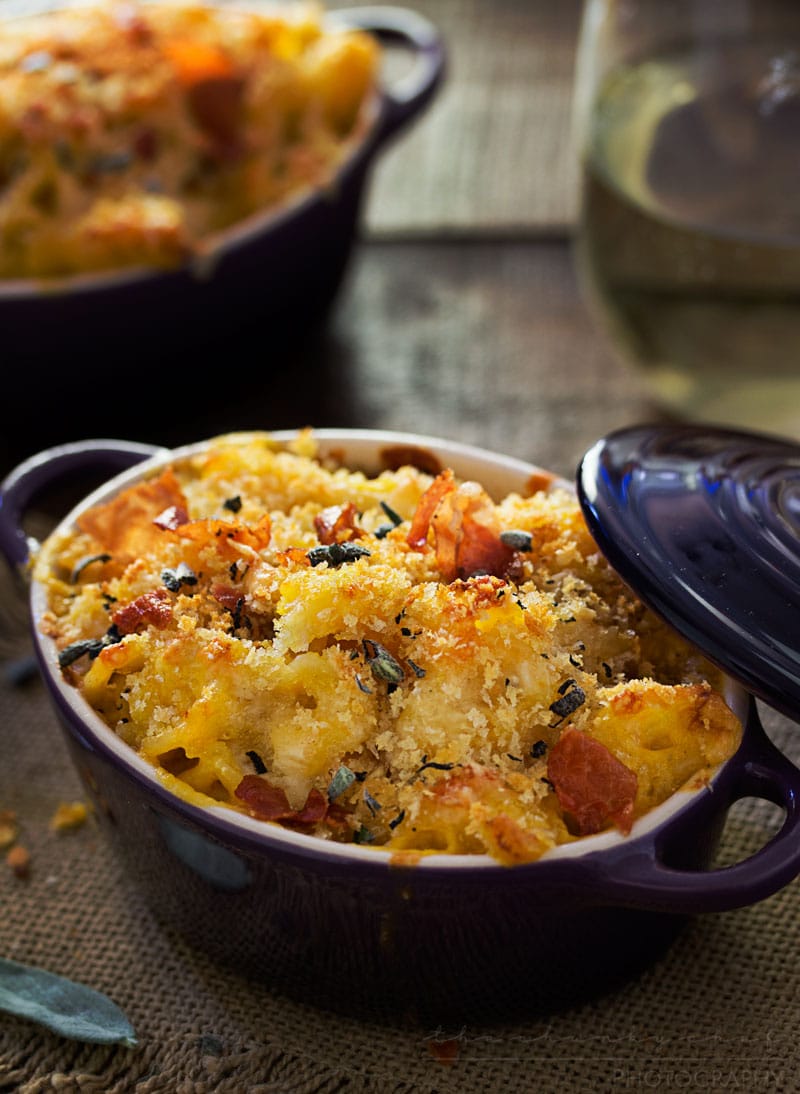 Now I went ahead and garnished my mac and cheese with some crispy prosciutto ham and more fresh sage, but that's totally optional.
This isn't your standard mac and cheese… it has gourmet written alllll over it!  From the unusual pasta shape (no elbows here), the addition of the savory roasted squash, fresh herbs, and the browned butter breadcrumb topping… trust me, this is one dish that will absolutely impress!!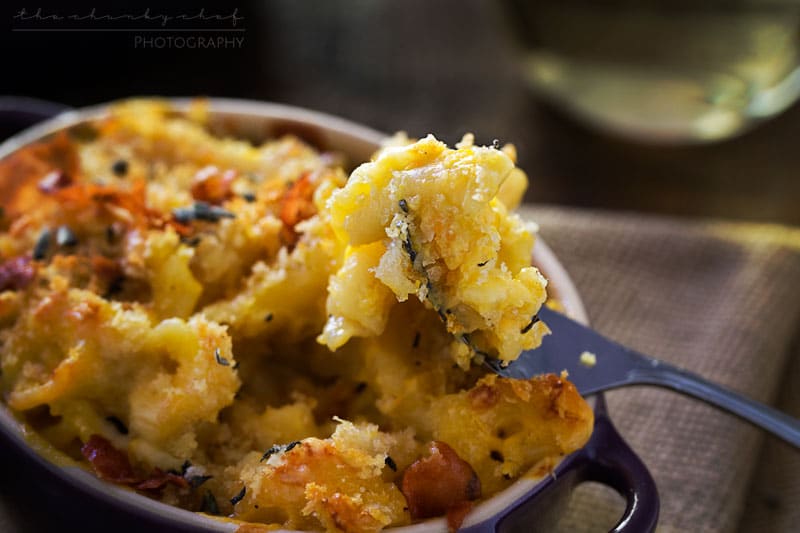 From a great gourmet weeknight meal, to an elegant and unique side dish for your Thanksgiving meal… I know you'll all love this mac and cheese!
Did you make this? Be sure to leave a review below and tag me @the_chunky_chef on Facebook and Instagram!
This dish is the ultimate mac and cheese! Pureed savory roasted butternut squash is mixed with an ultra creamy Gruyere and white cheddar sauce!
Ingredients
ROASTED BUTTERNUT SQUASH:
1 butternut squash peeled, seeded and cut into 1 cubes
3 cloves garlic minced
2 Tbsp olive oil
Salt and pepper to taste
BROWNED BUTTER SAGE BREADCRUMBS:
1/3 cup Panko breadcrumbs one third
2 Tbsp browned butter
1/2 tsp fresh sage minced
MAC AND CHEESE:
1 lb pasta short cut (I used campanelle)
2 Tbsp olive oil
4 Tbsp unsalted butter 1/2 stick
1/4 cup all-purpose flour
2 cups milk I used whole
1 cup half-and-half
1/4 tsp nutmeg preferably freshly ground
Salt and pepper to taste
2 cups shredded Gruyère cheese
1 cup shredded white cheddar cheese
1/4 cup grated Parmesan cheese
Instructions
TO ROAST THE SQUASH:

Preheat oven to 400 degrees F.

Toss butternut squash with olive oil and garlic in a large bowl. Season with salt and black pepper. Pour out onto a foil-lined baking sheet.

Roast about 25 minutes, until lightly golden brown and tender.

Add roasted squash to food processor and puree until mostly smooth.


TO MAKE THE BREADCRUMBS:

Melt 2 Tbsp butter over MED heat in a small saucepan. Continue to cook, swirling the pan occasionally. Once the butter has turned golden brown and smells nutty, turn off the heat. Pour butter over the panko and sage in a small dish. Use a fork to toss it all together, and set aside.


TO MAKE THE MAC AND CHEESE:

Preheat oven to 375 F.

Bring a large saucepan of water to a rolling boil. Add some salt and the pasta and cook, stirring occasionally, until 3-4 minutes LESS than the package directions. Drain and transfer to a large bowl and drizzle with olive oil and stir.

Heat a medium saucepan over MED-HIGH heat and melt the butter. Add the flour and whisk, stirring well, until the flour is mixed in, and cook about 1 minute. Whisk in the milk, half-and-half, nutmeg and salt and pepper. Simmer, whisking often, smoothing out any lumps, for about 5 minutes. Remove from the heat and add two-thirds each of the Gruyère and cheddar. Stir until smooth. Add about 1 cup of the pureed butternut squash and stir to combine well.

Pour the cheese sauce into the pasta bowl and toss to combine. Add pasta to a greased 13x9 baking pan (or any pan from 2.75-3.3L capacity). Sprinkle the remaining one-third Gruyère and cheddar and all of the Parmesan. Top evenly with the panko breadcrumbs.

Bake until the top is lightly browned and the sauce is bubbly, about 15 minutes or so. Let stand for 5 minutes before serving
Want to save this recipe for later? Click the heart in the bottom right corner to save to your own recipe box!
Chef Tips
** Recipe adapted from Williams-Sonoma
** If desired, garnish with crispy prosciutto and fresh minced sage or parsley
** To save on time the squash can be roasted ahead of time.
Nutrition Disclaimer
The Chunky Chef is not a dietician or nutritionist, and any nutritional information shared is an estimate. If calorie count and other nutritional values are important to you, we recommend running the ingredients through whichever online nutritional calculator you prefer. Calories can vary quite a bit depending on which brands were used.