Happy Tuesday!  I'm excited for the Tickle The Tastebuds Tuesday Link Party today (seriously, some great recipes there!), and because Laura of I'm Not a Trophy Wife has featured my Slow Cooker Honey Garlic Chicken recipe… I'm so flattered to be featured again on such a great link party 😀  Many, many thanks to her!
Most of the things I make are for the family, for dinner… but occasionally I make something just for my husband, for his lunches at work.  These Spicy Thai Noodles are a great example 🙂  They are waaaaay too spicy for the family, and for me (self proclaimed wuss, remember?), but perfect for him.  These noodles are very simple to make but pack a huge flavor punch!  Anything spicy is right up my husband's alley, but he actually found these on Pinterest and I adapted the recipe to his tastes.  And of course, I want to share it with all of you 😀
One of the best things about these noodles is that they use regular pasta.  No special noodles to search for in the grocery store, just plain ol' linguine, fettuccine, or spaghetti.  Awesome right?  It also uses ingredients you may already have in your pantry and refrigerator!
Start by chopping up your garnishes… cilantro, sesame seeds, peanuts, carrots and scallions (just pretend there's a picture of the scallions lol).
Slide your pasta in boiling water.
Heat up your oils in a skillet and add red pepper flakes.
While that is heating up, whisk together your soy sauce and honey.
Strain the oil and red pepper flakes, reserving the oil.
Put the oil back into the skillet and whisk in your soy/honey sauce.
Add in some of the strained red pepper flakes and a tsp and a half of chili paste, whisk.  Drain your pasta.
Slide the drained pasta into the skillet and toss to combine in the oil.
Serve topped with your garnishes and a big glass of water… they're SPICY!!
Getting hungry yet? 😉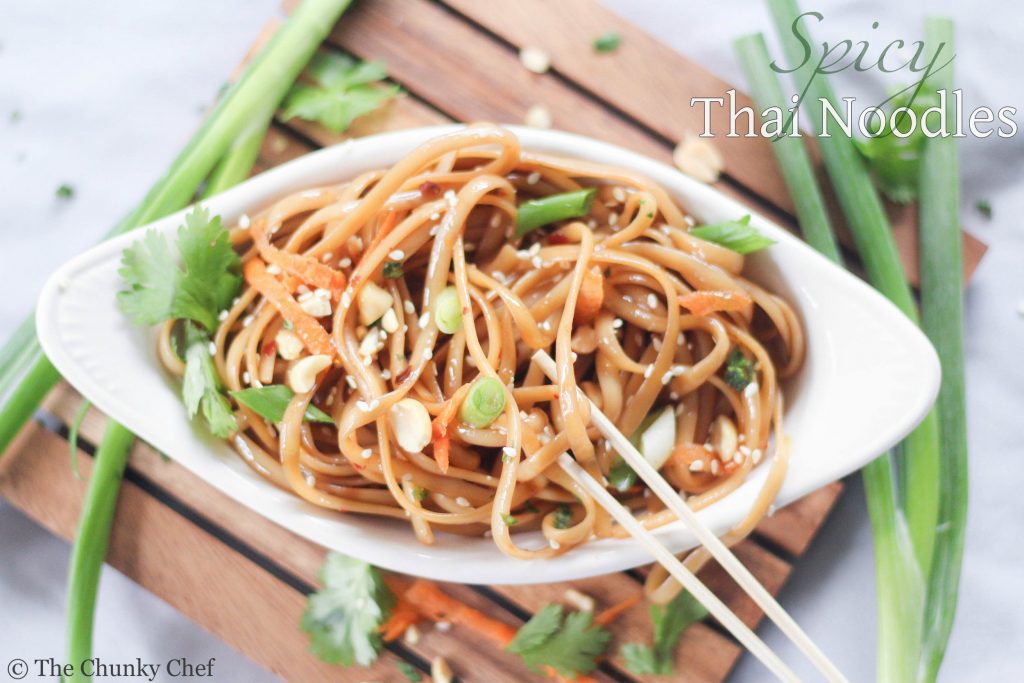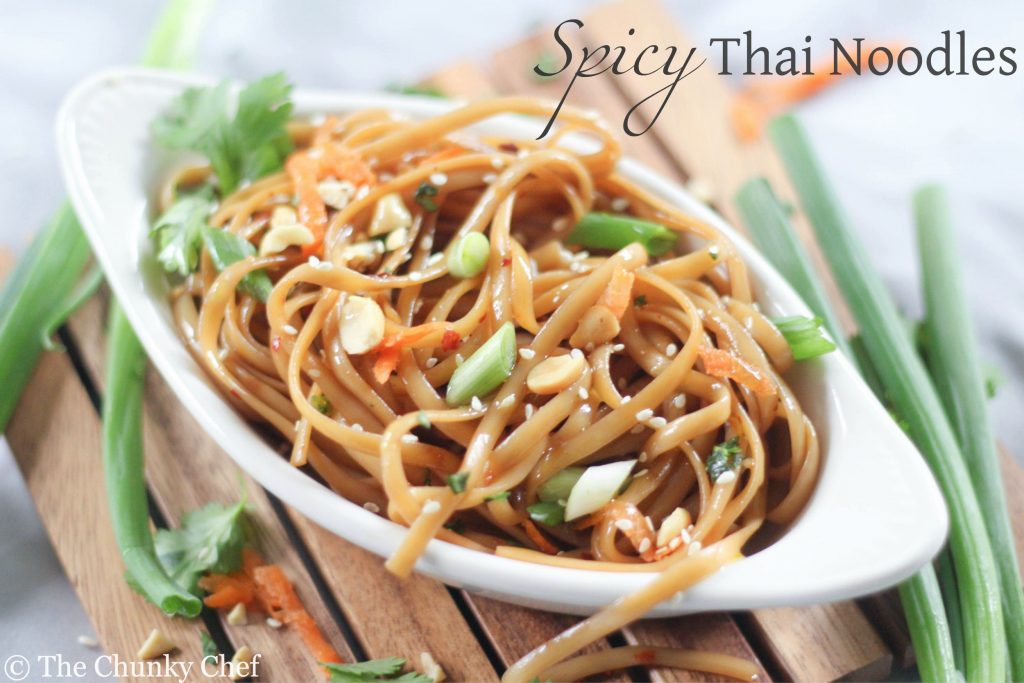 Recipe adapted from A Small Snippet 🙂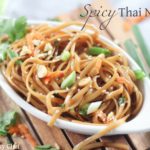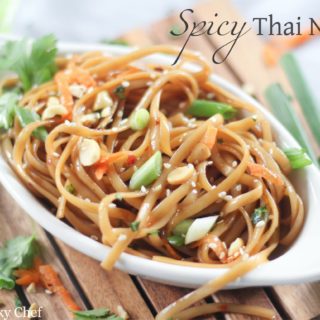 Spicy Thai Noodles
Deliciously spicy with hints of sweetness, these noodles are an amazing addition to your dinner table
Print
Ingredients
1

box linguine pasta (or fettuccine

spaghetti, etc)

1 - 1 1/2

Tbsp

red pepper flakes

1/4

cup

vegetable oil

1/2

cup

sesame oil

1 1/2

tsp

chili paste

6

Tbsp

soy sauce

6

Tbsp

honey

Scallions

carrots, peanuts, cilantro and sesame seeds to garnish
Instructions
Chop garnishes and set aside in individual bags or bowls.

Boil pasta, drain.

While pasta is boiling, heat oils in a large skillet with red pepper flakes.

Strain pepper flakes, reserving the oil in a bowl. Add reserved oil back into the skillet and add the chili paste. Whisk in soy sauce and honey.

Toss pasta in the skillet with the sauce.

Refrigerate until cold, or serve at room temperature.

Before serving, top with garnishes.