---
This tofu stir fry is great for vegetarians and meat eaters alike!  Crispy baked tofu is stir fried in a deliciously flavorful spicy peanut sauce.
---
Satisfy your stir fry cravings with this healthy vegetarian version!  Baked, yet still incredibly crispy, pieces of tofu go perfectly with this spicy peanut sauce.  Tastes like a restaurant dish, only better!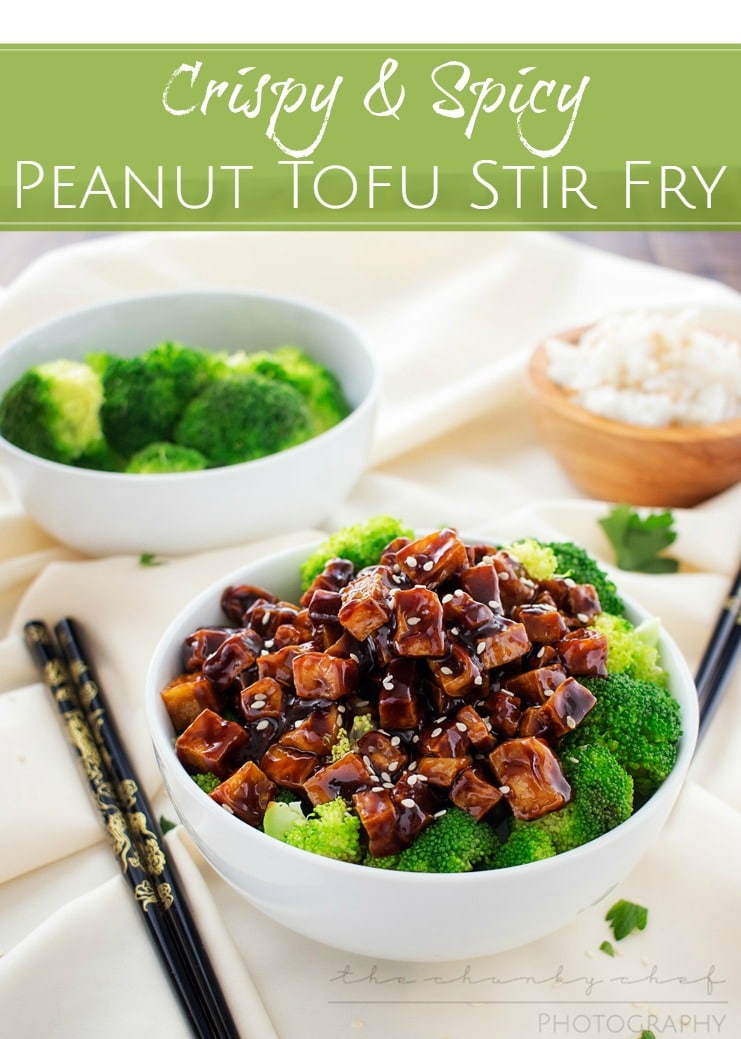 You all know me, and how I'm basically addicted to chicken, but even I like to lighten things up on occasion.  Admittedly, this was a hard sell to get by my husband… I mean, it's TOFU!  But even he was surprised at how crispy these babies got.
Most of the crispy tofu recipes I'd seen were fried… and I do like to fry things, like my Crab Rangoons and Spicy Cashew Chicken.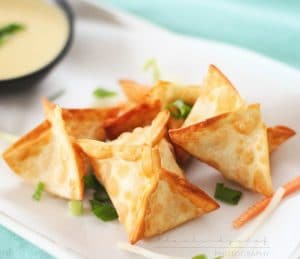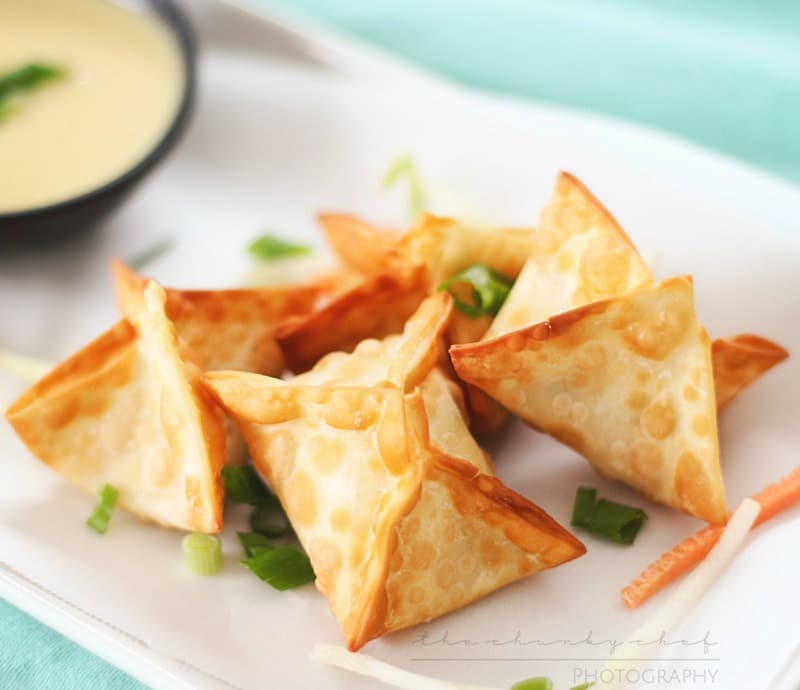 But sometimes, messing with the oil just seems like more effort than I'd like to spend on dinner, you know?
So when I came across this recipe from The Minimalist Baker , that involved baking the tofu… I knew I had to give this one a shot!  Dana took hers the extra mile and made some yummy cauliflower rice to serve the tofu with, but I knew I'd never get that by the picky eaters in this house lol.
Thankfully, I had some leftover jasmine rice from another dinner, so I just reheated that to save a lot of time 🙂
Now if you're one that doesn't mind a softer tofu, then by all means, cook yours to your liking!  We definitely like the crispy crunch!
This method for getting crispy tofu is pretty easy and hands off.  Just slice your tofu into roughly 1/2 inch thick slices and place on top of several paper towels.  Top those with several more paper towels and place something heavy on top of that.  I used the ceramic insert for my slow cooker with a big can of whole tomatoes inside.  Let the tofu drain for about 15-30 minutes, or longer… the longer the better.
If you've never used extra firm tofu before, once you open it, you'll see why it has to drain.  It's verrrrrrry wet and spongy.
Once the tofu is drained, slice the tofu into long matchsticks, cut across them to make them into cubes, and place them on a baking sheet.  Just bake them for about 30 minutes or so, until they're golden brown and crispy.  It's totally okay to sneak a few pieces… I might have done that 😉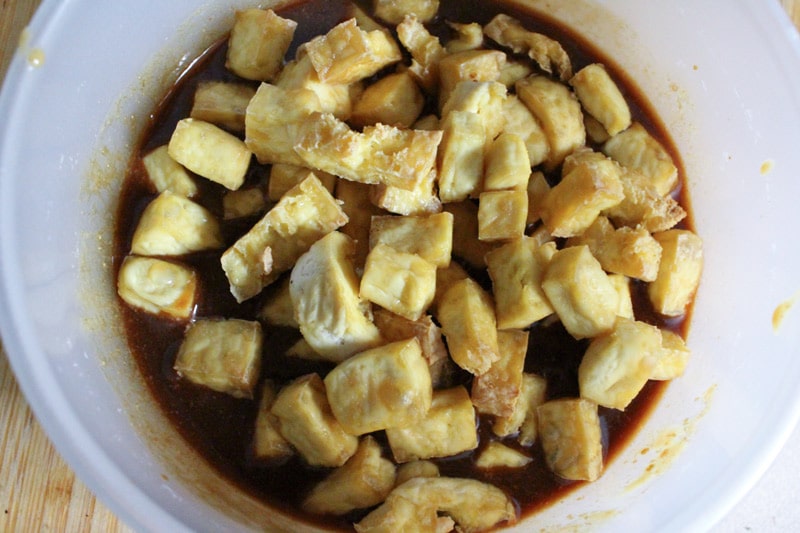 Now just toss the crispy tofu in the sauce/marinade and let it sit for about 10-15 minutes.  I used that time to steam some fresh broccoli to go with the tofu, but you could swap that for just about any veggie you'd like!
Add the tofu to a large skillet and sear it, stir frying until it becomes caramelized, and that's it!  You'll want to remove it from the skillet when it's done cooking though, or it'll gum up on you.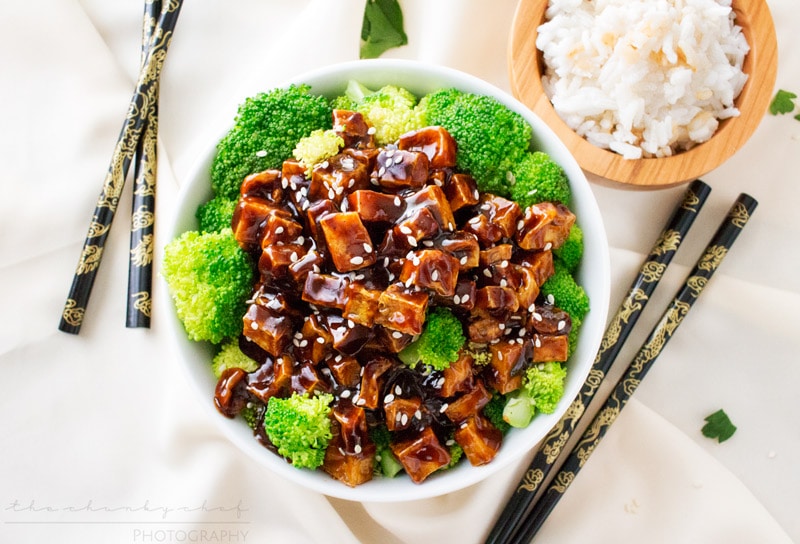 You can make this as spicy as you'd like… I made it more of a mild heat (on the off chance that the kids would try it).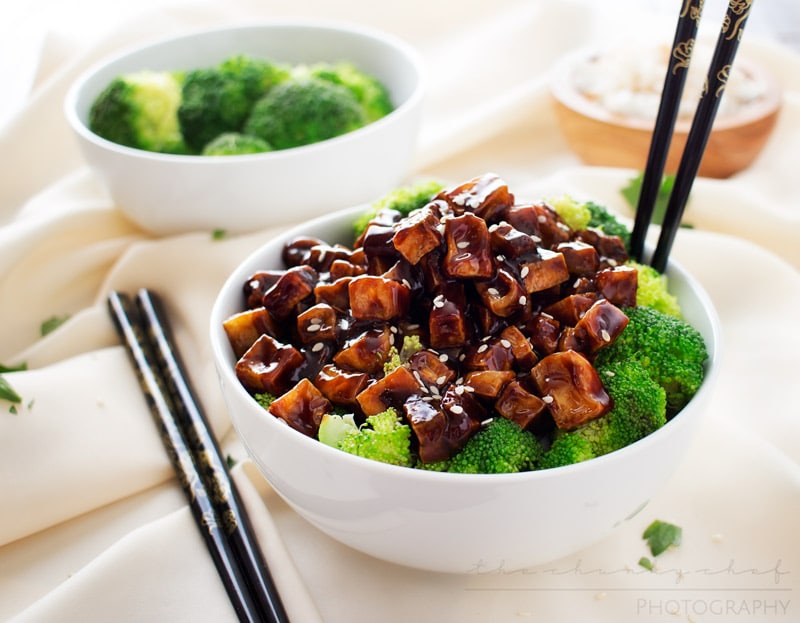 Of course my kids wouldn't try it (sigh), but if you have kids, maybe yours will be more adventurous lol.  I swear if it isn't a chicken nugget they want nothing to do with it!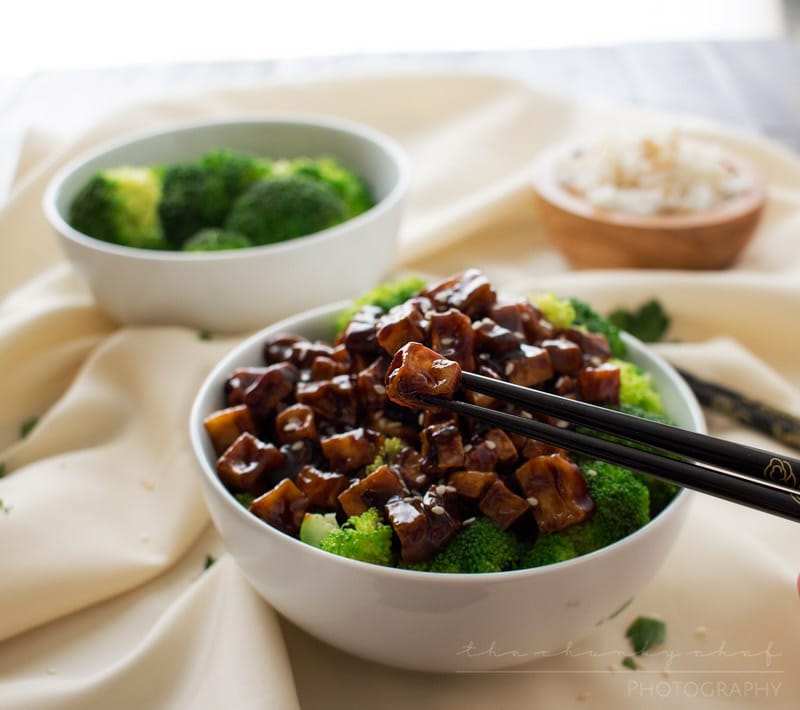 If you're totally against tofu, but like the way the sauce sounds, I think this would be good with some chicken breasts or thighs as well!  In fact, I think I may try that next time 🙂  Or maybe not, because honestly, this tofu pretty much rocks!!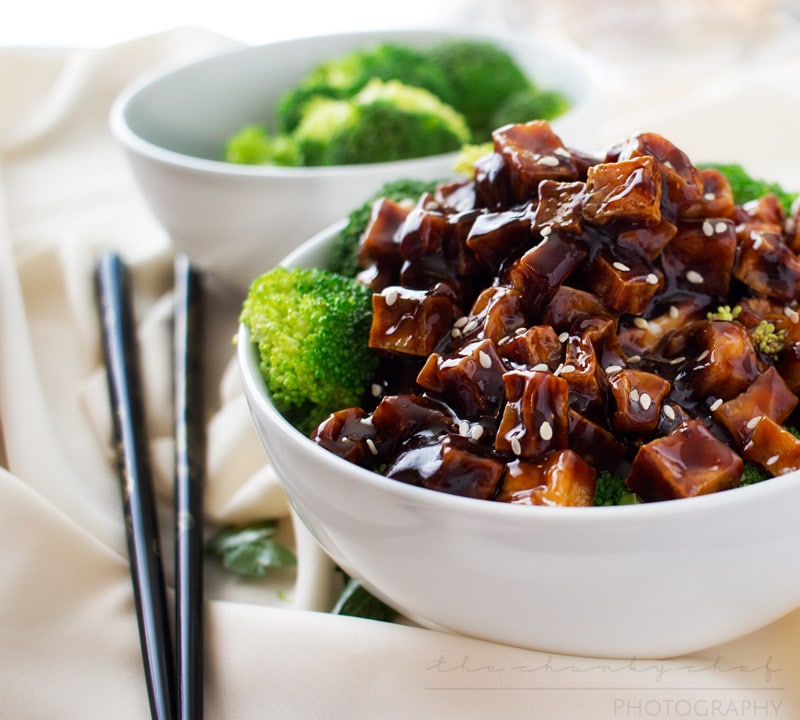 If you like spicy Asian dishes, be sure to check out my Spicy Cashew Chicken!
Dig in you guys!
---
Never miss a recipe!
[mc4wp_form]
You can find me on Facebook, Twitter, Pinterest, Instagram and Google +, so follow me if you'd like… I love keeping in touch with all of you 🙂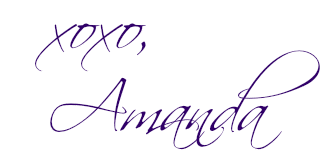 Did you make this? Be sure to leave a review below and tag me @the_chunky_chef on Facebook and Instagram!
Satisfy your stir fry cravings with this healthy vegetarian version! Baked, yet still incredibly crispy, pieces of tofu go perfectly with this spicy peanut sauce. Tastes like a restaurant dish, only better!
Ingredients
12 ounces extra firm tofu
1 Tbsp sesame oil
1 head fresh broccoli or any other veggies you'd like
SAUCE:
1 1/2 Tbsp sesame oil
1/4 cup soy sauce
3 - 4 Tbsp brown sugar
1/2 tsp chili sauce
2 cloves garlic minced
1/2 tsp ginger grated
2 1/2 Tbsp peanut butter
Instructions
Slice tofu block into 1/2 inch thick slices. Place several paper towels down on a cutting board, lay the slices on top, top with several more paper towels and add weight to the top. I used a cutting board, ceramic insert from a slow cooker, and added a large can of tomatoes to the insert to add extra weight.

This can be done in advance (see notes section below recipe).

Drain tofu for 15-30 minutes, the longer the better!

Preheat oven to 400 degrees.

Slice tofu into strips, then cut across them to make small cubes.

Place on a parchment paper lined baking sheet, spray lightly with cooking spray and bake for 25-30 minutes, until golden and crispy.

Set pan aside while you make the sauce.

Whisk sauce ingredients together in a small bowl.

Add cooked tofu to the sauce and let it marinate for about 10-15 minutes.

Steam broccoli (and/or other veggies) and set aside.

Drizzle a bit of sesame or vegetable oil into a large skillet or wok, and heat over MED-HIGH heat.

Using a slotted spoon, add the marinated tofu to the skillet and stir fry for a few minutes until seared and caramelized.

Serve over rice, vegetables, and drizzle with remaining sauce if desired.

Use a slotted spoon to spoon tofu into the preheated pan. Add a few spoonfuls of the sauce to coat. Cook, stirring frequently for a few minutes until browned. It will stick to the pan a bit, so don't worry. Remove from pan and set aside and cover to keep warm.
Want to save this recipe for later? Click the heart in the bottom right corner to save to your own recipe box!
Chef Tips
** Recipe adapted from The Minimalist Baker
** Tofu can be drained ahead of time, up to 24 hours! To do this, slice tofu into thicker slices, about 1 inch thick. Set up to drain as directed in the recipe, and place in refrigerator to drain. This works especially well if you want to cut down on steps and time the night you're making dinner. Dice tofu as directed in the recipe and proceed as written!
Nutrition Disclaimer
The Chunky Chef is not a dietician or nutritionist, and any nutritional information shared is an estimate. If calorie count and other nutritional values are important to you, we recommend running the ingredients through whichever online nutritional calculator you prefer. Calories can vary quite a bit depending on which brands were used.