---
Classic Fall flavors come together in this ultra creamy pumpkin risotto topped with fresh sage and a sprinkle of Parmesan… served in edible bowls!!
---
Pumpkin doesn't have to always be in sweet dishes… kick it up a notch in this savory, flavorful and super creamy pumpkin parmesan and sage risotto!  As if that creamy deliciousness isn't enough… I'll show you how you can make incredibly easy and impressive laced parmesan edible bowls to serve the risotto in!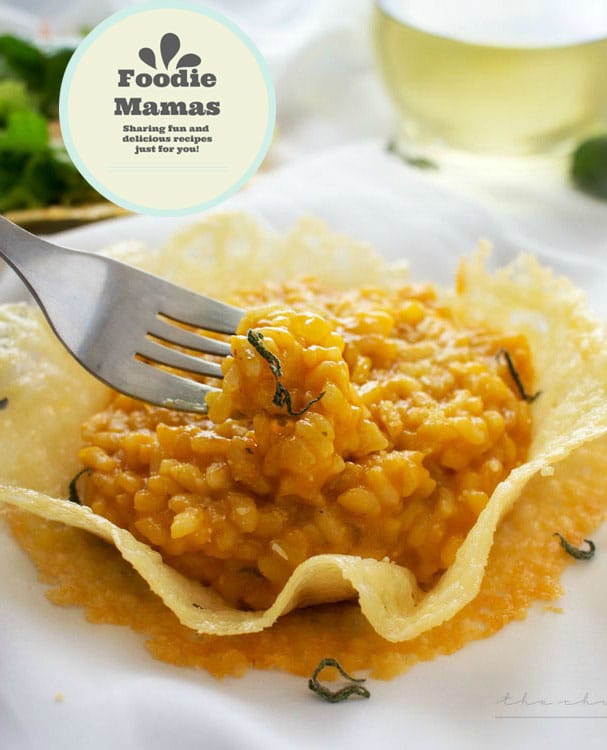 Ahhhhh, how much do you love pumpkin?  I LOVE it, but not just in the traditional way.  Pumpkin pie, of course, is delicious, but I wanted to show you a way to use it in a great savory way.  Yay risotto!!
You also might be wondering what the #FoodieMamas hashtag and label are.  I was invited to join a great group of ladies who are all Mom's of young kiddos who love cooking and blogging… we post a themed recipe each month, and each month has a different themed ingredient!  This month was pumpkin 🙂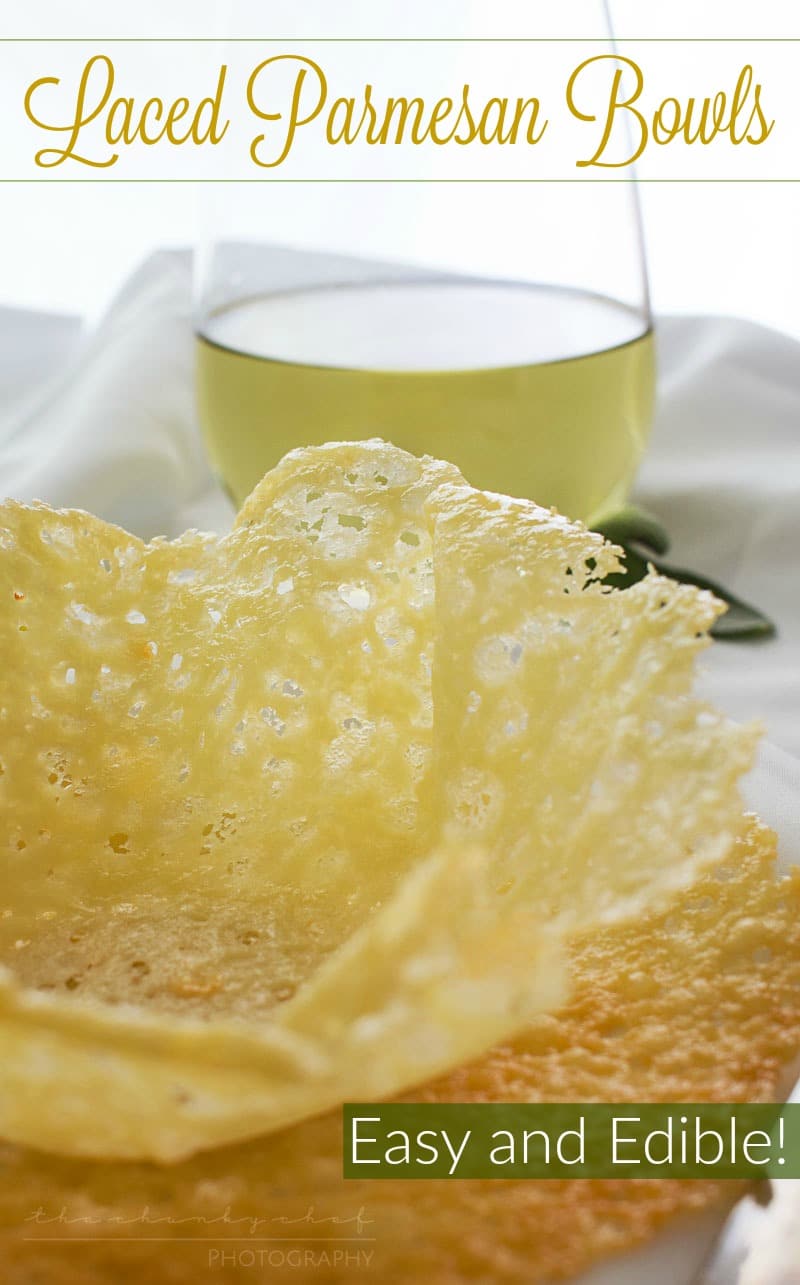 Now, if I told you those Parmesan bowls and plates are super easy to make… that you can make them in about 10 minutes… would you believe me?  Probably not lol… but seriously, they're SO easy, and SO elegant looking!  Talk about dressing just about any dish up… these babies will do just that 🙂
But I'm getting ahead of myself… let's talk risotto first.  Ahhhh risotto.  I love it, and usually don't make it at home, it's a "restaurant food", much like Chicken Piccata used to be for me (check out how I made it a super easy weeknight meal HERE).  And while it does take some patience and stirring action, it's not that it's hard to make.  So don't let risotto scare you.  If you can saute an onion, ladle liquids into a pot, and stir… guess what?  You can make risotto!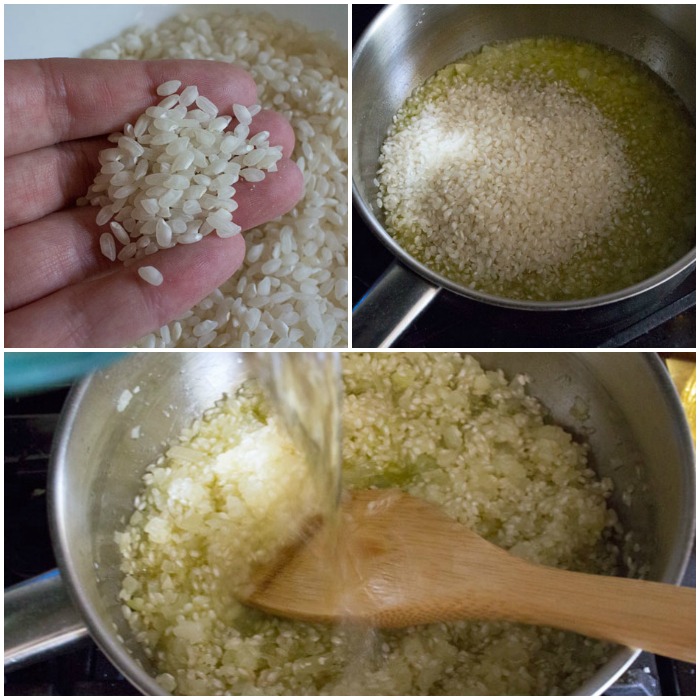 To start with, you'll want to have the right kind of rice… risotto is traditionally made with arborio rice, which has super short grains (you can see them in the upper left image in the collage above).  Generally speaking, the shorter the grain of rice, the starchier it is, which is why the small grains are so perfect for risotto… it makes that thick and creamy sauce.  Around here, arborio rice wasn't too expensive, and was readily available in my local grocery store, so it's probably easier to find than you realize 🙂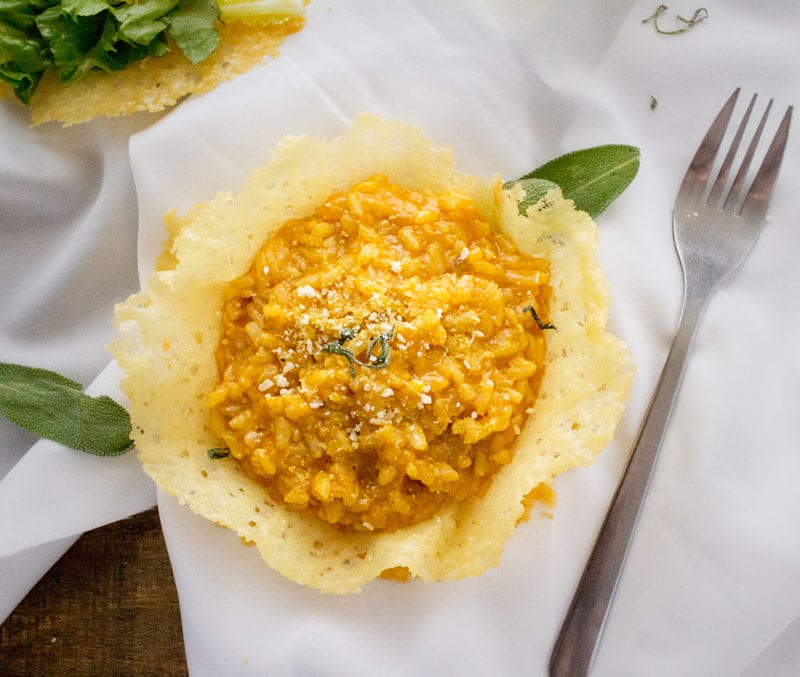 As I mentioned, risotto does take some time to make… you can't just dump it in a pot and walk away like regular rice dishes.  You have to babysit it a bit (while you sit and maybe knit, but don't quit – gotta love rhyming!), but I actually like to do it because you can really see the risotto developing right before your eyes.
I adapted this recipe from Wolfgang Puck's recipe, and wow is it ever good!  I used canned pumpkin, for the ease and availability, but if you want to, you could roast up a fresh pumpkin or even a butternut or acorn squash (just puree it after it's been roasted).
The hardest part about making risotto is knowing when it's done.  Cook it too long and you'll end up with a mushy mess, but if you don't cook it long enough you'll have crunchy rice in a thin sauce.  Ick.  You're looking for an al dente doneness here, but if you want a great easy way to tell if your risotto is done, check out this post by The Kitchn!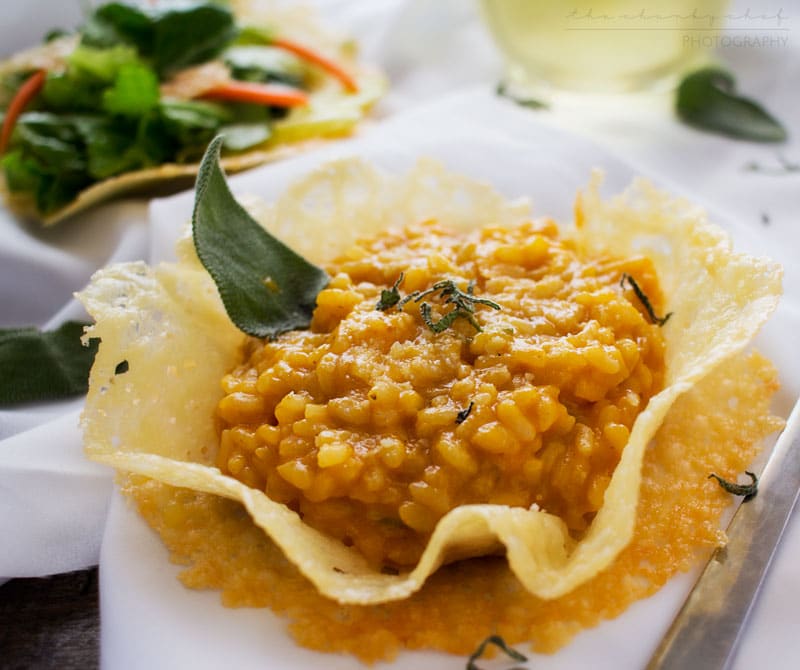 Alright, let's get to those edible bowls now shall we?  I made mine while I was cooking my risotto and it took about 10 minutes and zero hard work!  I stumbled across this method/recipe and just KNEW I had to try it.
Just grab some Parmesan cheese and spread it out on a foil lined baking sheet that's been sprayed with cooking spray.  Pop it in the oven for 5-10 minutes, watch it carefully so it doesn't burn or get too golden brown, and then let it cool for about 20 seconds or less.  Carefully drape the cheese over a small inverted bowl (or ramekin).  As it cools, it will conform around the bowl shape and be a perfectly elegant edible bowl!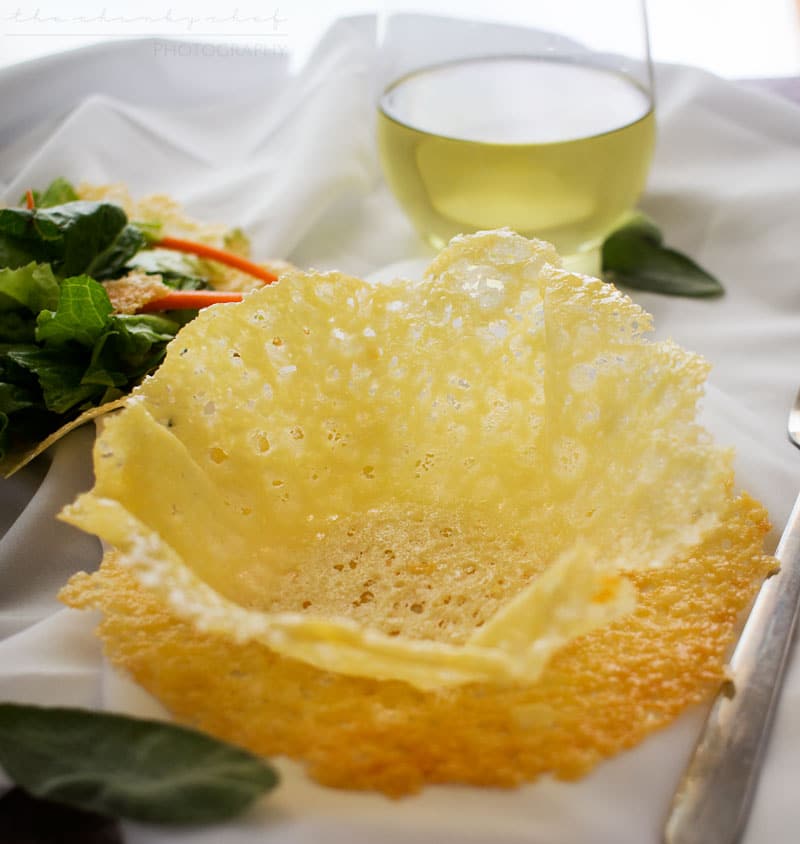 For the plates, I just let the baked Parmesan cool flat on the baking sheet.  I guarantee you will impress anyone you serve these to!!  Only you have to know how easy they were to make 😉  Plus, can you imagine the possibilities for these?  Break up some of the Parmesan plates into chips to put on top of your favorite soups or even on a Caesar salad!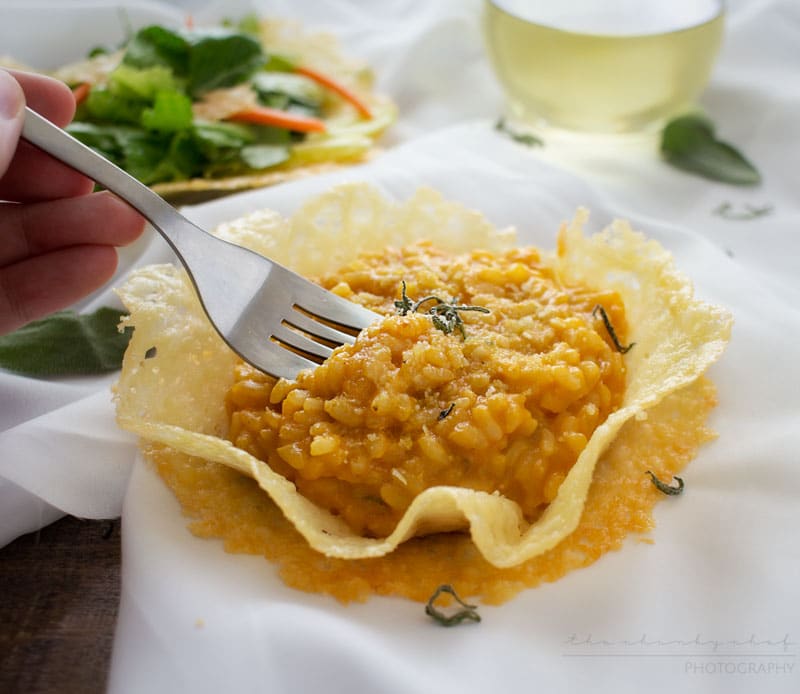 I hope you all give this one a try… or any risotto really… just because it's such a yummy dish, that isn't as complicated as you may think it is 🙂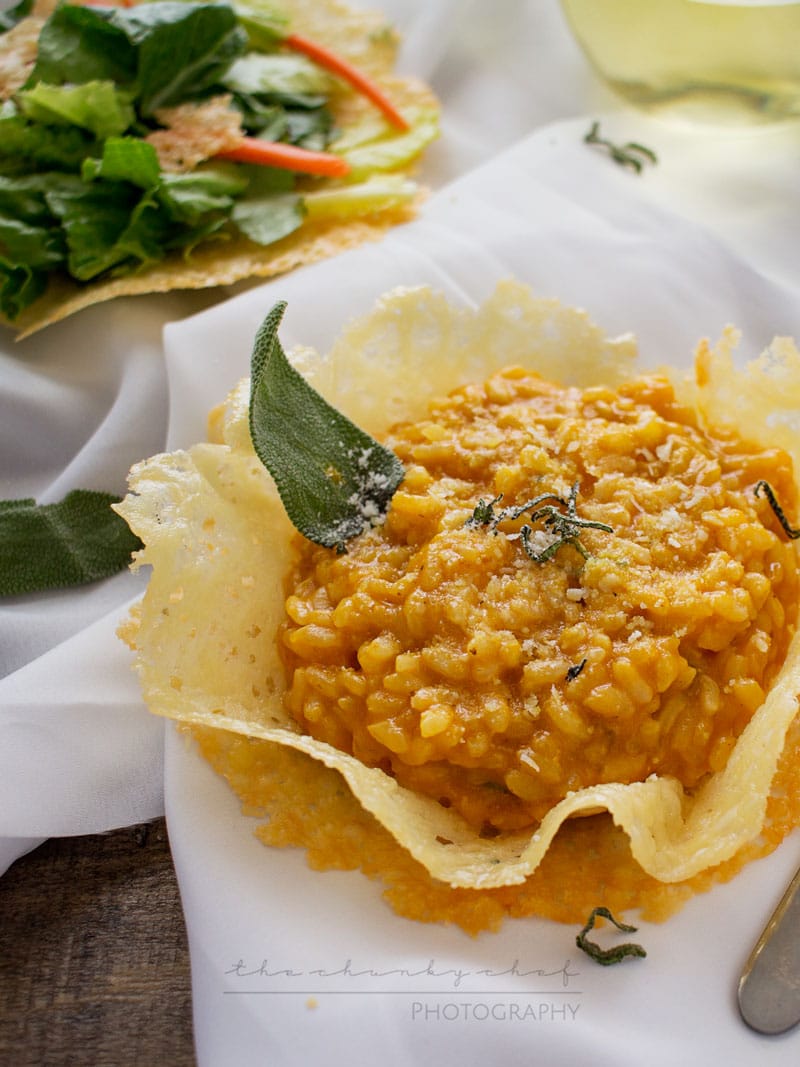 Scroll down past the recipe below to see what the other fabulously talented #FoodieMamas have dished up for you!!
---
Never miss a recipe!
[mc4wp_form]
You can find me on Facebook, Twitter, Pinterest, Instagram and Google +, so follow me if you'd like… I love keeping in touch with all of you 🙂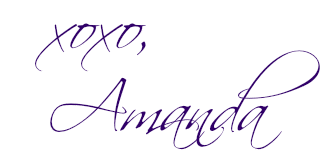 Did you make this? Be sure to leave a review below and tag me @the_chunky_chef on Facebook and Instagram!
Classic Fall flavors come together in this ultra creamy pumpkin risotto topped with fresh sage and a sprinkle of Parmesan... served in edible bowls!!
Ingredients
1/2 cup extra-virgin olive oil
1 cup yellow onion finely diced
1 Tbsp garlic minced
2 cups arborio rice you want a starchy short grain rice for this dish
1 cup dry white wine I used Chardonnay
5-6 cups of warm chicken stock vegetable stock may be used
1 - 1 1/2 cups canned pumpkin puree NOT pumpkin pie filling
1/2 cup grated Parmesan
1 tsp fresh sage minced
4 Tbsp butter diced
Instructions
To a saucepan, add chicken stock and heat over LOW to MED-LOW heat to keep warm.

Add olive oil to another saucepan, and heat over MED heat.

Add garlic and onion and cook, stirring very often, until softened and fragrant (3 minutes or so).

Add dry rice and saute for 1 minute to coat the rice in the oil.

Deglaze the pan by adding the wine and stirring until most of the wine has cooked into the rice.

Ladle in about 2-3 cups of the warmed chicken stock (enough to cover the rice), and cook until almost all the liquid is absorbed. Stir very often!

Ladle in about 1 cup of the chicken stock, cook and stir until liquid has been absorbed.

Repeat with one more cup of the stock.

Taste to check for doneness. You're looking for a rice that is tender, but yet still has a slight bite to it (al dente). See notes section for helpful tips!

Reduce heat to LOW and stir in pumpkin, parmesan, sage and butter.

Serve in bowls, garnished with a sprinkle of parmesan and minced sage if desired.
Want to save this recipe for later? Click the heart in the bottom right corner to save to your own recipe box!
Chef Tips
** Recipe adapted from Wolfgang Puck's recipe
** For a great way to check if your risotto is done, try THIS smear test from The Kitchn
Did you make this? Be sure to leave a review below and tag me @the_chunky_chef on Facebook and Instagram!
Easy to make, yet incredibly impressive, these edible Parmesan bowls are amazing!
Instructions
Preheat oven to 350 degrees and line a baking sheet with foil. Spray liberally with cooking spray (you don't want your cheese to stick!).

Spread 1/4 cup grated Parmesan cheese out into a thin circle. Use your fingers to make sure it's in an even layer.

Bake for 5-10 minutes, until bubbly and just lightly golden brown. Watch it carefully!

Let cool on the baking sheet for 10-20 seconds, then use a spatula to carefully drape the cheese over a small inverted bowl.

Let cool.
Want to save this recipe for later? Click the heart in the bottom right corner to save to your own recipe box!
Chef Tips
** For bigger bowls, use more cheese.
Check out what the #FoodieMamas made for you all!!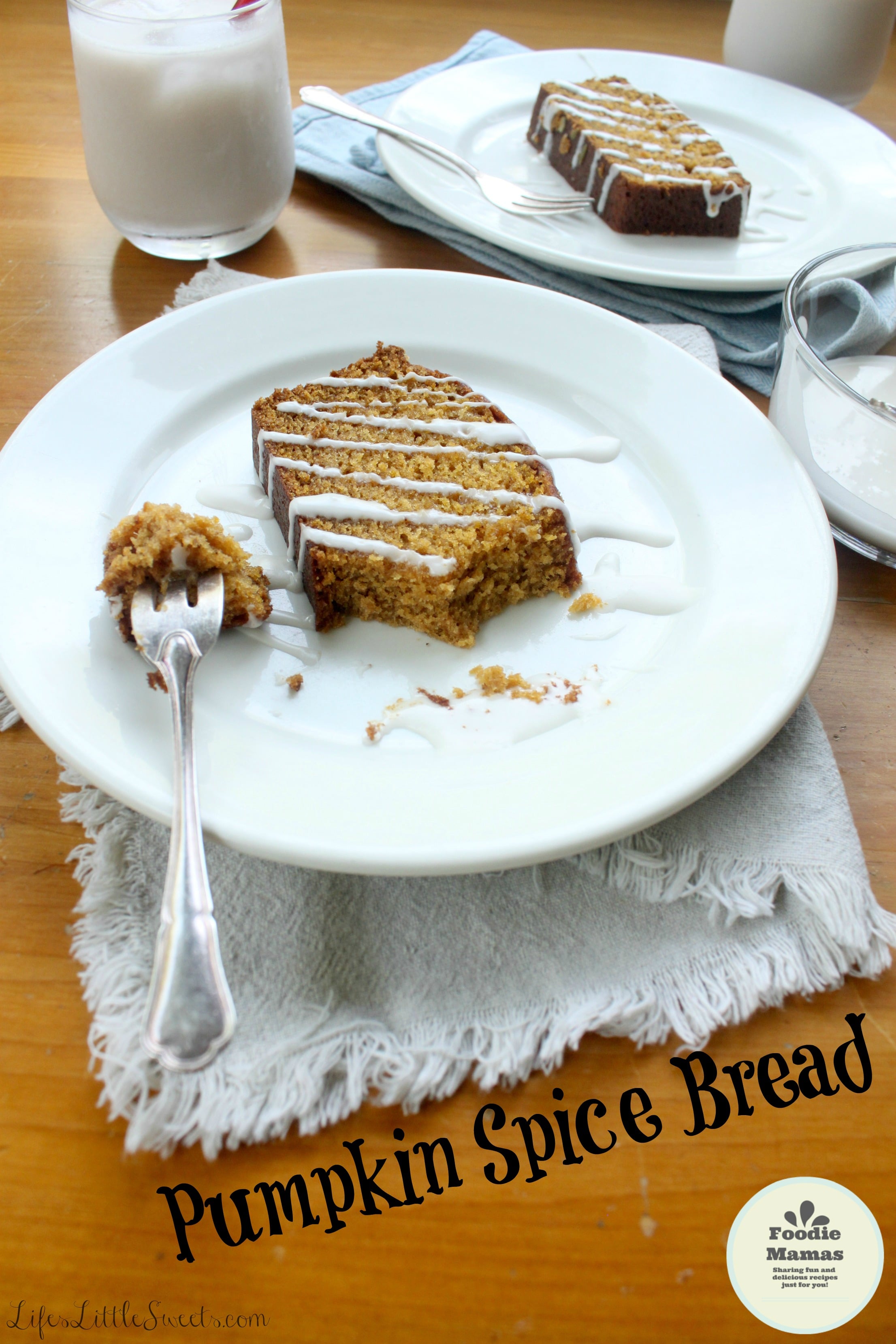 Sarah of Life's Little Sweets has made a delicious Pumpkin Spice Bread!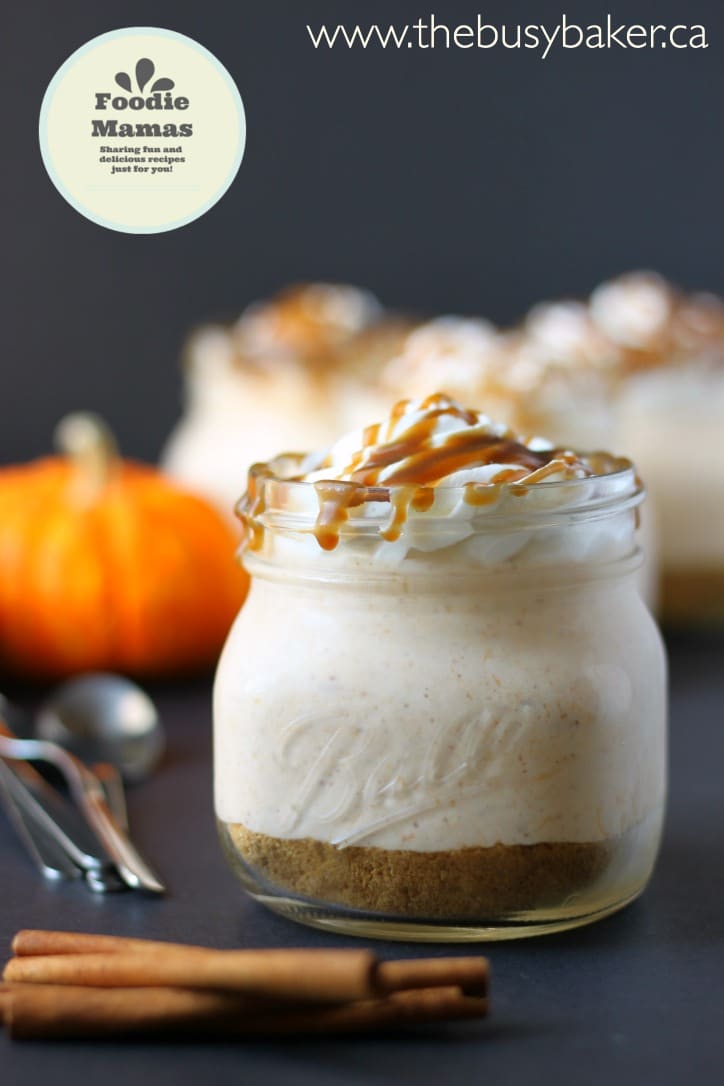 Chrissie from The Busy Baker is sharing this awesome No-Bake Mason Jar Pumpkin Cheesecake!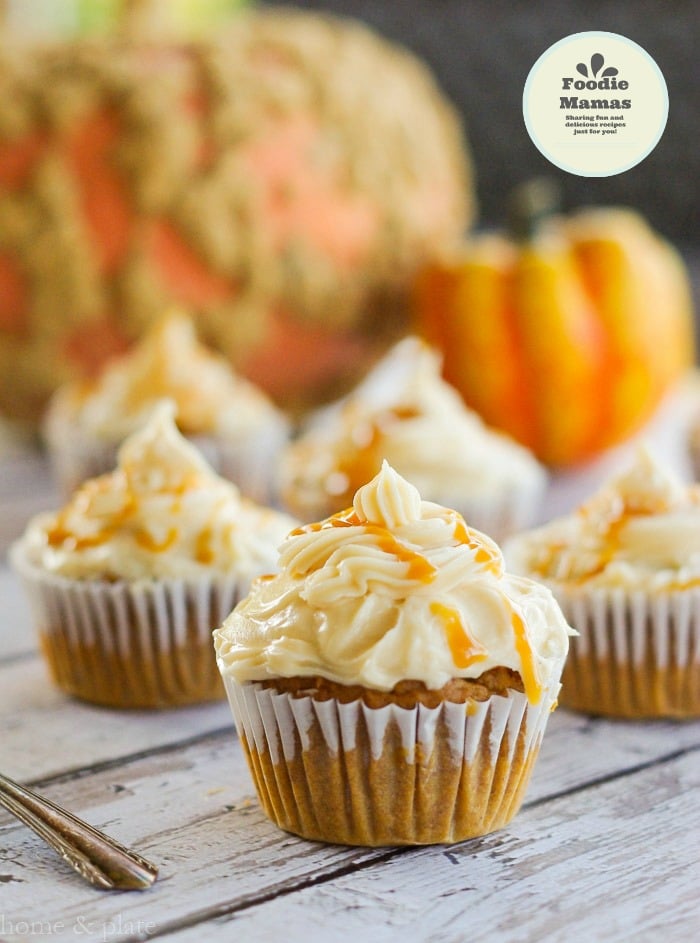 Ali from Home and Plate is making us all drool with these Harvest Pumpkin Cupcakes with Salted Caramel Frosting!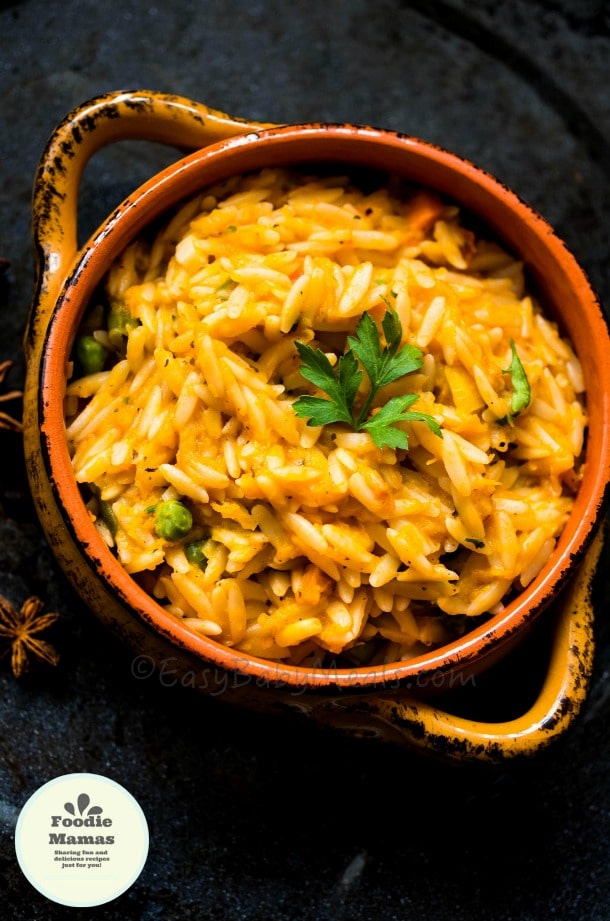 Deepika from Easy Baby Meals is wow-ing us with this amazing Pumpkin with Orzo Pasta!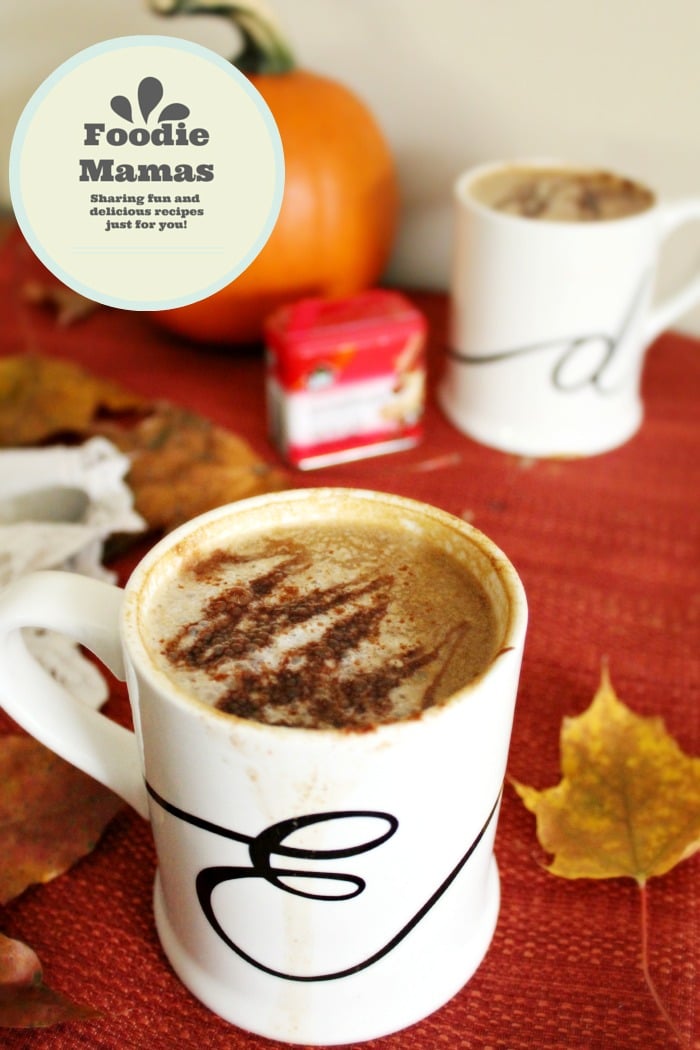 Emily from Best of This Life has brought some yummy Homemade Vegan Pumpkin Spice Lattes!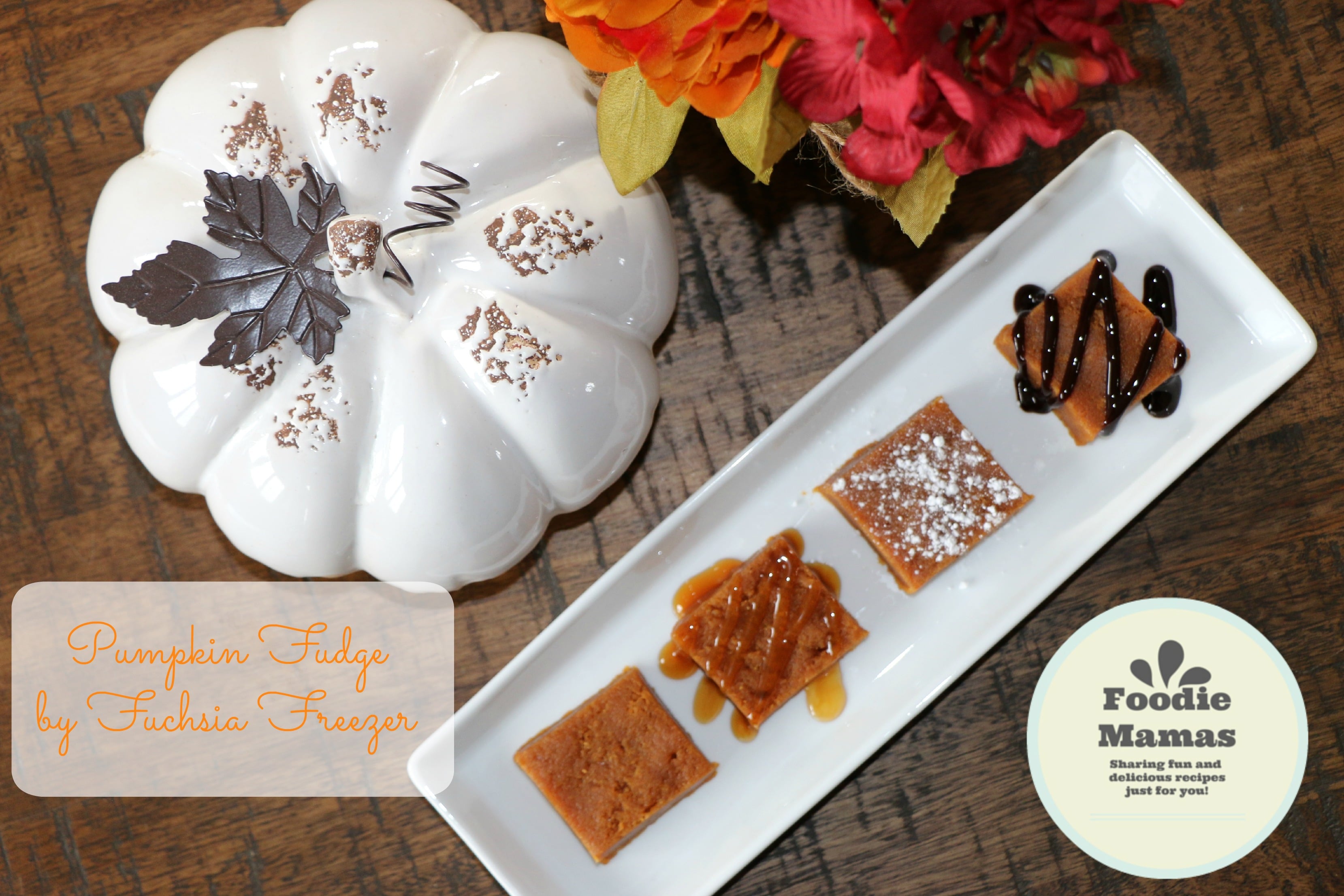 Kaitie from Fuchsia Freezer made some delicious Pumpkin Fudge!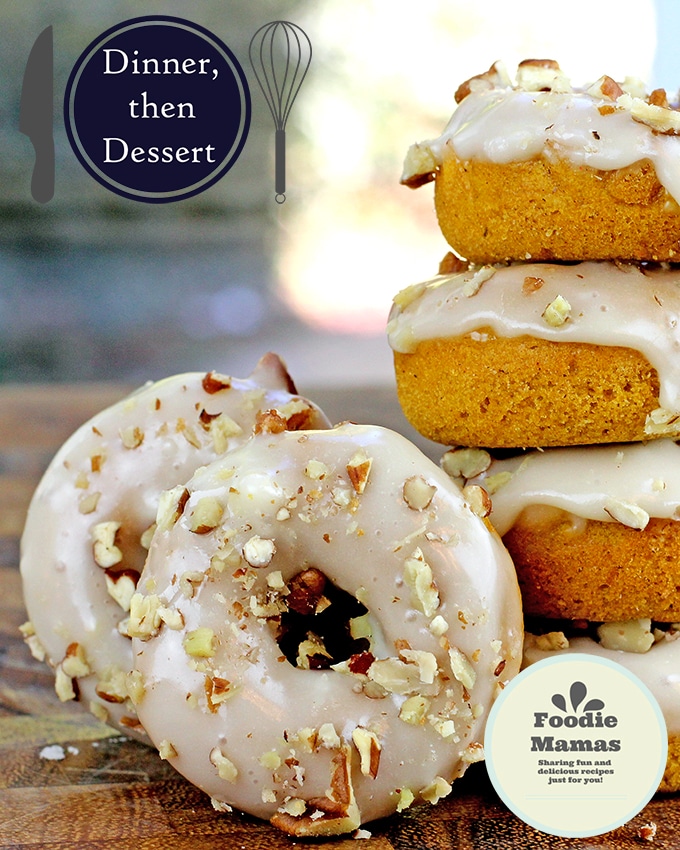 And Sabrina from Dinner Then Dessert is making us all drool with these Baked Mini Pumpkin Pecan Donuts!