Boring egg salad, step aside!  Gourmet flavors like fresh tarragon and minced shallot elevate this egg salad from ordinary to extraordinary!
I know, I know… egg salad?  Isn't that an after Easter food?  I love egg salad, and eat it year round!  I love finding new ways to jazz it up, put a new spin on it.  This version is my absolute favorite… it's a gourmet egg salad with the great flavors of finely minced shallot and chopped fresh tarragon.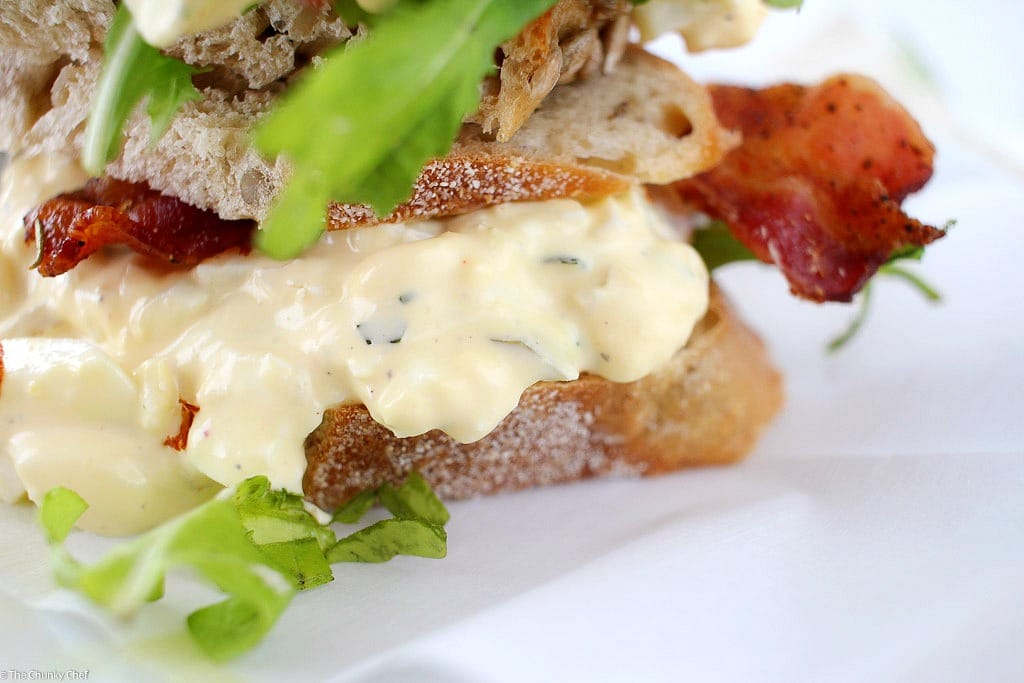 Have you ever used fresh tarragon before?  I love using fresh herbs, and use them in nearly all the things I cook, even if it's just as a garnish 🙂  Tarragon has a unique flavor, sort of like anise… which sounds weird, but it's actually delicious with meats, eggs, potatoes, tomatoes, and in salads!
First you'll need to hard boil your eggs.  Now there's about a gazillion (okay, maybe not a gazillion, but a LOT)  of methods for creating the perfect hard boiled egg, so go with whichever method you like best!
For me, I place my eggs in a single layer in the bottom of my stockpot and cover with about an inch or so of cold water.  I heat the water over high heat until boiling, turn off the heat, leave on the burner, cover, and let them sit for about 15 minutes.  Then I remove them with my strainer and place them in a bowl of ice water, then lay them out on paper towels to dry.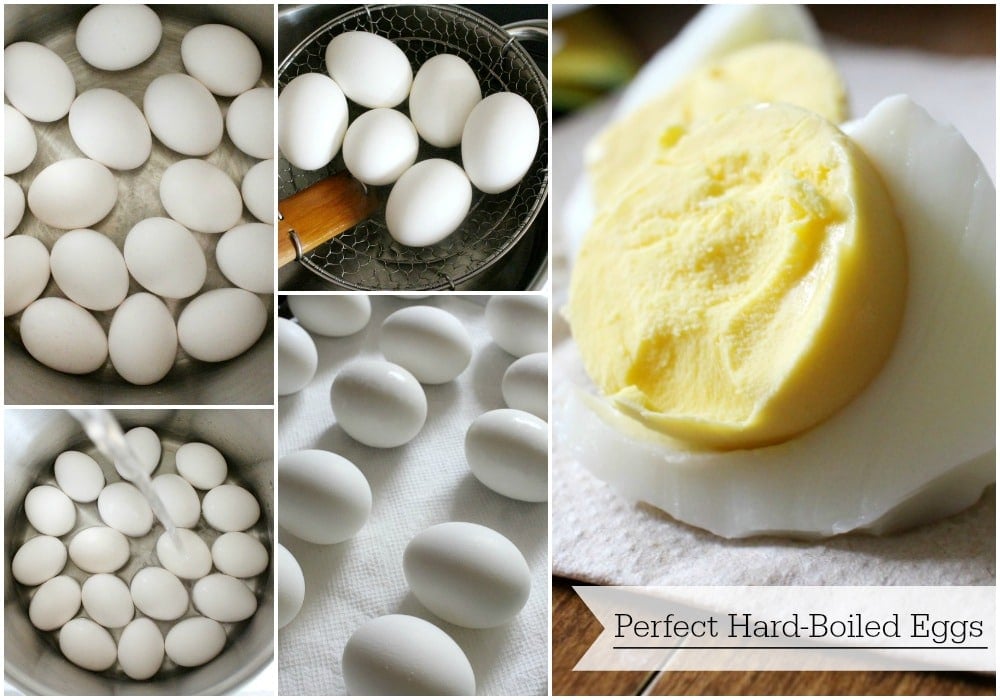 You can use these right away, or pop them in the refrigerator for a couple days.  I was using eggs that I had boiled the day before, so I just pulled them out of the refrigerator and started peeling them.
Peeling eggs can be a huge hassle, so I definitely recommend boiling eggs that are at LEAST a week old, they'll be a little easier to peel.  I wrap an egg in a paper towel, place it on my cutting board and apply even gentle pressure with my hand while I roll it back and forth.  It crunches, then you can peel all the little shell flakes off.
You can chop the eggs up as finely or as chunky as you want for your salad!  I went with a medium chop on mine, for a creaminess with some nice texture 🙂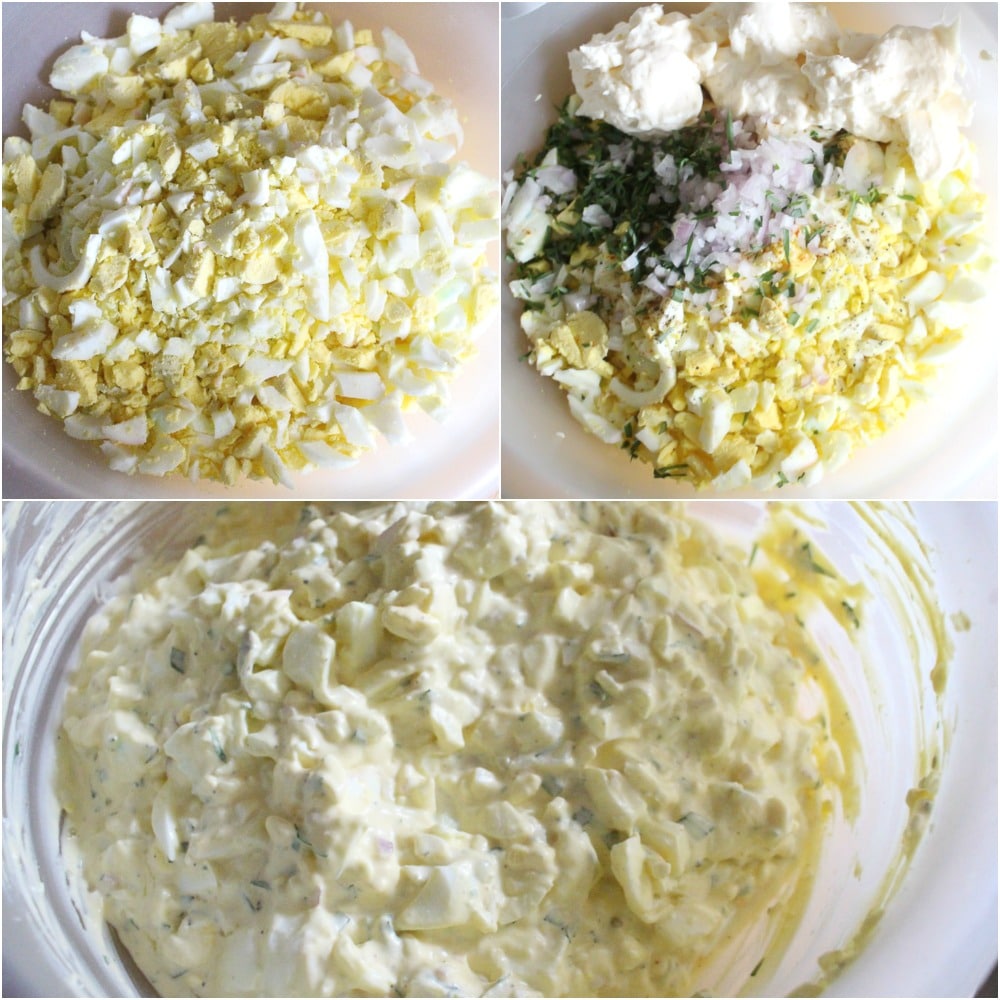 Add all your ingredients to a large mixing bowl and stir it to combine well.  I like to refrigerate my egg salad for a few hours or a day to let all the flavors really combine.  Just make sure you have it in a container that seals well… you definitely don't want your whole refrigerator smelling like egg salad!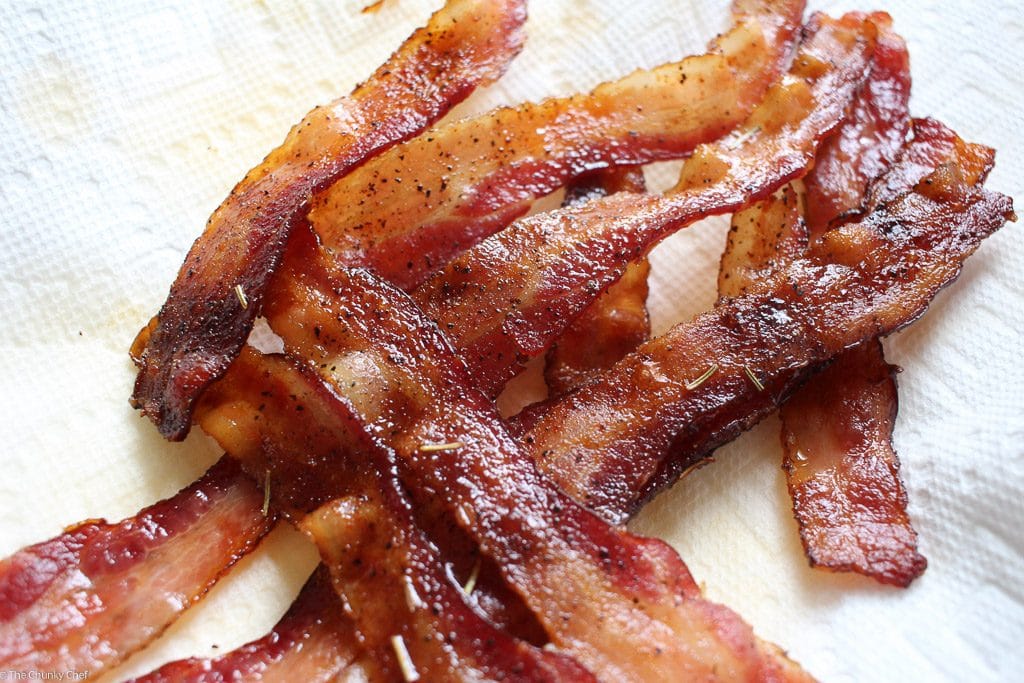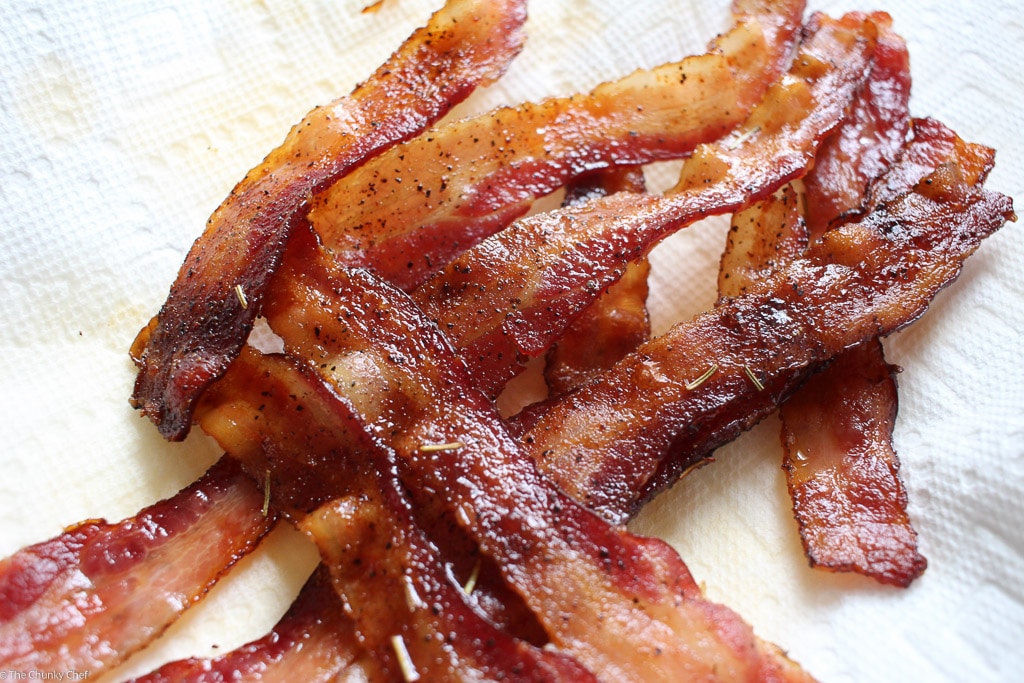 For my sandwiches I baked up some of my signature seasoned bacon (black pepper, dried rosemary leaves, dash of chili powder and a sprinkle of brown sugar), because… well bacon just makes everything better right?  I definitely think so!
I also got some delicious whole grain bread from my grocery store's bakery and picked up a bag of some baby arugula.  I love using arugula as my lettuce, such great flavor.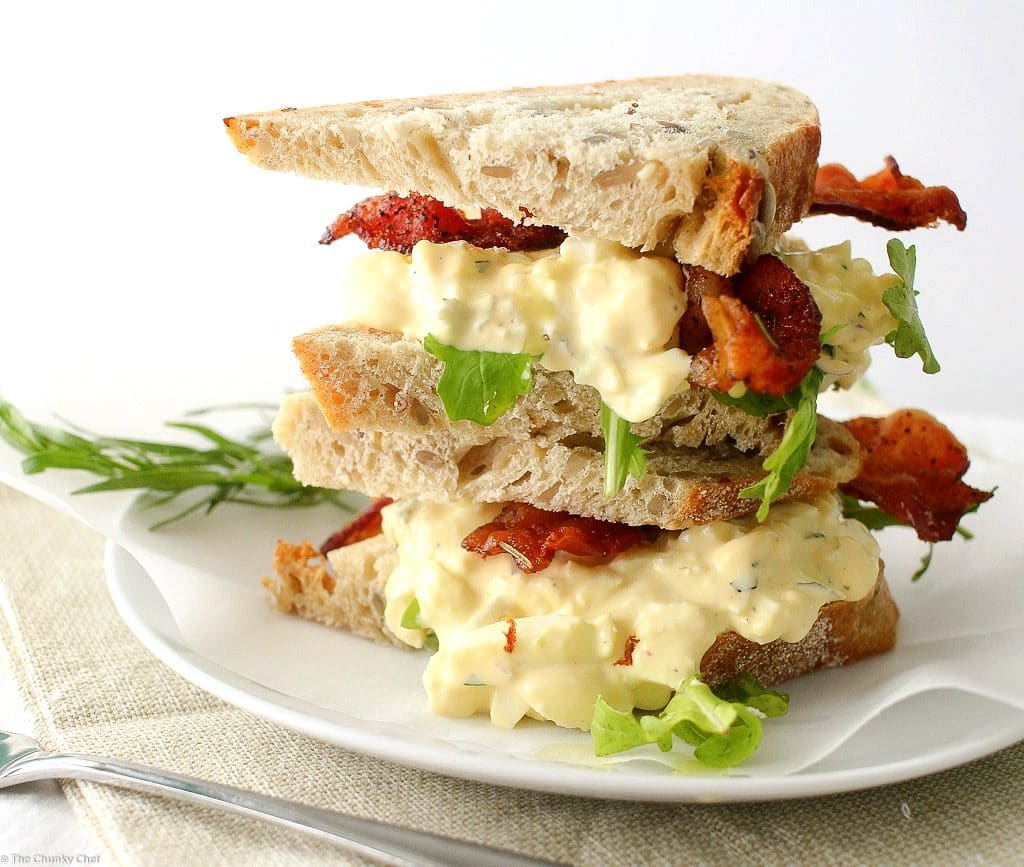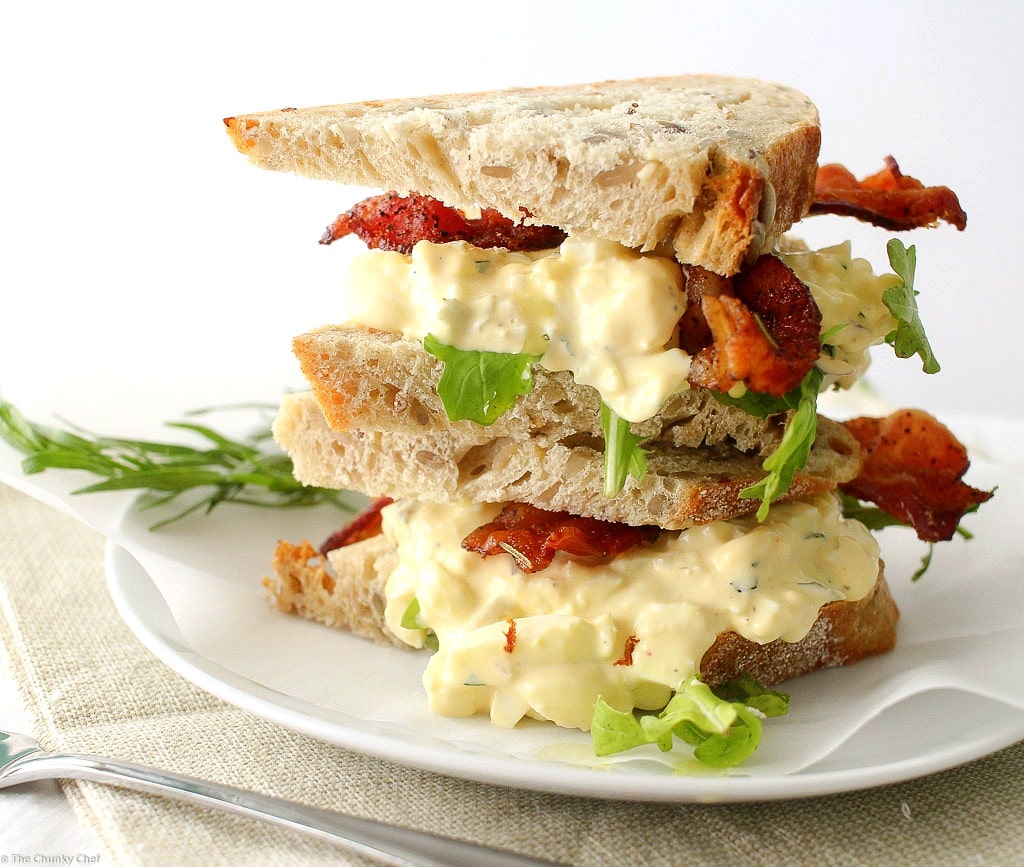 This is one of my absolute favorite sandwiches… all the flavors are amazing and it's so light you won't feel guilty for eating that mayo!  Aaaaannnnddd the bacon 😉
Now I'm not sure of the exact shelf life of egg salad, in the refrigerator of course, because ours is usually gone within a day or two… but I wouldn't think it would be good for more than 5 days.
I love having this egg salad on all types of breads… croissants being one of my favorite options… as well as in a lettuce cup for a nice light lunch.  Also, and maybe I'm just weird, (okay, I seriously am), but I also LOVE this egg salad on a lightly toasted "everything" bagel.  Ah-mazing!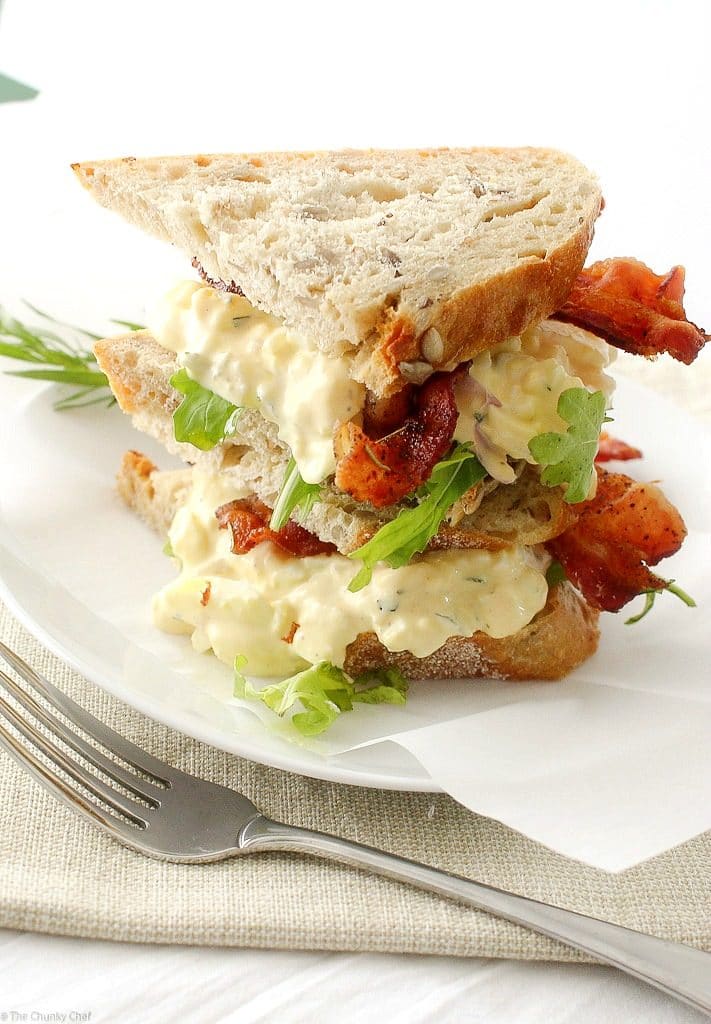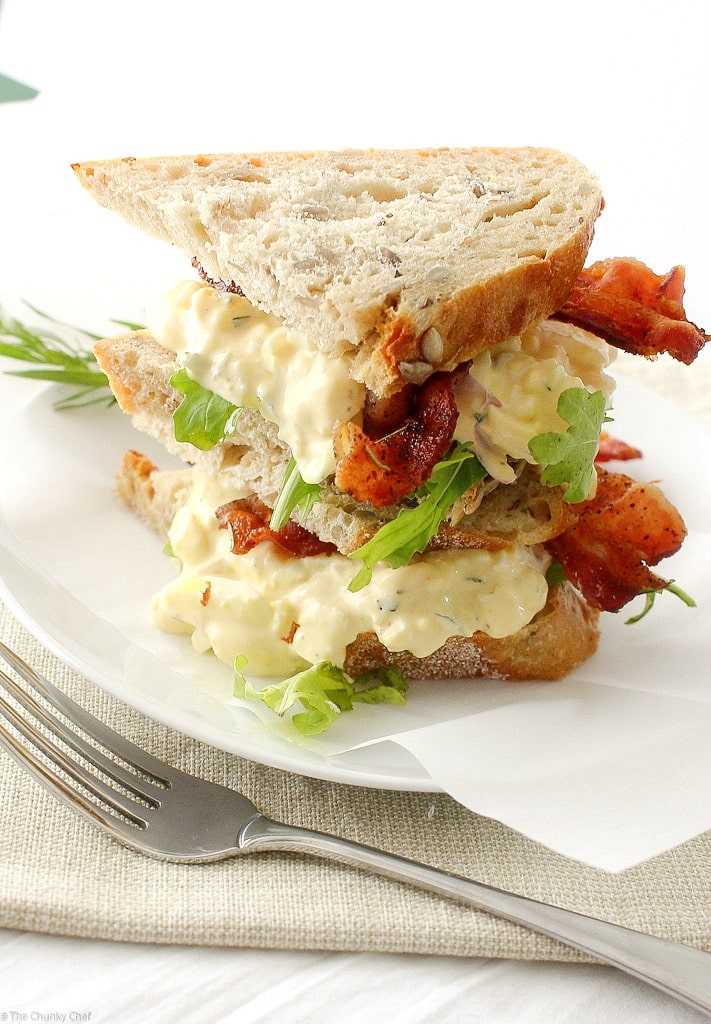 Did you make this? Be sure to leave a review below and tag me @the_chunky_chef on Facebook and Instagram!
Familiar egg salad gets elevated by the savory flavors of shallot and tarragon... a gourmet twist on a classic sandwich!
Ingredients
8 large eggs
1/2 cup mayonnaise
2 Tbsp finely chopped shallot
1 1/2 Tbsp finely chopped fresh tarragon or to taste
1 tsp dijon mustard
2 tsp tarragon vinegar can be substituted with white wine vinegar
1/4 tsp salt or to taste
1/4 tsp black pepper or to taste
Instructions
BOIL THE EGGS:

If you need to boil your eggs, place them in the bottom of a large pot and cover with cold water (enough to cover the eggs by about an inch or more). Place pan over HIGH heat and bring to a boil. Once water is boiling, let boil for 15 seconds, turn heat OFF.

Leave pan on the burner and let pan sit, covered, for 15 minutes.

Remove eggs with a strainer to a bowl filled with ice water. Let sit in ice water for 1 minute, then remove to paper towels to dry. Use immediately or refrigerate.

MAKE THE SALAD:

Peel and chop eggs and add to a large mixing bowl. Add remaining ingredients and stir together with a wooden spoon to combine thoroughly. Cover tightly and refrigerate for several hours or up to a day before eating (for maximum flavor).
Want to save this recipe for later? Click the heart in the bottom right corner to save to your own recipe box!
Chef Tips
** If you prefer a bit of sweetness in your egg salad, add a teaspoon or so of sweet pickle relish (or chopped sweet pickles).
Nutrition Disclaimer
The Chunky Chef is not a dietician or nutritionist, and any nutritional information shared is an estimate. If calorie count and other nutritional values are important to you, we recommend running the ingredients through whichever online nutritional calculator you prefer. Calories can vary quite a bit depending on which brands were used.