Asian Ramen Noodle Chicken Salad
Who all has been to a cookout where someone (or maybe even you) brought a ramen noodles salad?  Probably most people have.  And with good reason… it is GOOD!!  This salad gets an upgrade to dinner status with the addition of juicy chicken and toasted sliced almonds.  
I'll start by saying that 95% of the time my husband is happy with the meals I pick, sometimes he even helps me pick some to put on the meal list.  But this one… he went along with, but had some serious reservations about it.  He's a meat and potatoes kind of guy and a light cabbage salad for dinner… just doesn't seem like his type of meal.  However, after one bite, he declared it was amazing and continued to compliment it several more times throughout dinner 🙂  Don't you just love that?
The dressing is what really makes this salad incredible.  It's homemade, but easy to make.  The other secret to a fantastic salad is to toast the ramen noodles and the sliced almonds before adding them to the salad.  Toasted nuts are soooo good!  I also added the purple cabbage because it's my favorite cabbage and it just looks pretty 🙂
No step by step pictures this time, it's a really fast meal and completely UNcomplicated.  To make it even easier I picked up a rotisserie chicken and shredded it, but leftover chicken would be great too.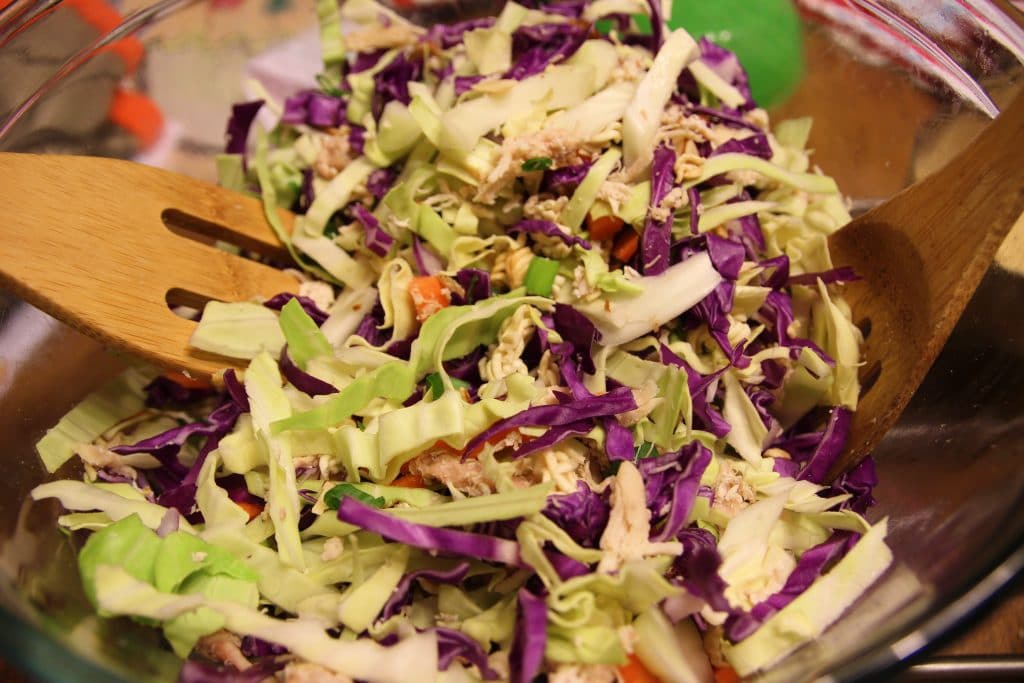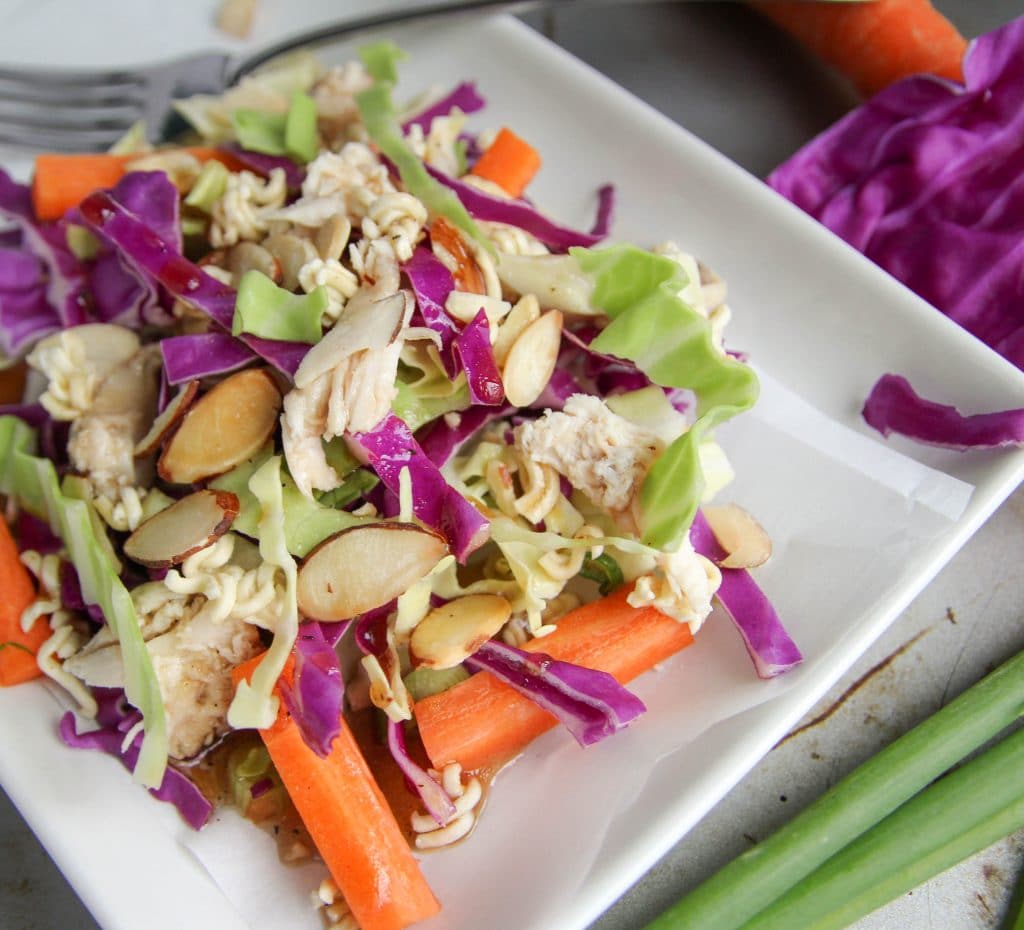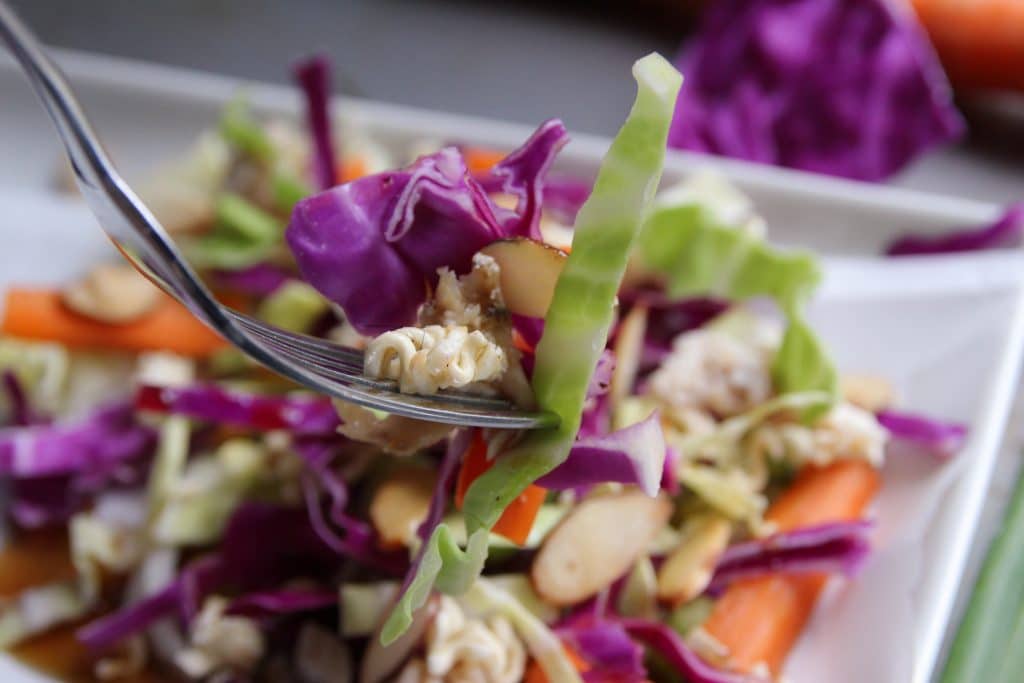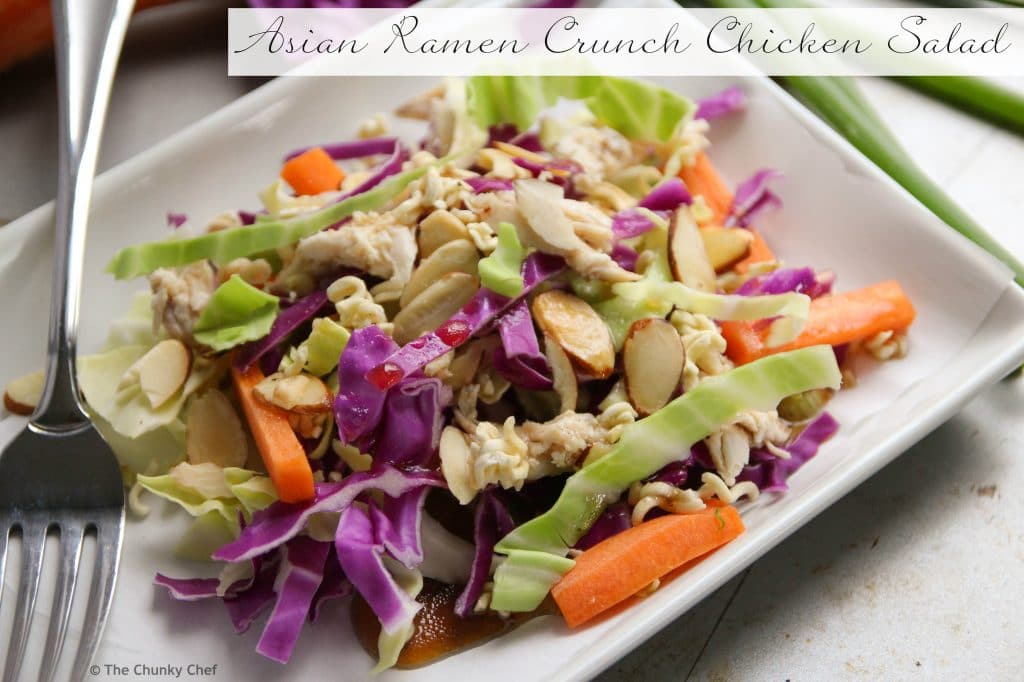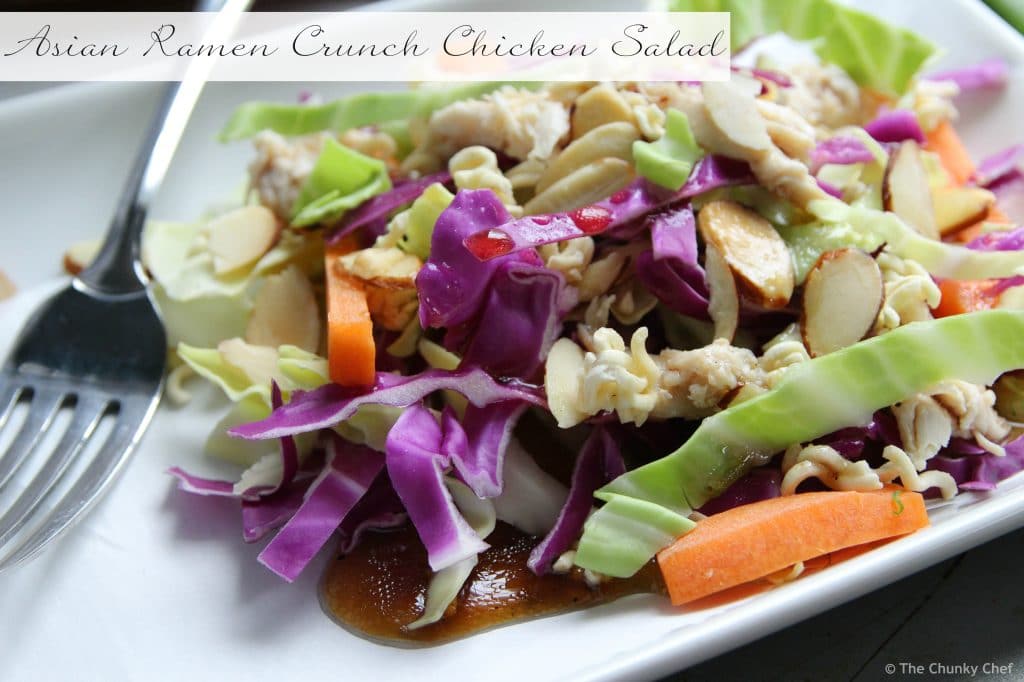 Recipe adapted from Cooking Classy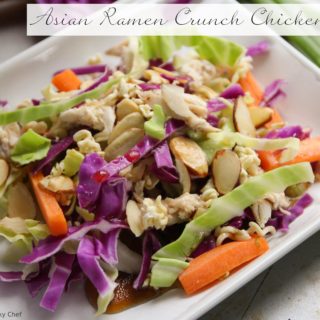 Asian Ramen Noodle Chicken Salad
A classic potluck salad gets transformed into dinner!
Ingredients
1 lb boneless skinless chicken breasts - cooked and shredded or chopped
2 oz packages dry ramen - 3
1 cup sliced almonds
5 cups shredded green cabbage (12 oz - thinly sliced)
2 cups shredded purple cabbage (5 oz - thinly sliced)
1 cup large carrot peeled and chopped into thin sticks - 3/4
4 green onions - sliced
2 Tbsp toasted sesame seeds
DRESSING
1/2 cup canola oil
1/4 cup + 2 Tbsp apple cider vinegar
1/2 cup granulated sugar
1 1/2 Tbsp soy sauce
1/2 tsp freshly ground black pepper
1/4 tsp garlic powder
1/4 tsp onion powder
1/4 tsp dried ginger
Salt to taste
Instructions
Preheat oven to 400 degrees. Crumble ramen into small pieces and place on baking sheet along with almonds, spread into an even layer. Bake in preheated oven until golden, tossing once halfway through baking, about 6 - 8 minutes.

Whisk together all of the dressing ingredients until well blended, season with salt to taste, set aside.

To a large bowl add green cabbage, purple cabbage, carrots, green onions, chicken, toasted ramen and almonds and sesame seeds. Drizzle dressing over top and toss to evenly coat. Serve immediately.
If changing the recipe serving quantity, the recipe plugin will change the ingredient values for you, but it does NOT change the written instructions, those are manually added and not subject to a slider/button. You will have to extrapolate that multiplication to any amounts listed in the instructions.
For example: if an ingredient calls for 4 cups, and you doubled the recipe, it will automatically change to 8 cups. In the instructions, if I say "use 4 cups of cheese", you will have to realize that since you doubled it, you use 8 cups, not 4
This recipe was linked up to the following great parties:
Munching Mondays
Mix It Up Mondays
Made By You Monday
Try a New Recipe Tuesday
Totally Talented Tuesdays

Whats Cookin Wednesdays
Whimsy Wednesdays
Wednesday Roundup
Full Plate Thursday
Showcase Your Talent Thursday
Foodie Fridays
Pin Junkie Party
Foodie Friends Friday