---
Tender, spicy, slow cooked beef barbacoa stuffed into a tortilla and fried to crunchy perfection, then smothered in a velvety smooth white queso… perfect beef chimichangas!
---
You'll LOVE the flavors going on in this smothered beef barbacoa chimichangas… it's an explosion of Mexican flavors!!  In fact, one chimichanga might not be enough for you!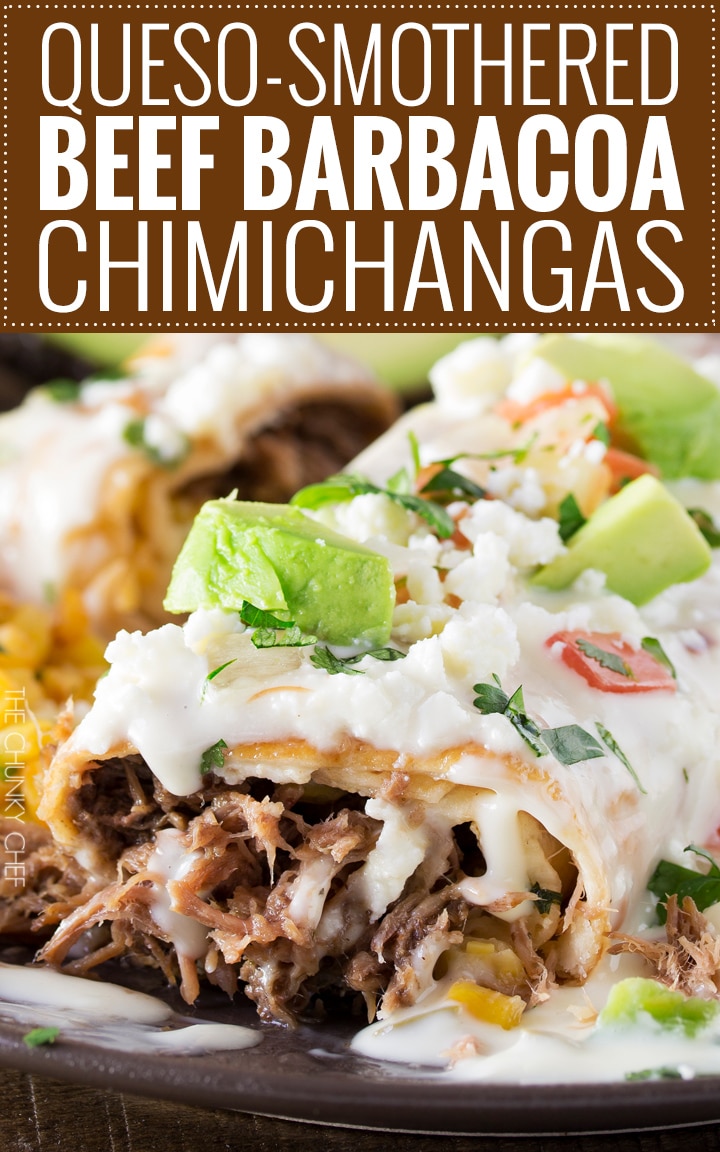 This meal.  Oh man oh man… THIS meal is just about my favorite recipe that I've shared here on the blog!  I was literally bouncing around my kitchen as I was taste testing after the photoshoot lol.  Hopefully my neighbors weren't looking, or else they'd think I went completely crazy!
The inspiration for this recipe comes from two GREAT bloggers and my LOVE of Mexican food.  Just ask my husband… I could eat Mexican food nearly every night of the week!  When I plan our meals for the week, I tend to try to sneak in a couple Mexican themed meals lol.
So those two bloggers I mentioned, they are the extremely talented Jamie from My Baking Addiction, and Becky from The Cookie Rookie.  If you've never checked out their blogs, you definitely should!!  Jamie shared her awesome recipe for Chipotle Style Barbacoa and once I tried it, I was hooked.  I made a few tweaks based on what I had available in my pantry, and the result is what I'll be sharing with you all today 🙂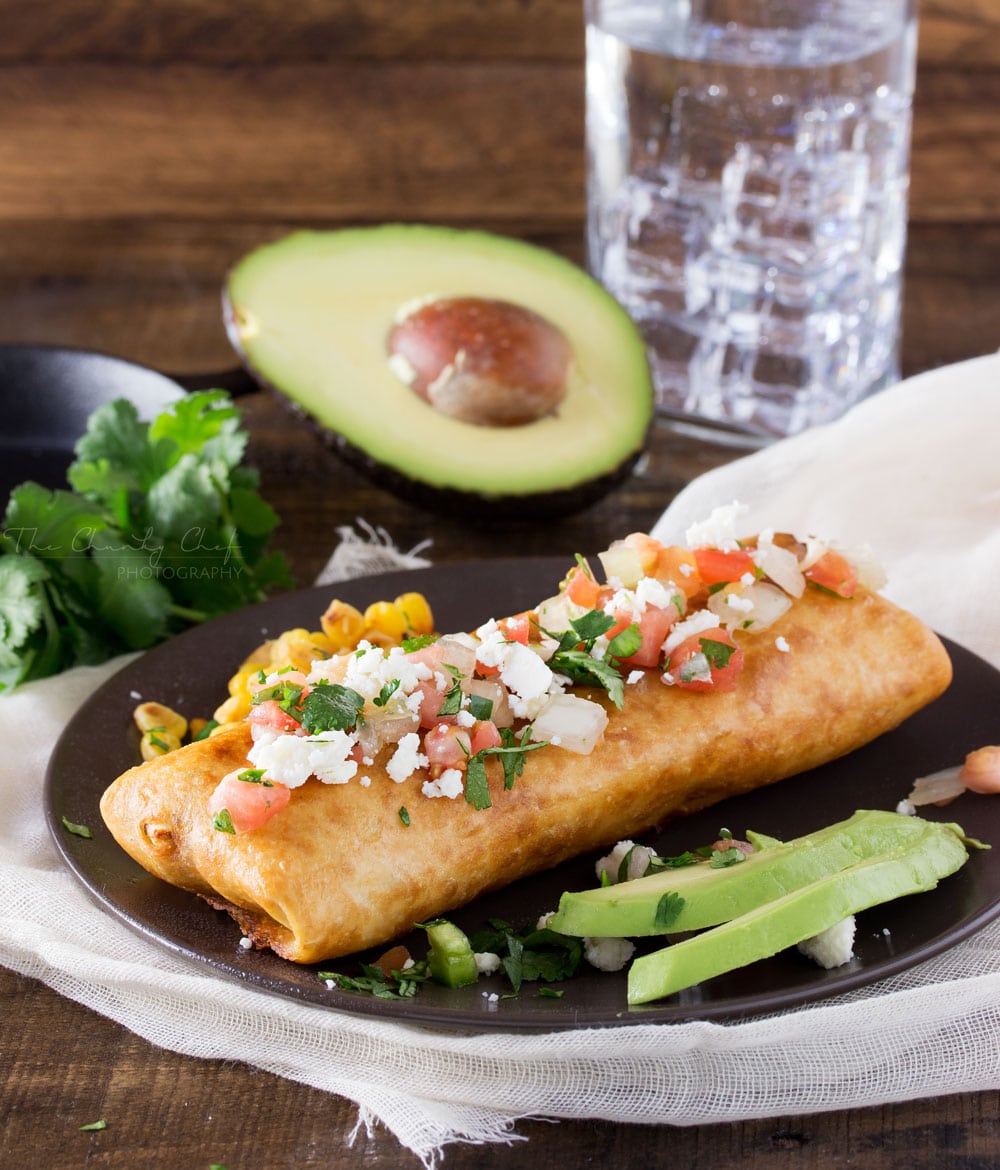 I'd been dreaming up a barbacoa chimichanga for a while, but I wanted to go BIG.  So when I saw Becky's easy restaurant style white queso it just clicked… a SMOTHERED chimichanga!  Ohhhhhhh yeahhhhhh!!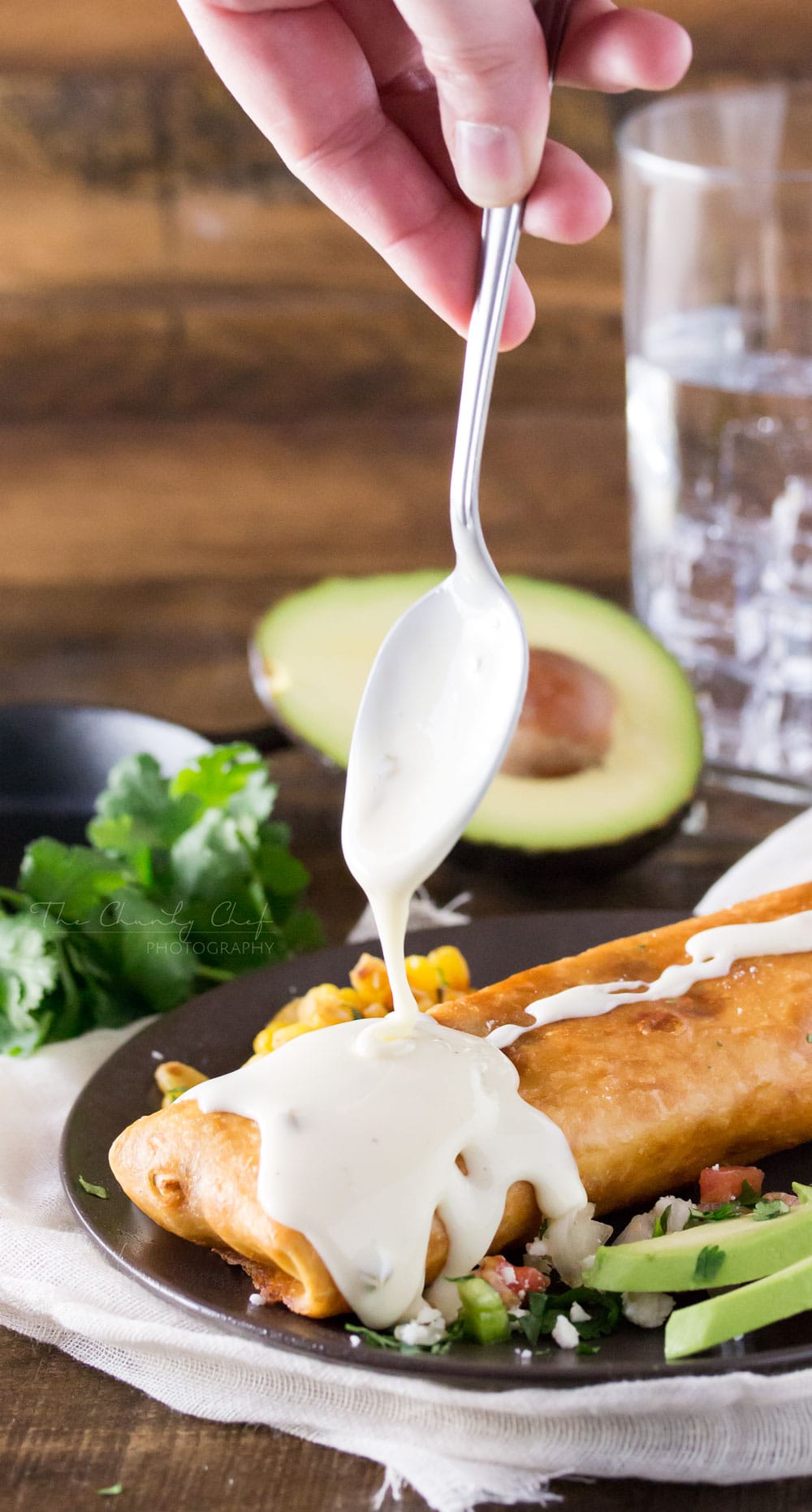 I mean honestly, the beef barbacoa chimichanga is amazing all on it's own… all crispy and golden, full of incredible shredded beef… but just look at that queso… all velvety, smooth… it just makes everything better!!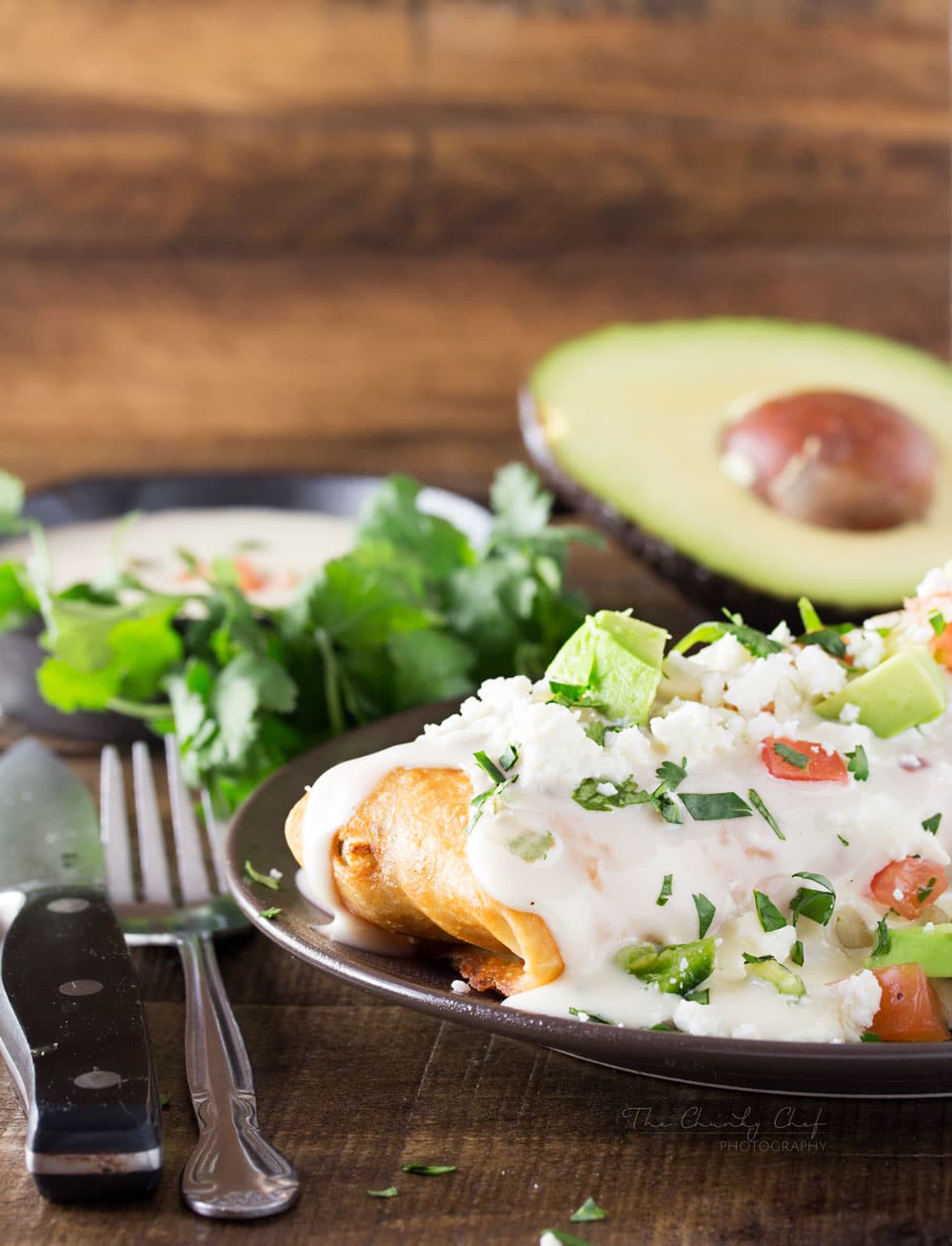 One of the things I love about this meal is that it's actually MUCH easier than it looks!  The beef cooks away in the slow cooker, the queso takes literally minutes to come together, and the hardest part of frying is waiting for the oil to come up to temperature.
In fact, this actually makes a fantastic leftover meal!  The night you cook the beef barbacoa you could serve it up in some awesome homemade flour tortillas (seriously, SO easy and flavorful) for a taco night, or even with some cilantro citrus rice for a "burrito bowl" experience.  Then the next night, or even the night afterwards, reheat the beef in the microwave for a bit (or saute it in a little oil for a charred flavor) and make the chimichangas.  Don't you just love meals like that… where you can stretch it out and get more than one dinner out of them?  PERFECT for us busy parents!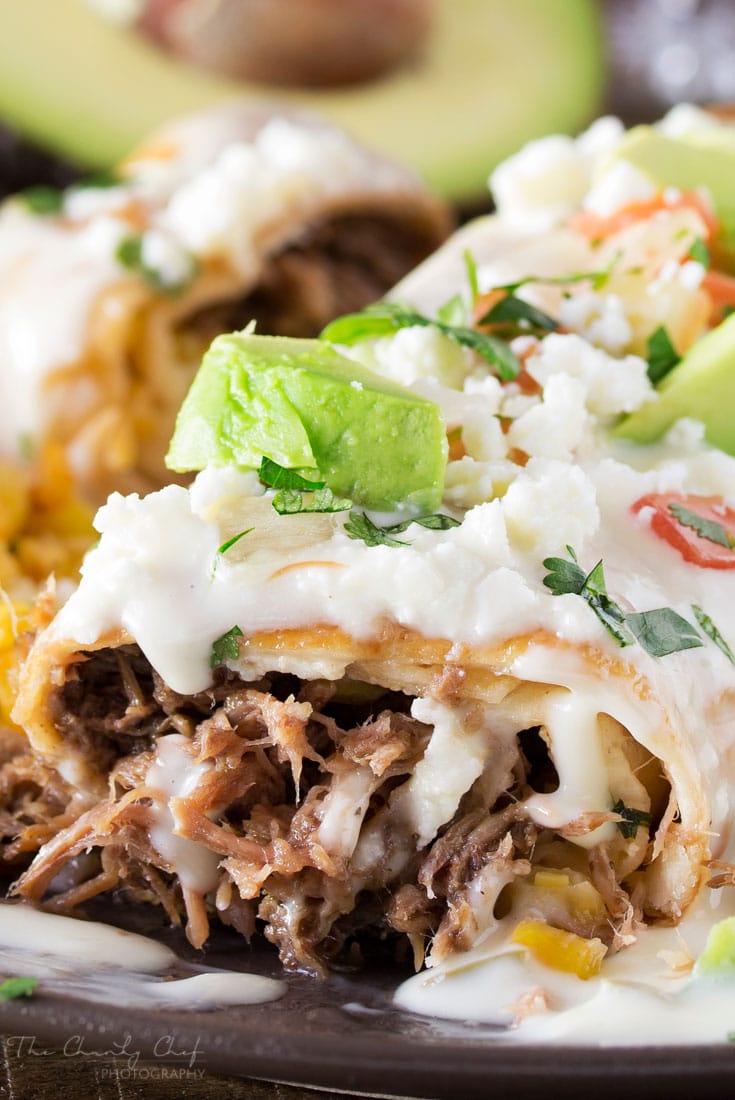 Plus just LOOK at it… it's 11pm here and I totally want some chimichangas!!! 😉
---
Let's Connect!
You can find me on Facebook, Twitter, Pinterest, and Instagram, so follow me if you'd like… I love keeping in touch with all of you 🙂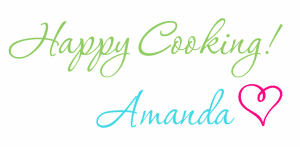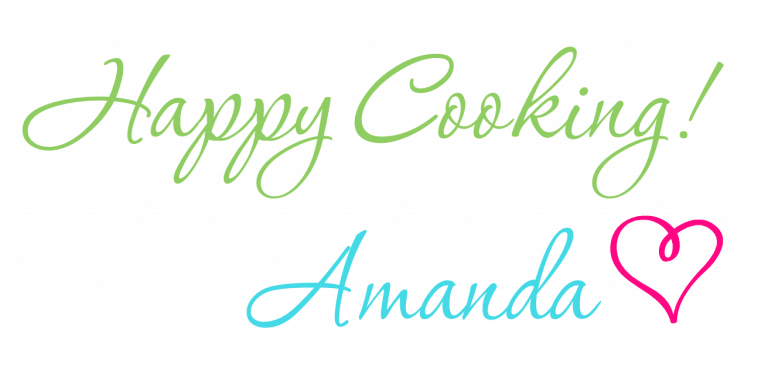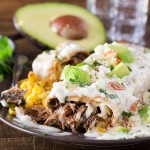 Smothered Beef Barbacoa Chimichangas
Spicy, slow cooked beef barbacoa stuffed into a tortilla and fried to crunchy perfection, smothered in a velvety smooth white queso... perfect chimichangas!
Cook Time
6
hours
15
minutes
Total Time
6
hours
40
minutes
Ingredients
BEEF BARBACOA:

4

lb

chuck roast

2

Tbsp

vegetable oil

1/3

cup

apple cider vinegar

5

cloves

garlic

minced

4

tsp

cumin

2

tsp

oregano

1/4

tsp

ground cloves

1

tsp

black pepper

1

tsp

kosher salt

3/4

cup

beef stock

3

Tbsp

freshly squeezed lime juice

3-4

chipotle chiles in adobo sauce + 2 tsp of the adobo sauce

add more if you want it spicier

1

4 oz

can of green chiles

drained

2

bay leaves

QUESO:

3/4

lb

high quality white american cheese

shredded or finely chopped

1/2

lb

high quality fontina cheese

shredded

1

cup

half-and-half

2

Tbsp

canned jalapenos

finely chopped

1/2

tsp

cumin

1/2

tsp

ground nutmeg

3/4

tsp

red pepper flakes

1/4

tsp

salt

1/4

tsp

black pepper

chopped cilantro

tomatoes, and jalapenos for garnish, optional

CHIMICHANGAS:

Large flour tortillas

Queso Fresco cheese

possibly found in the refrigerated section of the Mexican foods aisle - can substitue Cotija or shredded Monterey Jack

Pico de Gallo or your favorite salsa

Diced avocado

Minced fresh cilantro
Instructions
MAKE THE BARBACOA:

Trim excess fat from the roast and cut into 8 large pieces. Pat dry and season liberally with salt and pepper.

Add vegetable oil to a large, heavy pan, and heat over MED-HIGH heat. Once oil is shimmering, add half the meat to the pan, leaving room in between each piece. Let meat sear on one side without moving it for several minutes. If you try to flip the meat and it sticks to the pan, let it cook a little bit longer. It will release on it's own when it's ready to flip.

Sear all sides of the meat, remove to a plate, and repeat with remaining half of meat.

Add all meat pieces to the bottom of slow cooker, making sure to add any drippings from the plate, that's extra flavor!

Add vinegar, garlic, cumin, oregano, cloves, pepper, salt, beef stock, lime juice and chipotle chiles to a blender and puree until smooth. Stir in drained green chiles.

Pour sauce over meat in slow cooker, turn to fully coat meat in the sauce, then add bay leaves.

Cover, and cook on LOW for 10 hours (or HIGH for 6 hours).

Remove bay leaves.

Remove meat to a large bowl and shred. Return meat to the slow cooker and heat on LOW in the sauce, uncovered, for 10 minutes.


MAKE THE QUESO:

Prepare ingredients and set aside.

Add half and half to a saucepan and heat over MED heat until JUST simmering.

Reduce heat to LOW and stir in 1/3 cheeses, mixing well until smooth. Repeat with another 1/3 of the cheeses, and then a final time with the remaining 1/3.

Stir until cheeses are completely melted, then stir in jalapenos, cumin, nutmeg, red pepper flakes, salt and pepper.

If cheese starts to get too thick or seize up, stir in additional half and half until it reaches desired consistency.


MAKE THE CHIMICHANGAS:

Heat 1-2 inches of vegetable oil (or canola, peanut, etc) over MED heat in a cast iron skillet (or whichever skillet you use to fry).

To test to see if the oil is ready, rip off a small piece of flour tortilla and toss it in the oil... it should bubble and slowly turn golden brown.

Lay out a flour tortilla, add several spoonfuls of shredded beef barbacoa to the tortilla in a horizontal line, leaving an inch or so of border on the sides.

Top beef with a handful of Queso Fresco cheese.

Roll the tortilla as you would a burrito, up from the bottom over the meat and cheese, fold the sides in, then continue rolling upward.

Place chimichanga seam side down in the oil and let it fry for about 1-2 minutes, then carefully flip it over and fry an additional minute or so.

Remove to a paper towel lined plate to drain and cool.

Repeat with remaining chimichangas.

To serve, top chimichanga with queso, queso fresco cheese, minced cilantro, pico de gallo and diced avocado.