---
Tortillas stuffed with tender, spicy, slow cooked spiced beef (barbacoa-style), fried to crunchy perfection, then smothered in a velvety smooth white queso… perfect beef chimichangas!
---
You'll LOVE the flavors going on in these queso smothered beef chimichangas… it's an explosion of Mexican flavors!!  In fact, one chimichanga might not be enough for you!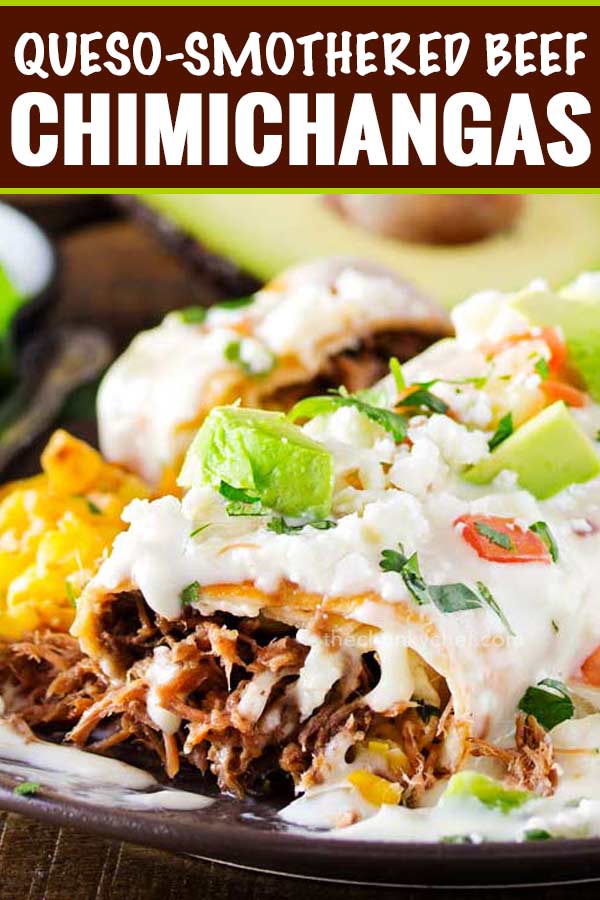 Queso-Smothered Beef Chimichangas
This meal.  Oh man oh man… THIS meal is just about my favorite recipe that I've shared here on the blog!  I originally shared this recipe back in 2016, but the post needed a makeover.
The inspiration for this recipe comes from two GREAT bloggers and my LOVE of Mexican food.  Just ask my husband… I could eat Mexican food nearly every night of the week!  When I plan our meals for the week, I tend to try to sneak in a couple Mexican themed meals lol.
So those two bloggers I mentioned, they are the extremely talented Jamie from My Baking Addiction, and Becky from The Cookie Rookie.  If you've never checked out their blogs, you definitely should!!  Jamie shared her awesome recipe for Chipotle Style Barbacoa and once I tried it, I was hooked.  I made a few tweaks based on what I had available in my pantry, and the result is what I'll be sharing with you all today!
I'd been dreaming up a barbacoa chimichanga for a while, but I wanted to go BIG.  So when I saw Becky's easy restaurant style white queso it just clicked… a SMOTHERED chimichanga!  Ohhhhhhh yeahhhhhh!!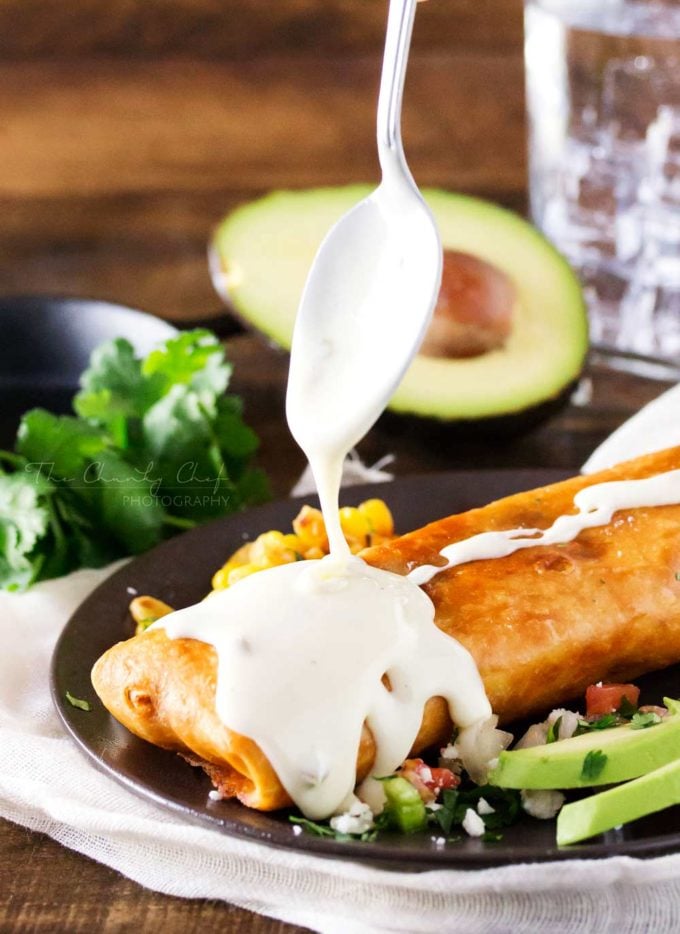 HOW DID CHIMICHANGAS GET THEIR NAME?
I've always wondered this, and according to the all-mighty Google, it started in an Arizona restaurant where a cook accidentally dropped a burrito into the fry oil.  He went to say a Spanish curse word, changed his mind and said "chimichanga" instead.  And it all started from there!
WHAT'S THE DIFFERENCE BETWEEN BURRITOS AND  CHIMIMCHANGAS?
Basically they're both burritos, although the main difference is that chimichangas are deep fried.  Chimichangas are usually filled with all meat, and burritos can be filled with a variety of things (meat, beans, rice, vegetables, etc).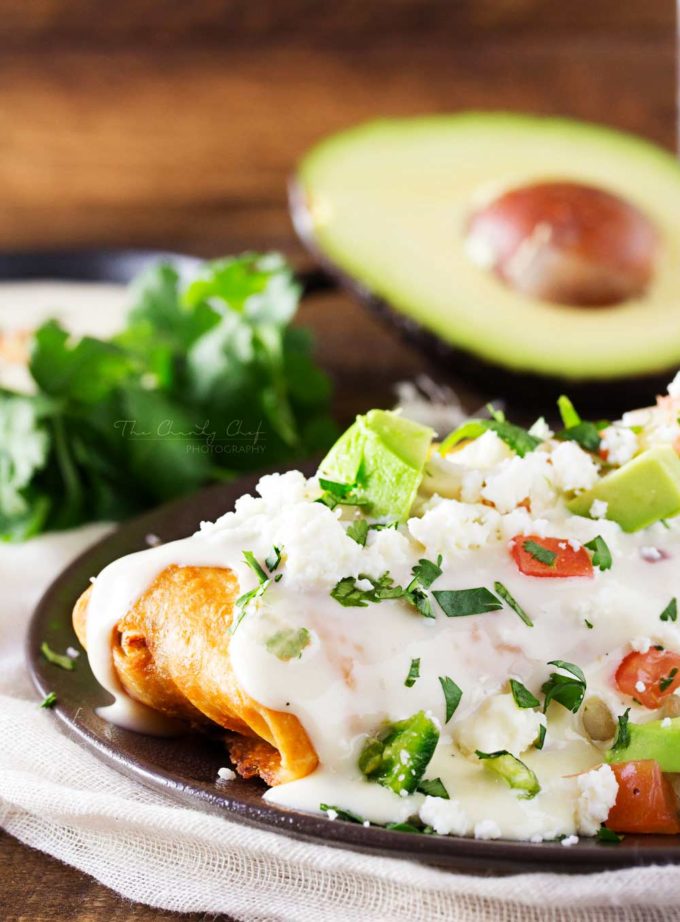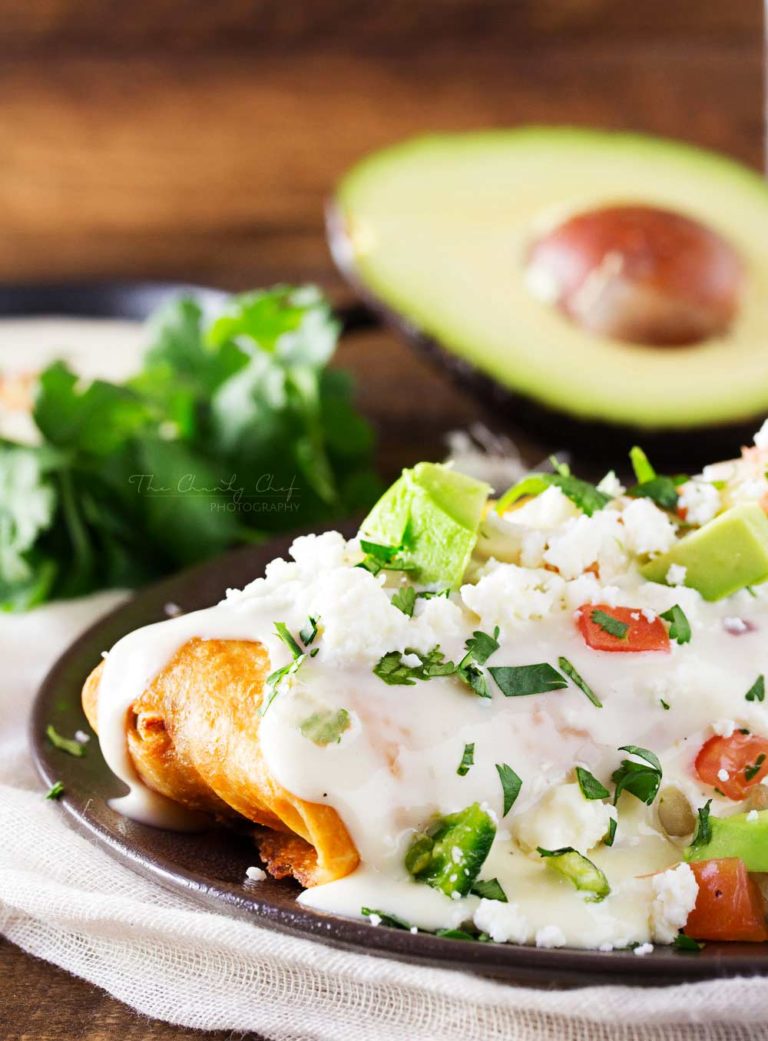 ARE CHIMICHANGAS HARD TO MAKE?
One of the things I love about this meal is that it's actually MUCH easier than it looks!  The beef cooks away in the slow cooker, the queso takes literally minutes to come together, and the hardest part of frying is waiting for the oil to come up to temperature.
In fact, this actually makes a fantastic leftover meal!
The night you cook the beef barbacoa you could serve it up in some awesome homemade flour tortillas (seriously, SO easy and flavorful) for a taco night, or even with some cilantro citrus rice for a "burrito bowl" experience.  Then the next night, or even the night afterwards, reheat the beef in the microwave for a bit (or saute it in a little oil for a charred flavor) and make the chimichangas.  Don't you just love meals like that… where you can stretch it out and get more than one dinner out of them?  PERFECT for us busy folks!
CAN THESE CHIMICHANGAS BE FROZEN?
I haven't extensively tested it, but I think it would work out.  Just line a baking sheet with wax or parchment paper, then line up the filled chimichangas and slide the whole thing into the freezer for about an hour.  At that point, each chimichanga is frozen, so you can add them all to gallon size freezer bags and freeze them for 1-2 months.
Fry as directed, with frozen chimichangas, no need to thaw.  Just be careful when frying frozen foods, they can spatter a bit, so stand back the first minute or so they're in the oil.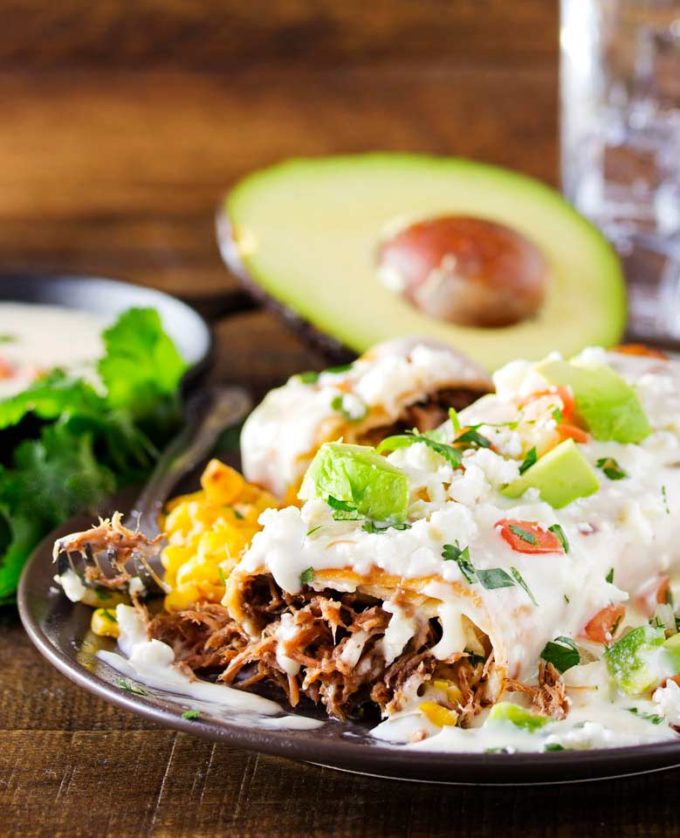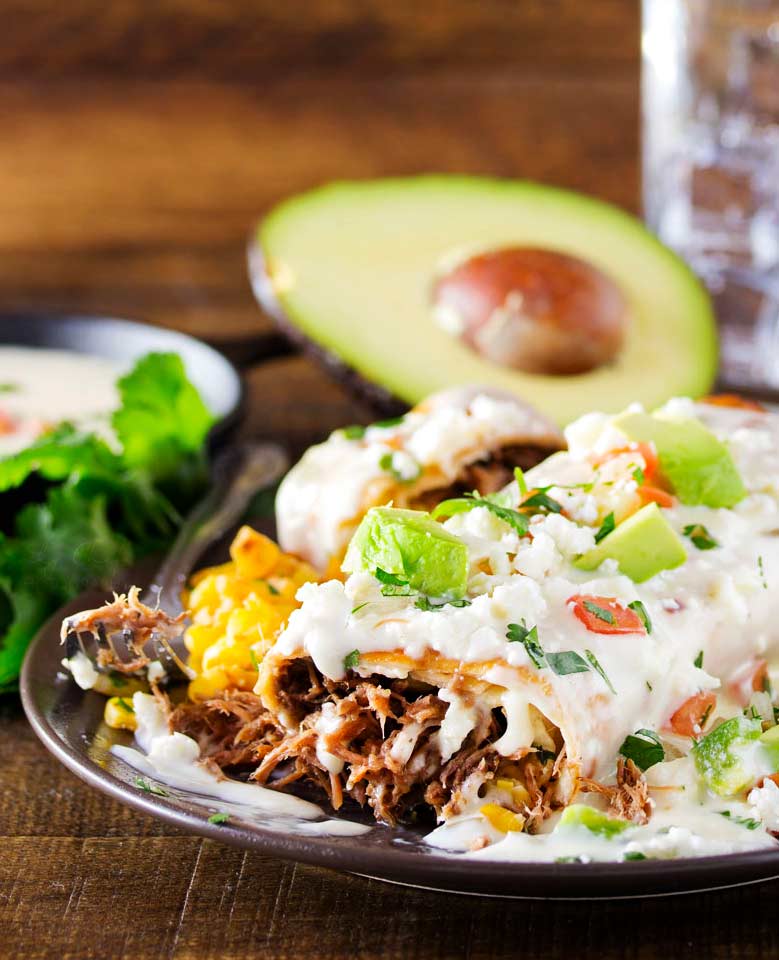 PRO TIPS FOR MAKING QUESO SMOTHERED BEEF CHIMICHANGAS:
Don't let the long ingredient list scare you off.  Once you break down the recipe into three easy parts, it goes very smoothly.  The beef cooks in the crockpot, mostly hands off, then the queso comes together quickly in one pot.  All that's left is the assembly and frying!
Making it all at once can be a time-consuming process, but you can make so much of this recipe ahead of time.  The meat can be cooked and shredded up to 3 days in advance.  The queso can be made the day ahead and reheated on the stovetop.
Frying isn't as difficult or scary as it's made out to be.  The key is in prepping ahead.  While the oil is heating up, line a baking sheet with paper towels, and lay a wire cooling rack on top of the paper towels.  Keep it on the counter near the oil so you can easily transfer fried foods to the cooling rack.  This helps the food stay crispy.  
OTHER GREAT MEXICAN RECIPES:
SHOP THE RECIPE:


Did you make this? Be sure to leave a review below and tag me @the_chunky_chef on Facebook and Instagram!
Tortillas stuffed with tender, spicy, slow cooked spiced beef (barbacoa-style), fried to crunchy perfection, then smothered in a velvety smooth white queso!

Ingredients
CROCKPOT BEEF
4 lb chuck roast
2 Tbsp vegetable oil
1/3 cup apple cider vinegar
5 cloves garlic minced
4 tsp cumin
2 tsp oregano
1/4 tsp ground cloves
1 tsp black pepper
1 tsp kosher salt
3/4 cup beef stock
3 Tbsp freshly squeezed lime juice
3-4 individual chipotle chiles in adobo sauce + 2 tsp of the adobo sauce add more if you want it spicier
4 oz can of green chiles drained
2 bay leaves
QUESO
3/4 lb high quality white american cheese shredded or finely chopped
1/2 lb high quality fontina cheese shredded
1 cup half-and-half
2 Tbsp canned jalapenos finely chopped
1/2 tsp cumin
1/2 tsp ground nutmeg
3/4 tsp red pepper flakes
1/4 tsp salt
1/4 tsp black pepper
chopped cilantro tomatoes, and jalapenos for garnish, optional
CHIMICHANGAS
vegetable oil for frying (or canola or peanut)
Large flour tortillas
Queso Fresco cheese possibly found in the refrigerated section of the Mexican foods aisle - can substitue Cotija or shredded Monterey Jack
Pico de Gallo or your favorite salsa
Diced avocado
Minced fresh cilantro
Instructions
CROCKPOT BEEF
Trim excess fat from the roast and cut into 8 large pieces. Pat dry and season liberally with salt and pepper.

Add vegetable oil to a large, heavy pan, and heat over MED-HIGH heat. Once oil is shimmering, add half the meat to the pan, leaving room in between each piece. Let meat sear on one side without moving it for several minutes. If you try to flip the meat and it sticks to the pan, let it cook a little bit longer. It will release on it's own when it's ready to flip.

Sear all sides of the meat, remove to a plate, and repeat with remaining half of meat.

Add all meat pieces to the bottom of slow cooker, making sure to add any drippings from the plate, that's extra flavor!

Add vinegar, garlic, cumin, oregano, cloves, pepper, salt, beef stock, lime juice and chipotle chiles to a blender and puree until smooth. Stir in drained green chiles.

Pour sauce over meat in slow cooker, turn to fully coat meat in the sauce, then add bay leaves.

Cover, and cook on LOW for 10 hours (or HIGH for 6 hours).

Remove bay leaves.

Remove meat to a large bowl and shred. Return meat to the slow cooker and heat on LOW in the sauce, uncovered, for 10 minutes.

QUESO
Prepare ingredients and set aside.

Add half and half to a saucepan and heat over MED heat until JUST simmering.

Reduce heat to LOW and stir in 1/3 cheeses, mixing well until smooth. Repeat with another 1/3 of the cheeses, and then a final time with the remaining 1/3.

Stir until cheeses are completely melted, then stir in jalapenos, cumin, nutmeg, red pepper flakes, salt and pepper.

If cheese starts to get too thick or seize up, stir in additional half and half until it reaches desired consistency.

CHIMICHANGAS
Heat several inches of vegetable oil (or canola, peanut, etc) over MED heat in a cast iron skillet (or whichever skillet you use to fry).

To test to see if the oil is ready, rip off a small piece of flour tortilla and toss it in the oil... it should bubble and slowly turn golden brown.

Lay out a flour tortilla, add several spoonfuls of shredded beef barbacoa to the tortilla in a horizontal line, leaving an inch or so of border on the sides.

Top beef with a handful of Queso Fresco cheese.

Roll the tortilla as you would a burrito, up from the bottom over the meat and cheese, fold the sides in, then continue rolling upward.

Place chimichanga seam side down in the oil and let it fry for about 1-2 minutes, then carefully flip it over and fry an additional minute or so.

Remove to a paper towel lined plate to drain and cool.

Repeat with remaining chimichangas.

To serve, top chimichanga with queso, queso fresco cheese, minced cilantro, pico de gallo and diced avocado.
Want to save this recipe for later? Click the heart in the bottom right corner to save to your own recipe box!
Chef Tips
1. Recipes adapted from My Baking Addiction and The Cookie Rookie
2. For the chipotle peppers, don't use 3-4 CANS, just use 3-4 of the individual peppers from one can, plus some of the sauce.
Nutrition Disclaimer
The Chunky Chef is not a dietician or nutritionist, and any nutritional information shared is an estimate. If calorie count and other nutritional values are important to you, we recommend running the ingredients through whichever online nutritional calculator you prefer. Calories can vary quite a bit depending on which brands were used.