This easy avocado dip recipe is made with simple ingredients common in tex-mex foods. Smoky, spicy, and oh so creamy, this dip is great with chips, on tacos, burritos, and more!
This is one of my Dip recipes I know you'll want to keep on hand!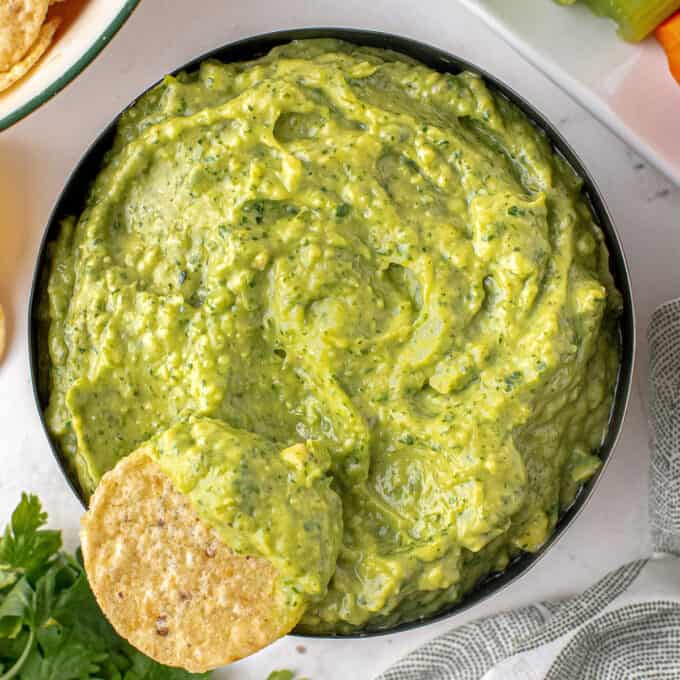 I'm such a huge fan of avocados. We pretty much always have a couple hanging around on the counter because we use them in everything.
Having eggs? Add some avocado slices on the side. Having a sandwich? Make an avocado spread. Having taco night? You know we're making this avocado dip!
It's pretty similar to guacamole, but smoother, and thinned out a little bit. The smoky creaminess pairs so well with the hint of heat from the jalapeño.
Plus, it's SO versatile! Obviously here we're talking about it as a dip, but further down in the post I'll talk about the other great ways we use this dip recipe.
How to make avocado dip?
This is just an overview; the full ingredients and directions are in the recipe card toward the bottom of this post.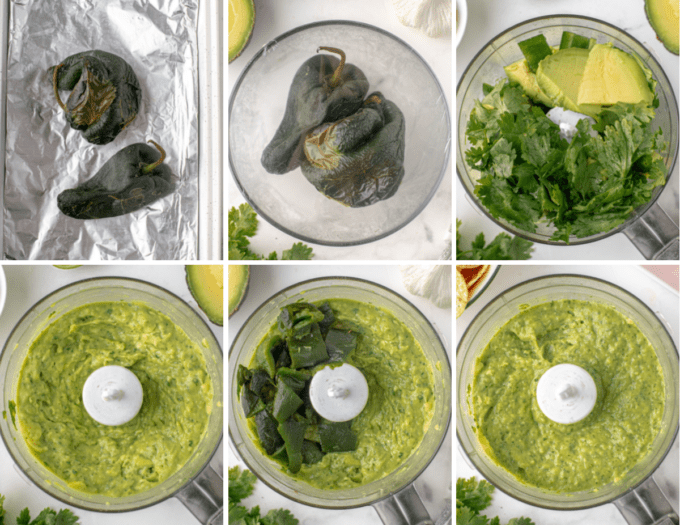 Roast the peppers. This brings out the smoky flavor of the poblanos.
Let the peppers sit. Having them sit in a bowl covered with plastic wrap creates a steaming effect, which will really help in a later step.
Start the dip. Add everything except the poblanos, and pulse until about halfway smooth.
Peel and chop peppers.
Finish the dip. Add the peppers to the food processor with the dip and process until as smooth as you want it.
Add more water or lime juice as needed. This will all depend on how thick or thin you want the dip to be.
Helpful Tip!
It can be tricky to tell when an avocado is ripe, but I have a few tricks for you.
These tips aren't foolproof, but can help 🙂
Look at the end – on one end of the avocado there should be a round little stem that looks a bit like a cap of a very small mushroom. If the stem comes off easily and shows green underneath, the avocado is ripe. However, if it reveals brown, the avocado is overripe.
Give it a gentle squeeze – when gently applying some pressure, the avocado should give slightly. If it gives a lot, and is squishy, it's overripe. If it's hard and doesn't give at all, it's not ripened yet.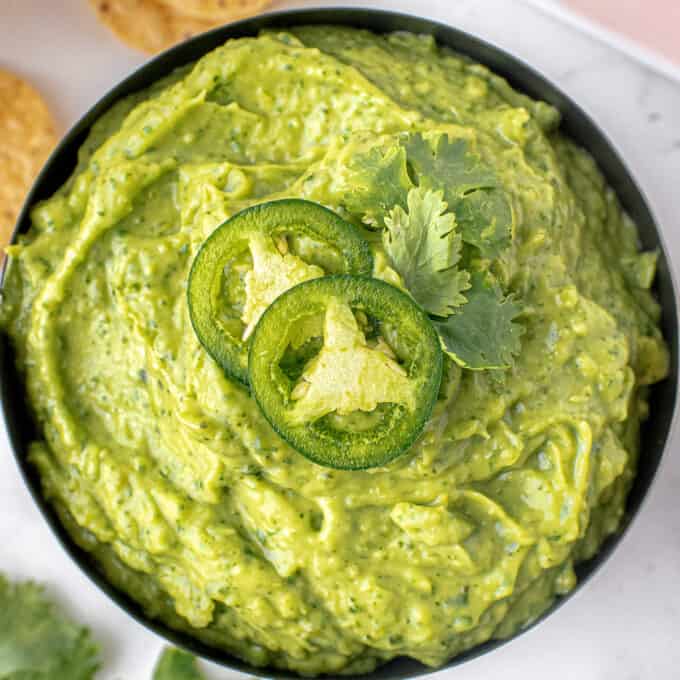 Variations of this recipe
Extra creamy – if you'd like to make this dip even creamier, try adding some sour cream, Mexican crema, or plain greek yogurt to it. The amount is completely up to you.
Mashed – if you don't have a food processor, or just don't want to clean it (I've been there!), you can make this recipe without one. See the FAQ section below for all the details.
Spicier – to increase the heat level, either use more jalapeño peppers, or keep the seeds in.
Milder – if you're not a huge fan of the spicy heat, you can omit the jalapeño all together. The poblanos add a smoky flavor, not really heat, but you can omit them as well if you'd like.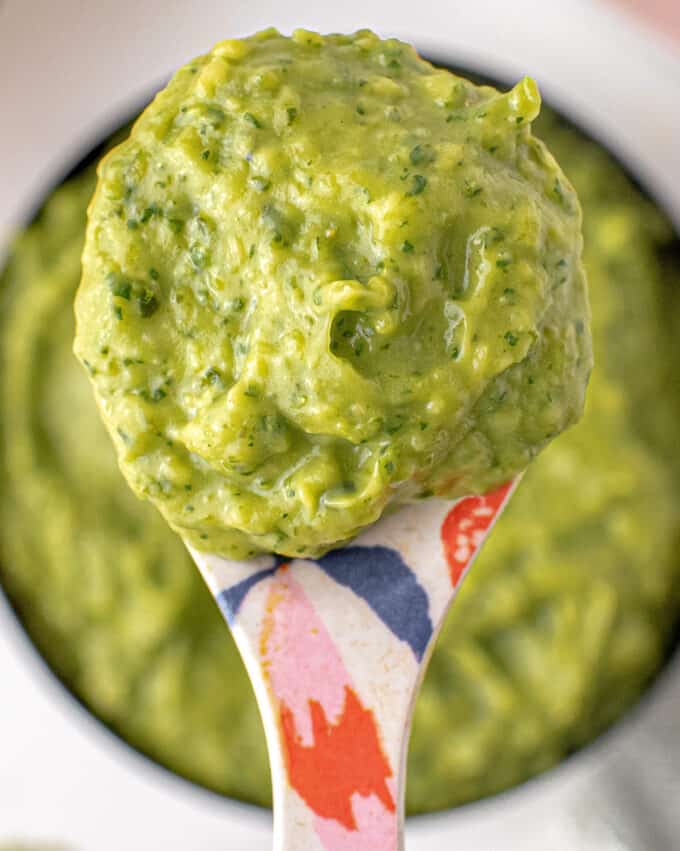 FAQ's
Is this avocado dip also called guacamole?
Typically, at least in my area, most of the amazing guacamole recipes I've had were chunkier in texture, and didn't include thinning out the dip. But technically you can call this a thin and smooth guacamole. Either way, it's still delicious!
Can this dip be made without a food processor?
Absolutely! Just make sure to chop everything very finely, and use either a potato masher or a fork to mash it all together.
Making avocado dip ahead of time
I like to make this dip fresh, to reduce any potential brown discoloration.
But you can definitely make it completely ahead of time. Just follow the storage tips below for all the details.
You can also really cut down on the prep/cook time by roasting the poblanos ahead of time. Once they're roasted, peeled and chopped, you can store them in the refrigerator for several days.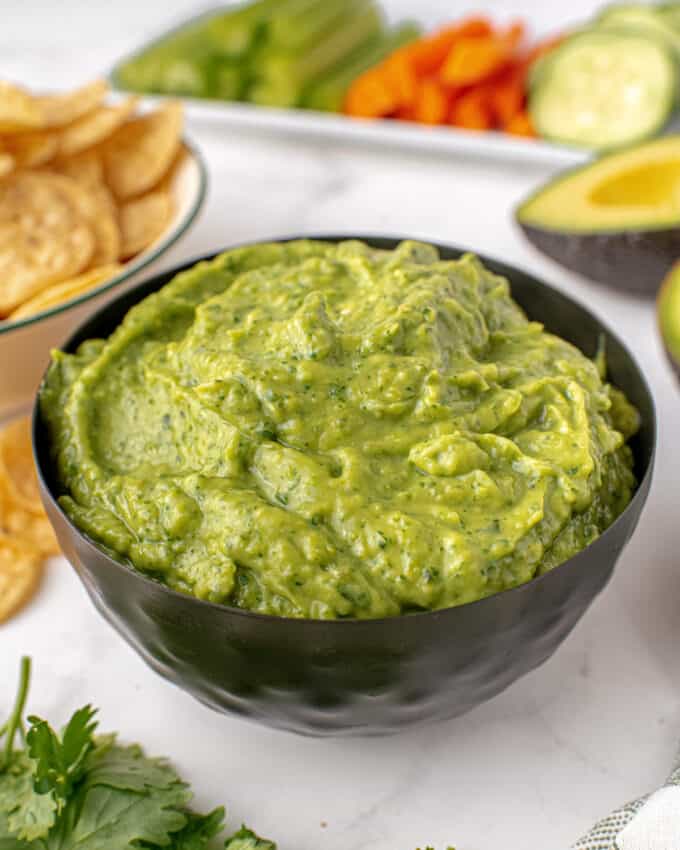 Storage
Leftover dip should be refrigerated in an airtight container for up to 4 days.
I recommend also adding a layer of plastic wrap (or whatever you use in place of plastic wrap) directly on top of the dip, as this reduces the amount of air that gets to it, keeping it bright green instead of brown.
Other ways to use this dip
Dip – instead of using a veggie dip, try some fresh veggies with this avocado dip.
Dressing – thin this out with water or more lime juice and try it drizzled over a salad!
Tex-mex – any tex-mex style meal is perfect with this dip. Tacos, burritos, enchiladas, quesadillas, nachos, and more!
Veggies – roast some vegetables (like carrots, sweet potatoes, cauliflower, etc) and drizzle some of this dip over the top.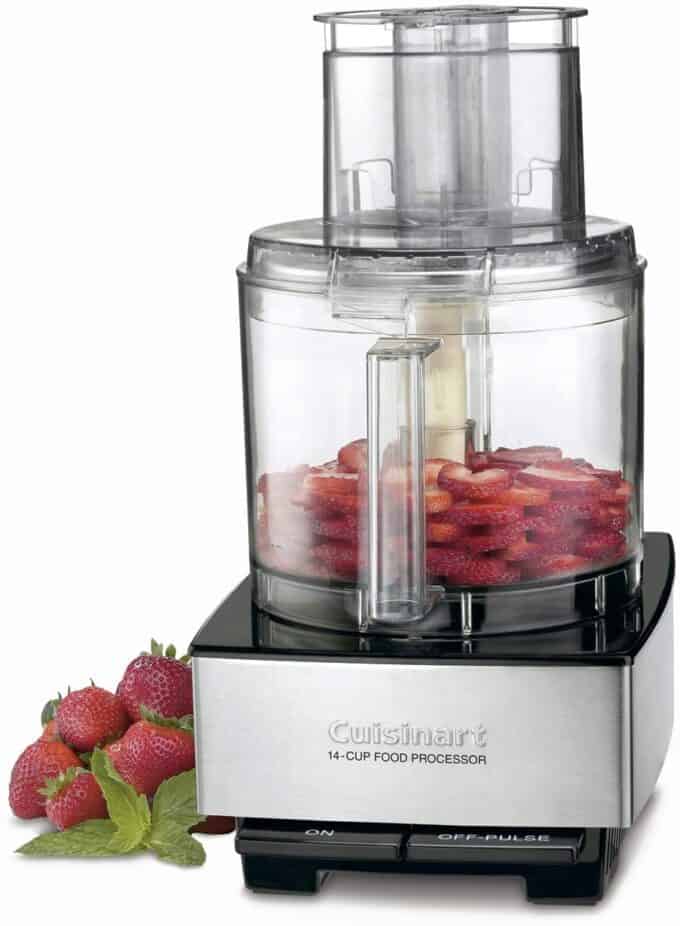 I've had this food processor for years, and I love it's efficiency and large capacity! It's certainly an investment, but one I feel has more than paid for itself over the years. However, any food processor will work for this recipe.
Did you make this? Be sure to leave a review below and tag me @the_chunky_chef on Facebook and Instagram!
This easy avocado dip recipe is made with simple ingredients common in tex-mex foods. Smoky, spicy, and oh so creamy, this dip is great with chips, on tacos, burritos, and more!
Ingredients
2 poblano peppers
3 large avocados halved, pitted, and cut into quarters
1 jalapeño pepper seeded and roughly chopped
3 cloves garlic chopped
2 tsp honey optional
1/2 cup fresh cilantro about one handful
2 fresh limes juiced
1/2 tsp kosher salt
1/4 tsp black pepper
1 – 3 Tbsp water start with 1, add more as needed
Instructions
Prepare
Preheat oven to 400°F.  Line a baking sheet with foil.
Roast poblanos
Add poblano peppers to baking sheet. Roast for about 20-25 minutes, turning the peppers over a few times, until evenly charred.

Remove peppers from oven, add to a bowl, cover with plastic wrap and let cool for about 10 minutes.  This helps loosen the skin.
Start the dip
To a food processor, add avocados, jalapeno, garlic, honey, cilantro, lime juice, salt, pepper, and water
Peel poblanos
Gently peel skin from the poblanos, and remove seeds and stems.  Roughly chop, and add to food processor.
Finish the dip
Pulse food processor several times, then process until smooth, scraping down the sides as necessary.

Serve immediately, as a dip or topping.
Want to save this recipe for later? Click the heart in the bottom right corner to save to your own recipe box!
Chef Tips
Recipe makes between 1.5 – 2 cups, so however you portion that, that will be the number of servings.
Recipe is easily doubled if you need a larger batch.
The exact amount of water will vary, depending on the consistency you want the dip to be.
Additional lime juice can be used instead of water.
Nutrition Disclaimer
The Chunky Chef is not a dietician or nutritionist, and any nutritional information shared is an estimate. If calorie count and other nutritional values are important to you, we recommend running the ingredients through whichever online nutritional calculator you prefer. Calories can vary quite a bit depending on which brands were used.