Not your average burger! Juicy beef burgers seasoned with a spiced coffee rub, topped with peppered bacon and a lip smacking Dr Pepper BBQ sauce!
These coffee rubbed, savory Angus beef burgers, rubbed with a rich and flavorful coffee seasoning mix, paired with peppered bacon and a completely delicious homemade Dr Pepper BBQ sauce! You'll be putting that sauce on everything!
This shop has been compensated by Collective Bias, Inc. and its advertiser, Dr Pepper. All opinions are my own.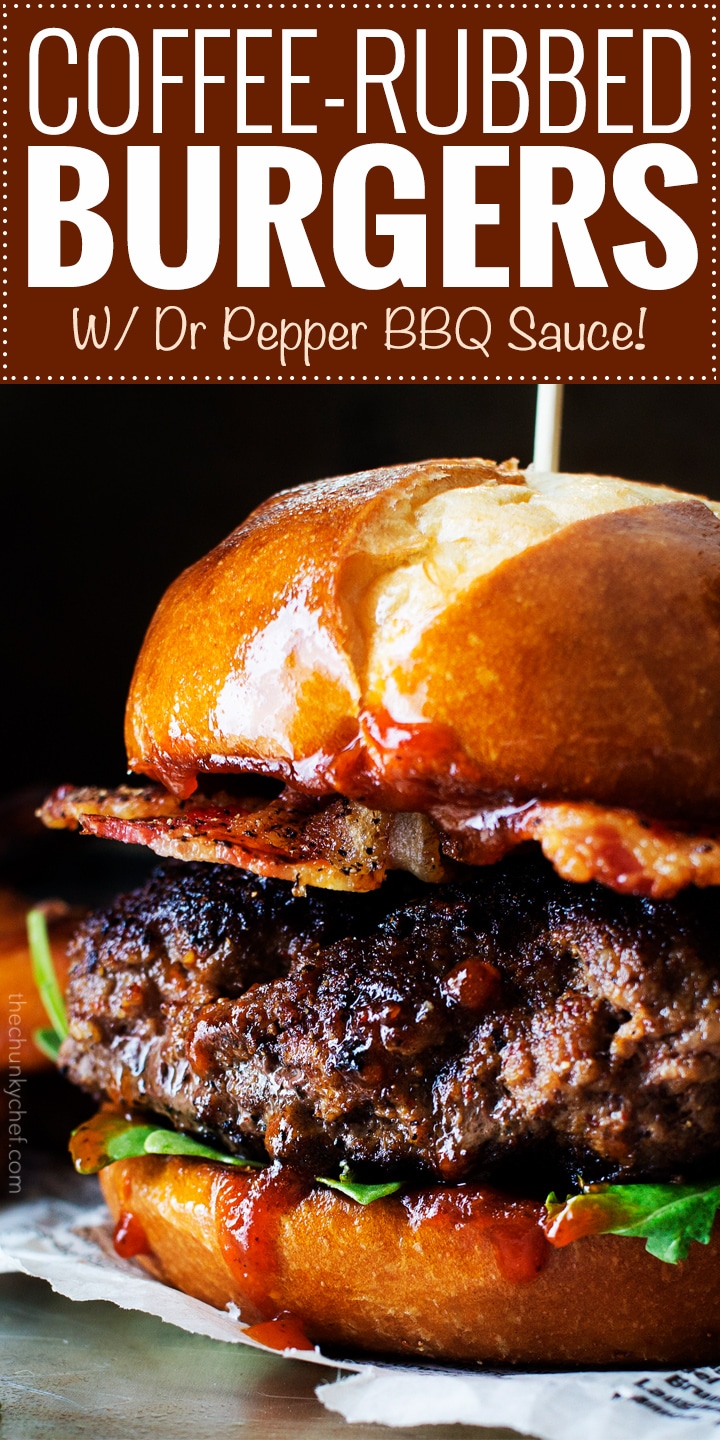 Sometimes… you just need a big, juicy, flavorful burger!!  Especially one like this… that coffee rub is crazy good, and then the Dr Pepper BBQ sauce… o. m. g.  There's coffee in the rub and a little bit in the sauce… sooooo does that mean that I can technically call this a breakfast food?  I say, sure! Because once you taste this burger, you're going to want it for breakfast, lunch, dinner, snacks, and maybe in the middle of the night 😉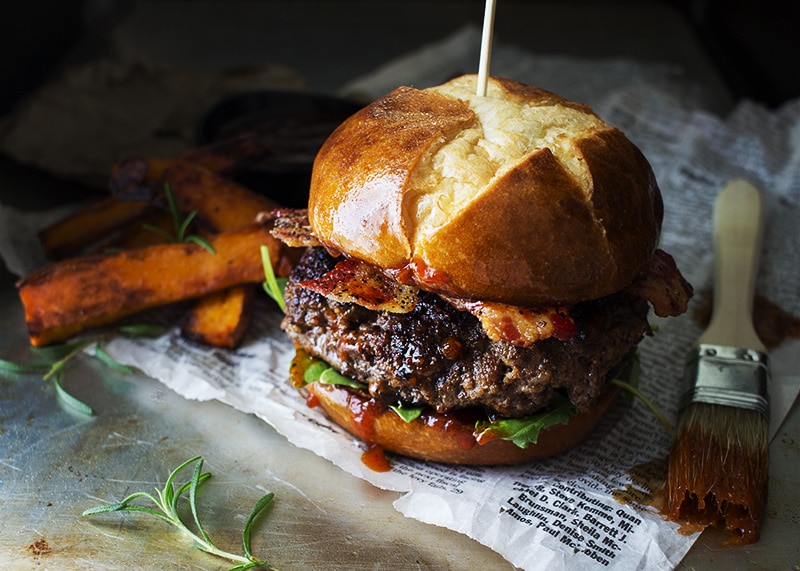 These burgers are great anytime, for any occasion, but they're especially perfect for tailgating or a tailgate-themed party while you watch some great college football!  To me, Fall means football… and football means tailgating food.  I grew up watching football with my Dad, cheering on our favorite team… so football is nostalgic for me, and I look forward to sharing those experiences with my own kids as they grow up 🙂
If you're taking these burgers to the stadium for some tailgating, you could easily make these into slider-size burgers if you'd like. I just like a BIG burger 🙂
The other thing I love about these burgers is that most of the parts can be made up ahead of time.  The coffee rub can be made and kept in an airtight container, the BBQ sauce can be made and refrigerated, and the meat can be made into patties and kept refrigerated until time to season and cook them.  Talk about huge time savers!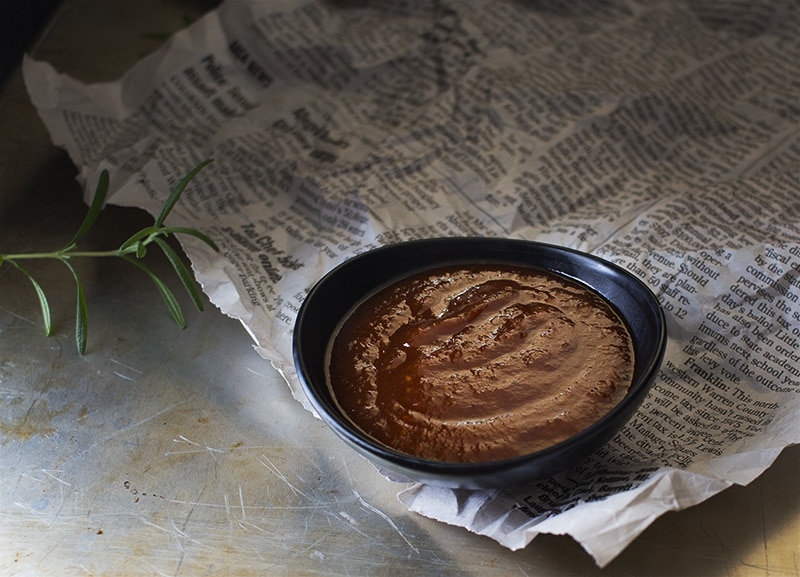 Let's talk sauce… this homemade BBQ sauce will soon be your new favorite!  It has all the usual suspects for a BBQ sauce… the ketchup, onion, garlic, brown sugar, vinegar… with some additional surprises, like brewed coffee and Dr Pepper!!  Don't worry, the Dr Pepper doesn't overpower this sauce… you don't taste it and think, "wow, Dr Pepper!", but it's more of a subtle kiss of flavor that lingers on your tongue.  The coffee just deepens the flavor.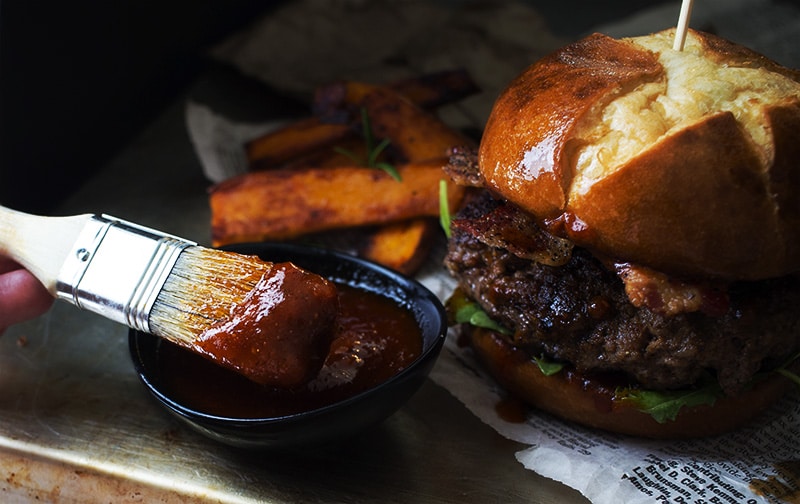 I love using Angus beef or ground brisket for my burgers, but feel free to swap that out for your favorite 🙂
You know how I am with bacon… I pretty much put it on everything lol… but on this burger… the peppered bacon is pretty much a must!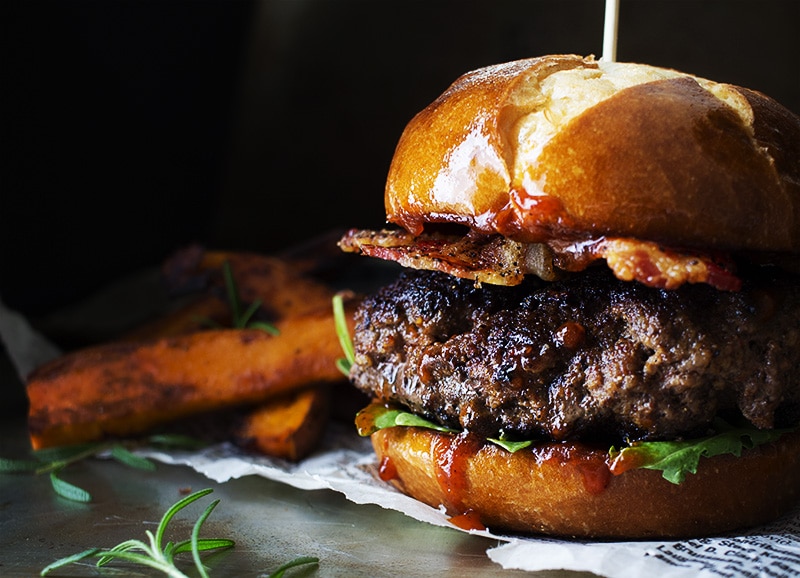 Yeahhhhh, that burger didn't last very long after I took this photo… nom nom nom!!!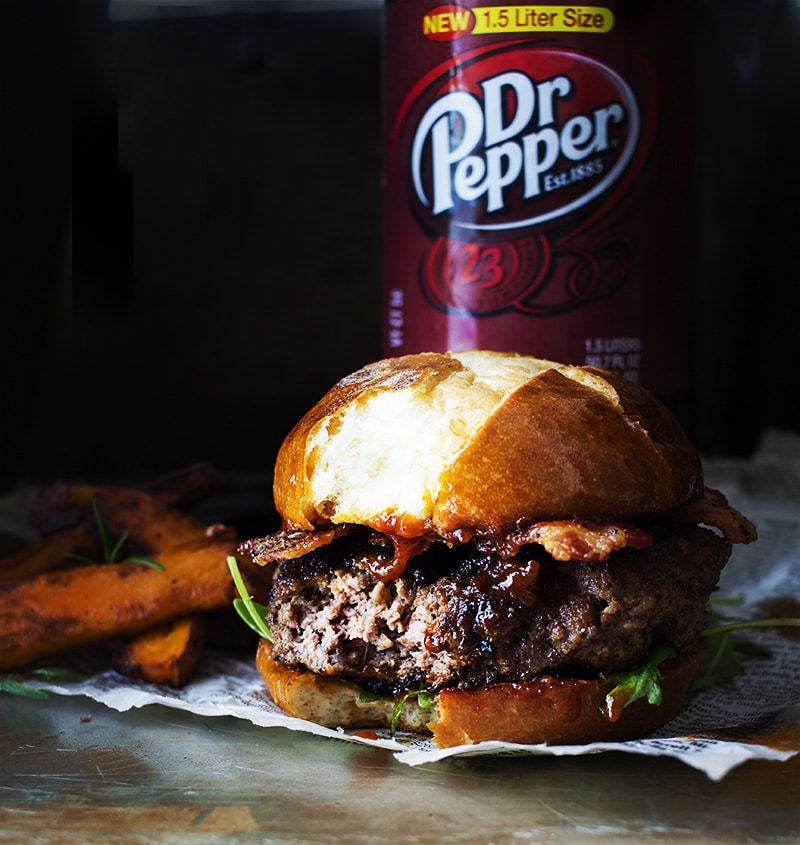 See, there's the first bite! Lol.
Enjoy!!


Did you make this? Be sure to leave a review below and tag me @the_chunky_chef on Facebook and Instagram!
Not your average burger! Juicy beef burgers seasoned with a spiced coffee rub, topped with peppered bacon and a lip smacking Dr Pepper BBQ sauce!
Ingredients
COFFEE RUB SEASONING MIX:
1.5 Tbsp ground coffee
1/2 Tbsp salt
1/2 Tbsp paprika
1/2 Tbsp brown sugar
1/2 Tbsp pepper
1/2 Tbsp onion powder
1/2 Tbsp garlic powder
1/4 Tbsp coriander
DR PEPPER BBQ SAUCE:
2 Tbsp butter
1/2 yellow onion diced
3 cloves garlic roughly minced
1/2 cup ketchup
1 1/2 Tbsp tomato paste
6 oz Dr Pepper
1/4 cup apple cider vinegar
2 1/2 Tbsp Worcestershire sauce
1/4 cup brown sugar packed
1 tsp ancho chile powder
1/2 tsp salt
1/4 tsp pepper
3 Tbsp brewed coffee
BURGERS:
2 lbs Angus ground beef 85/15
2 Tbsp Dr Pepper BBQ sauce
salt and pepper
Pretzel buns
Arugula lettuce
8 slices peppered bacon
2 Tbsp butter
Instructions
Combine coffee rub seasoning mix ingredients in a small bowl and mix together with a fork. Set aside.

Melt butter over MED heat in a saucepan. Add onion and garlic and saute until soft and translucent, about 8-10 minutes.

Add remaining sauce ingredients, stir to combine. Bring to a low boil, reduce heat and simmer for 20 minutes, until sauce has thickened.

Pour sauce into blender or food processor and puree. Set aside to cool.

To a mixing bowl, add ground beef, salt, pepper and 2 Tbsp cooled bbq sauce. Mix well with your hands. Divide into 4 equal sections. Each burger will be 1/2 pound.

Rub coffee rub seasoning mix over both sides of each burger.

Heat a large skillet over MED-HIGH heat, add a small pat of butter and toast the pretzel buns (sliced side down). Remove from pan to cool.

Add 1 Tbsp butter to skillet and add burgers. Cook for about 4-5 minutes per side, until burger is cooked to desired doneness.

Spread BBQ sauce over both sides of pretzel bun, layer arugula, burger, peppered bacon, then add the top bun.
Want to save this recipe for later? Click the heart in the bottom right corner to save to your own recipe box!
Chef Tips
** additional topping options include aged cheddar cheese slices and caramelized onions



Some things you might want for this recipe