Rich and silky salted caramel sauce made even better by the addition of nutty browned butter! This simple recipe requires only 4 simple ingredients, and is perfect drizzled all over your favorite desserts, or eaten by the spoonful.
This is one of my Pantry/Kitchen Basics recipes I know you'll want to keep on hand! These recipes are great homemade alternatives to store-bought items.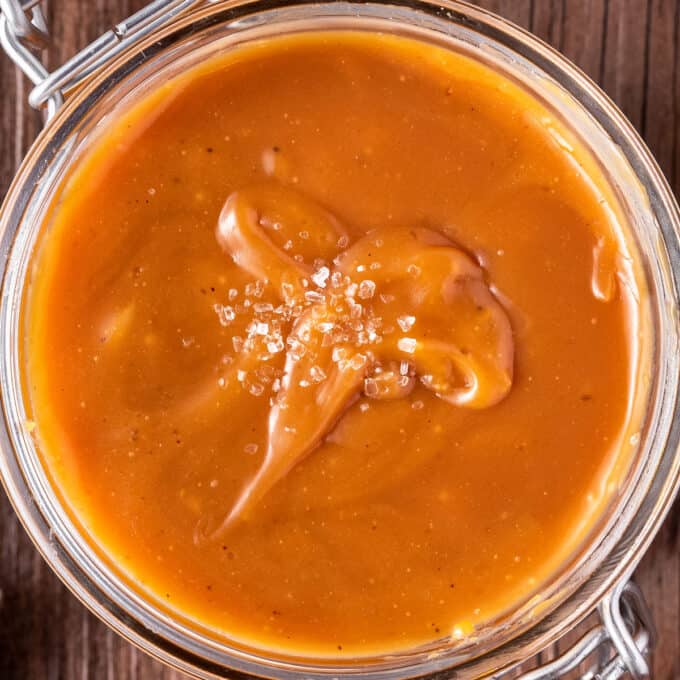 I always thought I wasn't a huge caramel fan, but as it turns out, I'm just not a fan of the sauce you can buy in the store.
Once I started making caramel sauce at home, I was hooked. I mean, eating it off a spoon type of hooked!
If you've never made caramel at home before, I promise, it's not incredibly difficult… it just takes some patience and faith. And of course, like all skills, you may need to practice a bit before you're a pro!
There are two main methods for making a homemade caramel sauce; the dry method, and the wet method.
While this recipe has been on the website since 2016, it also happens to be a version of a "dry" method.
There are pros and cons to both methods, and a lot of it comes down to personal preference. I'll be sharing a "wet" caramel sauce in a couple of days, so you'll have to give them both a try and see which you like best!
How to make salted caramel sauce?
This is just an overview; the full ingredients and directions are in the recipe card toward the bottom of this post.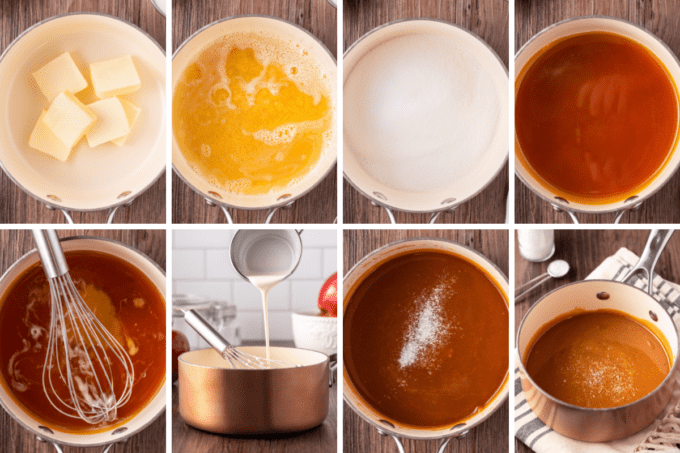 Brown the butter. This is a great kitchen skill to have; just make sure you don't walk away while it's cooking. Butter solids can go from beautifully golden to burnt pretty quickly.
Melt the sugar. Since this is a dry caramel method, there's no liquid added to the pan; just sugar. Stir often until all the clumps of sugar are melted and it's a rich golden/amber color.
Stir in butter. This is best done slowly, whisking as you pour.
Stir in heavy cream. This is the part where things get really exciting. The mixture will foam up like crazy, but just keep whisking and it'll settle into a glossy sauce.
Stir in salt. I like to use sea salt for this.
Helpful Tip!
When making caramel sauce, and browning butter, I highly recommend using a heavy bottomed stainless steel saucepan. The lighter color allows you to be able to see the color of the butter solids and sugar, and the heavy bottom distributes the heat evenly, so you don't have hot spots and burn the butter or sugar.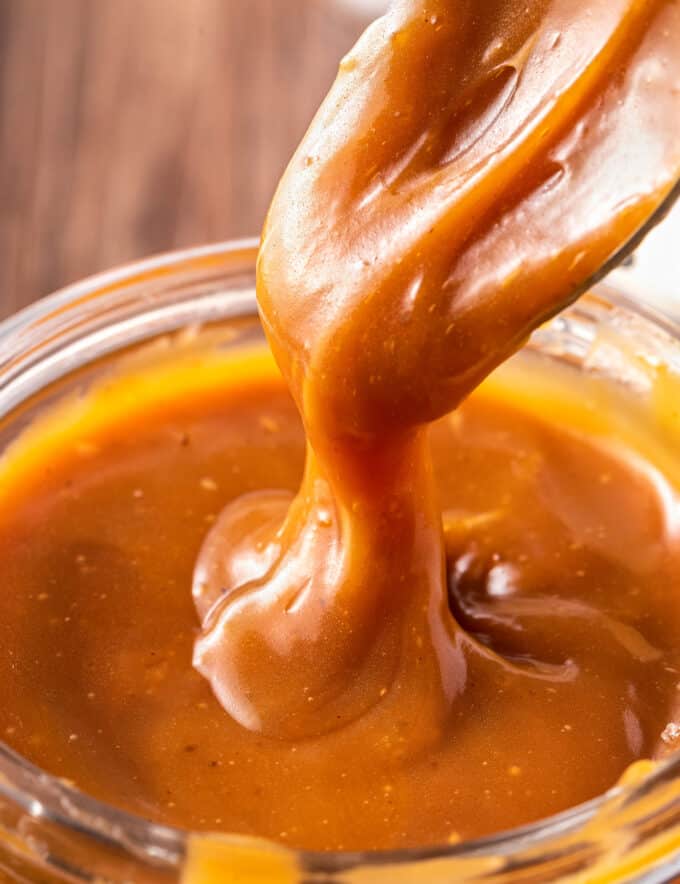 Variations of this recipe
Unsalted – while I love salted caramel, I know not everyone does… so feel free to leave out the salt if you'd like.
Liquor – try adding a couple of tablespoons of your favorite liquor (bourbon, whiskey, rum, and apple brandy are my favorites!).
Spices – adding a cinnamon stick or two to the sugar as it melts will add a nice little kick of flavor.
Chocolate – once the caramel is made, try stirring some chopped chocolate into the sauce!
Citrus – if you want something a little different, try adding some orange zest to the caramel (at the end)… it adds a subtle, yet yummy flavor.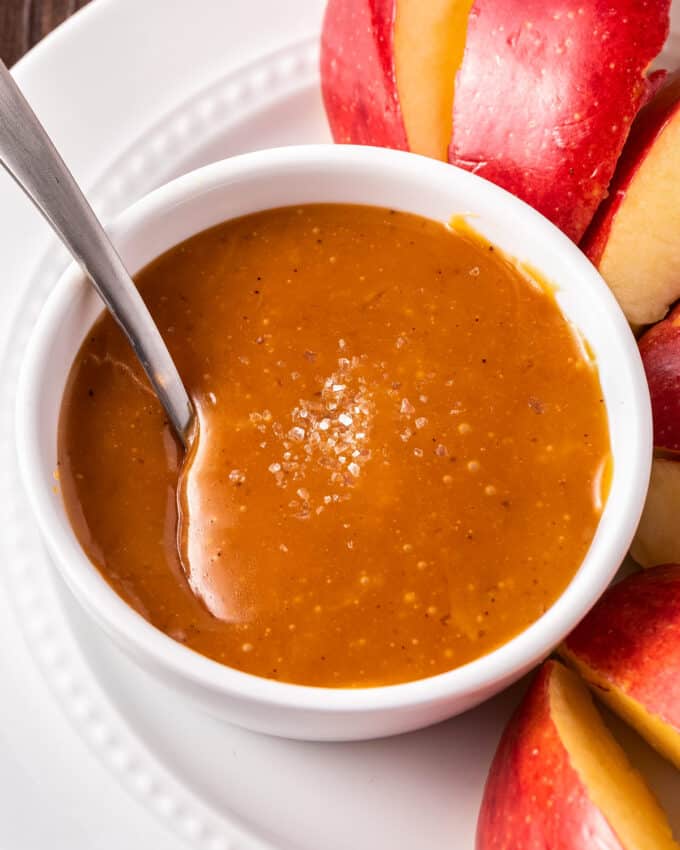 FAQ's
Can you use brown sugar to make caramel sauce?
You can, but I believe that would technically be more of a butterscotch sauce. Equally delicious, but with a little bit of a different flavor.
How to prevent caramel sauce from seizing up?
There are two main ways we prevent seizing in this recipe. Heating the cream up a bit (so it's not cold at all), and adding the cream slowly while whisking the entire time it's added. You also want to make sure you have the pan off the heat when you add the cream.
Making caramel sauce ahead of time
The good news is, homemade caramel sauce has long shelf life!
Feel free to make this caramel completely ahead of time, then cool and refrigerate it in an airtight container.
Freezing
This sauce can also be frozen! Just transferred to cooled caramel to a freezer-safe container and freeze for up to 3-6 months.
Thaw in the refrigerator, warm it back up, and use as desired!
Storage
Caramel sauce should be refrigerated in an airtight container and enjoyed within 2-4 weeks.
Since it's cold, you may want to microwave it a bit to loosen up the sauce.
Tips for a perfect browned butter caramel sauce!
Making caramel from scratch can be intimidating, but I promise, you can do this. Let's break it down:
The pan – I highly recommend using a stainless steel or lighter colored pan for the butter and the caramel. Those processes rely on visual cues, aka the color, and it can be difficult to see that in a darker pan. You also want a saucepan with high sides to prevent bubbling over.
The butter – browning butter can be a little bit of a longer process, and you can't really walk away and let it do it's thing… it needs some babysitting. If you've never browned butter before this is a great tutorial.
The sugar – at first it will look like nothing is happening when the sugar is cooking. You may start to question whether you're doing it right (you are), but then you'll start to see small wet clumps that gradually become wetter and wetter.
The heat – it takes a bit of time for the sugar to be completely melted and liquid, so don't be afraid to adjust the heat on your burner as needed. If you notice it getting super dark before things are mostly dissolved, turn the heat down and pull the pan off the heat for a minute, then add it back to the low heat.
The patience – I know it's hard to wait, because you want to move ahead and have a great caramel sauce, but don't skip waiting for the sugar to completely melt though… you want the sauce to be nice and smooth, not grainy.
The bubbling – when you add the heavy cream, the caramel will foam and bubble up like some crazy science experiment gone horribly wrong… but don't worry, it's supposed to do that! That's why you need a saucepan with high sides – you don't want that caramel sauce bubbling over on your stovetop.
The clump/seize – if you happen to have some clumps of hard caramel, don't panic. Most of the time, that can be fixed by whisking steadily over a low heat, and it'll melt away into a rich sauce.
The lumps – occasionally, especially if you're new to making caramel, there can be some small, hard lumps of sugar that just won't melt. You can pour the caramel sauce through a strainer or mesh sieve to remove those, or if they don't bother you, leave them in.
The persistence – making homemade caramel sauce can take some time to perfect, even for professional pastry chefs, so don't worry if it isn't perfect the very first time you try. Practice makes perfect, and it means you get to have even more caramel sauce 😉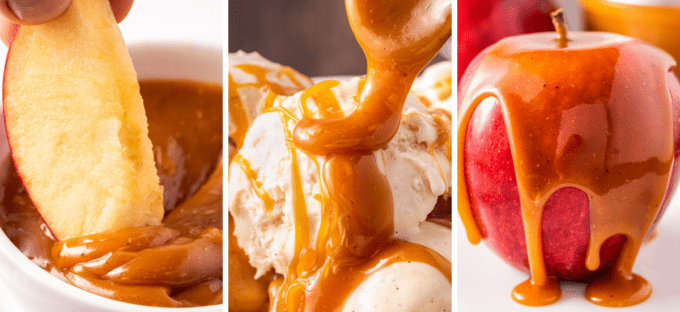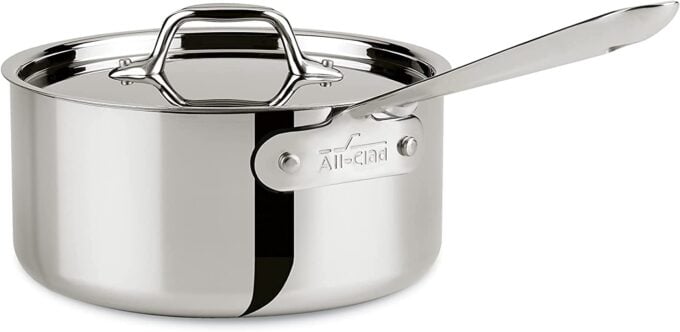 I know this is an expensive brand, but I wanted to be honest with you about the pan I use to make caramel, and this All-Clad pan is it. You can certainly use any brand of saucepan you'd like, just make sure it has a heavy bottom (look for reviews mentioning even heat distribution) and high sides.
Did you make this? Be sure to leave a review below and tag me @the_chunky_chef on Facebook and Instagram!
Browned butter gives this homemade salted caramel sauce a deliciously deep flavor!
Ingredients
6 Tbsp unsalted butter
1 cup granulated sugar
1/2 cup heavy cream + 2-3 Tbsp warmed up, or at the very least, room temperature
1/4 tsp sea salt
Instructions
Prepare
You'll need a high-sided heavy bottomed saucepan for this recipe. Preferably one that is stainless or light in color, so you can use visual cues (the color) to determine doneness of the butter and caramel.
Brown the butter
Add butter to saucepan and heat on MED-LOW.

The butter will melt, foam up, then the foam will start to go away. Whisk or swirl the pan frequently as it cooks.

Brown flecks (the butter solids) will start to form at the bottom. Once they're golden brown (not dark brown or black), and the butter smells nutty, immediately remove pan from the heat.

Pour butter into small bowl and set aside to cool.

Wash out and dry the saucepan.
Melt the sugar
Add sugar to the saucepan and heat over MED-LOW heat, and stir often with a rubber spatula.

After several minutes, the sugar will start to melt into a whiteish, then light brown liquid and will look clumpy. More and more clumps will appear, then they will start to melt into a brown liquid. Remember, stir often, breaking up clumps if needed.

Make sure all the clumps of sugar have melted before moving on to the next step.
Make the caramel sauce
Pour the browned butter in slowly, whisking as you pour.

Turn off the burner and remove pan from heat. Add the cream slowly, while whisking continuously.

It will foam and bubble up like crazy, but keep whisking and it will settle down.

The bubbling will go down and become a glossy sauce.

Turn the burner back on to simmer for 1-3 minutes on LOW heat, whisking often.

Sauce will thicken as it cools, so if it looks thin, just give it time to cool some.

Once it cools for a little bit, stir in the salt.
Serve
Use right away or store in an airtight container in the refrigerator for 2-4 weeks.
Want to save this recipe for later? Click the heart in the bottom right corner to save to your own recipe box!
Chef Tips
Recipe makes approximately 1.5 cups, which you can portion into as many servings as you'd like.
As always, all stove burners will heat differently, and all pans will distribute heat differently. Please use your best judgement and visual cues to decide what's best.
If you notice the sugar starting to burn and get very dark while the sugar is still starting to melt, pull the pan off the heat for a minute while stirring. Turn down the heat and continue.
Warming up the cream is essential to making sure the caramel sauce doesn't clump into a huge lump on the end of your whisk.
Nutrition Disclaimer
The Chunky Chef is not a dietician or nutritionist, and any nutritional information shared is an estimate. If calorie count and other nutritional values are important to you, we recommend running the ingredients through whichever online nutritional calculator you prefer. Calories can vary quite a bit depending on which brands were used.