Rich and silky salted caramel sauce made easily on your stovetop! This simple recipe is perfect drizzled all over your favorite desserts, given away as gifts, or eaten by the spoonful!
This is one of my Pantry/Kitchen Basics recipes I know you'll want to keep on hand! These recipes are great homemade alternatives to store-bought items.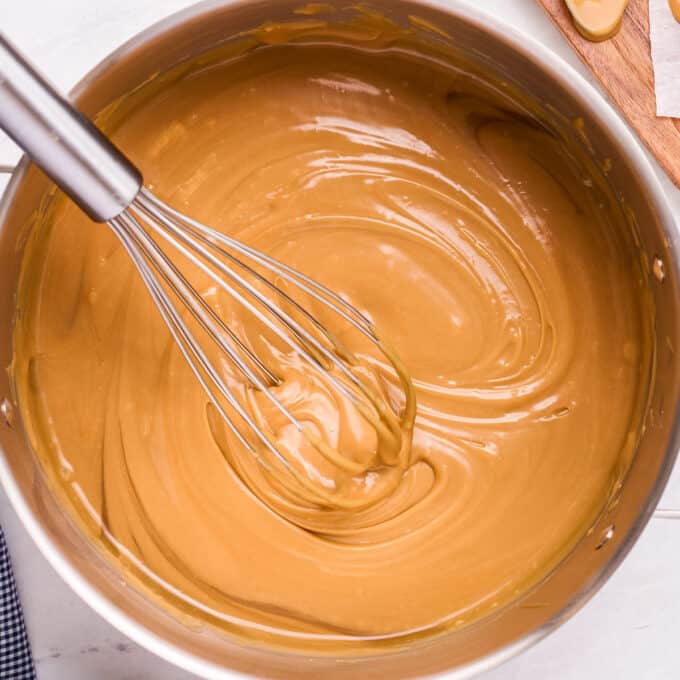 I know, 2 caramel sauce recipes in the same week! But I know that we're about to head into delicious Fall desserts season, and SO many great desserts get even better when drizzled with some silky homemade caramel.
In fact, I have a fantastic Fall dessert coming up for you next week 😉
If you've never made caramel at home before, I promise, it's not incredibly difficult… it just takes some patience and faith. And of course, like all skills, you may need to practice a bit before you're a pro!
There are two main methods for making a homemade caramel sauce; the dry method, and the wet method.
The dry method is showcased in my Browned Butter Salted Caramel Sauce, and this version is made using the wet method.
Instead of melting down plain sugar in a saucepan, water is added to help the sugar dissolve and melt evenly and turn into a classic caramel sauce.
How to make salted caramel sauce?
This is just an overview; the full ingredients and directions are in the recipe card toward the bottom of this post.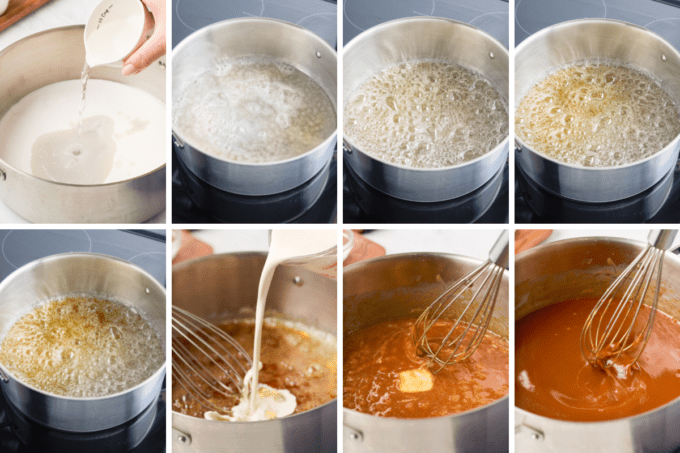 Melt the sugar. Since this is a wet caramel method, water and corn syrup is added.
Let sugar caramelize. Don't stir, just gently swirl the pan if necessary.
Stir in cream. This is the part where things get really exciting. The mixture will foam up like crazy, but just keep whisking and it'll settle into a glossy sauce.
Stir in butter. I like to add this one piece at a time, whisking in between each addition.
Stir in vanilla and salt.
Helpful Tip!
When making caramel sauce I highly recommend using a heavy bottomed stainless steel saucepan. The lighter color allows you to be able to see the color of the sugar, and the heavy bottom distributes the heat evenly, so you don't have hot spots and burn the sugar.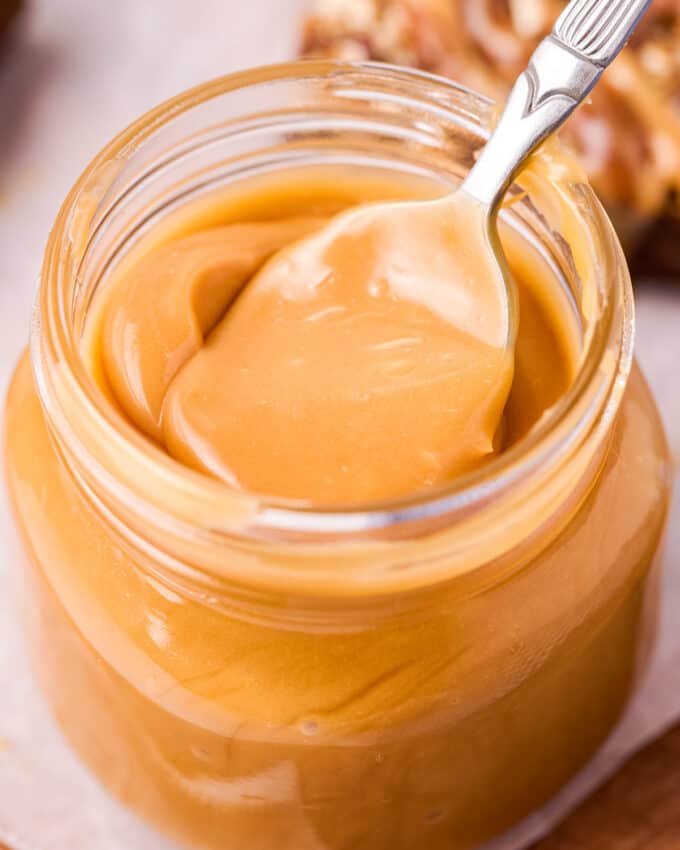 Variations of this recipe
Unsalted – while I love salted caramel, I know not everyone does… so feel free to leave out the salt if you'd like.
No corn syrup – if you don't want to use the corn syrup, you can omit it (although it does help to prevent crystallization).
Liquor – try adding a couple of tablespoons of your favorite liquor (bourbon, whiskey, rum, and apple brandy are my favorites!).
Spices – adding a cinnamon stick or two to the sugar as it melts will add a nice little kick of flavor.
Chocolate – once the caramel is made, try stirring some chopped chocolate into the sauce!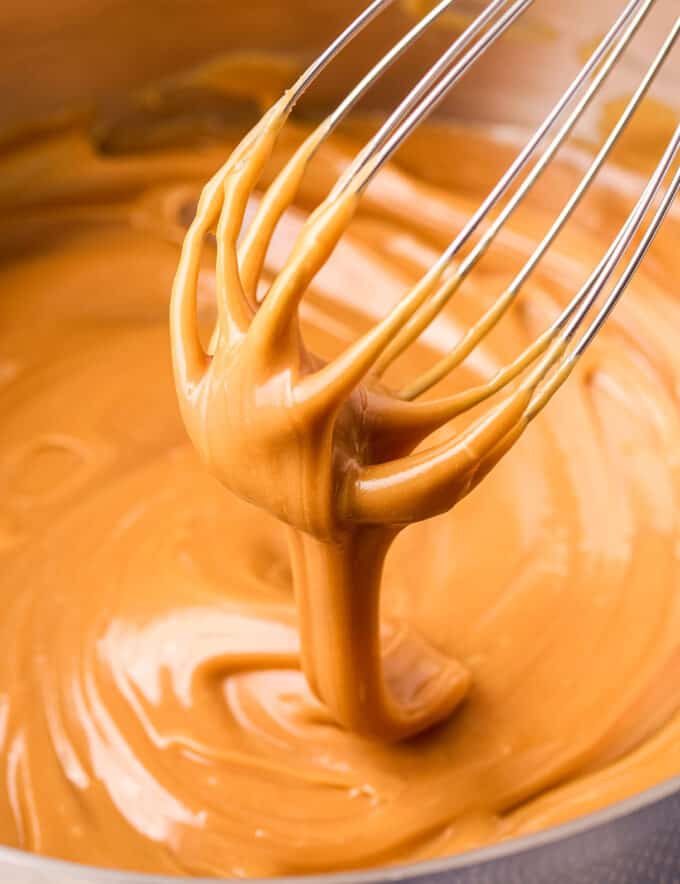 FAQ's
Why use corn syrup in caramel sauce?
The light corn syrup will help prevent any sugar crystallization, and help you achieve a super glossy and smooth sauce. If the idea gives you pause, most likely because of high fructose corn syrup, the two aren't nearly as similar as the name implies. However, you can omit it, you'll just have to be extra careful and watch for any crystals forming.
Why shouldn't you stir when making caramel with the wet method?
Stirring seems like a perfectly natural thing to do when cooking, but in general, it isn't a good idea when making this version of caramel sauce. The sugar molecules are jagged and naturally want to re-group and form crystals… and stirring only encourages that. Gently swirling the pan is a better alternative to stirring.
Making caramel sauce ahead of time
The good news is, homemade caramel sauce has long shelf life!
Feel free to make this caramel completely ahead of time, then cool and refrigerate it in an airtight container.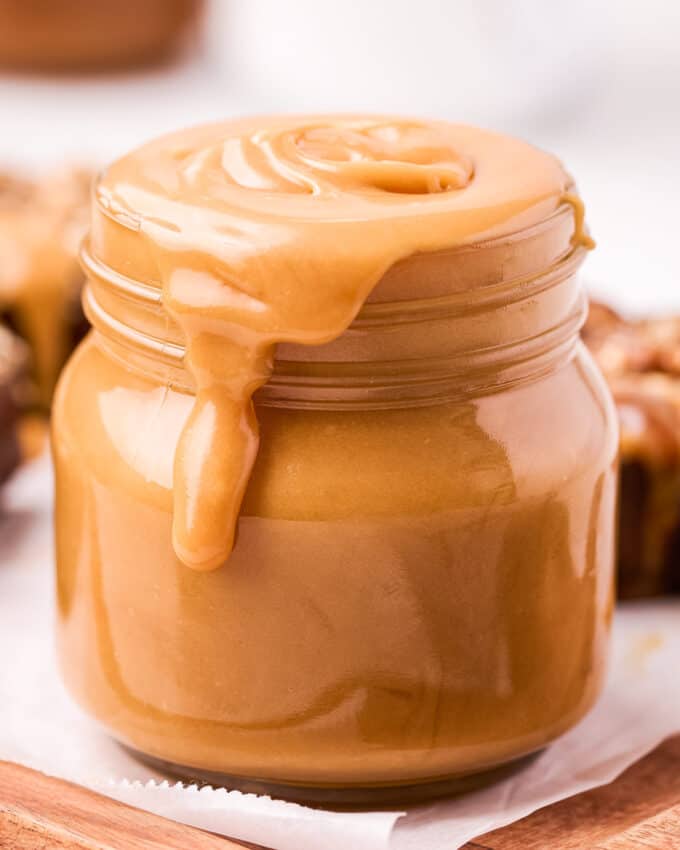 Freezing
This sauce can also be frozen! Just transferred to cooled caramel to a freezer-safe container and freeze for up to 3-6 months.
Thaw in the refrigerator, warm it back up, and use as desired!
Storage
Caramel sauce should be refrigerated in an airtight container and enjoyed within 2-4 weeks.
Since it's cold, you may want to microwave it a bit to loosen up the sauce.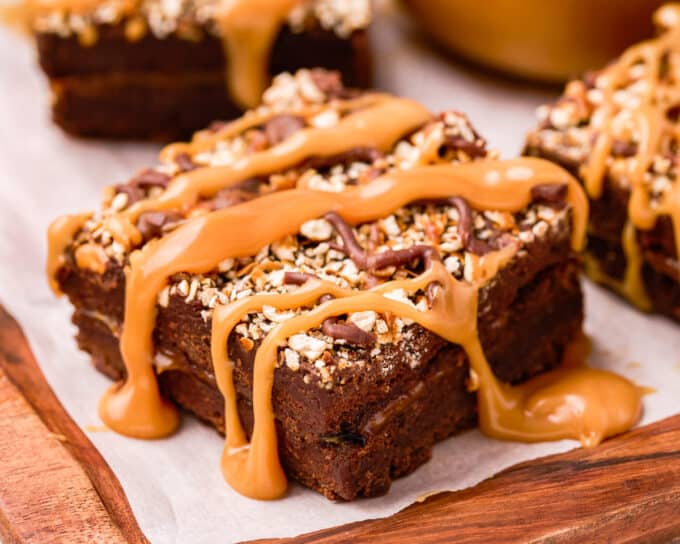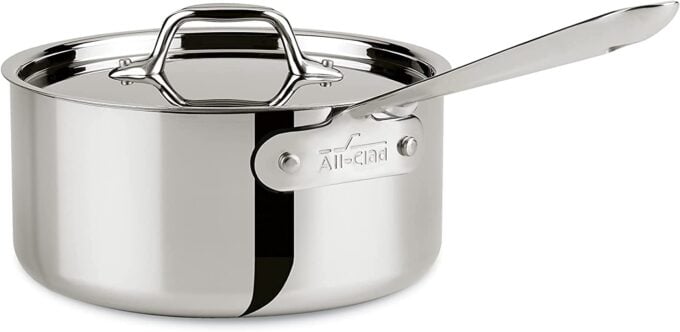 I know this is an expensive brand, but I wanted to be honest with you about the pan I use to make caramel, and this All-Clad pan is it. You can certainly use any brand of saucepan you'd like, just make sure it has a heavy bottom (look for reviews mentioning even heat distribution) and high sides.
Did you make this? Be sure to leave a review below and tag me @the_chunky_chef on Facebook and Instagram!
Rich and silky salted caramel sauce made easily on your stovetop!
Ingredients
1 1/2 cups granulated sugar
1/3 cup water
1/4 cup light corn syrup
1 cup heavy whipping cream
1/4 cup unsalted butter cut into 4 pieces
1/2 – 1 tsp vanilla extract optional
1/2 tsp sea salt
Instructions
Prepare
You'll need a high-sided heavy bottomed saucepan for this recipe. Preferably one that is stainless or light in color, so you can use visual cues (the color) to determine doneness of the butter and caramel.
Melt the sugar
Add sugar to saucepan, then pour in the water, and gently stir to combine, making sure not to get sugar on the sides of the pot.  If sugar does get on the sides of the pot, dip a paper towel in water and wash off the sugar.

Pour in the corn syrup, then heat the pot over MED HIGH heat.  This is important – do not stir the sugar mixture.  Let it come to a boil, and as it boils, it will start to change color, from clear, to the color of apple juice, to lightly golden, to amber, and deeper amber.  You can gently swirl the pot if necessary, but don't stir.  Stirring the mixture can cause sugar to cook on the sides of the pot and this will make your caramel sauce grainy.

Once the sugar mixture is a deep amber color, turn off the burner, remove the pot from the heat and move to a different (cold) burner.
Finish the caramel sauce
Slowly and carefully pour the heavy cream into the sugar mixture, whisking quickly as you pour.  The caramel will bubble vigorously once the cream hits the sugar mixture, so make sure you're whisking constantly, as this will tame the bubbling down.

Stir in the butter, a cube at a time, then stir in vanilla and salt.
Serve
Let the sauce cool a bit and either serve immediately, or cool completely to room temperature and store for up to 2-4 weeks in the refrigerator.
Want to save this recipe for later? Click the heart in the bottom right corner to save to your own recipe box!
Chef Tips
Recipe makes approximately 2.5 – 3 cups, which you can portion into as many servings as you'd like.
The small amount of corn syrup is added to help prevent crystallization (which can lead to a grainy sauce), but you can omit it if you'd like. I would add some extra water to replace it.
As always, all stove burners will heat differently, and all pans will distribute heat differently. Please use your best judgement and visual cues to decide what's best.
Warming up the cream is essential to making sure the caramel sauce doesn't clump into a huge lump on the end of your whisk.
To further prevent crystallization, you can use a wet pastry brush to wash down the sides if you see any crystals forming (just be careful of any bristles falling off into the caramel).
Nutrition Disclaimer
The Chunky Chef is not a dietician or nutritionist, and any nutritional information shared is an estimate. If calorie count and other nutritional values are important to you, we recommend running the ingredients through whichever online nutritional calculator you prefer. Calories can vary quite a bit depending on which brands were used.