This delicious broccoli rice casserole is rich and cheesy, perfect for using up any leftover rice, and made from scratch with no "cream of" soups! The Ritz cracker topping adds the perfect buttery crunch!
This is one of my Side Dish recipes I know you'll want to keep on hand!
I don't know about you, but when I'm planning meals, for some reason the side dish always ends up being the thing I forget all about planning!
But this broccoli rice casserole is a side dish I definitely don't forget… since my daughter absolutely loves this recipe. That's right, this is kid/teen tested, and it passes with flying colors!
This is a recipe is a nostalgic one, just reimagined a little bit.
If you're a child of the 80's who grew up in the 90's, you probably had something similar to this at family dinners or holidays.
Those versions, while delicious, usually used a "cream of" soup, and Velveeta or Cheez Whiz. I'm not knocking that at all… but I know a lot of people (myself included) like to make things from scratch when possible.
This easy cheese sauce comes together quickly, is robust in taste, creamy in consistency, and pairs so well with the broccoli!
How to make broccoli rice casserole?
This is just an overview; the full ingredients and directions are in the recipe card toward the bottom of this post.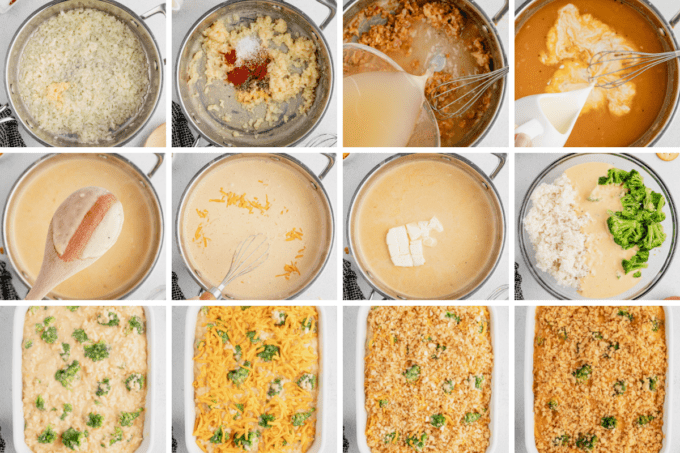 Cook the aromatics. In this recipe, that's the onion and garlic.
Add flour and spices. Cooking the flour in with the melted butter will create a roux and thicken the sauce.
Add liquids. This is the chicken broth and heavy cream, whisking as you pour.
Thicken. Let the sauce bubble until it thickens enough to coat a spoon.
Add cheese and cream cheese. I find this is best done off the heat, to avoid overheating the cheese, which can make the sauce grainy.
Mix. Stir together the cheese sauce, rice, and broccoli.
Add to baking dish. Top with cheese and cracker topping.
Bake.
Helpful Tip!
For the most creamy and silky cheese sauce, shred your own cheese from a block. The pre-shredded cheeses sold in bags at the grocery store is coated in a substance to keep it from clumping in the bag. And that substance keeps the cheese from melting as well, and can lead to a grainy sauce.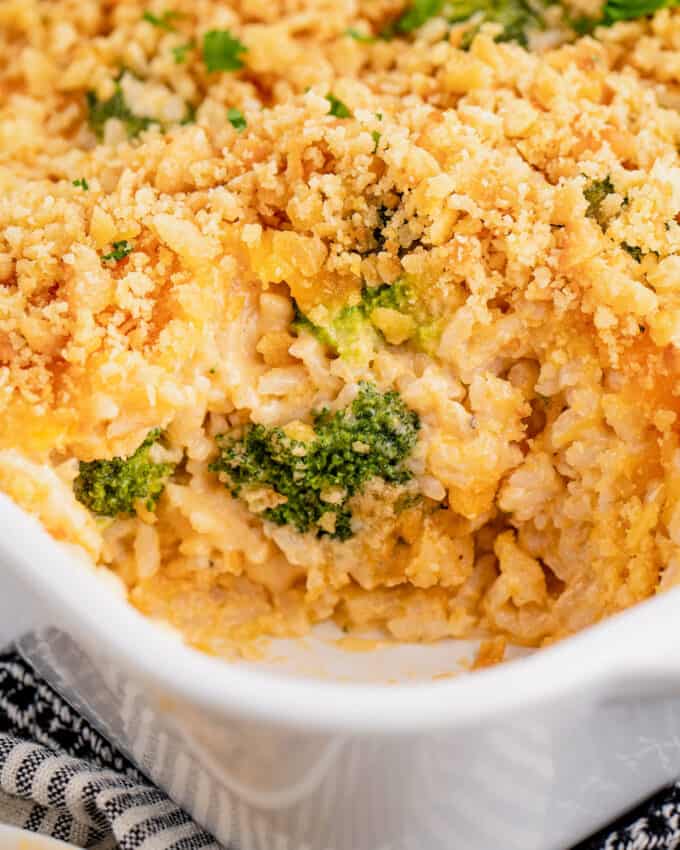 Variations of this recipe
Rice – since the rice for this recipe is cooked, there's no need to worry about using different kinds of rice… so feel free to use whichever cooked rice you like best.
Chicken – if you'd like to make this a complete meal, try adding about 2 cups of shredded chicken! You'll probably want to increase the size of your baking dish to account for the extra volume – I normally use a 3 quart (9×13″).
Broccoli – I like to use chopped frozen broccoli for this recipe, but feel free to use your favorite type. If you want to use fresh broccoli, I would steam it first, otherwise it may be a bit too crunchy.
Other vegetables – also, if you'd like to add some extra vitamins and use some other vegetables, please feel free to use your favorites.
Toppings – in place of the Ritz crackers, you could try some French's fried onions, panko breadcrumbs, or another kind of cracker.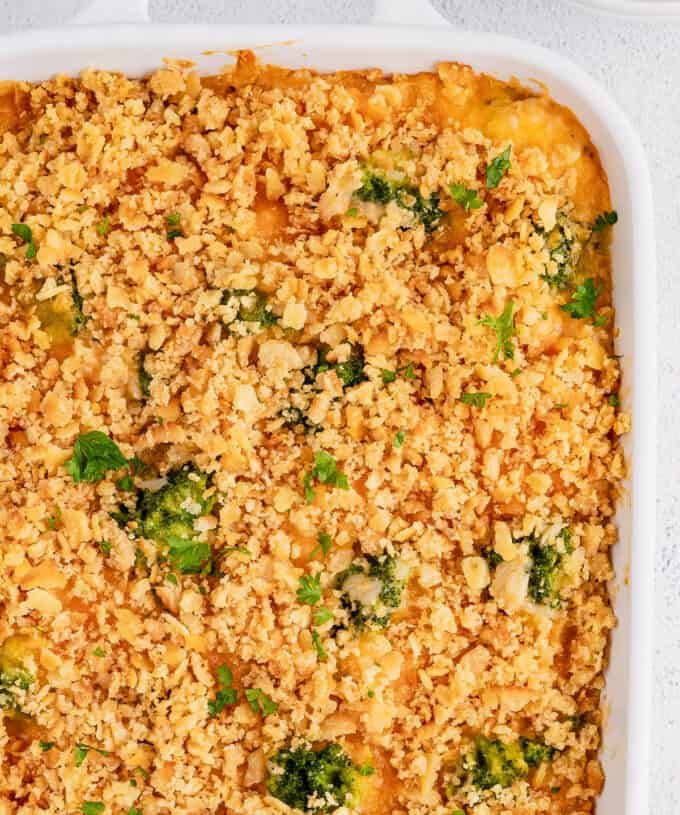 FAQ's
Should you cook frozen broccoli before adding to this casserole?
There's no need to, thawing it will do the trick. I let my frozen broccoli sit out on the counter for a bit until it's completely, or mostly, thawed.
Can you use uncooked rice in this rice casserole?
Unfortunately, this recipe wasn't developed to be made using uncooked rice. That would require a different sauce/liquid to rice ratio and an altered cooking method.
Making broccoli rice casserole ahead of time
One thing I love so much about this rice casserole, is that it can completely be assembled ahead of time if you'd like (with the exception of the topping).
The cracker topping should be added right before baking, but the crackers can be crushed ahead of time and kept in an airtight container.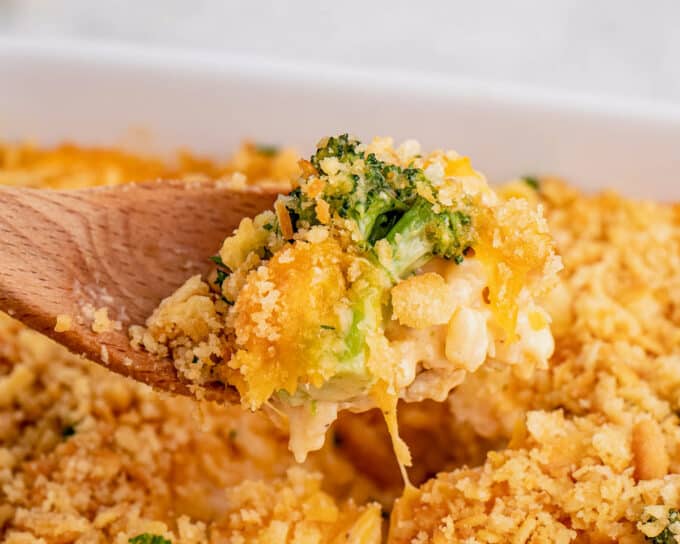 Freezing
This recipe also freezes well for longer storage! Assemble the casserole, but don't bake it, cool it completely, then cover tightly and freeze in a freezer-safe container for up to 3-6 months.
Storage
Leftover casserole should be refrigerated in an airtight container and enjoyed within 4-5 days.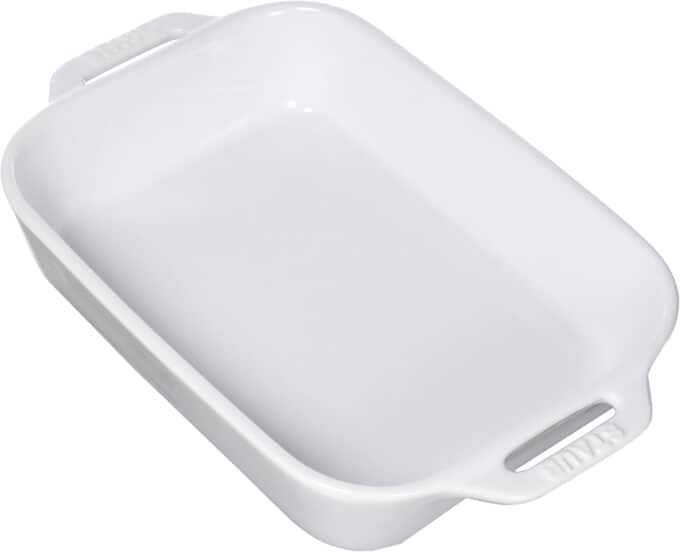 You can use any 2 quart baking dish for this recipe, but I really love this one. I've had it for years, and it's held up so well!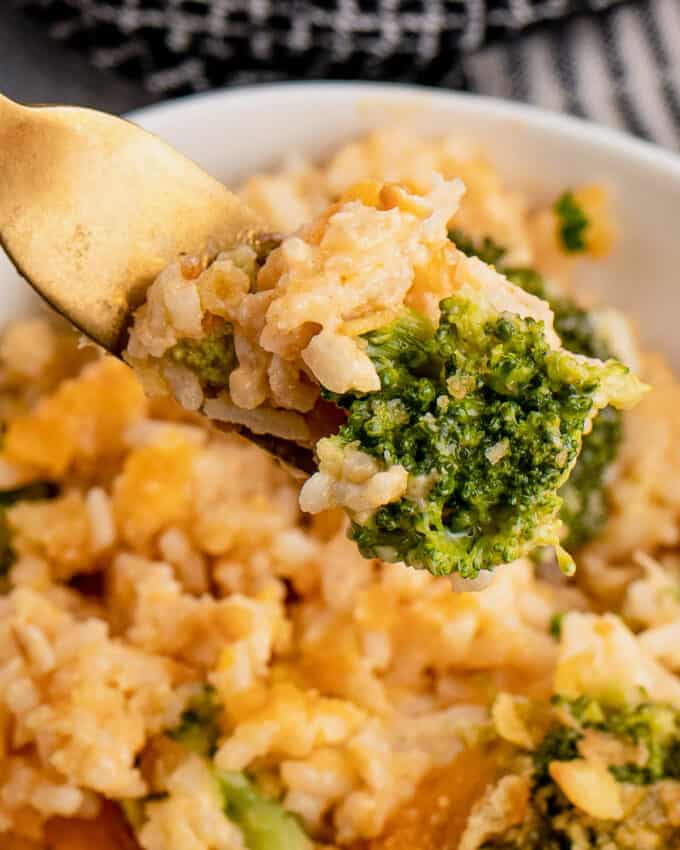 Did you make this? Be sure to leave a review below and tag me @the_chunky_chef on Facebook and Instagram!
This delicious broccoli rice casserole is rich and cheesy, perfect for using up any leftover rice, and made from scratch with no "cream of" soups!
Ingredients
25 Ritz crackers or your favorite buttery cracker
8 Tbsp (1/2 cup) unsalted butter divided
1 medium yellow onion minced
3 – 4 cloves garlic minced
1/4 cup all purpose flour
1 tsp kosher salt
1/2 tsp paprika
1/2 tsp black pepper
1/4 tsp dry mustard
2 cups reduced sodium chicken broth
1 cup heavy whipping cream
4 oz cream cheese softened and cut into cubes
4 cups chopped frozen broccoli (thawed) approximately a 10-12 oz package
3 cups shredded cheddar cheese divided
3 1/2 cups cooked rice
Instructions
Prepare
Preheat oven to 350°F and grease a 2 quart baking dish. Set aside.
Make topping
Add Ritz crackers to a food processor and pulse until pea-sized crumbs are formed. Pour into a small bowl and set aside.
Make cheese sauce
Add 5 Tbsp of the butter to a skillet over MED heat. Once melted, add the onion and cook for 3-5 minutes, stirring often. Add garlic and cook about 30 seconds.

Add flour and stir well to combine, then cook for 1-2 minutes, stirring often.

Add salt, paprika, black pepper, and dry mustard.

Slowly, whisking as you pour, pour in the chicken broth. Do the same with the heavy cream.

Let cook until thickened enough to coat the back of a spoon.

Remove from the heat, then add the cubes of cream cheese, stirring until completely melted.

Add approximately 2 cups of the cheese (about 1 cup at a time, stirring until melted after each cup), stirring well to combine.
Assemble the casserole
Add cooked rice and broccoli to a large mixing bowl, then pour in the cheese sauce and stir to combine.

Transfer to prepared baking dish, then sprinkle with the remaining 1 cup of shredded cheese.

Melt the remaining 3 Tbsp of butter pour in the bowl with the Ritz cracker crumbs from earlier. Stir well to combine.

Sprinkle cracker crumbs over the top of the casserole.
Bake
Bake in preheated oven for approximately 25-30 minutes, until hot and bubbly, the cheese is melted, and the edges are lightly golden.
Want to save this recipe for later? Click the heart in the bottom right corner to save to your own recipe box!
Chef Tips
I've estimated this recipe will serve approximately 8 people as a side dish, but of course, you're free to portion out the dish as you see fit.
If you're shredding your own cheese (which I highly recommend), you'll want about 12 oz of cheddar.
If assembled ahead of time, let the baking dish sit at room temperature for 20-30 minutes, then add an additional 10-15 minutes to the baking time.
Nutrition Disclaimer
The Chunky Chef is not a dietician or nutritionist, and any nutritional information shared is an estimate. If calorie count and other nutritional values are important to you, we recommend running the ingredients through whichever online nutritional calculator you prefer. Calories can vary quite a bit depending on which brands were used.