These mouth-watering roasted carrots make the perfect side dish to just about any meal or holiday dinner.  Roasting brings out their natural sweetness, as well as caramelizes the edges for a perfectly roasted vegetable!  The browned butter and honey sauce will literally make you drool!
This Roasted Carrots recipe is one of those recipes we have with so many of our family dinners and for holidays like Easter.  We also love easy Easter recipes like my Copycat HoneyBaked Ham and Creamy Baked Mac and Cheese.  This is one of my Side Dishes recipes I know you'll want to keep on hand!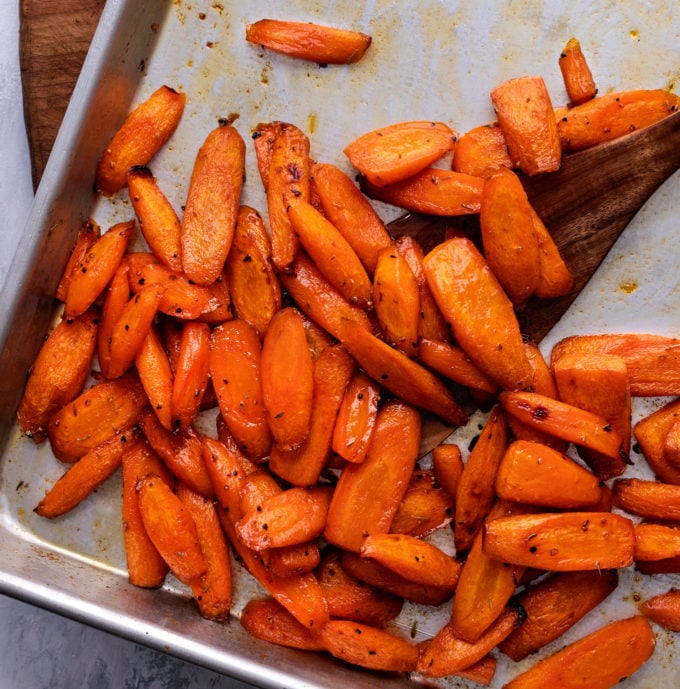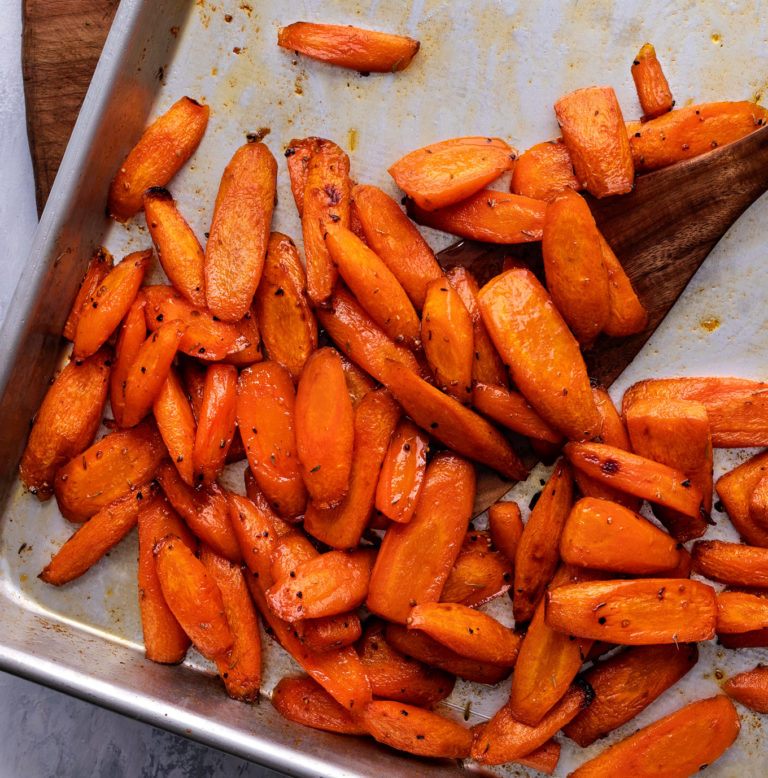 ROASTED CARROTS
Growing up, I had a vegetable aversion (like most kids do).  It turns out, I just MUCH prefer roasting my vegetables instead of steaming or boiling them.
Roasting vegetables brings out their natural flavors, as well as retaining their nutrients.  Plus, you get that beautiful and oh so tasty golden brown caramelization around the edges.
You guys, I LIVE for that caramelization.  I love things browned and nearly burnt.  I'm that person who gets insanely excited when the delivered pizza has some toasty melted/almost burnt cheese in the box.
Maybe I'm weird… in fact, there's no maybe about it lol.  But regardless of my eccentric-ness, caramelization equals flavor.  AMAZING flavor.
One bite of these roasted carrots, and you'll know what I meant!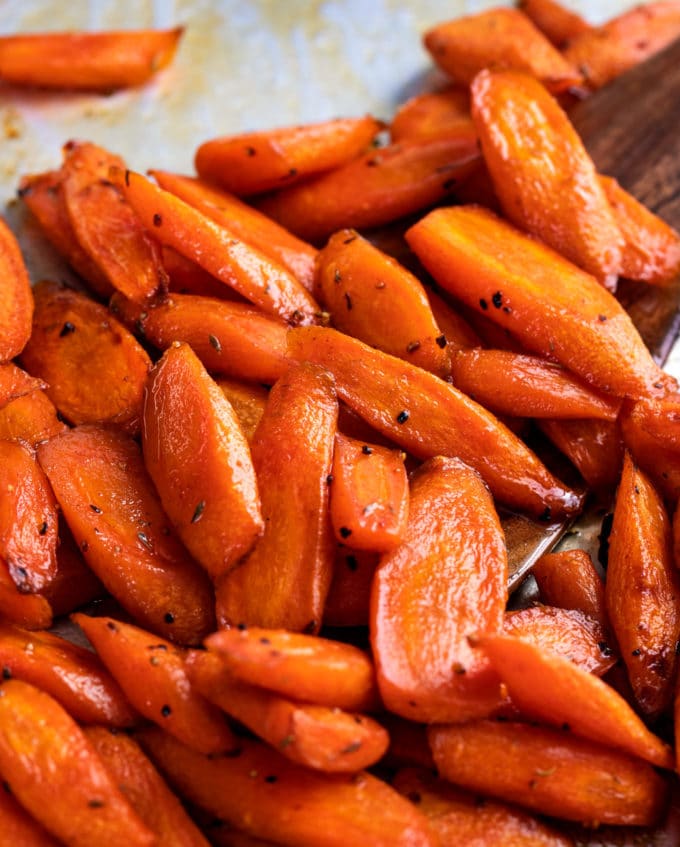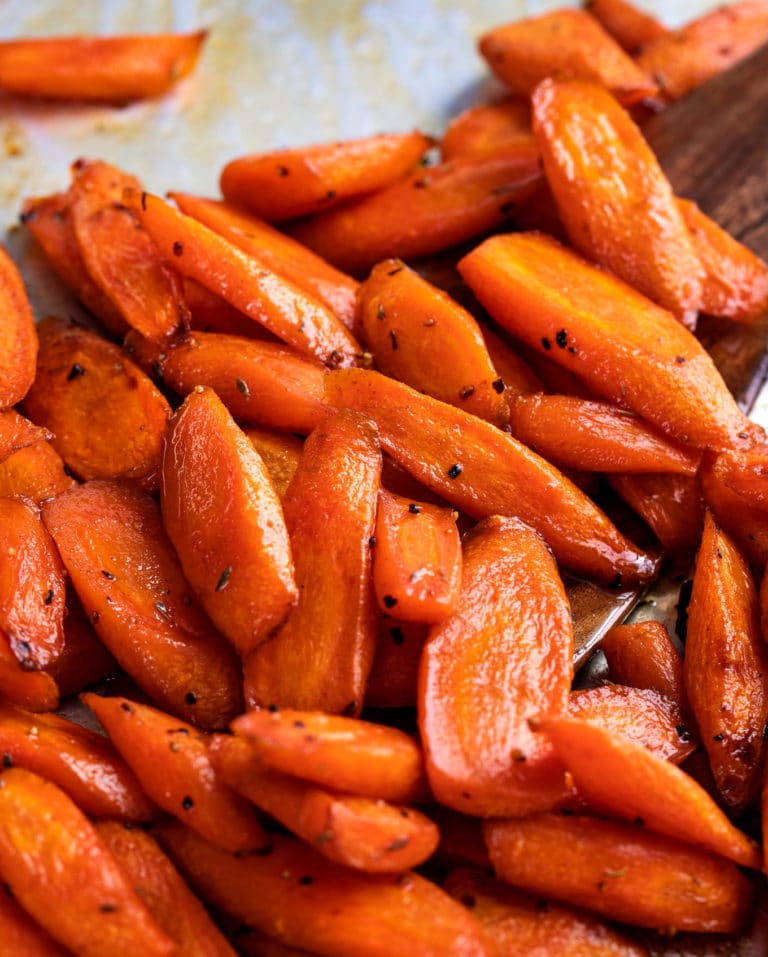 HOW TO MAKE ROASTED CARROTS
Preheat oven to 425 F degrees.  When testing, I found that carrots roasted at 425 yielded the best texture with a little caramelization.  Higher temperatures resulted in carrots that were almost burnt by the time they were tender.  Lower temperatures resulted in carrots that were tender, but lacked any golden brown edges.
Slice carrots diagonally and add to mixing bowl.  Slicing the carrots diagonally not only looks pretty, but in increases the surface area of the carrots that are touching the sheet pan, which resulted in beautiful golden brown caramelization.
Add spices and oil and toss to coat.
Spread carrots on baking sheet.  Make sure to spread the carrots into an even layer, so they'll roast evenly.
Bake for 15 minutes, then flip and bake another 10 minutes or so.  If you prefer your carrots more golden brown, bake for a little bit longer.  Conversely, if you prefer your carrots less browned, bake a little less.  Just make sure the carrots are tender when pierced with a fork.
Brown butter, whisk in honey.  Then toss carrots with the butter mixture and serve.
COOKING TIPS FOR ROASTED VEGETABLES
Use a BIG baking sheet – you don't want the carrots to be too close together, or they'll steam, rather than roast, and you will have trouble getting them nice and golden brown.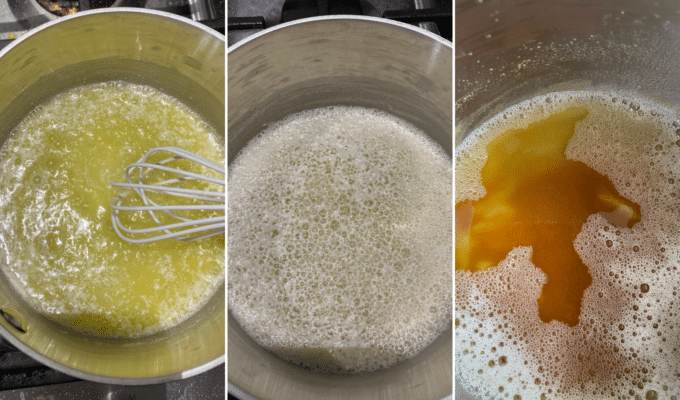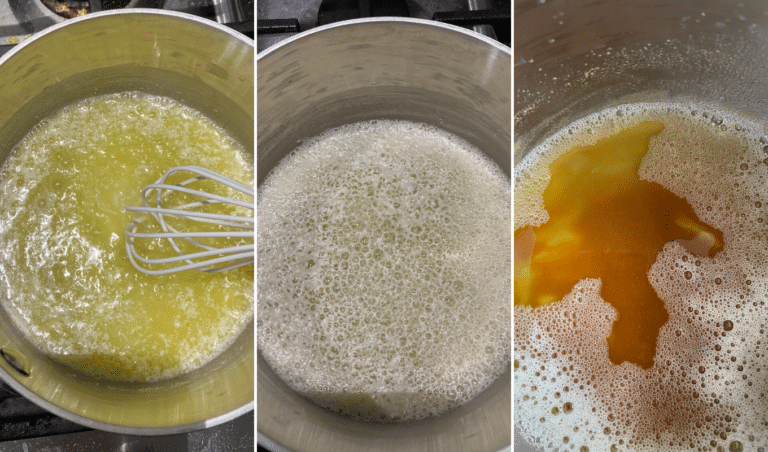 Tips for browning butter
Use a skillet than has a light-colored bottom – this way you can see when the specks of butter turn into a beautiful golden brown color.
Use your nose – browned butter has a distinctive nutty aroma, and smells different than regular melted butter.
Don't be afraid of the foam – as the butter cooks, it will get foamier and foamier, until it reaches a point where you may be looking at the pan and thinking you've done something wrong.  You haven't; I promise!  The foam will subside a bit, and then the milk solids will start to turn golden brown.
Watch it carefully – butter can go from gloriously browned to burned, very quickly!  Once you see a golden brown color, pull the saucepan off the heat and pour it into a mixing bowl to prevent it from cooking any further.
VARIATIONS OF THIS RECIPE
Other sweeteners – feel free to swap out the honey for some brown sugar or maple syrup.
Change the flavor – for dessert-like roasted carrots, omit the pepper, thyme, garlic and paprika from the carrots (using just oil and salt).  When making the brown butter honey sauce, add in 1/4 to 1/2 tsp of ground cinnamon.
Make it savory – if you prefer to just keep the natural sweetness of the carrots, keep the recipe as is, except don't add honey to the browned butter.  Instead, add a bit of minced fresh parsley.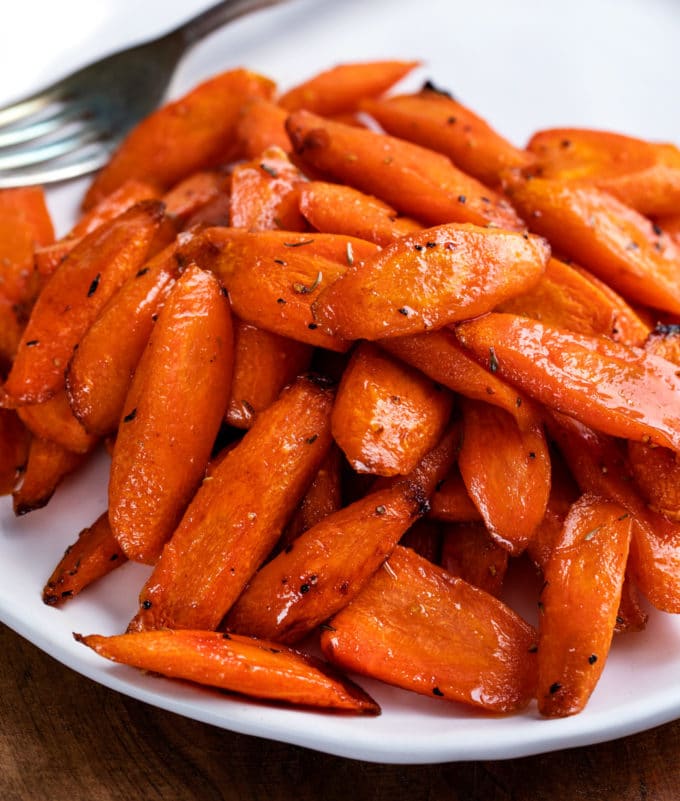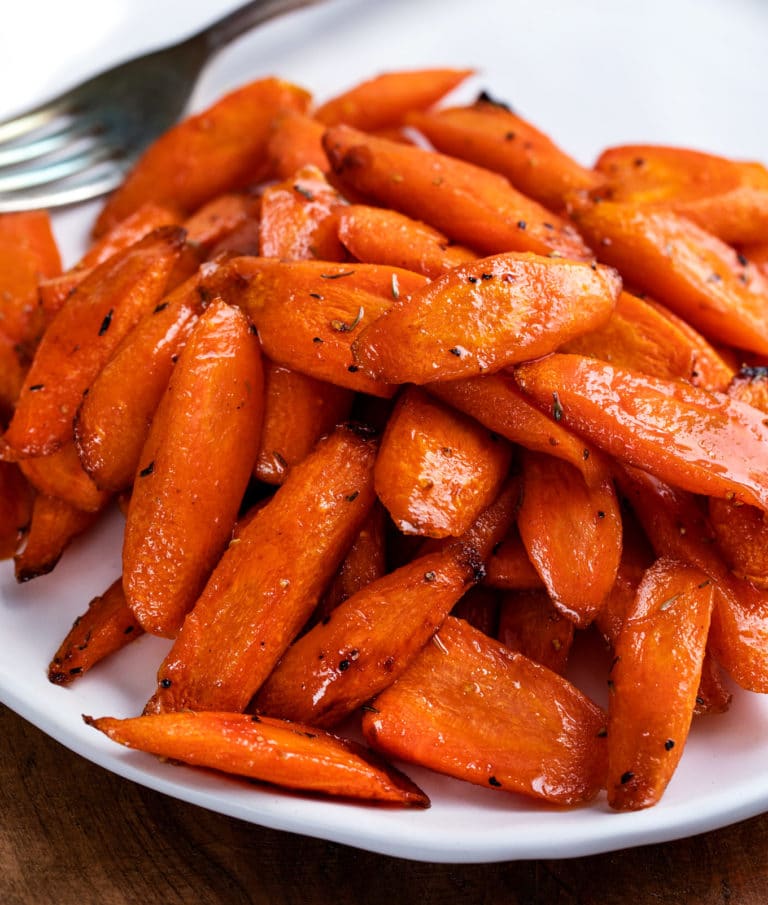 MAKING ROASTED CARROTS AHEAD OF TIME
I find that these carrots taste best when made fresh.  However you can eliminate nearly all the prep time by peeling and slicing the carrots and combining the seasonings in an airtight container.
STORAGE
Leftovers should be refrigerated in an airtight container and consumed within 5 days.
SPECIAL EQUIPMENT FOR THIS RECIPE
BIG baking sheet – you won't have any problem with the carrots overcrowding the sheet with this one!
Stainless Saucepan – you'll definitely be able to see the butter browning in this versatile pan!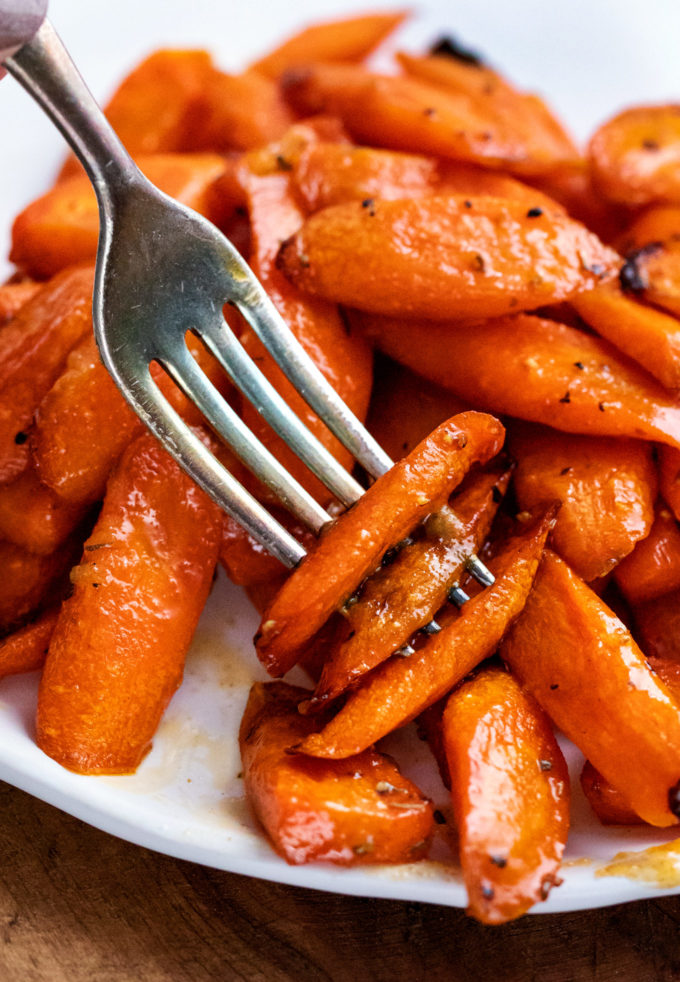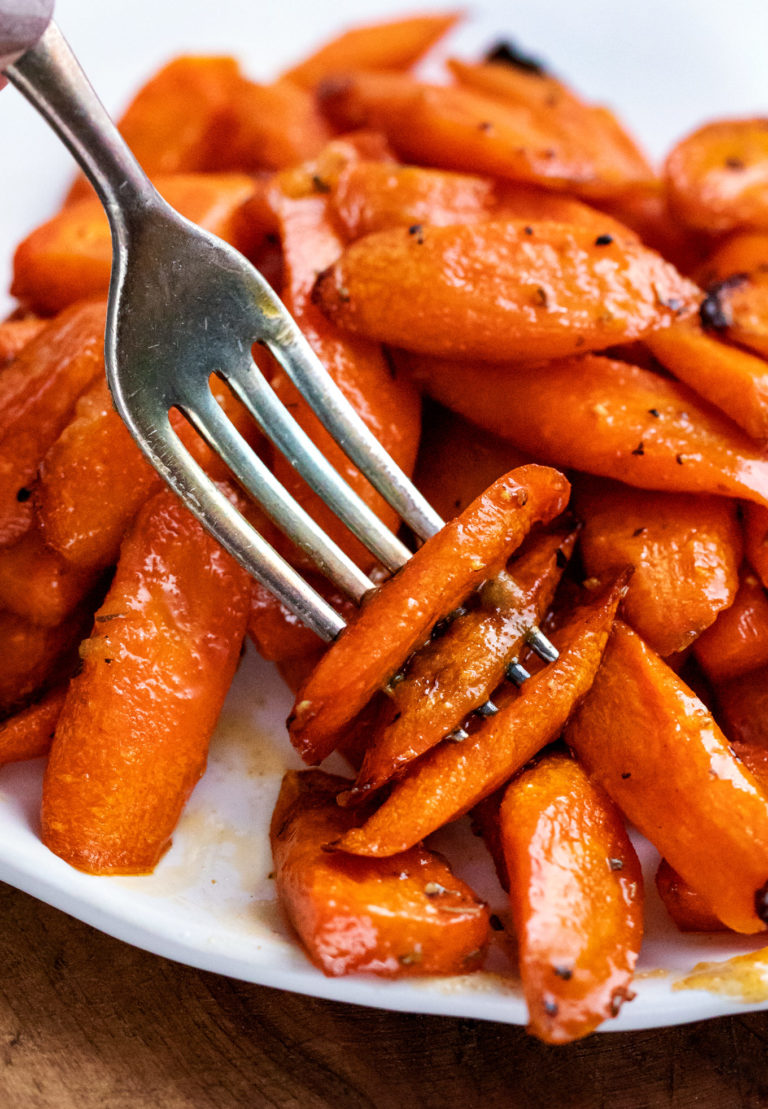 BE SURE TO SCROLL DOWN TO CHECK OUT OTHER READERS' COMMENTS FOR TIPS AND REVIEWS.
AND DON'T FORGET, IF YOU'VE MADE THIS RECIPE, LEAVE A COMMENT AND PLEASE GIVE IT A STAR RATING LETTING ME KNOW HOW YOU ENJOYED IT!
Did you make this? Be sure to leave a review below and tag me @the_chunky_chef on Facebook and Instagram!
These mouth-watering roasted carrots make the perfect side dish to just about any meal or holiday dinner
Ingredients
2 lbs. carrots peeled and sliced diagonally
2 Tbsp olive oil
1/2 tsp kosher salt
1/2 tsp black pepper
1/4 tsp dried thyme
1/4 tsp paprika
1/4 tsp garlic powder (can substitute with 2 cloves minced garlic)
4 Tbsp butter sliced into tablespoon sized slices
2 - 3 Tbsp honey
Instructions
ROASTED CARROTS
Preheat oven to 425 F degrees. Set a very large baking sheet aside.

When slicing peeled carrots, rotate your knife so the cuts are diagonal (to increase the surface area that'll be roasting) and make each cut about 1 inch apart. Add sliced carrots to a mixing bowl.

Add oil, salt, pepper, thyme, paprika, and garlic powder. Toss to coat carrots completely.

Transfer carrots to baking sheet and spread into one even layer and bake for 15 minutes.

Quickly toss or flip over carrots and continue baking another 10-15 minutes.

Remove carrots from oven and set aside.
BROWNED BUTTER HONEY SAUCE
While carrots are roasting, add butter to a light-bottomed saucepan. Heat over MED-LOW heat, whisking occasionally at first.

Once the butter starts to bubble and foam begins to appear around the edges, whisk nearly continuously. Keep whisking as it gets very foamy.

Continue cooking and whisking, and you'll see the foam subside a bit and you'll see toasty brown colored specs at the bottom of the pan. Give it a smell, it should smell nutty and different than regular melted butter.

Remove from the heat and whisk in honey. Pour over roasted carrots and toss to combine.
Want to save this recipe for later? Click the heart in the bottom right corner to save to your own recipe box!
Nutrition Disclaimer
The Chunky Chef is not a dietician or nutritionist, and any nutritional information shared is an estimate. If calorie count and other nutritional values are important to you, we recommend running the ingredients through whichever online nutritional calculator you prefer. Calories can vary quite a bit depending on which brands were used.