The most tender and delicious roasted carrots, made in the slow cooker!
Perfectly spiced, these roasted carrots glazed in a mouthwatering sweet and savory glaze, and are the perfect no-fuss side dish for any dinner or gathering!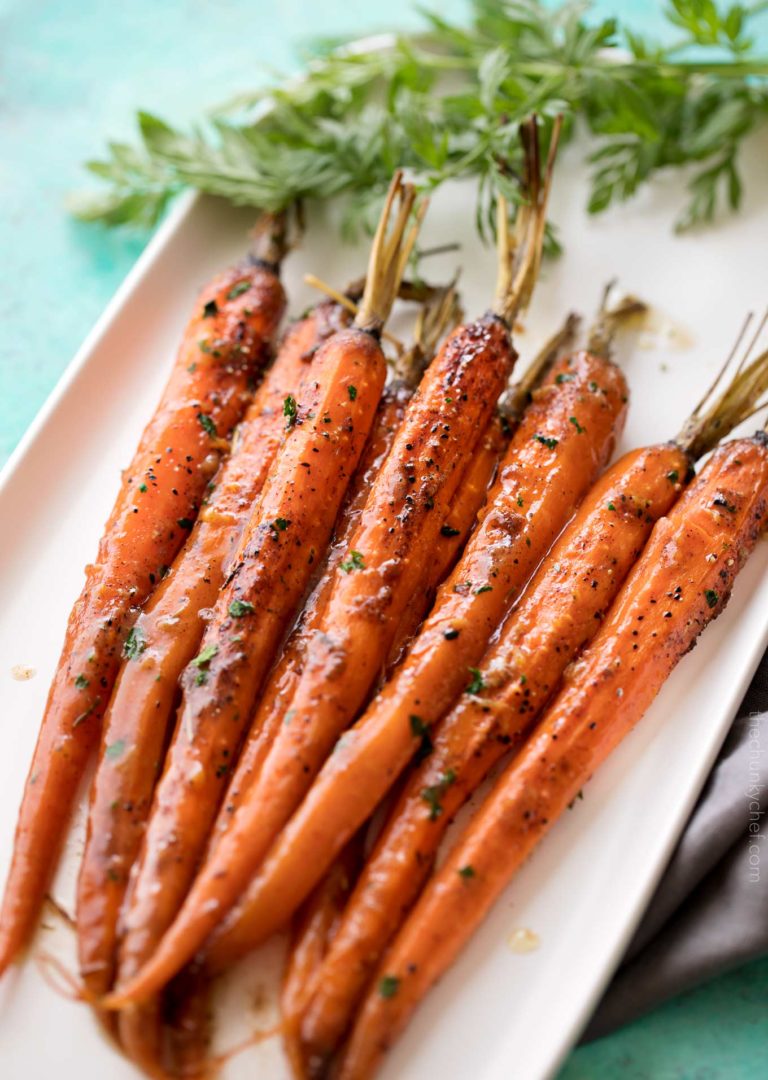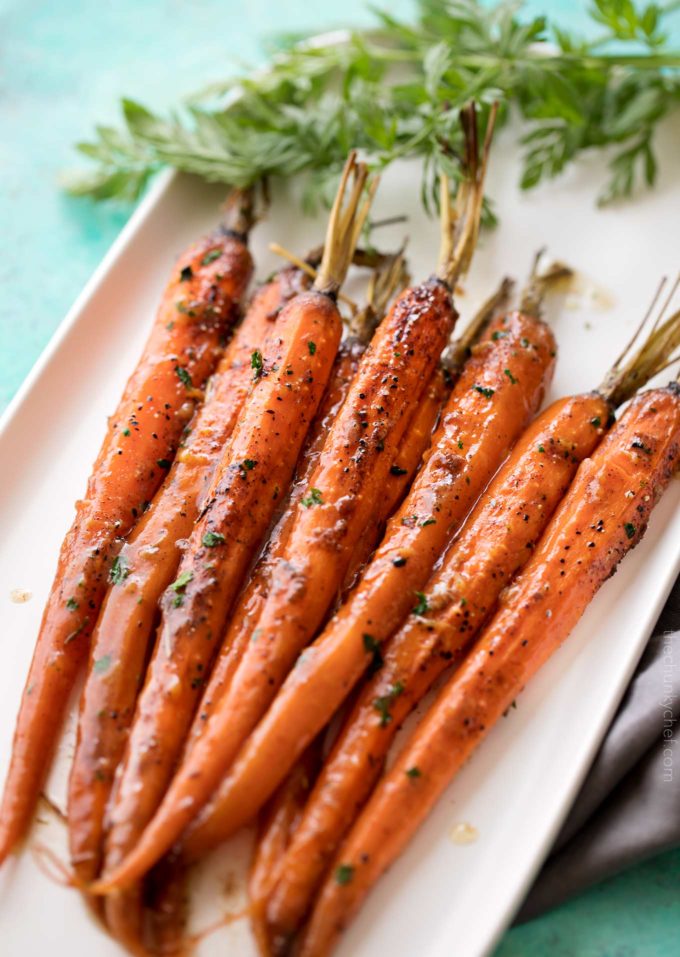 Are you ready for the whirlwind of holidays coming up?  Okay, not really a whirlwind… but two within a month, then it's officially Spring!  I love my comfort food, but I'm so ready for things to bloom and for the weather to be warmer.  What about you?
Easter is the holiday I'm really looking forward to… time to break out my amazing Copycat HoneyBaked Ham, Cheesy Scalloped Potatoes, Homemade Mac and Cheese, Broccoli Salad and more!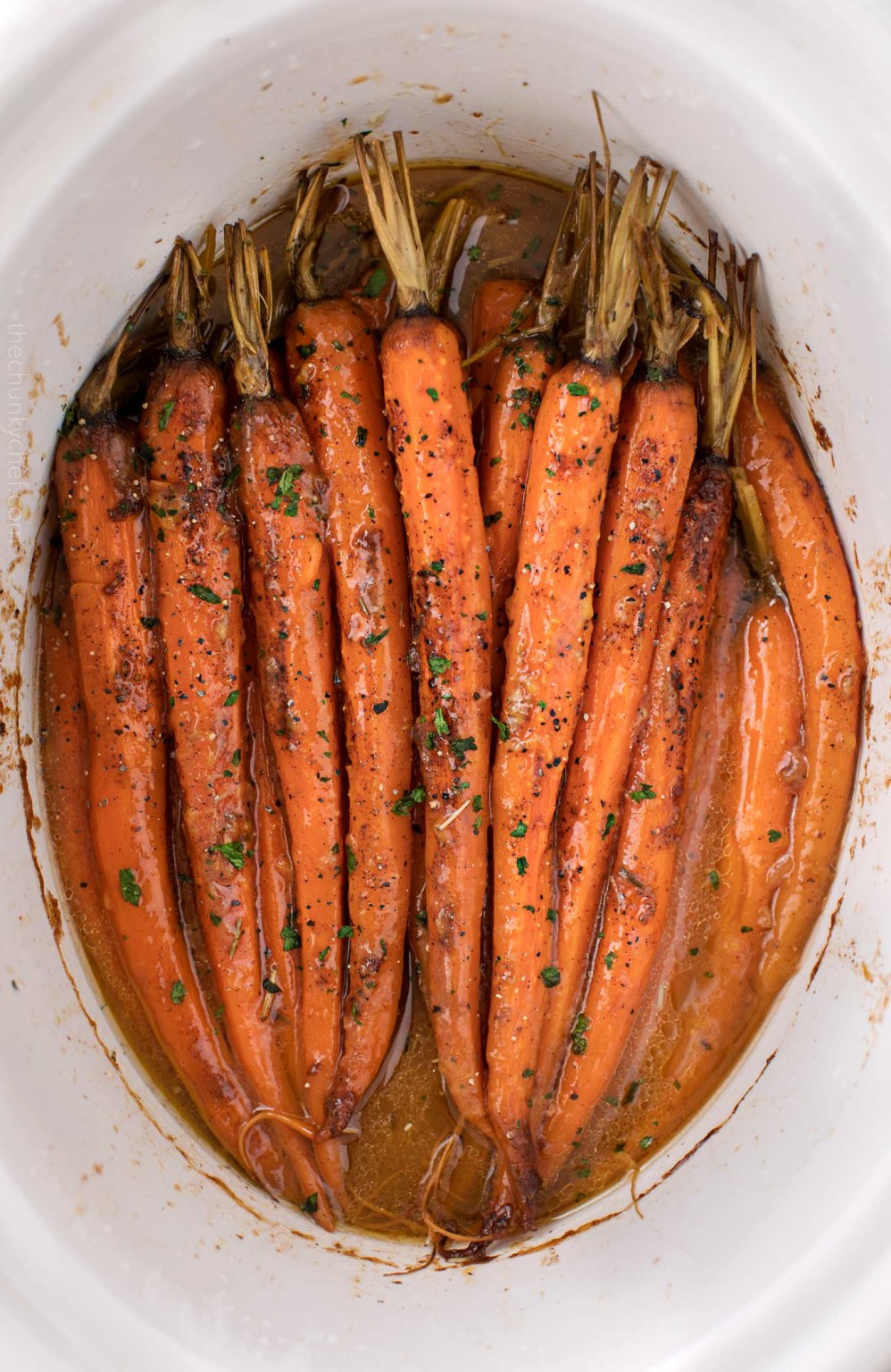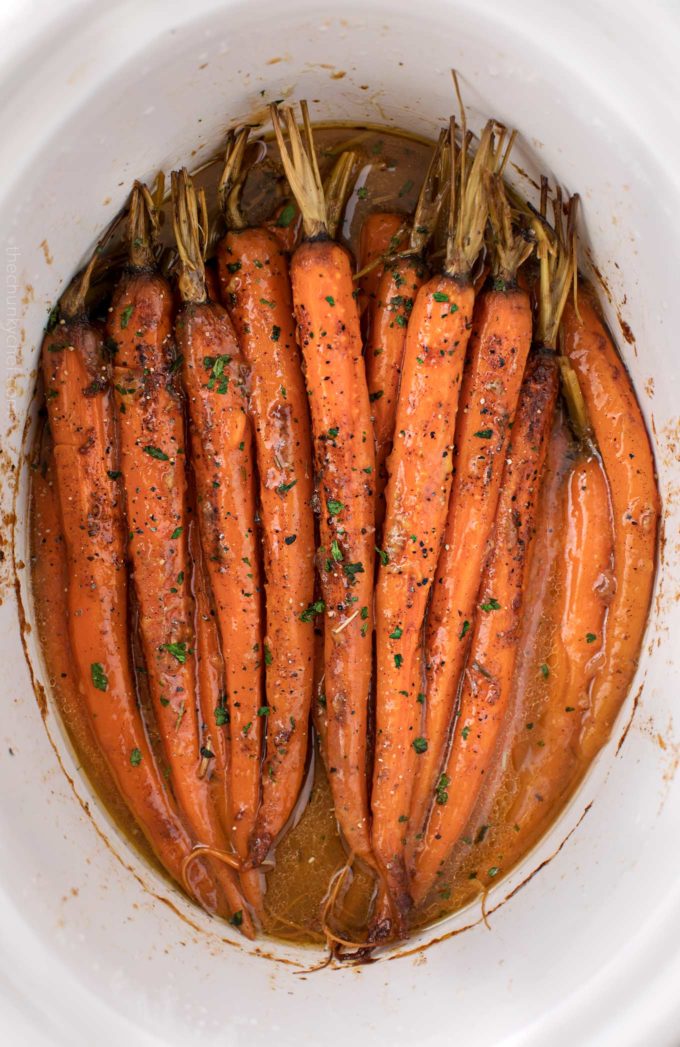 HOW TO MAKE SWEET AND SAVORY HONEY ROASTED CARROTS
Start by picking the best looking carrots.  I love the look of the whole baby carrots, so I found some in my local grocery store that were great looking!  If you can't find the whole young/baby carrots, you can use regular carrots, and halve them lengthwise.  Alternately, you can also use bagged baby carrots.
Pick a slow cooker the carrots fit in.  If you're using the whole carrots, you want an oval slow cooker so they're not all mushed up.
The cooking time depends on the thickness of your carrots.  On the thinner side, and they'll be tender in about 6 hours… on the thicker side, and they may take 7.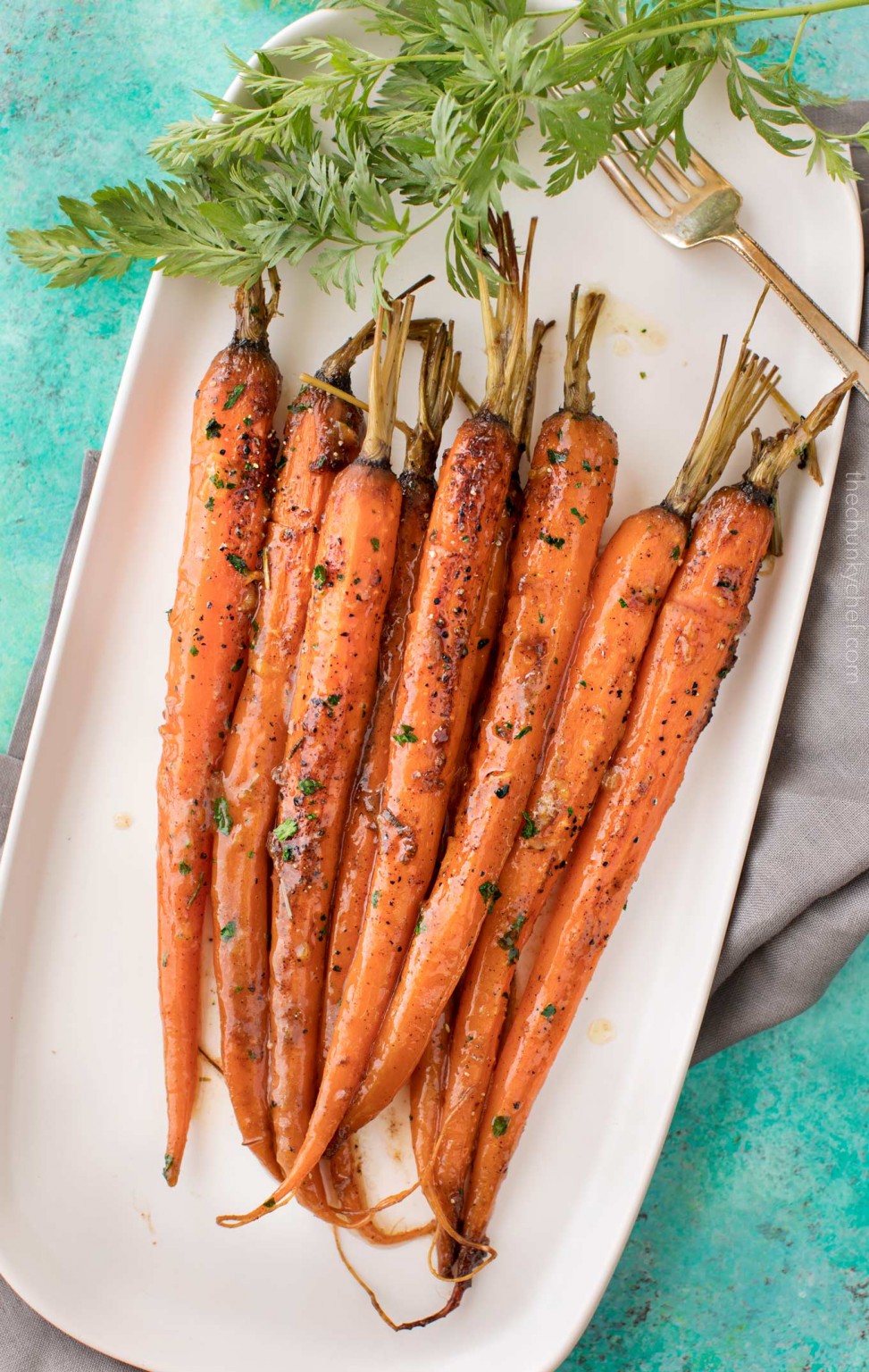 MAKING ROASTED CARROTS IN THE OVEN
I came up with this recipe so you'd free up some oven space, since on most holidays, the oven is usually way too full.  BUT, maybe your oven isn't busy… or you're making this for a non-holiday dinner, and want it ready quickly.
You'll have to make a few adjustments:
Reduce the preserves amount down to 1/4 cup
Reduce the butter down to 1 Tbsp and add 1 1/2 Tbsp olive oil
Omit the water and cornstarch completely
HOW LONG DOES IT TAKE TO ROAST CARROTS AT 375 DEGREES
You can roast these at several oven temperatures (if you choose to go that route), but 375 is my favorite.  It allows them to get gloriously caramelized, without drying them out, or burning them.  Your oven roasted carrots will be ready in 30-40 minutes, depending on how thick the carrots are, stirring about 17-20 minutes into the cooking time.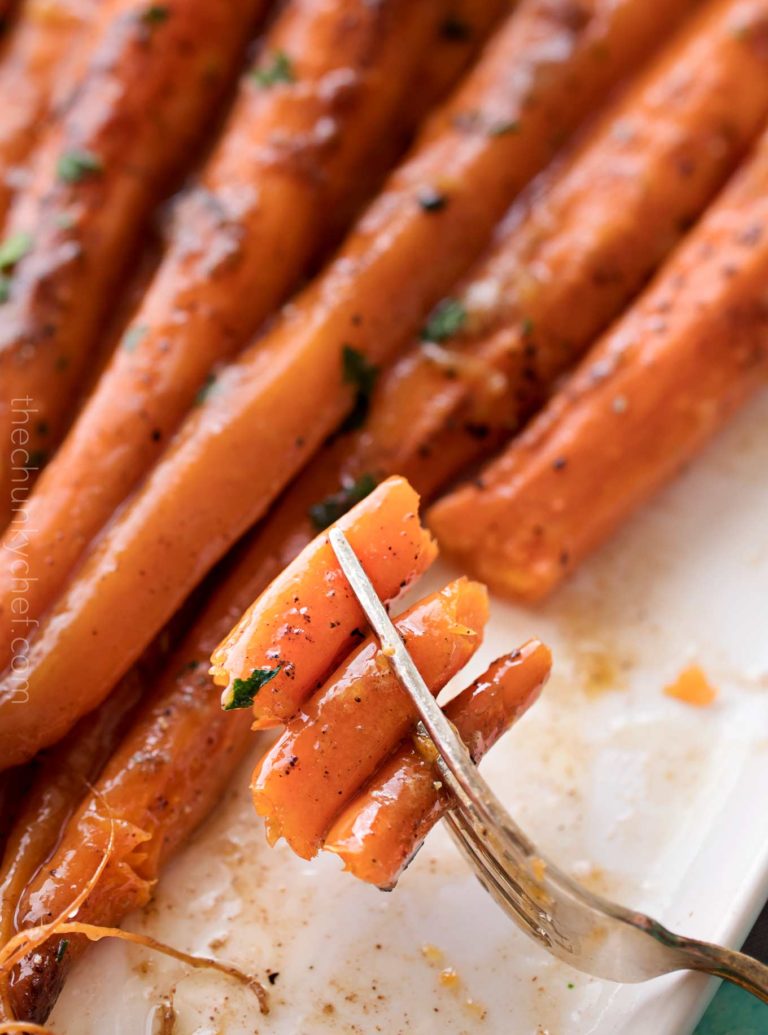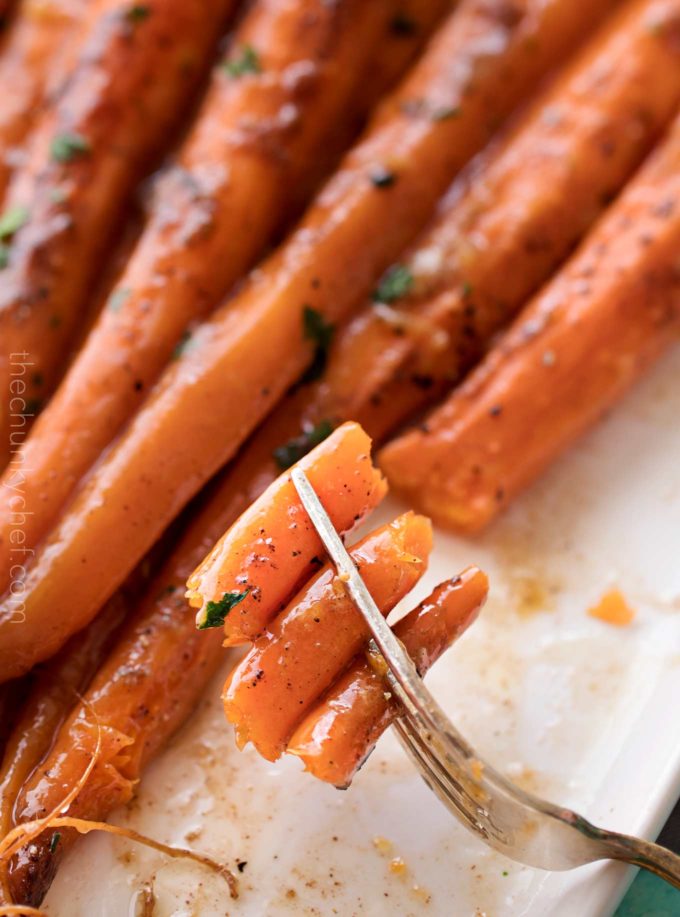 MAKING SLOW COOKER ROASTED CARROTS USING BAGGED BABY CARROTS
Sometimes it's challenging to find the whole baby carrots, but those handy bags of roughly 2 inch long baby carrots are always readily available!  The good news is, you can absolutely use those to make this recipe, with only one small adjustment.  The cooking time.  Generally, they'll be ready sooner… so they only need to cook on LOW for 4-5 hours.
I hope you give these "roasted" carrots a try… for a holiday or even a casual dinner!!
HELPFUL TOOLS:
6 quart slow cooker – this is the one pictured in this post, and I love that the lid locks down for easy transport!
---
Want to try these Slow Cooker Roasted Carrots?

PIN IT to your HOLIDAY or SIDE DISHES board to save for later!

Find me on Pinterest for more great recipes!
Did you make this? Be sure to leave a review below and tag me @the_chunky_chef on Facebook and Instagram!
The most tender and delicious roasted carrots, made in the slow cooker!
Ingredients
2 lbs whole baby carrots, washed, peeled and all but 1 inch of carrot tops removed
1/3 cup apricot or peach preserves
6 Tbsp butter, melted
2 Tbsp honey
1-2 Tbsp light brown sugar, packed
1 tsp balsamic vinegar
1 tsp garlic powder
3/4 tsp kosher salt
1/4 tsp dried thyme leaves
1/4 tsp ground mustard
1/4 - 1/2 tsp black pepper
1 1/2 Tbsp cornstarch
1 1/2 Tbsp water
Instructions
In a small mixing bowl, combine preserves, butter, honey, brown sugar, balsamic vinegar, garlic powder, salt, dried thyme, ground mustard, and black pepper.

Separately, combine cornstarch and water, then whisk or stir that mixture into the sauce.

Place carrots in 3 - 6 quart slow cooker, and pour sauce over them. Stir gently to combine. Cover with lid and cook on LOW for 6-7 hours, or until tender.
FOR A STICKY CARAMELIZED FINISH:
Place cooked carrots on a foil-lined rimmed baking sheet and broil on HIGH for a minute or two, until slightly caramelized. Brush with leftover glaze from the slow cooker and serve.
Want to save this recipe for later? Click the heart in the bottom right corner to save to your own recipe box!
Chef Tips
OVEN ROASTED METHOD
Reduce the preserves amount down to 1/4 cup
Reduce the butter down to 1 Tbsp and add 1 1/2 Tbsp olive oil
Omit the water and cornstarch completely
Preheat oven to 375 F degrees.  Line a roasting pan with foil.  Toss carrots with sauce (using adjustments above), and roast for 30-40 minutes, stirring about halfway through.  Broil on high for 1-2 minutes to caramelize even more.  Carrots are done when a fork can pierce them easily.