Garlic Parmesan Cheesy Scalloped Potatoes
Ultra creamy and rich, these cheesy scalloped potatoes are full of great garlic Parmesan flavor.  Velvety soft underneath, and perfectly crispy on top!
If you've ever had real home cooked cheesy scalloped potatoes, you know they're hard to beat.  I've taken that classic dish and added a garlic Parmesan flavor, as well as added 3 kinds of cheese.  Trust me when I say, these will be your new favorite way to have potatoes!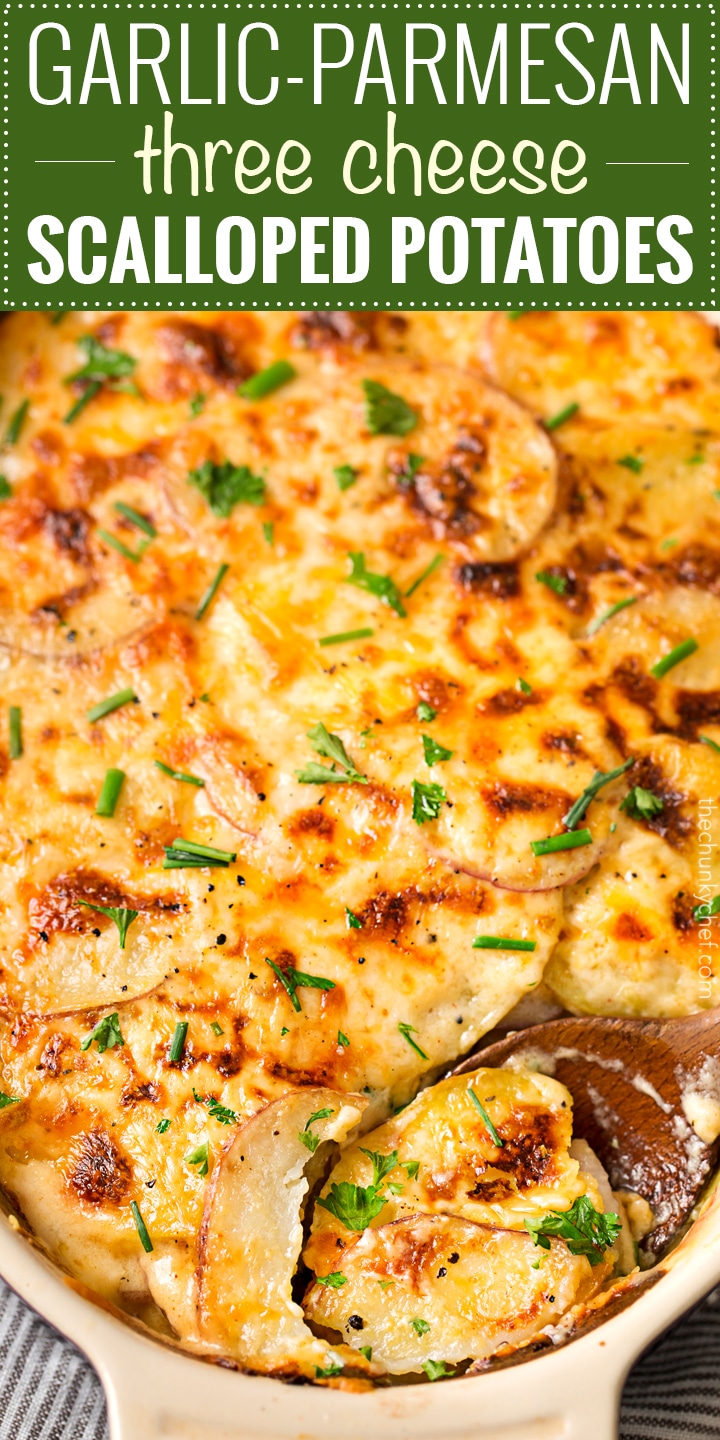 You guys, I have never spent nearly half as long coming up with a recipe title, than I have for this post.  I went back and forth on cheesy scalloped potatoes or potatoes au gratin.  Which then led to a spiral of googling to try and figure out what the heck the difference between scalloped potatoes and potatoes au gratin is.  My deduction?  It's still not very clear!  Traditionally, scalloped potatoes are baked with no cheese, in a cream sauce, most often made with raw flour in the sauce that thickens up as it bakes… and potatoes au gratin are cheesy potatoes, but traditionally have a breadcrumb topping.  However, so many scalloped potatoes recipes have cheese in them, and not many au gratin recipes have the breadcrumbs.  So confusing.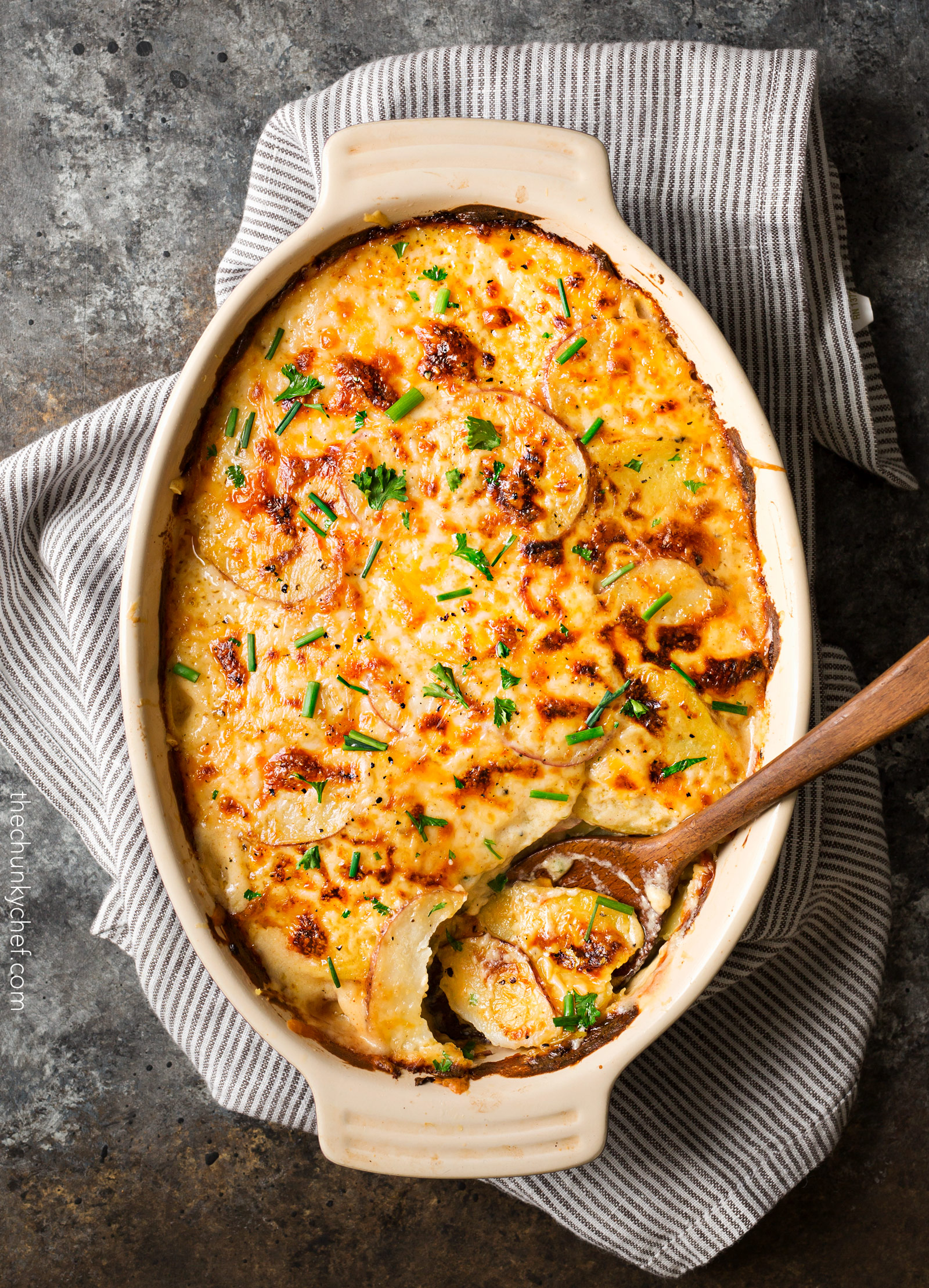 In the end, I went with my past… and called this recipe cheesy scalloped potatoes, since when I was growing up, my Mom made scalloped potatoes, and they always had cheese in them.  So if you make this, but disagree with the name, go ahead and call them whatever you'd like 🙂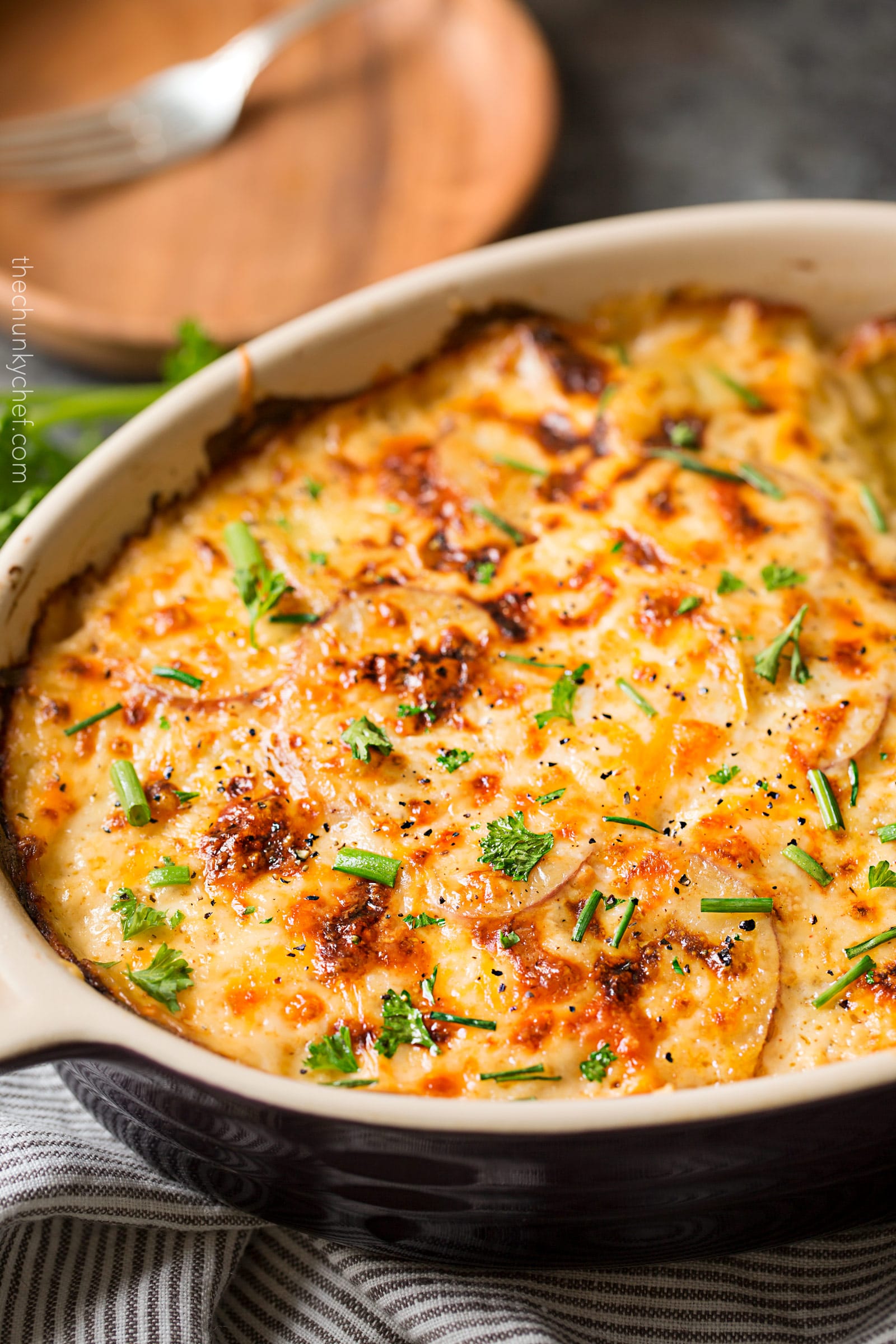 Can you just imagine how amazing your house will smell while this ultra cheesy dish is baking?  You'll have to find something to do to keep yourself busy, because you'll definitely be hungry!
I chose a nice mix of Yukon gold and red potatoes to layer in this dish, and left them unpeeled.  That's a personal preference of mine, but if you'd prefer to peel them, go ahead and peel 'em up!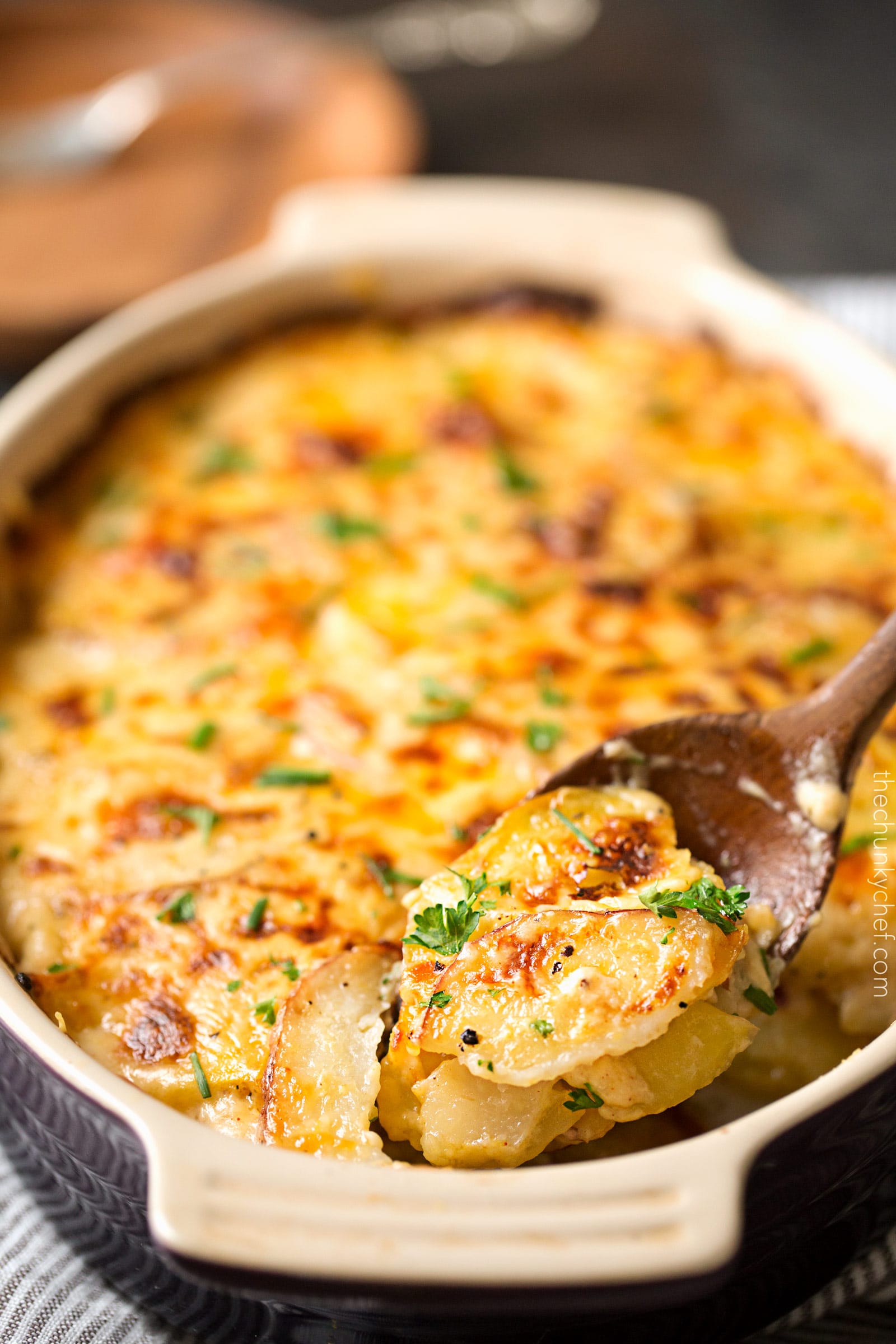 Growing up, of course we had scalloped potatoes for holiday meals like Easter, Thanksgiving, etc, but we'd also have them for regular weekend meals as well!  This dish does take some time to bake, about 90 minutes… BUT, it's definitely hands off time.  You just pop it in the oven and all you have to do is remove the foil after about 60 minutes.
You could certainly microwave your sliced potatoes for about 10 minutes, to cut down on the total baking time (it will take about 45-50 minutes), which could make this a go to side dish for a weeknight meal as well.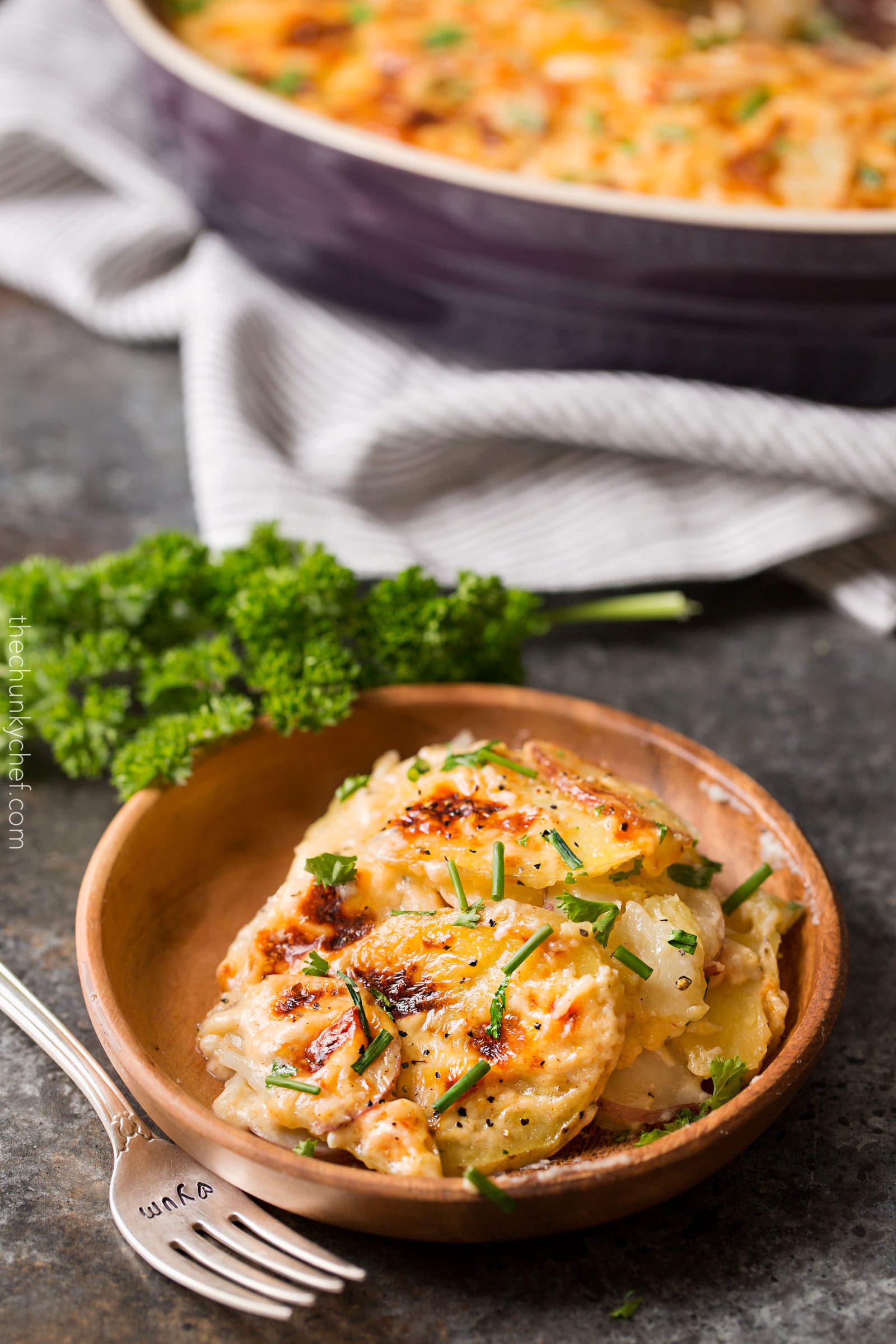 Some suggestions to have alongside these cheesy scalloped potatoes are Maple Balsamic Glazed Pork Chops, Stuffed Italian Flank Steak, or Chicken Marsala.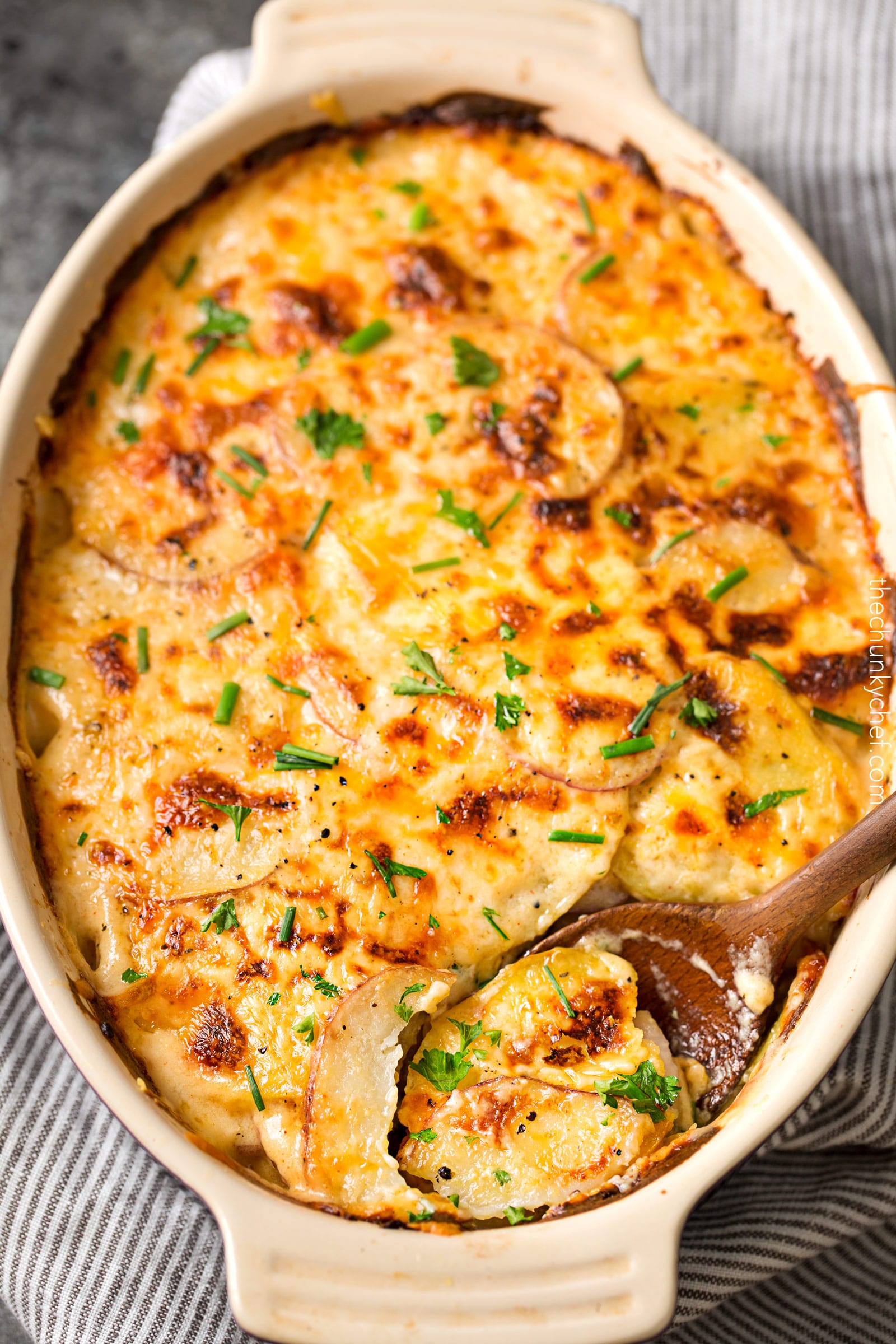 I really hope you give these Garlic Parmesan Cheesy Scalloped Potatoes a try soon!  They'd be perfect for Easter!
Helpful Tools to Make This Recipe:
Mandoline Slicer – Once you try using one of these, you'll wonder how you EVER sliced vegetables without it!
2 qt Baking Dish – I used a Le Creuset one for these photos, which I can't seem to find online, but this is a great one!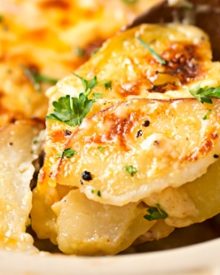 Garlic Parmesan Cheesy Scalloped Potatoes
Ultra creamy and rich, these cheesy scalloped potatoes are full of great garlic Parmesan flavor. Velvety soft underneath, and perfectly crispy on top!
Ingredients
1 1/4 lbs red potatoes, washed, but not peeled
1 1/4 lbs Yukon gold potatoes, washed, but not peeled
1 onion, sliced thinly
3 Tbsp butter
3 Tbsp all purpose flour
2 cloves garlic, minced
1 tsp dry mustard
1/4 tsp dried thyme
1/4 tsp paprika
salt and pepper, to taste
2 cups whole milk
1 cup cheddar cheese shredded
1/2 cup gruyere cheese shredded
1/4 cup Parmesan cheese grated
fresh chives, for garnish
fresh parsley, for garnish
additional 1/4 cup cheddar cheese, shredded
additional 1/4 cup gruyere cheese, shredded
additional 2 Tbsp Parmesan cheese, grated
Instructions
Preheat oven to 400 degrees F. Butter a 2 quart casserole dish and set aside.

Slice potatoes in 1/8" thin slices (I use this mandoline slicer), and set aside.

Add butter to medium saucepan, and heat over MED heat. When butter is melted, add garlic and saute for 1 minute, until fragrant. Add flour, whisk, and cook 1 minute. Slowly add milk, whisking continuously, until no lumps remain. Whisk over MED heat until mixture is thick and coats the back of a spoon.

Turn off heat, add cheeses, dry mustard, thyme, paprika, salt and pepper, and stir until smooth.

Layer half the potatoes and onion slices in prepared casserole dish, pour approximately half of the cheese sauce over potatoes and let sit for a minute. Repeat with remaining potatoes, onions, and cheese sauce.

Sprinkle top of potatoes with gruyere, cheddar and Parmesan. Spray aluminum foil with cooking spray, then cover the casserole dish (sprayed side down). Place casserole on a baking sheet and bake for 60 minutes.

Remove foil and bake uncovered an additional 25-30 minutes. Potatoes should be tender and cheese melted. Broil on HIGH for a minute or two for extra browning and crispiness.

Sprinkle top with chives and parsley and serve.