This Classic Dutch Apple Pie recipe has a flaky crust, sweet and tender spiced apples, and a buttery streusel topping! Perfect for holidays or an after dinner treat… serve it up and watch how quickly it disappears!
This is one of my Pie recipes I know you'll want to keep on hand!
Finally… an apple pie recipe! I've been meaning to share one since last Fall, but I really wanted to perfect things and make sure I was sharing an apple pie recipe that anyone can make, and love!
Well, it's here! This apple pie is my favorite version… the dutch apple pie.
No pesky second crust on top, no fancy lattice work, just a simple streusel/crumble.
Oh, and that streusel is made with melted butter, so you don't need to hassle with cutting cold butter into the dry ingredients 😉
The apples are cooked with sugars and spices, then piled high on a tender and flaky crust, and topped with a buttery streusel. Every bite is a dream.
There are plenty of steps to this recipe, but rest assured, the final result is definitely worth it!!
How to make dutch apple pie?
This is just an overview; the full ingredients and directions are in the recipe card toward the bottom of this post.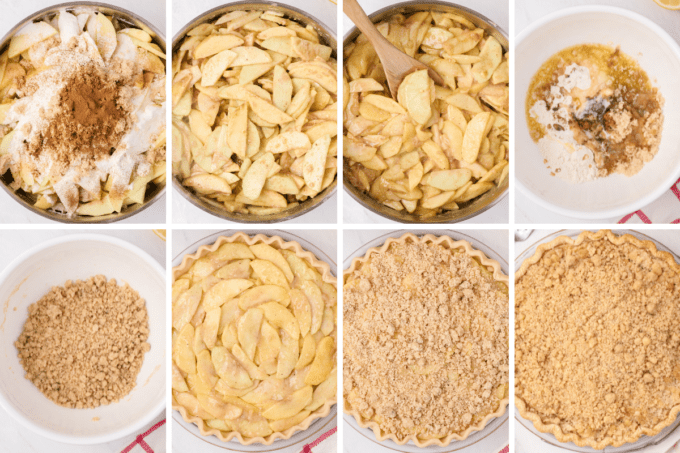 Cook apple filling. This helps prevent a runny filling, as well as deepening the flavors of the filling.
Make the streusel. This version uses melted butter to make things easier.
Assemble the pie. Add apple filling to a pie crust, then top with enough streusel to cover the apples.
Bake. This first bake at a higher temperature helps crisp up the bottom of the crust.
Reduce oven temperature. Keep the pie in the oven while changing the temperature, this ensures the pie doesn't burn during the longer baking time.
Add more streusel and bake. Add the rest of the streusel and keep baking.
Cool. It's very important to let the pie cool to room temperature before slicing, this way the filling is set, and you won't burn yourself.
Helpful Tip!
The secret to great apple pie, is to thinly slice the apples. You're looking for a thickness of about 1/8 inch. If you have a mandoline slicer, this is a great use for it, but if you have a steady hand, you can slice the apples by hand with a sharp knife.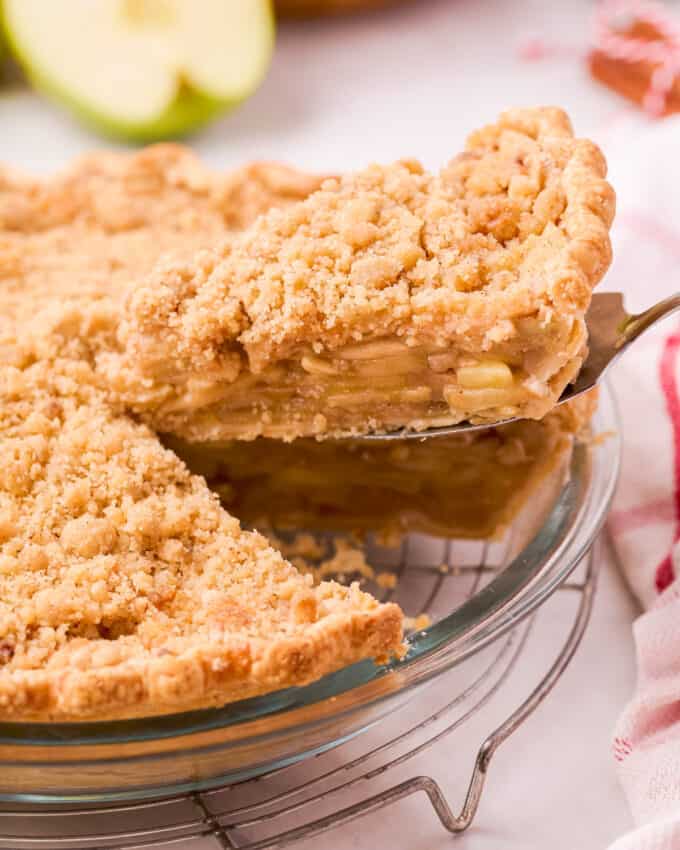 Variations of this recipe
Apples – for this recipe, we really like using a mixture of Granny smith, golden delicious, and honeycrisp, but please feel free to play around with the apple combination if you'd like.
Filling options – I do highly recommend cooking the apple filling; it's the key to not having a runny/watery filling. However, you can skip this if you really need to, just know that the pie may take longer to bake, and the filling may be a bit runny.
Crust – of course, I love using my Homemade Flaky Pie Crust, but if you're in a pinch, or just can't deal with pie dough (it can be tricky if you're not used to it), you can use a refrigerated pie crust. Just roll it out the and use it like you would with a homemade crust.
Sugars – this recipe uses both granulated and brown sugar, but feel free to play with the sugar ratios. If you like a more caramel-y deep flavor, use more brown sugar. For pure sweetness, use more granulated sugar. Just make sure you keep the total amount of sugar the same.
Toppings – if you'd like to add some extra flavor and crunch, try adding some pecans or oats to the streusel.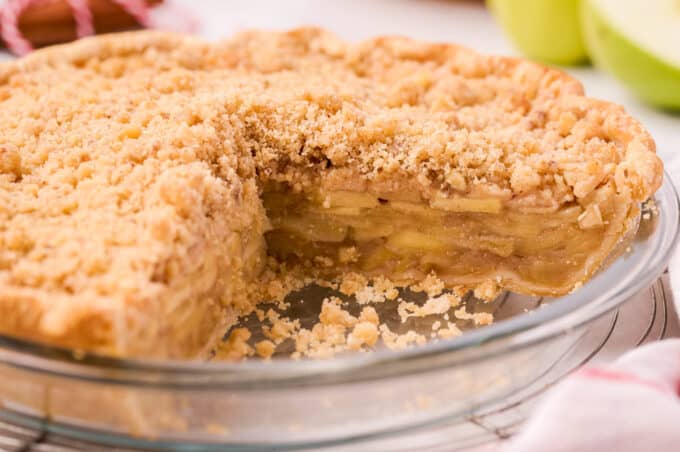 FAQ's
What's the difference between regular apple pie and dutch apple pie?
It's all about the topping. In a regular apple pie, the top is generally another crust, or a lattice-type of crust design. But in a dutch apple pie, the top is a streusel or crumb topping.
Can you use store-bought pie crust?
Absolutely! Homemade crust tastes amazing, but does take some time and finesse, so please feel free to pick up your favorite refrigerated pie crust and save yourself some work.
How to keep the bottom crust from being soggy in an apple pie?
Soggy crusts are definitely no fun, and not too tasty either! The best way, for this recipe, to keep it from happening is to brush the inside bottom of the crust with an egg wash before adding the apple filling. Just whisk together an egg and a splash of water, and brush it on. This creates a barrier to keep the liquid from causing sogginess.
Making apple pie ahead of time
Pies are great to make ahead of time, so you can absolutely make this whole pie a day ahead of time, although I wouldn't go longer than that.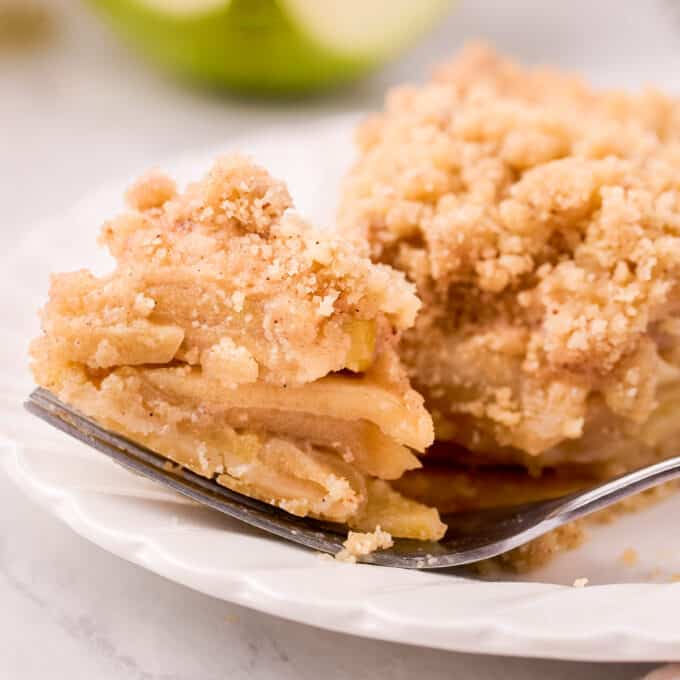 Freezing
While I haven't tested freezing an unbaked pie, you can freeze a baked pie!
Bake the pie as directed, then cool completely. Once cooled, cover tightly with 2 layers of foil, then freeze for up to 3 months.
Thaw in the refrigerator, then bake at 375°F, for about 30-40 minutes, or until golden brown and bubbly.
Storage
Leftover pie should be covered and refrigerated for up to 4-5 days. If you would prefer to keep your pie at room temperature, keep it covered on the counter for up to 2 days.
I honestly like my pie chilled, so I keep it in the refrigerator all the time, but you don't have to.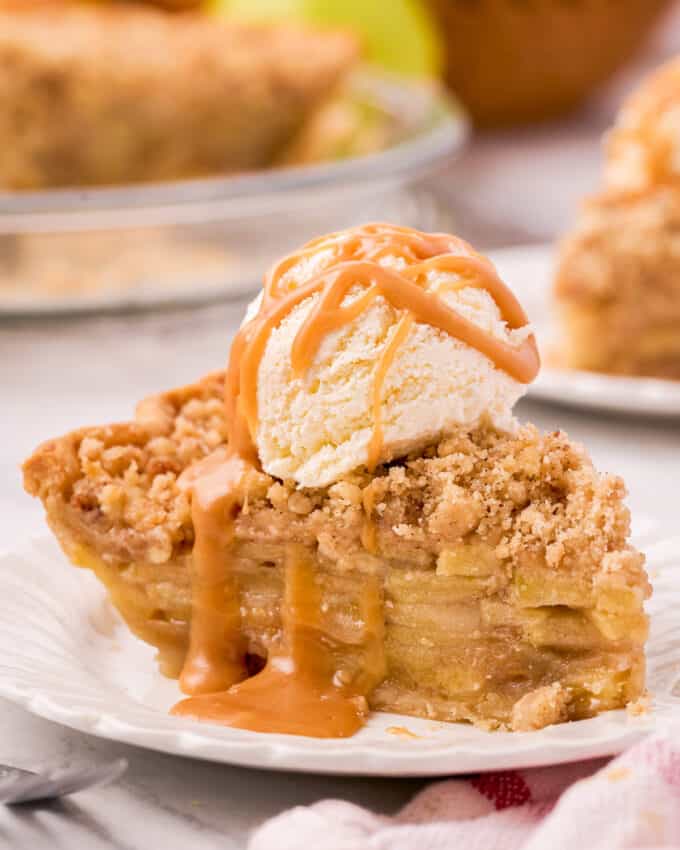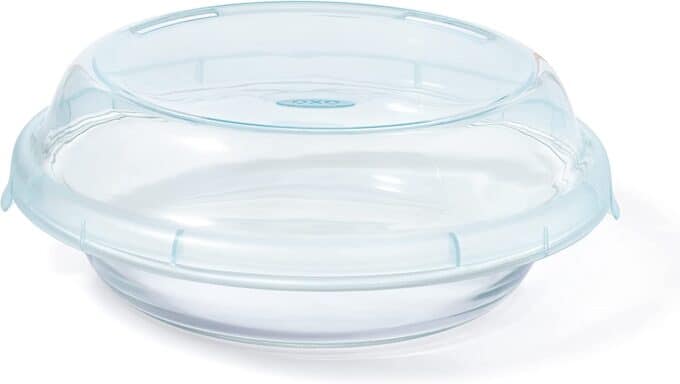 You can use any kind of pie pan/dish you'd like; glass, ceramic, metal, etc. This is one of my favorites, since not only does it bake really well, it comes with a lid for easy storage!
Did you make this? Be sure to leave a review below and tag me @the_chunky_chef on Facebook and Instagram!
This Classic Dutch Apple Pie recipe has a flaky crust, sweet and tender spiced apples, and a buttery streusel topping!
Ingredients
Crust
1 pie crust homemade (click on the words pie crust for my recipe), or store-bought
Apple Filling
4 lbs. apples peeled, cored, and sliced to 1/8 inch thick *see Chef Tip # 4
1 1/2 Tbsp fresh lemon juice from about half a lemon
1/2 cup granulated sugar
1/3 cup packed light brown sugar
1/4 cup all purpose flour
1 tsp ground cinnamon
1/2 tsp ground nutmeg
pinch of kosher salt
1/2 tsp vanilla extract
Streusel topping
1/2 cup packed light brown sugar
3/4 cup all purpose flour
1/2 tsp ground cinnamon
1/4 tsp ground nutmeg
pinch of kosher salt
6 Tbsp unsalted butter melted
1/4 tsp vanilla extract optional
Instructions
Make/prepare pie crust
If making homemade pie crust, follow directions to make, then fit to pie pan, fluting edges as desired.  If using store-bought, lightly roll out the refrigerated crust, then fit to pie pan, fluting edges as desired. Cover with foil and refrigerate until ready to use.
Cook apple filling
To a large (10-12" in diameter) pan with high sides and a lid that fits (I usually use a dutch oven).  Add apple slices and heat over MED heat.

Add lemon juice, granulated sugar, light brown sugar, flour, cinnamon, nutmeg, and salt.  Stir gently to combine, until no flour streaks remain.

Cover with a lid and cook for about 15-20 minutes, stirring every 3-4 minutes, replacing the lid after each stir.  Apples should be fork tender, but still have their shape (not mushy).  Taste one and see if you like the texture at the 15 minute mark.  If you like a softer texture, cook a bit more.  The texture of the apples is up to you.

Stir in vanilla extract, and cool apple mixture until it is cooled to room temperature.  This will take several hours at room temperature, but you can speed this process up by transferring the apple mixture to a shallow bowl/pan/container and placing in the freezer or refrigerator for 20-30 minutes.
Make streusel topping
While apple mixture is cooling, make the streusel.  Add brown sugar, flour, cinnamon, nutmeg and salt to a mixing bowl, and stir to break up large pieces of the brown sugar.  Add melted butter and vanilla, and stir into the dry ingredients.  Crumble with your fingers, cover, and refrigerate until ready to use.
Assemble pie
Preheat oven to 425°F.  Take the pie pan out of the refrigerator, as well as chilled/cooled apple mixture and streusel.

Transfer apple mixture to pie crust, then top with just enough of the crumble to cover the apples.  Return remaining crumble to the refrigerator for later.
Bake
Add pie pan to a rimmed baking sheet (this is to catch any potential filling bubbling out of the pan) and bake for 15 minutes, then reduce oven temperature to 350°F.  Don't take the pie out of the oven at this time, just change the temperature.

Bake for 15 more minutes at the 350°F temperature, then remove pie (shutting the oven door quickly, don't leave it open).

Top pie with remaining crumble, then quickly add the pie back to the oven and bake another 30 minutes.

Keep an eye on the pie during this time to make sure the crust and crumble aren't browning too much. If they are, loosely cover with foil and continue baking.

The pie is done baking when the crust and crumble are golden brown, and any visible juices are bubbling. 
Cool and serve
Remove from oven and cool on a wire rack for 3-4 hours, or until cooled to room temperature.

Slice and serve. We like to serve ours a la mode with some vanilla ice cream and a drizzle of caramel sauce!
Want to save this recipe for later? Click the heart in the bottom right corner to save to your own recipe box!
Chef Tips
Prep time does not include making a homemade pie crust, since store-bought crust can be used for this recipe.
Prep time does not include the time needed for the apple filling to cool down, since that will vary from person to person.
Recipe makes 1 pie, with 8 being the estimated amount of slices.
I like to use an equal mix of Granny smith, golden delicious, and honeycrisp.
We love to use my Homemade Pie Crust, Bourbon Vanilla Ice Cream, and either Browned Butter Salted Caramel, or Foolproof Salted Caramel Sauce to top this pie!
Nutrition Disclaimer
The Chunky Chef is not a dietician or nutritionist, and any nutritional information shared is an estimate. If calorie count and other nutritional values are important to you, we recommend running the ingredients through whichever online nutritional calculator you prefer. Calories can vary quite a bit depending on which brands were used.