These crispy Cheesy Buffalo Roasted Potatoes are the side dish you never knew you needed in your life! Spiced potatoes, tangy hot sauce, gooey cheese, crispy bacon, fresh green onions… and top it all off with a drizzle of ranch or blue cheese dressing!
This is one of my Side Dish recipes I know you'll want to keep on hand!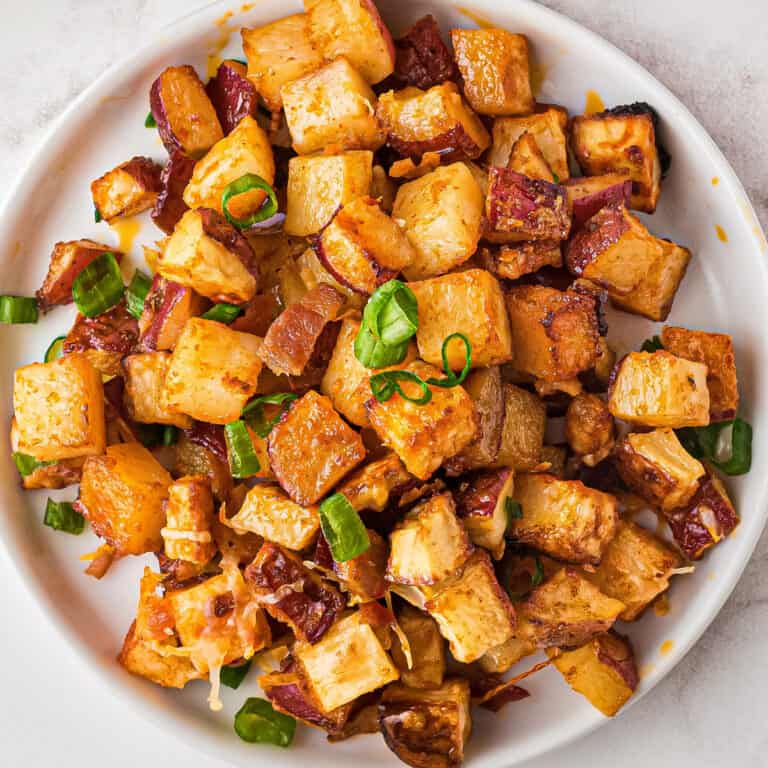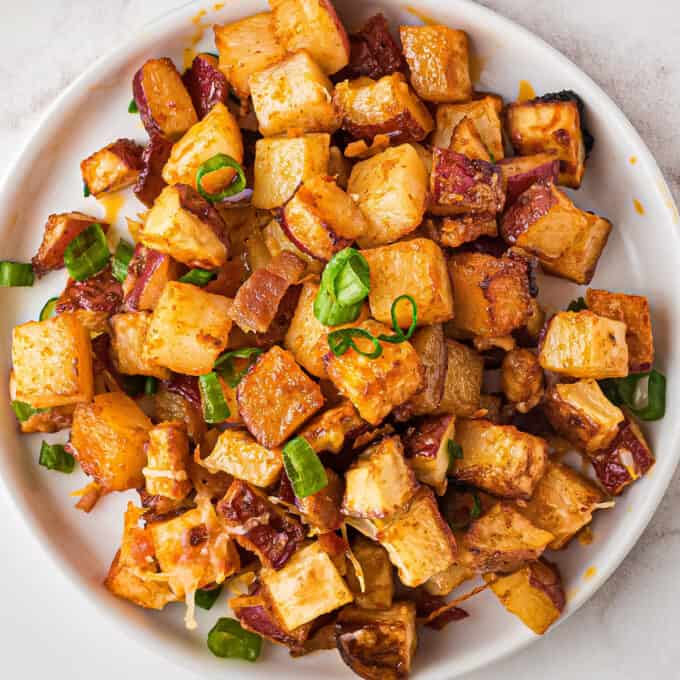 Are you a buffalo flavor fan? Hot sauce lovers unite! The tangy spiciness is kind of irresistible right?
Buffalo chicken gets a lot of the hype, and I can't deny, this buffalo chicken dip is always the first one gone at a party. But other things can easily be "buffalo-ized".
Yeah, not sure that's a word, but it should be!
These potatoes are a glorious combination of roasted potatoes, loaded baked potato flavor, and buffalo flavor. In my opinion, they're the ultimate roasted potatoes!
The taters are coated in plenty of seasonings, hot sauce, and oil (so they don't stick), then roasted until nice and crispy. Then we take it further by smothering them with cheese and bacon, and topping them with green onions and a drizzle of ranch or blue cheese to cool them down a little.
I may or may not have made a meal out of these potatoes a time or two. No shame!
But if you'd prefer to make a proper meal, feel free to add some chicken to the baking sheet.
How to make buffalo roasted potatoes?
This is just an overview; the full ingredients and directions are in the recipe card toward the bottom of this post.


Preheat oven. Add the baking sheet to the oven so it preheats as well.
Coat potatoes. Stir potatoes, oil, seasonings, and hot sauce in a large bowl.
Bake. Add potatoes to pan and bake about 30 minutes, stirring after 15 minutes.
Add cheese and bacon. Bake a few more minutes, until cheese is melted.
Garnish and serve. Sprinkle with green onions and drizzle with ranch or blue cheese dressing if desired.
Helpful Tip!
Don't skip the part about preheating the baking sheet in the oven; that's a crucial step in making great, crispy roasted potatoes. Similar to why you heat a skillet before adding meat to brown… it creates an instant sear versus waiting a while for the pan to heat up. Just make sure you use oven mitts when taking the pan out to add the potatoes!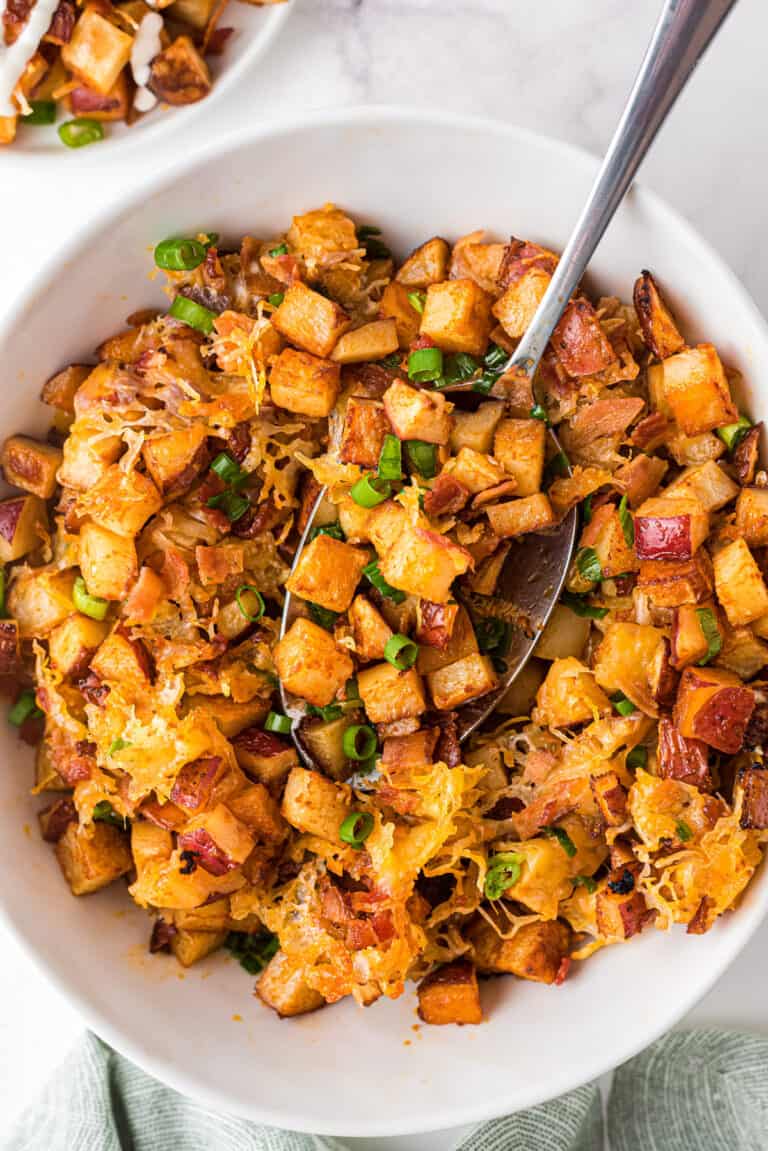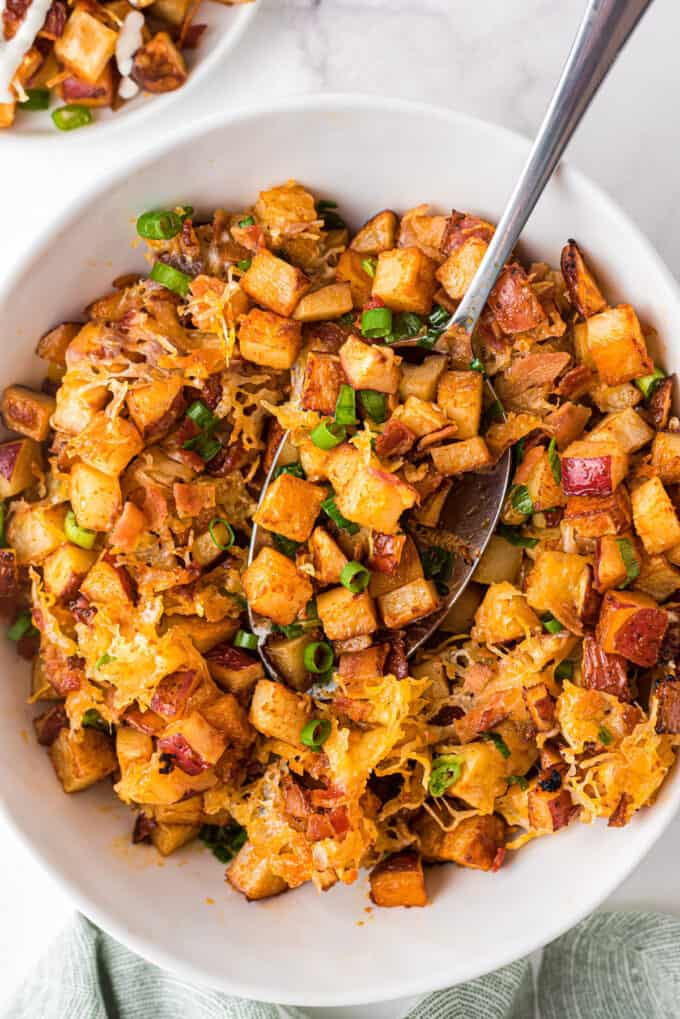 Variations of this recipe
Different potatoes – if you don't have red skinned potatoes, feel free to substitute yellow skin, yukon gold, or russets.
Different cuts of potato – if you'd like to cut your potatoes into wedges instead, feel free. Just keep in mind the timing for this recipe was based on small pieces, so you'll likely need a little more baking time.
Bacon – any types of bacon will work for this recipe, even turkey bacon if that's what you have on hand.
Vegetarian – if you don't eat meat, or are cooking for someone who doesn't, you can omit the bacon from this recipe.
Chives – green onions and chives have pretty similar flavors, so if you have chives on hand instead, go ahead and use those.
Ranch – if you're a fan of buffalo and ranch together, try adding some powdered ranch dressing mix to the potatoes with the other spices!
Chicken – to make this a sheet pan meal, try adding some chicken tenders! I like to add mine when I stir the potatoes halfway through the roasting time. Just spread the potatoes around to make a spot for the chicken. I like to season my chicken with ranch dressing mix and olive oil, but feel free to use whichever seasonings you prefer.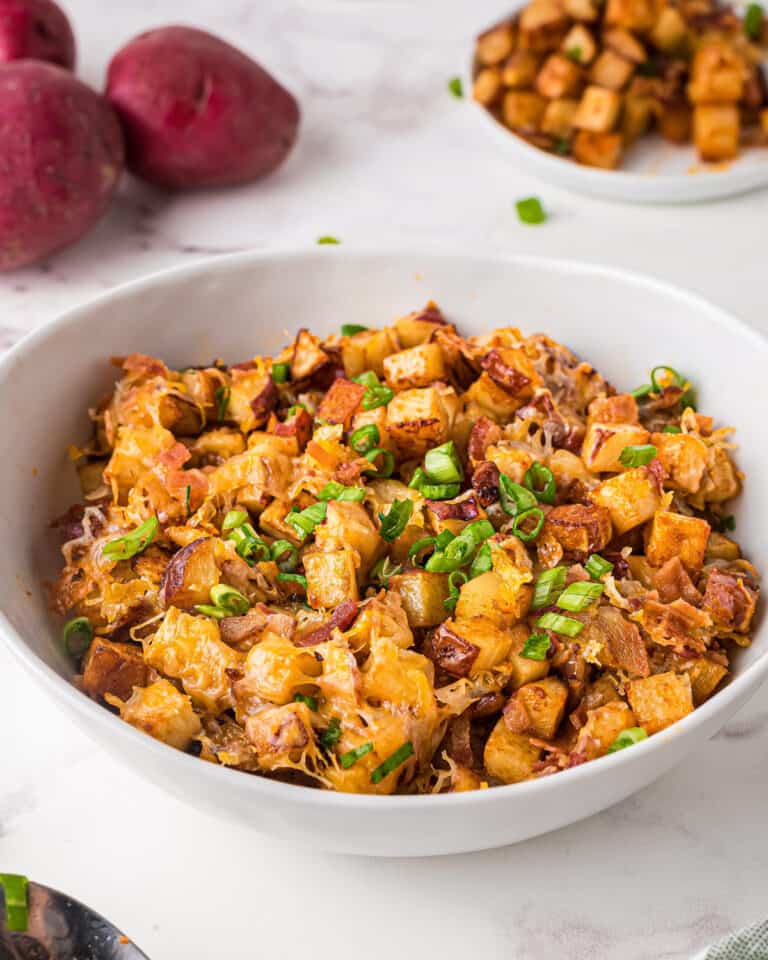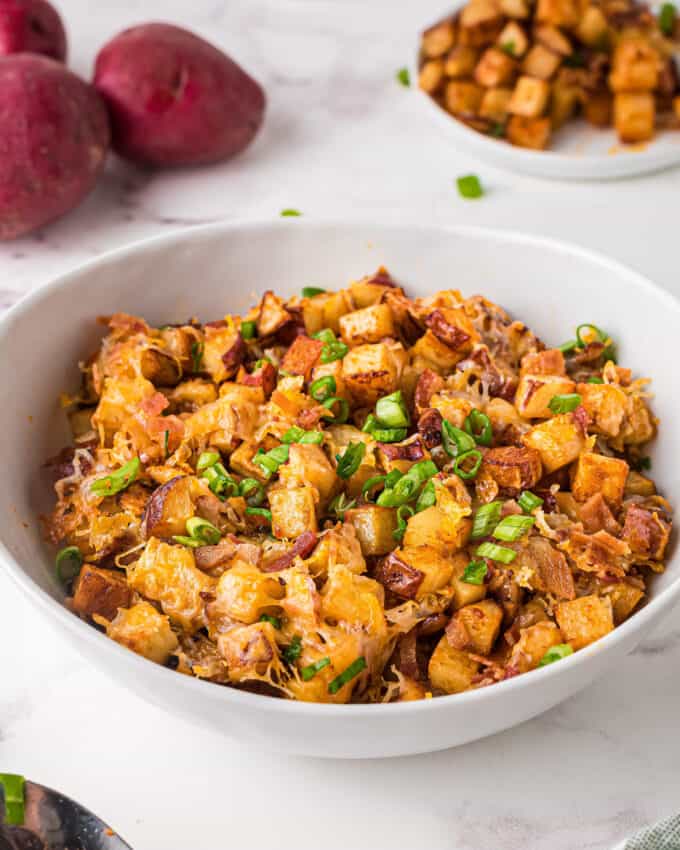 FAQ's
Why are my potatoes not crispy?
There are two tricks this recipe uses to ensure crispy potatoes. First, the high baking temperature. Secondly, preheating the oven with the baking sheet in it. I use this trick in my crispy greek roasted potatoes and it works like a charm! As long as you follow the recipe and use those tricks, you should have beautifully crispy potatoes.
Do I need to peel potatoes before roasting?
That depends on the type of potato you're using. If you're following this recipe as written, then there's no need to peel. Red skinned potatoes don't need to be peeled, however you certainly can if you'd like.
What type of hot sauce is best to use for this recipe?
That all comes down to your personal tastes, but our favorite brand is Cholula. However, any hot sauce will work great in this recipe.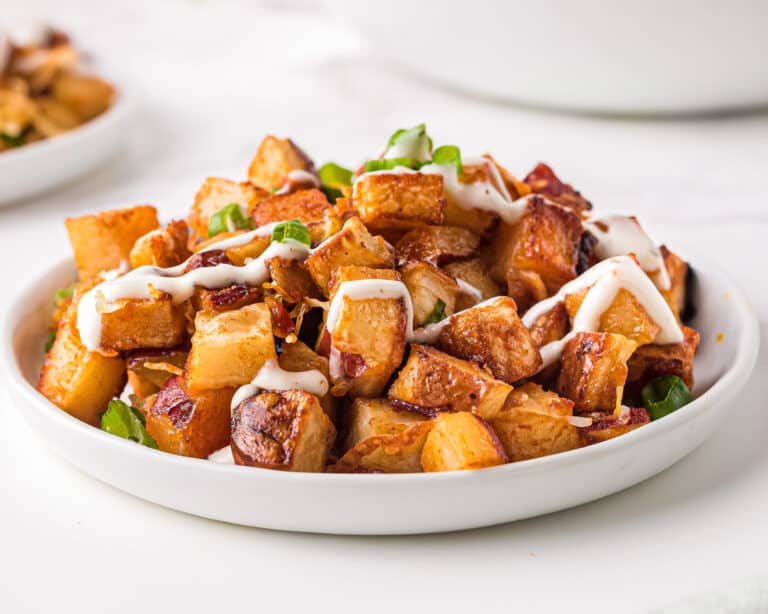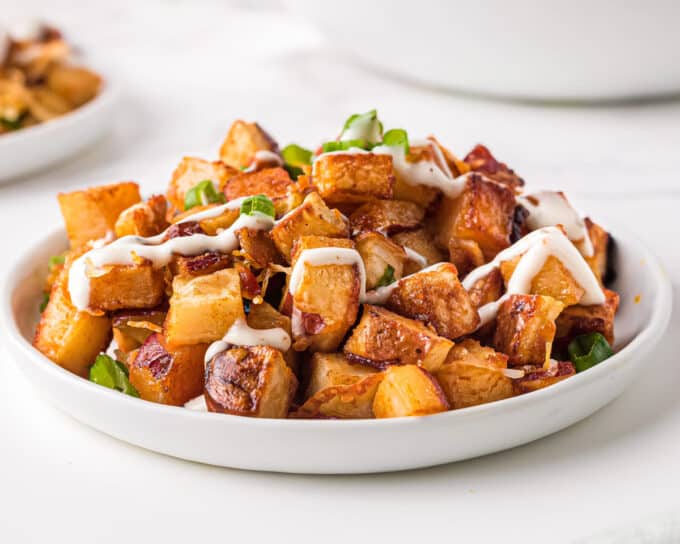 Making roasted potatoes ahead of time
I think roasted food tastes best when made fresh, so I don't advise making these roasted potatoes ahead of time.
However, there are a couple of things you can do to prep ahead! I'm a huge proponent of prepping ahead when you can.
Cook bacon. Cook the bacon, in whichever way you prefer, then let cool and crumble. Refrigerate until ready to use.
Combine spices. Add all spices to a small bowl, stir, cover and store at room temperature until ready to use.
Storage
Leftover roasted potatoes should be refrigerated in an airtight container and eaten within 3-4 days.
The best option to reheat roasted potatoes is to add them to a baking sheet, cover with foil and bake at 400°F for 10-15 minutes.
Remove the foil and bake another 5 minutes or so to crisp them up.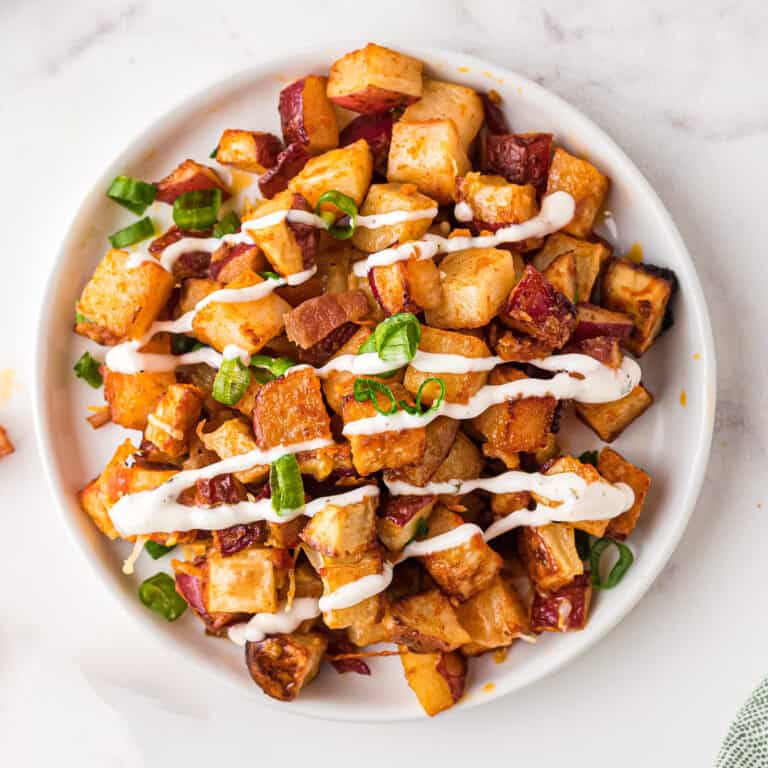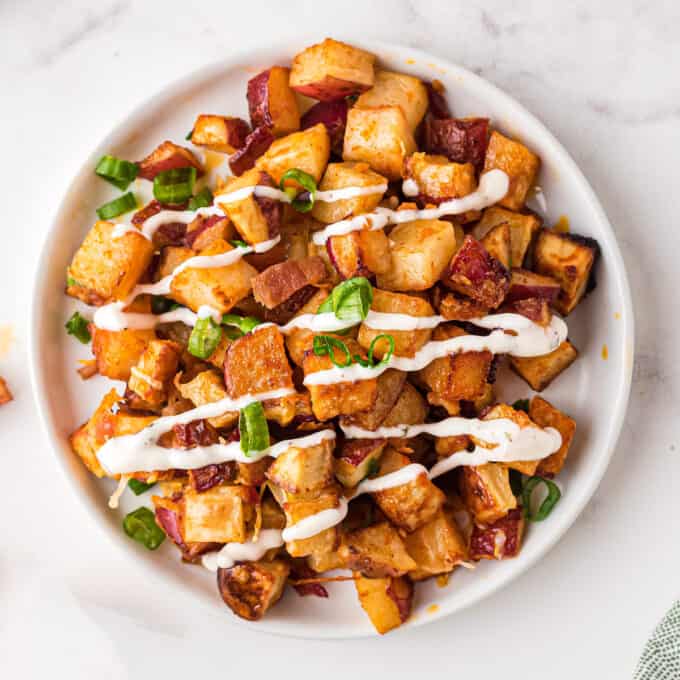 Did you make this? Be sure to leave a review below and tag me @the_chunky_chef on Facebook and Instagram!
These crispy Cheesy Buffalo Roasted Potatoes are the side dish you never knew you needed in your life! Spiced potatoes, tangy hot sauce, gooey cheese, crispy bacon, fresh green onions… and top it all off with a drizzle of ranch or blue cheese dressing!
Ingredients
2 lbs (about 7 medium to large potatoes) red skin potatoes scrubbed clean and cut into 1/2" cubes
1/4 cup olive oil vegetable, peanut, avocado, canola, etc can be substituted
2 tsp garlic powder
1 tsp kosher salt
1/2 – 1 tsp black pepper
1 tsp paprika
1/2 tsp onion powder
1/3 cup hot sauce your favorite brand – we like Cholula
1 1/2 cups shredded Mexican-blend cheese cheddar can be substituted
5 – 7 slices cooked and crumbled bacon
1/2 cup sliced green onions
ranch or blue cheese dressing for drizzling, if desired
Instructions
Place a large, rimmed baking sheet in the oven. Preheat oven, with the baking sheet in it, to 450°F.

Add chopped potatoes to a large bowl and drizzle with olive oil.  Stir to coat.

Add in garlic powder, salt, pepper, paprika, onion powder and hot sauce.  Stir to coat again.

Once oven and pan are preheated, remove pan (be careful, it'll be hot), and spray with cooking spray or add a drizzle of olive oil. Add potatoes to the pan, and bake about 30 minutes, stirring halfway through.

Add cheese and sprinkle with cooked bacon.  Return to the hot oven for about 3-5 minutes, until cheese is melted.

Serve hot, sprinkled with green onions and drizzled with ranch or blue cheese dressing if desired.
Want to save this recipe for later? Click the heart in the bottom right corner to save to your own recipe box!
Chef Tips
For even more bacon flavor, cook bacon in a skillet, removing it to a paper towel lined plate to drain and cool.  Reserve bacon grease and use that instead of the olive oil.  If you don't have enough bacon grease, use what you have, and then use enough olive oil so you end up with 1/4 cup total of oil/grease.
Garnish with some blue cheese crumbles if you like blue cheese flavor.
Feel free to add some powdered ranch dressing mix to the seasonings that coat the potatoes (if you like a ranch/buffalo flavor combo).
Any nutritional information shared is an estimate, and is automatically calculated through a program. If calorie count is important to you, we recommend running the ingredients through whichever online nutritional calculator you prefer. Calories can vary quite a bit depending on which brands were used.
The Chunky Chef is not a nutritionist and doesn't provide full nutritional information for recipes as there is a potential for error and we wouldn't want to potentially and/or unknowingly pass along incorrect information.