These bloody cupcakes are a delicious way to celebrate Halloween. Moist vanilla cupcakes, smooth vanilla buttercream, and the homemade fake blood really sets the spooky mood!
This is one of my Halloween recipes I know you'll want to keep on hand!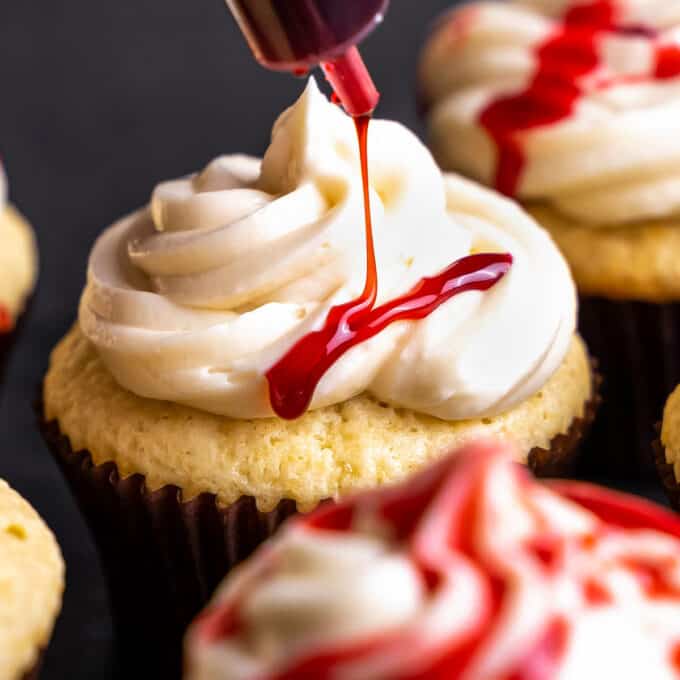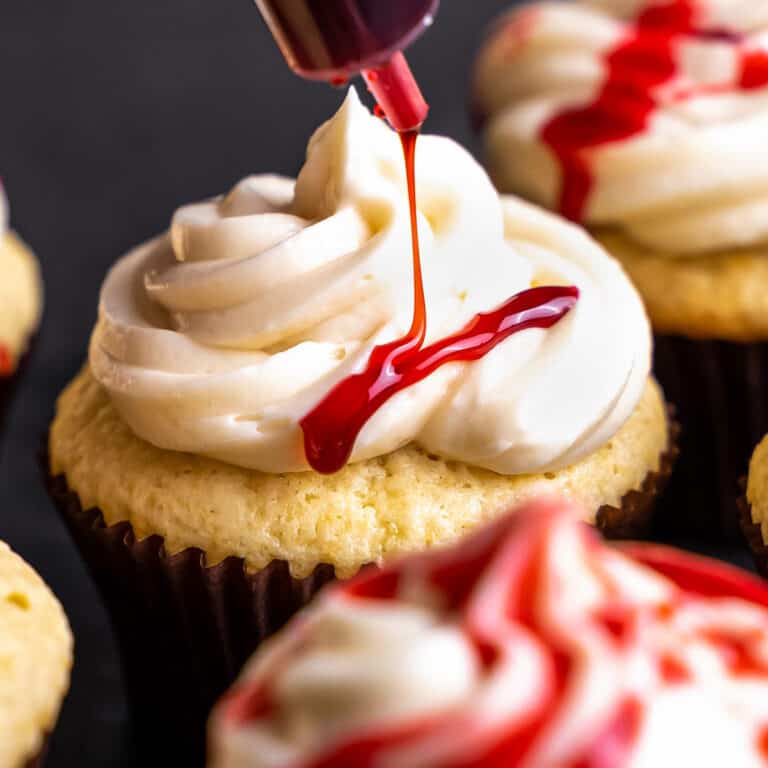 With Halloween just a little over a month away, I'm getting in the spooky mood!
These vanilla cupcakes are soft and fluffy, topped with a silky buttercream, and drizzled with a sweet red gel. The gel looks just like drizzles of blood, which is perfect for all things Halloween!
So whether you're having a party, or just want to make something fun for your family, these bloody cupcakes really fit the bill!
How to make vanilla cupcakes with edible blood?
This is just an overview; the full ingredients and directions are in the recipe card toward the bottom of this post.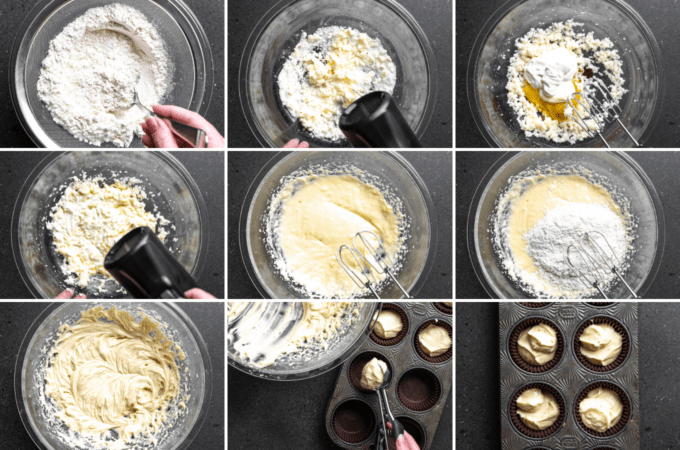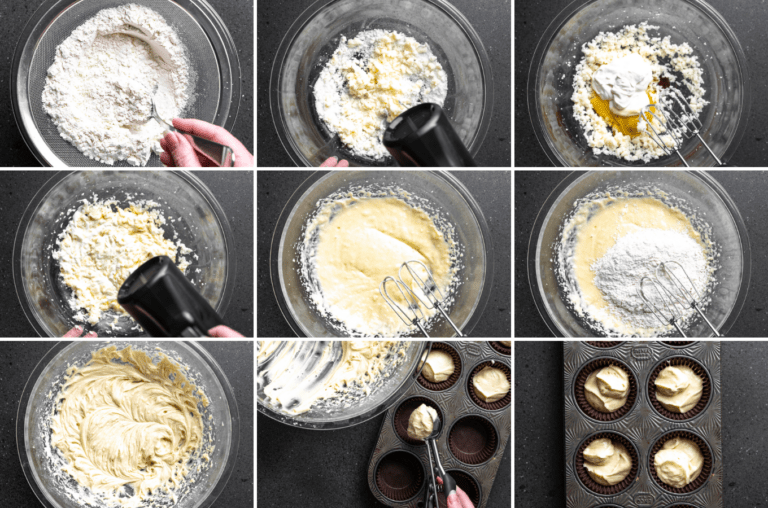 Measure dry ingredients. I like to whisk them together or use a fork to combine.
Cream butter and sugar. A mixer is important here, but either a stand mixer or hand mixer will work just fine.
Beat in wet ingredients. Add the eggs, vanilla and sour cream.
Beat in dry ingredients. Be careful to beat until JUST combined and no flour streaks remain.
Scoop in pan. A "cookie" scoop is really helpful for this.
Bake. Just until a tooth pick inserted in the center comes out clean or with a few moist crumbs.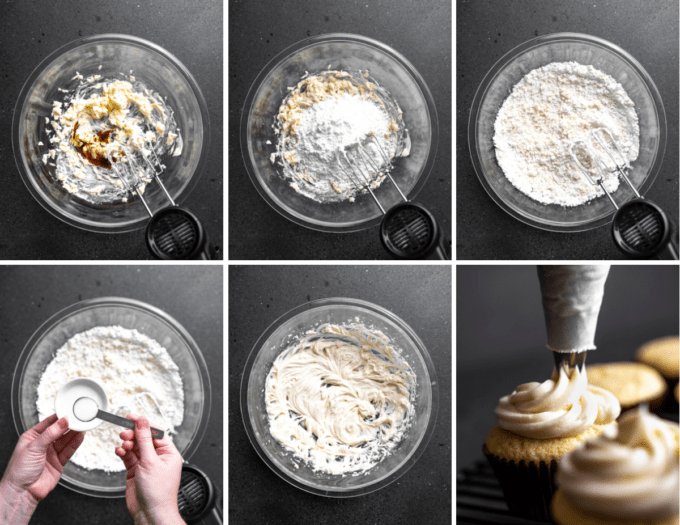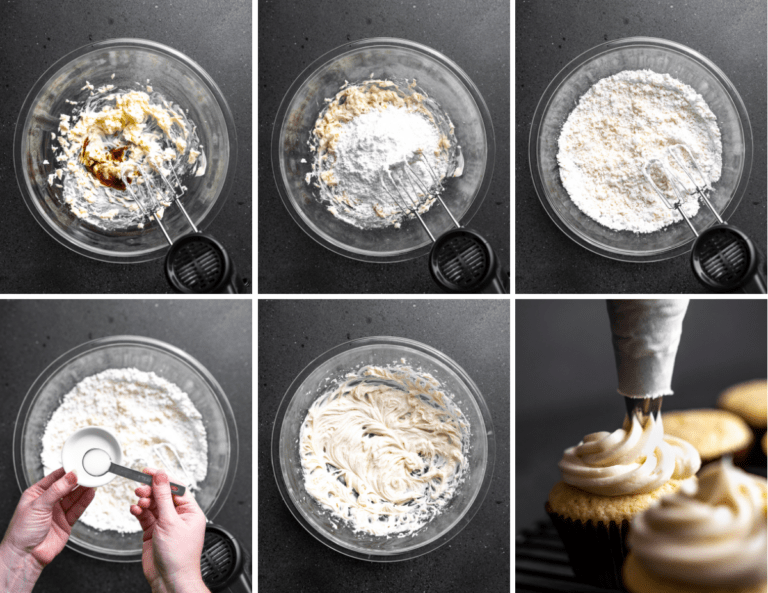 Cream butter. Again, a mixer is important here.
Beat in vanilla and salt.
Beat in powdered sugar. Beat on a lower speed so the powdered sugar doesn't fly everywhere.
Add milk. Beat in the cream until a frosting consistency is reached.
Pipe onto cupcakes.
Decorate with "blood".
Helpful Tip!
For the most perfect cupcakes, have all the cold ingredients at room temperature before you start mixing. Room temp ingredients will always mix together better and more fully, than cold ones will.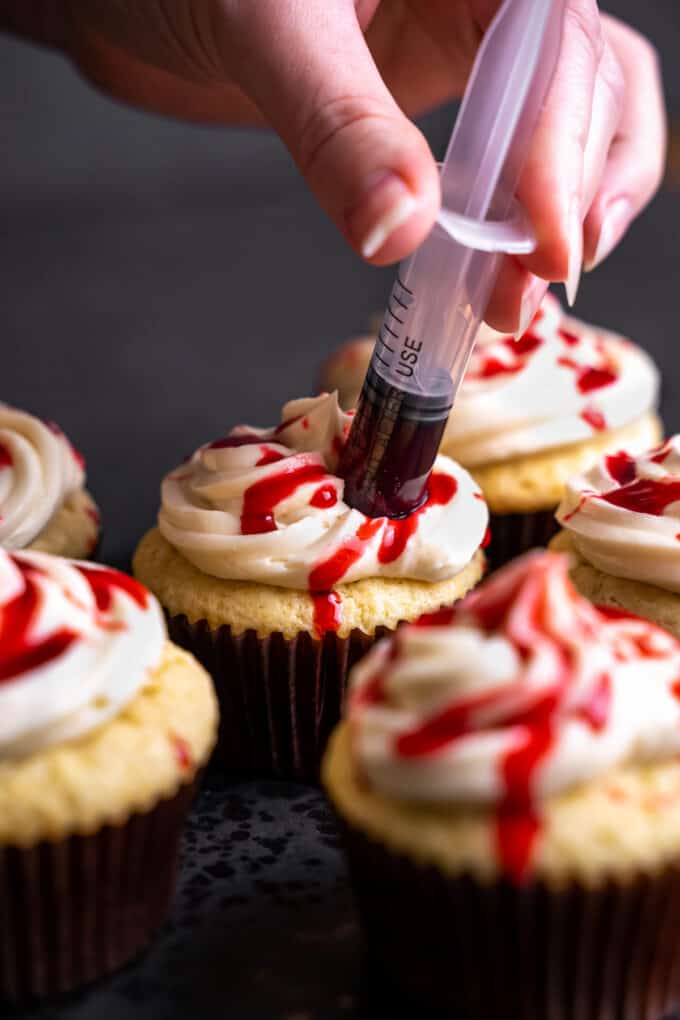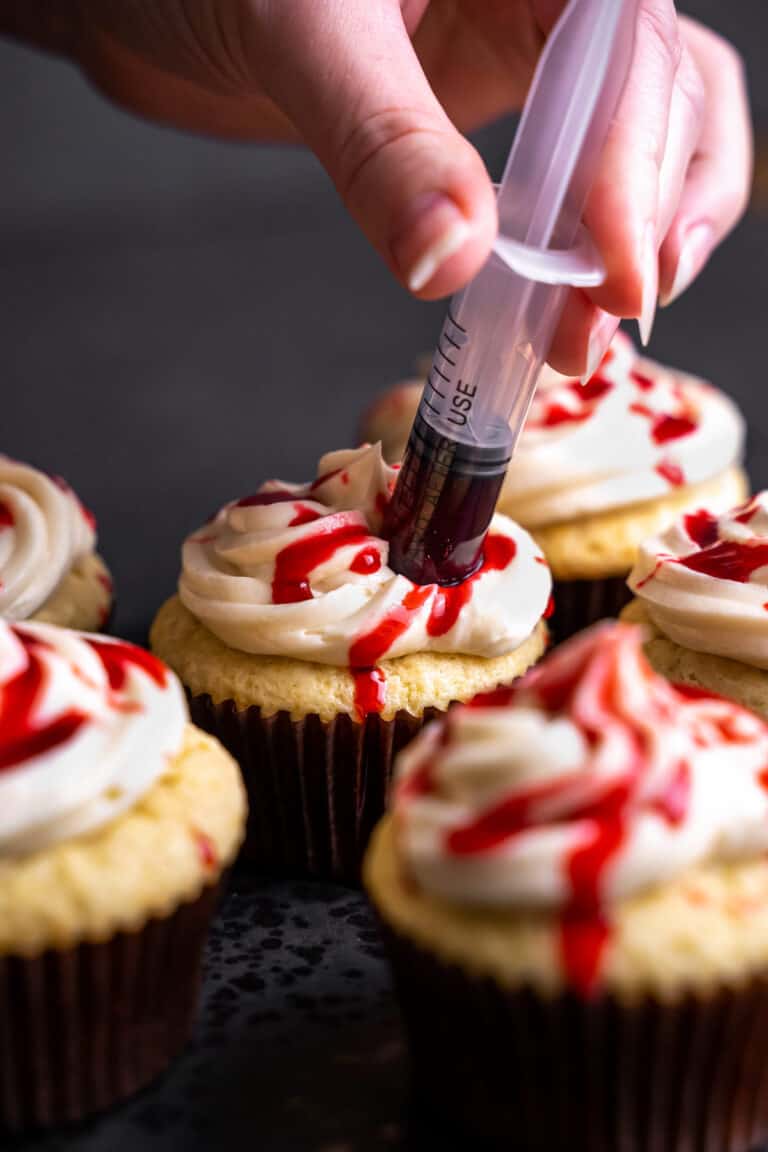 Variations of this recipe
Greek yogurt – you can substitute full-fat plain Greek yogurt in place of the sour cream if you'd like.
Vanilla bean – instead of the vanilla extract, for a more robust vanilla flavor, feel free to use vanilla bean paste.
Flavored "blood" – to add some flavor to the decorative "blood", add up to 1/2 tsp of your favorite flavor extract, like strawberry, cherry, etc.
Non-filled – if you don't like filled cupcakes, you don't have to fill them, you can just drizzle the "blood" on top.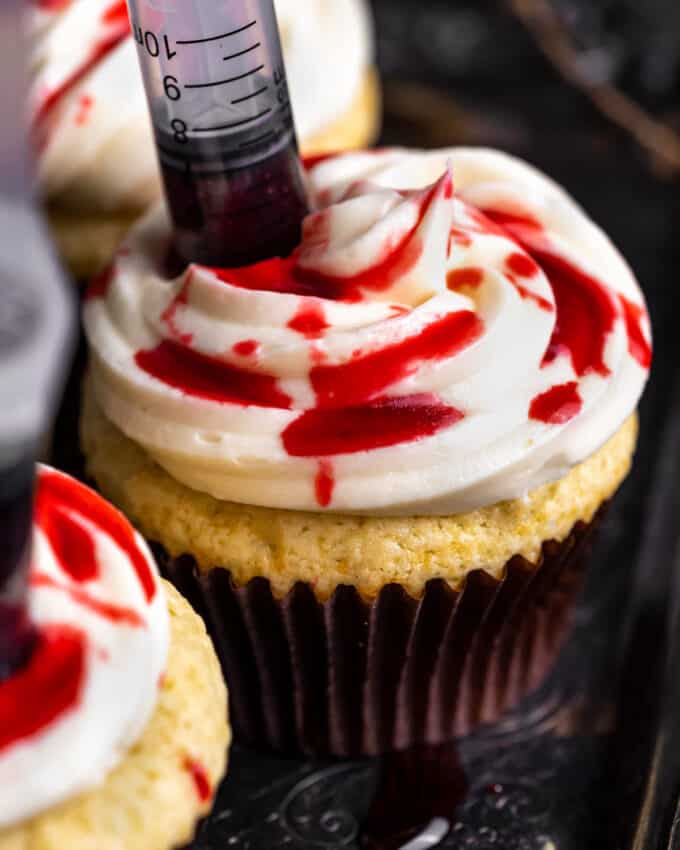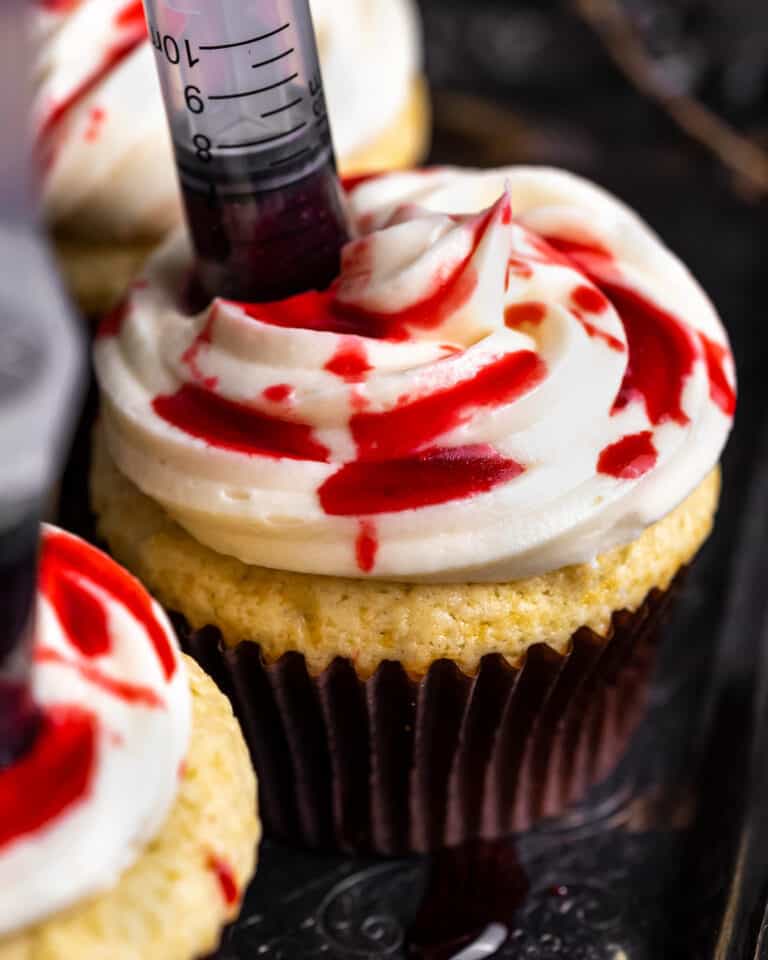 FAQ's
Can you freeze baked cupcakes?
Yes, for up to 3 months. See the section below titled "Freezing" for all the directions.
Can this batter be baked into cakes instead?
You can bake the batter in traditional round cake pans – bake times will vary depending on size, but in general, two 8" rounds will bake for about 30 minutes or a sheet cake (9×13) will bake for about 35 minutes.
Can I use red decorating gel for the "blood"?
Yes, if you'd rather not make your own "blood", you can use a tube of pre-made gel. I definitely prefer the flavor of making my own, but ultimately, these are your cupcakes.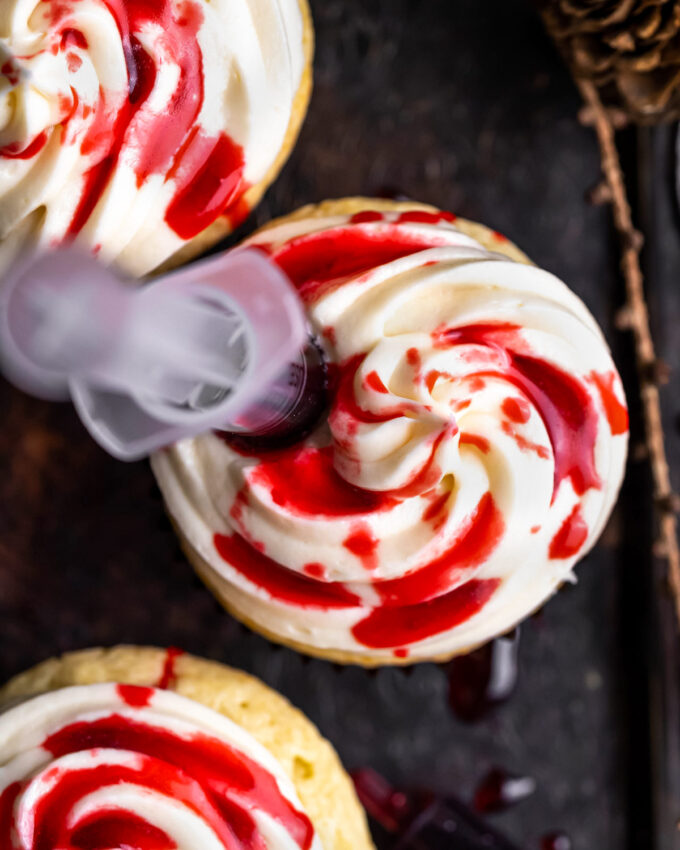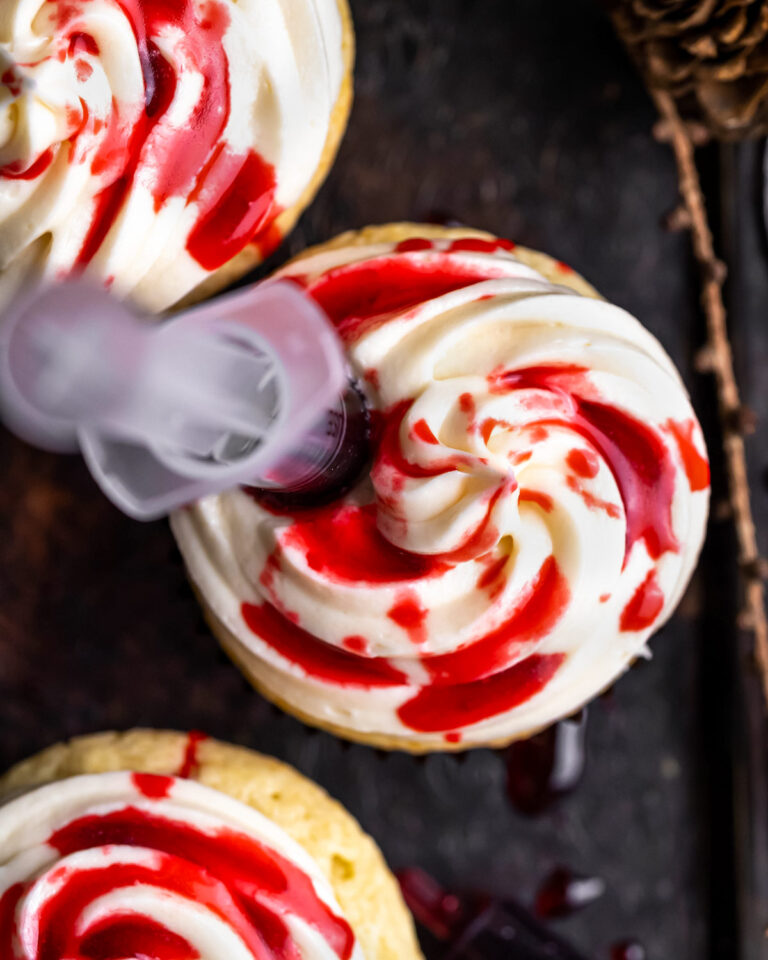 Making bloody cupcakes ahead of time
Cupcakes are great to make ahead of time, because when stored properly, they can last a couple of days before frosting.
I don't usually like to make mine more than a day ahead of time, just because I want the ultimate fluffy and moist texture.
Storage
Leftover, frosted cupcakes can be stored at room temperature for up to 3 days, in an airtight container.
Unfrosted cupcakes can be stored at room temperature for up to 3 days, in an airtight container.
Edible blood should be stored in an airtight container in the refrigerator and will stay good for up to 1 month.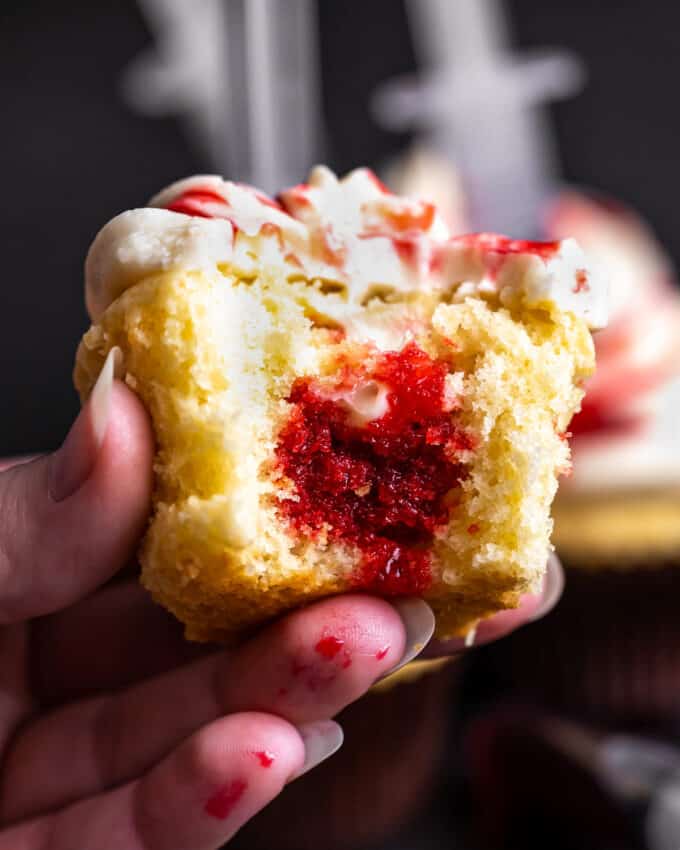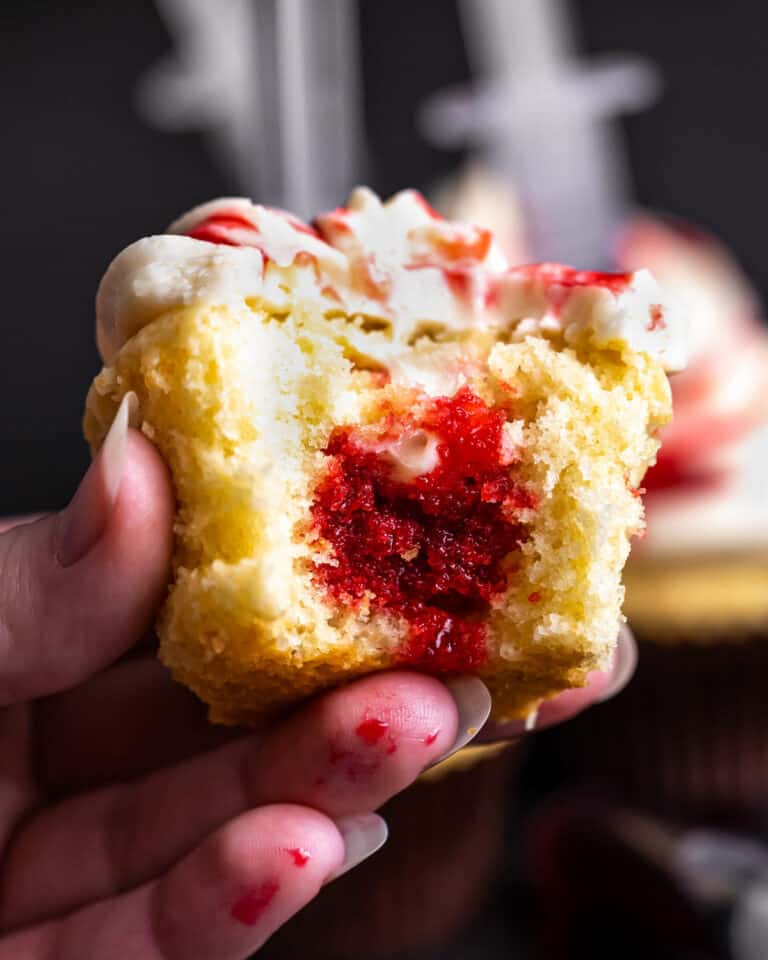 Freezing
Unfrosted cupcakes can also be frozen for up to 3 months.
To freeze unfrosted cupcakes, add cupcakes to a baking sheet and place the whole thing in the freezer for about 2 hours, or until hard.
Wrap frozen cupcakes individually in plastic wrap, then transfer to an airtight freezer-safe container, label it with the date, then freeze.
Thaw overnight in the refrigerator before frosting.
Tips for perfect cupcakes!
Room temperature ingredients. As I mentioned earlier in the post, the ingredients will all mix together better if they're room temperature.
Be careful with how much you're mixing. Over mixing can leave you with a tough, overly dense cupcake. Just mix the dry ingredients into the batter until no flour streaks remain as you stir.
Pay attention to how much you're filling the cupcake liners. Follow what the recipe suggests for how full to make them. Fill them too much and they can overflow, too little and they won't even reach the tops of the liners.
For optimal results, bake one pan at a time. I know it's a hassle, and most of the time, I'm guilty of cramming two pans in there side by side (but then rotating and switching sides halfway through baking). But when you're starting out, or want perfect cupcakes, bake one pan, and put the pan right in the middle of the center rack.
Let them cool. Don't try to frost a cupcake that's still warm, it'll end up a big ol' mess. Let the cupcakes cool, then pile up that frosting as high as you'd like!
Follow the recipe. This may seem like a no-brainer, but there's a reason the recipe is written the way it is; because it works that way. With cooking you may be able to swap out ingredients, guess on the measurements, etc, but with baking you really don't want to do that. Only use any substitutions specifically mentioned, and follow everything to the letter.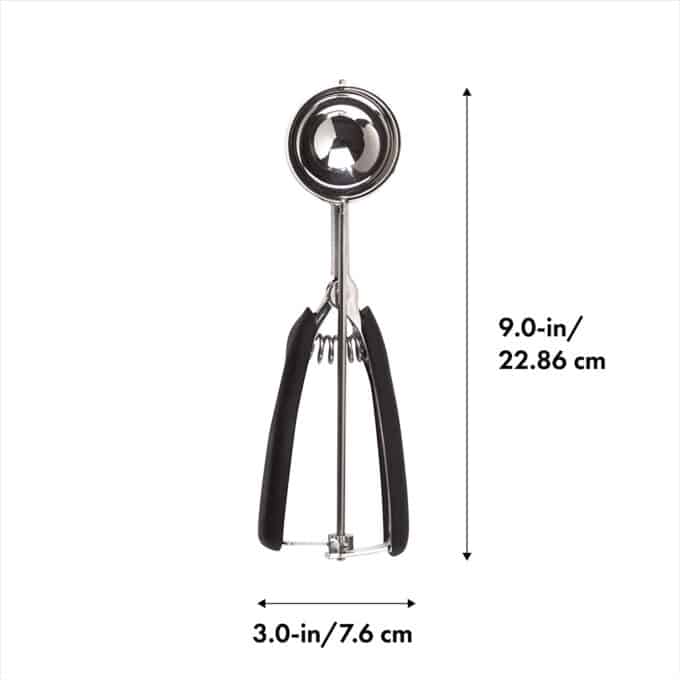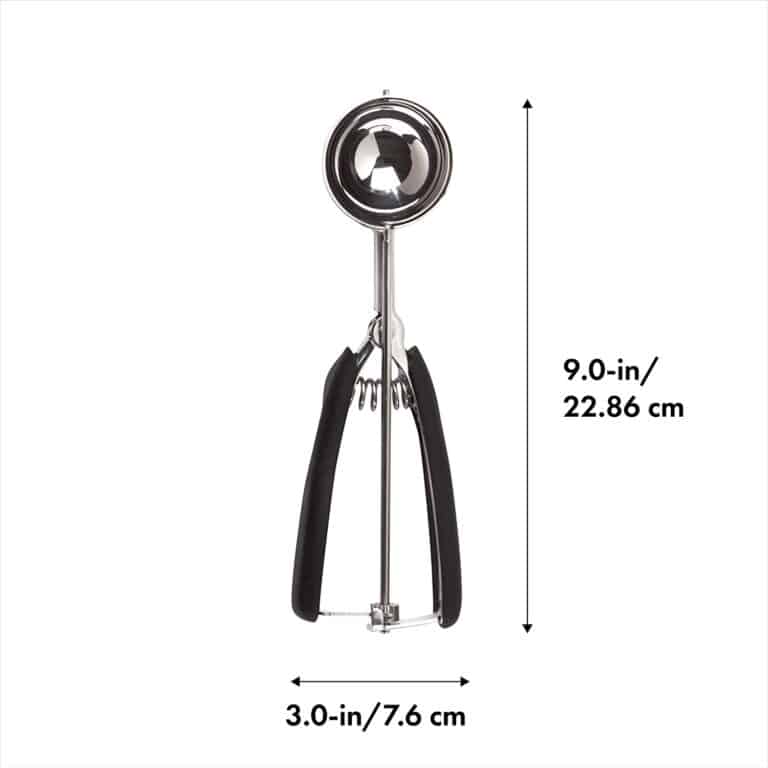 Cookie scoops are perfect for scooping the perfect amount of batter every time. This size is perfect for muffins/cupcakes!
Did you make this? Be sure to leave a review below and tag me @the_chunky_chef on Facebook and Instagram!
Moist vanilla cupcakes, smooth vanilla buttercream, and the homemade fake blood really sets the spooky mood!
Ingredients
Cupcakes
1 1/2 cups all purpose flour
3 Tbsp cornstarch
1 1/2 tsp baking powder
1/4 tsp baking soda
1/4 tsp kosher salt
1/2 cup unsalted butter softened to room temperature
1 cup granulated sugar
2 large eggs
2 tsp vanilla extract
3/4 cup full fat sour cream
Vanilla frosting
1 cup unsalted butter softened to room temperature
2 tsp vanilla extract
1/4 tsp kosher salt
4 cups powdered sugar
5-6 Tbsp heavy whipping cream adding more if needed to achieve desired consistency
Edible "blood"
2 Tbsp cold water
2 Tbsp cornstarch
1 cup light corn syrup
1/2 Tbsp red gel food coloring
1 drop blue gel food coloring optional – to get a darker "blood red" color
16 (10 ml each) plastic syringes found on amazon
Instructions
Make the cupcakes
Preheat oven to 350°F. Line 2 muffin tins with 16 paper liners.

Add flour, cornstarch, baking powder, baking soda and salt in a medium mixing bowl and whisk to combine well. Set aside.

Add butter and sugar to a large mixing bowl (or the bowl of a stand mixer fitted with the paddle attachment), and beat on medium speed until creamed together and light in color. This usually takes 2-3 minutes.

Beat in eggs, vanilla and sour cream, until smooth.

Add dry ingredients and beat until just combined and no flour streaks remain.

Scoop batter into prepared muffins tins, filling the paper liners about 2/3 of the way full.

Bake 17-20 minutes, or until a toothpick inserted in the center of a cupcakes comes out clean or with a few moist crumbs.

Let cool in the pan for 3-5 minutes, then transfer cupcakes to a wire cooling rack to cool completely.
Make the edible "blood"
In a small bowl, add cold water and cornstarch and whisk until smooth and combined.

Add corn syrup and food coloring to a small saucepan, then stir in the cornstarch and water mixture. Heat over medium heat, whisking or stirring until well combined.

Bring mixture to a simmer, then cook for 1 minute, whisking constantly.

Remove from the heat and let cool to room temperature.

Using latex or nitrile gloves (the blood can stain hands, surfaces, clothes etc, due to the food dye) fill plastic syringes and set aside on a paper towel lined paper plate.
Make the frosting
In a large mixing bowl (or the bowl of a stand mixer fitted with the paddle attachment), add butter and beat on medium speed until butter is lighter in color, just a minute or two.

Beat in vanilla extract and salt, then the powdered sugar. Use a slightly lower speed at first when adding the powdered sugar, so it doesn't get everywhere. Once it's combined, increase speed back to medium.

Beat in heavy cream, starting with 5 Tbsp, until well combined. If frosting is too thick, add more cream.
Put them all together
Transfer frosting to a piping bag fitted with a decorating tip (whichever one you want), and pipe onto cooled cupcakes.

Get a syringe with edible blood and drizzle a bit of the blood onto a cupcake. Then insert the syringe into the cupcake, squirting a little inside so it's semi-filled. Repeat with remaining cupcakes and syringes.

Leftover "blood" should be refrigerated and will last up to 1 month.
Want to save this recipe for later? Click the heart in the bottom right corner to save to your own recipe box!
Nutrition Disclaimer
The Chunky Chef is not a dietician or nutritionist, and any nutritional information shared is an estimate. If calorie count and other nutritional values are important to you, we recommend running the ingredients through whichever online nutritional calculator you prefer. Calories can vary quite a bit depending on which brands were used.