---
These blue cheese burgers are brushed with a homemade whiskey glazed, topped with Irish cheese, and smothered in Guinness caramelized onions!
---
Not your average burger!!  Angus beef patties are stuffed with crumbled blue cheese, then basted with a lip smacking whiskey glaze.  Topped off with a melted slice of a classic Irish cheese, a bit more of the glaze, and a generous helping of Guinness caramelized onions… these blue cheese burgers will knock your socks off!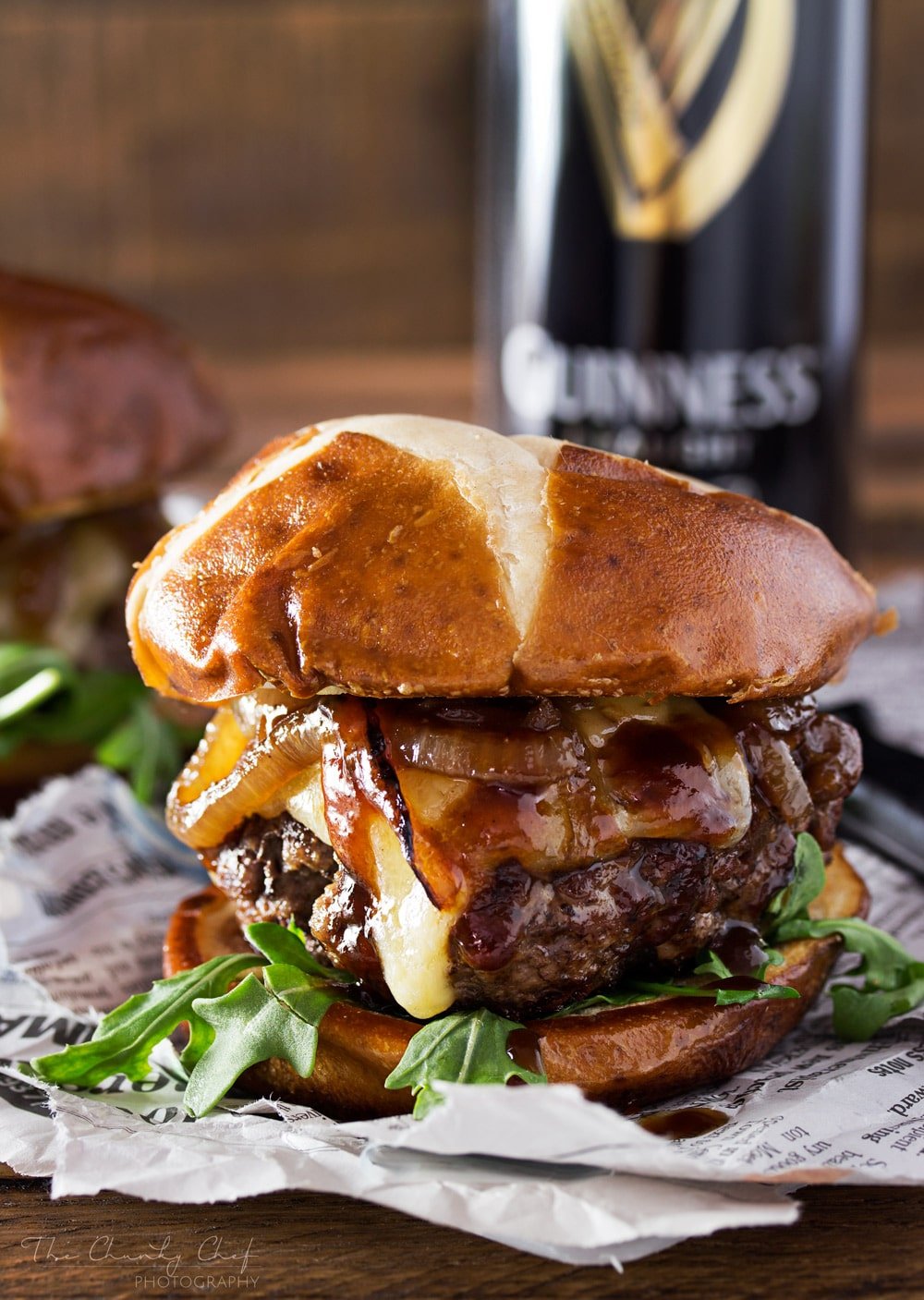 It's no secret that I like my adult beverages, I mean, even put beer in my cupcakes and bourbon in my breakfast!  Craziness I tell you!  So it shouldn't come as any surprise than this burger has 2 kinds of alcohol in it lol.
This blue cheese burger is sort of my nod to a great Irish recipe for St. Patrick's Day.  It's not 100% authentic, but I tried to include some great Irish-y (so technical, I know) flavors 🙂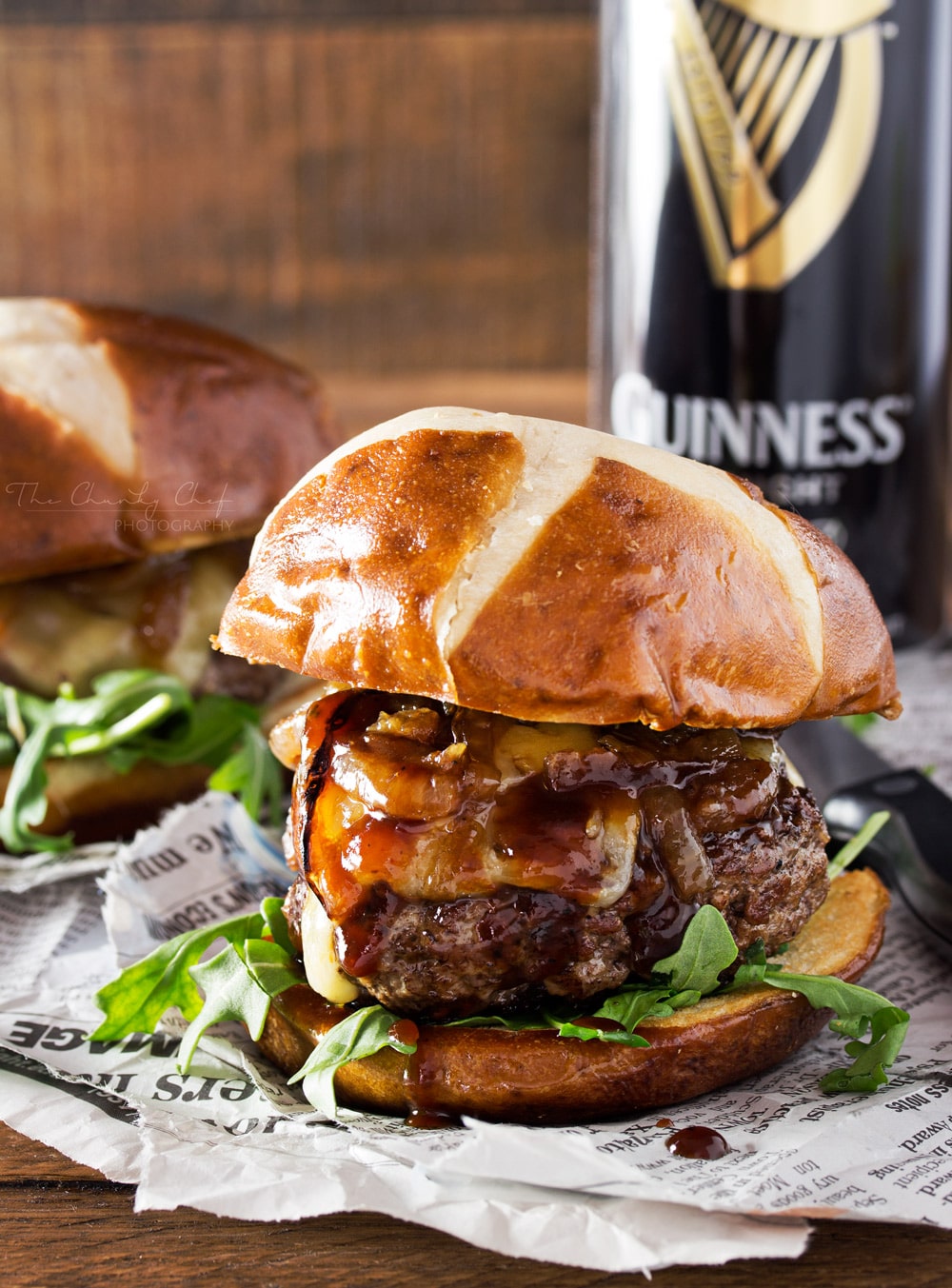 Speaking of St. Patrick's Day, do you guys celebrate?
These burgers may look complicated, as there are a few steps to making them, but they're really not hard at all, and you can even make the glaze, onions, and even the burgers, ahead of time!
For this burger, for example, I made the onions and sauce early in the morning, then kept them refrigerated until I needed them.  I even made up the burgers, though still un-cooked, and kept them refrigerated as well.  So my actually cooking time was pretty short.  That's definitely the way to do it folks… do as much ahead of time as you can, and you'll thank yourself later 🙂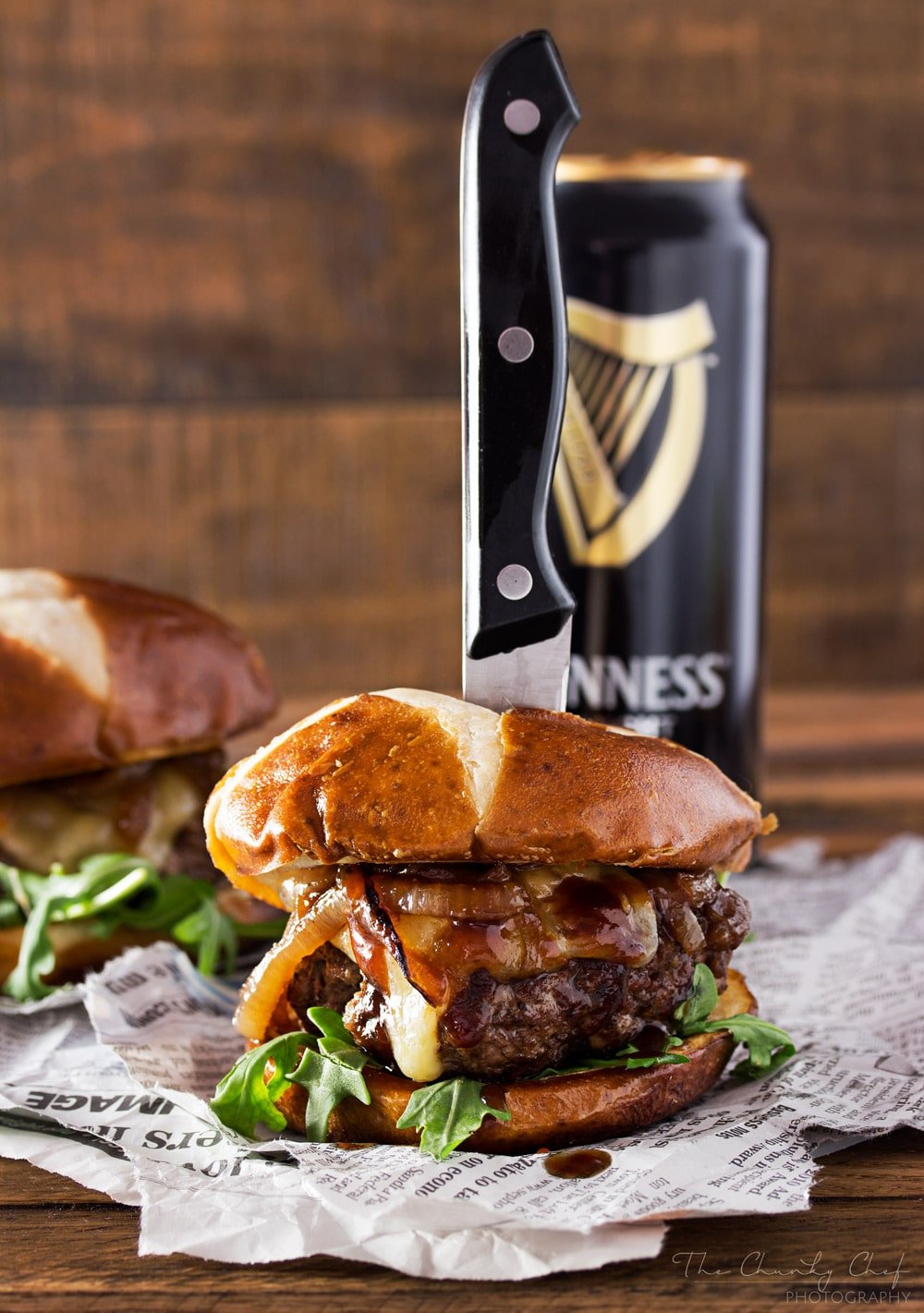 I chose a pretzel roll because they looked awesome at the grocery store, but just about any nice quality burger bun will do.
Quick note about the cheese you see there, oozing down the side of the burger… I used Dubliner cheese, which is an Irish cheese, made by Kerrygold.  I had never eaten it before, and it's a bit of an acquired taste.
It's hard to describe, but I'll give it a shot… it's like a blend of sharp white cheddar and nutty Parmigiana, but it's also a little sweet.  It's the sweetness that throws me, but you might like it!  Alternatively, a nice slice of white cheddar, Gruyere or even a sharp regular cheddar would work just as well.  We've even had these with no cheese on top and they were just as delicious!
So this St. Patrick's Day, or really, ANY day, treat yourself to a burger that is so chock full of flavors, it would be completely at home at an Irish pub!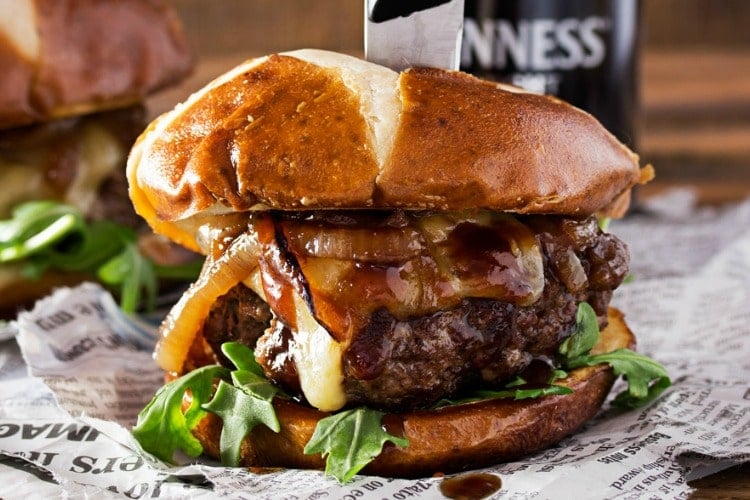 Did you make this? Be sure to leave a review below and tag me @the_chunky_chef on Facebook and Instagram!
These blue cheese burgers are brushed with a homemade whiskey glazed, topped with Irish cheese, and smothered in Guinness caramelized onions!
Ingredients
BURGERS:
2 lbs angus ground beef or ground brisket works really well too
3/4 tsp dried minced onion
Salt and pepper to taste
Tbsp Crumbled blue cheese about 4 worth
4 pretzel buns toasted
Handful of arugula lettuce
Slices of Dubliner cheese (or white cheddar Gruyere or sharp cheddar)
WHISKEY GLAZE:
1/4 cup Jameson whiskey or any good quality whiskey
1/4 cup ketchup
2 Tbsp low sodium soy sauce
2 Tbsp honey
1 tsp dijon mustard or 1/2 tsp mustard powder
1 tsp Worcestershire sauce
1/4 tsp garlic powder
dash of hot sauce
black pepper to taste
GUINNESS CARAMELIZED ONIONS:
2 yellow onions peeled and sliced thinly
1 1/2 Tbsp butter
1 cup Guinness beer
1/4 tsp dried thyme
salt and pepper to taste
Instructions
MAKE THE ONIONS:

Heat butter in a large skillet over MED heat. Add sliced onions and stir to coat in melted butter. Sprinkle in salt, pepper, and thyme and stir to combine. Saute, stirring occasionally, for about 7-10 minutes, until onions are soft and golden brown at the edges.

Pour in half the Guinness, cover, and cook until liquid is about 3/4 of the way evaporated. Repeat with remaining Guinness. This time, cook until liquid is nearly all evaporated. Remove onions from pan and set aside.


MAKE THE GLAZE:

To a small saucepan, add whiskey and bring to a low boil. Continue to boil for about 2 minutes, then add remaining glaze ingredients and whisk to combine.

Reduce heat to LOW and simmer for 5-7 minutes, until glaze is slightly thickened.

Remove from heat and set aside.


MAKE THE BURGERS:

To a large mixing bowl, add ground beef, salt, pepper, and dried minced onion. Use your hands to mix it all together. Separate the meat mixture into 4 equal portions.

Shape meat into flattened balls, place about 1 Tbsp blue cheese crumbles in the center of the ball and push into the ball. Mold the meat around the cheese and form into a patty.

Heat a large cast iron skillet or grill pan over MED heat. Drizzle a bit of olive oil in the pan. Cook burgers about 6 minutes per side, or until desired doneness. The last minute of cooking, brush burgers with prepared whiskey glaze and place a slice of cheese on the burgers, then cover pan loosely with foil.

Remove burgers to a plate and cover with foil for 3 minutes.


TO SERVE:

Line bottom bun with arugula lettuce, then top with burger. Place a generous helping of caramelized onions on top of the burger, then drizzle with additional glaze. Top with top bun and enjoy!
Want to save this recipe for later? Click the heart in the bottom right corner to save to your own recipe box!
Nutrition Disclaimer
The Chunky Chef is not a dietician or nutritionist, and any nutritional information shared is an estimate. If calorie count and other nutritional values are important to you, we recommend running the ingredients through whichever online nutritional calculator you prefer. Calories can vary quite a bit depending on which brands were used.