Not your average cheeseburger, this burger is stuffed with caramelized onions and plenty of buttery sharp cheddar cheese! This stuffed burger is commonly called a Juicy Lucy, and my version also has crispy bacon and smoky barbecue sauce!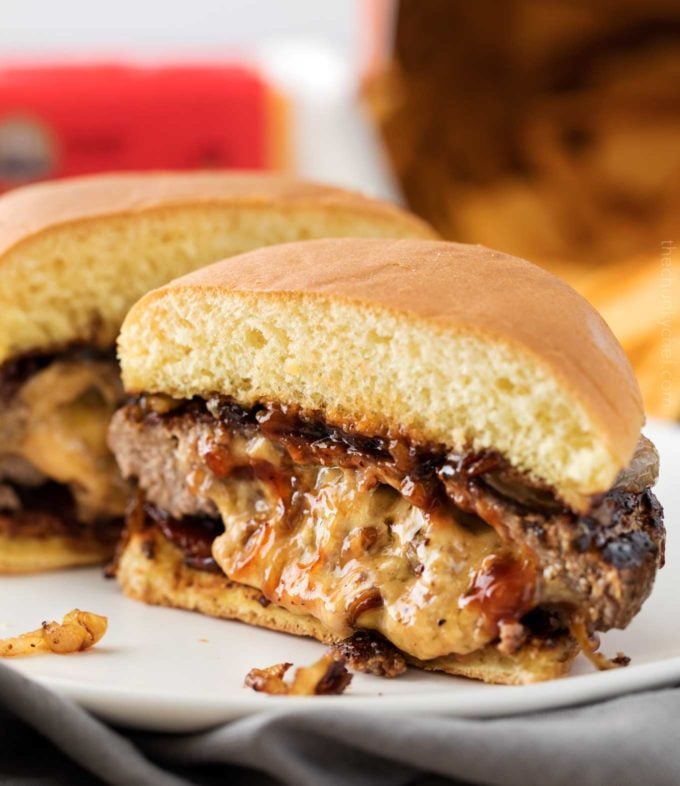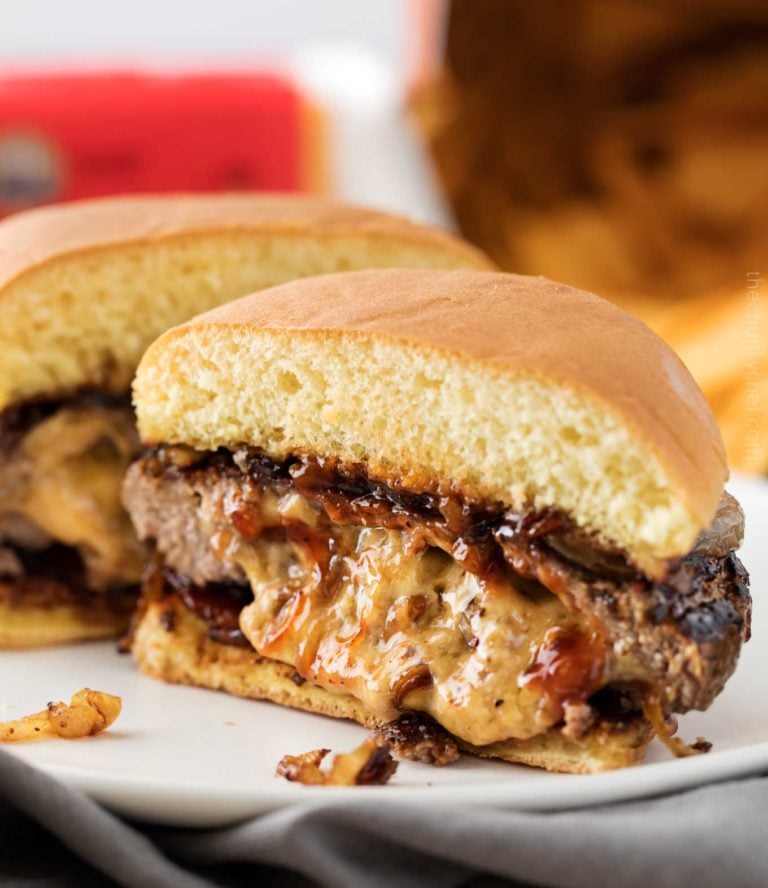 This post is sponsored by Tillamook.  As always, all opinions here are my own.
Oh my, you guys, I'm SO excited to be sharing this recipe here with you guys.  A good cheeseburger is hard to beat… but if it's a juicy Lucy cheeseburger, well, I think it's unbeatable!  Here in the Midwest, we love our cookout season, and I promise if you make this ultimate juicy Lucy stuffed burger, you'll be the absolute star of the cookout!!
Now, you may be wondering what the heck a Juicy Lucy is… and you're not alone.  Outside of the Midwest, it may just be referred to as a stuffed cheeseburger, or maybe you've never even heard of such a thing.  Read on for all the details!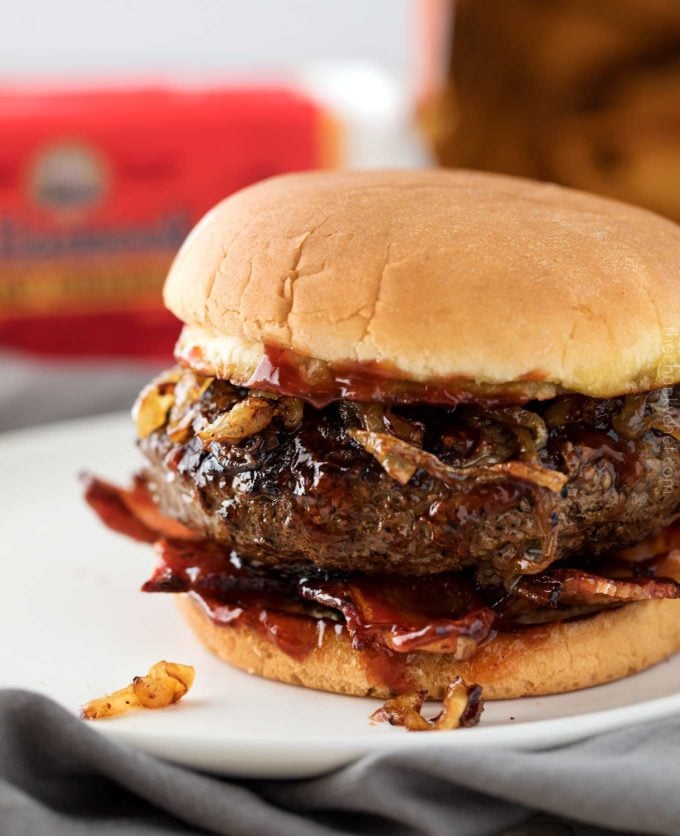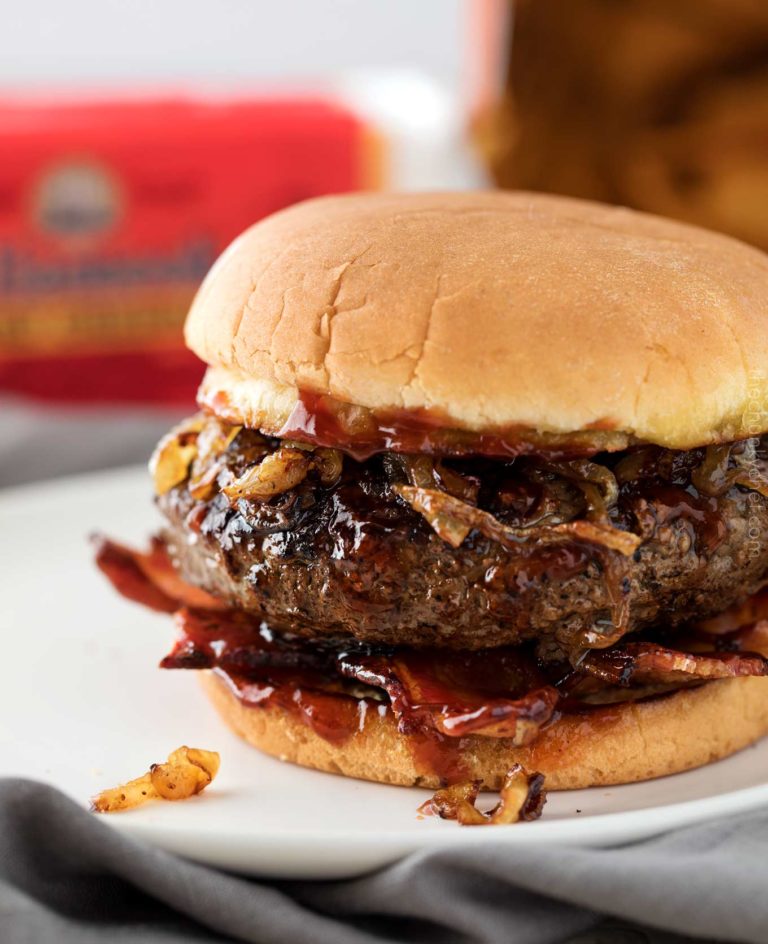 WHAT'S IN A JUICY LUCY BURGER
It's basically an inside out cheeseburger.  Instead of the cheese being melted over the top of the burger, it's stuffed inside, creating a gooey core of melted cheese.  The Juicy Lucy originated in Minneapolis, Minnesota, but over the years many Midwestern bars and restaurants have created their own adaptations.
WHAT KIND OF CHEESE IS USED IN A JUICY LUCY OR STUFFED BURGER
Whatever kind you'd like!  I love a great buttery sharp cheddar cheese, and that's why I always reach for Tillamook Sharp Cheddar.  I've tried a lot of cheeses over the years, and Tillamook's is hands down the best!  I love how the naturally aged cheddar really takes this stuffed burger to a whole new level.  When you're using just a few ingredients, you really want to make sure they're the best quality!  Tillamook is expanding nationwide, so check out this handy tool to find out where to buy their amazing products!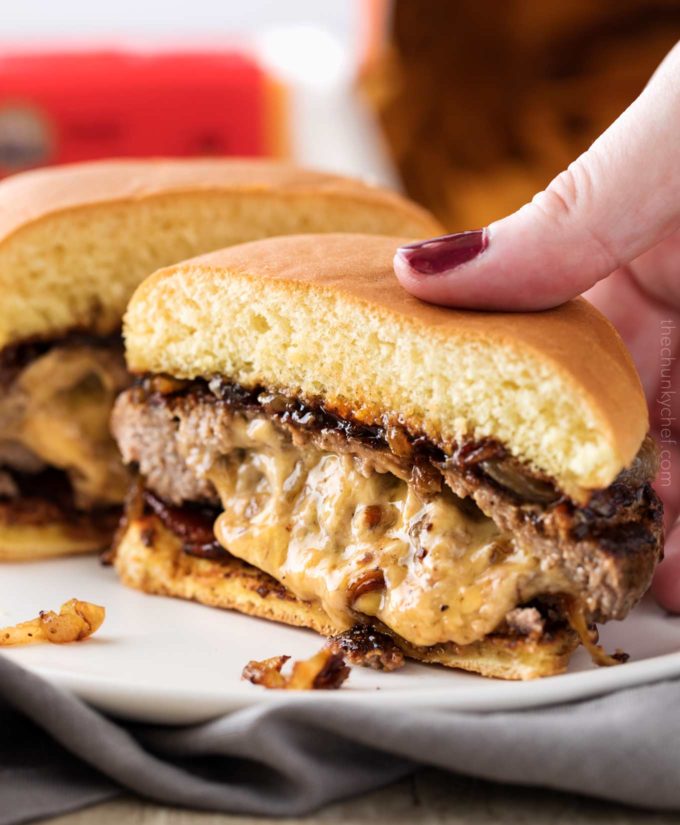 Normally cheddar cheese isn't all that ultra melty, but just look at how deliciously gooey it got in this stuffed burger!
HOW LONG DO YOU COOK A STUFFED BURGER/JUICY LUCY
It all depends on how "done" you like your hamburgers.  For me, a medium well is perfect.  With the cheese stuffed inside, you have to make sure to cook the burger long enough to melt the cheese.  If you like your burger cooked more on the medium-rare side, make sure to use room temperature shredded cheese, as it will melt faster.  For a nicely cooked medium well burger, on my stovetop, about 7-8 minutes on one side, then another 5 on the other is perfect.  Every stove will be different, so it may take some experimenting to get it perfect for you.
WHAT ARE THE BEST THINGS TO STUFF A BURGER WITH
Oh this is a fun one… and the answer is just about anything!  Here I've gone with cheese and caramelized onions, but feel free to experiment with the flavors once you've got the method down.  These are some great options:
Pepperjack cheese and jalapeño slices
Mac and cheese (a great way to use up any leftovers from this family favorite recipe)
Cheddar and bacon bits
Cheddar, cream cheese and jalapeño 
Guacamole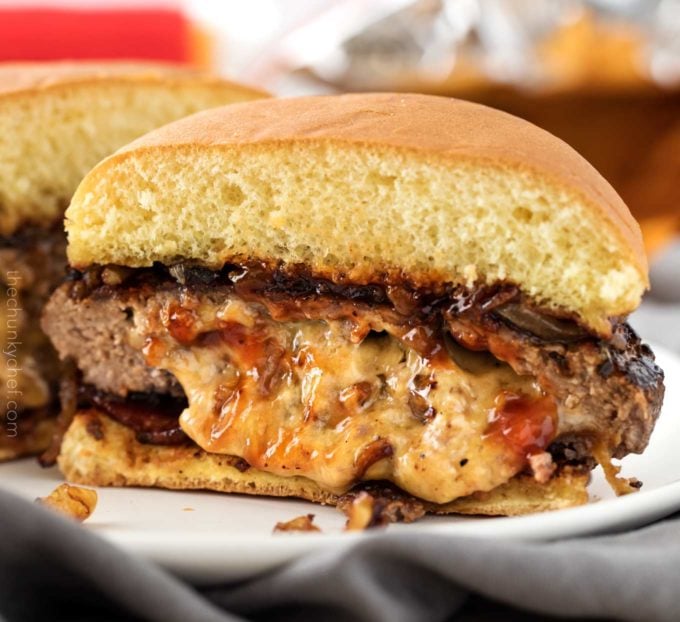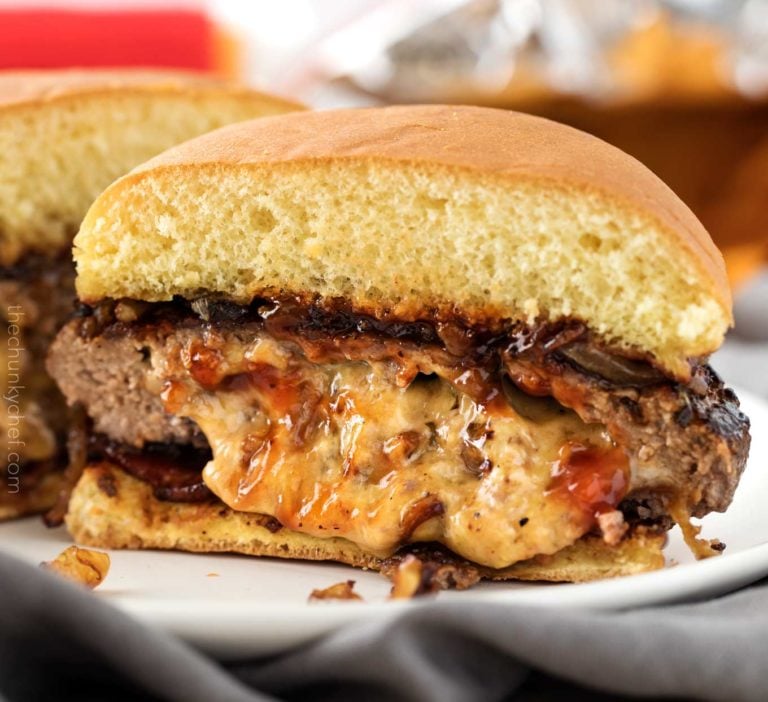 HOW HARD IS IT TO COOK A JUICY LUCY BURGER
It's not terribly difficult, but it may take a little practice to get the burger construction down pat.  You have to make sure there are no holes in the burger after you've stuffed it, or you'll have a cheese leak.  Even if that happens, don't worry, they're still totally edible and delicious, you may just have a little extra clean up to do afterwards.  Kitchen mishaps happen to everyone, trust me!  No one is perfect 🙂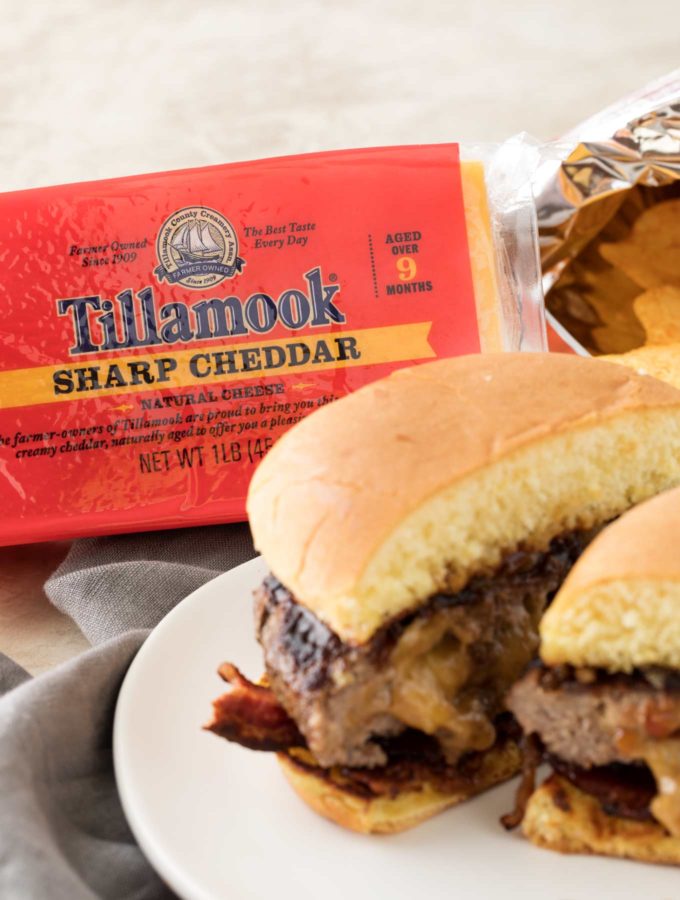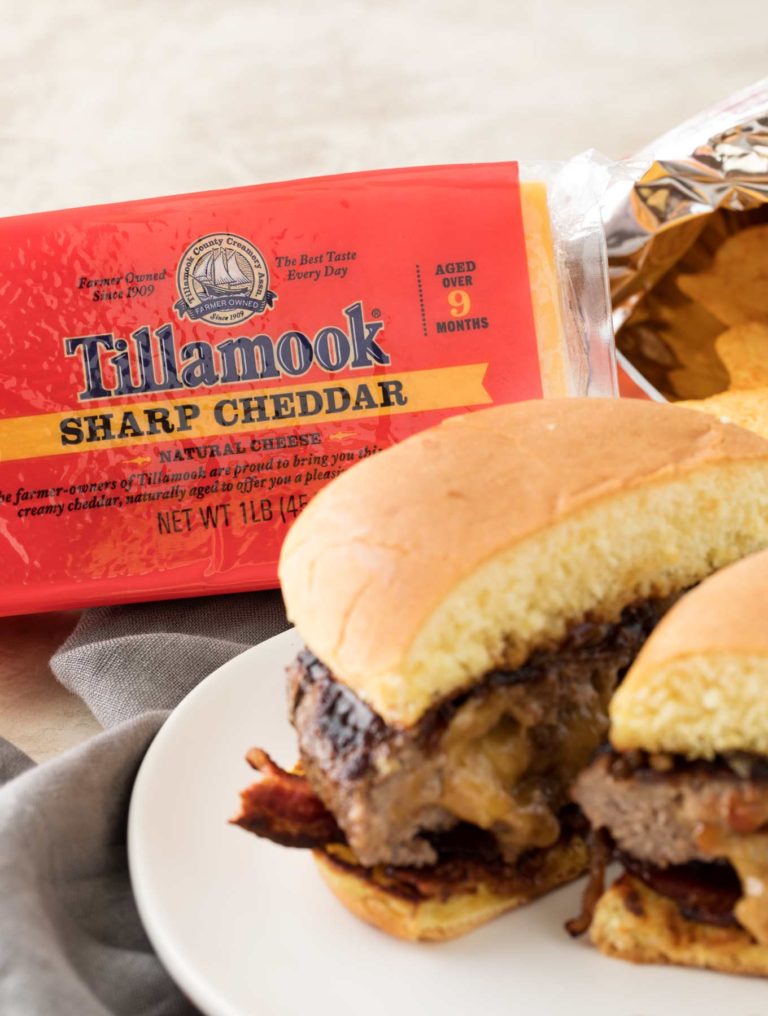 Now that we're heading into Summer, I hope you're ready for some seriously awesome cookouts and summer bbq's.  Give this cheese stuffed burger recipe a try… I think you'll love this twist on a cheeseburger!
HELPFUL TOOLS
Cast Iron Skillet – this pan will give you the BEST sear on your burgers!
Wax paper sheets – I hate having to rip sheets off a roll, so I use these all the time.
Box grater – in case you don't have one, this is what I use to shred all my cheeses.
Want to try this Juicy Lucy Burger?

PIN IT to your DINNER or BEEF board to save for later!

Find me on Pinterest for more great recipes!
Did you make this? Be sure to leave a review below and tag me @the_chunky_chef on Facebook and Instagram!
Not your average cheeseburger, this burger is stuffed with caramelized onions and plenty of buttery sharp cheddar cheese!
Ingredients
8 slices thick-cut bacon
1 medium sweet yellow onion, sliced or diced
1 1/2 lbs ground beef (75 or 80% lean)
1 cup sharp cheddar cheese, shredded (Tillamook is my favorite brand)
1/4 tsp kosher salt
1/4 tsp black pepper
drizzle of olive oil
1/2 Tbsp butter
your favorite all natural barbecue sauce
4 hamburger buns, toasted (potato, sesame seed, brioche, etc)
Instructions
To a large skillet, add bacon strips and heat over MED-LOW heat. Cook until bacon is cooked to your desired crispness, then transfer bacon to a paper-towel lined plate to cool. Drain all but about a tablespoon of the bacon grease, reserving that last Tbsp in the pan.

Increase heat under the same skillet to MED heat. Add sliced onion and cook 8-10 minutes, or until golden brown. Remove onions to a plate, and turn off heat.

Divide the beef into 8 equal portions and shape into balls. On a flat surface, lay down a sheet of wax paper and top with a ball of ground beef. Top with another sheet of wax paper and use a flat bottomed pan to press the meat into 1/4-1/2 inch patties. Repeat with remaining patties.

To one of the thin patties, top with 1/8 cup cheddar cheese, a tablespoon or two of the onions, and another 1/8 cup cheese. Leave a border around the patty. Top with another thin patty, pressing the edges of the top and bottom patty together to seal well. Shape into a thick burger patty. *See recipe notes section below for a video instruction link to this part*

Double check burger to make sure there are no holes, then season well with salt and pepper.

In the same skillet, add a drizzle of olive oil and the butter and heat over MED heat. Add burgers to pan (I like to cook 2 burgers at a time to make sure I have room to flip them carefully), and cook approximately 8 minutes, until burgers are brown up the sides. Use a wide spatula and carefully flip burger to the other side and cook another 5 minutes or so, until golden brown.
TO ASSEMBLE
Add bbq sauce and bacon to the bottom bun, top with burger, top with additional caramelized onions and a drizzle of more bbq sauce. Top with the top bun and enjoy!
Want to save this recipe for later? Click the heart in the bottom right corner to save to your own recipe box!
Nutrition Disclaimer
The Chunky Chef is not a dietician or nutritionist, and any nutritional information shared is an estimate. If calorie count and other nutritional values are important to you, we recommend running the ingredients through whichever online nutritional calculator you prefer. Calories can vary quite a bit depending on which brands were used.