This easy Homemade Red Enchilada Sauce is made with simple pantry ingredients and ready in about 15 minutes! Once you try homemade, you won't ever want to buy enchilada sauce again.
This is part of a series of recipes here on the site that I'm calling "Back to Basics". In this series you'll find recipes that are common building blocks for beginner cooks, as well as homemade versions of pantry/store-bought staples, such as cream of mushroom soup, cocktail sauce, garlic bread, etc. With easy to follow instructions, detailed notes, and step by step photos, you'll be on your way to being a master in your kitchen in no time!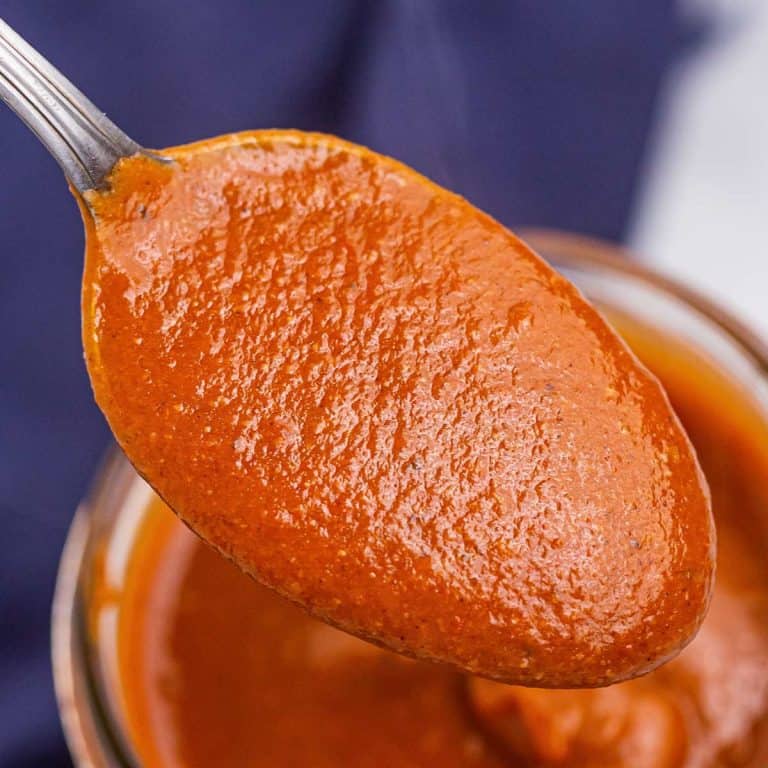 This may be one of those recipes you're looking at and wondering why you would make it when a can is so convenient to buy.
And I don't blame you! The convenience factor is hard to pass up. But I ask that you try making it homemade…. just once.
The flavors are so much better, there's no weird ingredients, it's made really quickly, stores well, and is very freezer-friendly!
I bet once you try this homemade enchilada sauce, you won't want to settle for that canned stuff anymore.
How to make your own enchilada sauce?
This is just an overview; the full ingredients and directions are in the recipe card toward the bottom of this post.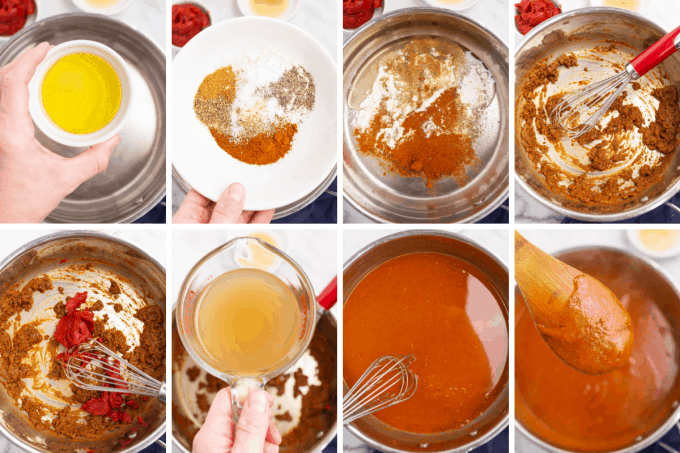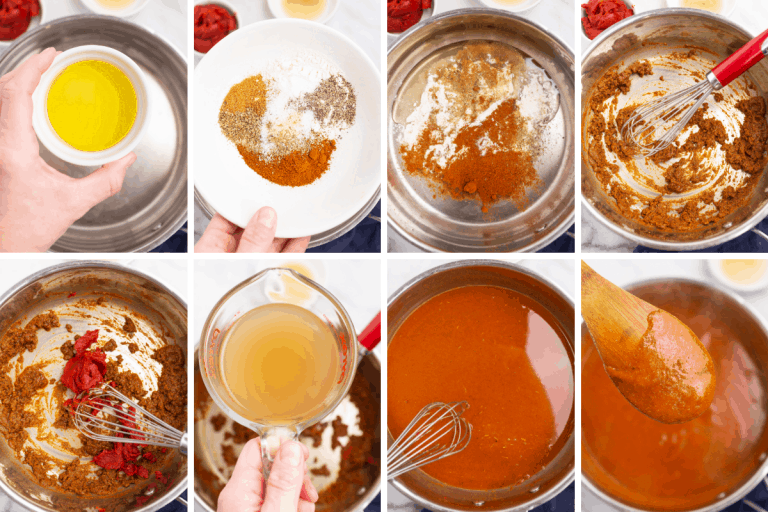 Heat oil. I like to use a neutral flavored oil, like vegetable, but olive oil will work as well.
Add flour and spices. Just like with any roux, you want to whisk well to combine, then cook for a minute or two.
Whisk in tomato paste. This may take a minute to really work it in well.
Pour in chicken broth. Whisk as your pour, so you don't get any lumps in your sauce.
Simmer. Whisk often as you simmer. Once the sauce is thick enough for your liking, or enough to coat the back of a wooden spoon, it's finished.
Add vinegar and taste test. The vinegar is optional, but it adds a beautiful pop of flavor.
Helpful Tip!
When testing this recipe, we found that using different brands of chili powder resulted in different tastes and colors of the sauce. We thoroughly recommend either Penzey's or McCormick's chili powder, as we found they had the best taste in this sauce.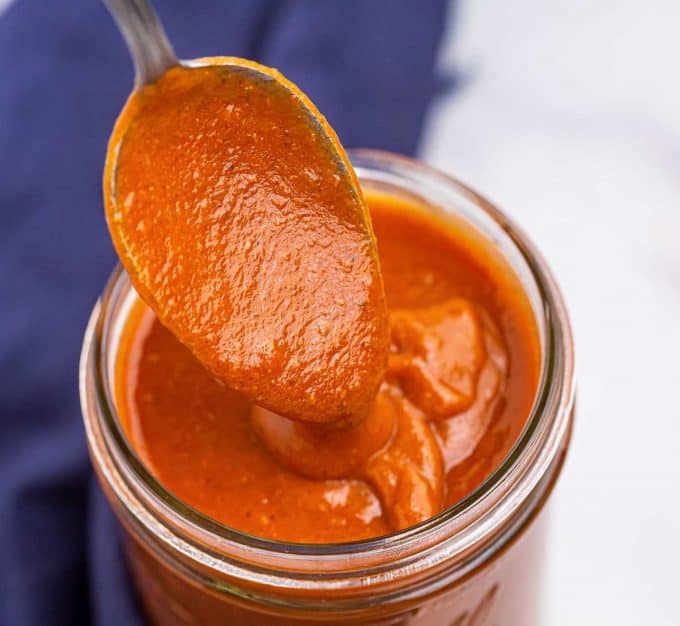 Variations of this recipe
Vegetarian – we like the flavor of chicken broth in this sauce, but it's easily swapped for vegetable broth if you'd like the sauce to be vegetarian.
More chili powder – if you love the flavor of chili powder, or want a deeper reddish-brown color, feel free to add a bit more chili powder to this recipe.
Cornstarch – in this recipe a roux is used to thicken the sauce, but if you'd rather not use flour, you can use cornstarch. You'll have to make a change though; instead of adding it to the oil, you'll want to whisk 2 Tbsp of cornstarch into 3 Tbsp of cold or room temperature chicken broth/water until the mixture is smooth, then stir that into the sauce while it's simmering.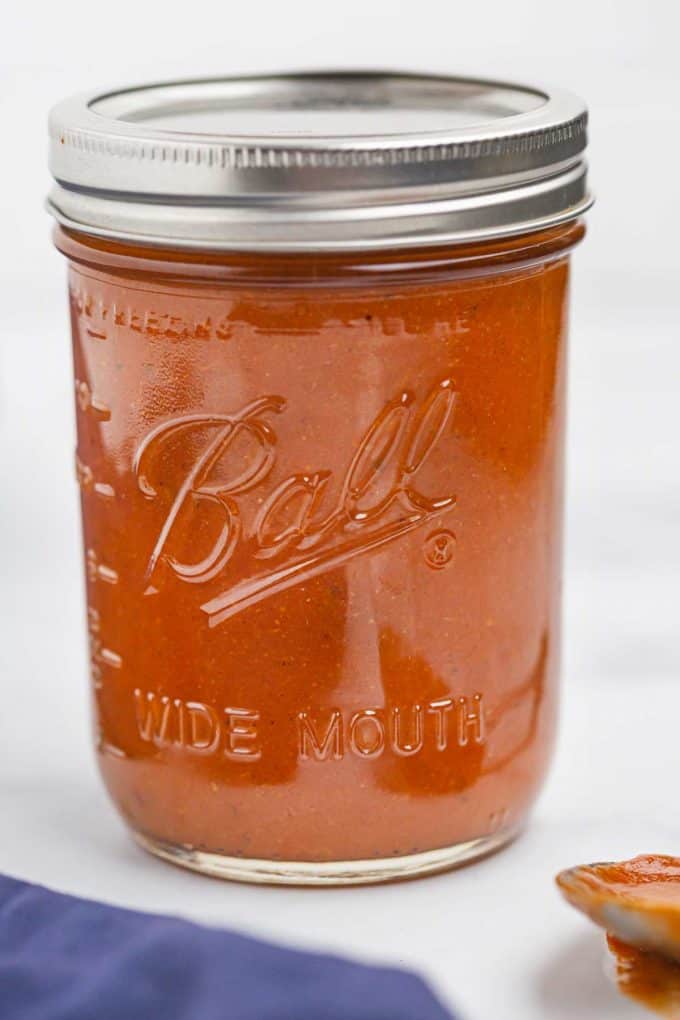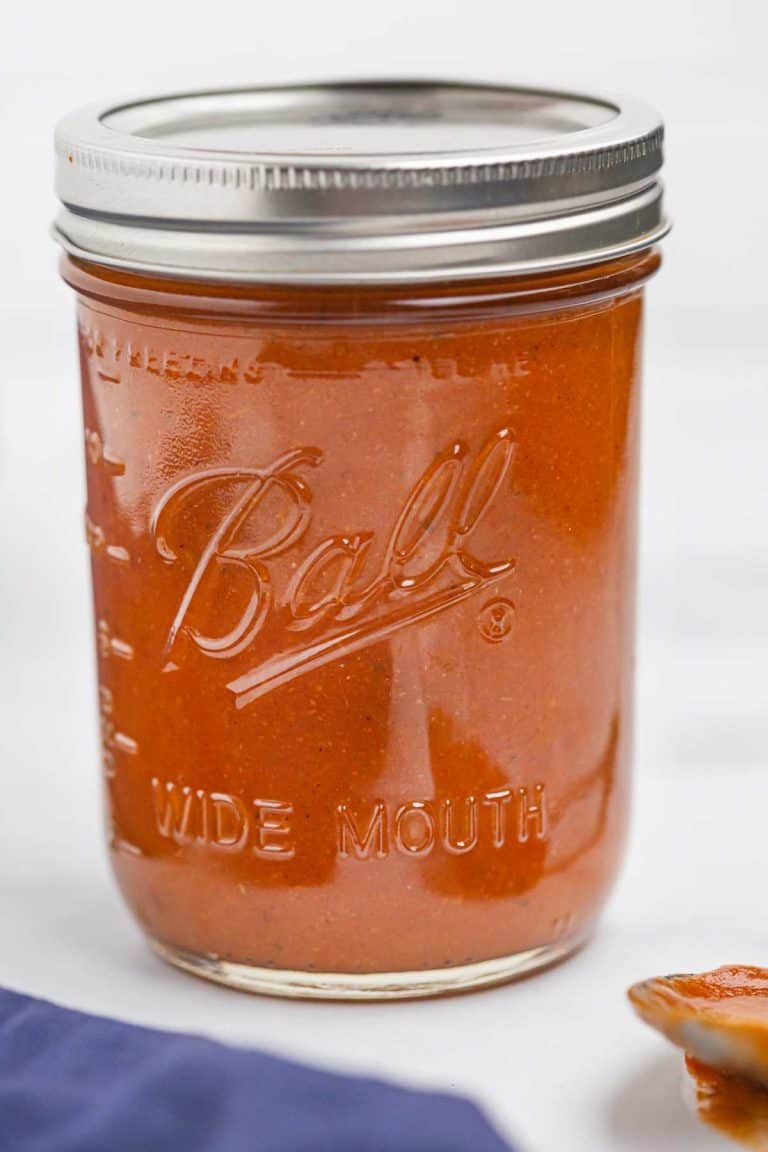 FAQ's
Is this recipe authentic?
I don't make any claims of authenticity when it comes to this recipe. It's just my interpretation of the enchilada sauces I've tried from the store, and in Mexican restaurants around my area.
Is enchilada sauce spicy?
This sauce is a mild heat level. You can certainly add some cayenne pepper to make it hot if you'd like. Make sure you're using American chili powder, as it's a mixture of spices, and not dried red chiles. In other countries, chili powder is sometimes just straight up dried chiles, which would be much spicier.
How can you make a gluten free enchilada sauce?
It's my understanding that some chicken broths may not be gluten free, so be sure you're using one specifically labeled as GF. Also, don't use flour, whisk in 2 Tbsp of cornstarch with 3 Tbsp chicken broth or water as the sauce is simmering. We are not a gluten free household, however, so this is just a basic suggestion – if following a strict gluten free diet, make sure to read all labels and use your best judgement.
Making enchilada sauce ahead of time
The main reason I used to find myself reaching for a can of enchilada sauce at the store, is that I just didn't want to hassle with making the sauce while I'm already cooking the filling, prepping ingredients, etc.
But the good news is, it's super easy to whip up ahead of time, and keep on hand in the refrigerator, or even the freezer!
In fact, when I make this recipe, I make a double batch. One half to use within a day or so, and then I freeze the other half for a future use.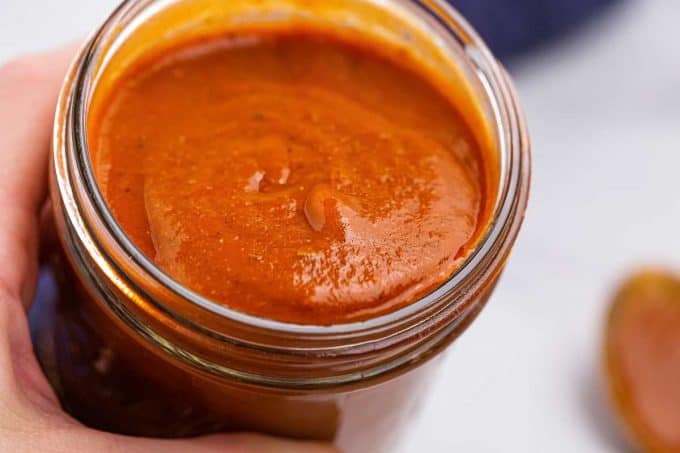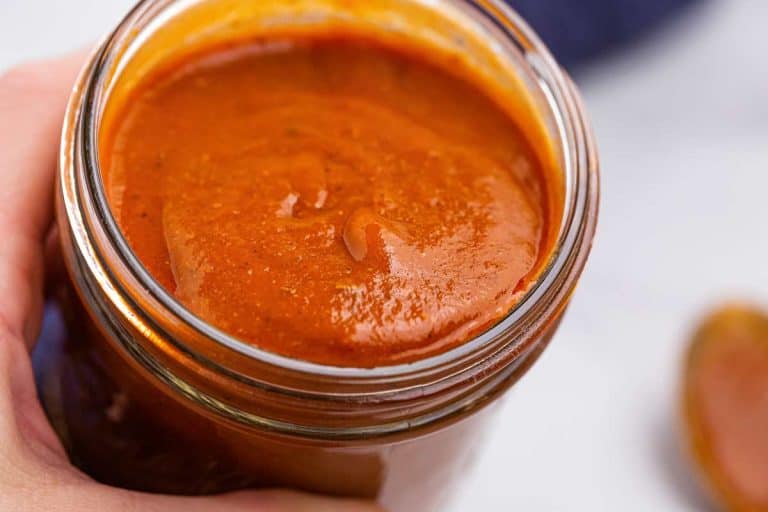 Storage
Extra or leftover sauce should be stored in an airtight container in the refrigerator and should last about 5 days.
Freezing
Enchilada sauce can be frozen in a freezer-safe container for up to 3 months. Thaw in the refrigerator before using.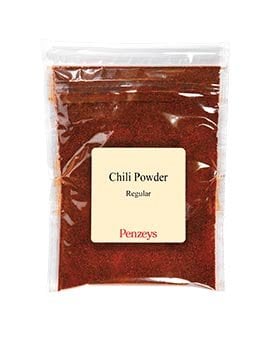 A sub-par chili powder can make your enchilada sauce taste sub par as well. This is my favorite brand, but classic McCormick is also good.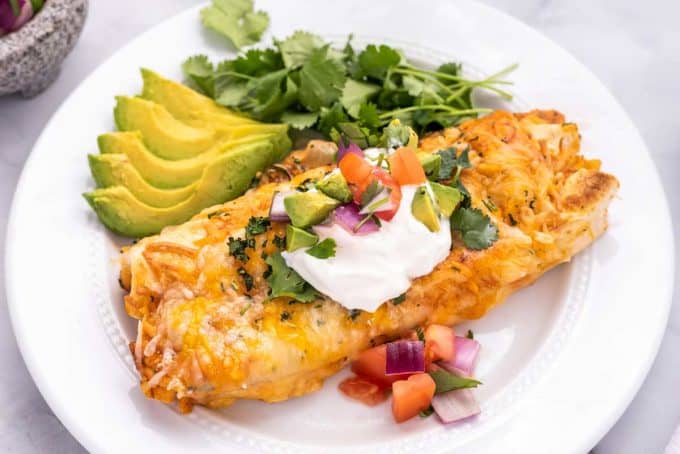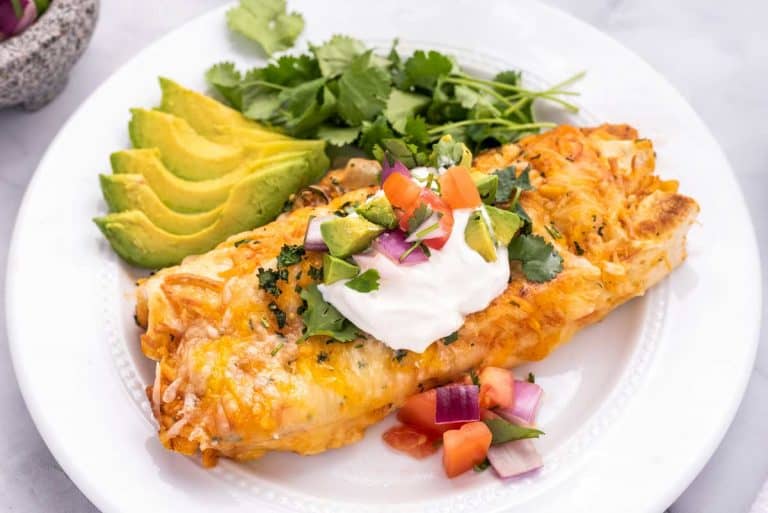 Did you make this? Be sure to leave a review below and tag me @the_chunky_chef on Facebook and Instagram!
Servings:
1
batch (approximately 2 cups)
(hover over # to adjust)
This easy Homemade Red Enchilada Sauce is made with simple pantry ingredients and ready in about 15 minutes!
Ingredients
3 Tbsp vegetable oil
3 Tbsp all purpose flour
2 Tbsp chili powder
1/2 tsp garlic powder
1/2 tsp ground cumin
1/4 tsp dried oregano (Mexican oregano is great if you have it)
1/4 tsp kosher salt
1/4 tsp black pepper
3 Tbsp tomato paste
2 cups reduced sodium chicken broth
1 tsp apple cider vinegar (optional but recommended)
Instructions
In a small bowl, combine flour, chili powder, garlic powder, cumin, oregano, salt and pepper.  

Heat oil in a saucepan over MED heat until warm, then add the flour and spices mixture and whisk well.  Cook for 1-2 minutes, whisking occasionally.

Whisk in tomato paste. Slowly pour in chicken broth, whisking as you pour to eliminate any lumps.

Increase heat a bit to bring to a high simmer, then reduce heat to MED LOW to simmer the sauce.  Simmer, whisking often, for 5-10 minutes, until the sauce is thickened some and the sauce coats the back of a wooden spoon.

Turn off heat, and whisk in the vinegar (if using), then taste and add more salt and pepper if needed.

Use immediately, or cool completely and store.
Want to save this recipe for later? Click the heart in the bottom right corner to save to your own recipe box!
Chef Tips
Recipe makes approximately 2 cups.
This recipe has been updated due to reader feedback, as well as continual testing on our end.  We much prefer this version, but if you're looking for the old version, here it is:
2 Tbsp vegetable or canola oil
2 Tbsp all purpose flour
4 Tbsp chili powder (use less if you're afraid of it being too spicy)
1/2 tsp garlic powder
1/2 tsp salt
1/2 tsp ground cumin
1/4 tsp dried oregano
1/8 tsp cayenne pepper
2 cups vegetable stock (or chicken stock)
Heat oil in a saucepan over medium high heat.  Add flour and whisk together over the heat for one minute.
Stir in the remaining seasonings (chili powder through cayenne).  
Then gradually add in the stock, whisking constantly to eliminate lumps.  Reduce heat to low and simmer 10-15 minutes until thickened.
Use immediately or refrigerate in an airtight container for up to two weeks.
Nutrition Disclaimer
The Chunky Chef is not a dietician or nutritionist, and any nutritional information shared is an estimate. If calorie count and other nutritional values are important to you, we recommend running the ingredients through whichever online nutritional calculator you prefer. Calories can vary quite a bit depending on which brands were used.