This Bolognese sauce recipe is hearty, rich and bursting with complex layers of flavor, and is on the table in 1 hour (instead of 2-3) thanks to the Instant Pot!  Let the pressure cooker do the work for you and end up with a hearty Italian-style meal – fit for a King!
Recipes like my Homemade Caesar Salad and Cheesy Garlic Bread are great for when you want restaurant quality food, made easily at home. We love hearty Italian-inspired meals, and this is one of my Italian recipes you'll definitely want in your dinner rotation!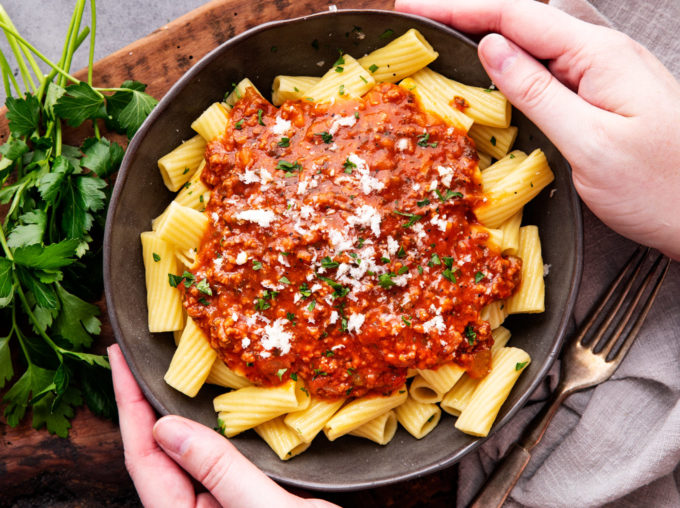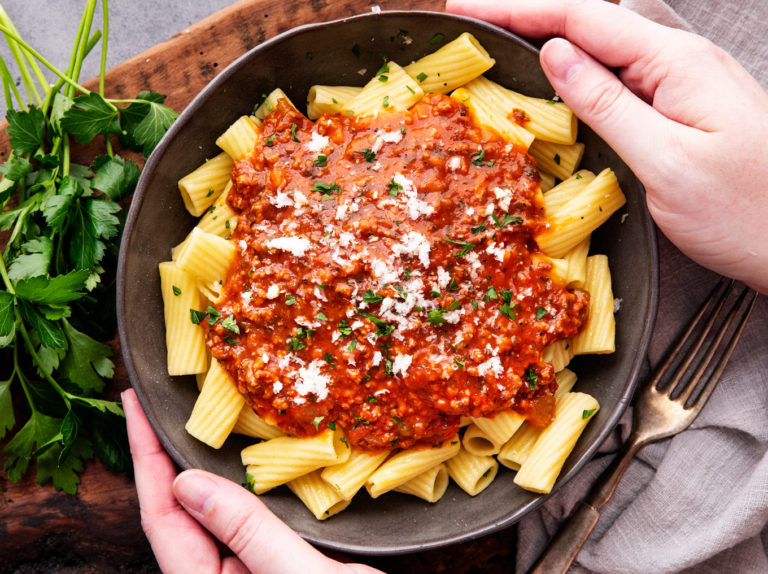 BOLOGNESE SAUCE
Here in the United States, we love our Italian-style meals.  Like, a LOT.  Or at least I do lol.
Pasta bolognese is an incredibly popular dish here, although you may know it by another name.  Some call it pasta with meat sauce, spaghetti meat sauce, spaghetti sauce, etc.  None are wrong, just more like slang.
I don't make any claims of authenticity of this bolognese sauce, as I've never been to Italy, and sadly have nearly no Italian heritage.  However this is my family's favorite pasta sauce, and one that I've continually tweaked over the years to be perfect.
This version is adapted slightly to be for the Instant Pot, mainly because I just don't have the patience to slow simmer a sauce for 3 hours.  Sometimes I use my slow cooker version, but even that requires some forethought to get it actually IN the slow cooker in the morning.
I love how relatively quick this sauce comes together, and it tastes like it HAS been simmering all afternoon.  The flavors are just level upon level of amazing, and they all blend together into one heavenly, indulgent sauce!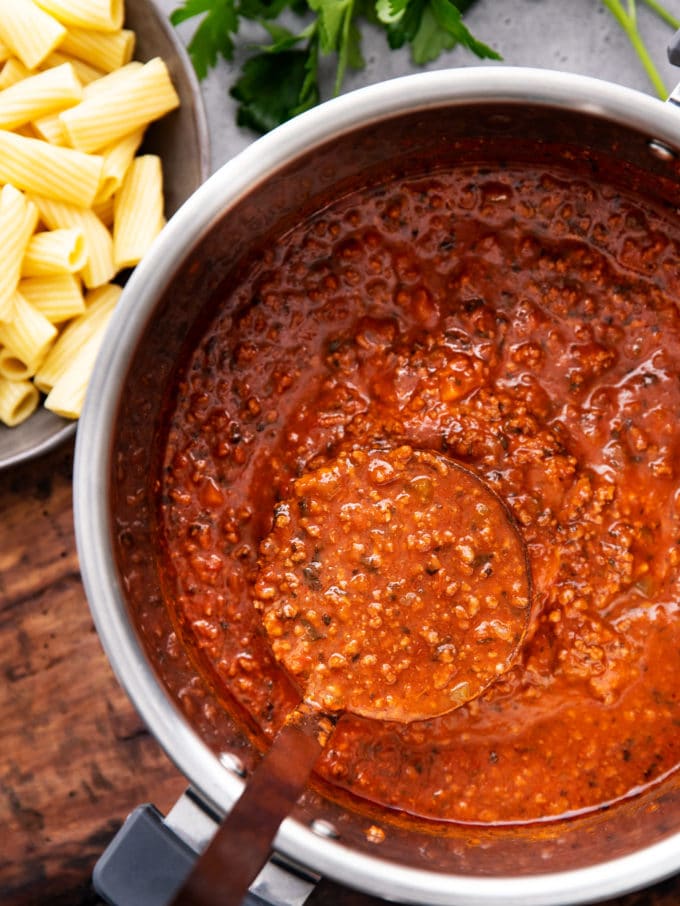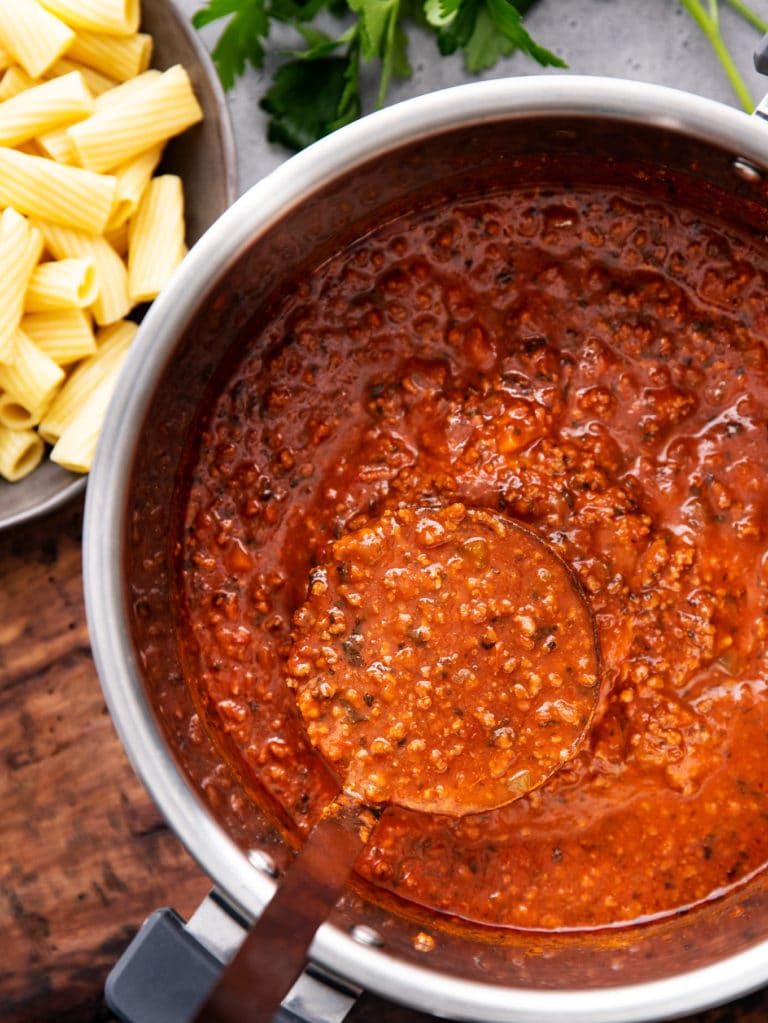 HOW TO MAKE BOLOGNESE SAUCE IN THE INSTANT POT
Select "saute" on Instant Pot and cook meats.  I like to saute right in my Instant Pot for easy clean up, but if you prefer, you can use a skillet for this part.
Add vegetables and cook until soft.  Cooking the meat first, then the vegetables helps eliminate any browned bits that are stuck to the bottom of the pot.  The veggies release liquid as they cook down, which will end up cleaning the bottom of your pot for you.
Add garlic and cook 30 seconds.  The reason we don't add the garlic with the rest of the vegetables is so it doesn't burn.  Odds are it wouldn't, but I like to just give it it's own cooking time just to be safe.
Add red wine and reduce.  This deepens the wine flavor, but don't worry this sauce doesn't taste like wine, nor is it alcoholic.  The red wine just really enhances the tomato flavor and makes this sauce taste like it simmered all day.
Add tomatoes, paste, seasonings and liquids.  The crushed tomatoes and tomato paste are probably nothing you didn't expect to see – but the balsamic vinegar and beef broth may be a surprise.  I love adding a splash of balsamic to my tomato sauces, it adds a richness and subtle tang that's amazing.  The beef broth is there as a thin liquid (so the Instant Pot can pressurize and not trigger the BURN notice), and to amplify the beefy flavors.
Pressure cook 20 minutes, then quick release.
Select "saute" again and stir in cream and basil.  Try to select LOW for you saute heat (if your pot has that option), and let the sauce simmer, uncovered, for 5-10 minutes.  It should thicken up a bit, but if you want a thicker sauce, mix 2 Tbsp cornstarch with 2 Tbsp water in a separate mixing bowl until smooth. Stir that into your sauce and simmer until thickened to your liking.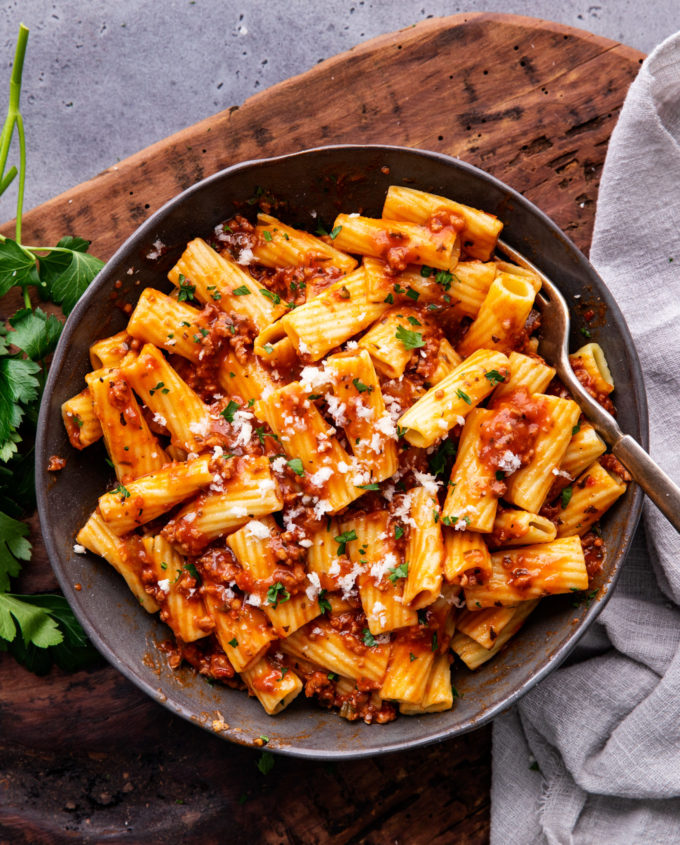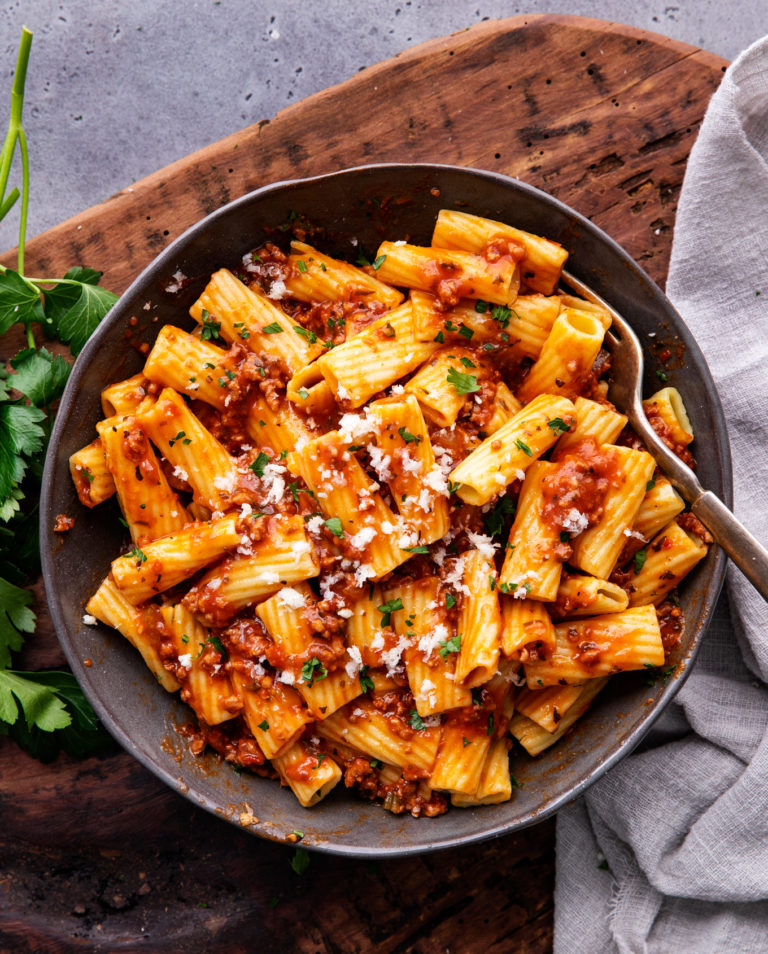 ADDITIONAL COOKING TIPS
Don't let the long ingredient list scare you off, I promise it's not hard to make this sauce!
NO ALCOHOL?
If you don't have wine, or would rather not add it, you can use additional beef broth or just skip that step all together.
NO FRESH BASIL?
No worries!  Use 2 tsp of dried basil and add it with the rest of the seasonings.
HATE CHOPPING?
I hear ya!  Bust out your food processor (if you have one of course) and chop up the onion, carrot and celery and garlic in there.  You can even use this to cut up your pancetta.
NO PANCETTA?
This is found in the specialty deli section of the grocery stores around here, near where the fancy cheeses are.  If you can't find it, ask around, but if your store doesn't carry it, you can omit it.
I would add about a teaspoon of chicken or beef bouillon to the sauce to add that saltiness that the pancetta would have added though.

VARIATIONS OF THIS RECIPE
PASTAS – I LOVE this sauce over rigatoni because the tubes are large enough for the sauce to get inside, and the ridges on the outside are just perfect for getting the sauce to stick.  Fettuccini, tagliatelle and bucatini are all other common and delicious pastas to use as well.
MEATS – Feel free to play around with the ratio of beef to Italian sausage if you'd like.  All beef, all sausage, using ground pork instead of Italian sausage, adding in some ground veal… whatever you have and like to use.
VEGETABLES – I love to add veggies to this sauce, since all the flavors blend together and the kids just gobble up the pasta!  Minced zucchini, chopped mushrooms… you name it.
DAIRY-FREE – to make this dish dairy-free, you can use a non-dairy milk product, or even omit the cream portion all together.
OTHER COOKING METHODS – this is made for the Instant Pot, but I've detailed how to make this in a slow cooker or on the stovetop if you'd prefer.  Those instructions will be down in the "recipe notes" section of of the recipe card.
ITALIAN DISHES – a hearty bolognese sauce is great for manicotti, lasagna, on top of garlic bread, scooped into zucchini (same method as my enchilada zucchini boats), and more!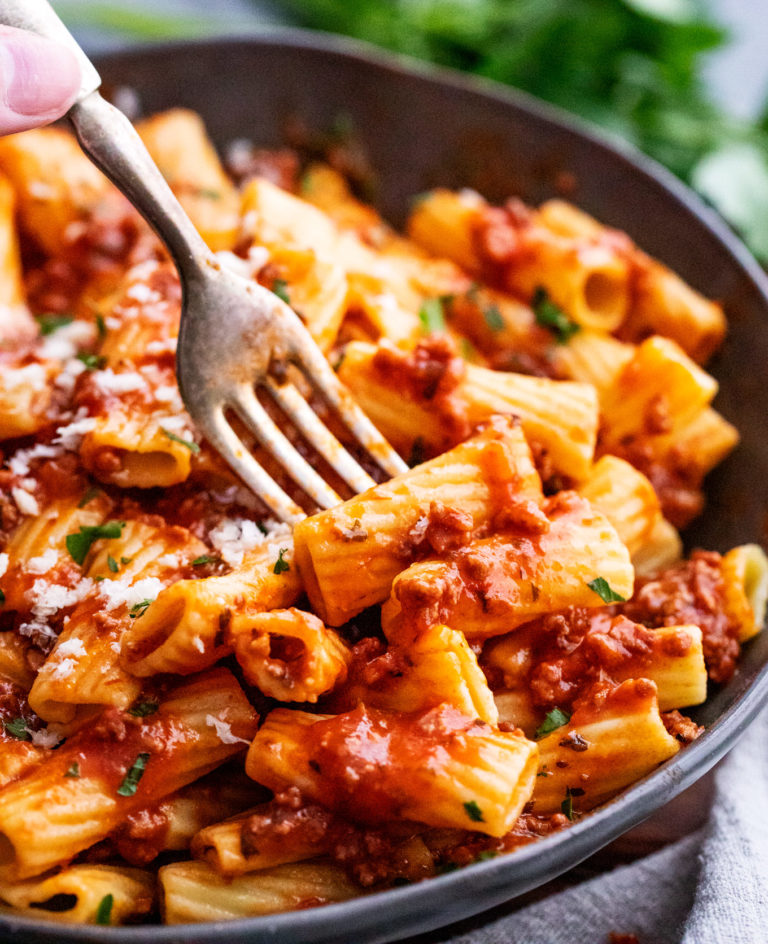 MAKING BOLOGNESE SAUCE AHEAD OF TIME
Pasta sauces, including this one, are great to make ahead of time!  They keep for several days, and taste even better, since all the flavors had had more time to hang out together!
STORAGE
Leftovers should be refrigerated in an airtight container, and consumed within 4-5 days.  For best results, store the sauce separate from any pasta, as the pasta will soak up most of the moisture in the sauce.
FREEZING
Bolognese sauce is a perfect recipe to make and freeze!  Let the sauce cool completely, then transfer to freezer-safe containers.  Sauce will keep for up to 3 months.
To thaw, place in the refrigerator overnight and reheat gently on the stovetop.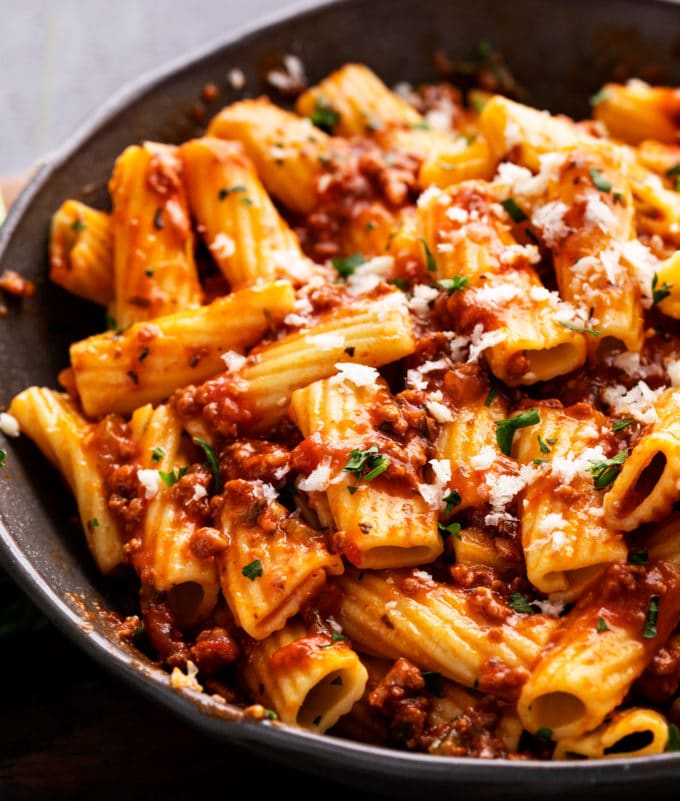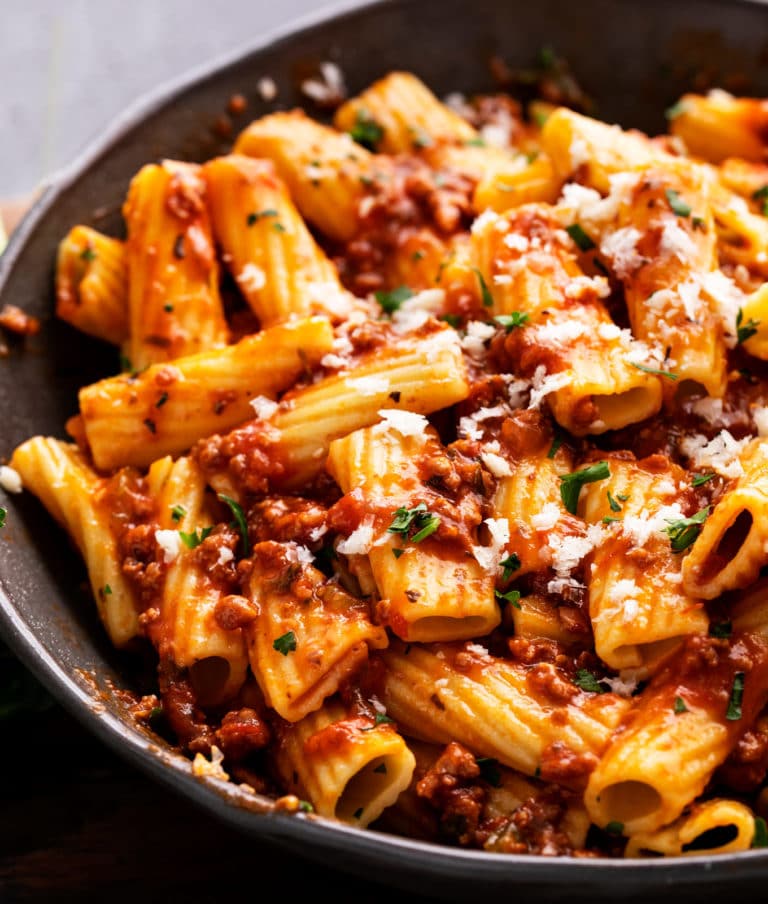 SPECIAL EQUIPMENT FOR THIS RECIPE
Instant Pot – I recently upgraded to this model and I love it!
Slow Cooker – I've had this slow cooker for years and it still works perfectly.
Dutch Oven – LeCreuset is my favorite brand, but they're really pricey, so this Lodge version is a great alternative!


BE SURE TO SCROLL DOWN TO CHECK OUT OTHER READERS' COMMENTS FOR TIPS AND REVIEWS.
AND DON'T FORGET, IF YOU'VE MADE THIS RECIPE, LEAVE A COMMENT AND PLEASE GIVE IT A STAR RATING LETTING ME KNOW HOW YOU ENJOYED IT!
Did you make this? Be sure to leave a review below and tag me @the_chunky_chef on Facebook and Instagram!
Ingredients
1 Tbsp olive oil
1 lb. lean ground beef (I use 90/10)
1/2 lb. Italian sausage
4 oz pancetta diced
1 medium yellow onion minced
1 - 2 medium carrots peeled and minced
1 stalk celery minced
7 cloves garlic minced
1/2 cup dry red wine
28 oz crushed tomatoes
1/4 cup tomato paste
2/3 cup beef broth - reduced sodium preferred (or water)
1 Tbsp balsamic vinegar
1 1/2 Tbsp dried parsley
1 tsp kosher salt
1 tsp granulated sugar
1 tsp dried oregano
1/2 tsp dried thyme
1/4 tsp crushed red pepper flakes
1/4 tsp black pepper
ADD AFTER PRESSURE COOKING
1/4 cup heavy cream
1/4 cup chopped fresh basil
Instructions
Turn your Instant Pot on to "Saute", then add olive oil to the pot. Add the beef, Italian sausage, and pancetta and cook until browned, breaking up the meat with a wooden spoon as it cooks. Drain if needed, then return to pot.

Add onion, carrot and celery and cook for 4 more minutes, or until softened. Scrape the bottom of the pot with a wooden spoon as the onions, carrots and celery cook and give off liquid.

Add garlic and cook, until fragrant, about 30 seconds. Pour in red wine and cook, stirring often, until reduced, about 2 minutes.

Add all remaining ingredients (except for heavy cream and basil) and stir, scraping the bottom of the pot to ensure no browned bits remain.

Cancel the saute function, and secure Instant Pot lid, making sure the valve is set to "sealing". Press the Pressure Cook or Manual button and use the +/- buttons to set the timer for 20 minutes.

Once the timer beeps, let out the pressure by carefully moving the valve to "venting" to perform a quick release. When the pin drops, remove lid and set aside.

Select "saute" and select LOW. Stir in heavy cream and basil and simmer, uncovered, stirring often, until thickened to desired consistency, about 5-10 minutes.

Taste and adjust seasoning if necessary. Serve over pasta with grated Parmesan cheese and additional chopped basil if desired.
Want to save this recipe for later? Click the heart in the bottom right corner to save to your own recipe box!
Chef Tips
Prep time does not include the time for the Instant Pot to come up to pressure, as this will vary from person to person.  Mine took about 15 minutes.
If you don't have fresh basil, use 2 tsp of dried basil and add with the other spices before pressure cooking.
STOVETOP DIRECTIONS
Complete steps 1 -4 in a large dutch oven or soup pot.  Bring to a boil, then reduce heat to LOW and simmer uncovered, for about 2 hours, stirring occasionally.
If you notice the sauce getting too thick, add a splash of water.
Stir in heavy cream and basil and simmer, uncovered, stirring often, until thickened to desired consistency, about 5-10 minutes.
Taste and adjust seasoning if necessary. Serve over pasta with grated Parmesan cheese and additional chopped basil if desired.
SLOW COOKER DIRECTIONS
Complete steps 1 -3 in a large skillet.
Transfer skillet contents to a slow cooker, and add all remaining ingredients (except cream and basil).  Stir, cover, and cook on LOW for 8 hours, or HIGH for 4 hours).
Stir in heavy cream and basil and cook on HIGH, uncovered, stirring often, until thickened to desired consistency, about 5-10 minutes.
Taste and adjust seasoning if necessary. Serve over pasta with grated Parmesan cheese and additional chopped basil if desired.
Nutrition Disclaimer
The Chunky Chef is not a dietician or nutritionist, and any nutritional information shared is an estimate. If calorie count and other nutritional values are important to you, we recommend running the ingredients through whichever online nutritional calculator you prefer. Calories can vary quite a bit depending on which brands were used.