I have some exciting news for you all… The Chunky Chef has hit a milestone… as of right now, I have over 100 followers/subscribers, 107 to be exact!  I'm so excited!!  This has been such an exciting and fun 3 months 😀  Thank you, thank you, thank you to everyone who stops by and follows me… you are all AWESOME!!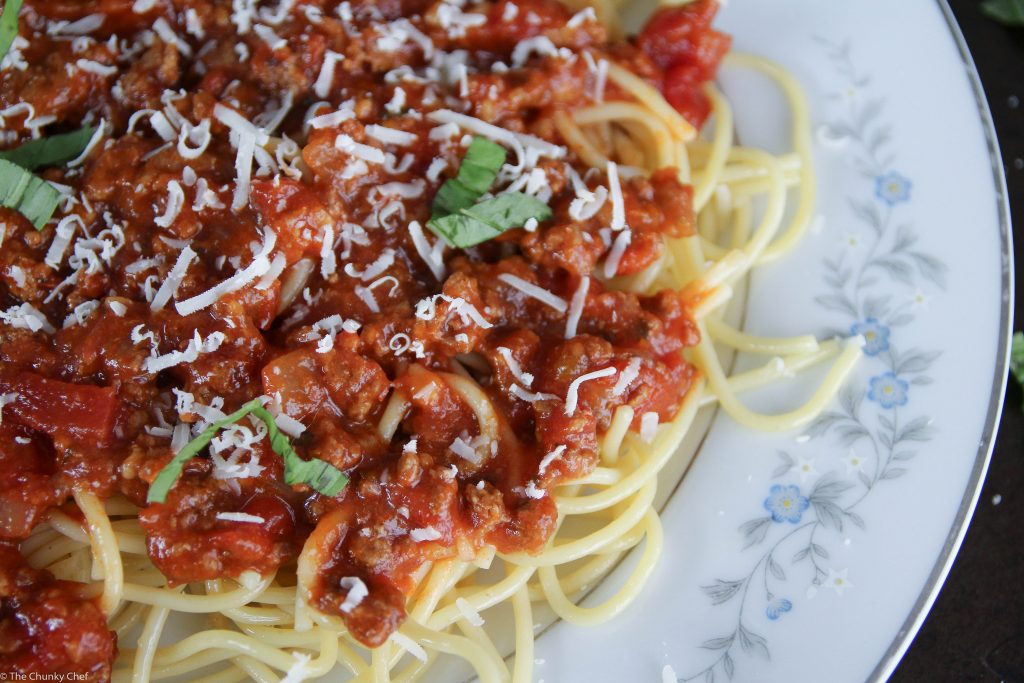 I've got a couple of great recipes here for you this evening!
Spaghetti.  Such a classic meal.  Is there anything better than a big plate full of perfectly cooked pasta, topped with a rich and meaty sauce, some grated Parmesan cheese and fresh minced basil?  Not in my book!  Except maybe some chewy, crusty bread to go with it 😉  Now picture this… you can have that fantastic-tasting, lip-smackingly good, slow-simmered tasting sauce, with hardly any effort?  How you say?  In your slow cooker!
That's right, your slow cooker comes to the rescue once again 😀  When I plan meals, I plan about 9 meals that last us about 2 weeks with leftover nights so we don't waste much food.  This past meal plan, I went a little slow cooker crazy, with the bulk of our meals having a slow cooker component.  Coming off being sick, my energy just isn't up to where it usually is, so I figured I'd help myself out a little and pick easy meals and when I think of easy, I think of my slow cooker 😀
I must confess that I had NEVER thought of cooking a spaghetti bolognese sauce in the slow cooker before.  When I came across the recipe on pinterest I was super excited to try it!
Oh, and don't be thrown by my fancy-pants name for it… "spaghetti bolognese".  All that really means is a spaghetti sauce that has plenty of meat in it.  A traditional bolognese sauce has other components that aren't in this recipe (red wine, etc), so that's why I call it a spaghetti bolognese 🙂
For me, my favorite spaghetti sauces all have meat in them.  What can I say, I like meat 🙂  What about you?  Do you prefer meat-free spaghetti sauce?   A meat sauce?  Meatballs?  I love meatballs too, and stay tuned for a great meatball recipe I'll be posting over the next couple weeks 😉
Usually, to get a great tasting sauce, you have to let it simmer and let those flavors meld together for a while… like an hour or so.  Well I don't know about you, but I just don't have that kind of time most nights.  Especially if you work outside the home… I'm pretty sure the last thing you want to do is fight traffic and come home and spend an hour cooking and babysitting sauce.  That's a thing of the past.  Now you can walk in the door and smell a FANTASTIC sauce simmering away in your slow cooker!
Can you imagine that?  Pretty awesome huh?
Now this recipe uses both ground beef and mild Italian sausage, but feel free to change it up to fit your family's tastes.  It could be all Italian sausage, all beef, or you could go for a hot Italian sausage if you want to get spicy 😉
So the morning of, all you need to do is brown your meats with the onion and garlic… making sure you crumble up the meat pretty well.  For me, my best tool for that is my potato masher.  That's right, you read that correctly lol.  I start with my wooden spoon to break it up into large chunks, then go to town mashing away with my potato masher.  It crumbles up meat like a pro!
Once the meat is browned, drain it, then add it to the bottom of your slow cooker.  Next, add in your cans of diced tomatoes, crushed tomatoes and tomato sauce.  Season it up, and give it a good stir to combine it all.  Now just pop the lid on, set it to low, and you're done!
This sauce cooks for 8 hours, so you're free to go about your day.  Then come dinner time, all you have to do is boil your pasta 🙂  Simple enough right?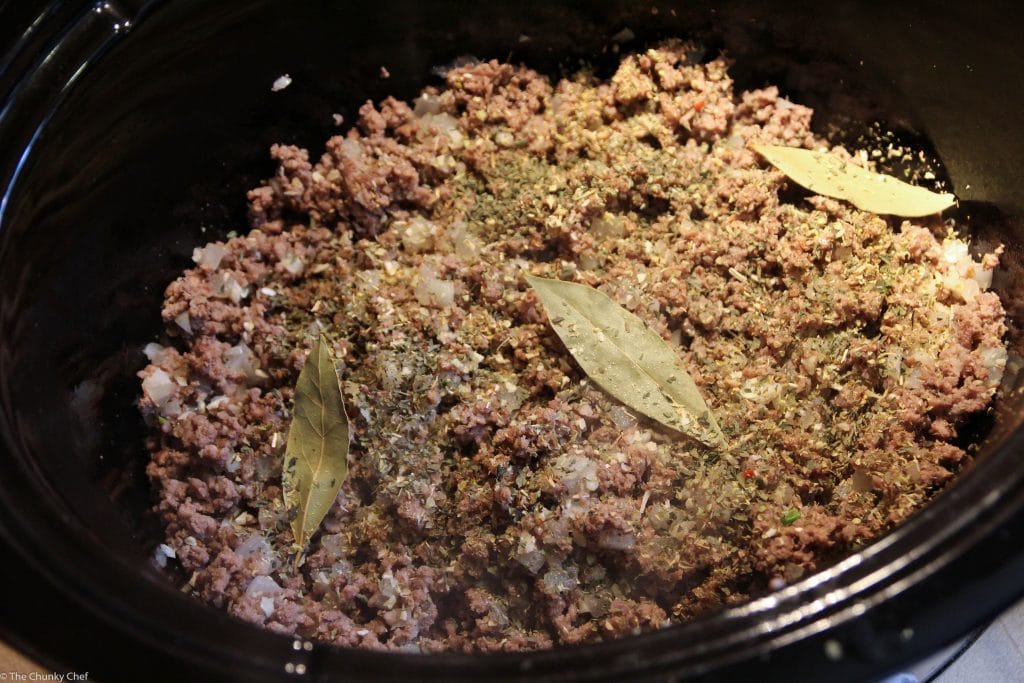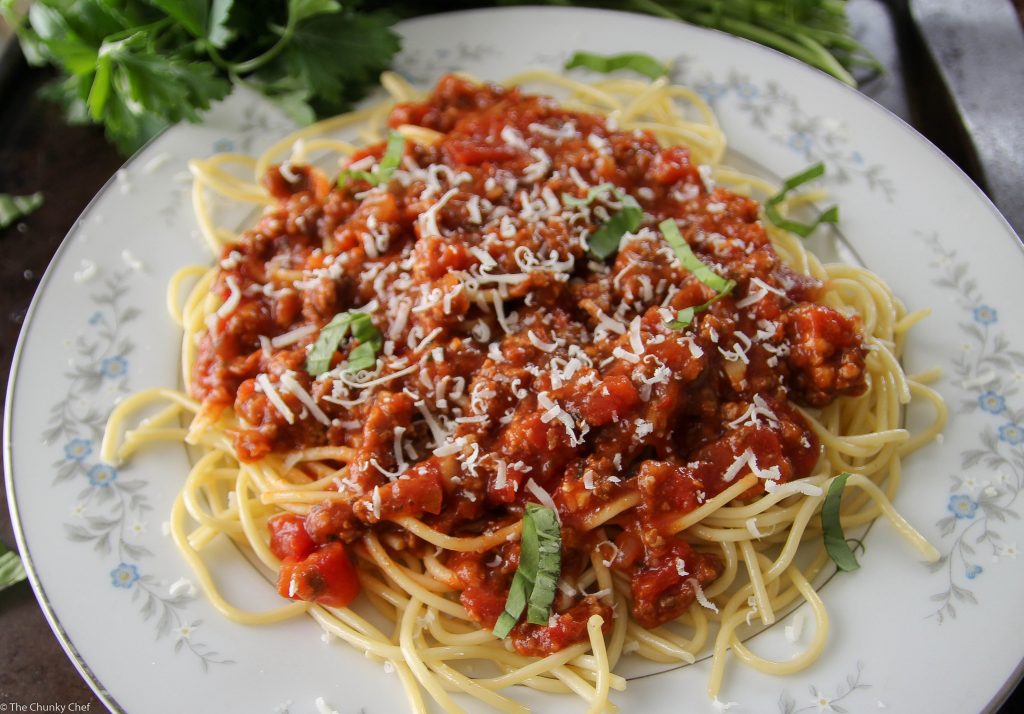 Grab a fork, dinner is ready!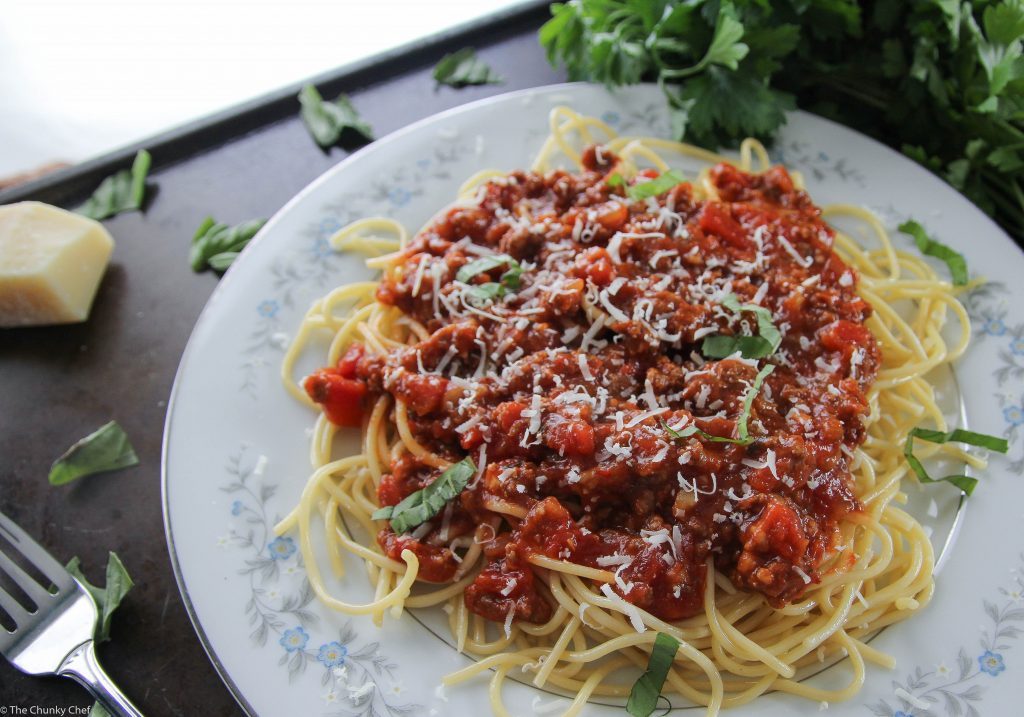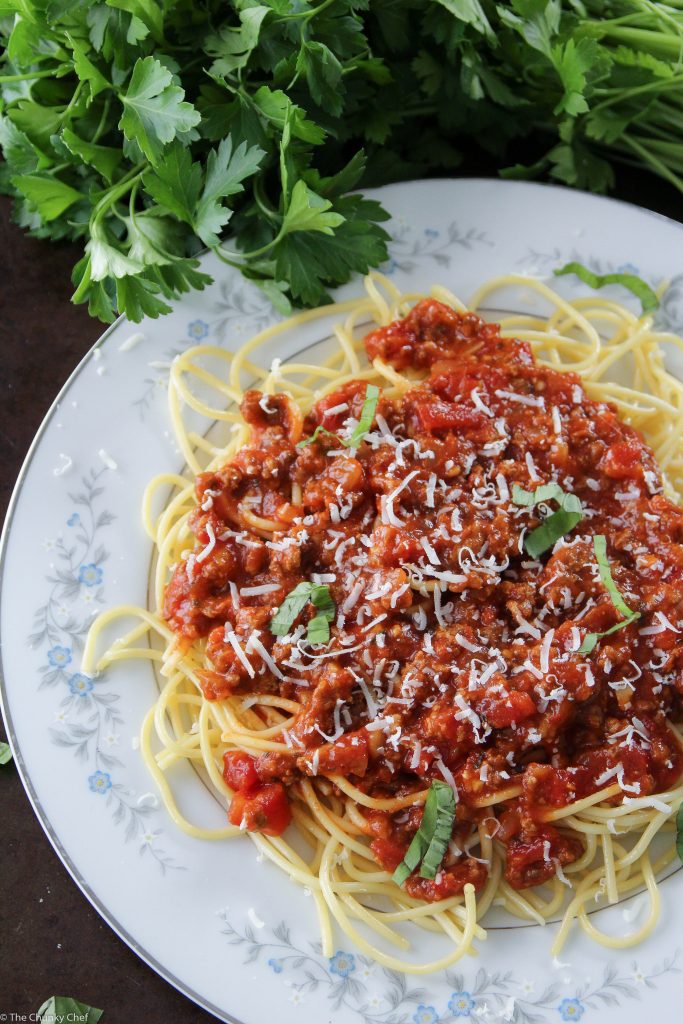 I had a hard time not eating this spaghetti as I was taking the pictures!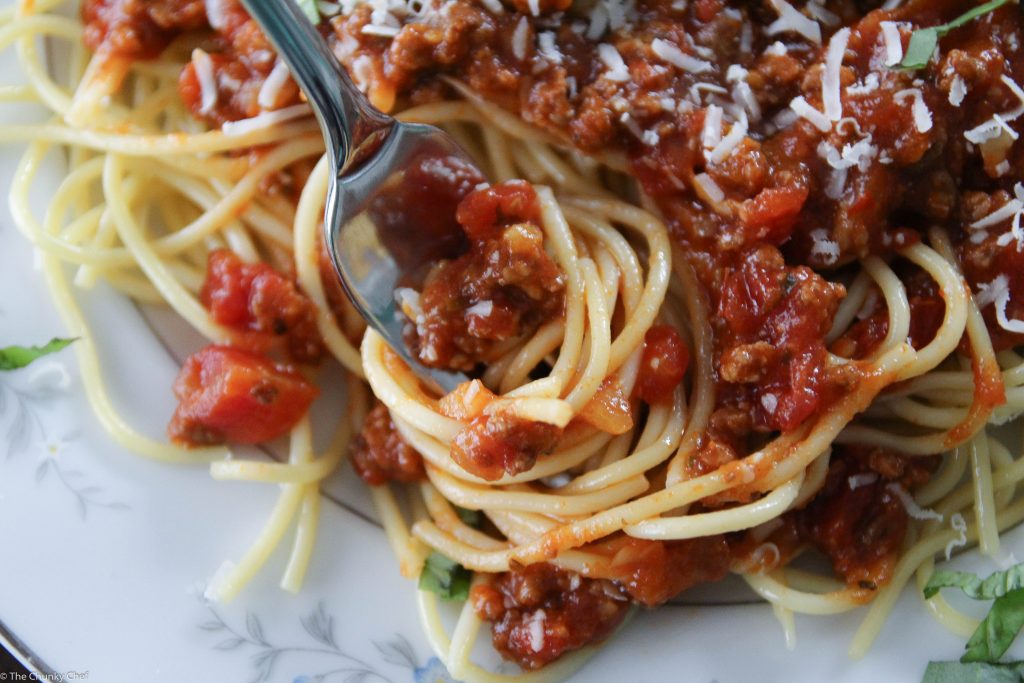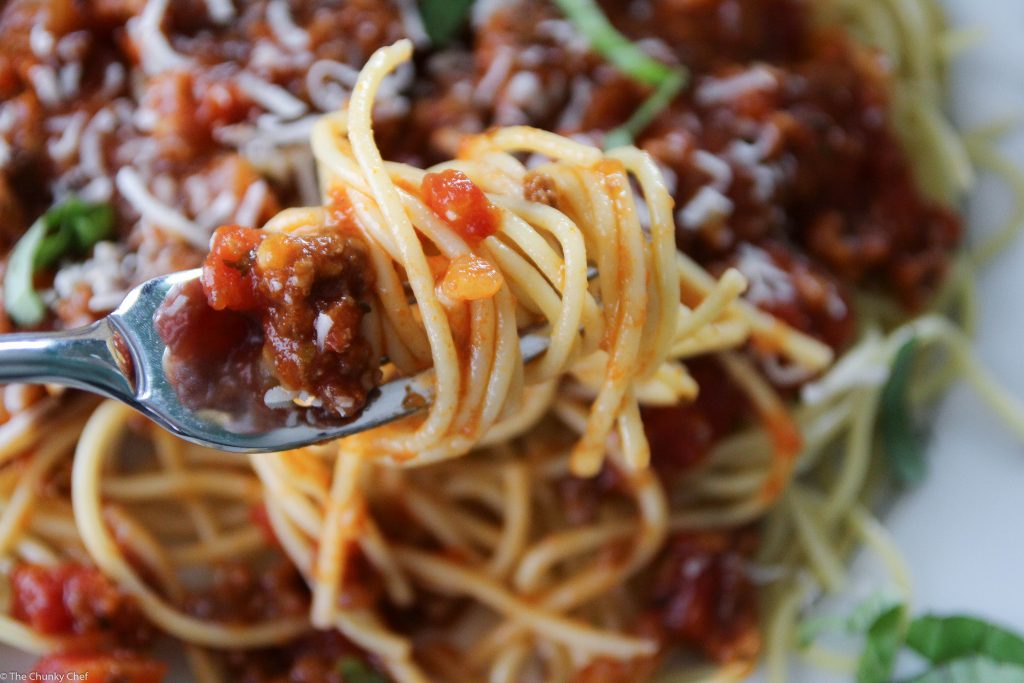 You deserve this sauce… treat yourself!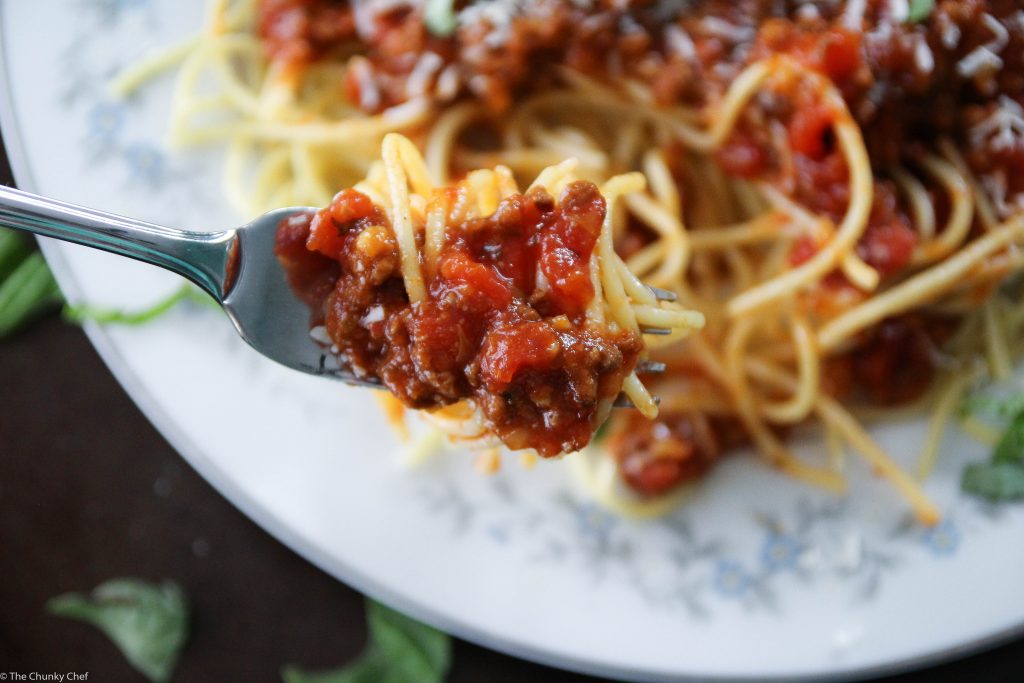 These recipes will be linked up to all the great parties on my Link Parties page 🙂  Check them out!
If you try these recipes, come back and let me know how you liked them… I'd love to hear 🙂
Recipes adapted from Damn Delicious and Jo Cooks… two fantastic food blogs!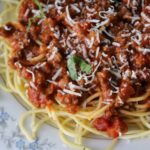 Slow Cooker Spaghetti Bolognese Sauce
Imagine your favorite spaghetti bolognese sauce, simmered and seasoned to perfection, rich and flavorful. Now imagine it's cooked in the slow cooker!
Print
Ingredients
2

Tbsp

olive oil

1

lb

ground beef

1

lb

ground Italian sausage

1

onion

minced

7

cloves

garlic

minced

2

14.5 ounce

cans diced tomatoes

drained

14.5

ounce

can of crushed tomatoes

2

15 ounce

cans tomato sauce

3

leaves

bay

1

tsp

dried oregano

1

tsp

dried basil

Salt and pepper

to taste
Instructions
Heat olive oil in a skillet over medium high heat. Add ground beef, Italian sausage, onion and garlic. Cook until browned, about 4-5 minutes, making sure to crumble the beef and sausage as it cooks; drain excess fat. Use a potato masher to make the crumbling process easier.

Place meat mixture into a slow cooker. Add diced tomatoes, crushed tomatoes, tomato sauce, bay leaves, oregano, basil, salt and pepper, to taste. Cover and cook on low for 8 hours.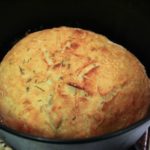 No-Knead Artisan Bread
Just like a loaf of your favorite Artisan bread from a bakery.. except better!!
Print
Ingredients
3

cups

all purpose flour

1

tsp

¾ salt

tsp

½ active dry yeast

1 1/2

Tbsp

fresh rosemary

minced

1/2

cup

shredded Parmesan cheese

1

cups

½ water

room temperature
Instructions
In a large bowl mix flour, salt, rosemary, cheese and yeast together. Add water into the bowl and using a spatula mix it until it's all incorporated. Cover the bowl with plastic wrap and let it sit on your counter for 12 to 18 hours. Don't refrigerate!

Preheat oven to 450 F degrees. Add your cast iron pot to the oven and heat it as well until it's at 450 F degrees.

Remove pot from oven and remove the lid.

Flour your work surface really well and make sure you flour your hands as well. With your floured hands gently remove the dough from the bowl and roughly shape it into a ball. Take the ball of dough and place it carefully into the pot. Cover the pot with the lid and place it back in the oven.

Bake for 30 minutes with the lid on, then remove the lid and bake for another 15 to 20 minutes until golden brown.

Remove from the oven and let cool before slicing.