This hearty meatball Parmesan bake combines homemade meatballs, marinara, and Italian cheeses in one skillet or pan.  Perfect for subs, pasta, and more!
Velvety soft homemade meatballs combine with robust marinara sauce and savory Italian cheeses in this ultra hearty meatball Parmesan bake.  Serve these meatballs with pasta, use them to make meatball subs/sliders, or just serve them along with a crusty piece of bread!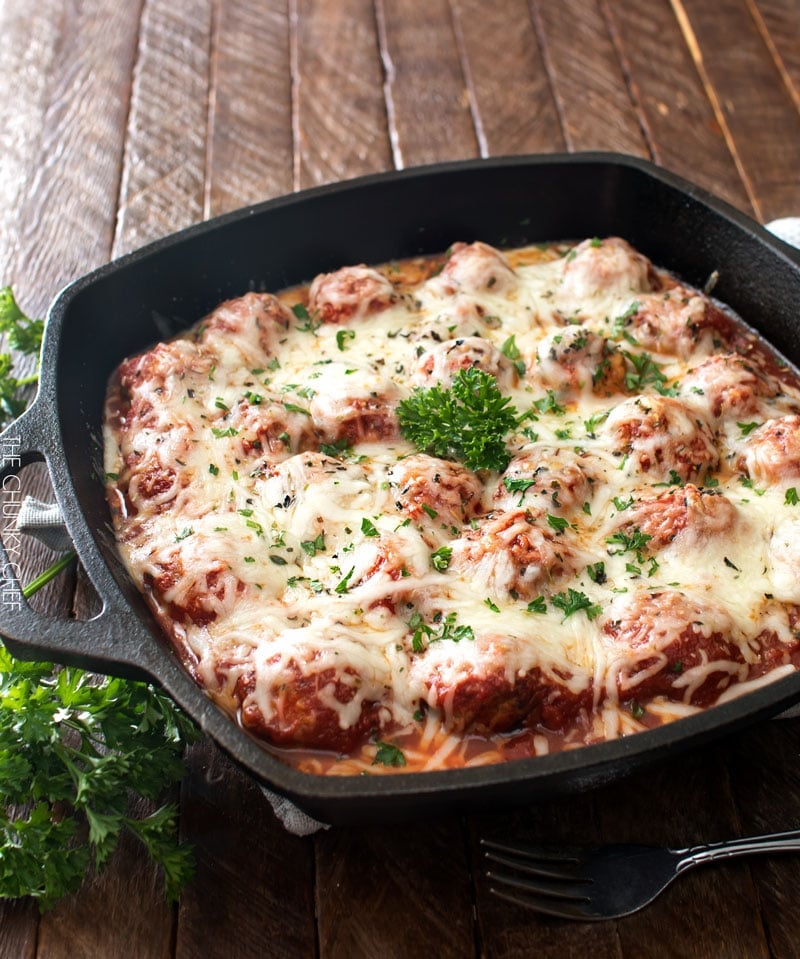 Okay guys… doing a little flashback here (throwback… Monday?), to my very FIRST post ever (back in 2014).  I was going to just republish it, but knowing what I now know about SEO (search engine optimization), that old post is pretty, well, bad.  Basically in order to optimize posts for the web (aka, the all-mighty Google), you need to have a strong keyword, metadata, subheadings using the keyword, etc… and that original post doesn't even have a keyword, and the title is all kinds of screwed up lol.  I've still left it up, so if you wanted to hop over, feel free to here.  Here's the original photo from 2014… but promise me, no laughing!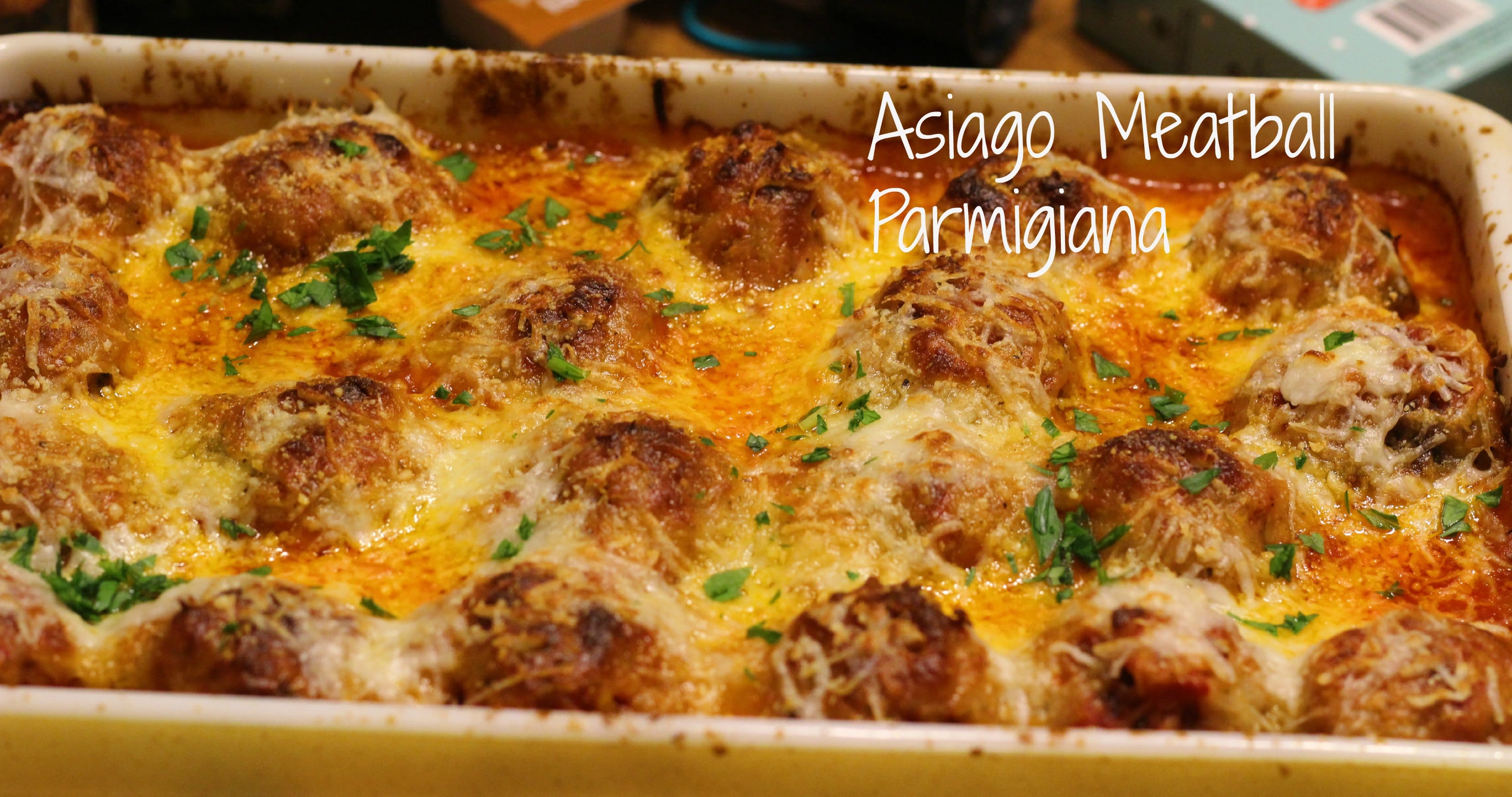 I've gone back and forth a few times about just deleting that old photo, but I actually kind of like it.  Certainly not because it's a good photo… technically it's actually a pretty terrible one, but I like it because of what it represents.  When I posted that recipe, with that photo, it was a HUGE step for me.  Introverted, shy, and definitely not one to "put myself out there", I tentatively dipped my toes in the blogging waters.  I fully expected to fail.  But what I discovered instead was an incredible passion… a hunger and purpose.  And here I am just about 2 years later, blogging full-time, as a career!
Never in a million years did I dream I would be doing something like this, but I can't imagine doing anything else 🙂
Whew, okay, get to the recipe here Amanda…
This recipe.  OMG.  We have it a LOT here for dinner, because it's just so delicious.  It can be a bit time consuming if you make it straight through at once, but I'll give you some tips below on how to make this faster and easier to prepare!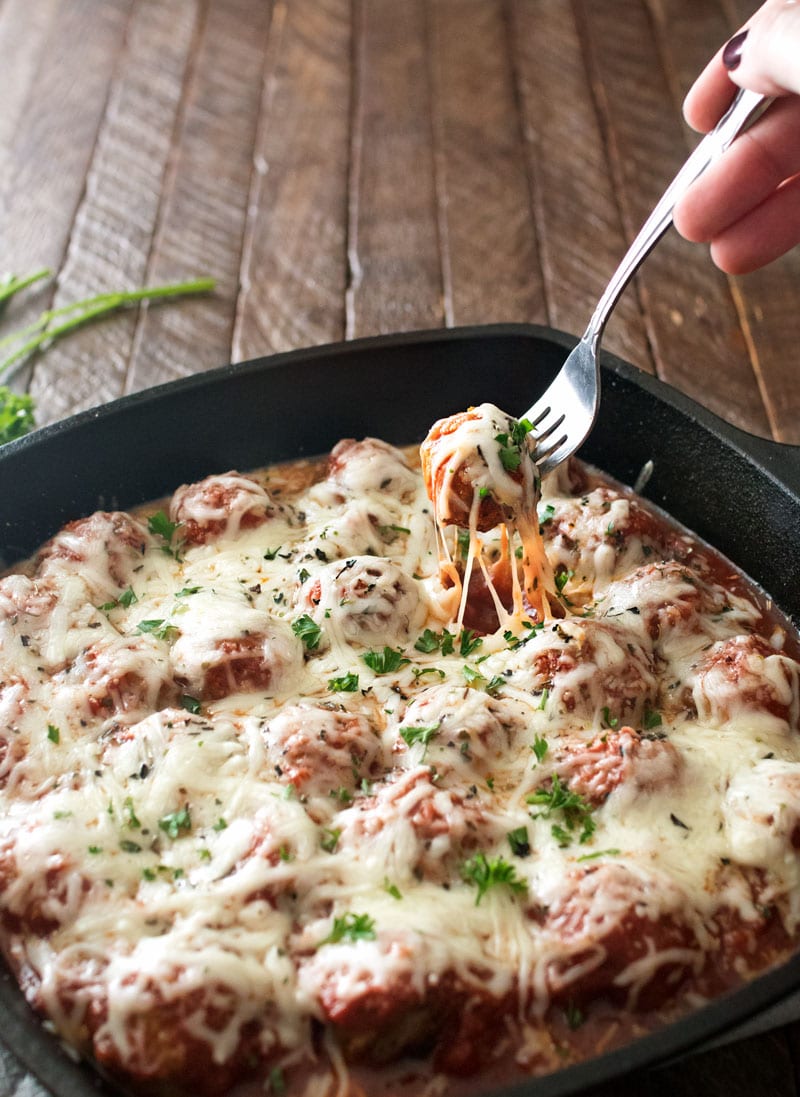 The buttery-soft homemade meatballs are definitely the star here.  They're so melt-in-your-mouth due to a great combination of equal parts beef, pork and veal (but feel free to omit the veal and just use beef and pork if you object to veal), and soaking the breadcrumbs in milk before adding them to the mixture.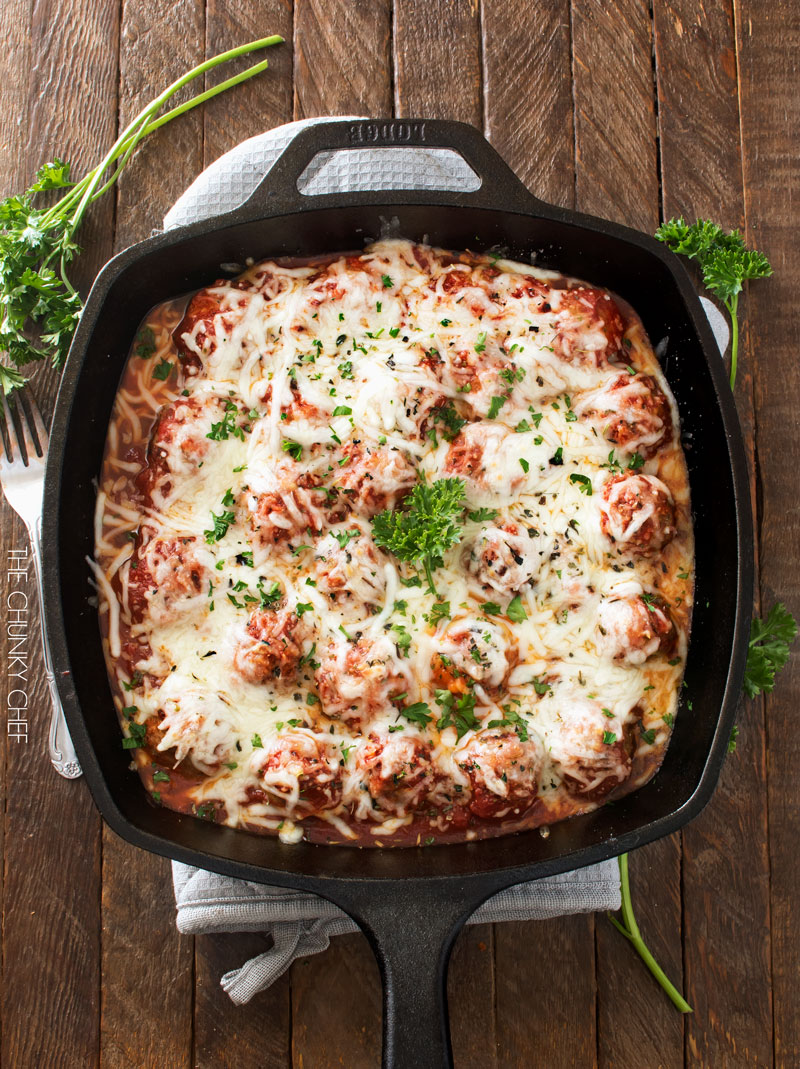 I know some people have issues with cooking tomato based sauces in a cast iron pan (it can cause a slightly metallic taste and can potentially strip the seasonings off your pan), but if you have a WELL seasoned cast iron pan, it shouldn't be an issue.  I use my cast iron pans for nearly everything, so they're very well seasoned, but I wouldn't cook this recipe in a newly purchased pan.  To be safe, you could use an enameled cast iron pan (like this one), or bake your meatballs on a baking sheet them transfer them to glass baking dish (like a 13×9″).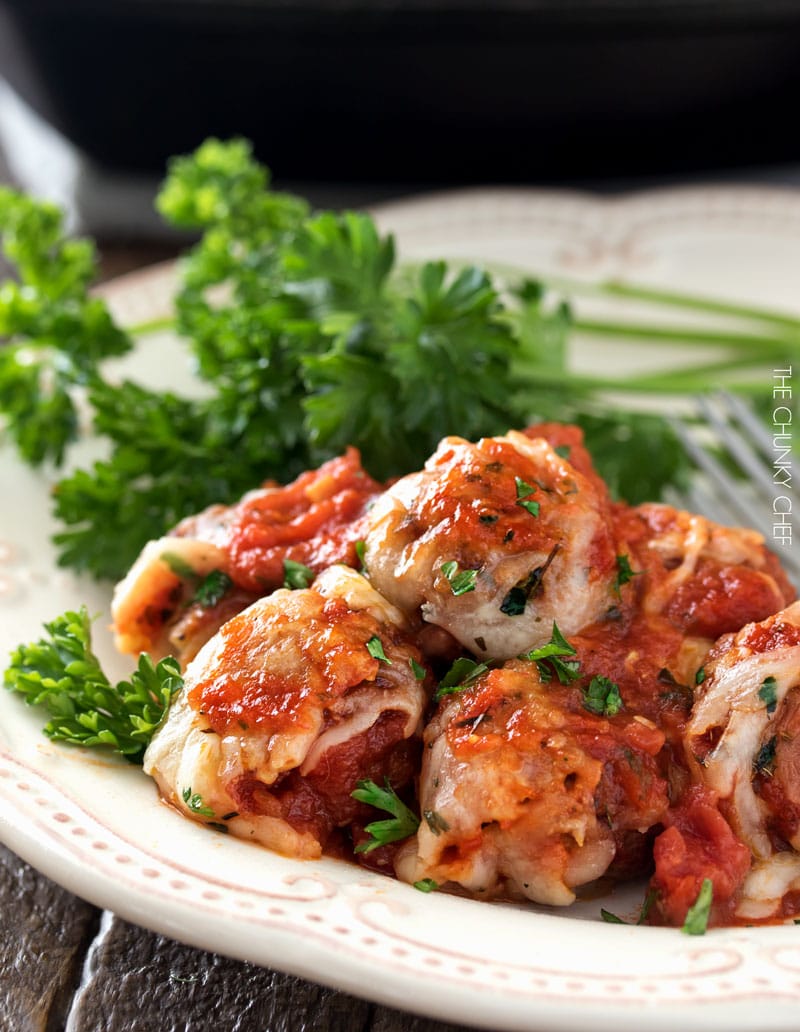 We love to serve this meatball Parmesan bake as is, with a salad and some nice crusty bread… but it's also amazing with pasta, or even put onto a bun for the most delicious meatball sub you've ever had!
Ways To Make This Meatball Parmesan Bake Faster:
Make meatballs ahead of time and keep refrigerated until ready to use.
Make meatballs and freeze them (I recommend doubling the meatball recipe, keeping half in the refrigerator for use soon, and freezing the second half)
In a pinch, you could substitute your favorite frozen meatball, partially thawed, and cook as directed, starting with the sauce step
Helpful Tools for This Recipe:


Did you make this? Be sure to leave a review below and tag me @the_chunky_chef on Facebook and Instagram!
This hearty meatball Parmesan bake combines homemade meatballs, marinara, and Italian cheeses in one skillet or pan. Perfect for subs, pasta, and more!
Ingredients
MEATBALLS
1/2 lb ground pork
1/2 lb ground beef
1/2 lb ground veal
6 cloves garlic minced
1 cup Italian breadcrumbs
1/2 cup milk
1/2 cup shredded Asiago cheese
1/2 cup shredded Parmesan cheese
Handful of fresh parsley chopped
2 eggs
salt and pepper to taste
CASSEROLE
1-2 jars of marinara sauce of your choice
1 - 1 1/2 cups shredded Italian blend cheese or shredded mozzarella
Drizzle of olive oil
1/2 tsp Italian seasoning
Fresh basil minced (for garnish)
Fresh parsley minced (for garnish)
Instructions
MAKE THE MEATBALLS
Preheat oven to 400 degrees F. Line an oven safe skillet with foil and set aside.

In a small mixing bowl, mix breadcrumbs and milk. Set aside.

Mix ground meats, garlic, breadcrumb mixture, Asiago and Parmesan cheese, parsley, eggs, salt and pepper, by hand until just combined, being careful not to over-mix.

Use a small cookie scoop and form ping pong ball sized meatballs.

Spray prepared foil-lined skillet with cooking spray and place formed meatballs on the foil.

Bake for 20 minutes.
MAKE THE CASSEROLE
Lower oven temperature to 375 degrees F.

Place meatballs on a plate and remove foil from skillet.

Pour about 1/2 cup marinara sauce in the bottom of the skillet and spread to cover.

Place meatballs in skillet in a single layer.

Pour remaining marinara sauce over the top of the meatballs, then sprinkle shredded Italian cheeses over the top, so all the meatballs are covered in cheese.

Drizzle a little bit of olive oil over the top of the cheese, then sprinkle with Italian seasoning.

Cover skillet with another piece of foil and bake for 20 minutes.

Remove foil and bake, uncovered, for another 20 minutes.

If desired, broil the dish for a minute or two after baking.

Garnish with fresh basil and parsley if desired.
Want to save this recipe for later? Click the heart in the bottom right corner to save to your own recipe box!
Chef Tips
If you prefer not to use ground veal, substitute it with an equal amount of additional ground beef or pork.
Recipe adapted from Hugs and Cookies
Nutrition Disclaimer
The Chunky Chef is not a dietician or nutritionist, and any nutritional information shared is an estimate. If calorie count and other nutritional values are important to you, we recommend running the ingredients through whichever online nutritional calculator you prefer. Calories can vary quite a bit depending on which brands were used.