Creamy and bursting with savory flavors, this homemade caesar salad dressing is SO much better than any store-bought variety!
Behold, my favorite salad of all time!  The crisp romaine lettuce, sharp and nutty Parmesan cheese, crunchy croutons, and plenty of that savory pepper-specked dressing… yes please!!  Usually I would just buy a bottle of dressing to have caesar salad at home, but no more… and once you try this recipe, you'll be ditching that bottle too!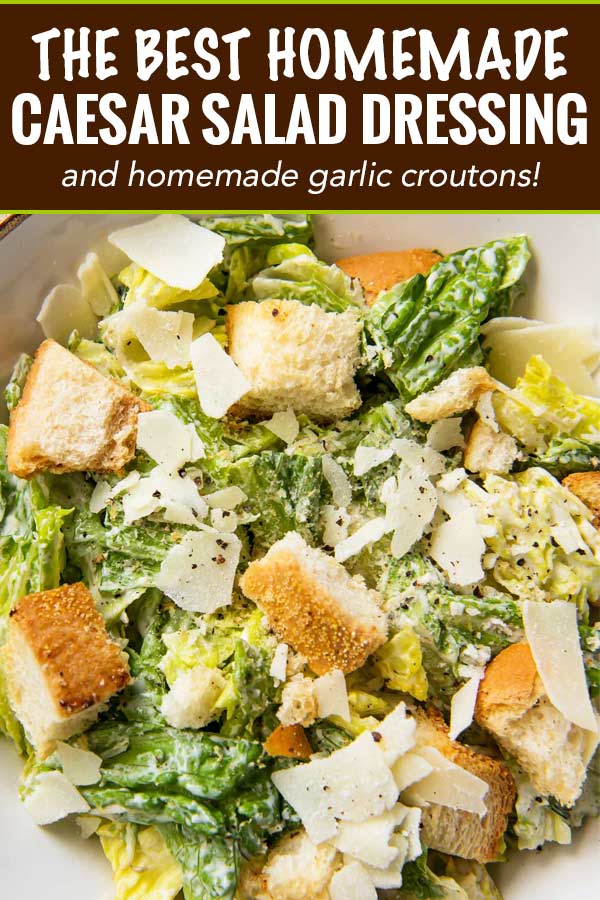 Whenever we go out to a restaurant, I always order a caesar salad with my meal.  No other side salad comes close for me!  Now that I've perfected the homemade dressing and croutons, it's a staple around here as well.
To me, no salad is complete without croutons… and garlic croutons, well, that just makes everything better!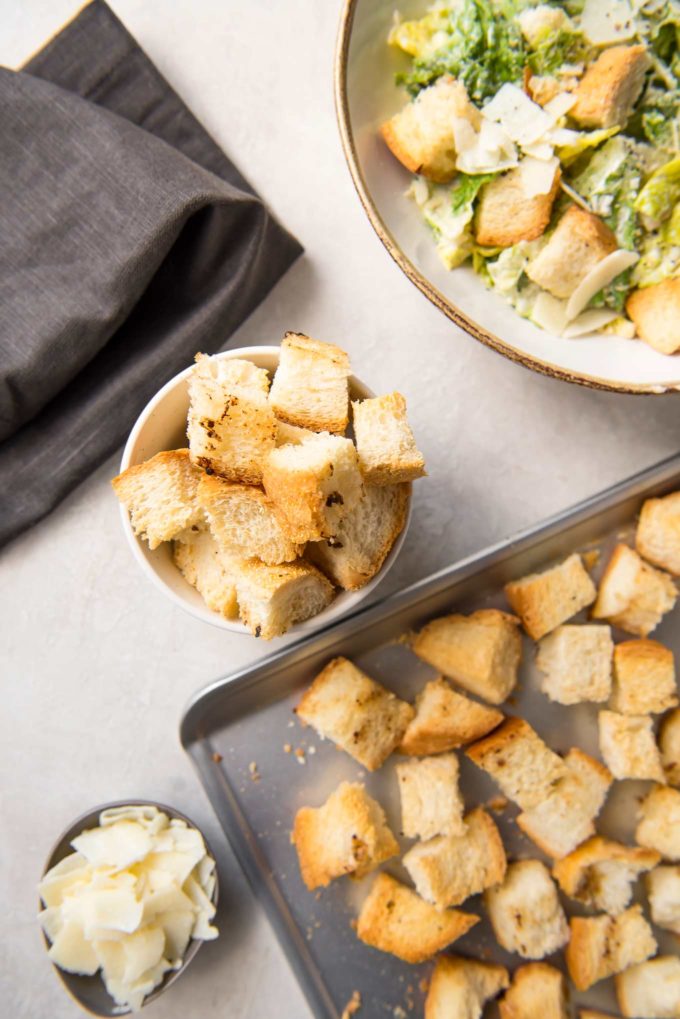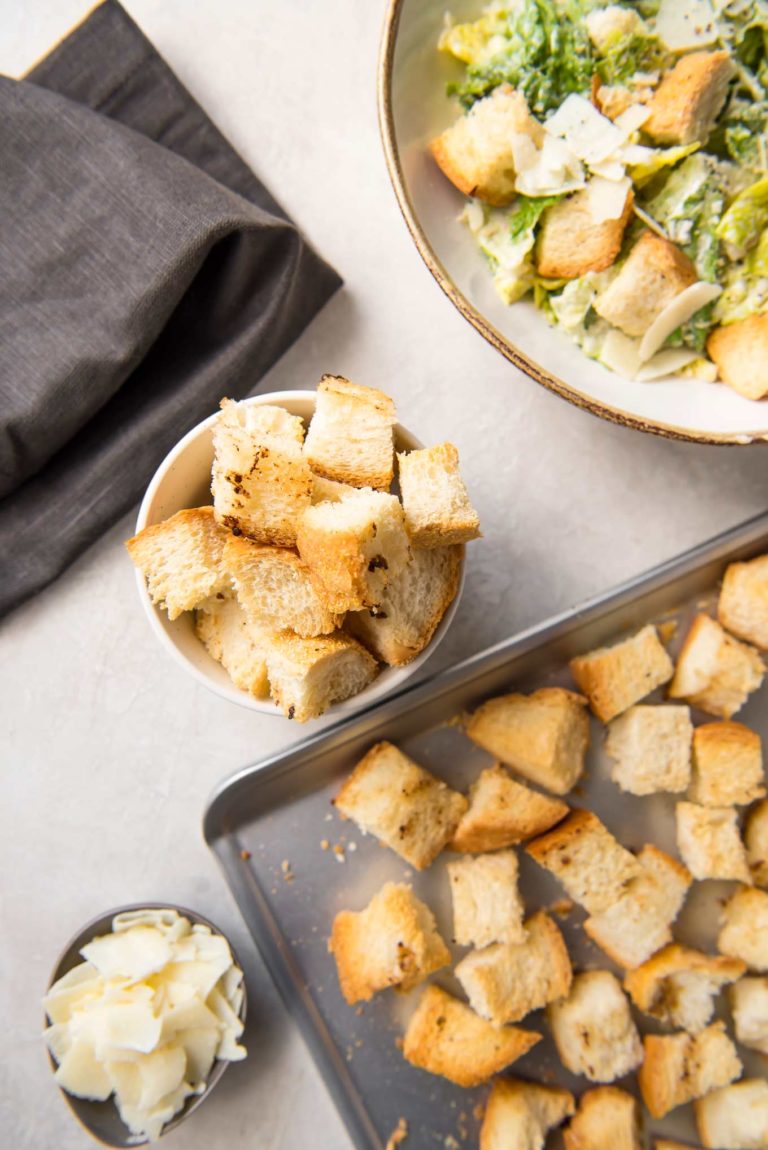 Crunchy, buttery, perfection!
MAKING HOMEMADE CROUTONS
Making your own croutons is so easy, and it's a great way to use up some old bread that you would otherwise forget about and end up throwing away.  I'm all about not wasting food, since that's essentially wasting money, plus, I think homemade tastes better anyway.
Cube up (or tear) some day old bakery bread.  French, Italian, Ciabatta, etc are all great for this.  Make sure the bread cubes are bite-sized.
Lay them out on a foil lined baking sheet and bake @ 375 F degrees for 5 minutes.  While they're baking, mix up your garlic oil mixture.  
Whisk together olive oil, garlic, salt and pepper.
Drizzle the oil mixture over the bread cubes, toss to combine, then bake another 5 minutes.  Stir the croutons, then bake a final 5-6 minutes.  Viola… croutons!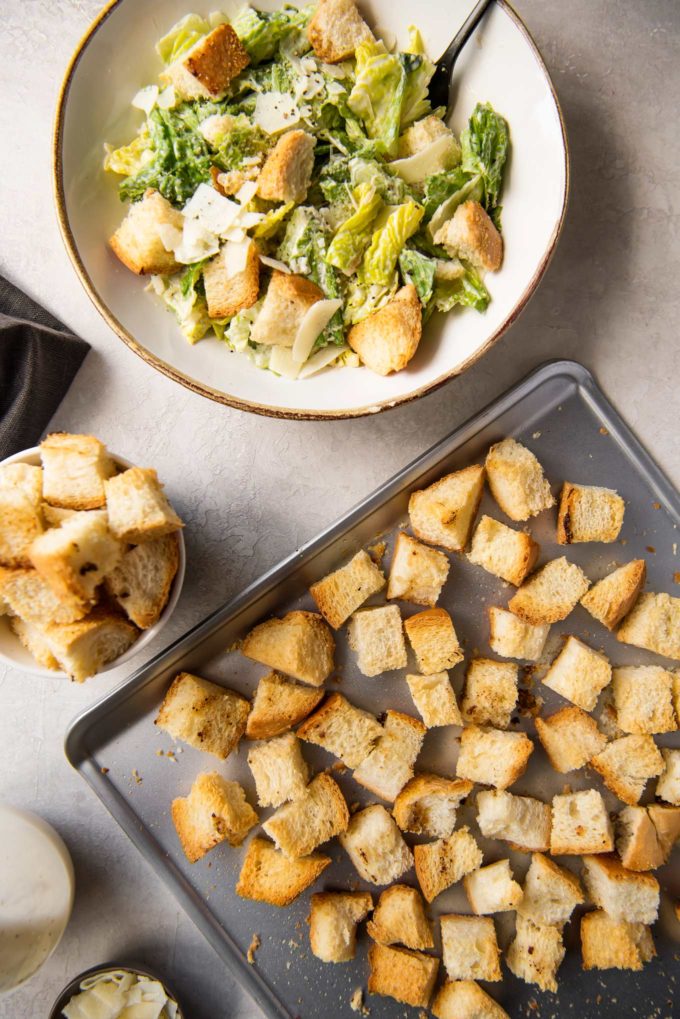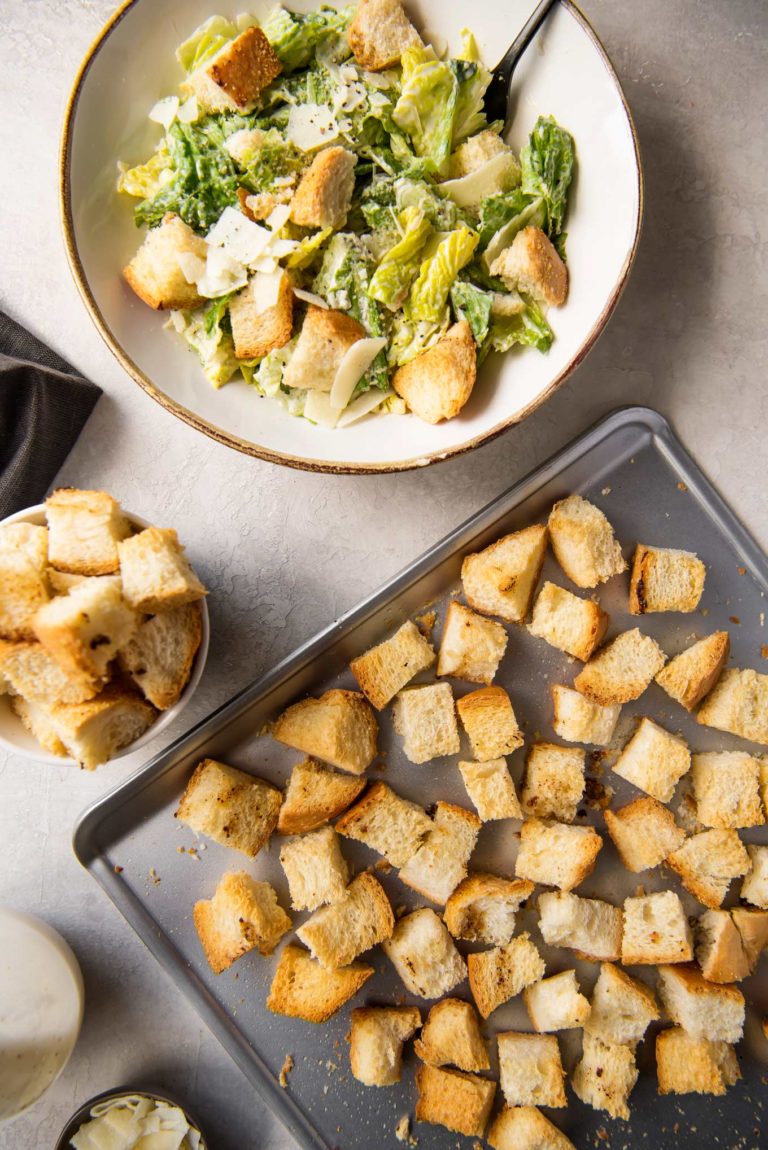 This homemade caesar salad dressing is just as simple, you don't need a blender or food processor, just a bowl and a whisk.  I usually make mine a few hours ahead of time, but it will still be plenty flavorful if you make it right before serving.
WHAT GOES INTO CAESAR SALAD DRESSING?
Traditionally, caesar salad dressing is made with olive oil, egg yolk, Worcestershire sauce, lemon, mustard, garlic and pepper.  To keep this dressing as easy to make as possible (as well as eliminating any risk that goes with raw eggs), I chose to make mine with mayonnaise and sour cream.  This gives the dressing a beautiful creamy texture, that's a bit lighter than an all mayo-based dressing, yet still velvety smooth.
ANCHOVIES, OR NO ANCHOVIES?
I know, I know… anchovies can be a bit… off-putting.  Normally I shy away from using them in most of my cooking, but for this dressing, it really adds a great depth of flavor.  Without the anchovies, the dressing can taste really flat and one dimensional… sort of like if you forget to salt your food while cooking it.
Instead of using anchovy filets, I use anchovy paste!  You can usually find it in major grocery stores, and it's shelf-stable (until opened, then you'll need to refrigerate it).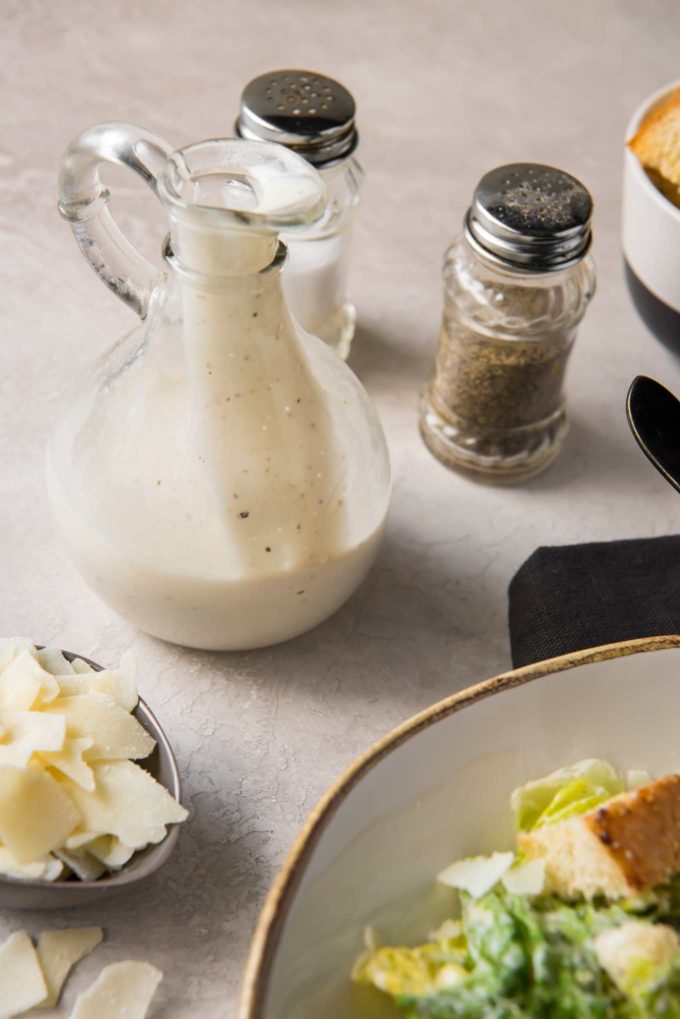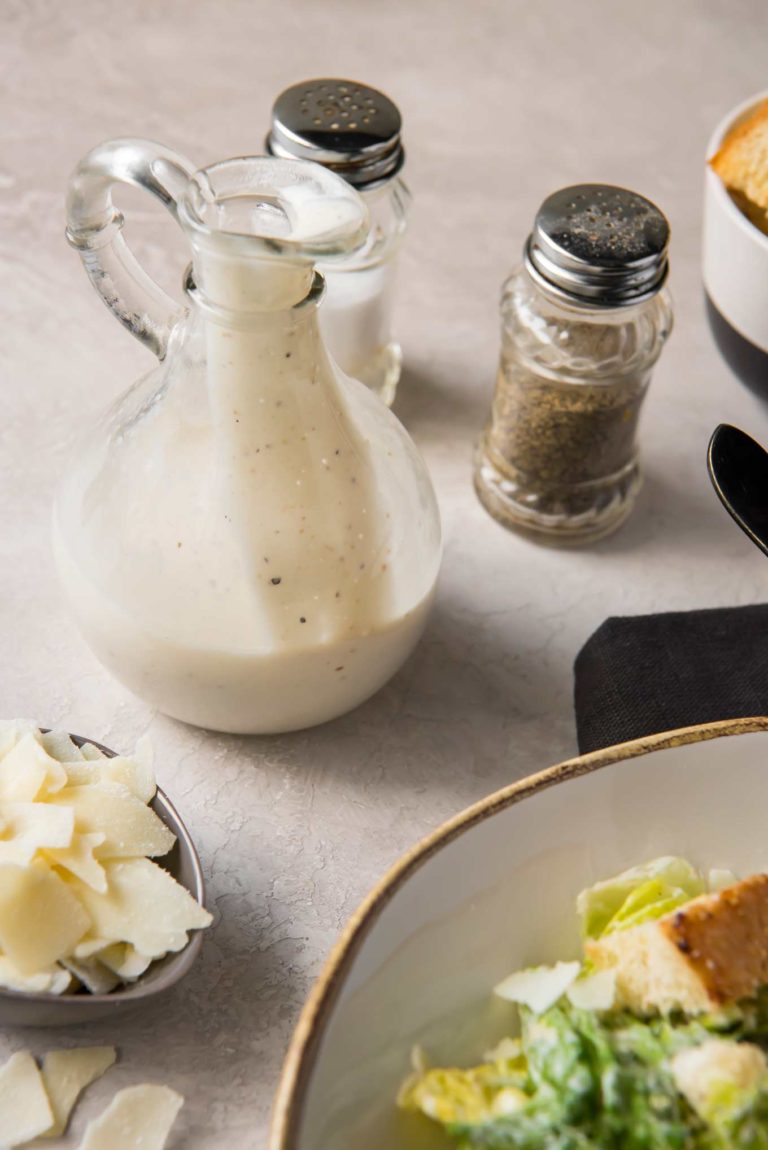 WHO, OR WHAT, IS CAESAR SALAD NAMED AFTER?
This one may surprise you!  As a kid, I thought caesar salad was named after Julius Caesar, the infamous Roman Emperor.  But in fact, it's named after a chef, Caesar Cardini.  He's the man we all owe a big thank you to!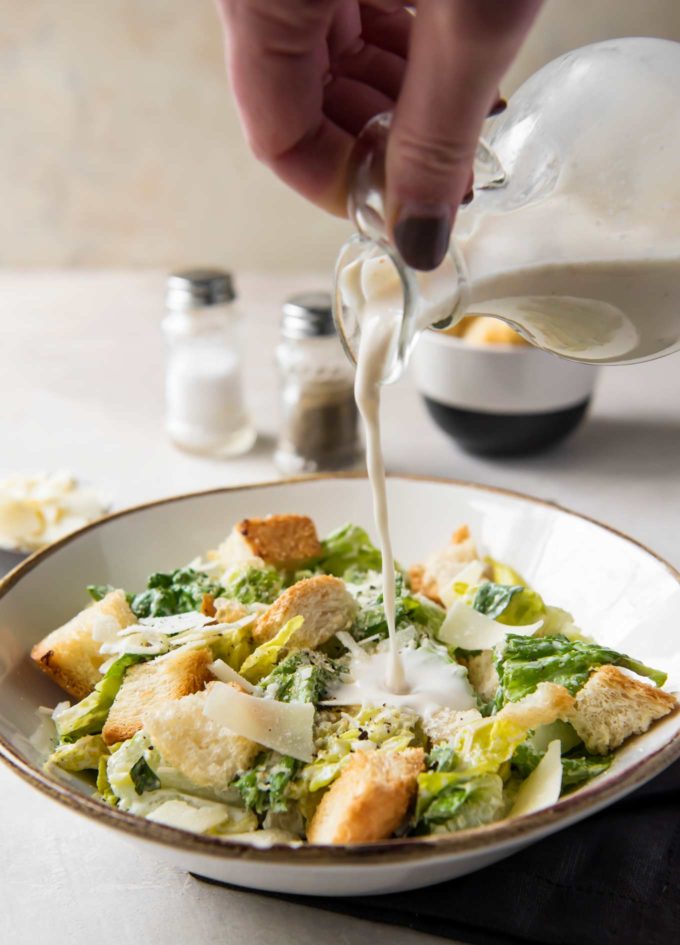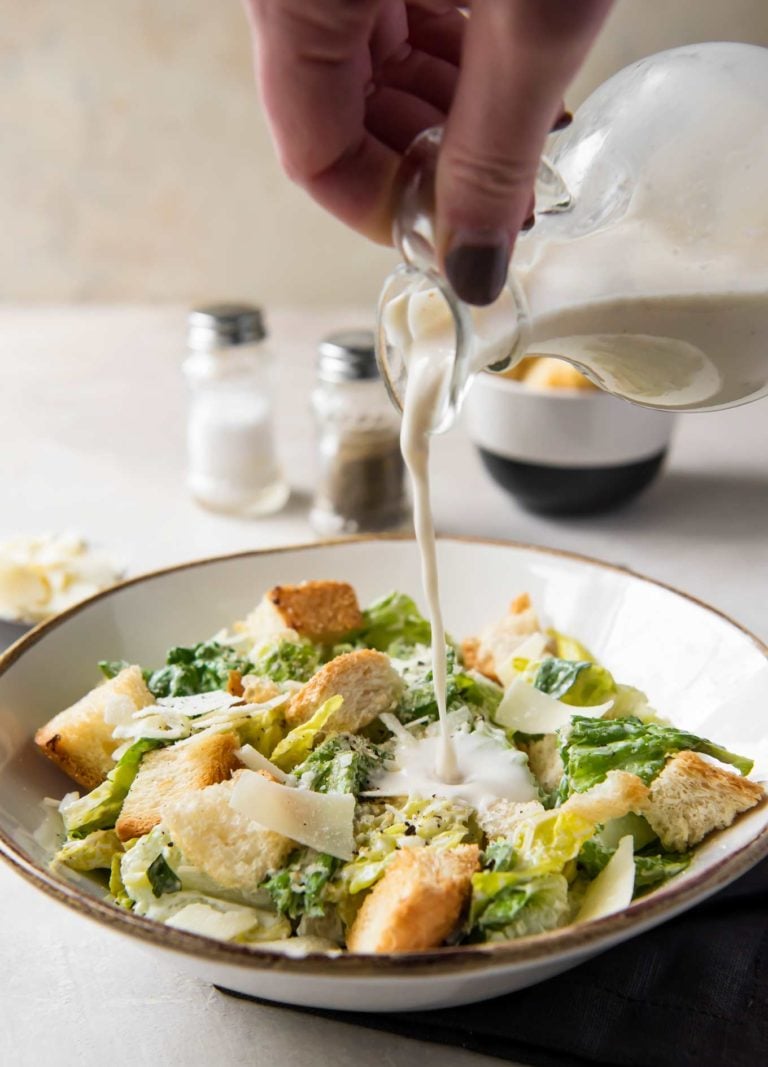 ADDING PROTEIN TO A CAESAR SALAD
After one bite of this salad, you may want to turn this into your main meal, and I can't blame you!  There are 3 main sources of protein that we add to this salad:
Chicken

Slice chicken breasts in half horizontally, to make 2 thin cutlets.  Season well with salt, pepper, dried minced onion, garlic powder, and a pinch of paprika.  Saute over MED-HIGH heat with a drizzle of olive oil for 4 minutes per side, or until golden brown and cooked through.

Salmon

Rub salmon filets with a drizzle of olive oil, then season with salt, pepper and garlic powder.  Saute over MED – MED-HIGH for several minutes per side until cooked to your liking.

Shrimp

Season shrimp with salt, pepper, garlic powder and a pinch of paprika.  Saute over MED-HIGH heat with a drizzle of olive oil for 2-3 minutes per side, until golden and cooked through.  Squeeze some lemon juice over the shrimp when finished cooking.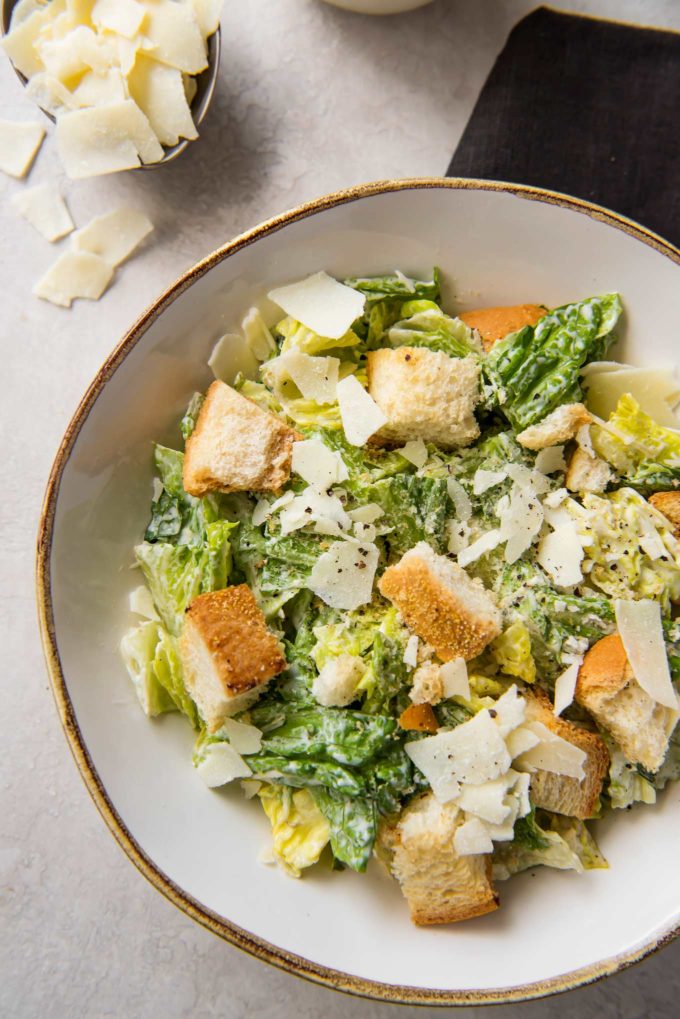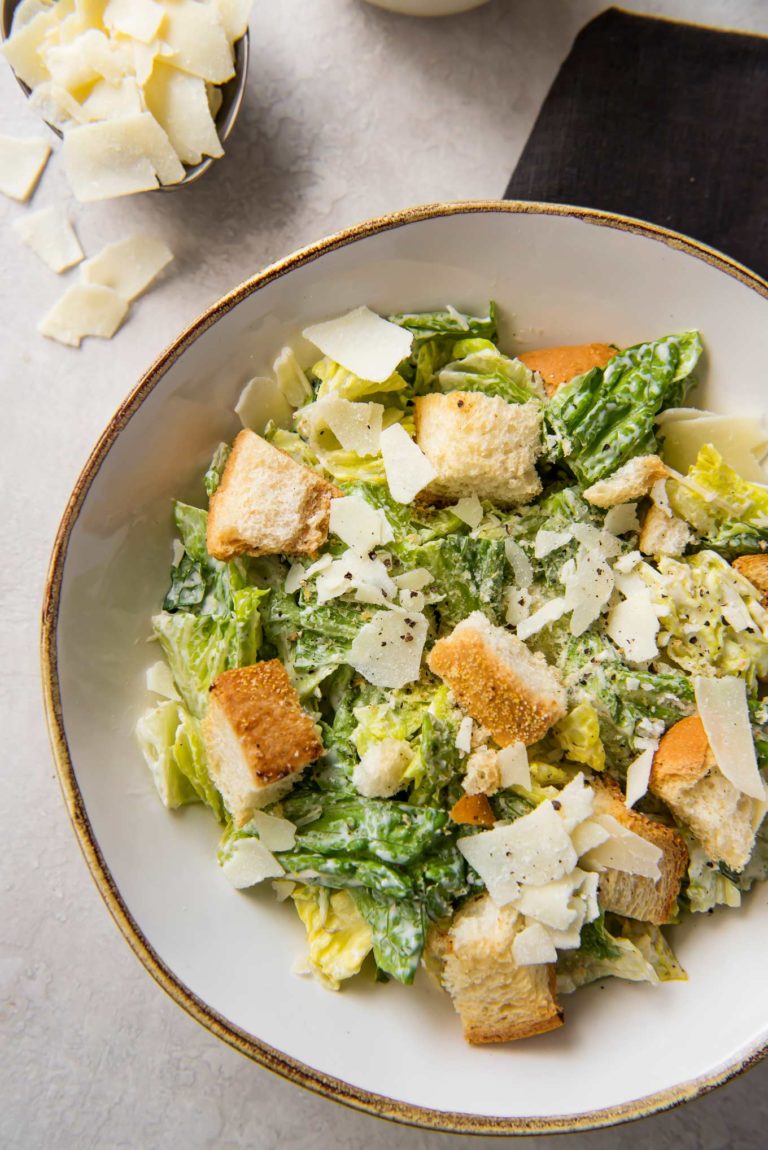 WHAT TO SERVE WITH CAESAR SALAD
This salad makes a fabulous side dish to a LOT of recipes, but here are a few of my favorites:


Did you make this? Be sure to leave a review below and tag me @the_chunky_chef on Facebook and Instagram!
Forget about bottled salad dressing, this simple homemade caesar salad dressing is about 1000x better!
Ingredients
DRESSING:
1/2 cup mayonnaise
1/4 cup sour cream
1 1/2 tsp anchovy paste
3 cloves garlic , pressed with a garlic press, grated, or finely minced
1 1/2 Tbsp olive oil
2 - 3 Tbsp lemon juice
1 1/2 tsp Dijon mustard
1/2 - 1 Tbsp Worcestershire sauce
1/4 - 1/2 tsp freshly ground black pepper , depending on your tastes
1/4 cup finely shredded fresh parmesan cheese
Salt to taste
CROUTONS:
1/2 loaf artisan bread , 1-2 days old
3 Tbsp olive oil
3 cloves garlic , pressed with a garlic press, grated, or finely minced
1/4 each salt and black pepper
SALAD:
1 large head Romaine lettuce , chopped
1/2 cup shredded or shaved Parmesan cheese
Instructions
DRESSING
To a mixing bowl, add mayonnaise, anchovy paste, olive oil, lemon juice, mustard, Worcestershire sauce, pepper, salt, and garlic and stir. Whisk in sour cream and 1/4 cup Parmesan cheese. Place in airtight container in the refrigerator until serving.

CROUTONS
Preheat oven to 375 degrees. Slice bread into slices 3/4-inch thick then cut each slice into cubes. Spread out bread cubes in a single layer on a baking sheet and bake 5 minutes. While they are baking, in a mixing bowl, whisk together olive oil, garlic, salt and pepper.

Remove baking sheet from the oven and drizzle with garlic oil mixture, toss to combine, then bake 5 minutes.

Remove sheet from the oven and toss, then bake 5 - 6 minutes longer, until golden brown and crisp. Remove from oven and set aside.

ASSEMBLE SALAD
In a large salad bowl toss together lettuce, croutons and Parmesan cheese. Drizzle with dressing and toss. Sprinkle with additional Parmesan and black pepper if desired.
Want to save this recipe for later? Click the heart in the bottom right corner to save to your own recipe box!
Chef Tips
For best results, use a good-quality mayonnaise and real, fresh Parmesan cheese.  The kind in a bottle in the pasta aisle won't taste nearly as good as fresh Parm!
Nutrition Disclaimer
The Chunky Chef is not a dietician or nutritionist, and any nutritional information shared is an estimate. If calorie count and other nutritional values are important to you, we recommend running the ingredients through whichever online nutritional calculator you prefer. Calories can vary quite a bit depending on which brands were used.