Homemade Caesar Salad Dressing
One of my favorite salads ever, is a caesar salad.  The crisp romaine lettuce, sharp and nutty Parmesan cheese, crunchy croutons, and plenty of that savory pepper-specked dressing… yes please!!  Usually I would just buy a bottle of dressing to have caesar salad at home, but no more… and once you try this recipe, you'll be ditching that bottle too!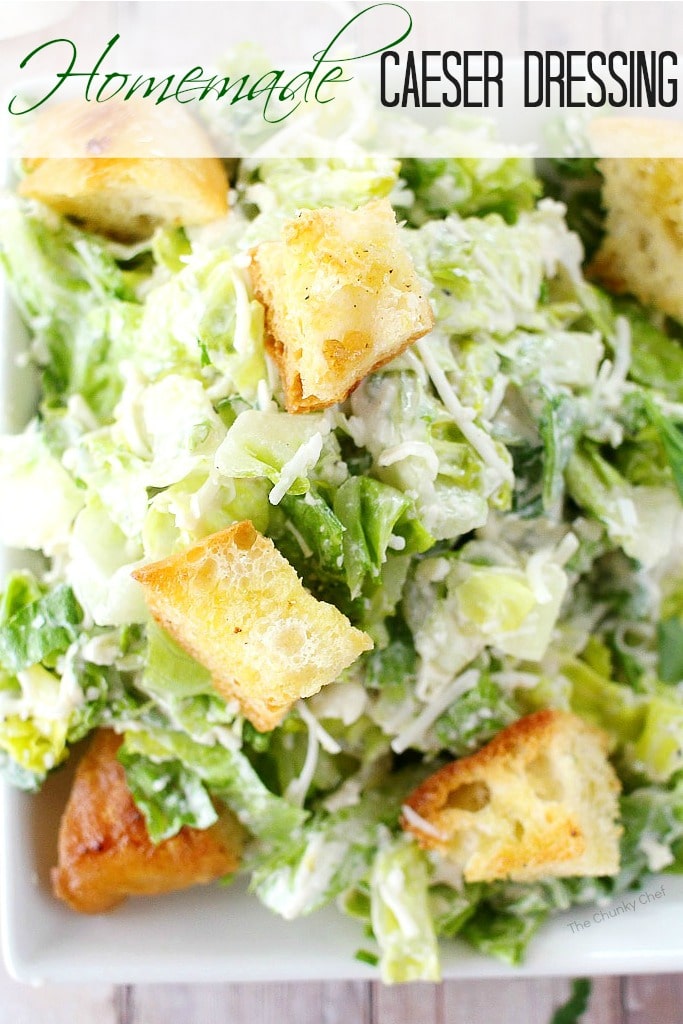 What salad is complete without some amazing croutons?  So how about some homemade garlic croutons?  Ohhhhhh yeah 😉
Making your own croutons is so easy, and it's a great way to use up some old bread that you would otherwise forget about and end up throwing away.  I'm all about not wasting food, since that's essentially wasting money, plus, I think homemade tastes better anyway lol.
Just start by cubing up some day old French or Italian bread, basically whatever you have laying around.  Lay them out on a foil lined baking sheet and bake for 5 minutes.  While they're baking, mix up your garlic oil mixture.  Drizzle the oil mixture over the bread cubes, toss to combine, then bake another 5 minutes.  Take them out of the oven, stir the croutons, then bake a final 5-6 minutes.  Viola!  Croutons 😀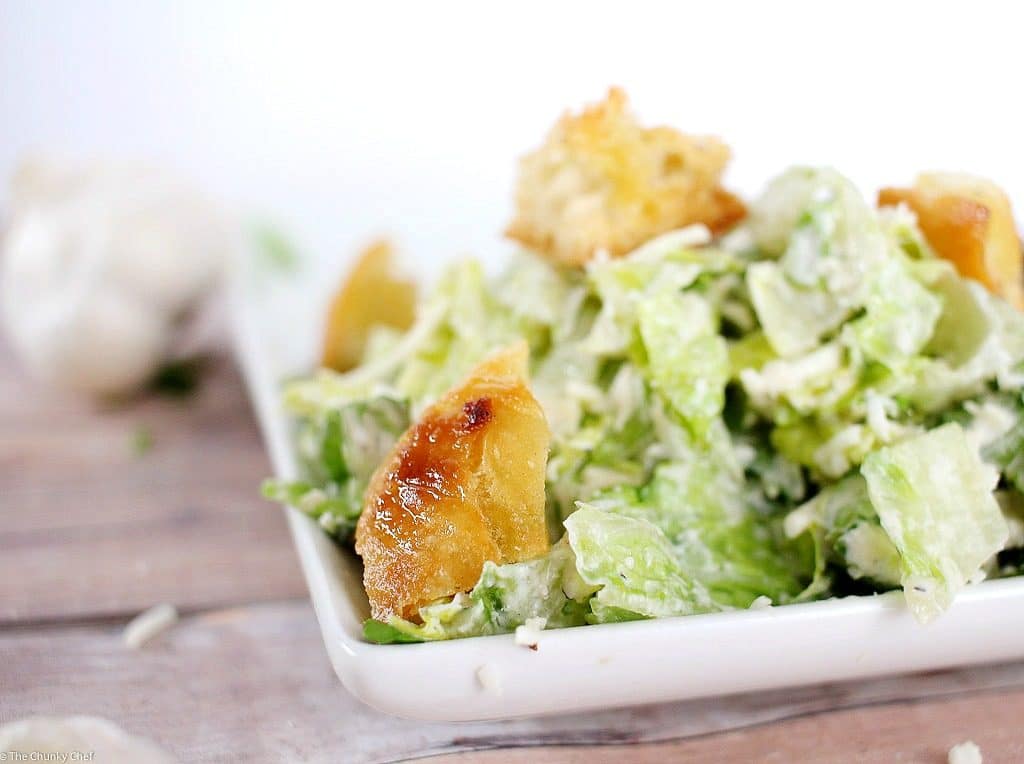 Now this caesar salad dressing is just as simple, you don't need a blender or food processor, just a whisk.  Just whisk all the ingredients together and chill in the refrigerator.  I usually make mine a few hours ahead of time, but it will still be plenty flavorful if you make it right before serving.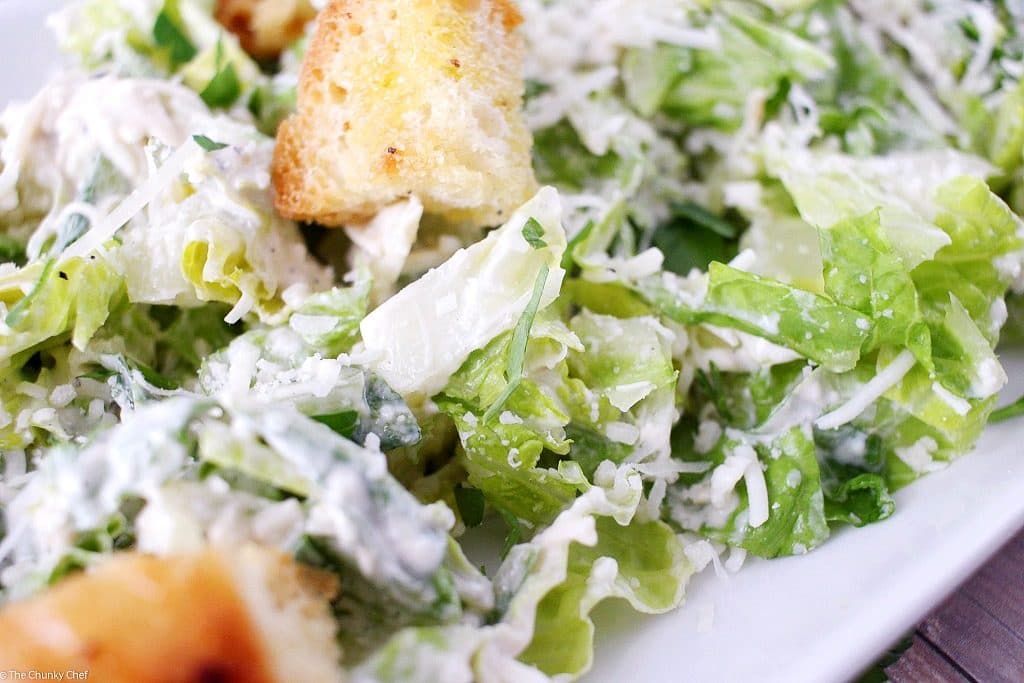 To make the salad, just chop up some fresh romaine lettuce (or buy a bag of the pre-chopped romaine), add 3/4 of your shredded Parmesan cheese, toss it together with the salad dressing and sprinkle with remaining shredded Parmesan cheese.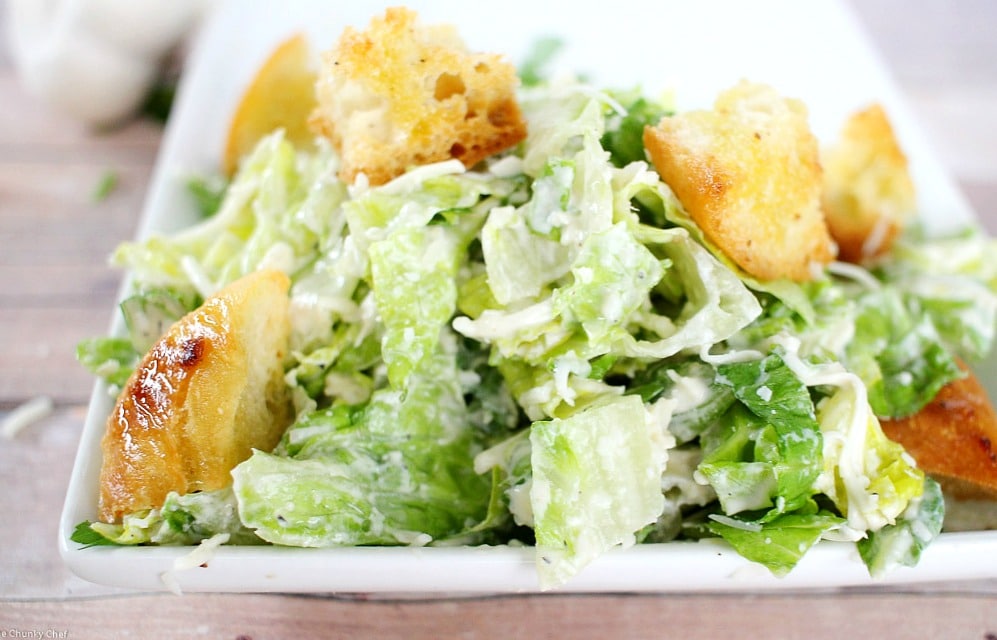 If you'd like, serve this salad with some sliced chicken breast on top to make it an entree salad.  For that, I usually use leftover chicken from another meal… makes dinner time a little less stressful 🙂  Some leftover chicken from my lemon chicken piccata would make a great addition to this salad!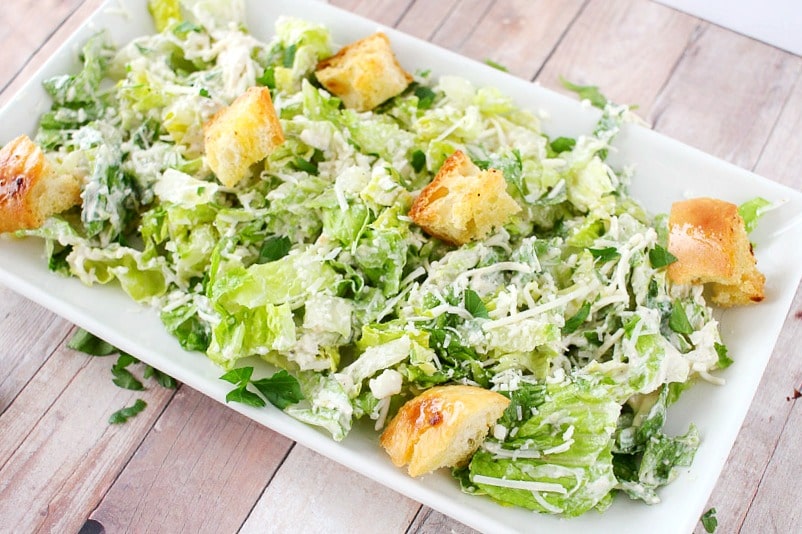 This caesar salad would also make a great side to some Italian stuffed flank steak!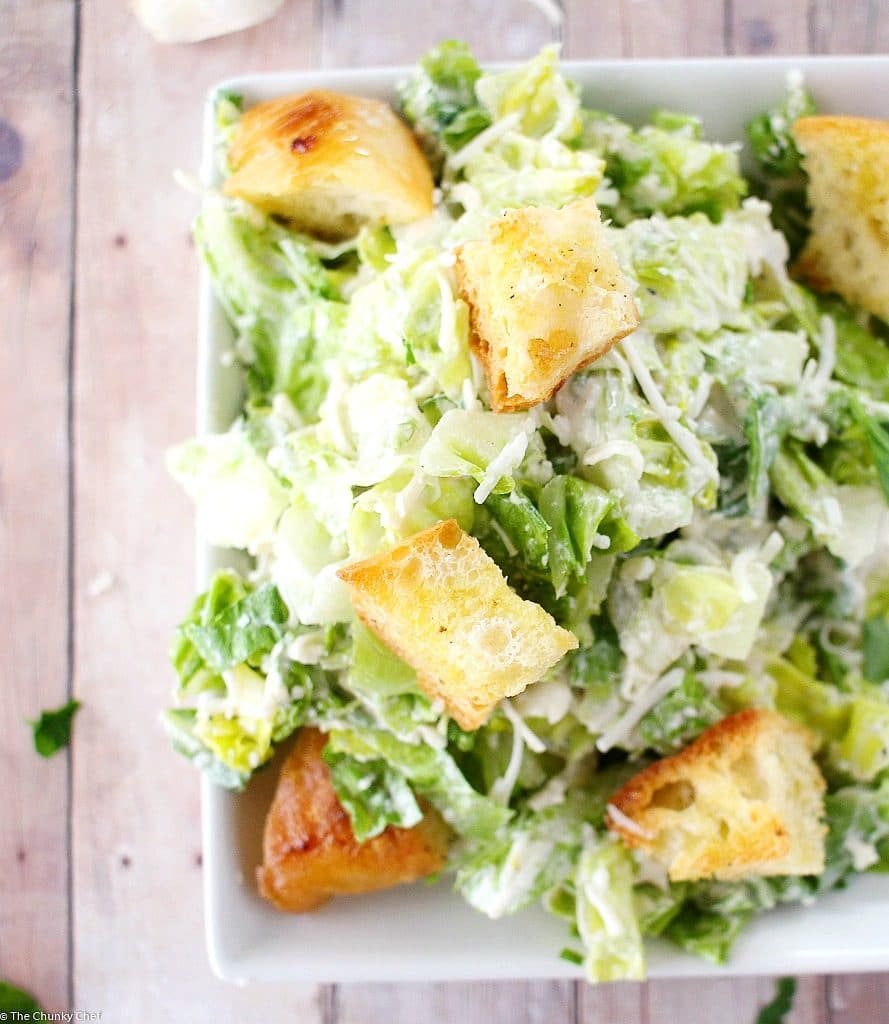 As the weather is warming up, I like to serve more salads as a nice refreshing side dish or even as an entree salad.  If you try this one, I know you'll love it!
Don't miss a new recipe, enter your email below to stay updated!
[mc4wp_form]
You can find me on Facebook, Twitter, Pinterest, and Google +, so follow me if you'd like… I love keeping in touch with all of you 🙂
Recipe from Cooking Classy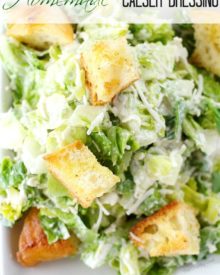 4 servings
Homemade Caesar Salad Dressing
Forget about bottled salad dressing, this simple homemade caesar salad dressing is about 1000x better!
Ingredients
Dressing:
1/2 cup sour cream
1 1/2 tsp anchovy paste
1 1/2 Tbsp mayonnaise
1 1/2 Tbsp olive oil
3 Tbsp lemon juice
1 1/2 tsp Dijon mustard
1 Tbsp Worcestershire sauce
1/4 - 1/2 tsp freshly ground black pepper depending on your tastes
Salt to taste
3 cloves small garlic pressed with a garlic press, grated, or finely minced
Croutons:
1/2 loaf French bread 1-2 days old
3 Tbsp olive oil
3 cloves garlic pressed with a garlic press, grated, or finely minced
1/4 each salt and black pepper
Salad:
1 large head Romaine lettuce chopped
1/2 cup shredded Parmesan cheese
Instructions
For the dressing:

To a mixing bowl, add mayonnaise, anchovy paste, olive oil, lemon juice, mustard, Worcestershire sauce, pepper, salt, and garlic and stir. Whisk in sour cream. Place in airtight container in the refrigerator until serving.


For the croutons:

Preheat oven to 375 degrees. Slice bread into slices 3/4-inch thick then cut each slice into cubes. Spread out bread cubes in a single layer on a baking sheet and bake 5 minutes. While they are baking, in a mixing bowl, whisk together olive oil, garlic, salt and pepper.

Remove baking sheet from the oven and drizzle with garlic oil mixture, toss to combine, then bake 5 minutes.

Remove sheet from the oven and toss, then bake 5 - 6 minutes longer, until golden brown and crisp. Remove from oven and set aside.


To assemble salad:

In a large salad bowl toss together lettuce, croutons and 3/4 of the Parmesan. Drizzle with dressing and toss. Sprinkle with remaining Parmesan.
Recipe Notes
** To make this salad an entree, add some sliced chicken breast to the top of the salad.
** Use as much dressing as you'd like.
Linked to Made By You Monday | Melt in Your Mouth Mondays | Munching Mondays | Tickle My Tastebuds Tuesdays | Try a New Recipe Tuesday | Take A Look Tuesday | Totally Talented Tuesdays | Lou Lou Girls Fabulous Party | Simple Suppers | What's Cooking Wednesdays | Whimsy Wednesdays | The Wednesday Roundup | Wordless Wednesday | Showcase Your Talent Thursdays | Full Plate Thursdays | Favorite Things Blog Hop | Foodie Fridays | Fiesta Fridays | Pure Blog Love | Pin Junkie Pin Party | Foodie Friends Friday | Foodie Friday and Everything Else | Fresh Ideas for Your Home | Friday Favorites | Show Stopper | Best of the Weekend | Show and Tell Saturday | Link Party Palooza