Perfect for a weeknight meal, this French onion smothered pork chops recipe is all made in one pan, and in about 30 – 40 minutes!
Tired of the same old chicken recipes?  Try pork instead!  These smothered pork chops have all the great flavors of a French onion soup, plus juicy pork chops, are made in one pan, and ready in 40 minutes or less!
This post is sponsored by the Ohio Pork Council. All opinions are my own.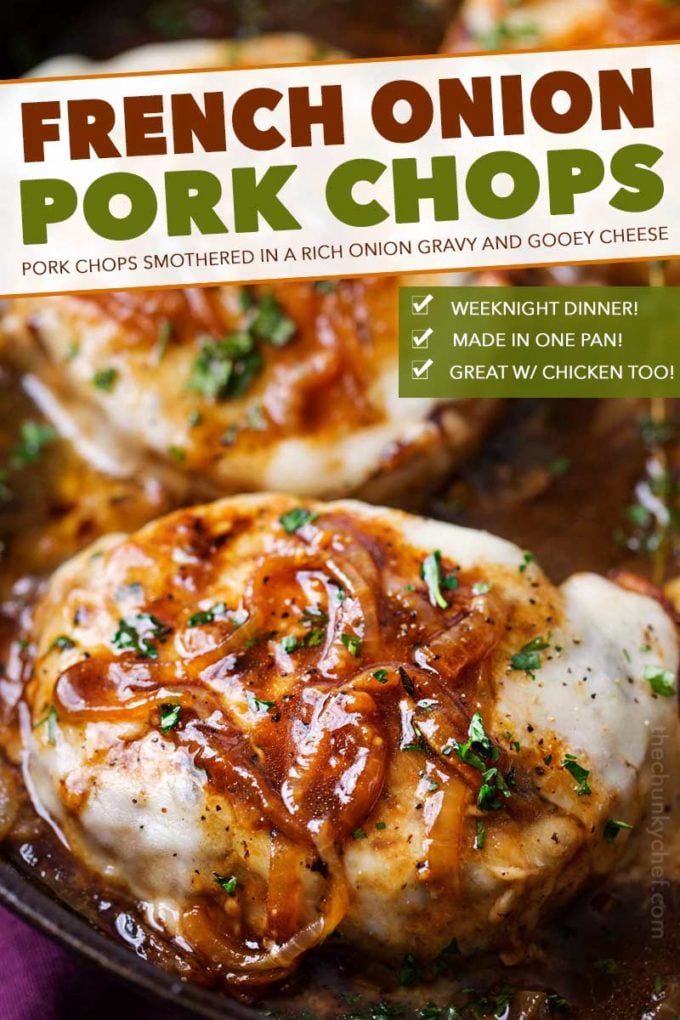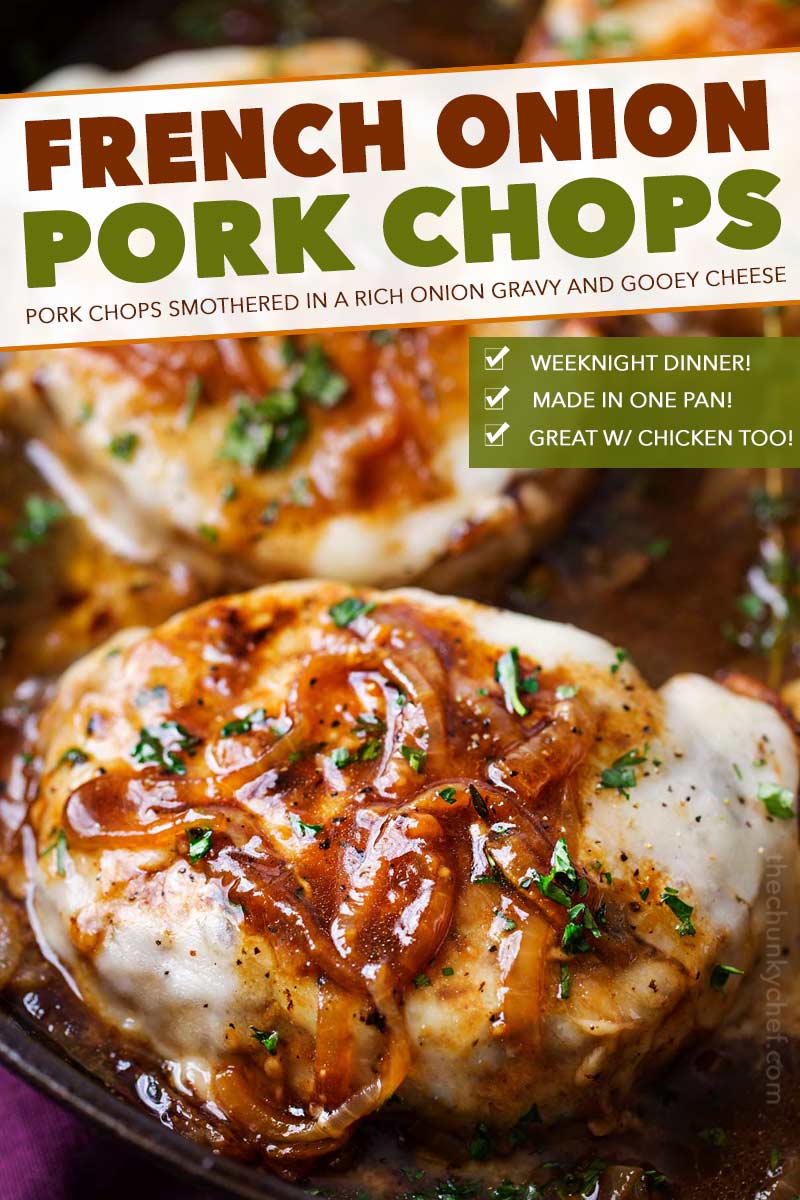 Okay you guys… I have been dying to share this post with you!  You know my new infatuation with one pan/one pot meals… well here's another one!  
If you like French onion soup, you will LOVE this smothered pork chops recipe.  Seriously!  My husband ate the leftovers and with a mouthful of food, proclaimed that these were amazing.  It's savory, it's gooey, it's rich, it's easy, and it's all done in one pan!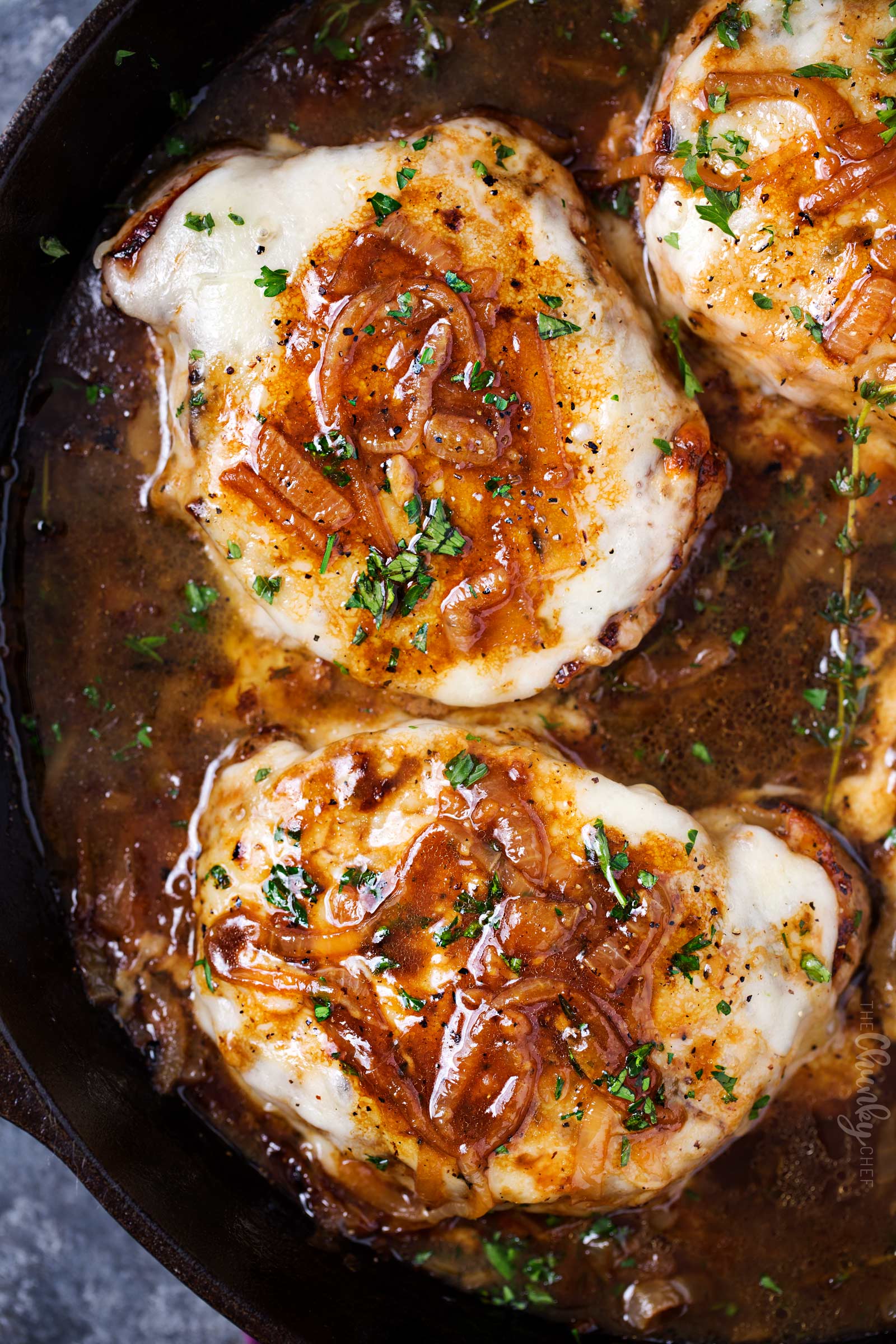 For this recipe to be truly one pan, you'll need an oven-safe skillet, like a cast iron pan.
BUT I DON'T HAVE AN OVEN SAFE SKILLET
No worries!  You can absolutely make this recipe without one, it just won't be a one pan meal.
You'll just prepare the recipe through step 5 (see recipe at bottom of page), then transfer it all to a 9×13 or similar sized baking pan.  Still only a handful of dishes to wash, which is a win in my book!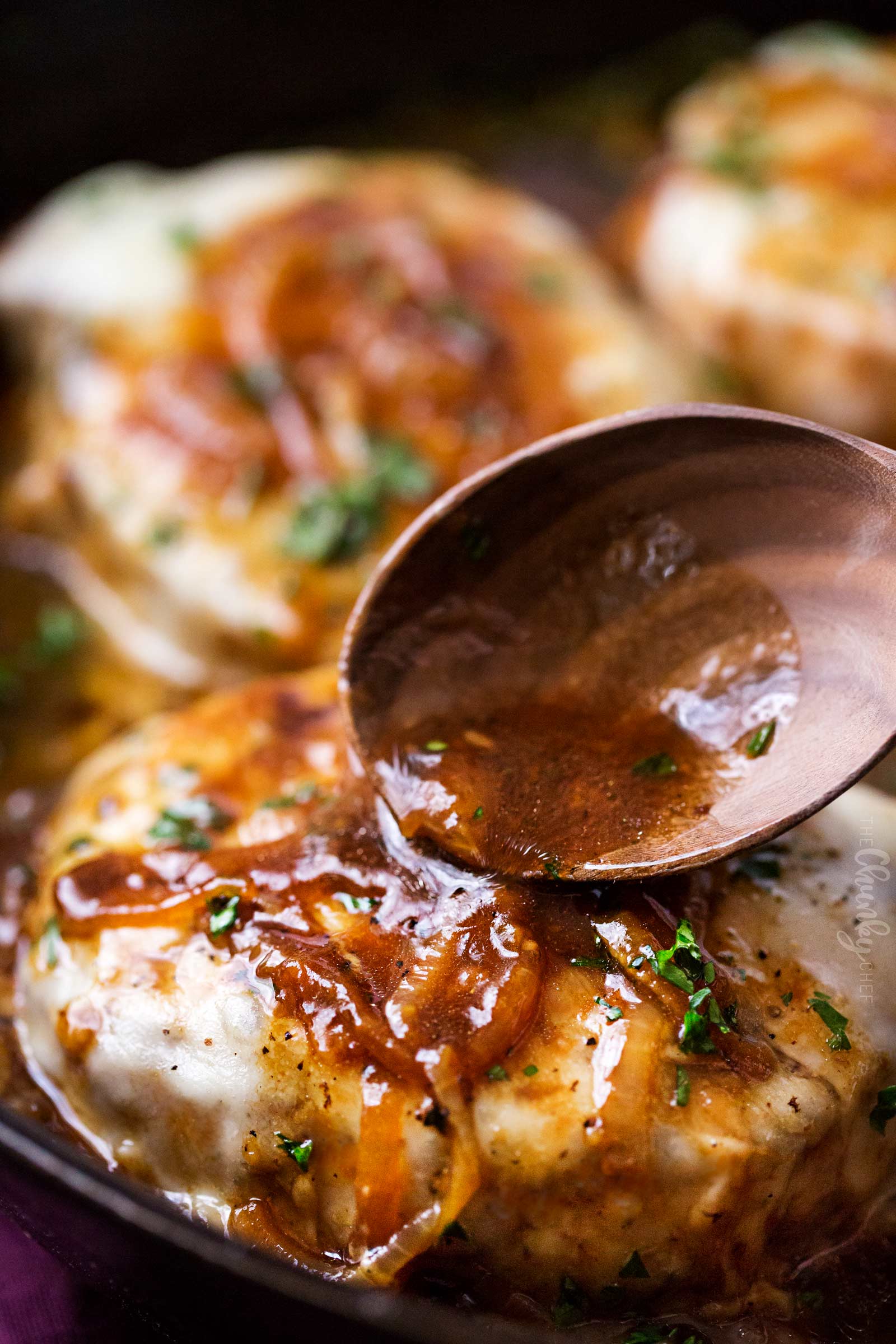 There's my favorite part… the beefy onion sauce.  Oh my word, you'll want to eat it with a spoon!  You definitely don't want to skip caramelizing the onions with the beef stock… it gives this dish such a deep, intense flavor.
I like to serve these smothered pork chops on a weeknight, when I'm most in need of a quick, easy, one pan meal; but you could EASILY serve this up to company.  It looks and tastes fancy, and only you have to know how easy it truly was to make!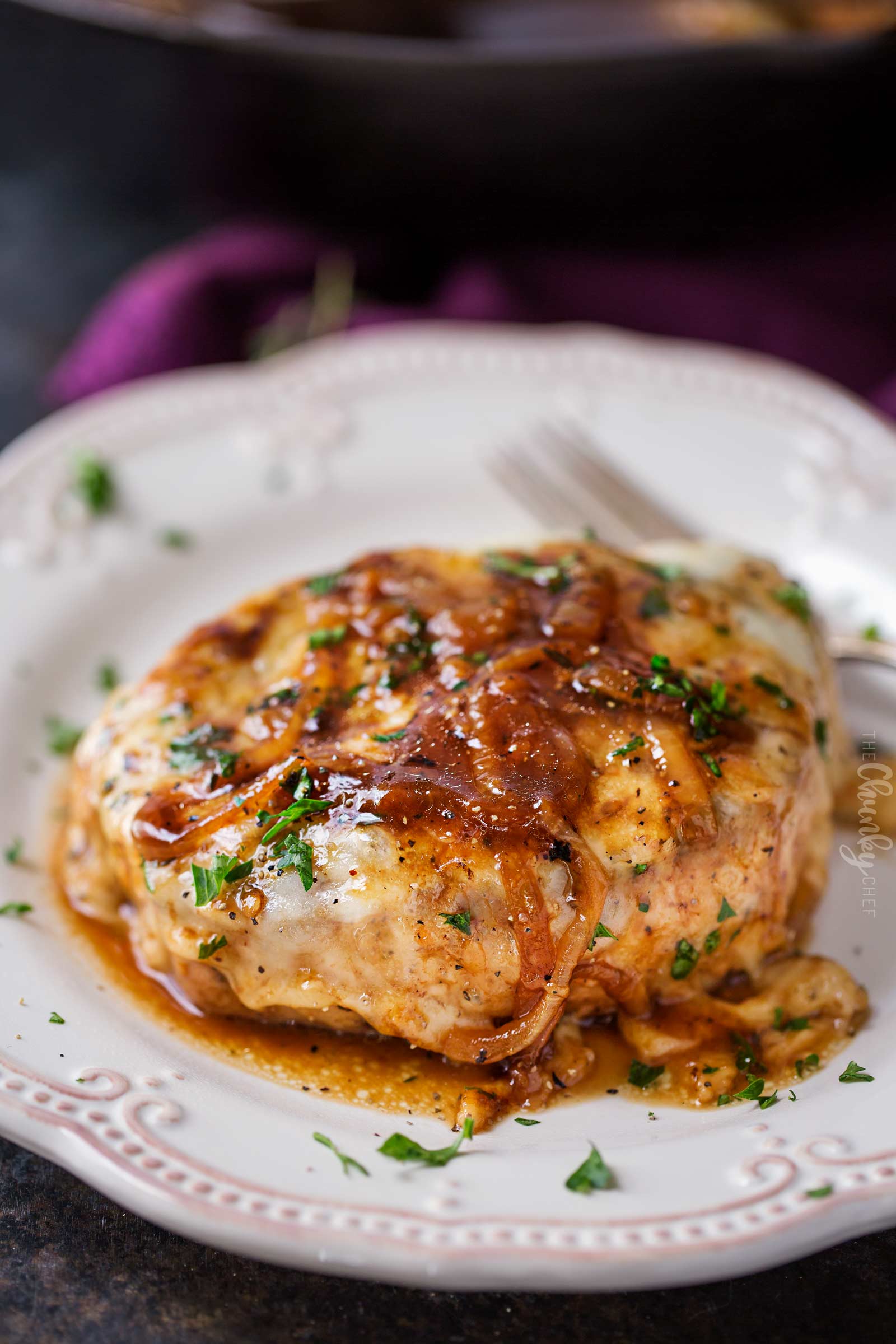 Now comes the big question, what to serve these smothered pork chops with.
SIDE DISH OPTIONS: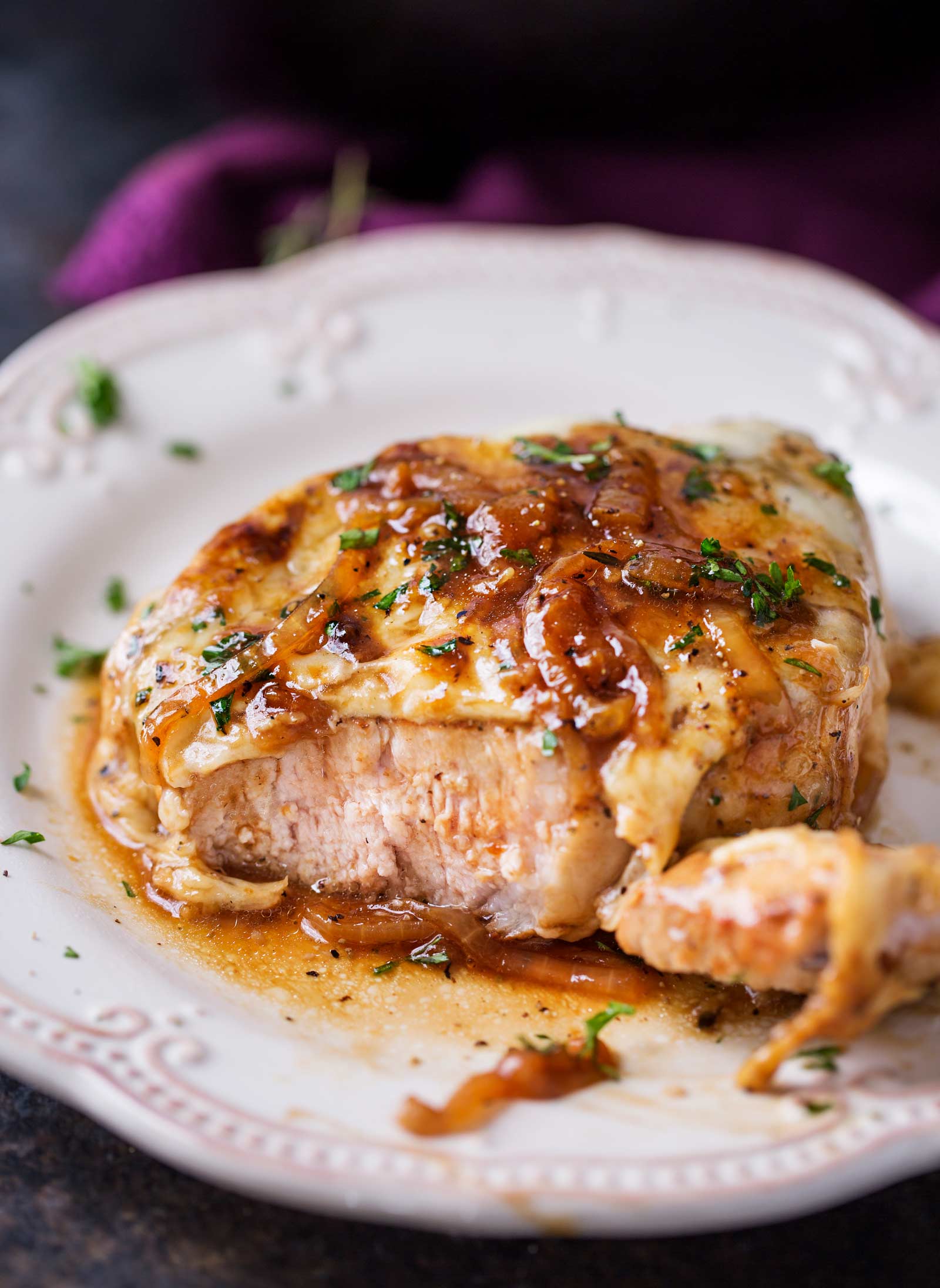 TIPS FOR THIS SMOTHERED PORK CHOPS RECIPE:
Use the best looking pork chops you can find.  I usually get mine from the butcher counter, as those are generally thicker and less fatty than the ones pre-packaged out in the store.  We're using simple ingredients here, so quality is key.
When you first put the sliced onions in the skillet, it'll look like you have WAY too many.  Don't worry, they cook down considerably.
You don't have to fully caramelize the onions, they keep cooking throughout the rest of the recipe process.  You way them very soft and golden brown, not deep brown like traditional caramelized onions.
The fresh thyme sprigs are optional, but totally recommended… it's a great flavor and really brings home more of the French onion flavor profile.
Don't worry about only cooking the pork chops a few minutes per side.  They'll keep cooking as the dish is baked later, and you really only want to cook pork to 140-145 F degrees.  It should have a slight blush of pink.  Pink is GOOD with pork, it means the chops will still be juicy and tender, not tough and leathery.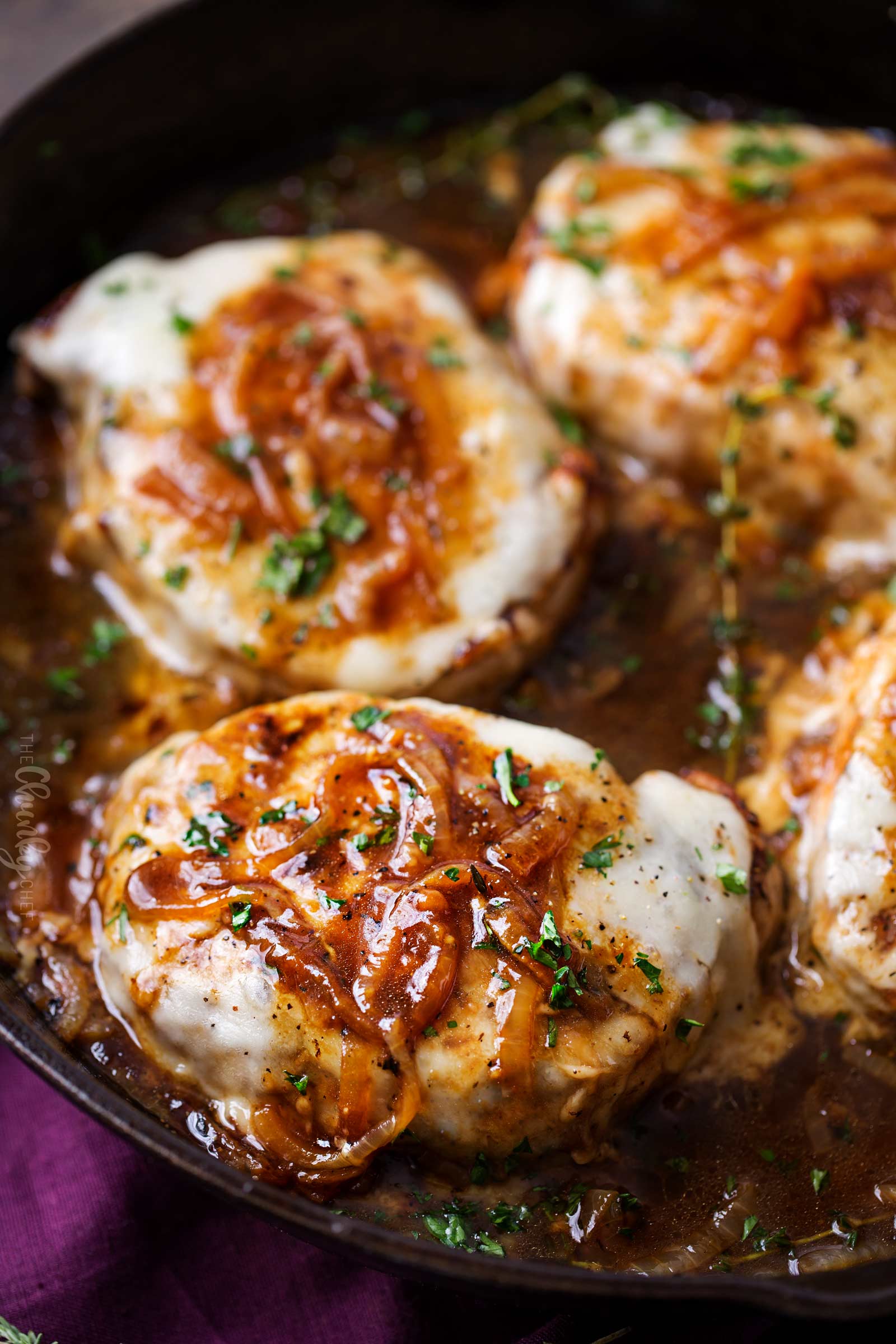 Instead of reaching for your go-to chicken recipe on a busy weeknight, try this French Onion Smothered Pork Chops recipe… I know you'll love it!
HELPFUL TOOLS:
Cast Iron Skillet – hands down, the most used pan in my kitchen.  Gives a fantastic sear and will give you a lifetime of great use if taken care of properly!
Stainless Tongs – Perfect for transferring and flipping pork chops.
Meat Thermometer – Never have to guess what the temperature of the meat is again!  This probe goes in the oven with the meat while the display sits on your counter.
Did you make this? Be sure to leave a review below and tag me @the_chunky_chef on Facebook and Instagram!
Perfect for a weeknight meal, this French onion smothered pork chops recipe is all made in one pan, and in about 30 - 40 minutes!
Ingredients
2 yellow onions peeled, cut in half, and sliced into half-moon shaped slices
3 Tbsp unsalted butter
1 Tbsp extra virgin olive oil
1 cup plus 4 Tbsp beef stock
4 boneless pork chops about 1 – 1 ½ inches thick
½ tsp kosher salt
1/4 tsp black pepper
½ tsp dried thyme
¼ tsp garlic powder
2 ½ Tbsp all purpose flour
4 slices provolone cheese
1 cup shredded gruyere cheese or swiss
fresh thyme sprigs for adding to pan
Instructions
Preheat oven to 400 F degrees. Melt butter and olive oil in a large cast iron or other oven safe skillet, over MED-HIGH heat. Add sliced onions and saute 3-5 minutes, until soft. Add 4 Tbsp beef stock and continue to cook, stirring occasionally, for 12-15 minutes, until onions are extremely tender and golden brown.

As onions are sautéing, season both sides of pork chops with salt, black pepper, thyme and garlic powder. Transfer onions to a plate, do not wipe out skillet.

Reduce heat to MED, add a drizzle of olive oil to the skillet if needed, and cook pork chops, about 3-4 minutes per side, until golden brown.Transfer pork chops to plate.

Return cooked onions to pan and sprinkle with flour. Stir to coat and cook about a minute. Add remaining 1 cup beef stock and stir often until mixture comes to a boil. Season with a pinch of salt and pepper.

Nestle pork chops back into the pan, spooning some of the beef stock over the tops of the chops. Top with a slices of provolone cheese, and a mound of the shredded gruyere (about a ¼ cup on each chop).

Add a few sprigs of fresh thyme and add skillet to oven and bake 8-10 minutes, until cheese is melted and gooey. Before serving, spoon some of the beef stock/onion mixture over the top of the cheese, and garnish with some additional black pepper if desired.
Want to save this recipe for later? Click the heart in the bottom right corner to save to your own recipe box!
Nutrition Disclaimer
The Chunky Chef is not a dietician or nutritionist, and any nutritional information shared is an estimate. If calorie count and other nutritional values are important to you, we recommend running the ingredients through whichever online nutritional calculator you prefer. Calories can vary quite a bit depending on which brands were used.
Any nutritional information shared is an estimate, and is automatically calculated through a program.  If calorie count is important to you, I recommend running the ingredients through whichever online nutritional calculator you prefer.  Calories can vary quite a bit depending on which brands were used.

The Chunky Chef is not a nutritionist and doesn't provide full nutritional information for recipes as there is a potential for error and we wouldn't want to potentially and/or unknowingly pass along incorrect information.