Slow Cooker Ranch Mushrooms
So, tell me… what do you all think about mushrooms? Yay or nay? For me, it's always a YAY! I love love love mushrooms, sauteed, raw, as a garnish, in a filling, roasted, stuffed… I could go on all day lol. If you don't like mushrooms, we can still be friends, I just won't understand that part of you 😉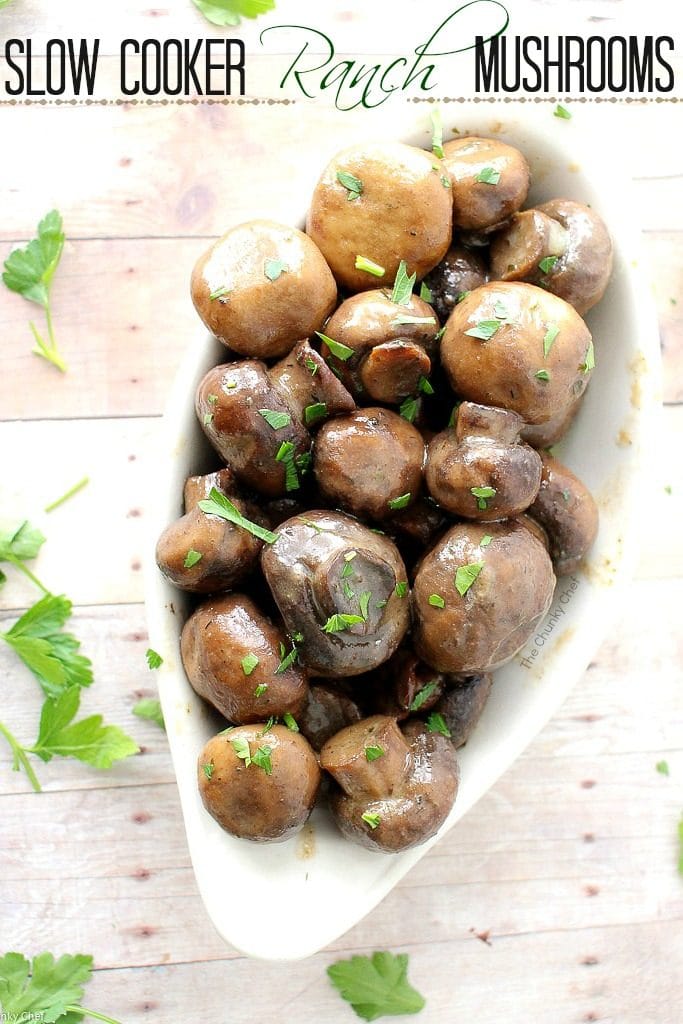 Do you have 5 minutes and 3 ingredients?  I bet so… and if you do… you could be having these mushrooms.  Tonight!
That's right you guys… 3 ingredients.  THREE!  Sorry I get super excited about simple meals, or in this case, side dishes.  I don't know about you guys, but when I'm planning meals for our family, I tend to get the main course covered, but will occasionally forget the sides.  Whoops!
That's where side dishes like this are perfect… minimal effort, and HUGE flavor payout!
Here's the breakdown:
Whole button mushrooms
Butter
Ranch dressing packet
And those ingredients will yield a slow cooker full of this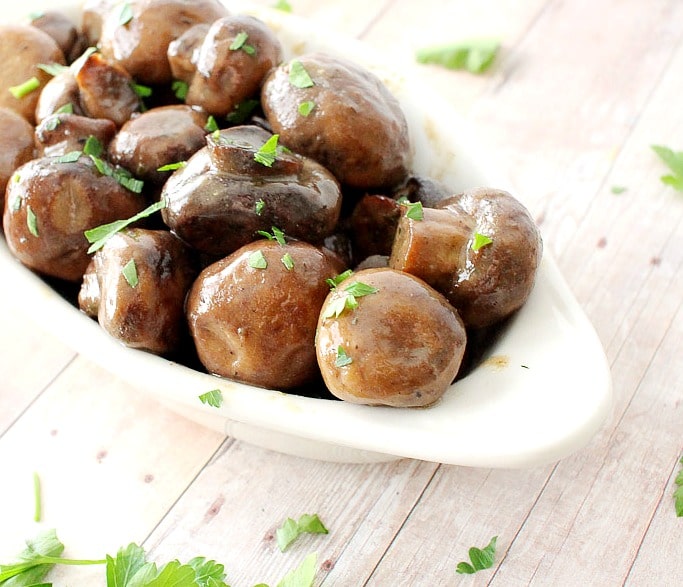 Buttery, ranch-y (yeah, I just made that word up lol), and completely delicious!
Now I can't guarantee that these are kid-friendly… as my kids have an aversion to mushrooms (how is that even possible, with parents who are mushroom obsessed?!).  But what I can promise you, is that you won't even want to share these mushrooms.
Start by adding your cleaned whole button mushrooms to your slow cooker.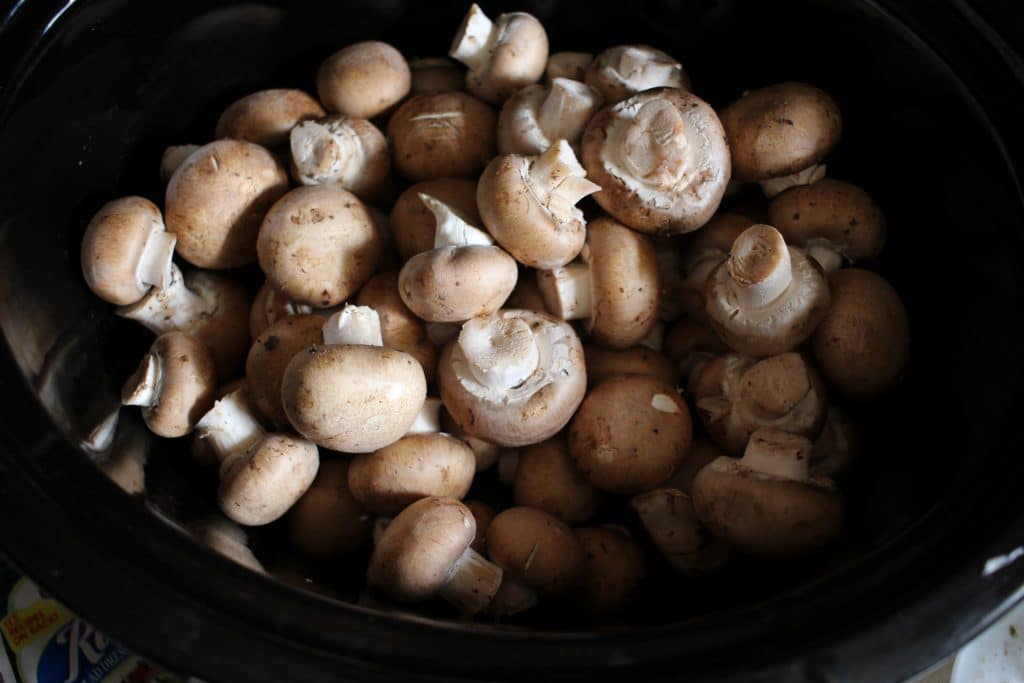 Melt your butter and whisk in your dry ranch dressing packet.  Pour over the mushrooms and give them a stir to coat.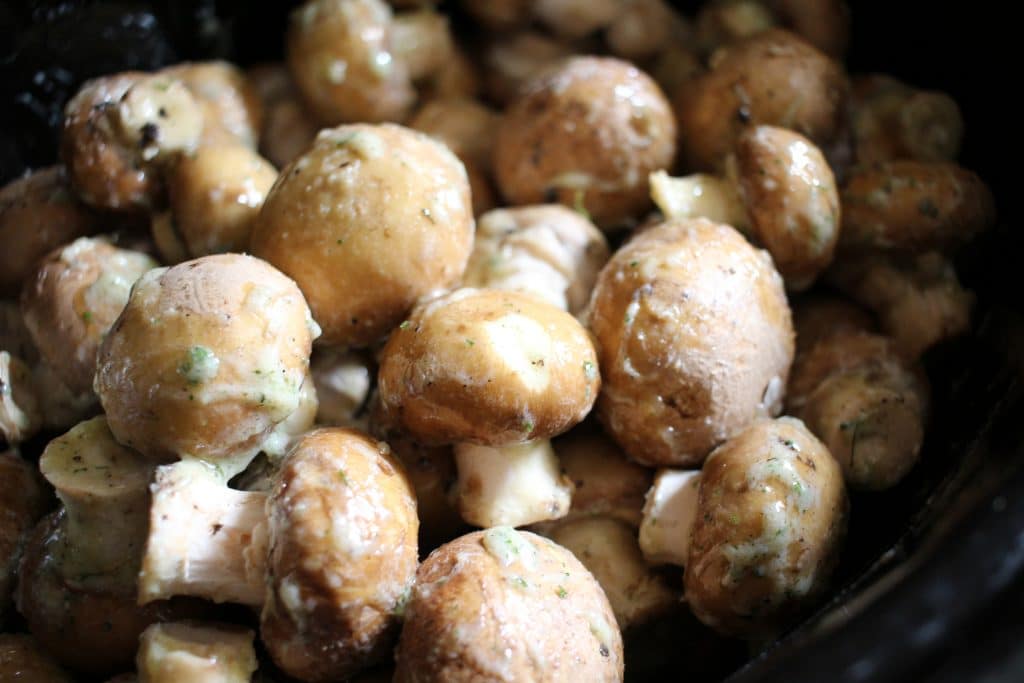 Okay, so two things here… first, it may look like there's not enough melted butter to coat all the mushrooms.  Just pop the lid on anyway and cook on low for 3-4 hours.  The mushrooms will give off moisture when they cook and there will be plenty of liquid, I promise 🙂  Secondly, if you don't like to use pre-made ranch packets, there are tons of great recipes online for "make your own" packets, so feel free to use that instead 🙂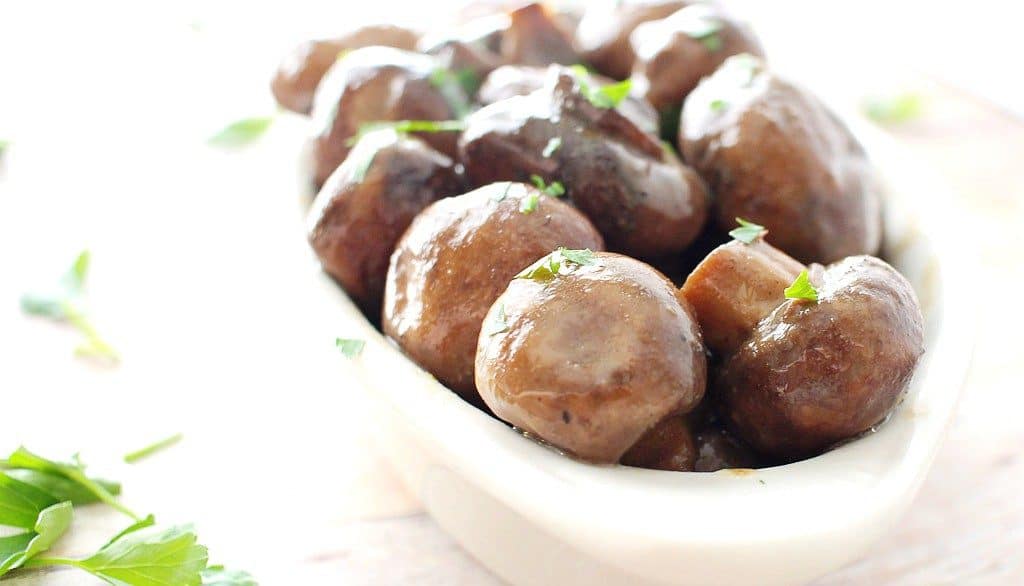 Also, if you'd rather substitute some of the butter for a healthier alternative, like extra virgin olive oil, I think that would work just fine.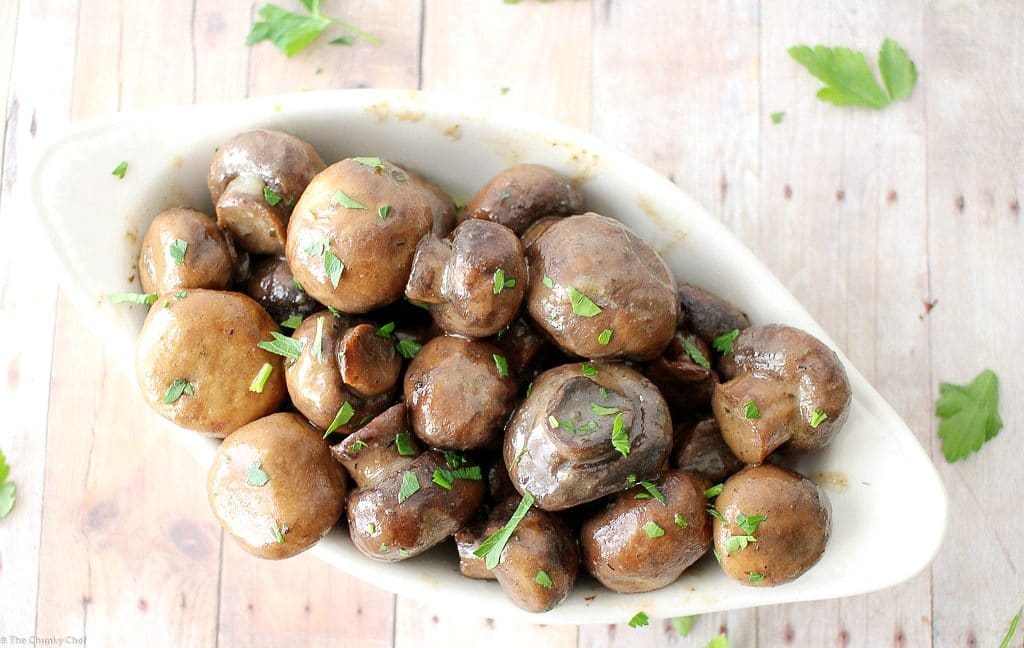 I love to add some chopped fresh herbs on top of slow cooked dishes… it just brightens them up 🙂  I used minced parsley here, I actually use it a lot lol.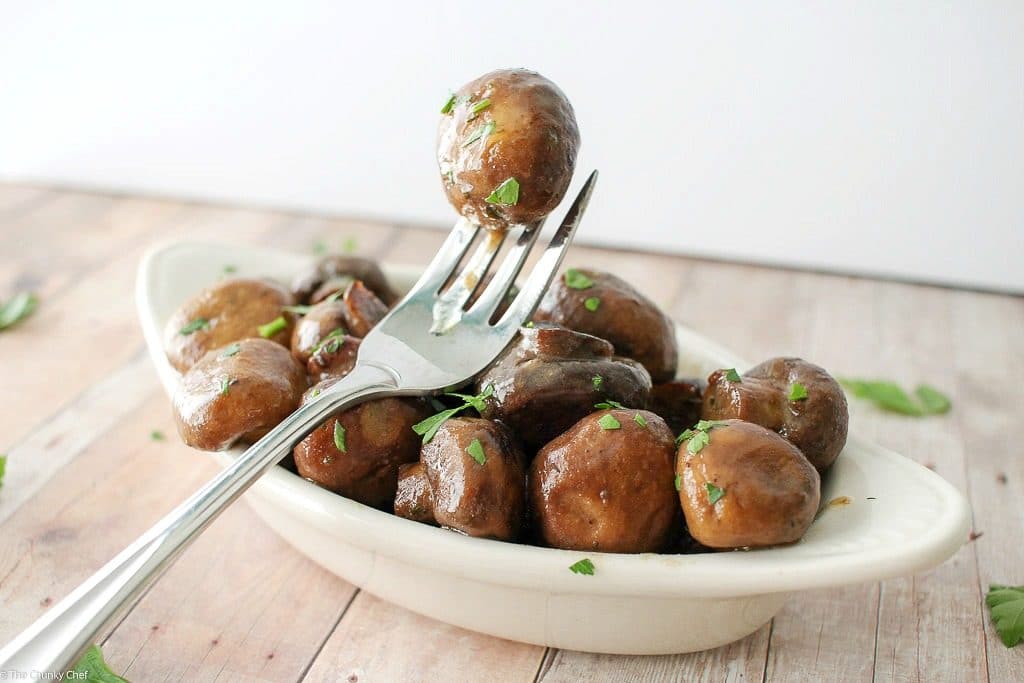 We've also made this dish with a packet of zesty Italian dressing and it was equally delicious!  They go great alongside some stuffed Italian flank steak, heroin chicken tenders, or a cheesesteak with a horseradish aioli 🙂
Try these and you won't regret it!
---
Don't miss a new recipe, enter your email below to stay updated!
[mc4wp_form]
You can find me on Facebook, Twitter, Pinterest, and Google +, so follow me if you'd like… I love keeping in touch with all of you 🙂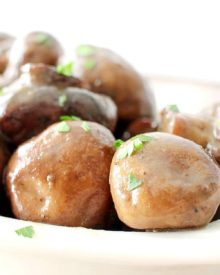 3 -4 servings
Slow Cooker Ranch Mushrooms
Three ingredients is all you need to make the most delicious and flavorful mushrooms! Just toss them in a slow cooker and let it do the work for you!
Ingredients
1 lb . fresh whole button mushrooms
1/2 cup butter 1 stick
1 packet of dry ranch dressing mix
1-2 Tbsp fresh parsley minced (optional, for garnish)
Instructions
Clean mushrooms thoroughly with a damp paper towel.

Place mushrooms in slow cooker.

Melt butter and whisk in dry dressing mix.

Pour mixture over mushrooms and stir to coat.

Cover and cook on LOW for 3-4 hours.

Serve garnished with fresh parsley if desired.
Recipe Notes
** I highly recommend doubling the recipe. Use the following:
2 lbs fresh mushrooms
3/4 cup butter (1.5 sticks)
Drizzle of extra virgin olive oil
2 packets of dry ranch dressing mix
Cook as directed
Linked to Made By You Monday | Melt in Your Mouth Mondays | Munching Mondays | Tickle My Tastebuds Tuesdays | Try a New Recipe Tuesday | Take A Look Tuesday | Totally Talented Tuesdays | Lou Lou Girls Fabulous Party | Simple Suppers | What's Cooking Wednesdays | Whimsy Wednesdays | The Wednesday Roundup | Wordless Wednesday | Showcase Your Talent Thursdays | Full Plate Thursdays | Favorite Things Blog Hop | Foodie Fridays | Fiesta Fridays | Pure Blog Love | Pin Junkie Pin Party | Foodie Friends Friday | Foodie Friday and Everything Else | Fresh Ideas for Your Home | Friday Favorites | Show Stopper | Best of the Weekend | Show and Tell Saturday | Link Party Palooza