Derby Day Kentucky Mint Julep Recipe
Perfect for Derby Day or any other warm day, this cool and refreshing mint julep recipe is made with crushed ice, an easy simple syrup, Kentucky bourbon and fresh mint. This iconic Kentucky cocktail is just what you need this summer!
Looking for other Derby Day party food or drinks?  For an alternative drink, try my Kentucky Lemonade Cocktail.  For some amazing appetizers, try my Beer Cheese, Sausage Rotel Dip, Bourbon BBQ Smoked Chicken Wings, or Chicken Taco Pinwheels.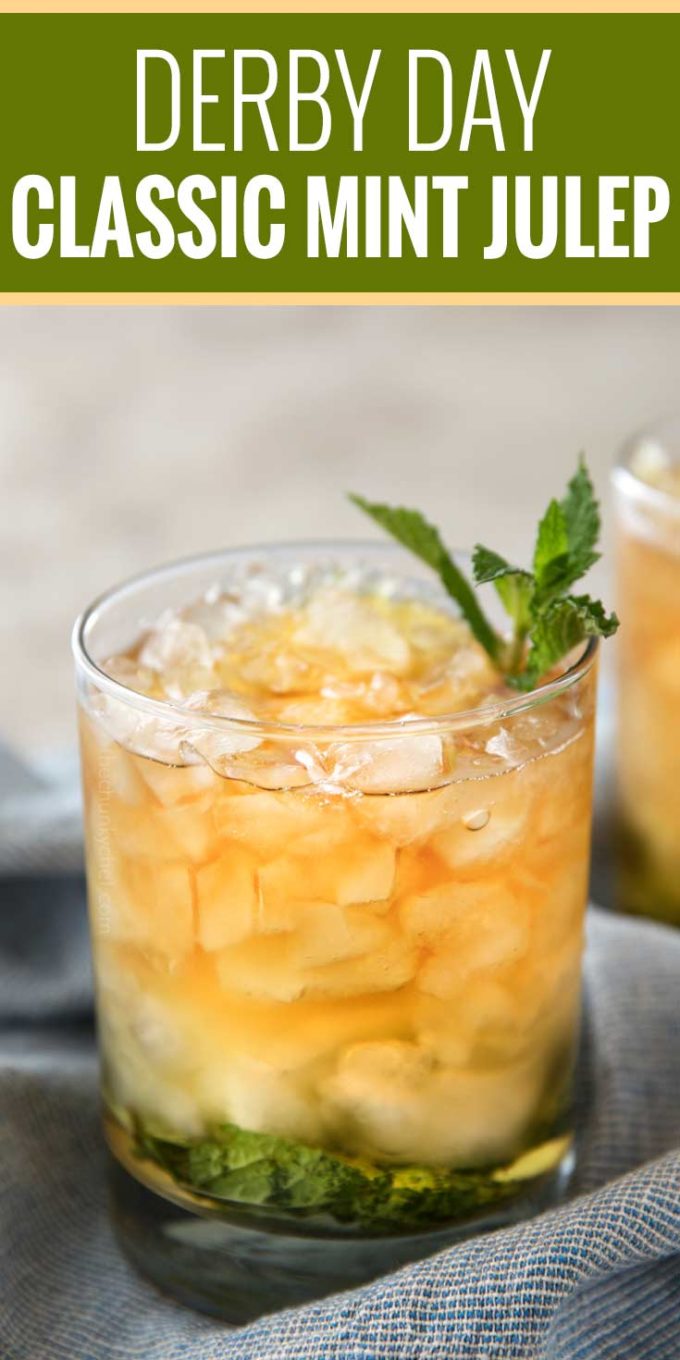 DERBY DAY MINT JULEP RECIPE
Are you a sports fan?  Most people who say yes to that love more traditional sports like football or baseball (yes to both for me please!!), but did you know that the Kentucky Derby is the longest running sporting event in the United States?  It takes place the first Saturday in May, annually, and is held in Louisville, Kentucky.  I've never actually been, but I have family that lives in Louisville, so I like to think of myself as an honorary Kentuckian!
So why am I going on about the Kentucky derby?  Well because the mint julep is the official drink of the derby, with over 120,000 mint juleps served over the derby weekend each year!  That's a lot of bourbon!  I've never had one of the infamous cocktails at Churchill Downs (where the Derby is run), but this is my spin on the classic mint julep!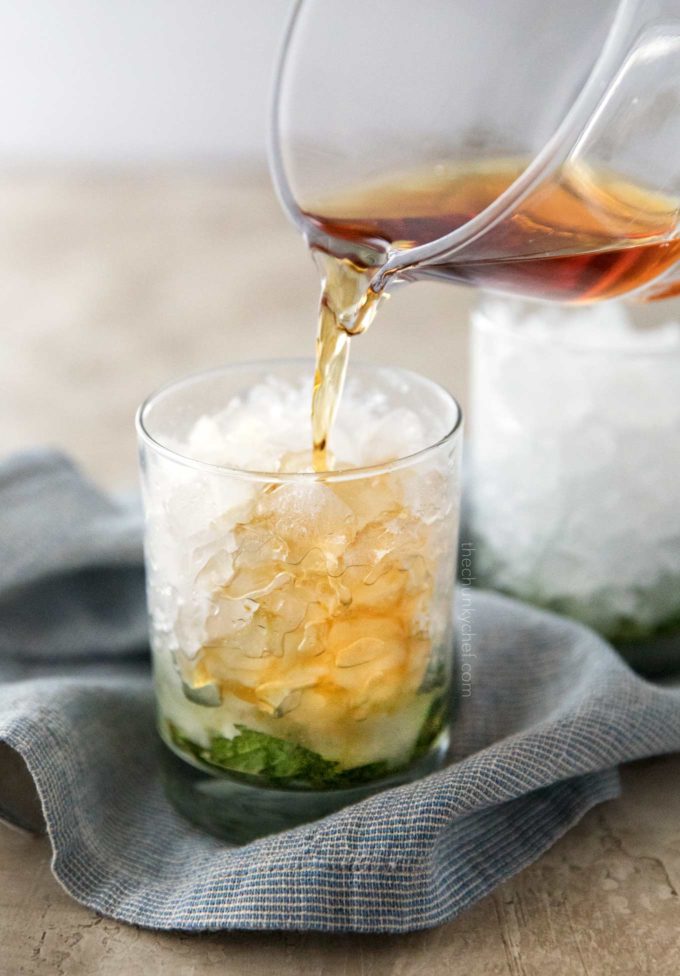 WHAT'S THE DIFFERENCE BETWEEN A MOJITO AND MINT JULEP
Good question!  They both utilize the amazingness of fresh mint, and a simple syrup… but where a mint julep is different is that it doesn't have any citrus juice and it uses bourbon instead of rum.
HOW IS A MINT JULEP SERVED
At the Kentucky Derby, mint juleps come in a beautiful silver cup.  The idea is once you add all the ingredients, the drink is stirred rapidly and the crushed ice causes the cup to frost on the outside.  It's a beautiful sight, but I don't have any of those cups, so I serve mine in a double old-fashioned glass instead.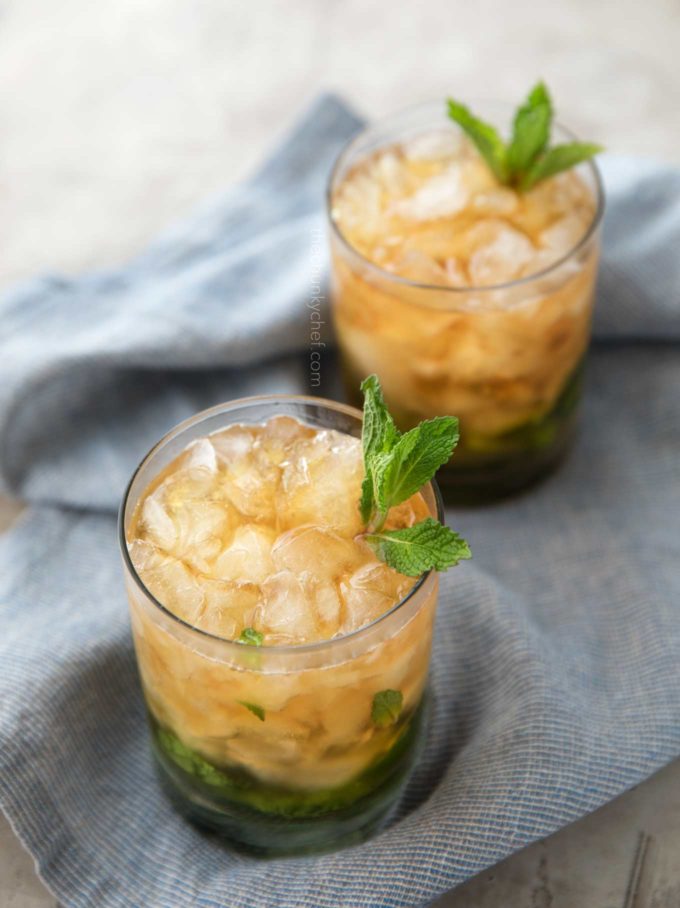 HOW TO MAKE A VIRGIN MINT JULEP
There's really no way to make a non-alcoholic mint julep taste the same as a regular one, since bourbon has a distinctive taste.  But here's how to make a mint julep that's beautiful, yet alcohol-free:
When making the simple syrup, add a splash of lemon juice
Replace bourbon with ginger ale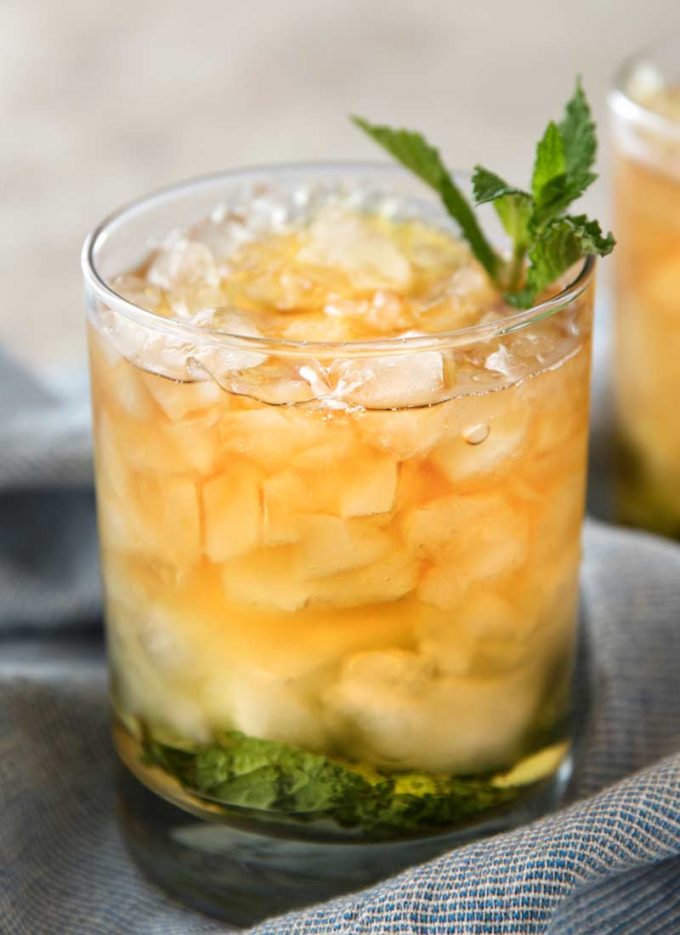 TIPS AND TRICKS FOR MAKING A MINT JULEP
Make your simple syrup ahead of time.  It needs to be cooled when you add it to your cocktail.  The good news is, a simple syrup can be refrigerated for up to 2 weeks, so feel free to make it as early as you need to.
If a simple syrup isn't possible, add some granulated sugar to the mint and muddle (just as you would with the syrup).  I definitely prefer the syrup though, since sugar can make the drink a bit grainy.
Use quality bourbon!  Bourbon is absolutely the star here, so use your favorite brand.  Woodford Reserve is the official bourbon of the Kentucky Derby (and my all-time favorite), but Knob Creek and Maker's Mark are great alternatives.
Use plenty of ice… preferably crushed!  It really chills the drink, and mint juleps are traditionally served with a TON of ice.
Mint juleps are a fabulous warm-weather cocktail, and amazingly refreshing to drink!  But it's definitely a strong drink… non-bourbon drinkers may find it a bit too strong, so feel free to add more simple syrup and water to dilute the bourbon.
SHOP THE RECIPE
Cocktail Muddler – a wooden spoon handle works well too, but I really love the grooves on this muddler… it works SO well!
Double Old Fashioned Glasses –  these glasses are perfect for so many drinks, and not just cocktails!
Want to try this Mint Julep Recipe?

PIN IT to your DRINKS or SUMMER board to save for later!

Find me on Pinterest for more great recipes!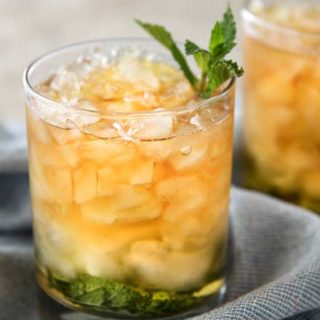 Derby Day Kentucky Mint Julep Recipe
Perfect for Derby Day or any other warm day, this cool and refreshing mint julep recipe is made with crushed ice, Kentucky bourbon and fresh mint.
Print
Pin
comment
Prep Time: 5 mins
Cook Time: 10 mins
chilling time: 1 hr
Total Time: 15 mins
Servings: 1 drink
Calories: 133
Ingredients
4-5 fresh mint leaves, roughly torn
1 1/2 - 2 oz simple syrup (recipe below in recipe notes)
crushed ice
splash of cold water
2 oz bourbon
sprig of fresh mint
Instructions
To bottom of serving glass, add mint leaves and simple syrup. Muddle together with a muddler or handle of a wooden spoon.

Top with plenty of crushed ice, then pour in splash of cold water, and bourbon. Garnish with the sprig of mint and serve!
Notes
Simple Syrup Recipe 1 cup water 1 1/4 cup granulated sugar Add water and sugar to small saucepan.  Bring to a boil, stirring occasionally until sugar dissolves, boiling about 2 minutes.  Remove from heat and let cool completely. ** makes more than needed for this recipe, but leftovers can be kept refrigerated 1-2 weeks **
Are We Friends on Pinterest?
Follow me for more great recipes! The Chunky Chef!