Ultra refreshing and perfectly lightly sweetened with honey, this iced green tea with mint is the perfect healthy summer drink!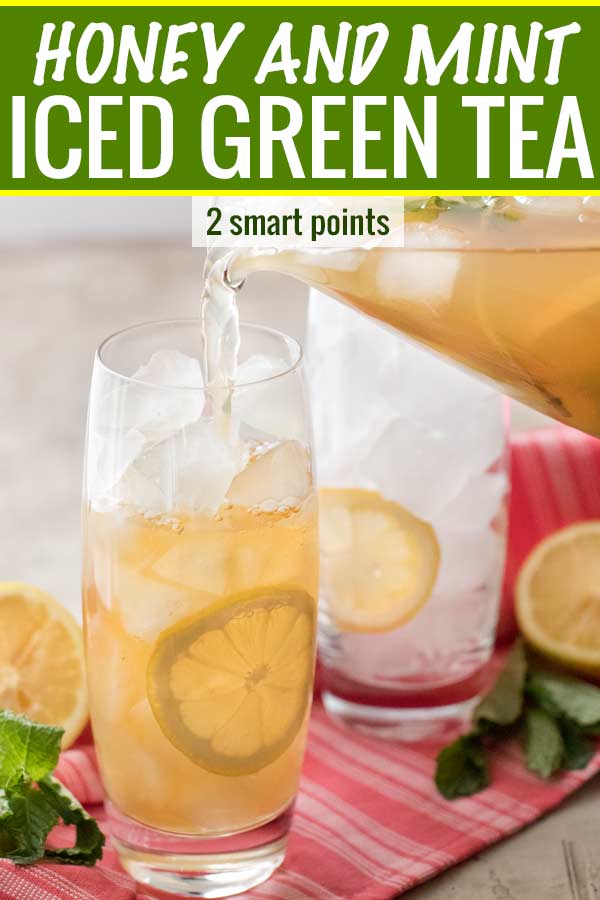 As soon as the summer weather hits, I start craving those ultra refreshing iced tea drinks that just taste SO good on a warm day.  Those drinks are usually heavily sweetened and can really rack up the points.  For a much lighter twist, try my iced green tea… it's only 2 freestyle smart points!!
Who's an iced tea lover?  ME!!!  I've always loved how refreshing it is, although usually mine is loaded with sugar.  Sweet tea is the name of the game around here, and it's delicious, but definitely NOT diet friendly!
Recently I've been on a green tea kick.  Have you tried it?  Typically I would only have green tea when I was feeling under the weather…. and it's great for that.  But when you make it ICED green tea, it becomes this whole other magical drink that is so light and crisp, it will blow you away.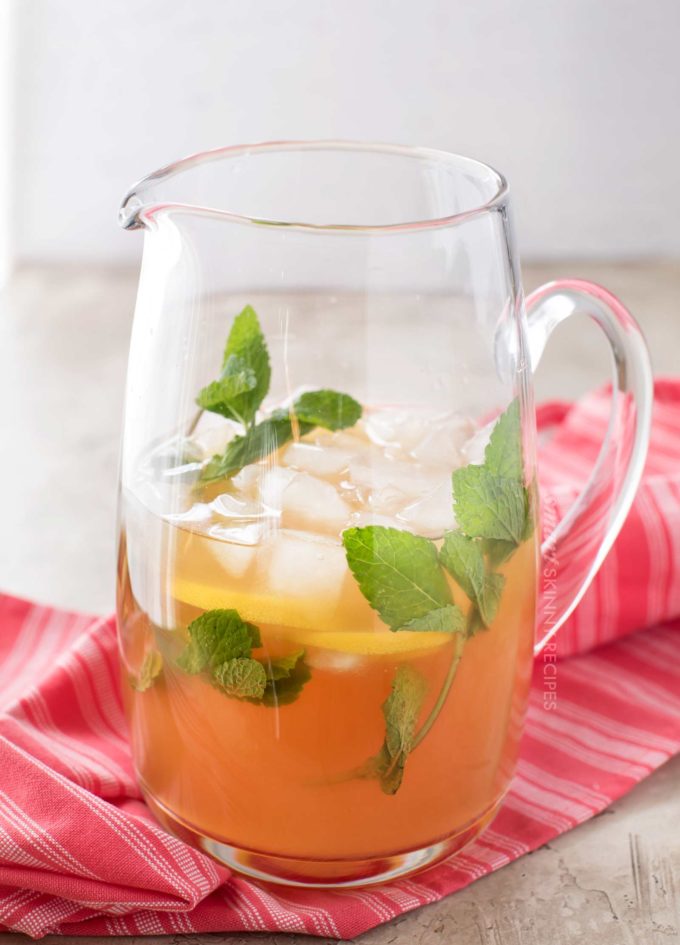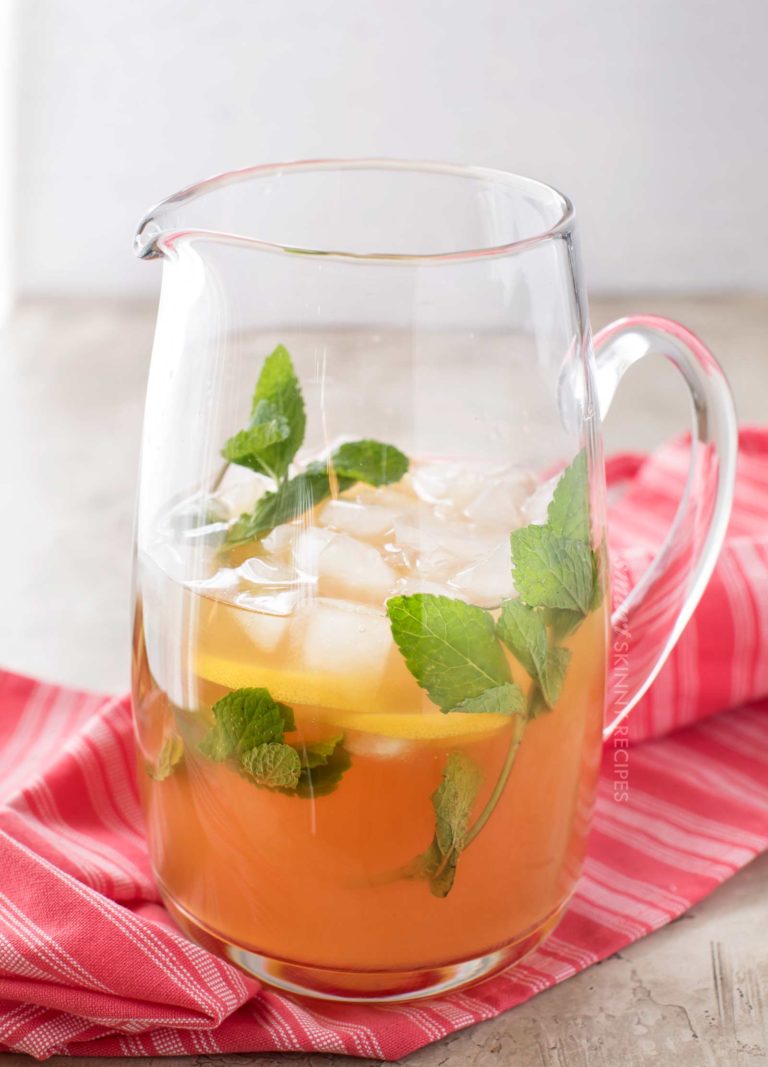 IS GREEN TEA HEALTHY
Green tea is supposed to have many health benefits, from improving brain function, boosting metabolism, and more.  Although it's hard to wade through the articles to find the science behind it, so take some of those benefits with a proverbial grain of salt.  One thing that most everyone can agree on however, is that green tea is LOADED with antioxidants, which among other things, can potentially lower your risk of certain cancers.
HOW TO MAKE ICED GREEN TEA
If you've ever made iced black tea, the process is really similar.  Just heat some water and right when it comes to a boil, turn off the heat and let the tea bags steep for a few minutes.  Then sweeten to your liking, add water and ice, chill, and enjoy!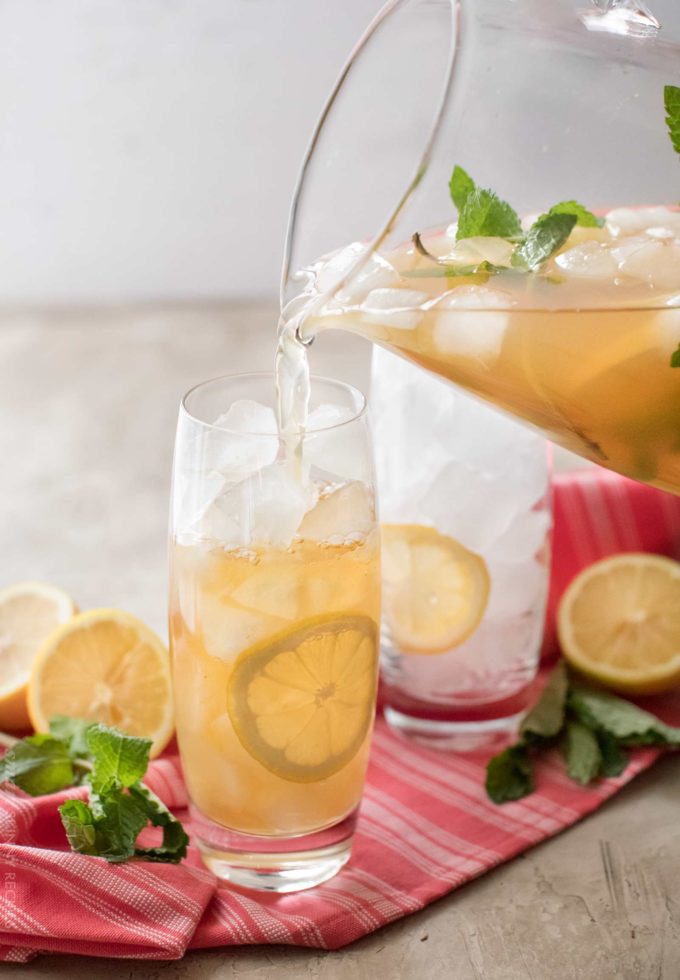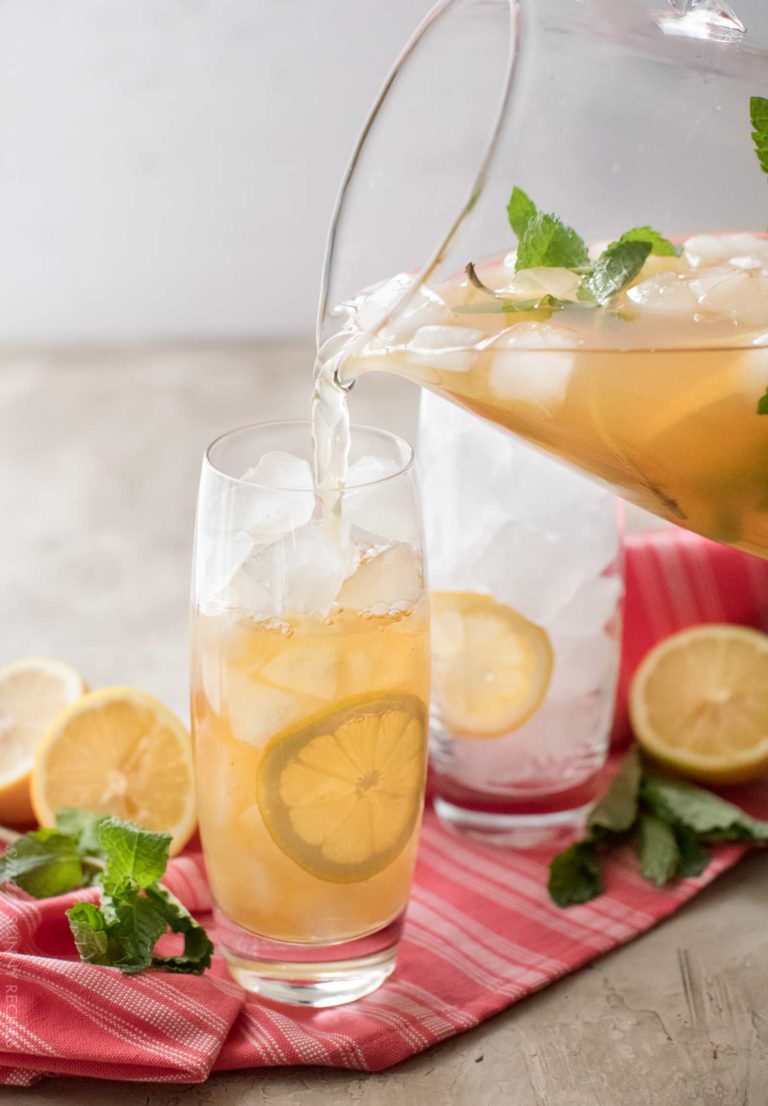 HOW DOES STARBUCKS MAKE THEIR ICED GREEN TEA
Ah Starbucks… the place I love, but hate to spend all my money in!  Since they have to make large batches to last through plenty of morning and afternoon rushes, here's what they do:
Brew a concentrate.  Using only 2 quarts of water, bring it to a boil, remove from heat and add about 7 bags of green tea (Starbucks uses Tazo brand, which is available in most grocery stores).  Let it steep for 10-15 minutes.  Remove the bags.
Sweeten it up.  They use a syrup, which is really easy to make at home.  Add 1 cup of water and 1 cup of sugar to a saucepan.  Bring to a boil, and boil for about 5 minutes or so, until sugar has completely dissolved and mixture has thickened some.  Cool completely.
Assemble it.  Fill your cup about 1/3 of the way full with some of the green tea concentrate.  Add some simple syrup, top with ice and water and stir.  Viola!
Obviously Starbucks' version isn't diet friendly either, with all the simple syrup.  A venti iced green tea sweetened weighs in at 7 smart points!  But you could adapt their large batch version to be much healthier.  After your concentrate has steeped, remove the bags and stir in honey or your sweetener of choice.  Cool it and store it covered in the refrigerator.  Big mason jars work really well for this!  Then when you want a big glass, fill it up about 1/3-1/2 of the way with the concentrate, add ice and water, stir and you're good to go!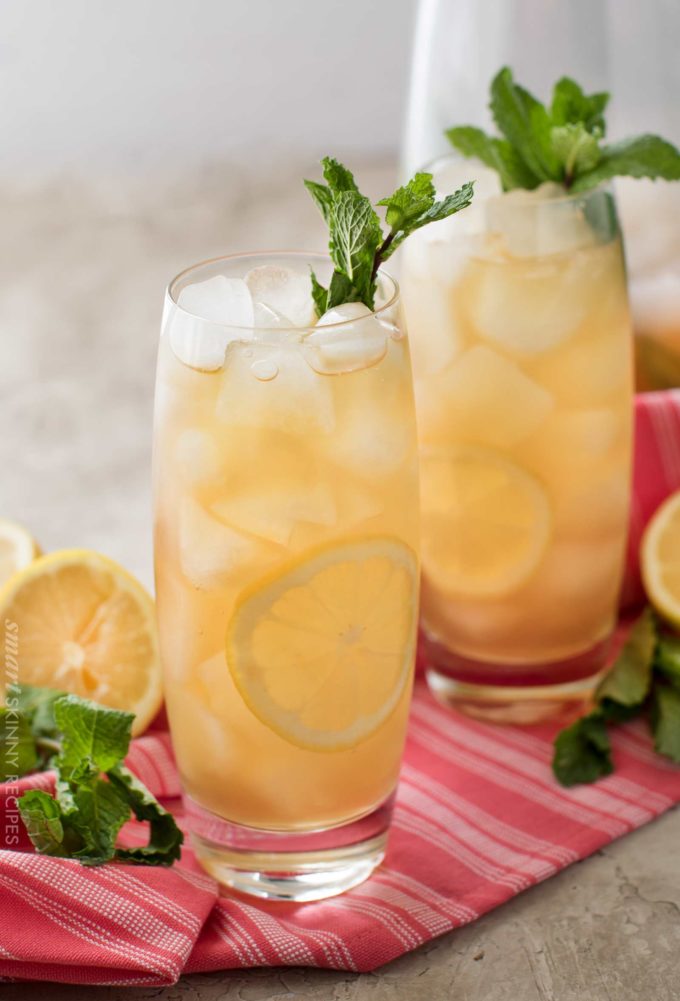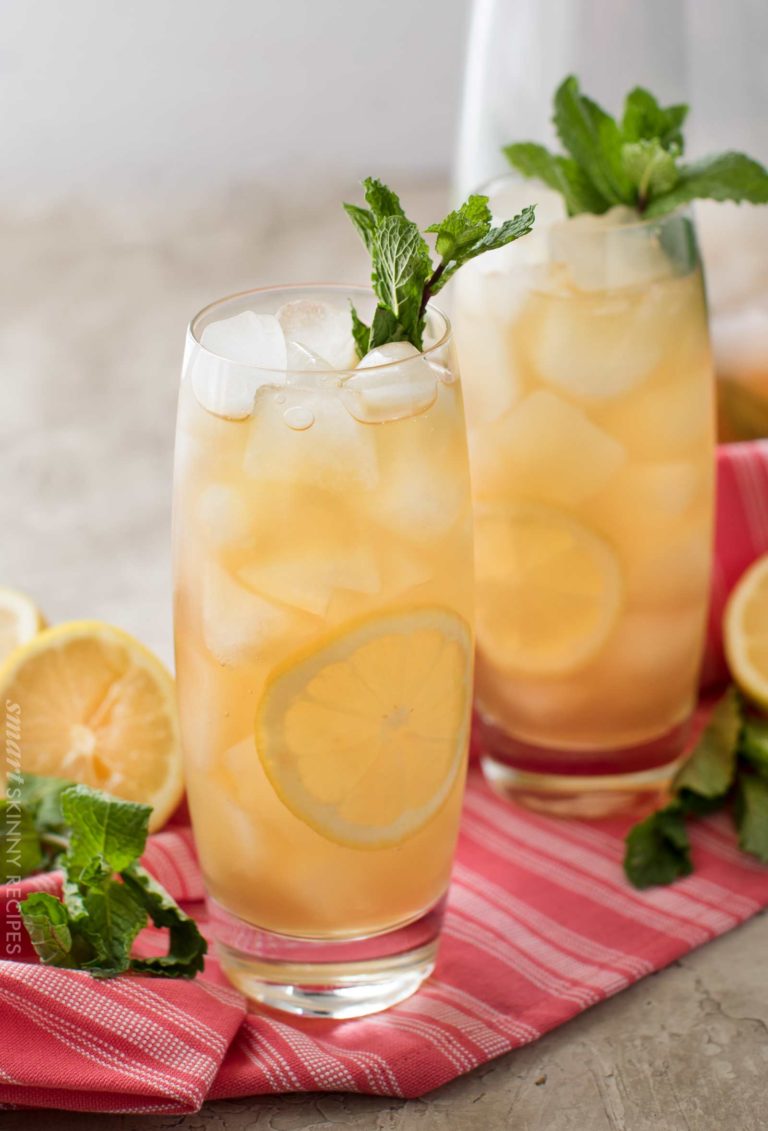 When you're craving something that's a little bit sweet and a lot refreshing, give this iced green tea with mint and honey a try!  I know you'll love the crisp, clean taste!
HELPFUL TOOLS
Glass Pitcher – the exact pitcher pictured in this post was purchased from Cost Plus World Market years ago, but I also have this pitcher and it's beautiful and sturdy!
Saucepan – in case you don't have one, or are in the market for a new one, this pan is used a lot in my kitchen!
Green Tea –  you can use any brand you'd like, but this is the brand I usually purchase… it's so smooth!


Did you make this? Be sure to leave a review below and tag me @the_chunky_chef on Facebook and Instagram!
Ultra refreshing and perfectly lightly sweetened with honey, this iced green tea with mint is the perfect healthy summer drink!
Ingredients
4 cups water
4 green tea bags
2 sprigs fresh mint
1/4 cup honey
2 cups ice
2 cups cold water
additional sprigs of mint for serving
lemon slices for serving
Instructions
In a saucepan, bring 4 cups of water to a boil. Once boiling, remove from heat, add tea bags and 2 mint sprigs. Cover and let steep 10 minutes.

Remove and discard tea bags and mint. Stir in honey until dissolved.


In a large pitcher, add 2 cups ice, 2 cups cold water, and green tea mixture. Stir well to combine. Chill until cold.


Serve over ice, with a lemon slice and mint sprig.

Want to save this recipe for later? Click the heart in the bottom right corner to save to your own recipe box!
Nutrition Disclaimer
The Chunky Chef is not a dietician or nutritionist, and any nutritional information shared is an estimate. If calorie count and other nutritional values are important to you, we recommend running the ingredients through whichever online nutritional calculator you prefer. Calories can vary quite a bit depending on which brands were used.
Calories: 32 | Carbohydrates: 8g | Protein: 0 | Fat: 0g | Saturated Fat: 0g | Cholesterol: 0mg | Sodium: 6mg | Potassium: 5mg | Sugar: 8g | Fiber: 0g | Vitamin A: 0% | Vitamin C: 0% | Calcium: 0.4% | Iron: 0.2%
I'm not a nutritionist, and nutritional values here on my recipes should be used for general information purposes only.  This information is not a substitute for medical advice or treatment for specific medical conditions. You should seek prompt medical care for any specific health issues and consult your physician before starting a new diet and fitness regimen.