No need to buy a can from the store, this Homemade Condensed Cream of Mushroom Soup tastes SO much better than anything from a can, is easy to make, you can feel good about using it, and as a bonus, it can be frozen!
This is part of a series of recipes here on the site that I'm calling "Back to Basics".  In this series you'll find recipes that are common building blocks for beginner cooks, as well as homemade versions of pantry/store-bought staples, such as hot sauce, pie crust, stabilized whipped cream, etc.  With easy to follow instructions, detailed notes, and step by step photos, you'll be on your way to being a master in your kitchen in no time!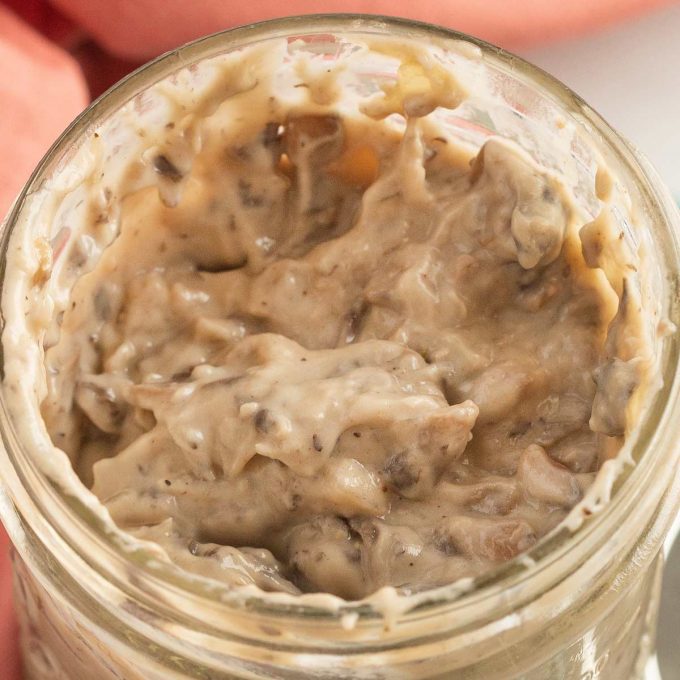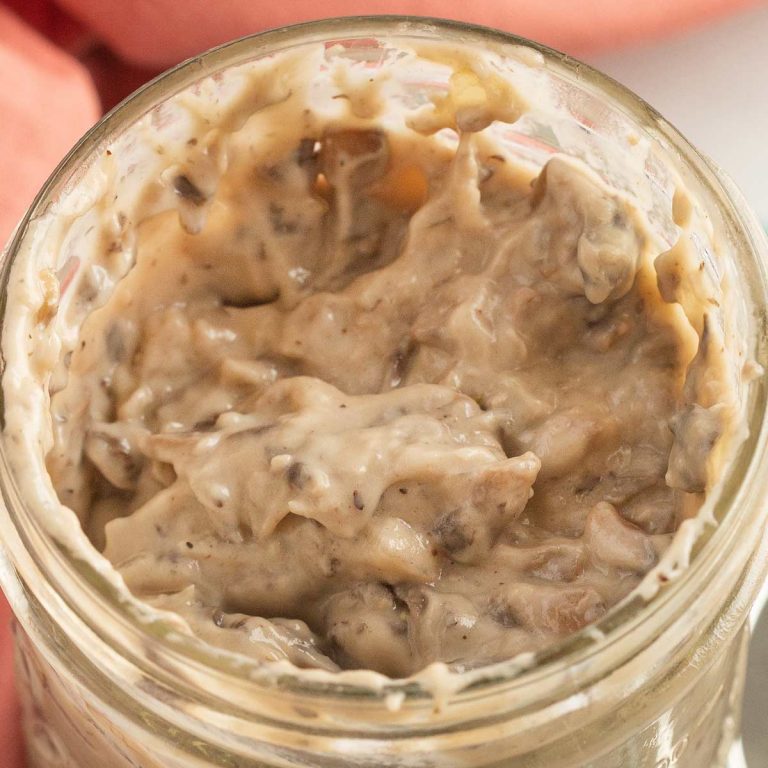 CONDENSED CREAM OF MUSHROOM SOUP RECIPE
When I was growing up, casseroles were all the rage.  There was a casserole for every occasion and using just about every ingredient you could think of.
Food culture has shifted over the decades, but when I want some classic comfort food… I tend to veer towards a casserole or hot dish!  While I've shared a few of my favorites here on the site, I haven't gone crazy because casseroles generally have an ingredient in them that can be quite controversial.
The condensed soup.  Also known as "cream of" soups.  To be honest I use them, but I always wonder how much preservatives are in there, and what those ingredients are that I can't even pronounce.
My motto is always that homemade is better, but sometimes convenience takes precedence.  This recipe is the perfect blend of both!  Homemade with regular, simple ingredients… and can be made ahead of time and even frozen.
This time of year, there's one dish I always make that uses cream of mushroom soup.  Green bean casserole!  We all love it, and now we can love it without any lingering feelings about the condensed soup.
HOW TO MAKE HOMEMADE CREAM OF MUSHROOM SOUP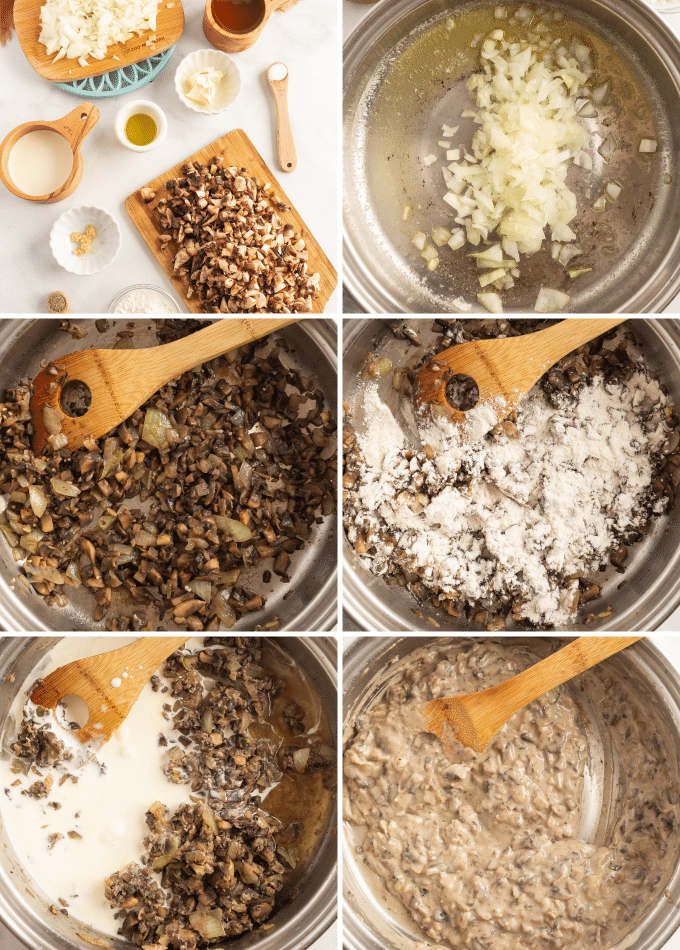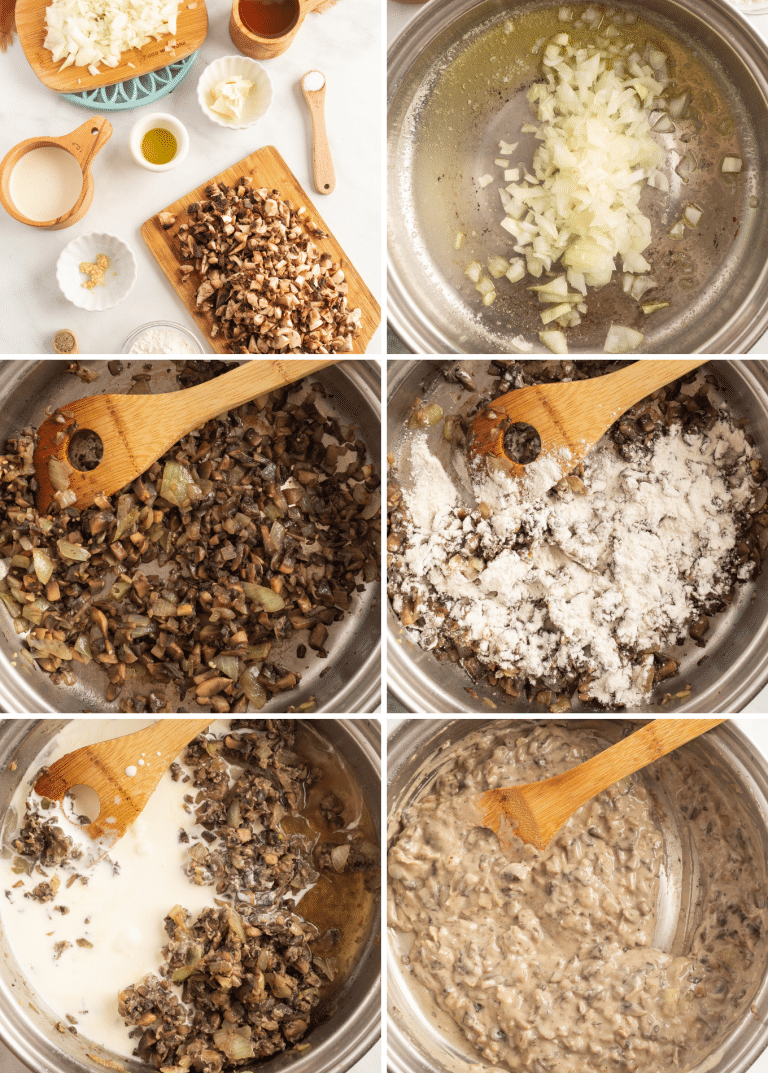 Cook onion. Saute onion in butter and oil for a few minutes.
Cook mushrooms. Add in the mushrooms and keep cooking another 5-6 minutes, until mushrooms are golden and tender.
Add flour.  Stir the flour in, and keep cooking, stirring often for about a minute, to get the taste of raw flour out.
Add liquids and thicken.  When you stir in the broth and dairy, scrape the bottom of the pan with a wooden spoon, to loosen those browned bits.  Those equal flavor!  Cook for a few minutes, until thick.
Season and use/store.  Add salt and pepper, then either use, or cool completely and store for up to 1 week.
ADDITIONAL COOKING TIPS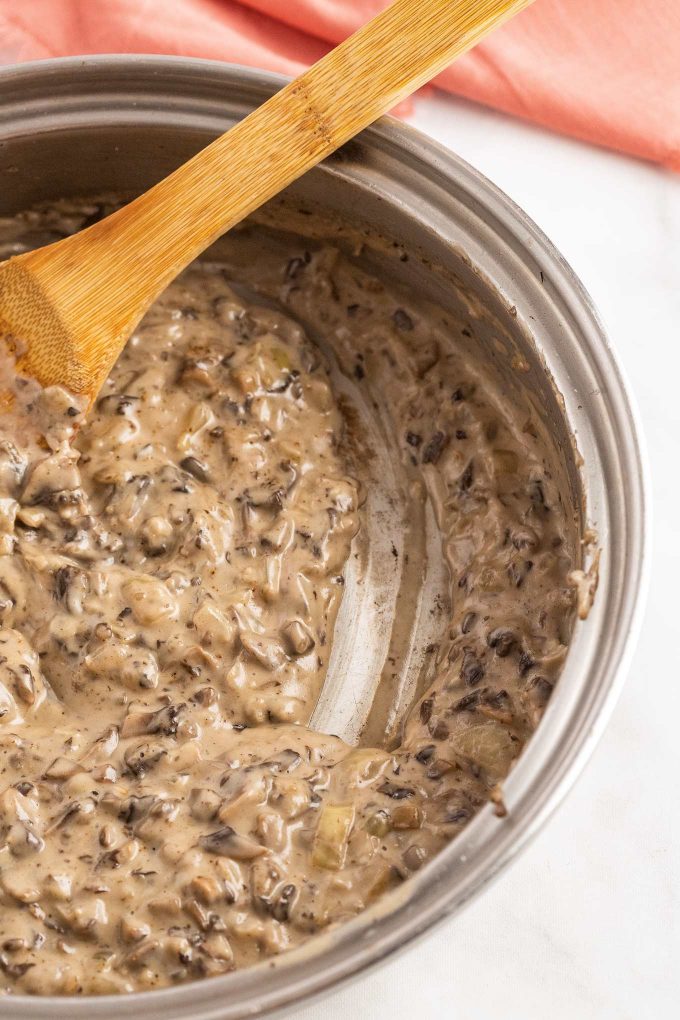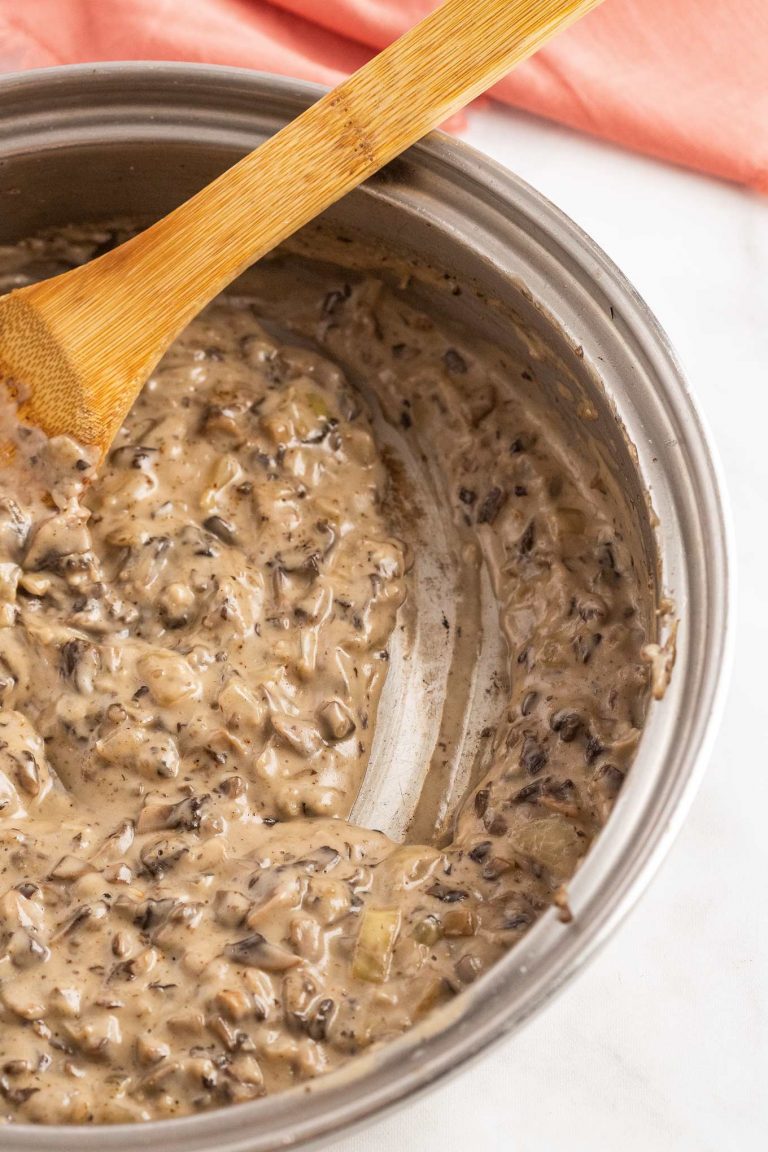 CONDENSED – please remember that this soup is condensed and meant to be used for cooking.  Eating it on it's own would be not so appetizing!
MAKING MUSHROOM SOUP – to make a great creamy mushroom soup, mix this recipe with an equal amount of milk (1 1/2 cups), or half broth and half milk (3/4 cup of each) and heat until hot.
WHAT IS HALF AND HALF – I get a lot of questions about what half and half is on my baked mac and cheese recipe (if you haven't tried that recipe yet, you definitely should!), so I wanted to try and clear up any confusion beforehand in this post.  Half and half is a common dairy product here in the United States.  It's higher in fat content than whole milk, but lower than heavy whipping cream.  Typically, half in half is anywhere from 10-18% fat (depending on the brand).

Making your own – you can actually make your own half and half if you don't have any on hand or can't find any at the grocery store.  Try using 6 Tbsp of whole milk mixed with 2 Tbsp heavy whipping cream.  Or if you only keep lower fat milk on hand, mix 5 Tbsp low fat milk with 2 1/2 Tbsp heavy whipping cream.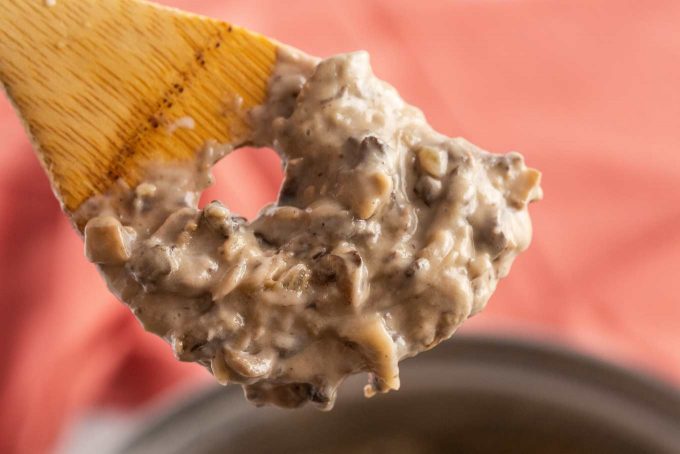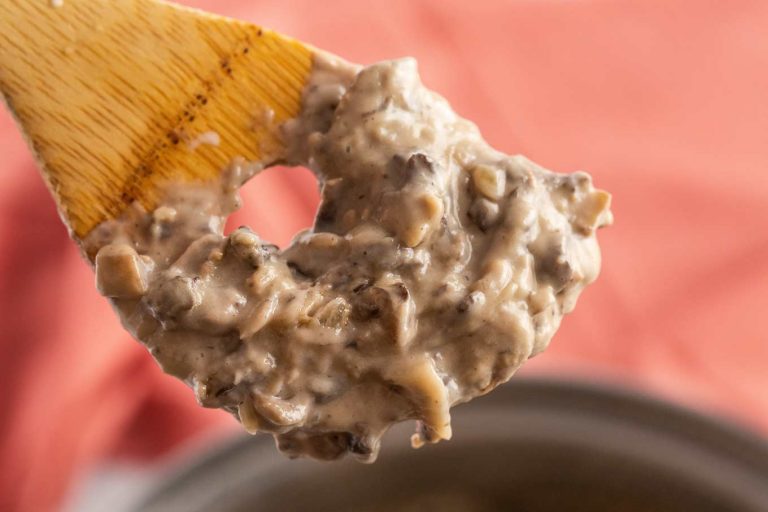 VARIATIONS OF THIS RECIPE
MUSHROOMS – for this cream of mushroom soup recipe I chose to use regular white button mushrooms, as they're the most common mushrooms to find in the grocery store here in the US.  You can absolutely use cremini (also known as baby bella), shiitake, chanterelle, or any other type of mushroom you love.
DRIED MUSHROOMS – another great way to make this condensed soup is to use dried mushrooms.  Add about a cup of water to a saucepan and heat it to a simmer.  Add in the dried mushrooms, cover, turn off the heat and let the mushrooms steep in the water for about 25 minutes.  Not only will this reconstitute the mushrooms, but you'll be left with a fabulous mushroom broth!  Use that broth in place of the vegetable broth in this recipe for an ultra mushroom-y cream of mushroom soup.
CHOPPED SIZE – I like to keep my pieces of mushrooms small in this soup, to more closely mimic the look of the canned variety.  If you want a chunkier look to your condensed soup, feel free to chop them in larger pieces.
DAIRY – if you don't have any half and half on hand, you can easily substitute heavy cream, whole milk, or evaporated milk (not sweetened condensed milk!).
BROTH – for a non-vegetarian version, beef broth is my go-to, as it adds a hearty flavor to the soup.  Chicken broth would be great too.
NO ONION AND GARLIC – if you don't have any fresh onion or garlic, you can swap them out for about 1/4 tsp each of onion and garlic powder.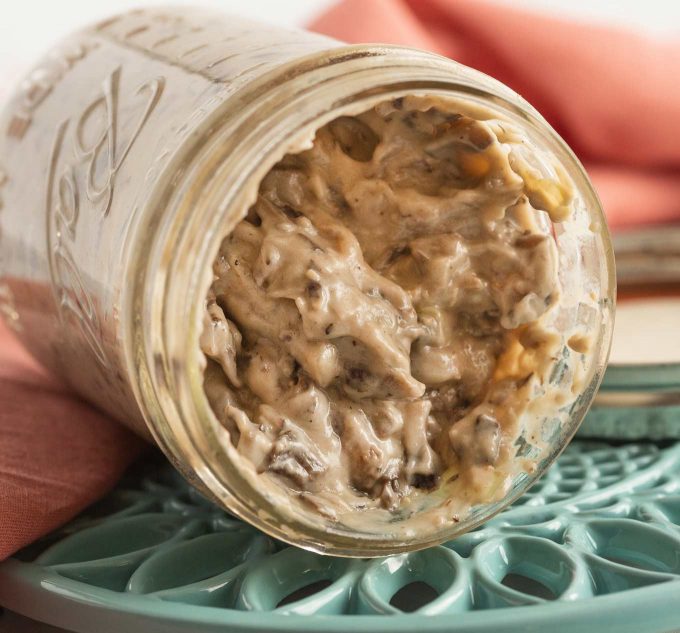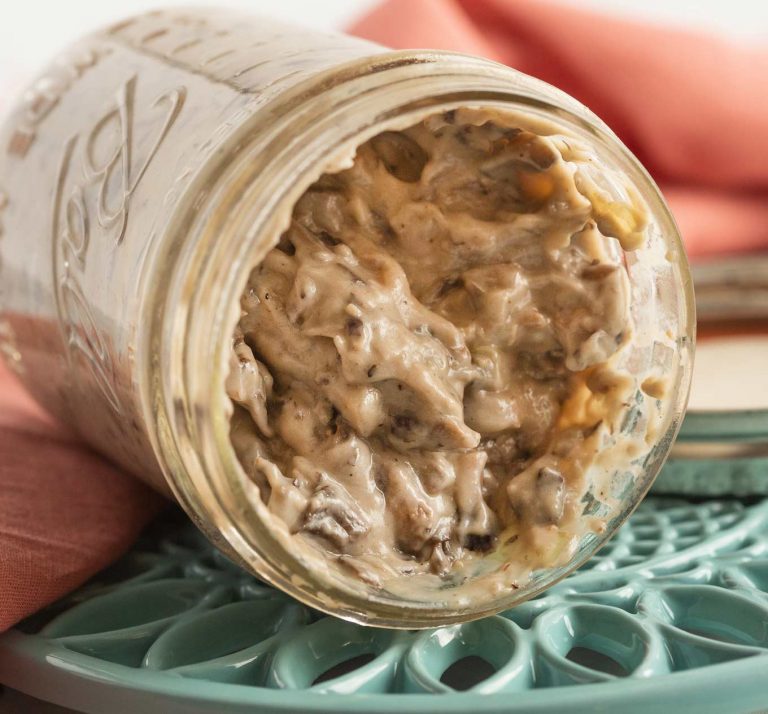 MAKING CONDENSED SOUPS AHEAD OF TIME
I would estimate that probably 99% of you are wanting to make this to cook with, in which case, you'd want to have it already made ahead and ready to go.
Can't blame ya there!  Good news… this cream of mushroom soup will last a week in the refrigerator, and can be frozen for up to 3 months!
STORAGE
Condensed soup should be stored in an airtight container in the refrigerator and consumed within 1 week.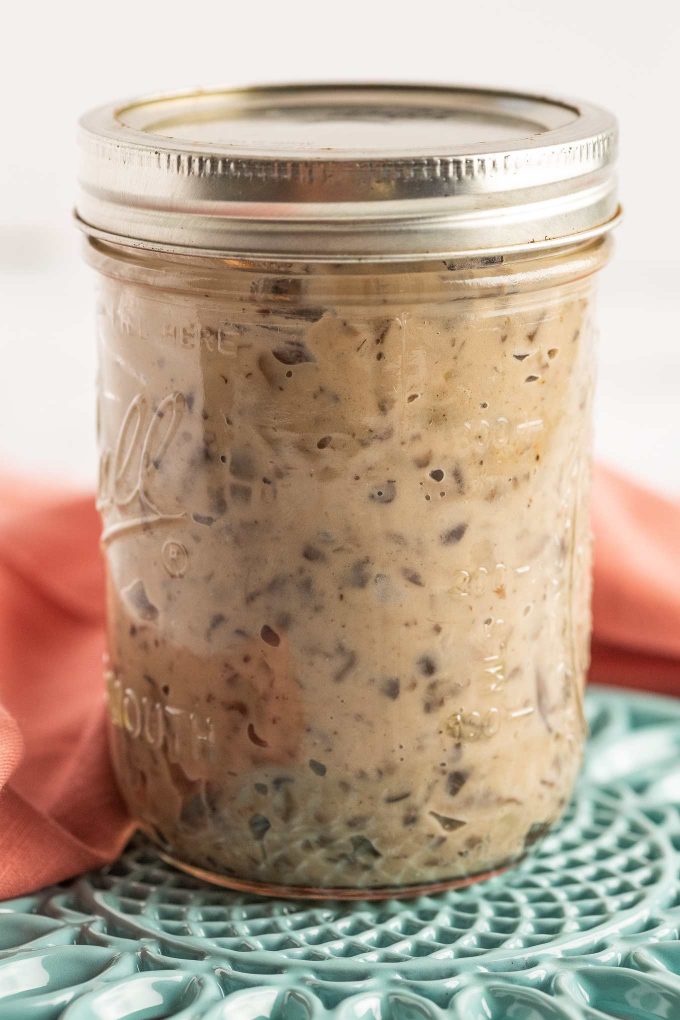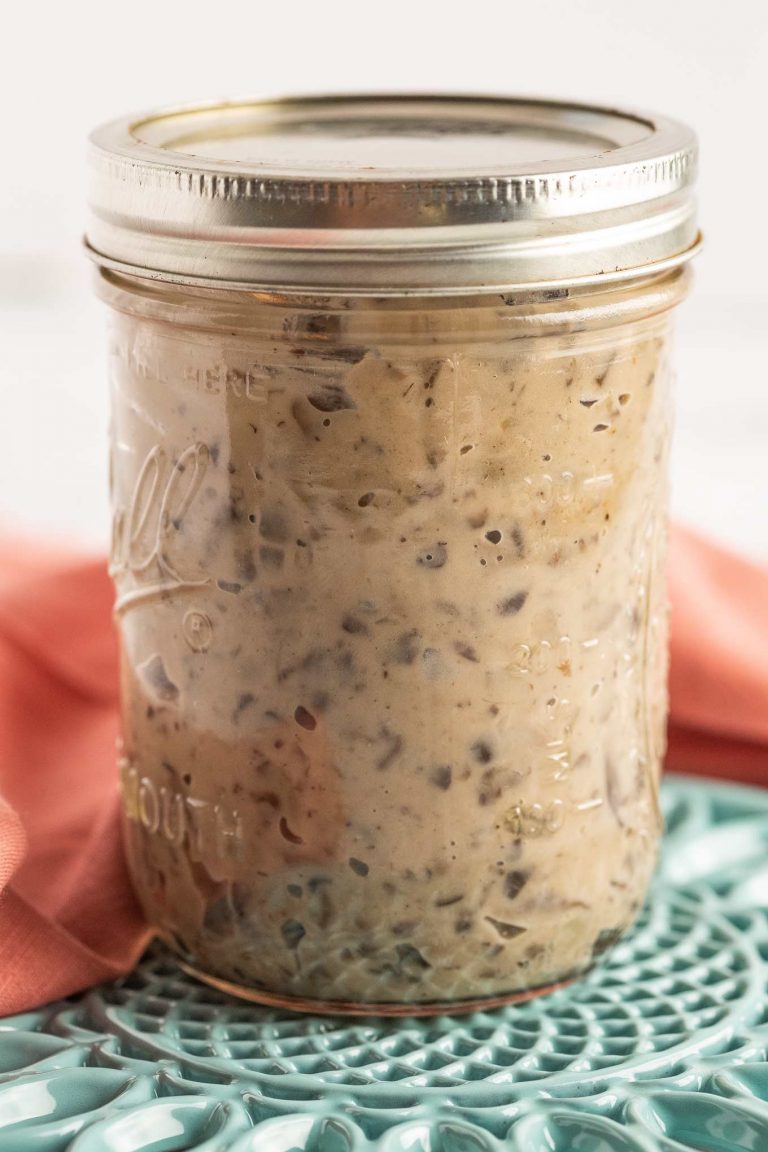 FREEZING
If you want to freeze this soup, I recommend swapping the half and half for evaporated milk.  I found the evaporated milk held up better during the freezing process.
Cream of mushroom soup can be frozen for up to 3 months.  To thaw, place in the refrigerator overnight and it's ready to use once it's no longer frozen!
SPECIAL EQUIPMENT FOR THIS RECIPE
The following links are affiliate links.
The Chunky Chef, LLC is a participant in the Amazon Services LLC Associates Program, an affiliate advertising program designed to provide a means for sites to earn advertising fees by advertising and linking to amazon.com.  For more information regarding this program and what it means for you, please see my Privacy page.
12″ wide skillet – I love this pan, and love that it's nice and wide, so the soup will thicken up quickly.
Pint-sized Jars – I prefer these wide-mouth jars, as they're easier to fill.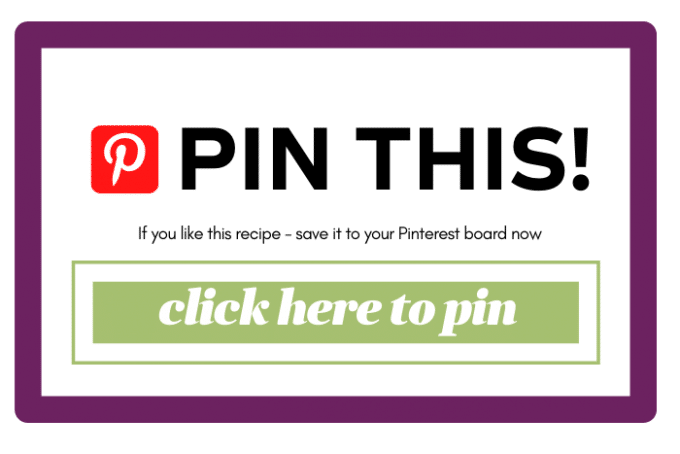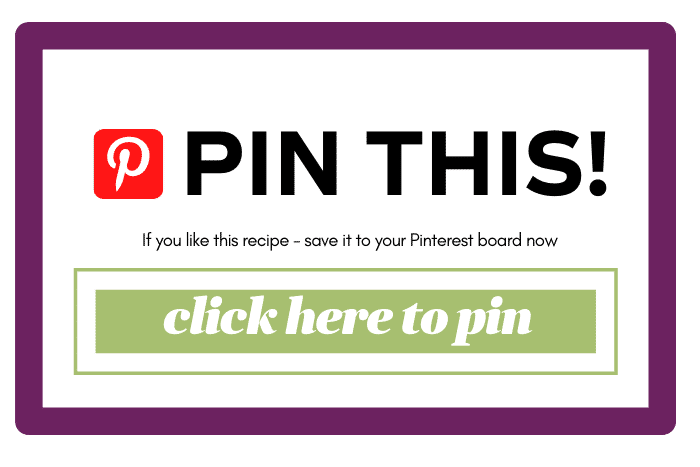 BE SURE TO SCROLL DOWN TO CHECK OUT OTHER READERS' COMMENTS FOR TIPS AND REVIEWS.
AND DON'T FORGET, IF YOU'VE MADE THIS RECIPE, LEAVE A COMMENT AND PLEASE GIVE IT A STAR RATING LETTING ME KNOW HOW YOU ENJOYED IT!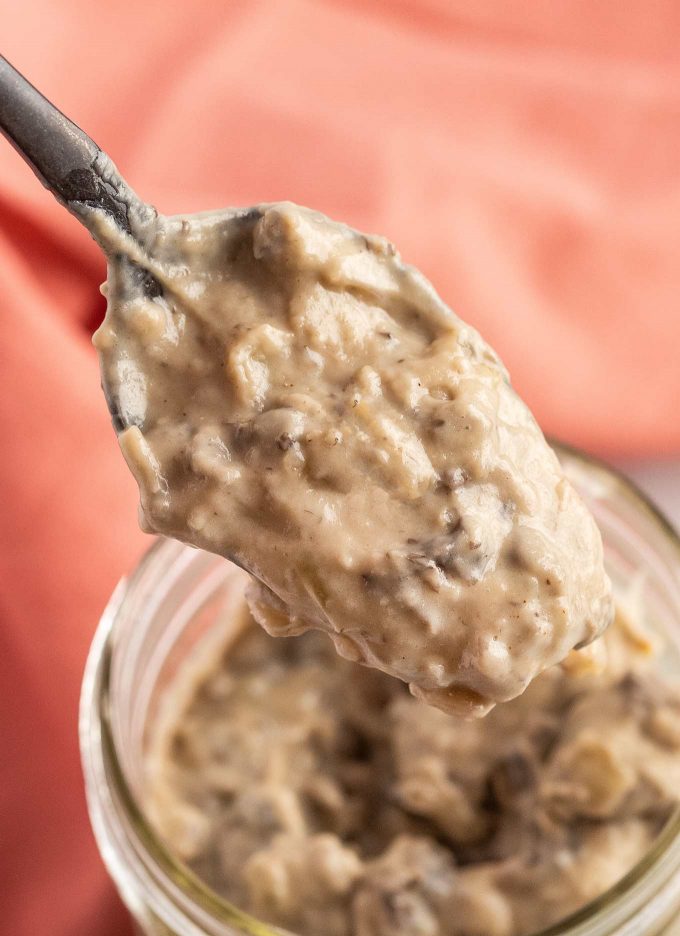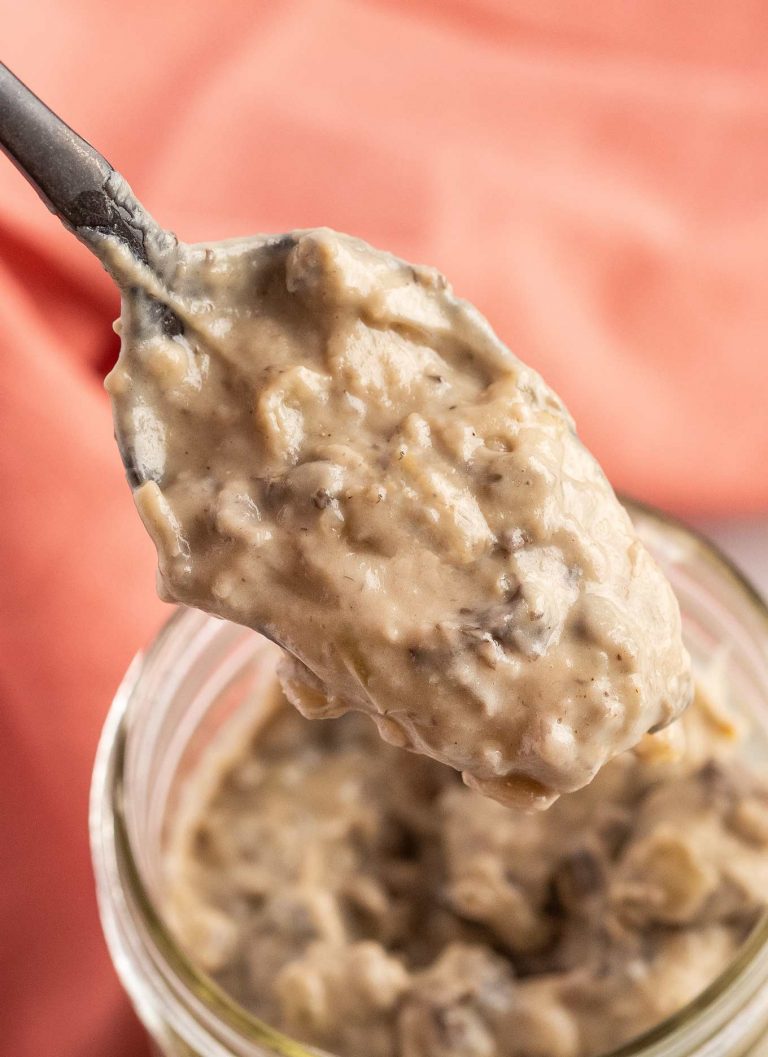 Did you make this? Be sure to leave a review below and tag me @the_chunky_chef on Facebook and Instagram!
Homemade Condensed Cream of Mushroom Soup tastes SO much better than anything from a can, is easy to make, you can feel good about using it, and as a bonus, it can be frozen!
Ingredients
1 Tbsp unsalted butter
1 Tbsp olive oil
1/2 small yellow or white onion minced
8 oz white button mushrooms chopped
1 clove garlic minced
3 Tbsp all purpose flour
1/2 cup vegetable broth
1/2 cup half and half
1/2 tsp kosher salt
1/4 tsp black pepper
pinch of ground thyme
Instructions
SAUTE ONIONS
Add butter and oil to a saucepan and heat over MED-HIGH heat. Once hot, add onion and cook for 2-3 minutes, stirring occasionally.
SAUTE MUSHROOMS
Add garlic and mushrooms and cook until tender, about 5-6 minutes, stirring occasionally.
THICKEN
Add flour and stir to coat. Cook, stirring very often, for 1 minute.

Stir in vegetable broth and half and half, scraping the bottom of the pan to release any browned bits. Cook, stirring occasionally, for 1-2 minutes, or until soup has thickened to your liking. Remember, we want the soup to be nice and thick, like the canned version.
SEASON AND STORE
Season with salt and pepper, then remove from heat and let cool completely.

Transfer soup to an airtight container (I like to use a glass jar) and place in the refrigerator. Soup should be used within 1 week.
Want to save this recipe for later? Click the heart in the bottom right corner to save to your own recipe box!
Chef Tips
Recipe makes approximately 1 1/2 cups of condensed soup, which is a little more than a standard 10.75 oz can of condensed soup. Recipe can be used interchangeably with a can of condensed soup.
Nutrition Disclaimer
The Chunky Chef is not a dietician or nutritionist, and any nutritional information shared is an estimate. If calorie count and other nutritional values are important to you, we recommend running the ingredients through whichever online nutritional calculator you prefer. Calories can vary quite a bit depending on which brands were used.