Deliciously tender, sweet and sticky, these sticky buns are made with a homemade maple-caramel sauce that is out of this world!
These maple pecan sticky buns are JUST what you need on a cold morning or for a holiday breakfast.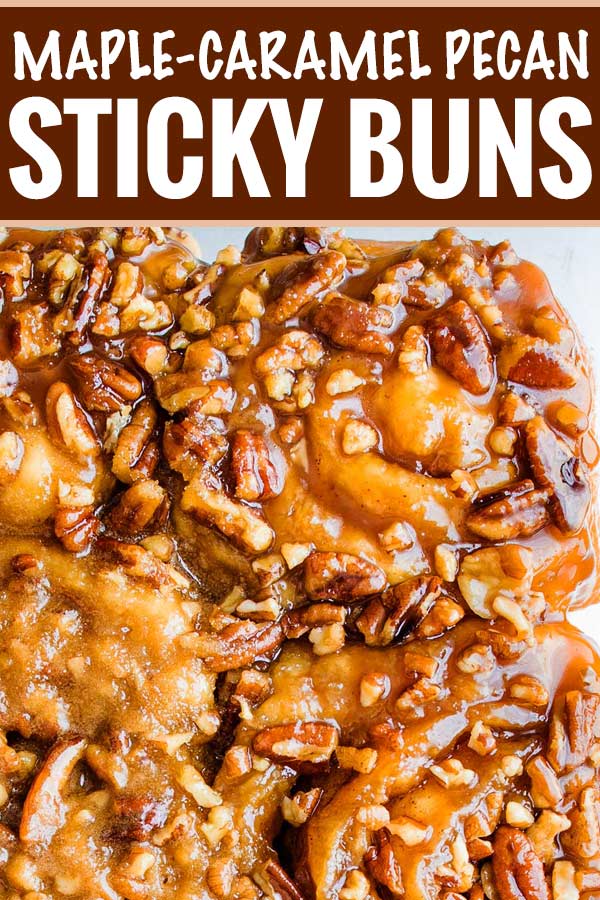 Maple-Caramel Pecan Sticky Buns
Is there anything better than sinking your teeth into a warm, gooey cinnamon roll?  YES!  Sinking your teeth into a warm, gooey, sticky bun!!  Sticky buns are like cinnamon rolls more delicious cousin… full of buttery cinnamon sugar, but topped with homemade maple caramel and toasted pecans!
I've been wanting to share a recipe like this with you guys for a while now… but I kept putting it off because I was trying to figure out how to get these made fresh, then still have time to photograph them during my prime shooting time.  Well I finally figured it out and whoa.. let me tell you… they're AMAZING!!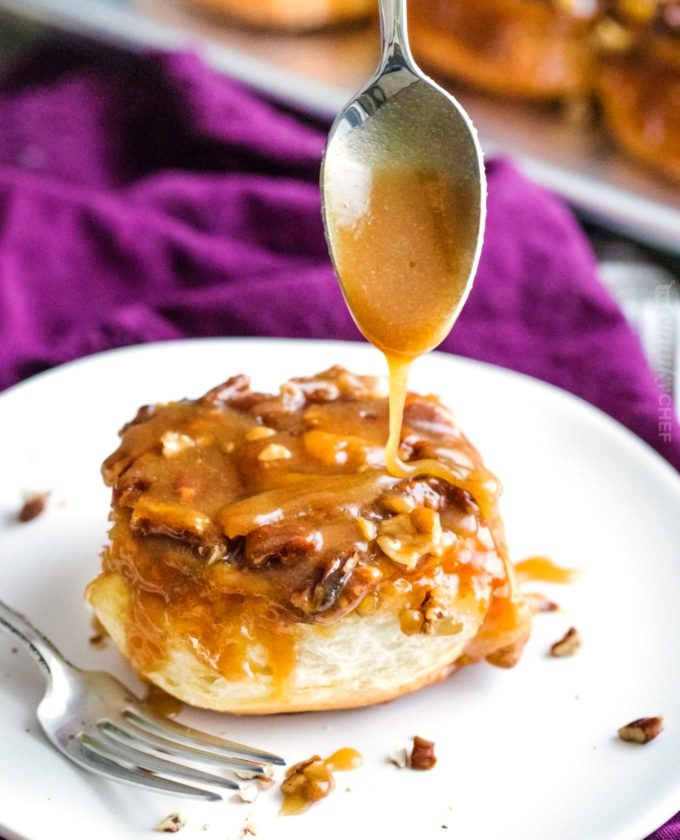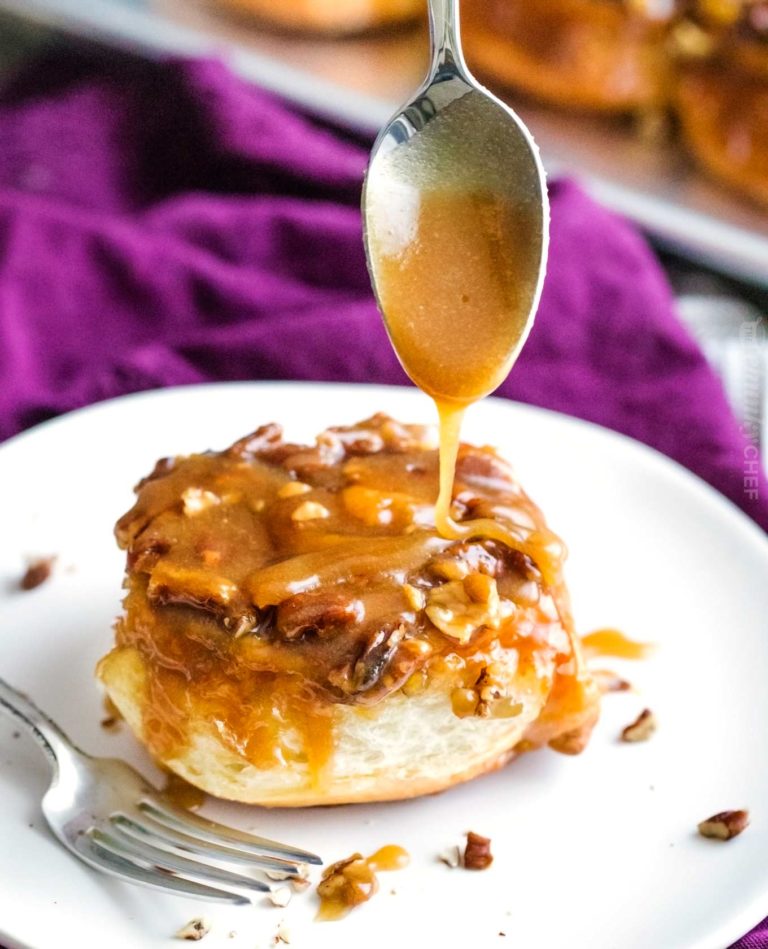 What's the difference between a cinnamon roll and a sticky bun?
The main difference here is in the topping.  Both sweet rolls are filled with a butter, brown sugar and cinnamon filling, but cinnamon rolls are generally topped with a cream cheese or vanilla icing glaze.  Sticky buns are traditionally topped with caramel and pecans or other nuts.
Also, with cinnamon rolls, the topping is added after the rolls have been baked.  With sticky buns, the topping is added to the bottom of the baking dish, then the rolls are baked on top of that.  You invert the pan after baking to give them that glorious topping.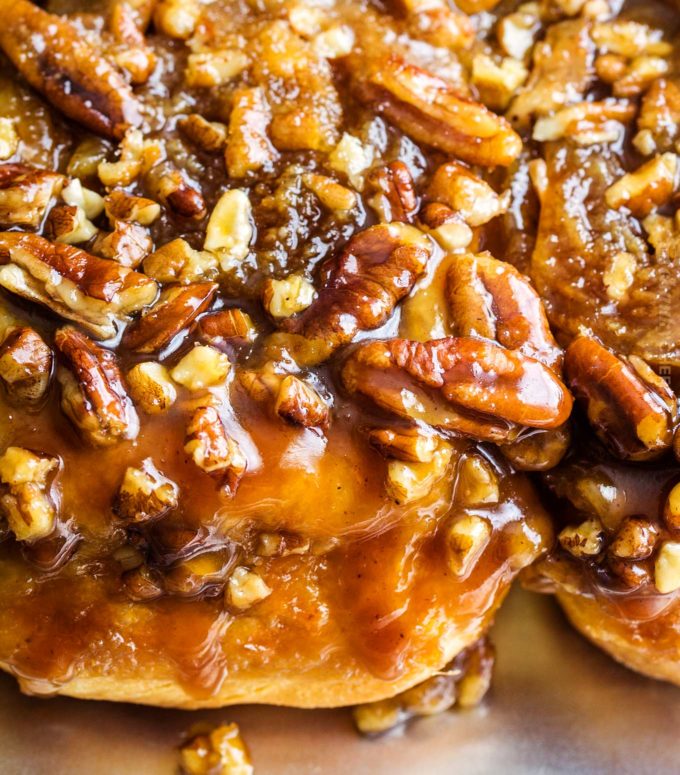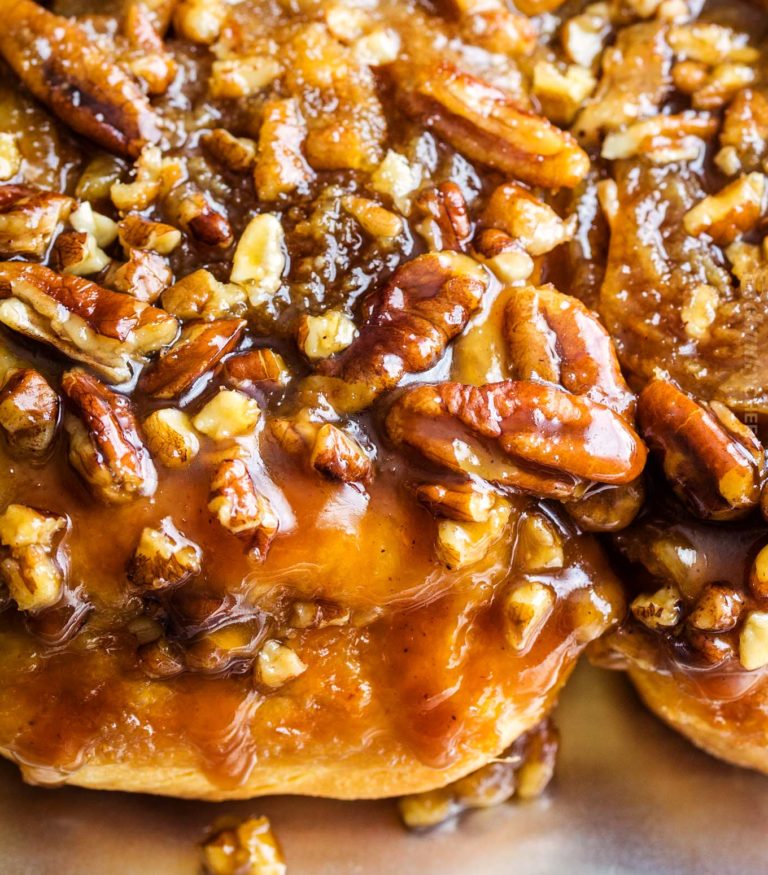 How to store sticky buns
Even though you may WANT to eat the entire batch… odds are, you'll have some leftover.  Sticky buns will keep at room temperature for about 2 days, covered tightly to prevent them from drying out too much.  For longer storage, keep them refrigerated, also covered tightly, for up to a week.
Can sticky buns be frozen?
Absolutely!  I've not tested freezing them unbaked, but baked buns can be frozen for 2-3 months.  Make sure to wrap them tightly with foil and place in an airtight container for freezing.  Thaw them overnight in the refrigerator, then warm them up and enjoy!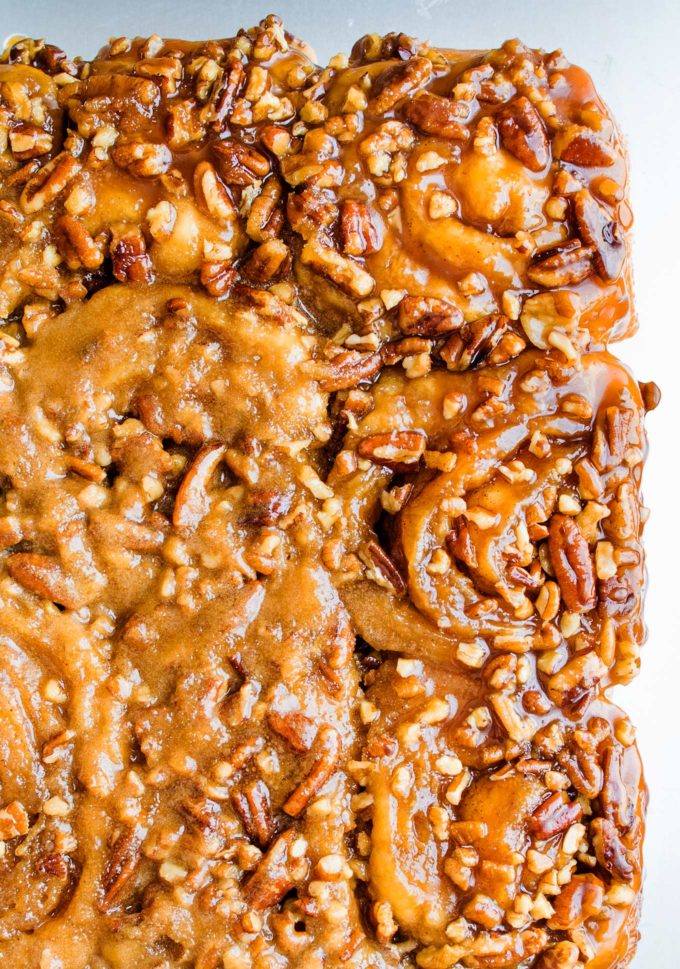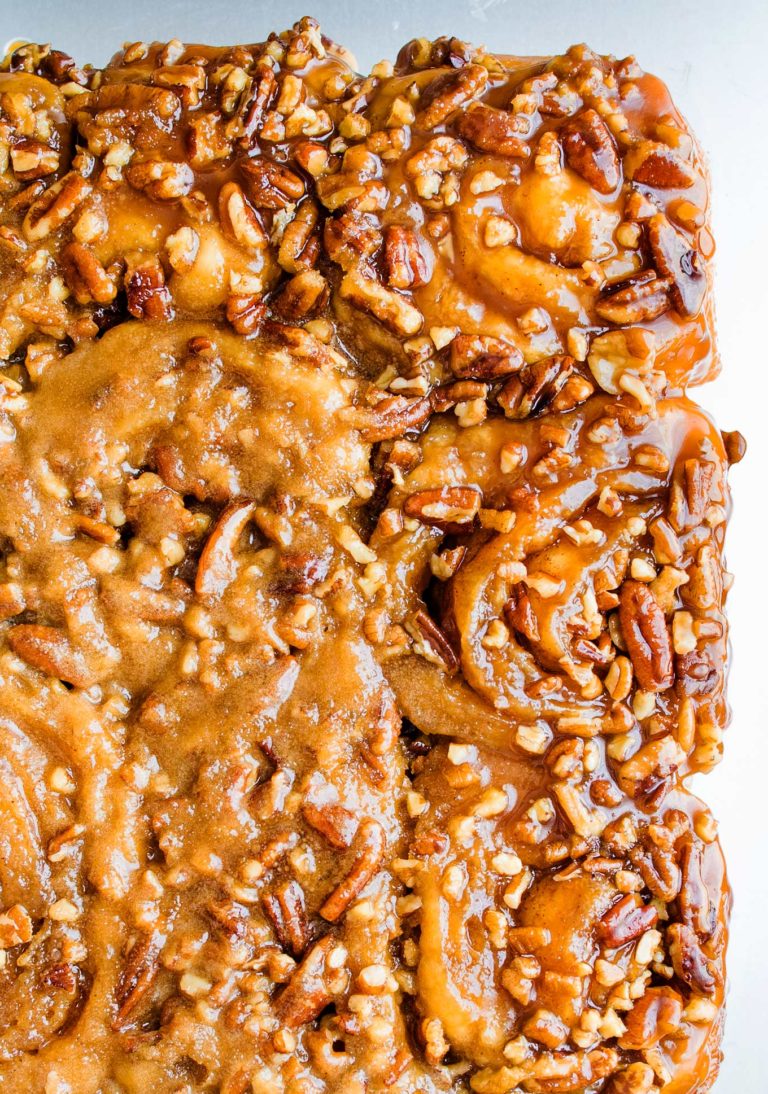 Pro tips for making sticky buns:
First of all, don't be intimidated!  Working with yeast usually has people intimidated, but it's really not that complicated, I promise.
If you have a stand mixer, definitely use it!  Kneading the dough can be tedious, and letting the mixer do the work for you is awesome.  If you don't have one, no worries, you can absolutely make it without one.  You'll just get an arm workout!
Make sure to proof your yeast.  This is covered in the recipe below, but it's an important tip.  Sometimes yeast can be older than we think, and it just won't activate and work.  Proofing means you don't have to make the whole dough before finding out the yeast was dead!
If you don't have a warm spot in your kitchen (or don't know where one is), don't panic.  Here's what I do all the time, especially in the colder months.  I preheat my oven for about 2-3 minutes, then turn the oven OFF.  Put the covered bowl with the dough in there and shut the door.  Works every time!  Just make sure you shut the oven

OFF

.
Slicing the sticky bun dough into wheels can be tricky.  Use a very sharp serrated knife, or some unflavored dental floss (seriously, make sure it's UNflavored – no one wants spearmint flavored buns!).  Slide the floss underneath the log, bring both sides up, cross them over each other, and pull tight.  Perfect slices!
Make sure you let the buns rest after baking before you try to invert the pan.  5 minutes or so is all it takes, but if you don't let it rest, the caramel will be too runny and you won't have much left on top after you flip them.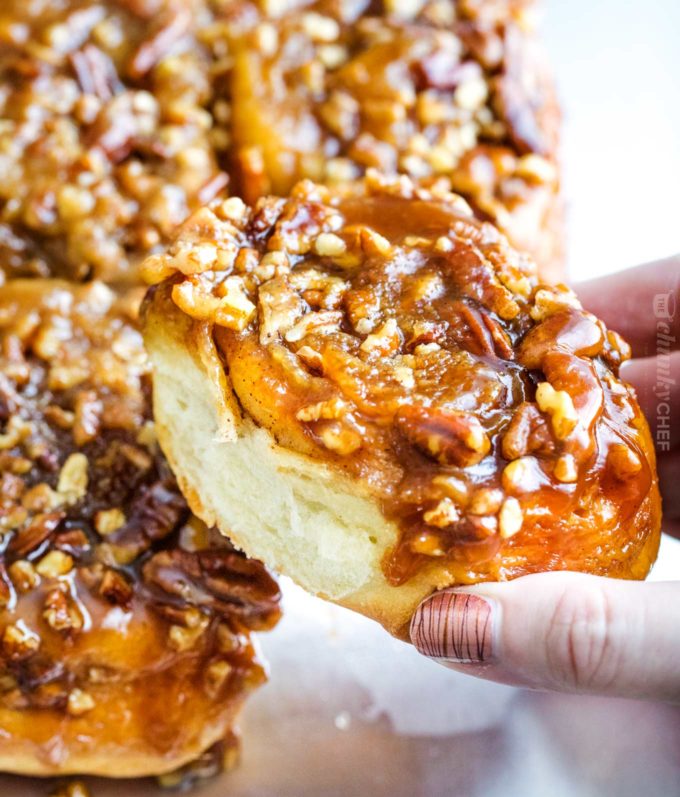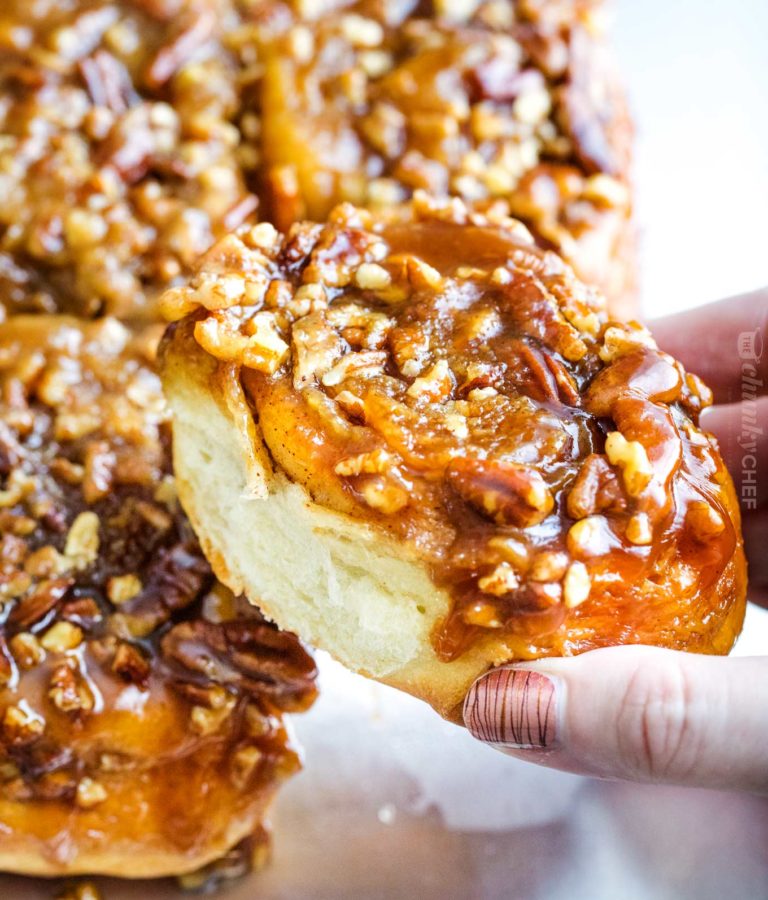 These sticky buns certainly aren't going to be on anyone's healthy eating plan, but as an occasional treat or holiday breakfast, they sure do hit the spot!
Can sticky buns be made overnight?
Yep!  Most sweet roll recipes can be adapted to rise overnight, and I'm actually working on developing a mouthwatering overnight cinnamon roll recipe for you guys too!  Basically you're going to complete the first rise, form the log, slice into pinwheels and get them in the pan on top of the caramel and pecans.  Cover well – we don't want dried out rolls, then bake the next morning.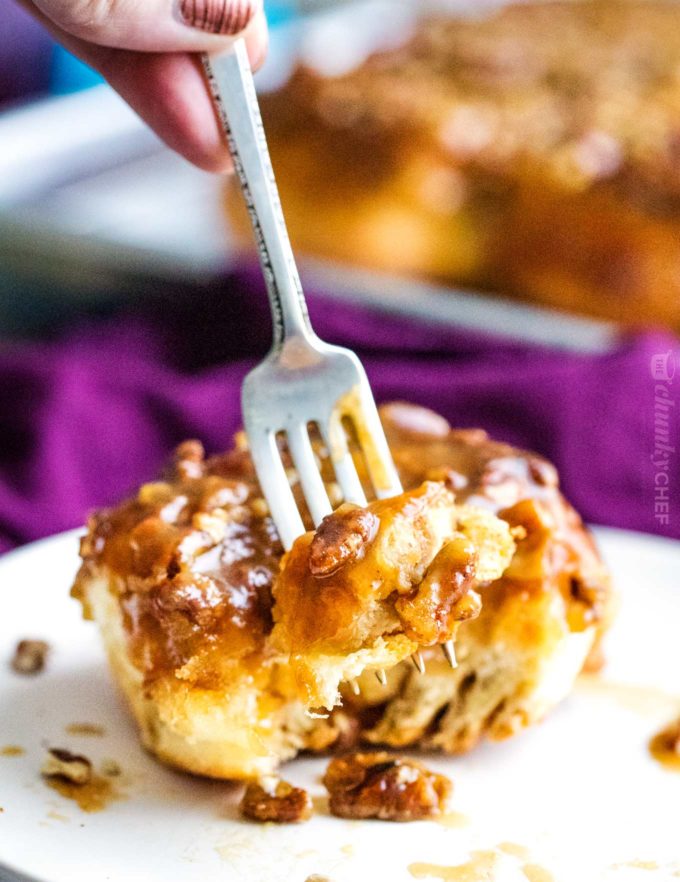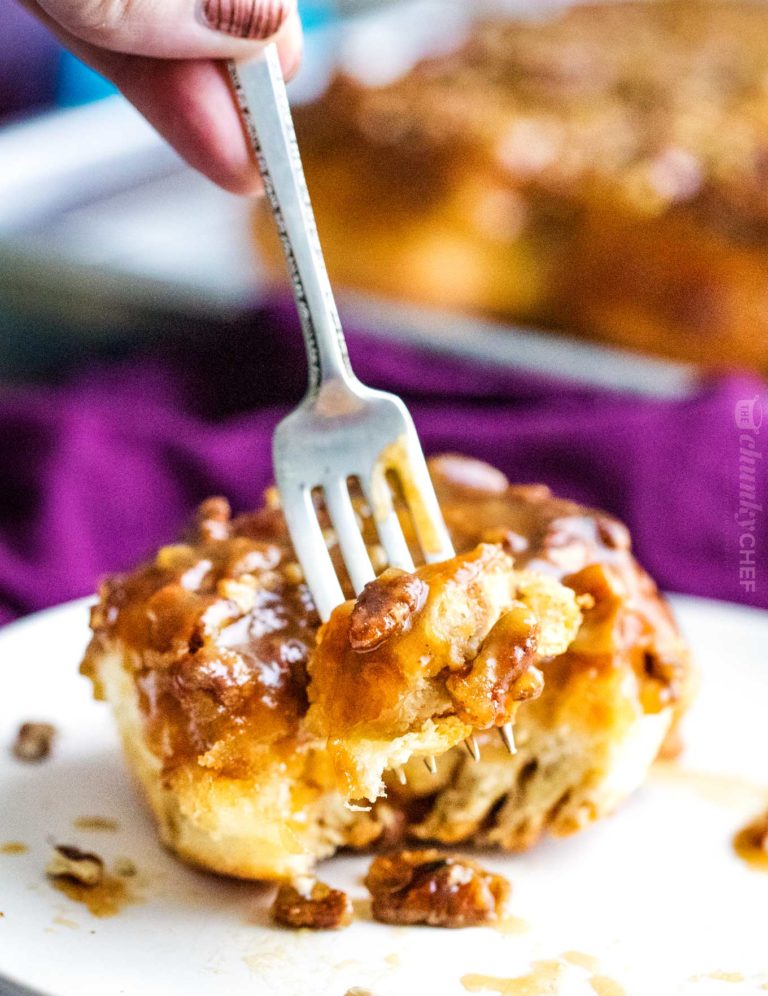 Looking for other great holiday breakfast ideas?
Shop the recipe: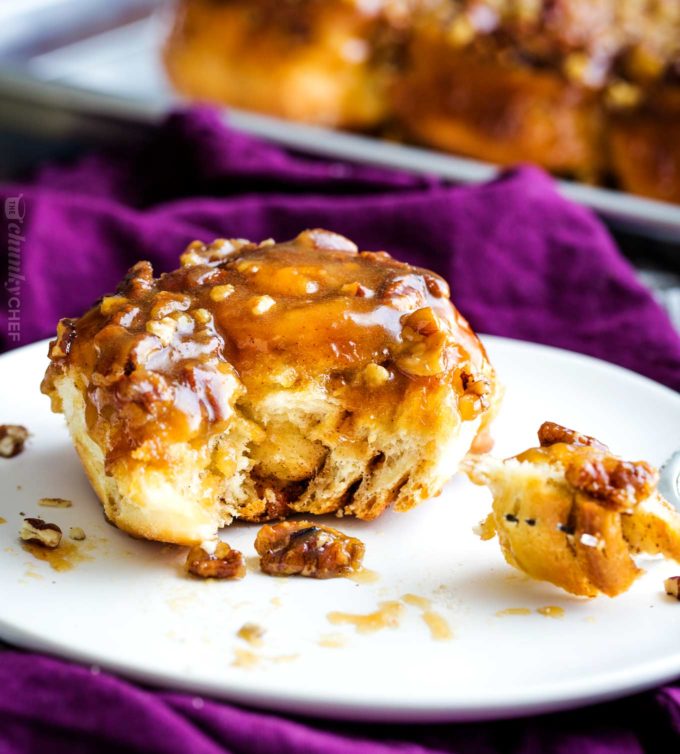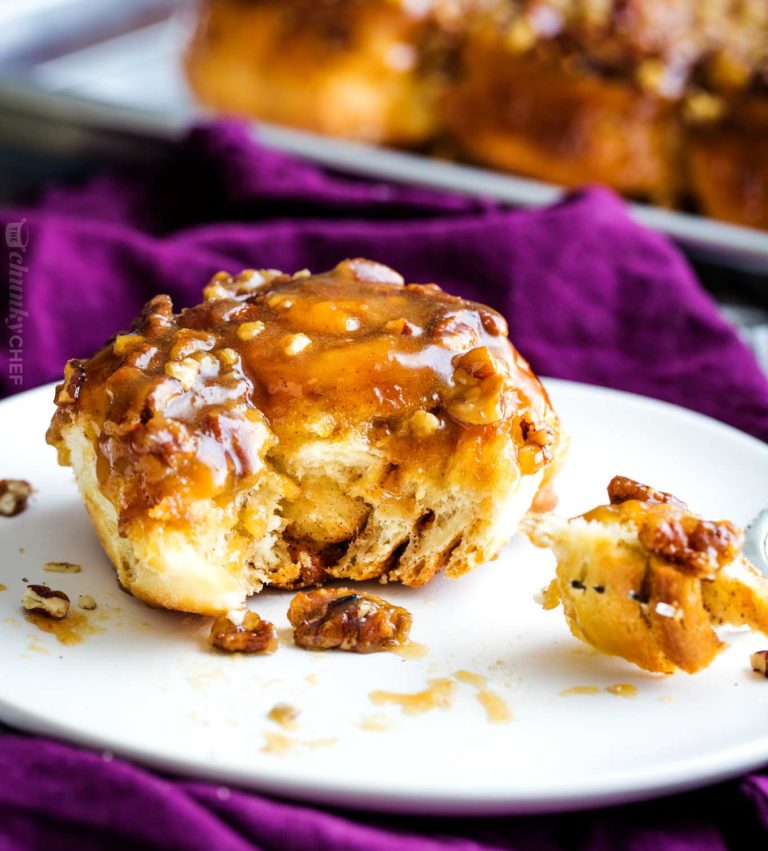 Be sure to scroll down to check out other readers' comments for tips and reviews.
And don't forget, if you've made this recipe, leave a comment and please consider giving it a star rating letting me know how you enjoyed it 🙂
Did you make this? Be sure to leave a review below and tag me @the_chunky_chef on Facebook and Instagram!
Deliciously tender, sweet and sticky, these sticky buns are made with a homemade maple-caramel sauce that is out of this world!
Ingredients
DOUGH
1 cup whole milk
2/3 cup granulated sugar
1 1/2 Tbsp active dry or instant yeast (about 2 standard packets)
1/2 cup butter, softened to room temperature and cut into bite sized pieces
2 large eggs
1/2 tsp kosher salt
4 1/2 cups all-purpose flour
TOPPING
1/2 cup butter
1 cup packed light brown sugar
1 tsp vanilla extract
1/4 cup maple syrup (the real stuff!)
3 Tbsp heavy cream
1 1/2 cups chopped pecans (I like a mixture of chopped and pieces)
FILLING
1/3 - 1/2 cup butter, softened to room temperature
1/2 cup light brown sugar
1 1/2 tsp ground cinnamon
Instructions
MAKE THE DOUGH:
Lightly grease a large mixing bowl with a drizzle of vegetable oil and set aside. In a small saucepan, heat milk over MED heat until warmed. Pour warm milk into the bowl of a stand mixer and stir in the granulated sugar and yeast. Let mixture sit about 5 to 10 minutes. Yeast mixture should be foamy looking and smell "yeasty".

Mix on LOW speed and add butter, eggs and the salt. Gradually add in the flour, in about 1 cup increments. When all the flour has been added, increase mixer speed to about MED, and mix about 5 minutes, or until a soft dough forms.

Lightly flour your counter or other flat surface and transfer dough onto it. Dust your hands with flour and knead by hand about a minute or so, or until the dough comes together. Form the dough into a ball and transfer to prepared mixing bowl.

Cover bowl with plastic wrap, loosely, and a clean kitchen towel. Place in a warm spot for about 2 hours, or until doubled in size.


Once dough has doubled in size, turn it out onto a lightly floured surface and roll into a rectangle, roughly 12x18 inches in size. Use the rolling pin to make sure the dough is an even thickness.
MAKE THE FILLING:
Spread dough rectangle with softened butter, then top with brown sugar and cinnamon. Gently use your fingers to pat the sugar/cinnamon mixture to help it stay in place during the rolling process.

Starting at the top, roll the dough tightly towards you. I find starting to roll at one side and rolling towards you once, then moving down the line slightly and doing the same thing, repeating until you're all the way across gives you the most even rolling.

Once you have an 18 inch long log, carefully slice the log in 12 evenly sized rolls.

MAKE THE TOPPING:
In a small saucepan, heat butter, brown sugar, maple syrup and vanilla over MED heat until melted and smooth. Remove from heat and whisk in cream. Set aside.

Butter or grease a 9x13 inch baking dish. Pour caramel sauce into bottom of baking dish, lifting and tilting dish to make sure caramel is evenly coating the bottom. Sprinkle pecans over the top of the caramel.

Arrange rolls on top of the caramel and pecans, then cover tightly with foil and let rise again for about 45 minutes, or until large and puffy.
BAKE THE STICKY BUNS:
Preheat oven to 375 F degrees, and once fully heated, bake sticky buns about 25 minutes. If you find the tops of the rolls are getting TOO golden brown, cover loosely with foil during the second half of baking.

Remove pan from oven and let cool 7-10 minutes, then place a large serving tray or sheet pan over the top of the baking dish. Carefully, and using oven safe gloves, hold onto both the tray and the dish and flip it over to invert the rolls. Lift up the baking dish and set aside.

Serve rolls warm with additional caramel sauce if desired.
Want to save this recipe for later? Click the heart in the bottom right corner to save to your own recipe box!
Chef Tips
TO MAKE OVERNIGHT STICKY BUNS:
Complete steps up through slicing the sticky buns into rolls.  Place on prepared caramel sauce in pan, cover tightly with foil, and refrigerate 8-12 hours.
Remove buns from refrigerator and let rise in a warm place for 1-2 hours, then bake as directed.
Nutrition Disclaimer
The Chunky Chef is not a dietician or nutritionist, and any nutritional information shared is an estimate. If calorie count and other nutritional values are important to you, we recommend running the ingredients through whichever online nutritional calculator you prefer. Calories can vary quite a bit depending on which brands were used.