The softest, fluffiest,

best

buttermilk pancakes… from scratch!  Savor the sweet hints of vanilla and warmth of the cinnamon; the perfect breakfast!
Making buttermilk pancakes from scratch isn't NEARLY as difficult as you might think.  It actually doesn't take much more time than opening a boxed mix and mixing with some water.  One bite of these homemade buttermilk pancakes, and you'll go toss those boxed mixes for good!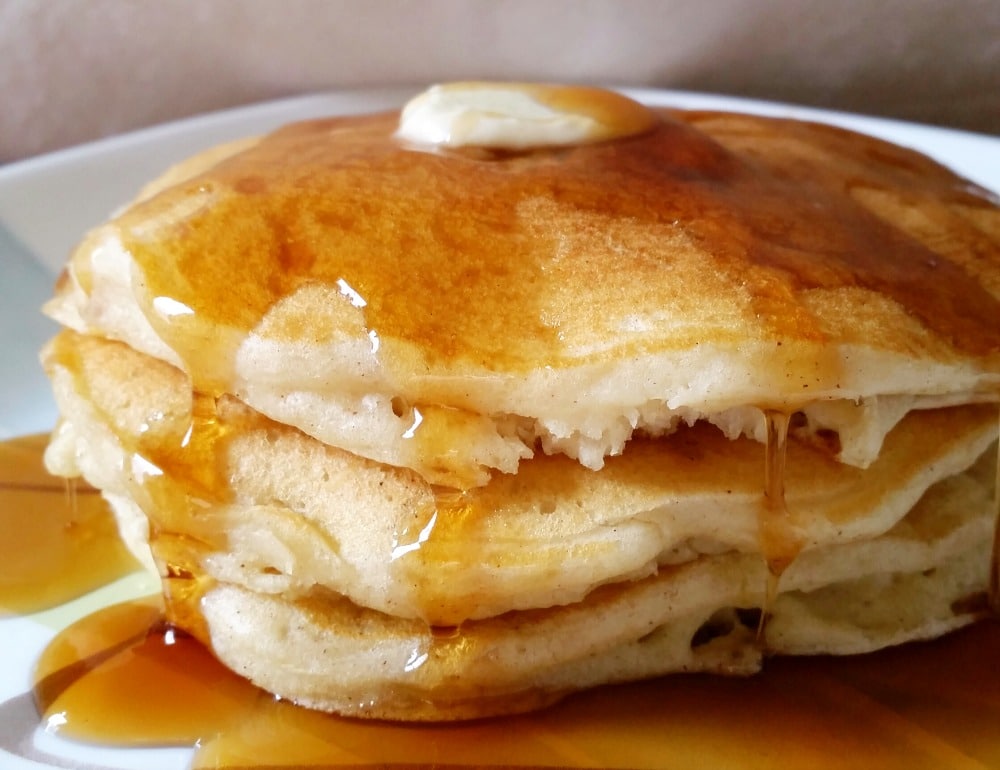 Let's talk breakfast… the most important meal of the day right?  Well, who knows for sure, but all I know is that breakfast food is ah-mazing!  Fried eggs, scrambled eggs, omelettes, biscuits, gravy, bacon, french toast… I could go on all day.  Probably one of the most iconic breakfast foods is good ol' pancakes!
Now I don't know about you, but I usually don't eat much for actual breakfast.  A cup of tea or coffee and a granola bar or bowl of cereal, and I'm good to go.  But I crave breakfast food pretty much all other times of the day!  Breakfast for dinner (Brinner) is one of my favorite meals 🙂
I'll admit, I used to grab a box of pancake mix when it was time to make pancakes… generally because my kids were clamoring for them, it was 8am, and I closely resembled a walking zombie and wanted nothing to do with the kitchen lol.  Mornings just aren't my thing… umm, at all.
Once I felt ambitious and started making pancakes from scratch… I haven't purchased any boxes of pancake mix.  From scratch is just so much better!  And honestly, super easy!!  The secret to a great pancake… is making them buttermilk pancakes 🙂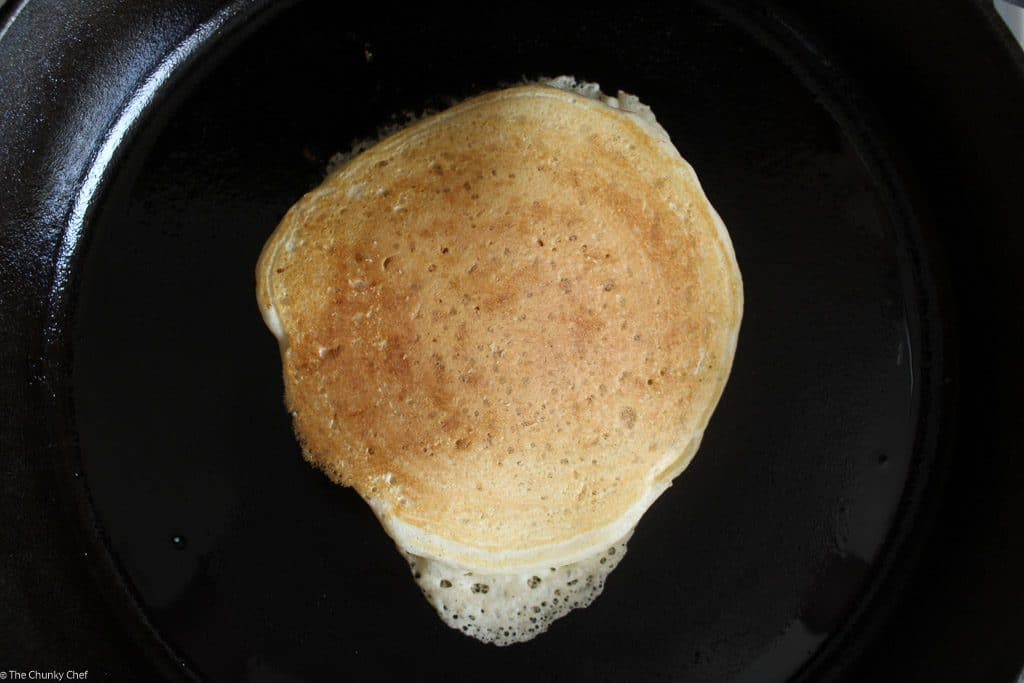 I don't really have any step by step photos for this, because you're all intelligent human beings and don't really need to see how to whisk things together… (or possibly I just forgot to take some) lol 🙂  Once you've whisked all your ingredients, let the batter rest for a few minutes while the griddle or pan is heating up.
For these, I used my 10-inch cast iron skillet with a little melted butter in the pan.  You can make these any size you'd like!  I like to make some mini ones and freeze them for the kids, that way they can have pancakes any time they want, with minimal effort 🙂
Tip:  Place pancakes on a wax paper lined baking sheet, so that they're next to each other, but not stacked on top of each other.  Freeze the entire pan for about an hour or so, and then place the flash frozen pancakes in a big freezer bag.
For regular pancakes, I use my 1/4 or 1/3 cup measuring cup to scoop the batter… pouring it slowly onto the pan and gently swirling it in a circle to spread out the batter a little.  This way they're all relatively the same size 🙂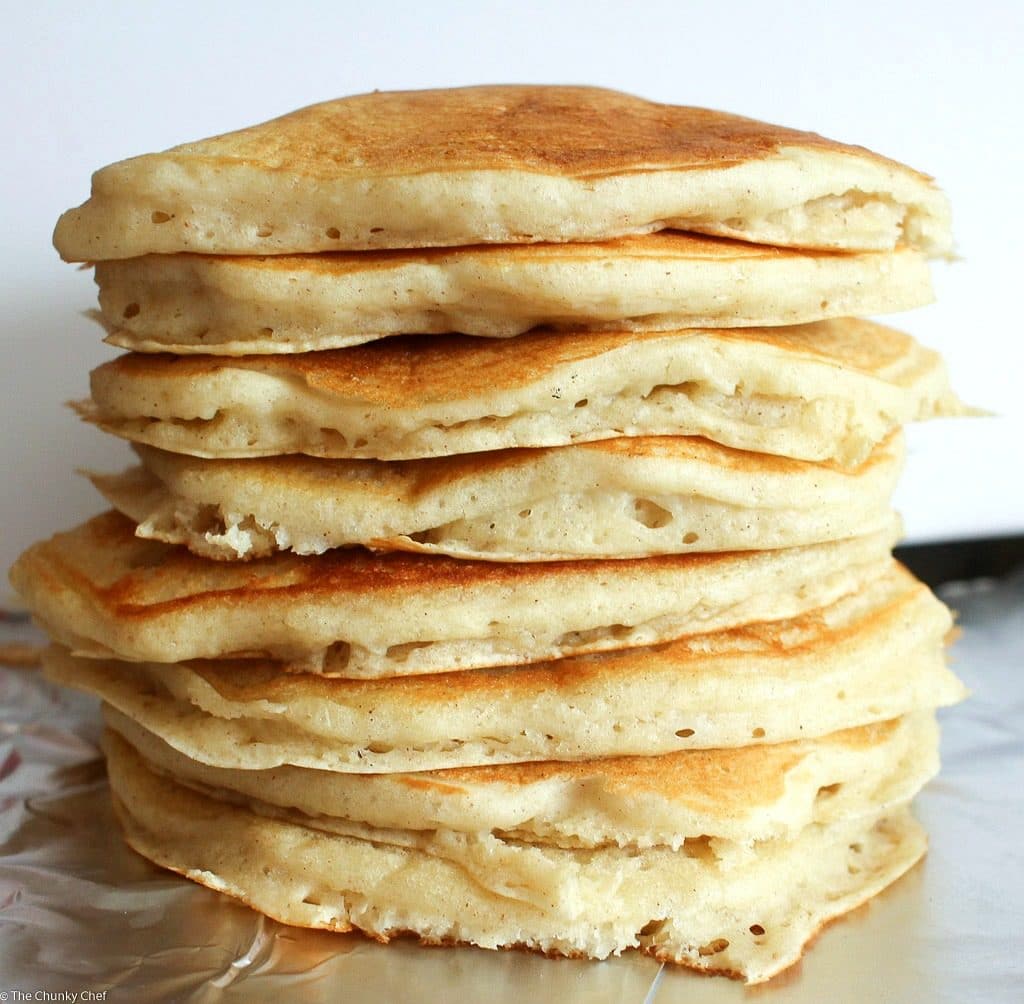 Make sure when you're cooking your pancakes that you're only heating your pan over medium low heat… you don't want perfectly browned pancakes that are raw in the middle because the pan was too hot 😉  If you want all your pancakes to stay warm while you're finishing up making the rest of them, either place them on a plate and cover with a kitchen towel, or set your oven to 200 degrees and pop the pancakes in there on a baking sheet to stay nice and warm.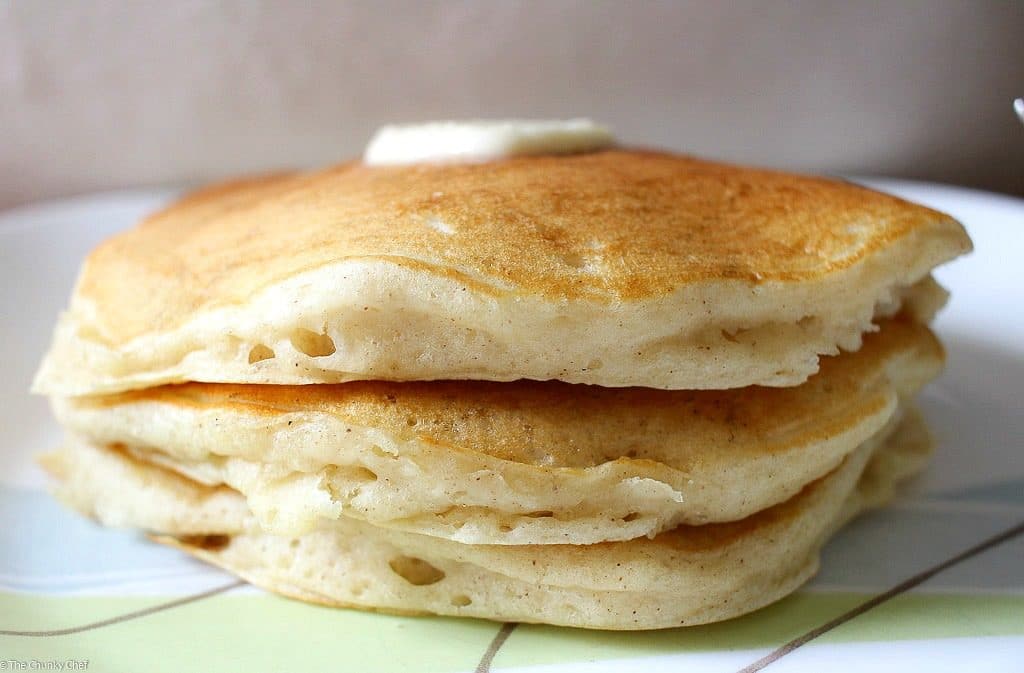 If you prefer a pancake without the vanilla and cinnamon flavors, just omit those from the batter… it'll still be super delicious!  I just love the slight sweetness from the vanilla and the warmth from the cinnamon 🙂
What type of toppings do you like for your pancakes?  I stay traditional and go with a pat of butter and drizzle of maple syrup 🙂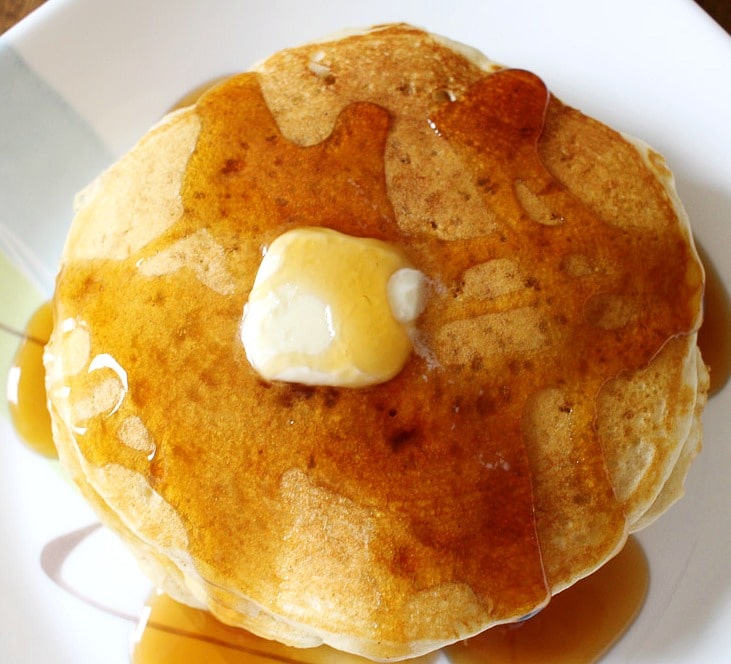 Like your pancakes stuffed with other goodies?  Go ahead and load your pancakes up with bananas, blueberries, chocolate chips… whatever you'd like!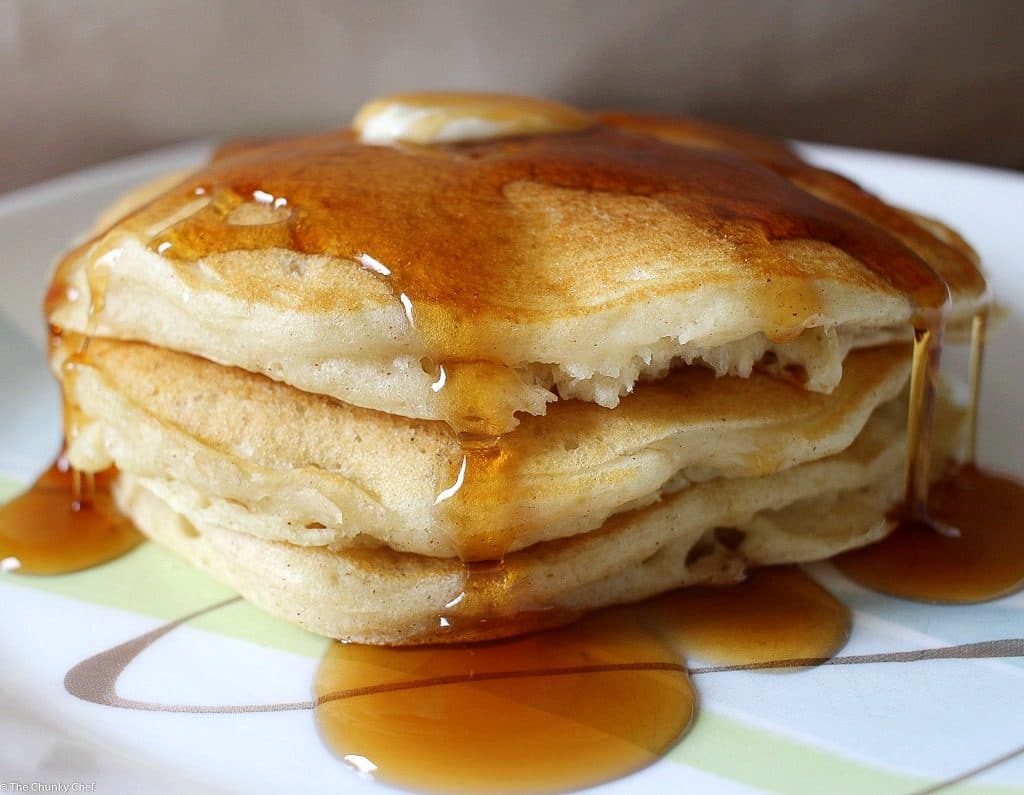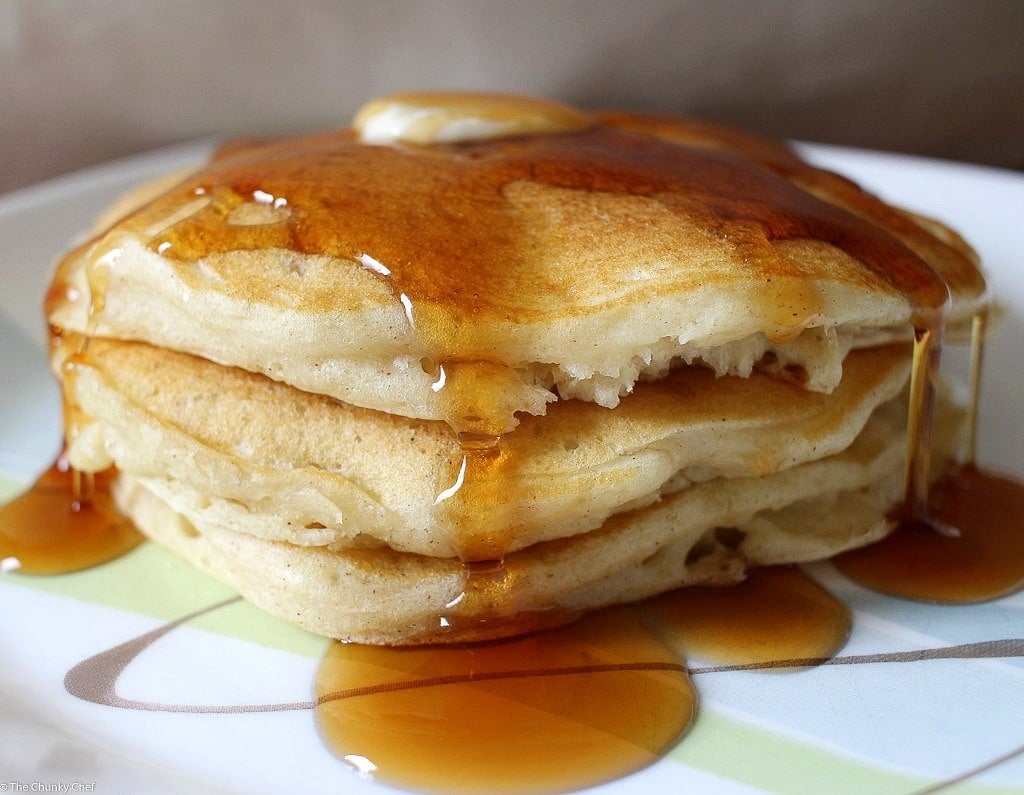 You know you want a big stack of these buttermilk pancakes!  Just from writing this post I think I may have to go make some 🙂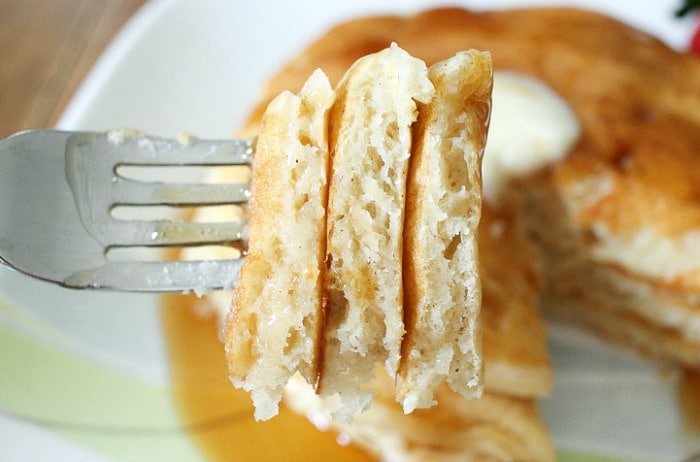 This bite is for you!  I hope you guys make these…. I know you'll love how light and fluffy they are.  To me, they taste like you just ordered them from a restaurant.
If you have some buttermilk left over after making these pancakes, go ahead and whip up a batch of these classic buttermilk biscuits, or even some maple bacon and cheddar buttermilk biscuits… they freeze beautifully!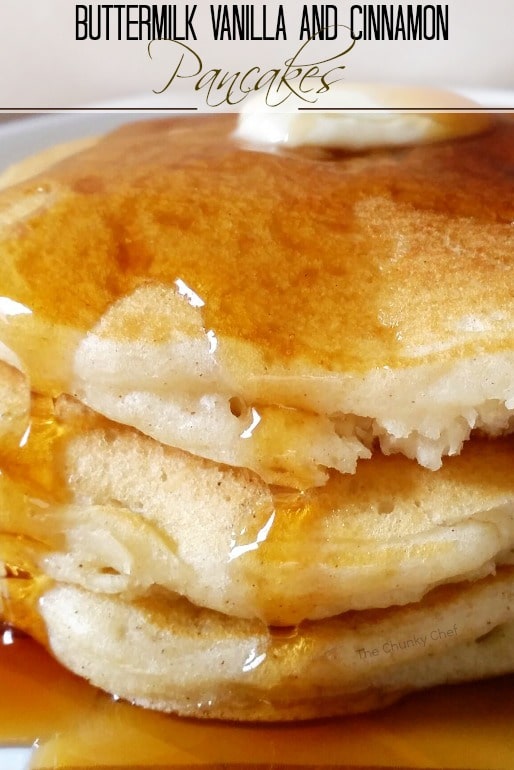 Helpful Tools for This Recipe:


Did you make this? Be sure to leave a review below and tag me @the_chunky_chef on Facebook and Instagram!
The softest, fluffiest, best buttermilk pancakes... from scratch! Savor the sweet hints of vanilla and warmth of the cinnamon; the perfect breakfast!
Ingredients
2 cups all-purpose flour
3 Tbsp white sugar
1 1/2 tsp baking powder
1 tsp baking soda
1/4 tsp salt
2 cups buttermilk
1 1/2 tsp vanilla extract
1/2 tsp ground cinnamon
1 egg
1/4 cup melted butter
Instructions
Melt the butter and set aside to cool down slightly.

To a mixing bowl, add the flour, sugar, baking powder, baking soda, and salt. Use a whisk to combine all dry ingredients well.

In a separate bowl, combine buttermilk, vanilla, ground cinnamon and egg. Whisk to combine. Add melted butter and whisk again.

Slowly pour the wet ingredients into the dry ingredients, whisking and stirring to mix it all together. Once it's combined, stop mixing. If you over-mix, your pancakes won't be light and fluffy.

Set pancake batter aside and heat up a large skillet or

griddle

over MED-LOW heat. Add a bit of butter to the preheated griddle and spread it out.

Use a 1/4 or 1/3 cup measuring cup to scoop the pancake batter onto the griddle or skillet. Slowly pour it onto the surface, circling outwards to make a nice circle.

Let the pancake cook about 2-3 minutes. You'll notice bubbles popping up on the surface of the pancake, if the edges look set, carefully

flip

the pancake over. Cook another 2 minutes on the other side.

Remove to a plate and cover with a kitchen towel. Alternatively, you can place the pancakes on a baking sheet and keep it in a low heat oven (175-200 degrees), until you're ready to serve.
Want to save this recipe for later? Click the heart in the bottom right corner to save to your own recipe box!
Chef Tips
1. Please note that the amount of flour may vary, as things such as humidity, brand of flour and the way you measure your flour will effect how things turn out. For reference, I use Gold Medal all purpose flour and measure it by spooning it into my measuring cup, then leveling off with the back of a butter knife.
2. A dash of nutmeg is also a great addition to these pancakes.
3. Feel free to adjust the amount of vanilla and cinnamon to your liking.
4. If you leave out the vanilla and cinnamon, you have a great basic buttermilk pancake recipe.
** This recipe makes enough for 4 people, so feel free to double to feed more people or to freeze some.