This recipe for an easy, yet Classic Lemon Curd is perfectly tart, smooth and oh so creamy. It's perfect for spreading on toast, using as a filling, or just eating by the spoonful!
This is part of a series of recipes here on the site that I'm calling "Back to Basics". In this series you'll find recipes that are common building blocks for beginner cooks, as well as homemade versions of pantry/store-bought staples, such as cream of mushroom soup, pie crust, garlic bread, etc. With easy to follow instructions, detailed notes, and step by step photos, you'll be on your way to being a master in your kitchen in no time!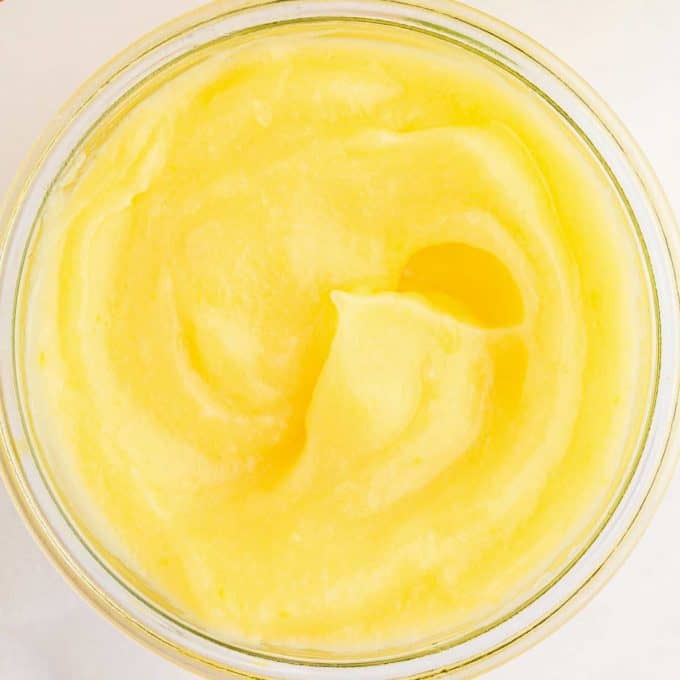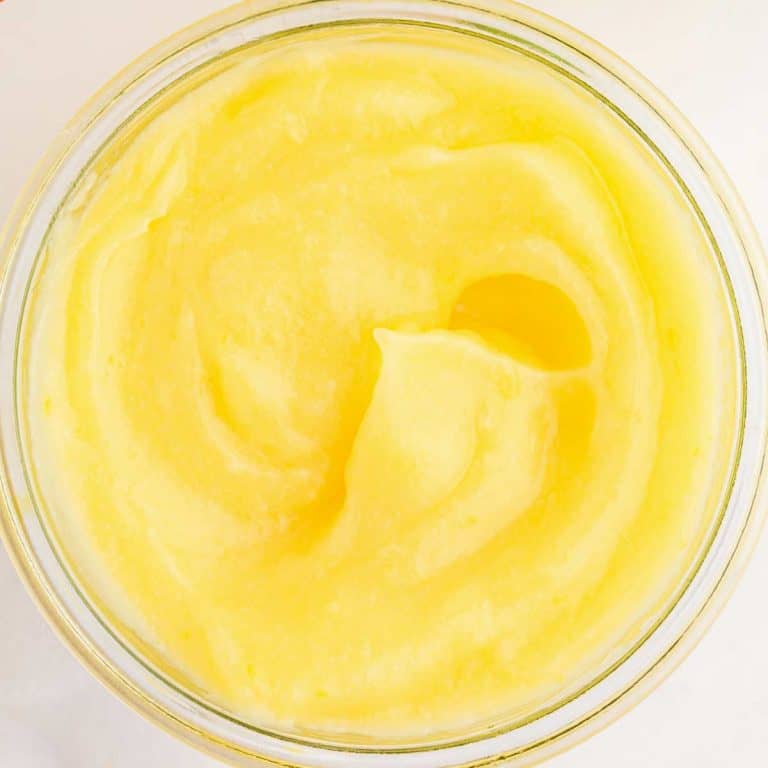 Fellow lemon-lovers, this one's for you! I know I've shared quite a few lemon desserts over the past month or so here on the site, but it's because it's one of my favorite dessert flavors.
Plus, lemon is just such a classic summer flavor, and we're rapidly approaching summer weather around here!
Lemon curd is also a classic recipe to keep in your back pocket. It's surprisingly easy, yet can score you some major "chef" points!
I do recommend using a double boiler, or the makeshift version I detail in the recipe card, but I wanted to show you in the process photos below, that it can be done without one.
No matter how you make it, I know you'll love the intense creamy lemon flavor of this curd!
How to make classic lemon curd?
This is just an overview; the full ingredients and directions are in the recipe card toward the bottom of this post.


Prepare makeshift double boiler. Add some water to a saucepan, bring it to a simmer, then top with a heatproof glass bowl. If you have an actual double boiler, you can absolutely use it.
Add main ingredients. All the ingredients except butter. Whisk.
Cook. Whisk as the mixture cooks. It's important to keep whisking so the egg yolks don't curdle or cook.
Add butter. Remove the pan from the heat and whisk in the butter.
Let cool. Cover the top of the curd with a piece of plastic wrap.
Chill. Once the curd has come to close to room temperature, add it to the refrigerator and chill for at least 1-2 hours.
Helpful Tip!
Between the heat and whisking, lemon curd gets foamy while it's cooking. As the curd begins to thicken, the foam will start to settle down, and then the addition of the butter at the end of cooking eliminates the foam. So don't panic when you see foam, just keep whisking and cooking.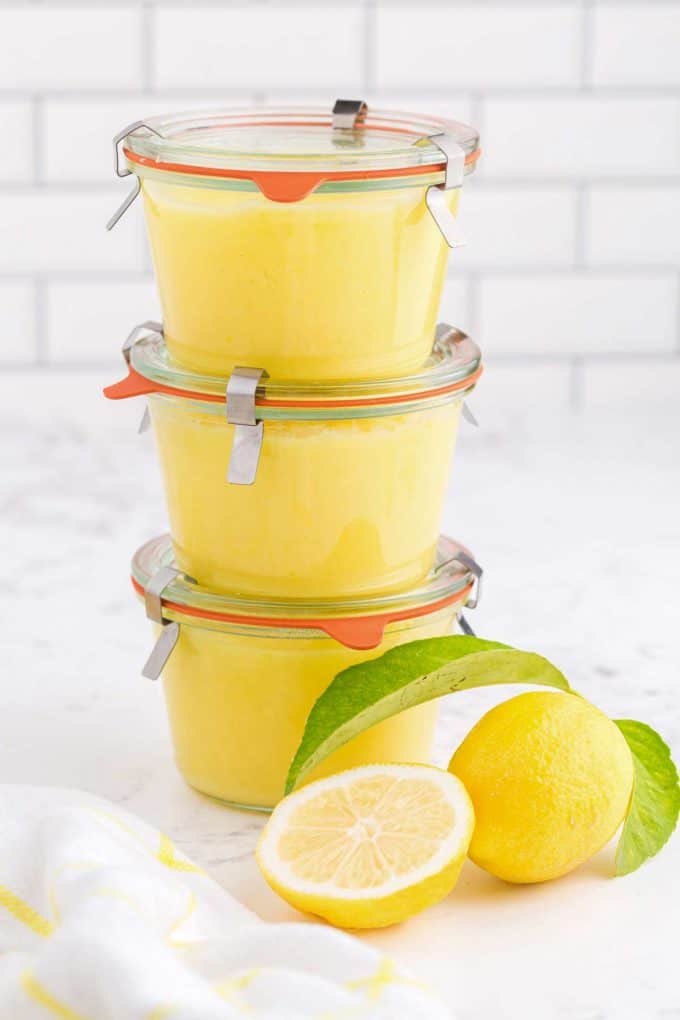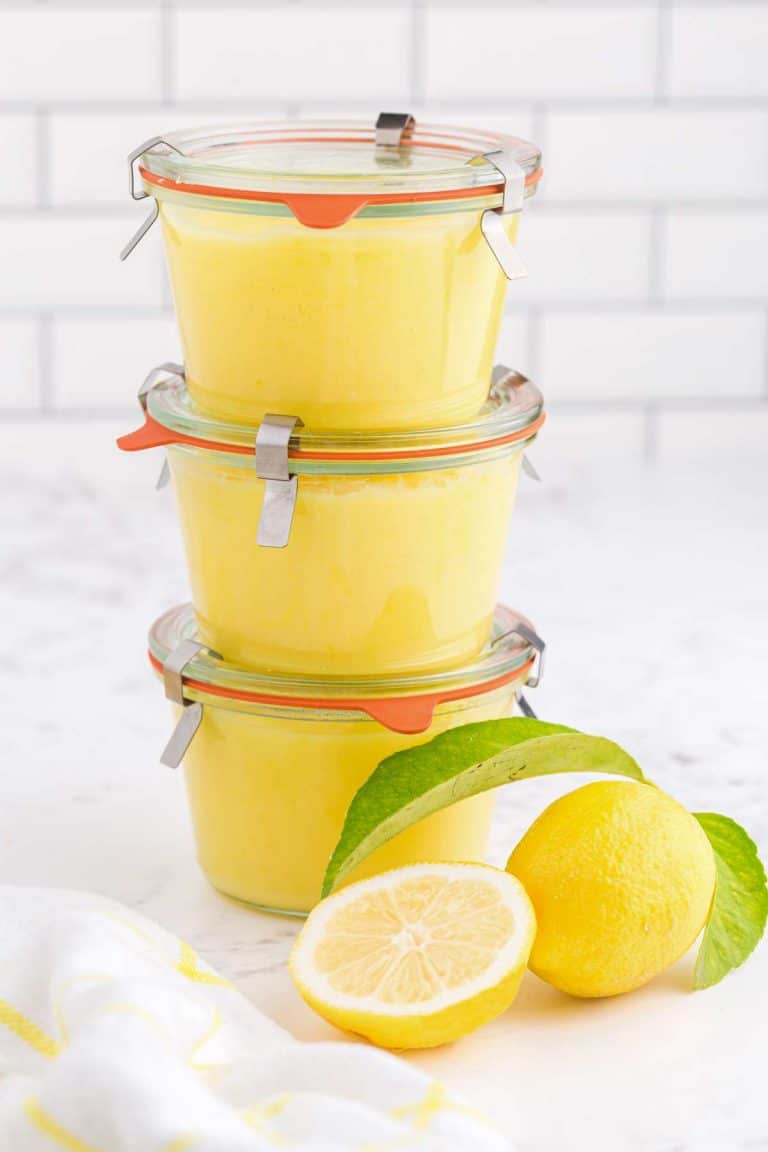 Variations of this recipe
Egg yolks and whole eggs – a combination of egg yolks and whole eggs can be used; try 2 whole eggs and 2 yolks. This will yield a slightly thicker and lighter curd. This version may need strained, as you may have small pieces of cooked egg white in the curd.
Strained – I don't typically strain my lemon curd, since the zest is very fine, but if you'd like to, feel free to strain the curd through a fine mesh sieve.
No double boiler – while I recommend using the makeshift double boiler mentioned in the post, you can make this recipe without it. Just add everything to the saucepan, keep the heat as low as possible, and whisk constantly.
Dairy-free – for a dairy free version, use a dairy free butter or coconut oil.
Other citrus – this same method can be used to make lime curd, orange curd, etc.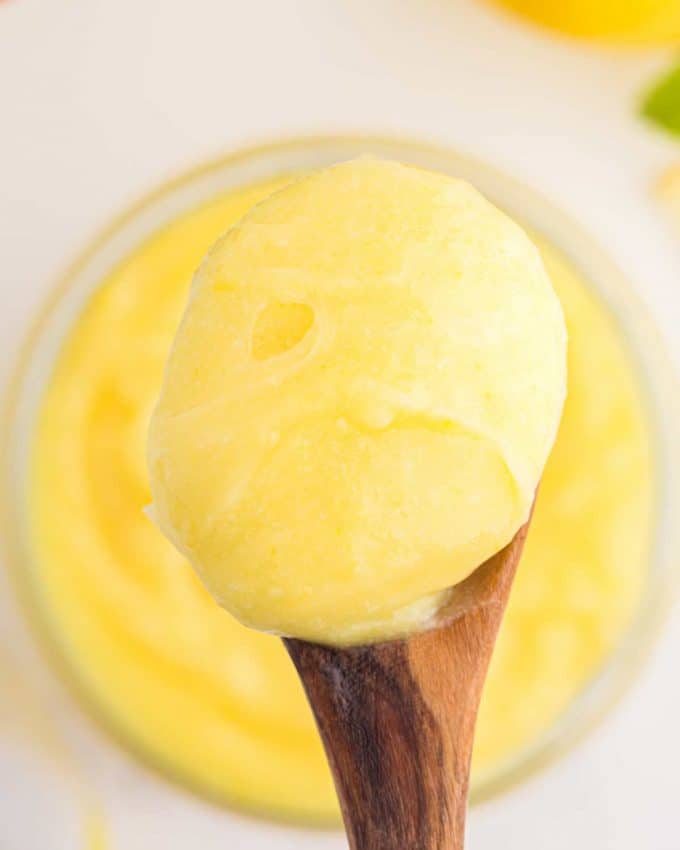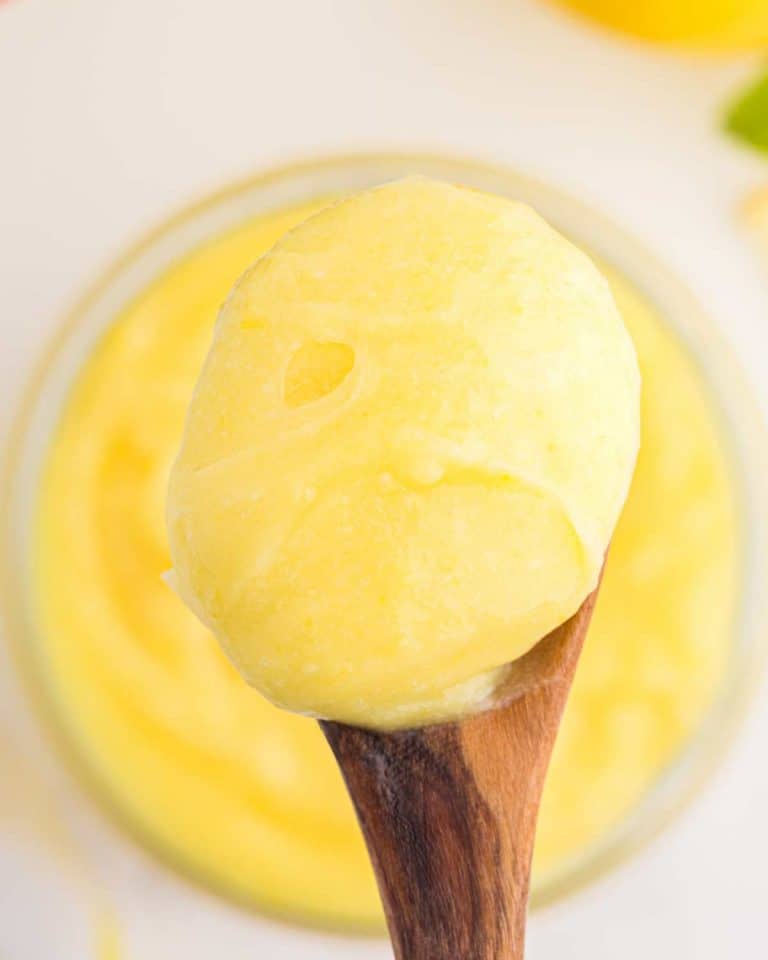 FAQ's
What is lemon curd used for?
It's common to use lemon curd as a topping on pancakes, toast, biscuits, pavlova, or as a filling in cakes and cupcakes. Think of it like a jam; great with so many things!
Why did my lemon curd curdle?
Curdling, graininess, and bits of cooked eggs are all most likely due to over-cooking. Curd should be cooked very gently to avoid this. That's why I recommend the double boiler method, but you CAN cook it without one. You just want to keep the heat extremely low.
Making lemon curd ahead of time
This recipe for lemon curd is actually a natural make ahead recipe, since the curd needs to chill in the refrigerator for at least 1-2 hours.
It also keeps really well for 1-2 weeks, so you can make it completely several days in advance from when you need it!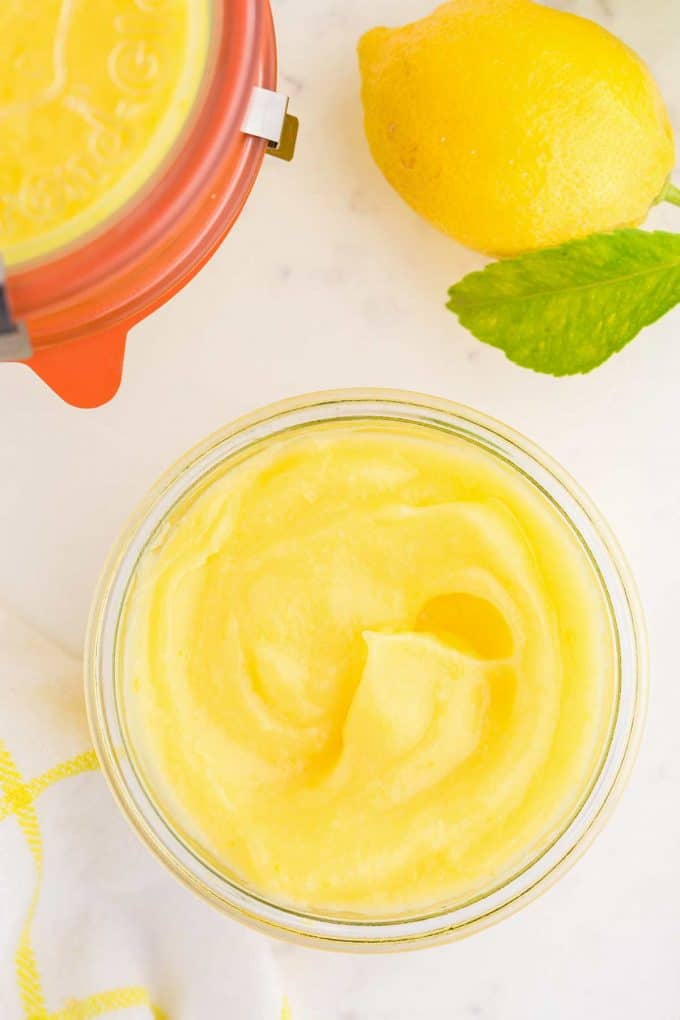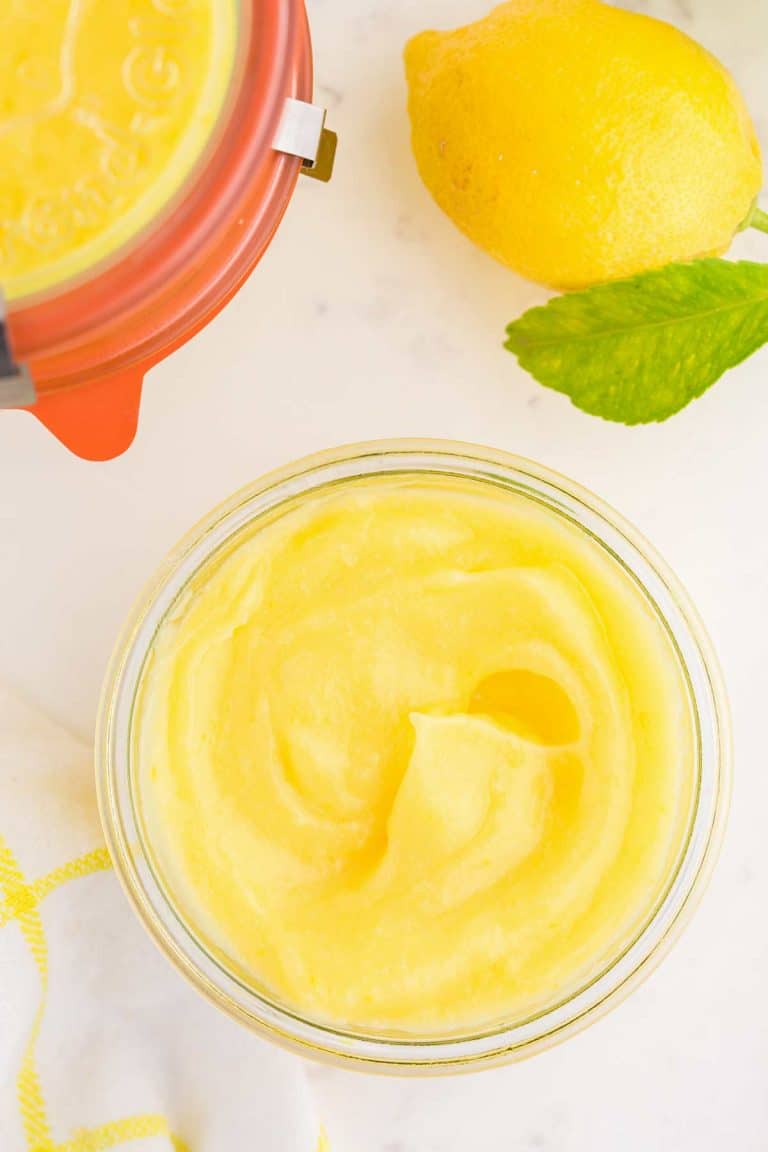 Storage
Lemon curd should be refrigerated in an airtight container for up to 1-2 weeks.
Freezing
Curd can also be frozen! Transfer curd to freezer-safe containers and freeze for up to 3 months.
Thaw in the refrigerator before using.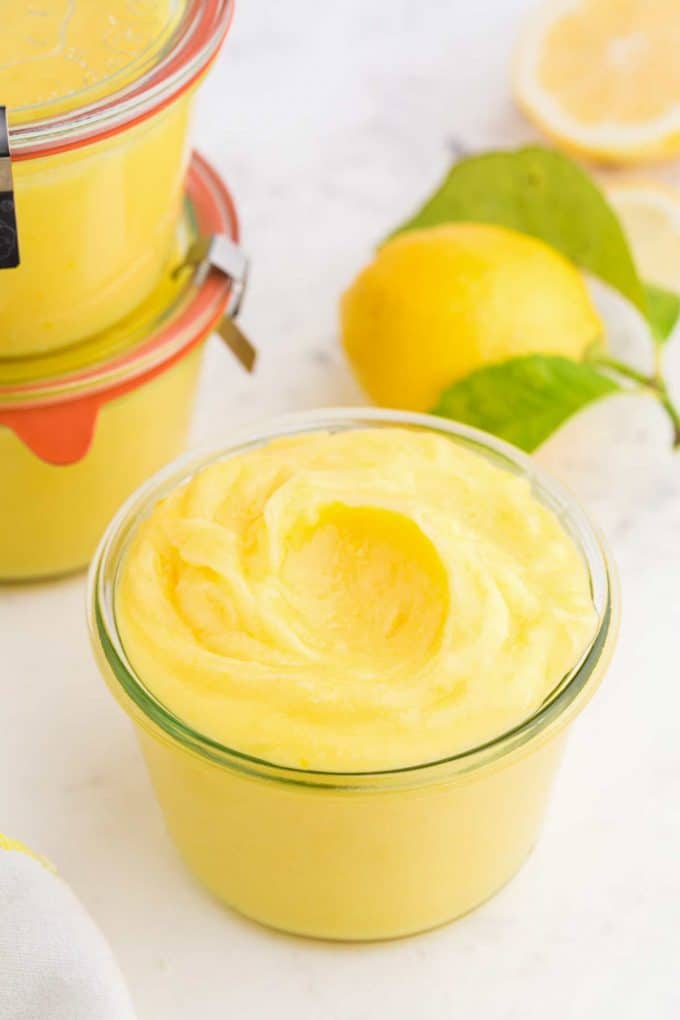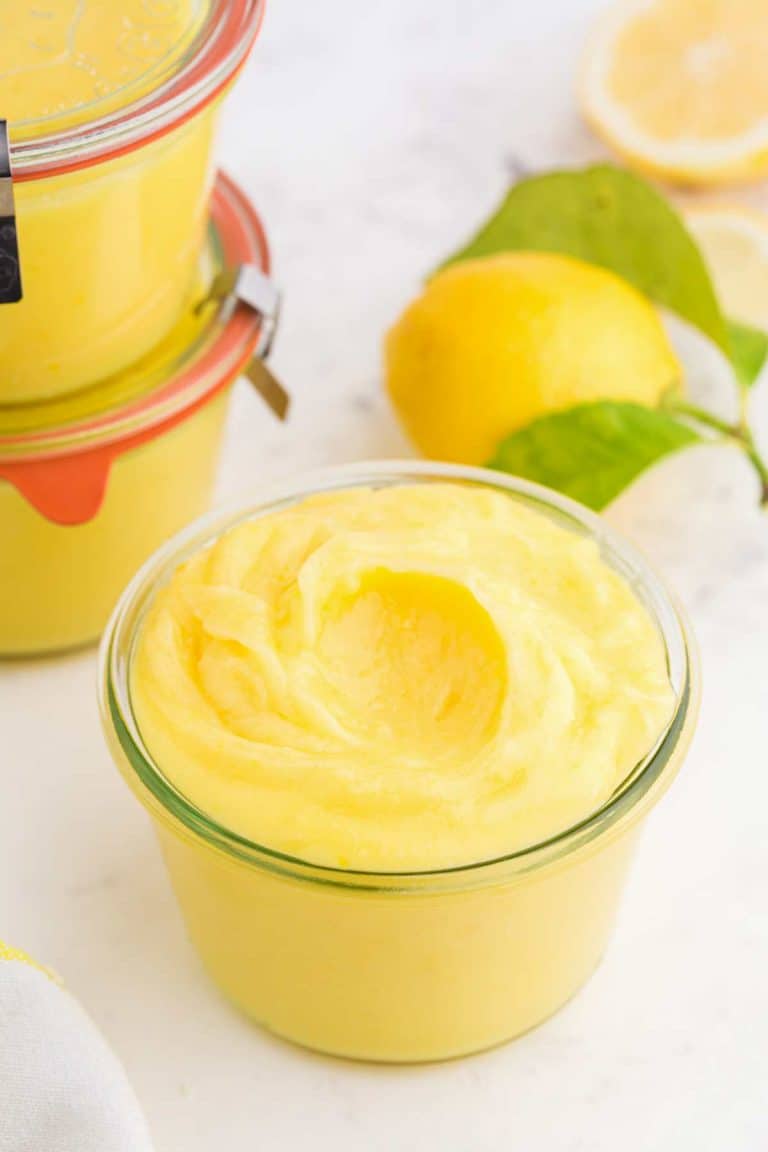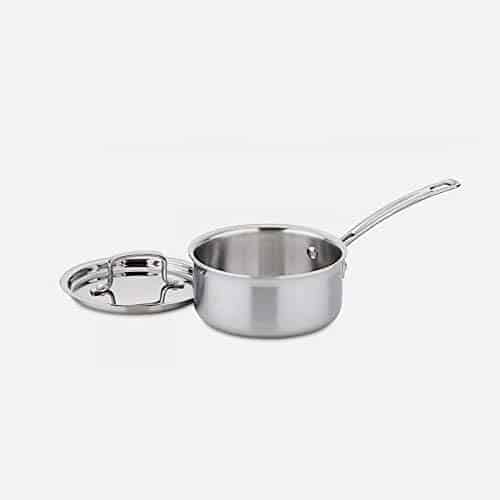 No need to break out a big pan for this recipe, so this 1.5 quart pan is perfect. It's also great for reheating soups and more!
Did you make this? Be sure to leave a review below and tag me @the_chunky_chef on Facebook and Instagram!
This recipe for an easy, yet Classic Lemon Curd is perfectly tart, smooth and oh so creamy.
Ingredients
1 cup granulated sugar
1/2 cup lemon juice freshly squeezed is highly recommended
4 large egg yolks
1 Tbsp finely grated lemon zest
1/2 cup salted butter cut into 1 Tbsp sized pieces
Instructions
Add 1-2" of water to the bottom of a medium saucepan. Bring water to a boil, then reduce heat to low and keep water simmering.

Place a glass (and heat-proof) bowl on top of the saucepan, so the bottom isn't touching the water.

To the glass bowl, add sugar, lemon juice, egg yolks, and lemon zest. Whisk to combine well.

Continue cooking, and whisking nearly constantly for about 8-10 minutes. Curd should be thickening.

If your lemon curd isn't thickening at all, increase the heat to medium low and continue whisking and cooking.

Remove pan from heat, then add butter and whisk to melt completely.

Transfer lemon curd to a large bowl, or smaller containers. Place a piece of plastic wrap directly on top of the curd, pressing very gently so the entire top surface is covered. This prevents a "skin" from forming on the curd.

Let curd come to room temperature, then place in the refrigerator for at least 1-2 hours. Once cooled, the plastic wrap can be removed.

Curd will thicken more as it cools and chills.

Lemon curd will keep in the refrigerator for 1-2 weeks, or can be frozen for up to 3 months.
Want to save this recipe for later? Click the heart in the bottom right corner to save to your own recipe box!
Chef Tips
Recipe makes approximately 1 1/2 cups.  
Unsalted butter could be used, just add about 1/4 tsp of fine kosher salt.
Nutrition Disclaimer
The Chunky Chef is not a dietician or nutritionist, and any nutritional information shared is an estimate. If calorie count and other nutritional values are important to you, we recommend running the ingredients through whichever online nutritional calculator you prefer. Calories can vary quite a bit depending on which brands were used.