This recipe for Homemade Marinara Sauce is ready in about 30 minutes, uses simple ingredients, and is freezer friendly. So much better than anything from a jar, it's perfect on pasta, as a dipping sauce, and more!
This is part of a series of recipes here on the site that I'm calling "Back to Basics". In this series you'll find recipes that are common building blocks for beginner cooks, as well as homemade versions of pantry/store-bought staples, such as cream of mushroom soup, cocktail sauce, garlic bread, etc. With easy to follow instructions, detailed notes, and step by step photos, you'll be on your way to being a master in your kitchen in no time!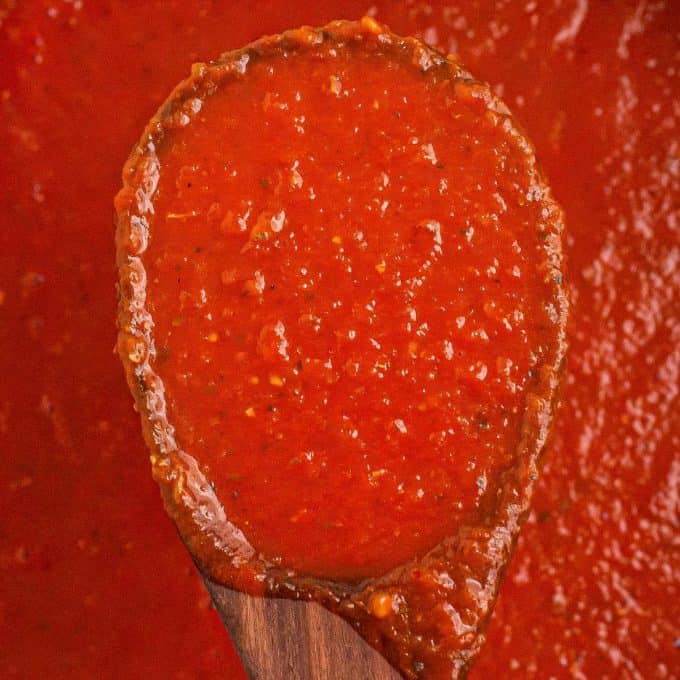 This recipe for Homemade Marinara Sauce is ready in about 30 minutes, uses simple ingredients, and is freezer friendly. So much better than anything from a jar, it's perfect on pasta, as a dipping sauce, and more! #marinara #italian #homemade #pastasauce
How to make homemade marinara sauce?
This is just an overview; the full ingredients and directions are in the recipe card toward the bottom of this post.


Cook garlic. Just about 30 seconds or so, until fragrant.
Cook onion and tomato paste. For about 1 minute.
Add other ingredients. Stir and gently break up the whole tomatoes.
Simmer. No need to simmer a super long time, just about 20-30 minutes.
Blend if desired. I like a smooth consistency, but it's up to you how smooth it is.
Stir in fresh basil. If desired, but I recommend it.
Helpful Tip!
I find San Marzano tomatoes give this sauce the best flavor. But if you can't find them, cans of whole peeled plum tomatoes will work well.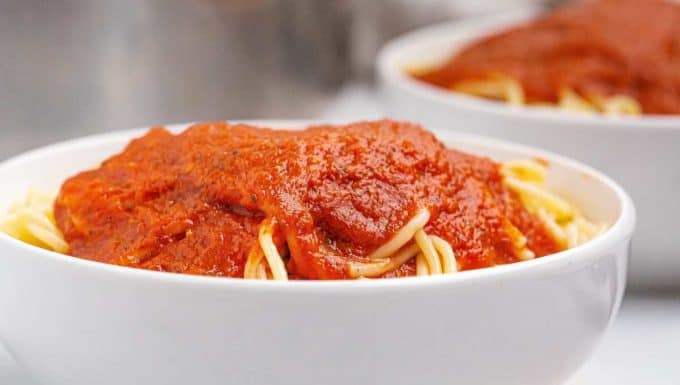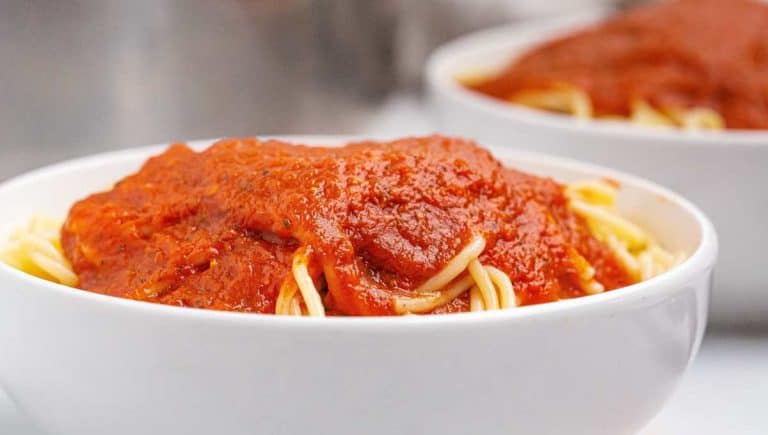 Variations of this recipe
Fresh tomatoes – to make this recipe using fresh summer tomatoes, see below in the FAQ section.
Vinegar free – the vinegar in this recipe helps add a faint touch of sweetness and richness, but if you have all the other ingredients, and not the vinegar, it isn't 100% necessary.
Fresh herbs – if you have access to great fresh herbs, you can absolutely use those. Just add double or triple the amount of the fresh herbs. Dried herbs are more concentrated, which is why you'd need more of the fresh to achieve the same flavor.
All pantry ingredients – I love that this recipe can be adapted to use all pantry ingredients, for those times when you haven't been to the grocery store. To replace the fresh onion, use roughly 1 1/2 – 2 tsp of onion powder. To replace the fresh garlic, use 1 – 1 1/2 tsp garlic powder. And just omit the optional fresh basil stirred in at the end.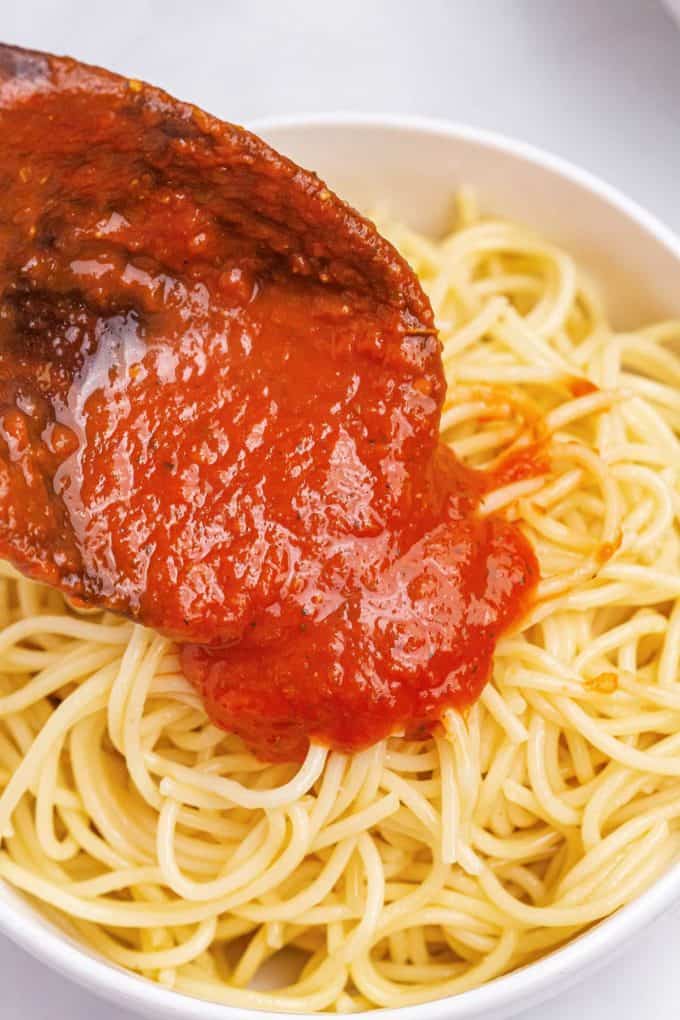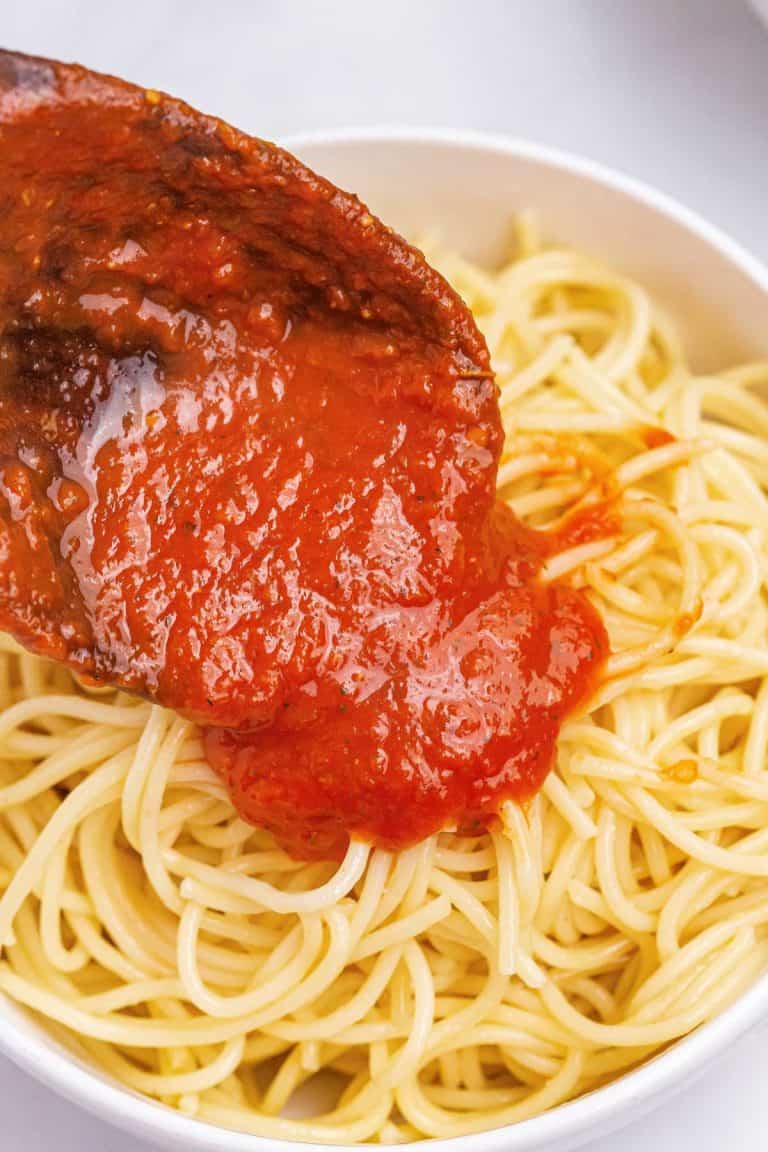 FAQ's
Is this recipe authentic?
I make zero claims of authenticity when it comes to this recipe. This is simply my creation of a marinara style sauce that my family enjoys.
Can I make marinara sauce using fresh tomatoes?
Absolutely! In the summer, when our tomatoes are at peak freshness and sweetness, I frequently use fresh tomatoes for this recipe. When using fresh tomatoes, I usually omit the sugar in this recipe. Use about 4 pounds, or roughly 20 tomatoes. Dice them up, and when you saute the onion and garlic, go ahead and toss the diced tomatoes in as well. Simmer for about 20-25 minutes, until the tomatoes are pretty well broken down. Stir in your other ingredients, simmer another 5-10 minutes, blend, and enjoy!
Why add balsamic vinegar?
I add balsamic to all my tomato-based pasta sauces… it's my secret (well not so secret now lol) ingredient! The balsamic adds a touch of depth of flavor and richness that makes this sauce absolutely delicious!
Why does this marinara sauce recipe have sugar?
The sugar isn't to make the sauce sweet. The small amount of sugar is to counteract the acidity that's found in canned tomatoes. If you're making this recipe using fresh tomatoes, you most likely won't need the sugar.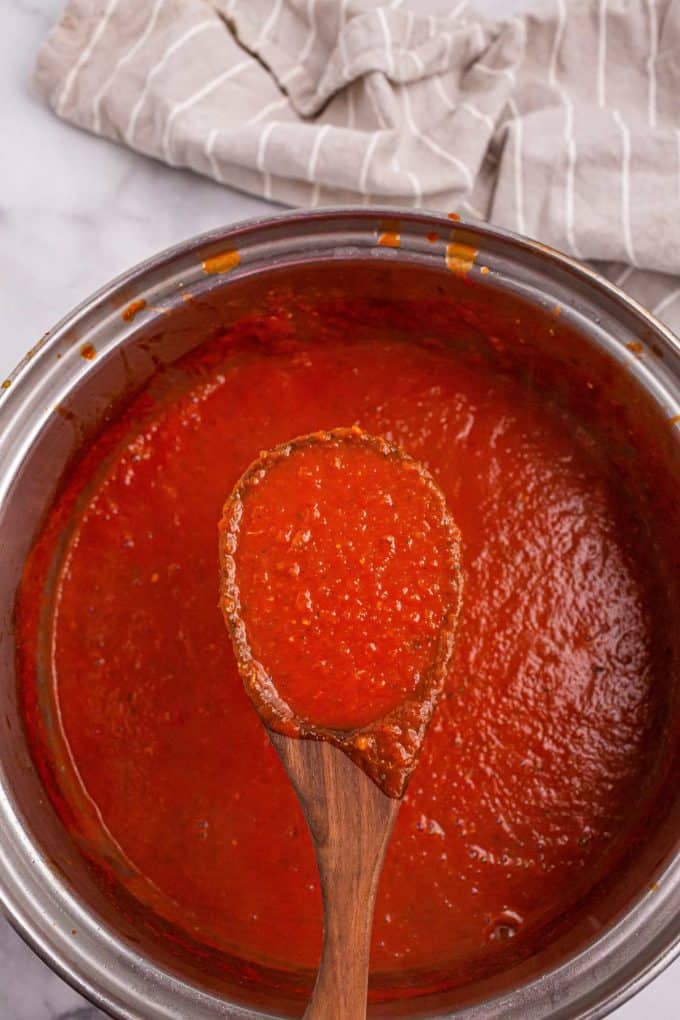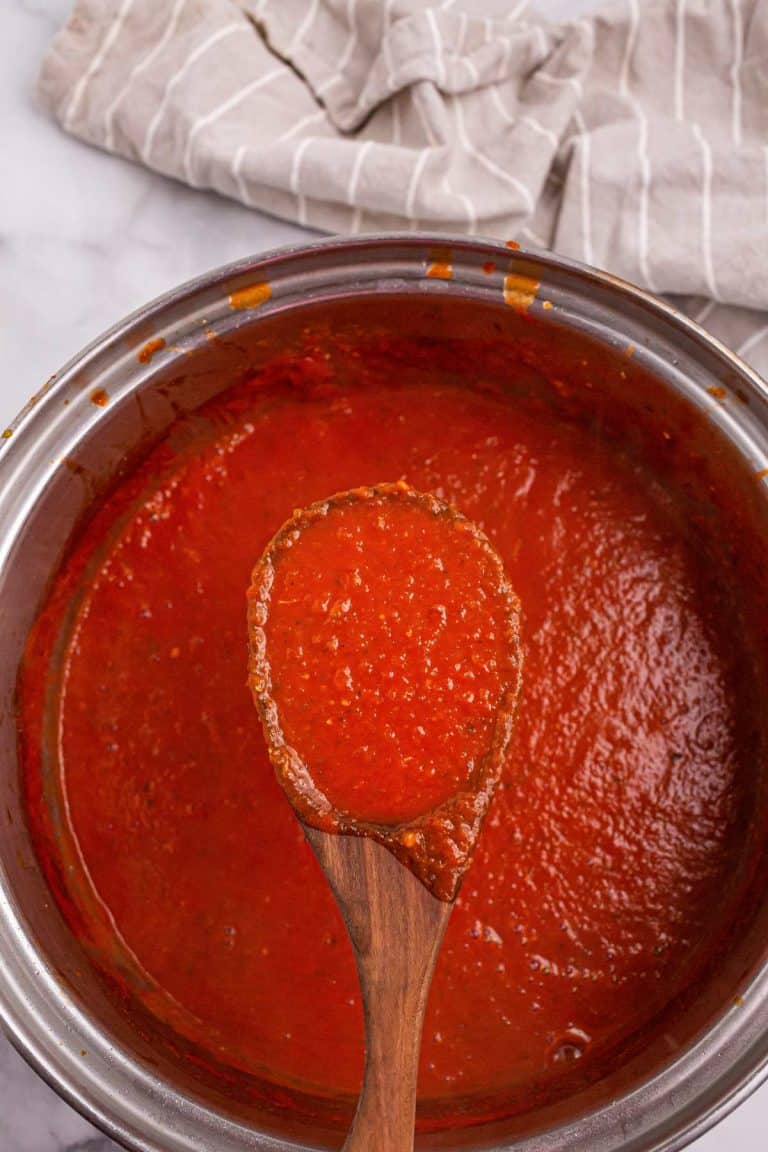 Making marinara sauce ahead of time
Even though this sauce may not take all that much effort to make, on a busy weeknight, I completely get that you may not want to stand over the the stove for an extra 30 minutes to make marinara.
No worries, this sauce can be made 100% ahead of time! I normally make mine the day before, but you can make it up to 5-6 days ahead of time (provided you keep it refrigerated in an airtight container).
Freezing
The great thing about making your own marinara sauce, is that it can be frozen! So feel free to make a huge batch. Then the next time you're craving pasta, you'll have some great sauce, with zero effort.
Just cook the sauce as directed, and cool completely. Once cooled, transfer to freezer-safe containers, label the container with the contents and date, and freeze.
Marinara sauce can be frozen for up to 3 months. Thaw in the refrigerator and use as you would normally.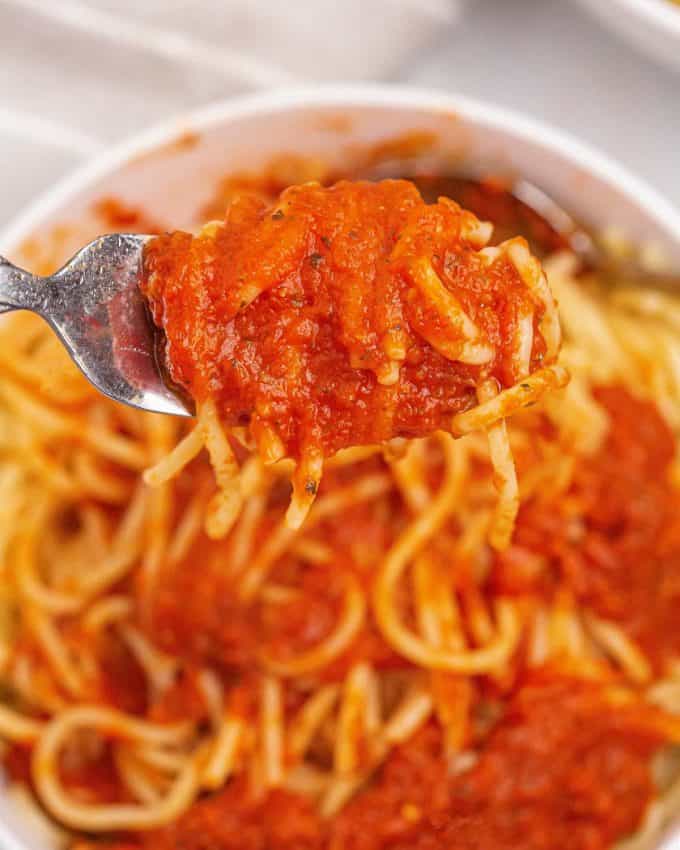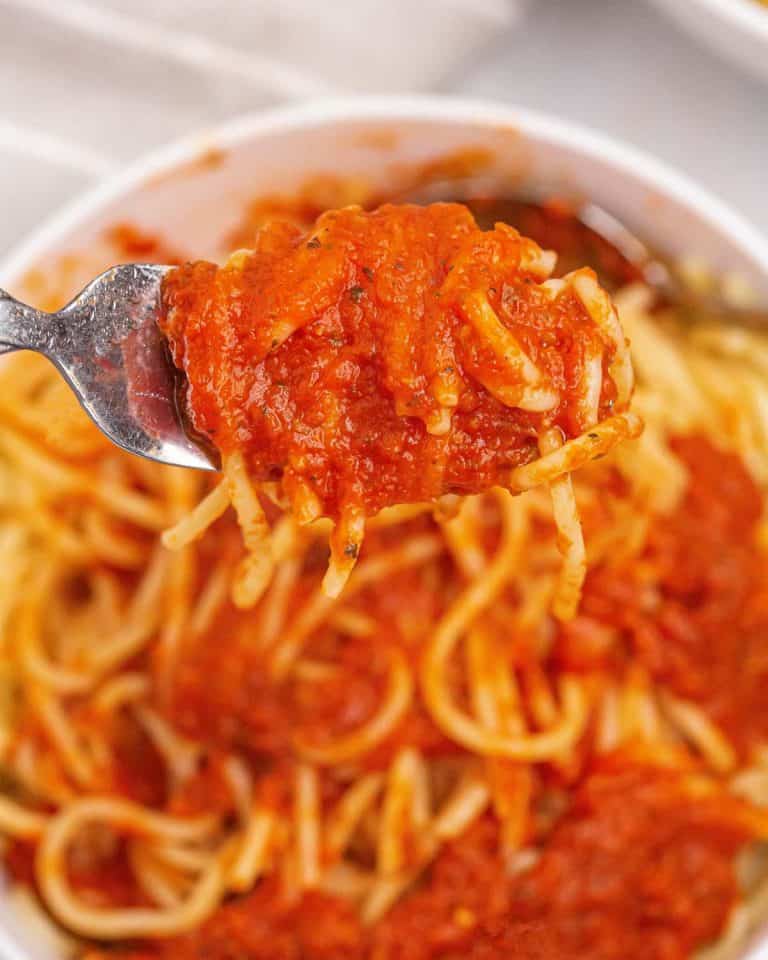 Storage
Marinara sauce should be stored in an airtight container in the refrigerator and eaten within 7 days.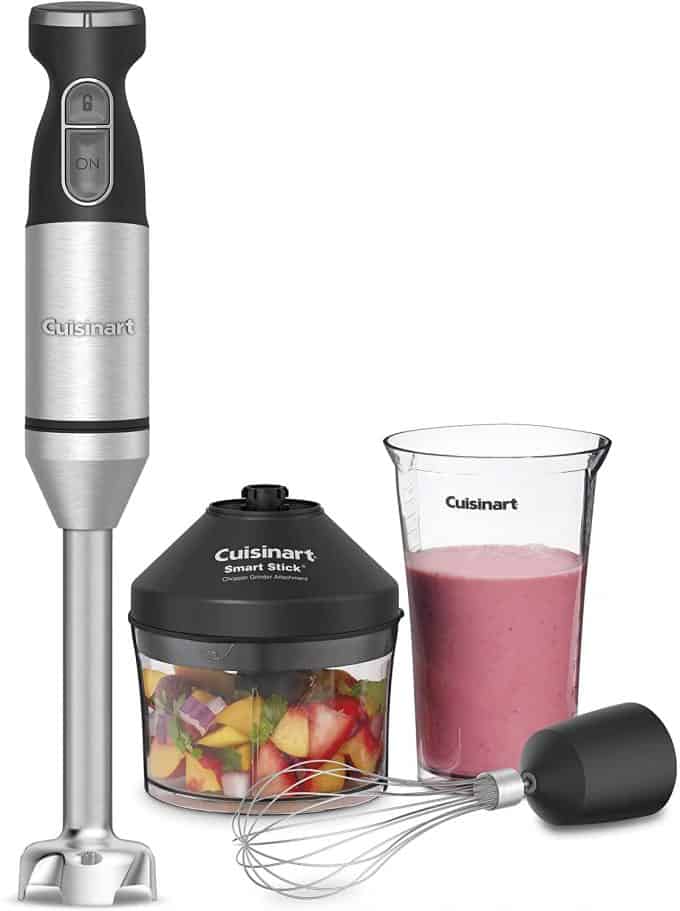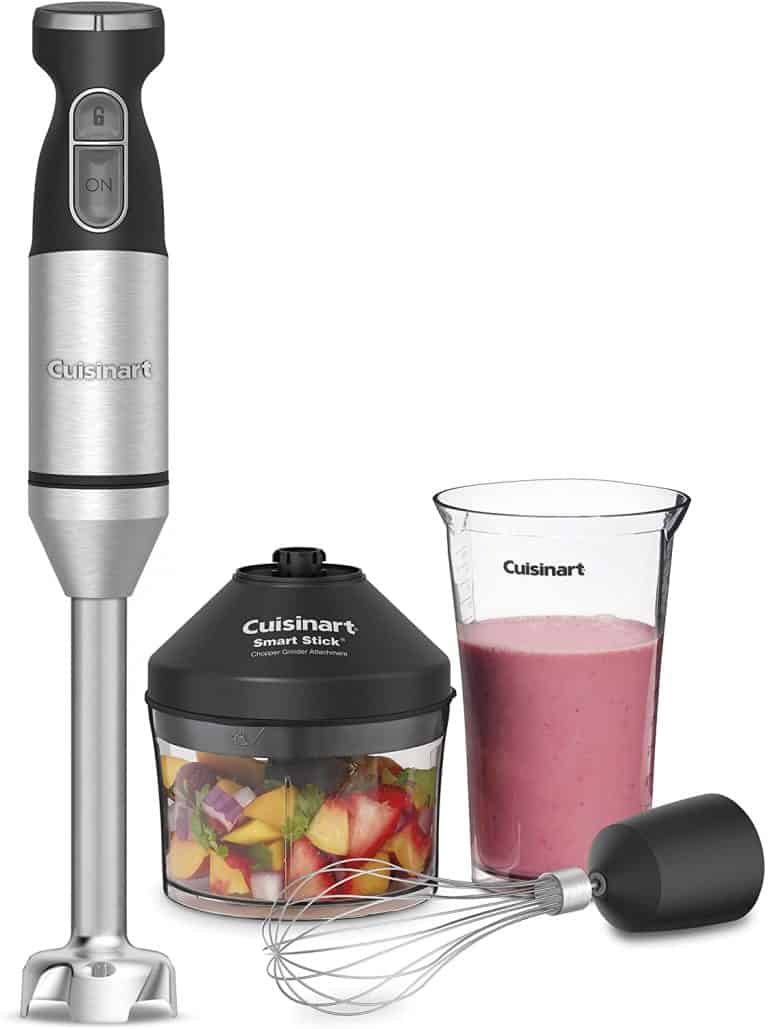 I'm such a fan of immersion blenders for sauces, soups, and more. No more having to transfer hot liquids to a traditional blender!
Did you make this? Be sure to leave a review below and tag me @the_chunky_chef on Facebook and Instagram!
This recipe for Homemade Marinara Sauce is ready in about 30 minutes, uses simple ingredients, and is freezer friendly.
Ingredients
2 Tbsp olive oil
6 cloves garlic minced
1/3 cup grated or minced yellow onion
2 Tbsp tomato paste
2 (28 oz each) cans San Marzano whole peeled tomatoes
1 Tbsp dried basil
2 tsp dried oregano
1/2 tsp granulated sugar
1/2 tsp dried thyme
1/2 tsp kosher salt
1/2 tsp black pepper
1 Tbsp balsamic vinegar
torn or minced fresh basil optional
Instructions
In a large heavy bottomed pot, add olive oil and heat over MED heat.  Once oil is hot, add garlic and cook for about 30 seconds, stirring constantly.

Add grated onion and tomato paste and cook about 1 minute, stirring constantly.

Add tomatoes, basil, oregano, sugar, thyme, salt, pepper and vinegar.  Stir well.

Use a potato masher or wooden spoon to gently break down the whole tomatoes.

Keep cooking until sauce comes to a high simmer, then reduce heat to MED LOW, cover and simmer 20-30 minutes.

Use an immersion blender and blend until somewhat, mostly, or completely smooth.  Alternately, you could transfer the sauce to a traditional blender or food processor.
Want to save this recipe for later? Click the heart in the bottom right corner to save to your own recipe box!
Chef Tips
Recipe makes approximately 7 cups of sauce.
Recipe is easily halved or doubled, just make sure to halve or double all the ingredients.
Nutrition Disclaimer
The Chunky Chef is not a dietician or nutritionist, and any nutritional information shared is an estimate. If calorie count and other nutritional values are important to you, we recommend running the ingredients through whichever online nutritional calculator you prefer. Calories can vary quite a bit depending on which brands were used.