This Air Fryer Chicken Parmesan is made super easily with a handful of ingredients, uses less oil, and no messy pan-frying! Air fryer and oven instructions included.
This is one of my Italian-Style recipes I know you'll want to keep on hand!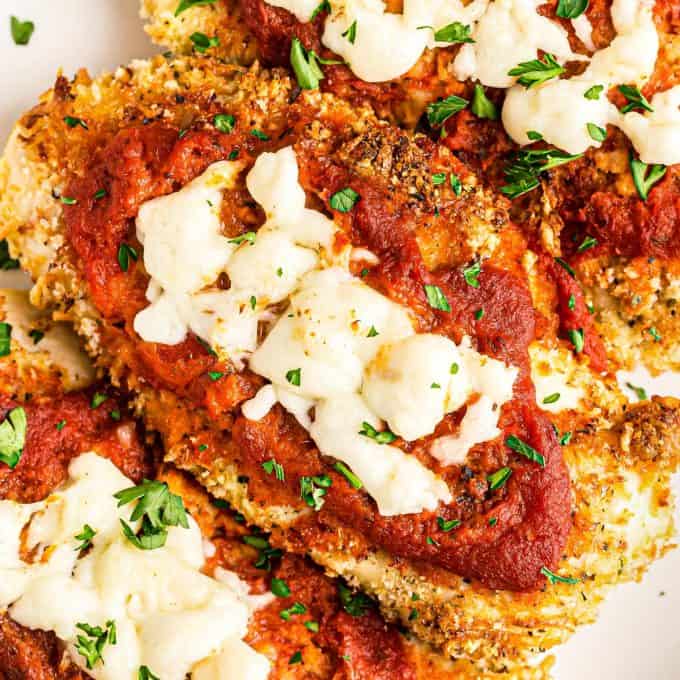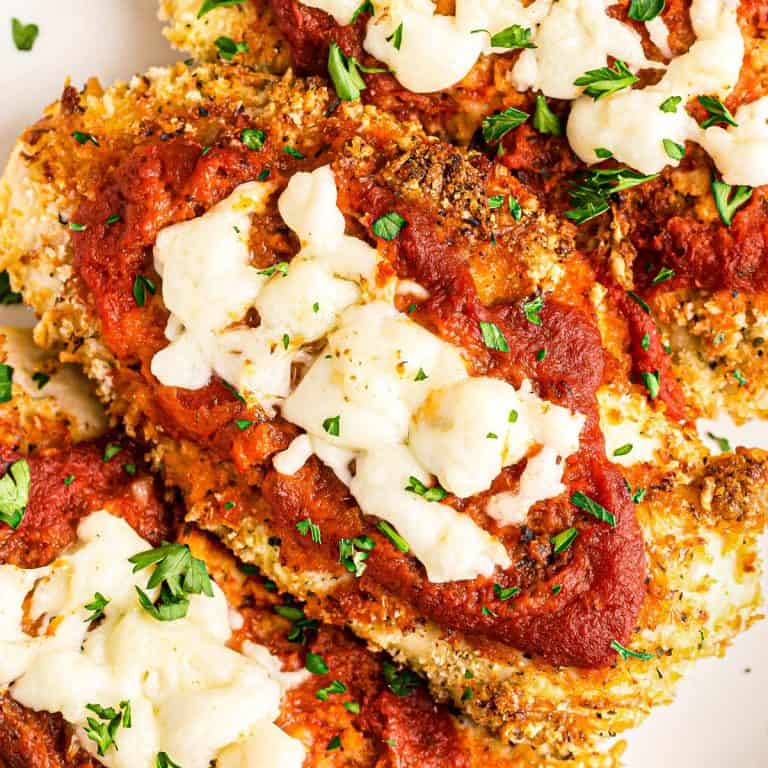 How to make chicken parmesan in the air fryer?
This is just an overview; the full ingredients and directions are in the recipe card toward the bottom of this post.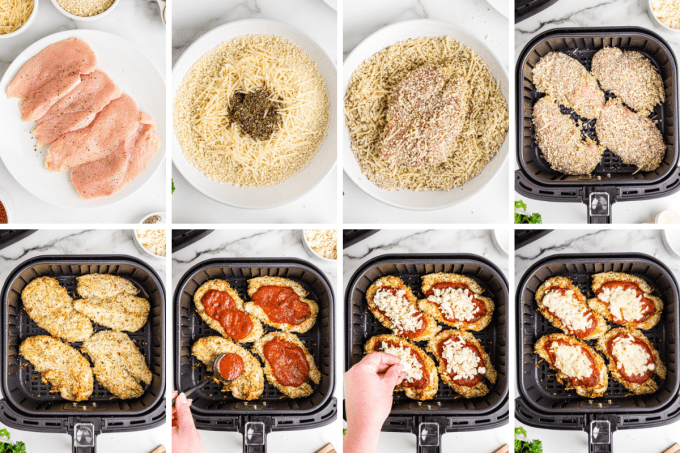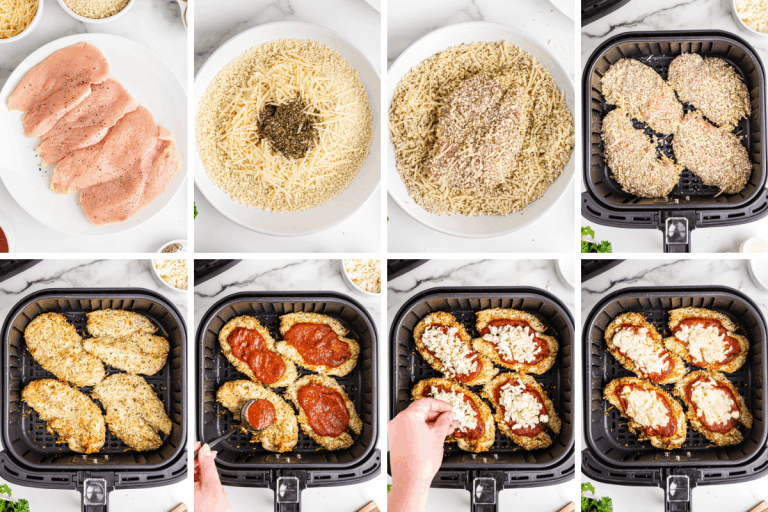 Halve chicken. Carefully slicing the 2 chicken breasts into 4 thinner pieces of chicken allows for the chicken to cook quickly, evenly, and is budget friendly!
Set up breading station. See the helpful tip below for more details. Shallow bowls are best here, so you can easily manipulate the chicken.
Bread chicken. I find it best to bread the chicken breasts one at a time, so you can ensure each piece is fully coated.
Add chicken to air fryer. Make sure you spray the basket with cooking spray and add the chicken in a single layer.
Spray chicken. I normally use an olive oil or avocado oil spray. This helps them brown in the air fryer.
Air fry. Cook the chicken for 11 minutes total, flipping about halfway through.
Top with sauce and cheese.
Air fry. Just until the cheese is melted and chicken is cooked through.
Helpful Tip!
The trick to avoiding ending up with completely breading coated fingers is to set up a simple assembly line.
Set up your food from left to right (or vice versa if you're a lefty), in the following order: chicken breasts, bowl with eggs, bowl with panko/breadcrumbs, and baking sheet or plate that's been scattered with panko (so the chicken won't stick).
Designate your left hand the "wet" hand, and your right hand the "dry" hand.
Work from left to right, using your wet hand to add a chicken breast to the egg mixture, then drop it in the breadcrumbs.
Use your dry hand to coat the chicken in the breadcrumbs and add it to the baking sheet/plate.
Repeat with remaining chicken pieces, being careful not to use the wet hand in the breadcrumbs.
It'll still be a little messy, but you shouldn't have completely breaded fingers at the end.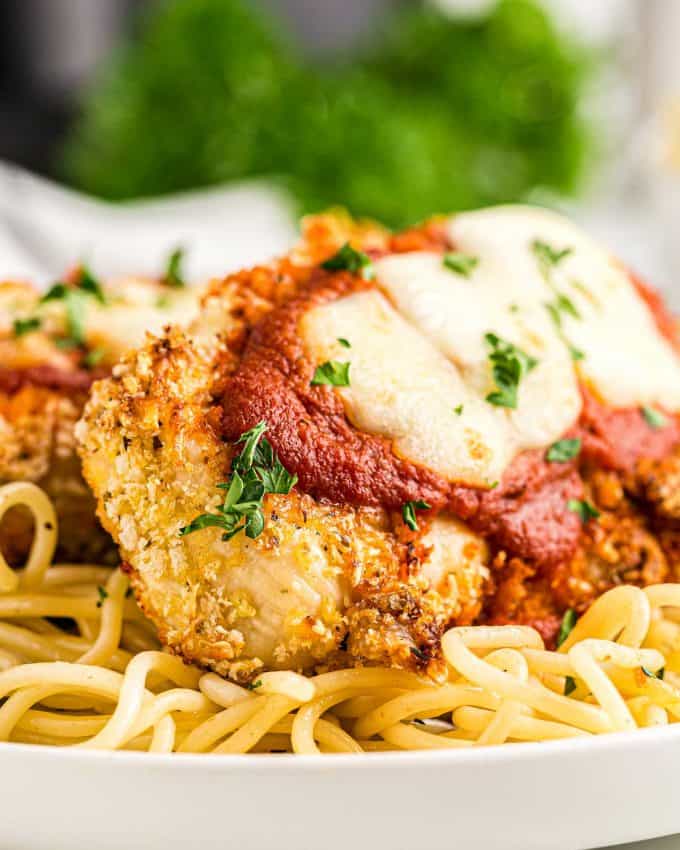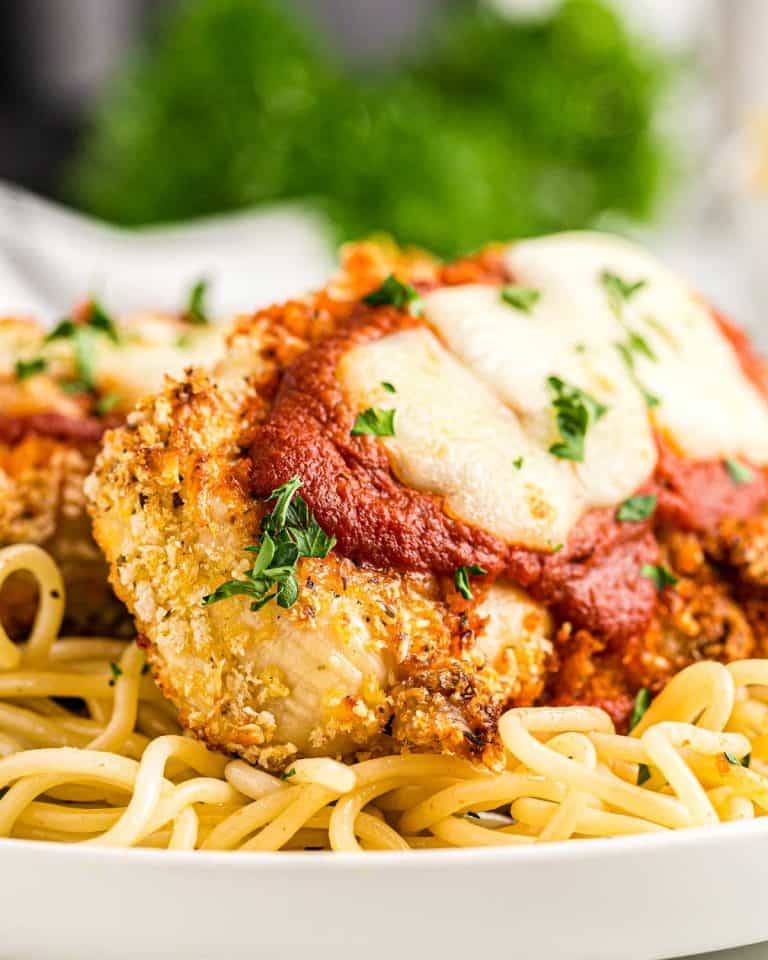 Variations of this recipe
Mozzarella – if you don't have fresh mozzarella, you can use the shredded variety.
Breading – I prefer panko for the crunch, but you can use regular breadcrumbs, whole-wheat crumbs, crushed pork rinds, etc.
Marinara – we love using homemade marinara for this, but only if we already have some leftover. Your favorite jarred variety will work just fine.
Oven – if you don't have an air fryer, no worries, you can absolutely bake this in the oven instead! Detailed oven instructions will be in the "Chef Tips" section at the end of written recipe card.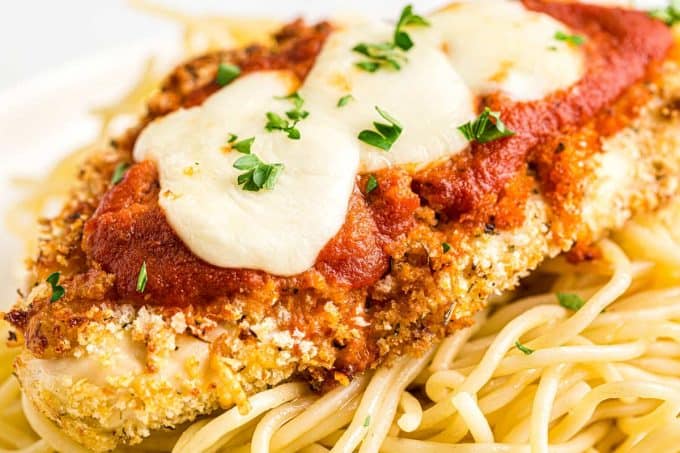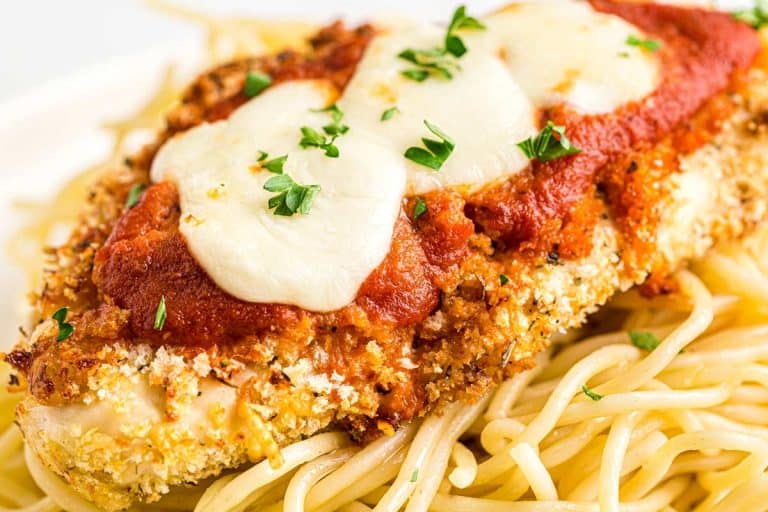 FAQ's
Is chicken parmesan an authentic Italian food?
Not from what I can tell. It seems it originated in the United States, most likely from Italian-American immigrants. This dish is incredibly popular in the United States. I make zero claims about the authenticity of this recipe, it's just the way my family and I enjoy the dish.
Is chicken parmesan healthy?
The term healthy can mean many things to many different people, so I don't like to categorize things as such. What I deem healthy, you may not, and vice versa. However, this version uses very little oil compared to the traditional pan-fried version.
How do I keep the breading from falling off the chicken?
I don't find my breading falls off this chicken too much, unless I squeeze too hard with a pair of tongs. However, if you're having trouble with your breading falling off you can try a couple of things. First, after breading the chicken, let it sit in the refrigerator for about 15 minutes. You could also try using half panko and half regular breadcrumbs, since the smaller crumbs adhere a little better to the chicken.
Making chicken parmesan ahead of time
For optimal crispiness I don't recommend making this recipe ahead of time. However if you're making your own marinara sauce, that can be done ahead of time.
You can bread the chicken and refrigerate it for up to 8 hours before cooking it, but it loses a bit of the crispness.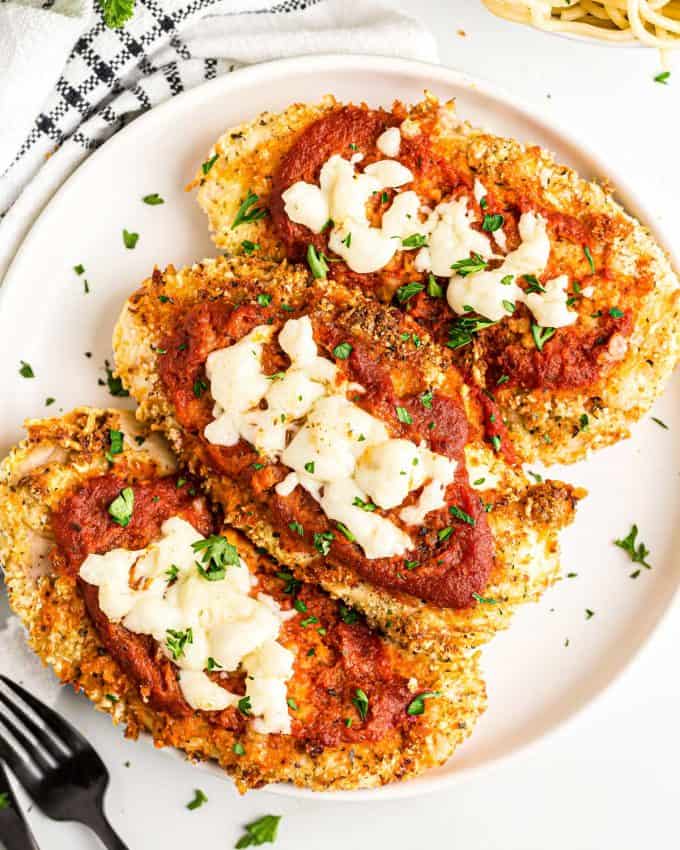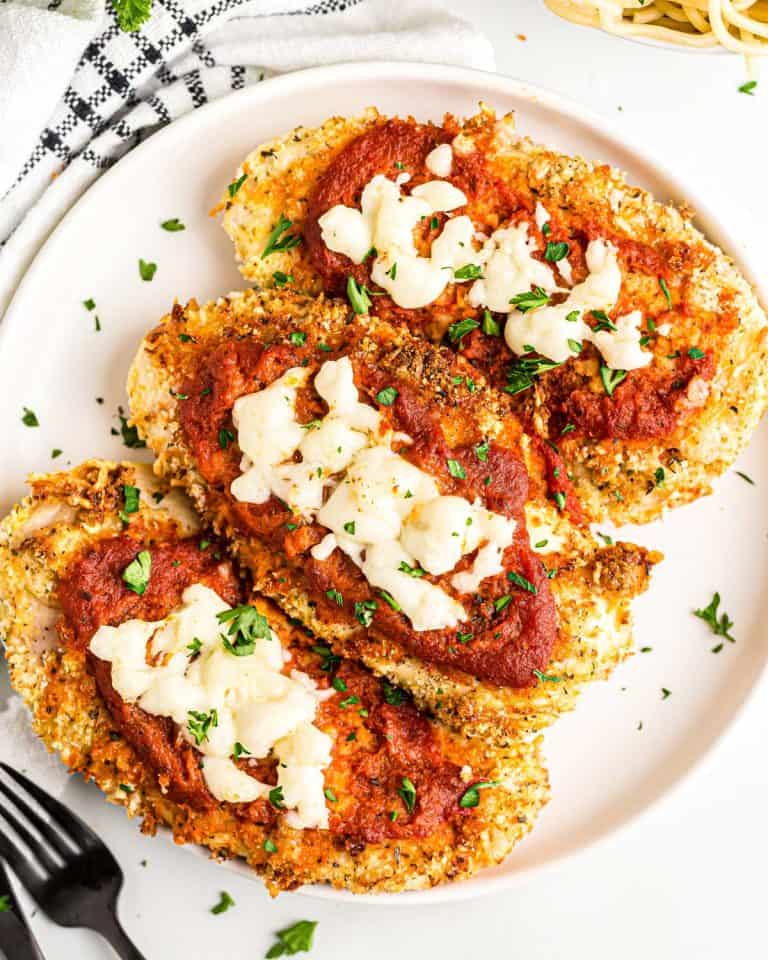 Storage
Leftover chicken parmesan should be refrigerated in an airtight container and eaten within 3-5 days.
However, the longer it sits, the less crispy it will be.
To reheat, I like to use my air fryer at 360°F for about 8-10 minutes, or bake it in my oven at 350°F for about 15-18 minutes.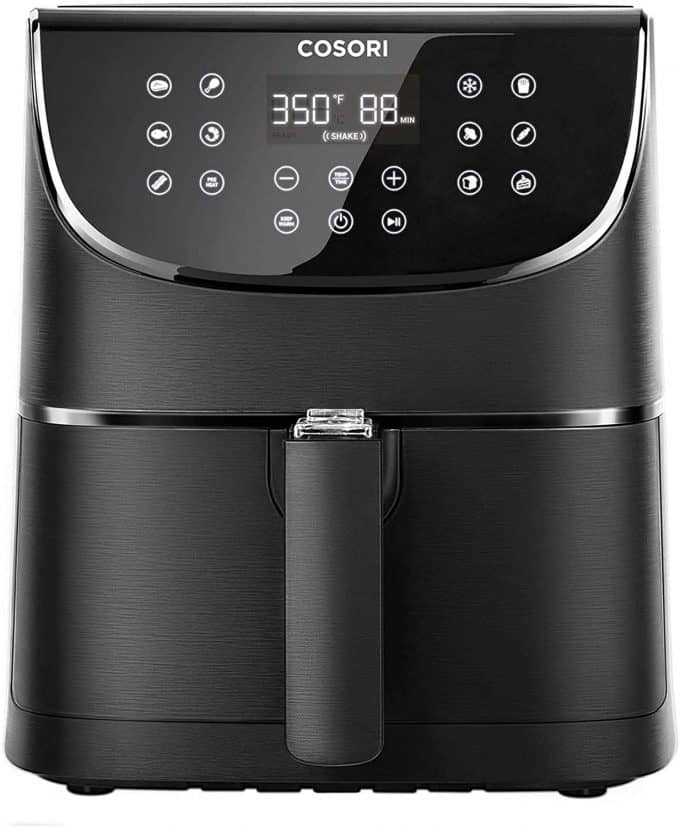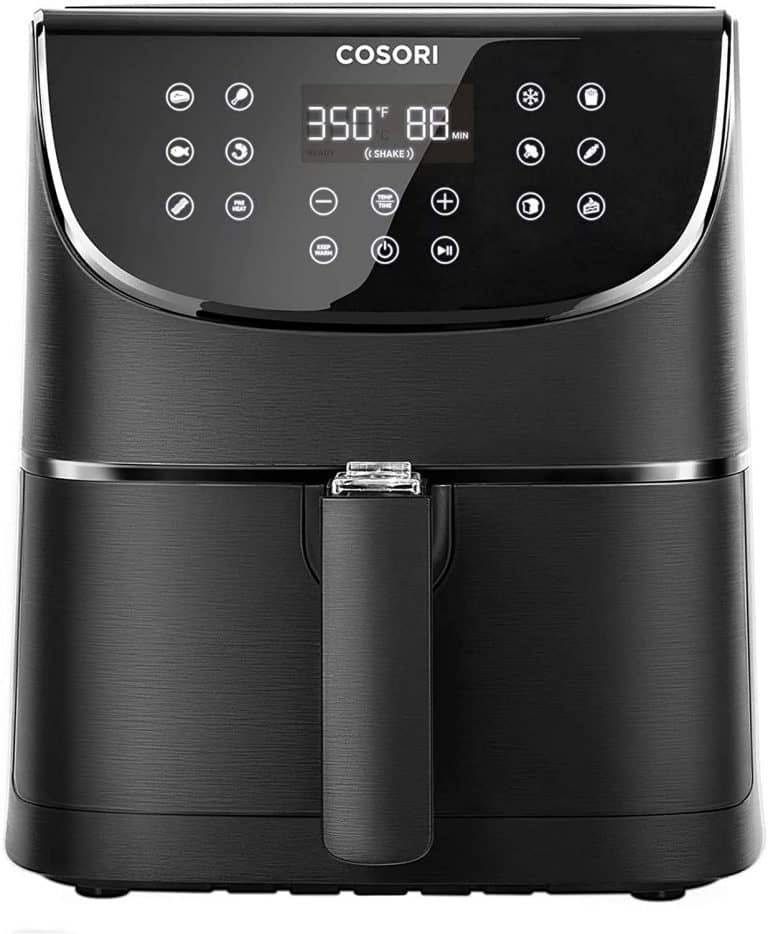 I love the larger, rectangular basket, and the basket is nonstick, removable, and dishwasher safe!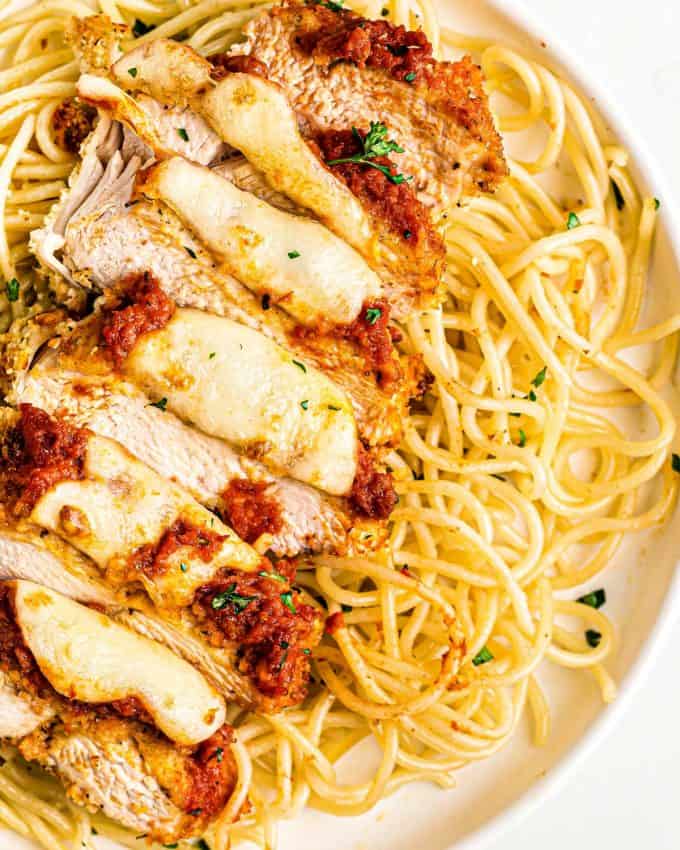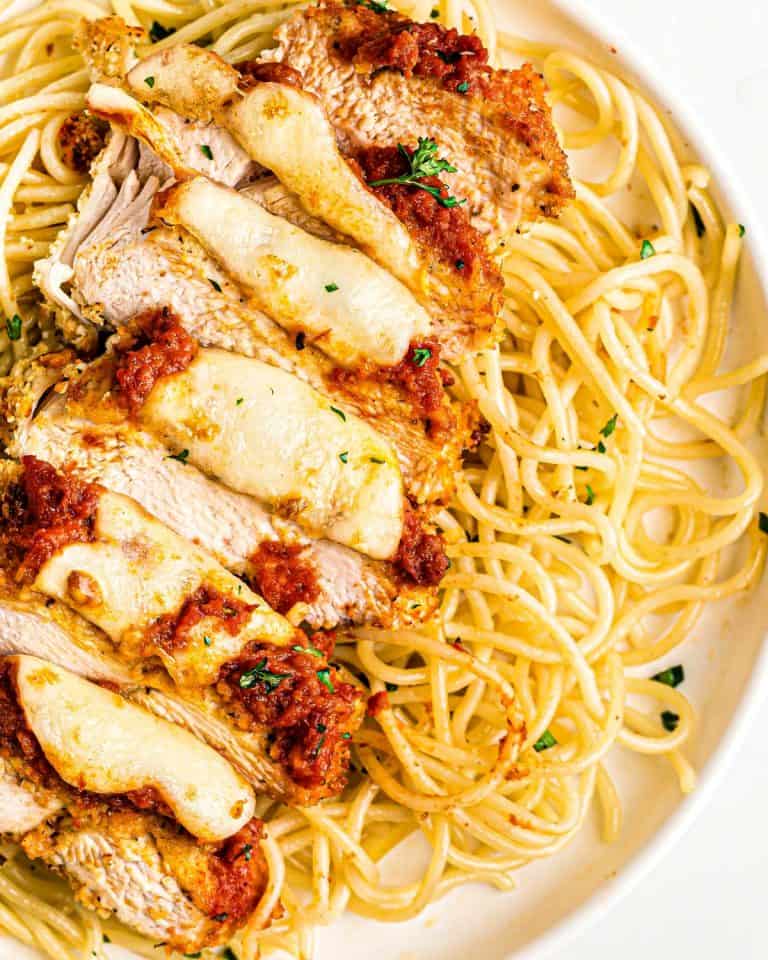 Did you make this? Be sure to leave a review below and tag me @the_chunky_chef on Facebook and Instagram!
This Air Fryer Chicken Parmesan is made super easily with a handful of ingredients, uses less oil, and no messy pan-frying!
Ingredients
2 boneless skinless chicken breasts
1/2 tsp kosher salt
1/4 tsp black pepper
2 large eggs
1 cup panko breadcrumbs
1/2 cup shredded Parmesan cheese
2 tsp dried Italian seasoning
1/2 tsp garlic powder
1/2 cup marinara sauce
1/2 cup fresh mozzarella cheese
minced fresh parsley or basil for garnish
Instructions
Preheat air fryer to 375°F. Add a baking sheet or large plate next to the air fryer and sprinkle lightly with additional panko (or line with wax/parchment paper).

Hold your knife parallel to the cutting board and carefully slice the chicken from right to left (if you're a righty)… opening the chicken breast up like a book.  Slice all the way through, so you now have 2 thinly sliced pieces of chicken. Repeat with other chicken breast.

Season chicken with salt and pepper on both sides.

Line up 2 shallow bowls next to the prepared baking sheet. In one of the bowls, add eggs, whisking until beaten. In the second bowl, add panko, Parmesan cheese, Italian seasoning and garlic powder, stirring together.

Add chicken, one piece at a time, to the egg mixture, turning to coat all sides, letting the excess drip off.

Next add the chicken to the breadcrumb mixture, turning and patting/pressing to coat all sides in the breadcrumbs.

Finally, transfer the chicken to the prepared baking sheet/plate.  Repeat with all remaining chicken pieces.

Spray the basket of the air fryer with cooking spray (we like to use an olive oil spray), then place chicken breasts into the basket. You may be able to fit all 4 at once, or you may not; it will depend on the size of your air fryer.

Lightly spray tops of chicken breasts with cooking spray (this helps things get nice and crispy), then air fry for 6 minutes.

Flip chicken over and air fry another 5 minutes. Top each chicken breast with marinara sauce and mozzarella. Air fry another 3 minutes, or until cheese is melted and chicken reaches an internal temperature of 165°F.

Sprinkle with minced parsley or basil and serve on it's own, or over pasta.
Want to save this recipe for later? Click the heart in the bottom right corner to save to your own recipe box!
Chef Tips
Other cuts of chicken can be substituted, but this will change the cooking time.
If your air fryer isn't large enough to fit all 4 breasts at once, cook 2 at a time, and while the second batch is cooking, keep the first batch warm in a 200°F oven.
Oven Directions
Follow recipe, except with the following changes:
Preheat oven to 400°F.  Line a rimmed baking sheet with parchment paper or aluminum foil sprayed with cooking spray.
Bake chicken for 10 minutes, then flip over and bake another 5 minutes.
Top with marinara and mozzarella.  Turn on the broiler and broil for 2-4 minutes, until cheese is melted and chicken reaches an internal temperature of 165°F.
Nutrition Disclaimer
The Chunky Chef is not a dietician or nutritionist, and any nutritional information shared is an estimate. If calorie count and other nutritional values are important to you, we recommend running the ingredients through whichever online nutritional calculator you prefer. Calories can vary quite a bit depending on which brands were used.