This classic White Gravy is ultra creamy, and speckled with plenty of black pepper. Perfect on chicken fried steak, fried chicken, mashed potatoes, biscuits and more! Easy to make with only 7 ingredients (including salt and pepper!).
This is part of a series of recipes here on the site that I'm calling "Back to Basics". In this series you'll find recipes that are common building blocks for beginner cooks, as well as homemade versions of pantry/store-bought staples, such as cream of mushroom soup, pie crust, garlic bread, etc. With easy to follow instructions, detailed notes, and step by step photos, you'll be on your way to being a master in your kitchen in no time!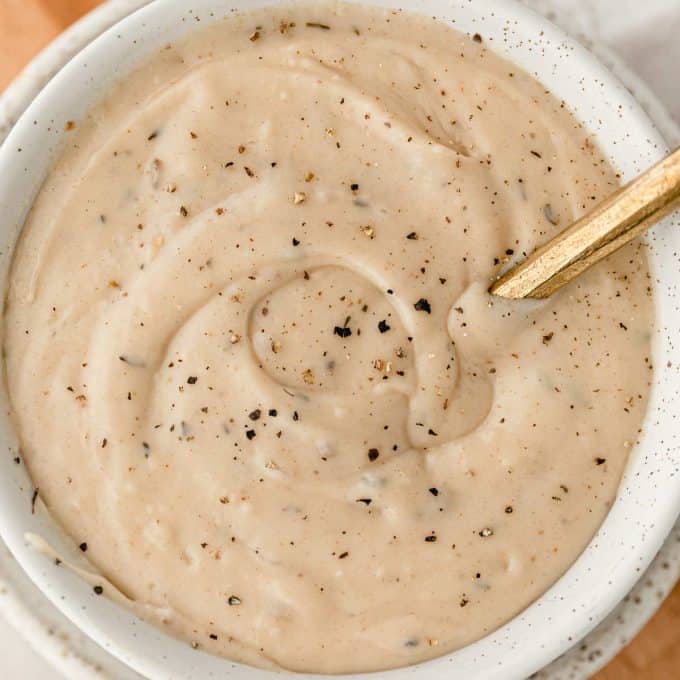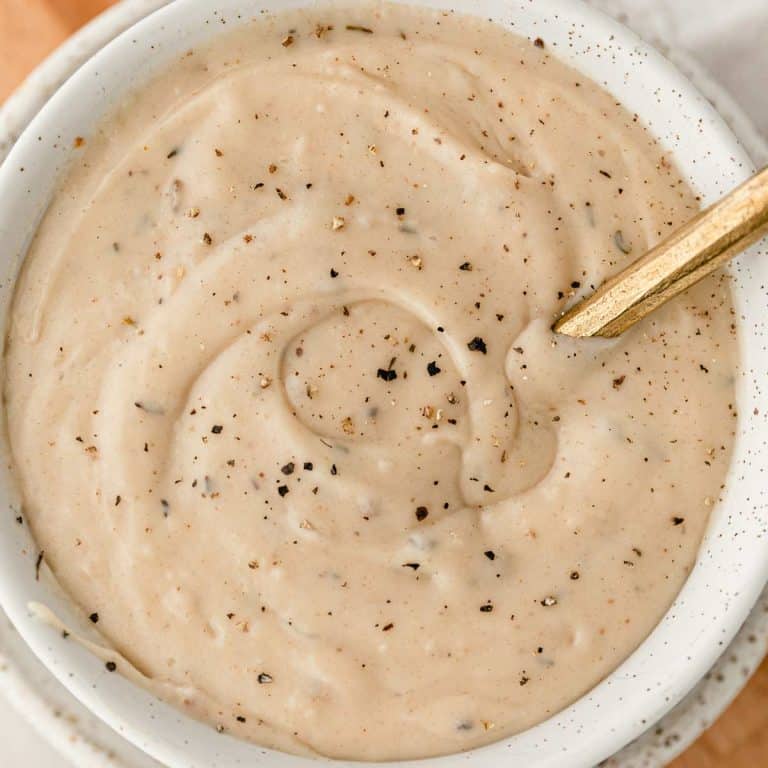 If you've only ever had white gravy or pepper gravy from a packet, then you're in for a treat! It's so easy to make at home, you get to control the salt content and quality of ingredients, and I know you'll love the down-home flavor!
This recipe has been on the site for quite a long time… since January of 2015 to be exact. It was a part of a double recipe post, but you all love it so much I thought it deserved it's very own post.
I've added a few tweaks to the recipe after years of tinkering, but don't worry, the original recipe will be right below in the "Chef's tips" section.
We love to have a little dish of this white gravy on the side to dip our fried chicken or chicken tenders in, but it's also great with a classic comfort food recipe that's coming up soon here on the site… country fried steak!
How to make peppered white gravy?
This is just an overview; the full ingredients and directions are in the recipe card toward the bottom of this post.
These photos were taken after making country fried steak, and I opted to leave the browned bits/drippings in the pan for extra flavor. You do not have to do this; it can be made with just a clean pan and still taste amazing!


Add butter. Heat the pan over medium heat and melt the butter.
Add flour and seasonings. Whisk the flour and spices into the melted butter, until no flour streaks remain.
Cook. It's important to cook the flour/butter for 1-2 minutes, otherwise your gravy could taste like uncooked flour. Whisk occasionally as it cooks.
Add milk. I like to add my milk about 1/2 cup at a time, whisking really well during and after each addition. This helps give you a lump-free gravy.
Bring to a simmer. Simmer for about 5 minutes, or until the gravy is smooth and thickened to your liking.
Helpful Tip!
I definitely recommend using whole milk for this gravy recipe. During testing, I found milks with less fat content just didn't turn out as creamy and have that beautiful velvety mouthfeel.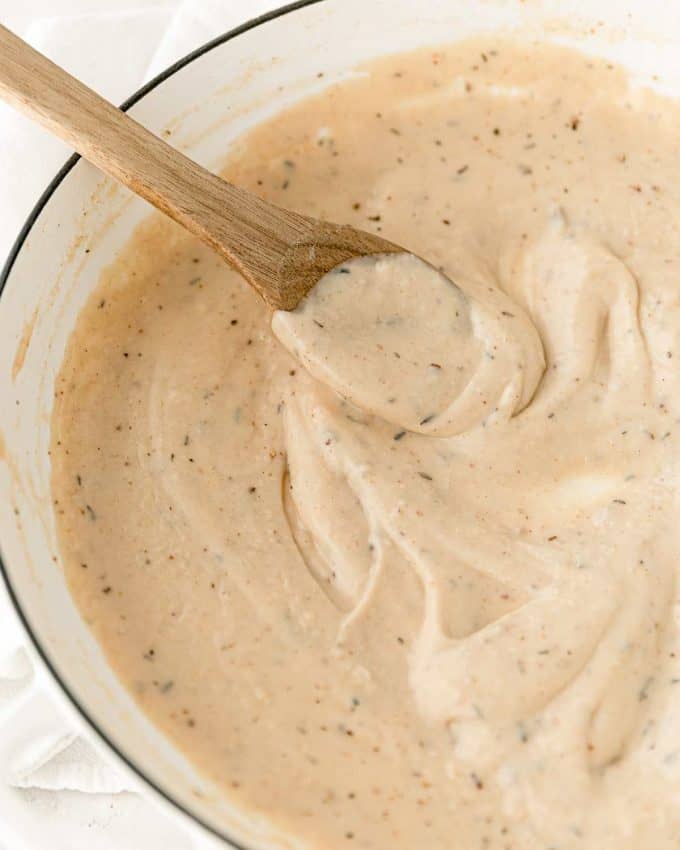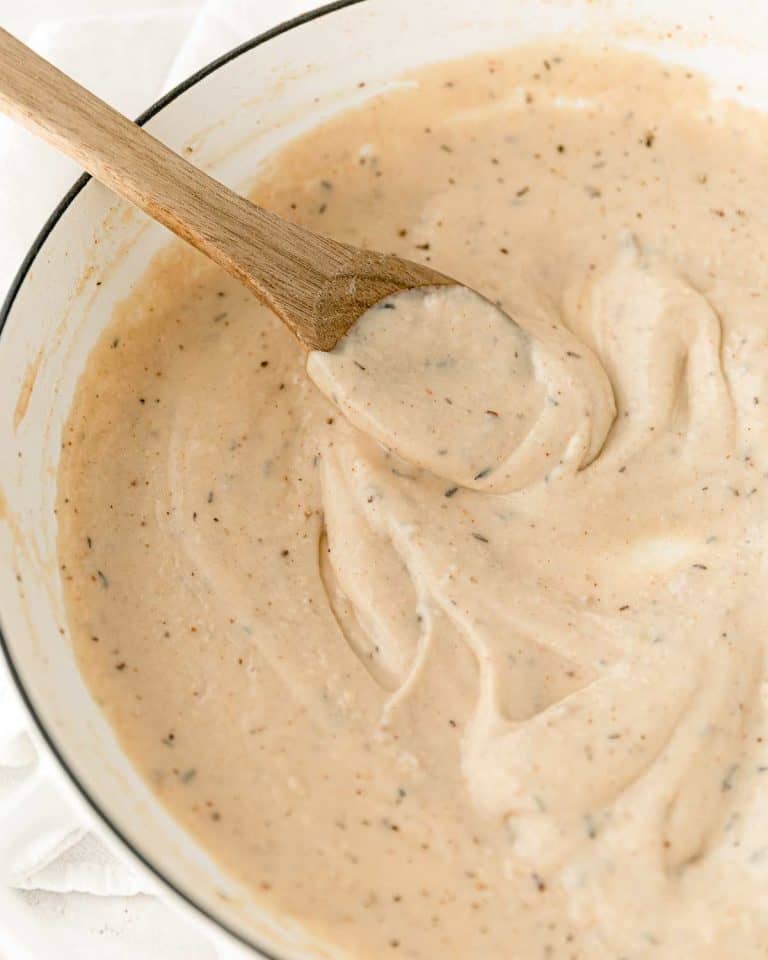 Variations of this recipe
Pan drippings – I wrote this recipe for when you DON'T have any pan drippings, but by all means, if you have some, use them!
Garlic – sometimes I like to add a little bit of garlic powder (1/4 to 1/2 tsp) to this recipe.
Simple – for a simple, pared down version of this recipe, omit the thyme and cayenne pepper.
Evaporated milk – You can use an equal amount of evaporated milk for this recipe if you don't have whole milk. You'll want approximately 16 oz.
Non dairy milks – I haven't specifically tested this gravy with alternative milks like almond, soy, oat, etc, so I can't say exactly how they'll turn out. I would think they'd work just fine though.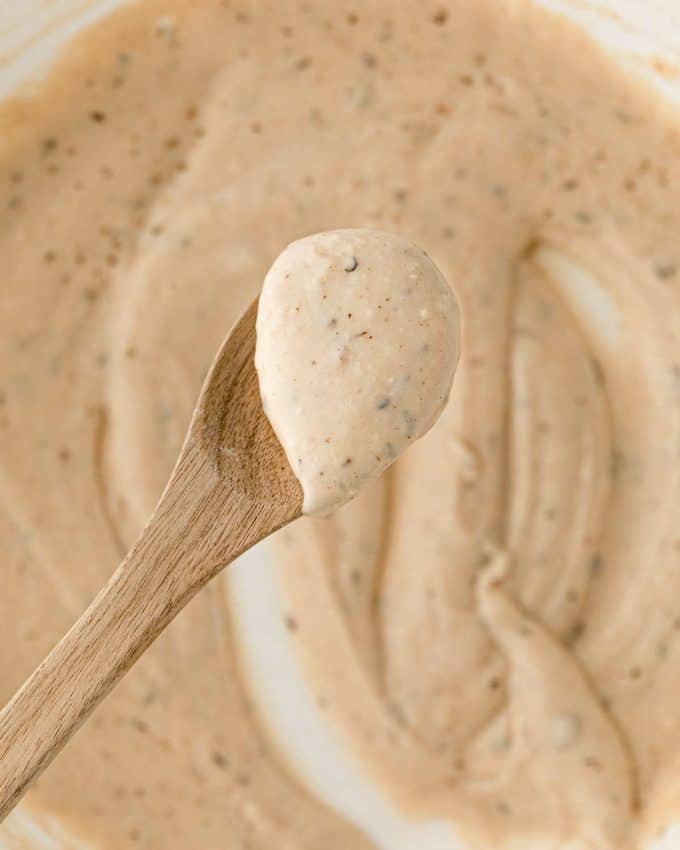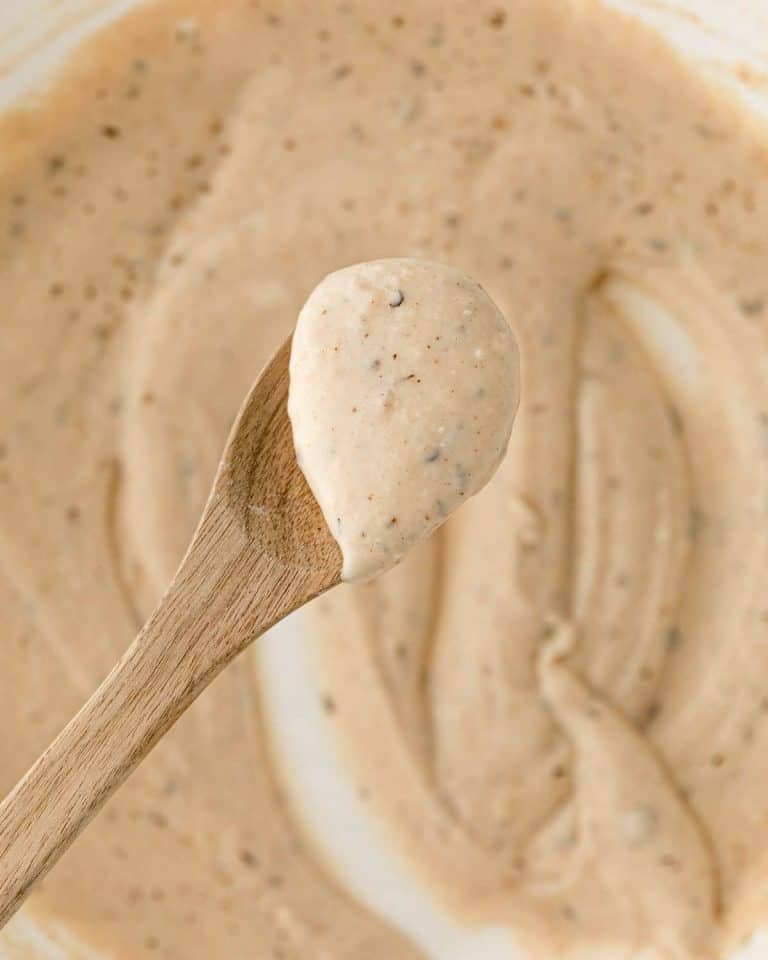 FAQ's
What other names for white gravy are there?
I've seen white gravy called pepper gravy, white pepper gravy, country gravy, sawmill gravy, etc.
How is white gravy thickened?
There are two main ways to thicken a gravy: a slurry and a roux. For more information about those methods, be sure to check out my Cooking Terms page! This recipe uses a roux.

How to make a lump-free gravy?
I've found that most lumps happen when the milk is added all at once. I highly recommend adding the milk about 1/2 cup at a time, whisking well after each addition. This will give you a perfectly creamy and smooth gravy, every time!
Making peppered white gravy ahead of time
This gravy recipe can be made completely ahead of time if you'd like!
When gravy is refrigerated, it tends to be super thick. I suggest reheating it in a saucepan with an extra splash of milk to loosen it back up.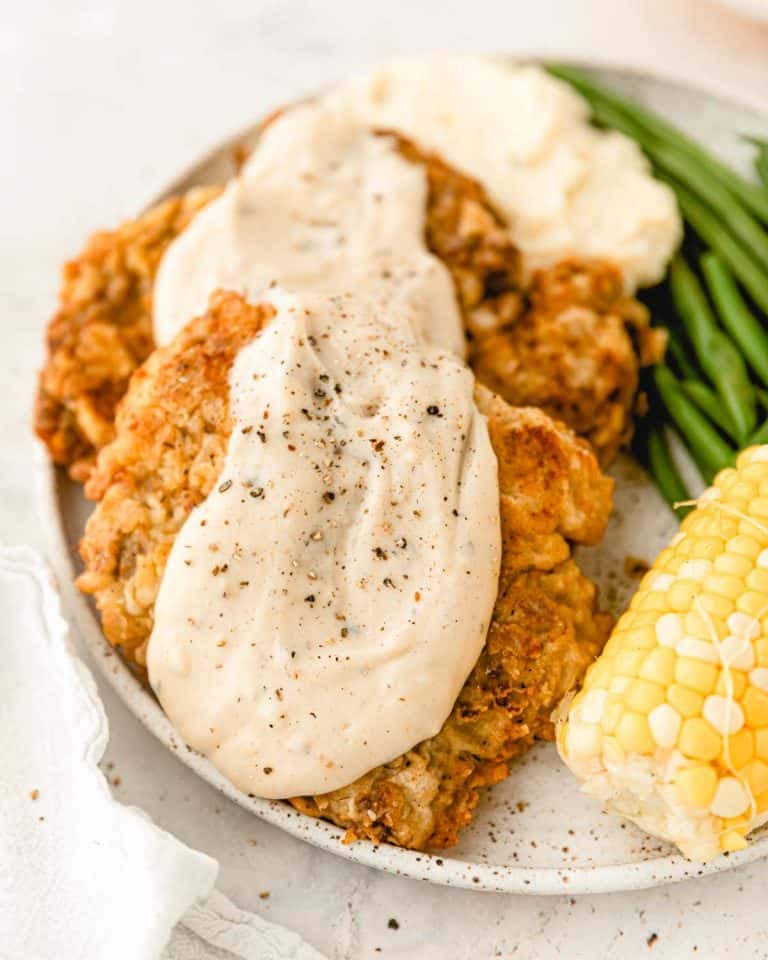 Freezing
You can technically freeze white gravy, however since it contains dairy, the freezing/thawing process can change the consistency and texture.
I recommend using evaporated milk if you plan to freeze this gravy, since it tends to hold up to the freezing process a bit better.
Make sure the gravy has cooled completely, then transfer to freezer containers and freeze for up to 3 months.
Thaw overnight in the refrigerator and reheat on the stovetop, adding a bit more milk or water as needed.
Storage
White gravy should be refrigerated in an airtight container and eaten within 3-4 days.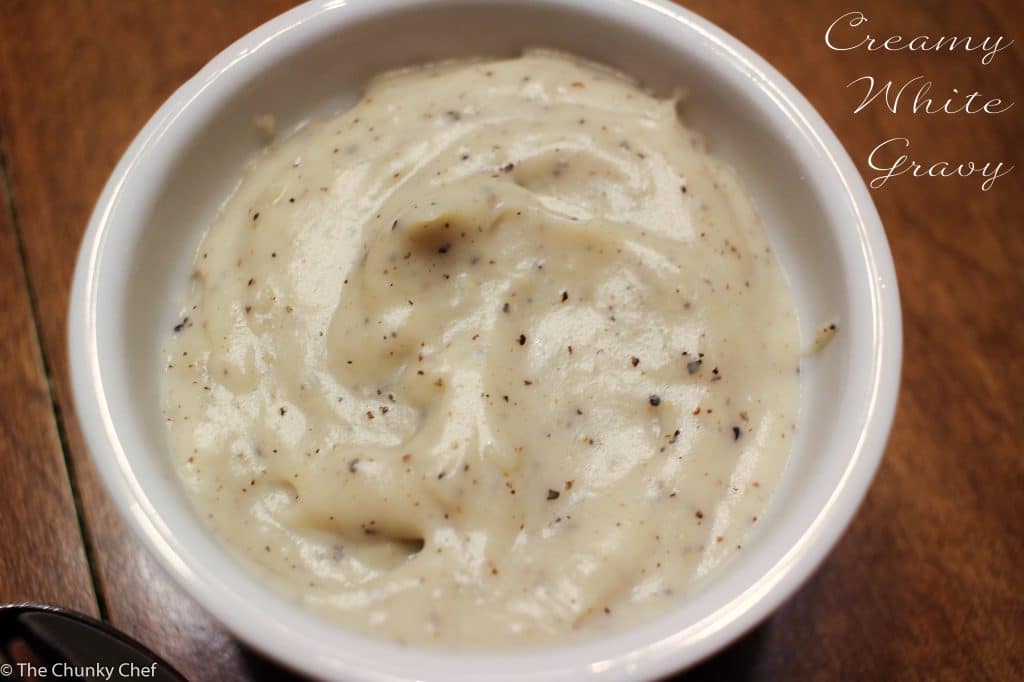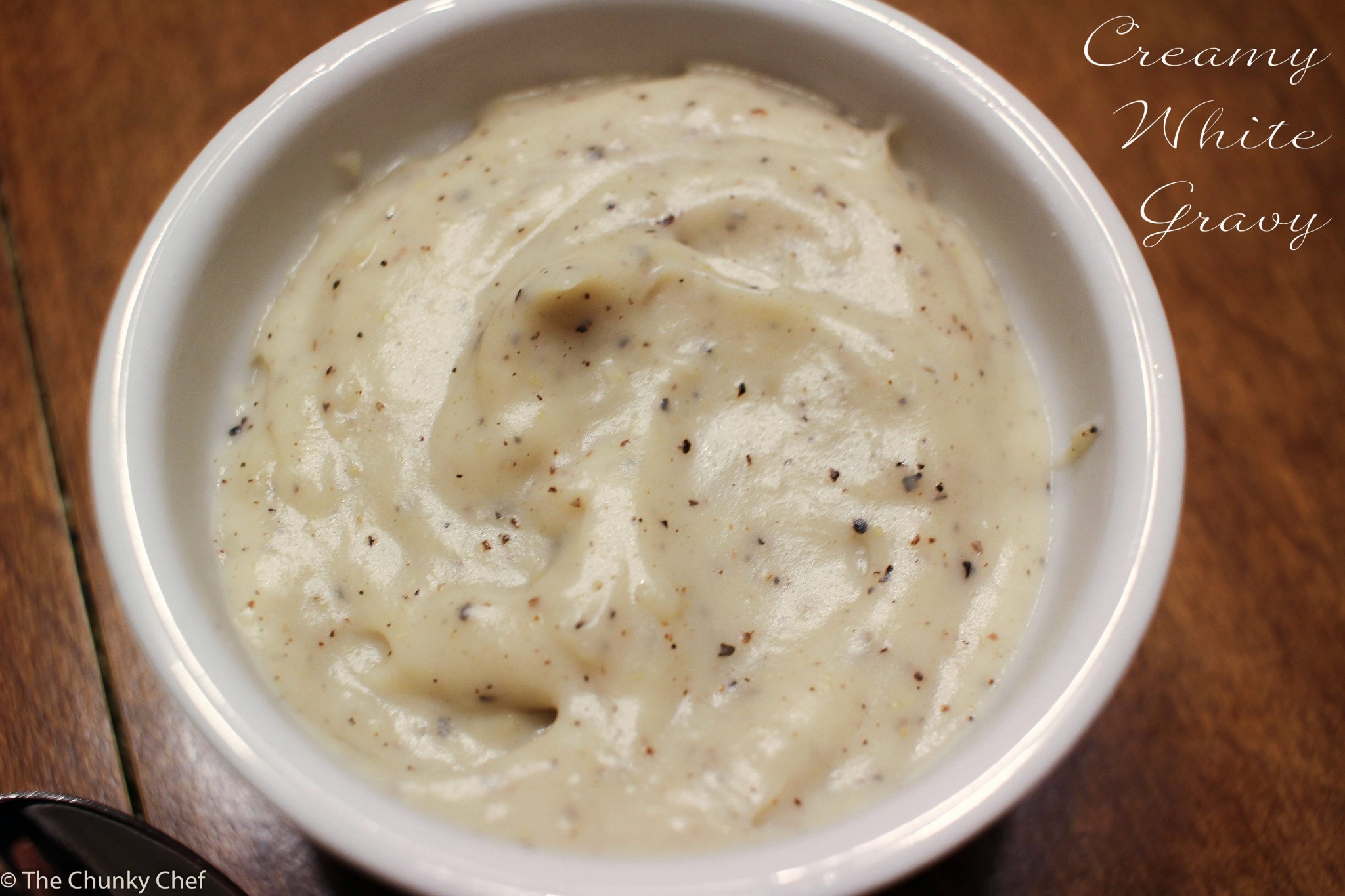 Did you make this? Be sure to leave a review below and tag me @the_chunky_chef on Facebook and Instagram!
This classic White Gravy is ultra creamy, and speckled with plenty of black pepper. Perfect on chicken fried steak, fried chicken, mashed potatoes, biscuits and more!
Ingredients
1/3 cup butter
1/3 cup all purpose flour
2 cups milk
1 tsp kosher salt
1 tsp black pepper
1/4 tsp dried thyme optional but recommended
1/4 tsp cayenne pepper optional
Instructions
Add butter, and melt over MED heat.  Once melted, add flour, salt, pepper, thyme, and cayenne and whisk to combine.

Cook flour/butter mixture for 1-2 minutes.

Slowly pour in milk, about 1/2 cup at a time, whisking after each addition, until all milk has been added and no lumps remain.

Bring to a vigorous simmer, whisking frequently.  Allow to simmer for about 3 – 5 minutes, or until gravy is smooth, creamy and thickened to your liking.  

If gravy gets too thick, add a splash of milk or water to thin it out.
Want to save this recipe for later? Click the heart in the bottom right corner to save to your own recipe box!
Chef Tips
This recipe has been updated due to reader requests and my own testing.
If you were a fan of the original recipe, here it is:
3 Tbsp butter
3 Tbsp flour
1 cup milk, plus an optional additional 1-2 Tbsp (depending on your preference for a thinner or thicker gravy)
salt, to taste
pepper, to taste
In a saucepan, melt butter.
Once butter is melted, add the flour and whisk.  It will look like the consistency of wet sand.
Slowly add the milk, and whisk to incorporate.  Whisk until smooth.
Gravy will thicken, add in the additional milk if you want a thinner gravy.
Add salt and pepper to taste.
Nutrition Disclaimer
The Chunky Chef is not a dietician or nutritionist, and any nutritional information shared is an estimate. If calorie count and other nutritional values are important to you, we recommend running the ingredients through whichever online nutritional calculator you prefer. Calories can vary quite a bit depending on which brands were used.