Chicken Fried Steak is a southern classic made with tender marinated cube steaks that have been breaded and pan fried until golden. And don't forget the creamy white pepper gravy on top! Restaurant-quality, but made easily at home.
This is one of my Beef recipes I know you'll want to keep on hand!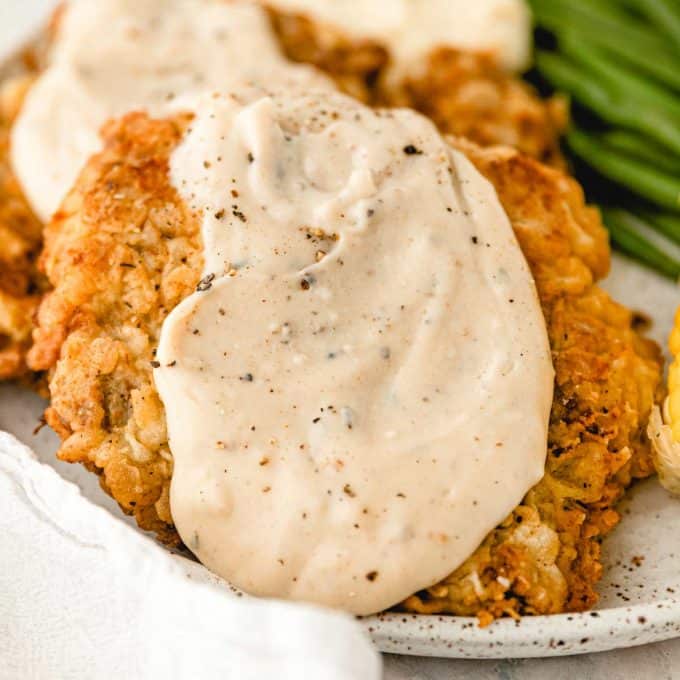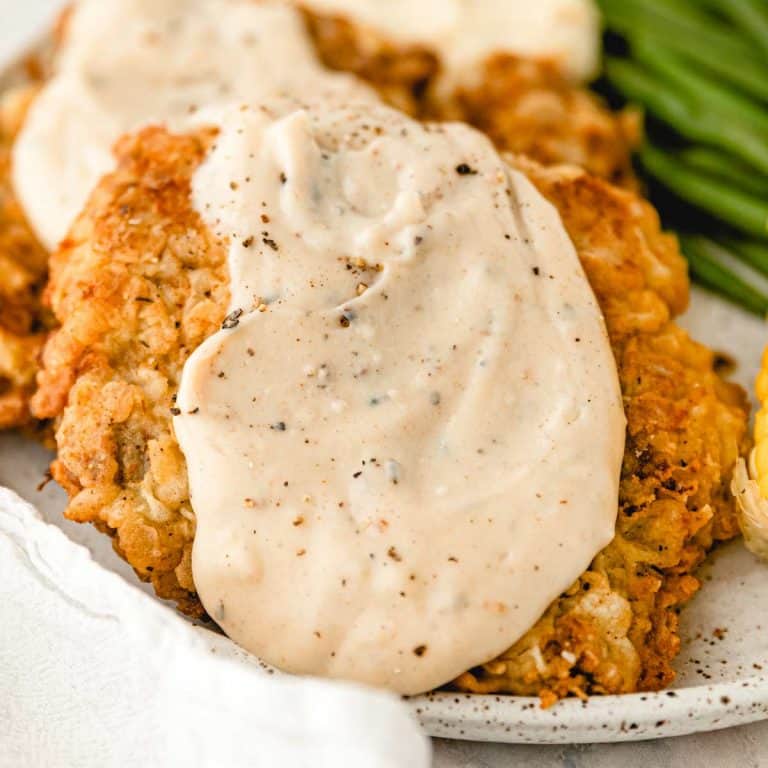 A staple in Southern cuisine and in down home restaurants around the United States, chicken fried steak is a classic for a reason.
It's delicious! The steak gets ultra tender from the buttermilk marinade, and then seasoned flour breading adds plenty of savory flavors.
Once fried, it's perfectly crispy on the outside and tender on the inside. And don't forget the creamy white gravy to slather allllll over the top!
We love to serve chicken fried steak alongside some creamy mashed potatoes, roasted corn, and either roasted asparagus or green beans.
How to make chicken fried steak?
This is just an overview; the full ingredients and directions are in the recipe card toward the bottom of this post.


Mix marinade. You'll want something flat enough to keep the steaks from piling on top of each other.
Add steaks. Make sure you pat the steaks really dry, then add them to the marinade and turn to coat.
Add oil and heat. Use a thermometer to make sure the oil is heated to the proper temperature.


Combined seasoned flour ingredients.
Coat in flour. Shake off excess buttermilk, then turn steak several times in the flour, ensuring it's well coated. Gently shake off excess flour.
Fry. Cook the steaks, one or two at a time, until golden brown on both sides.
Add cooked steaks to baking sheet and keep warm in oven if desired.
Helpful Tip!
To keep your chicken fried steaks warm and crispy, preheat the oven to 225°F. Add a metal cooling rack to a baking sheet, then place your steaks on the rack. Slide the baking sheet in the oven and keep them there until the gravy is finished cooking.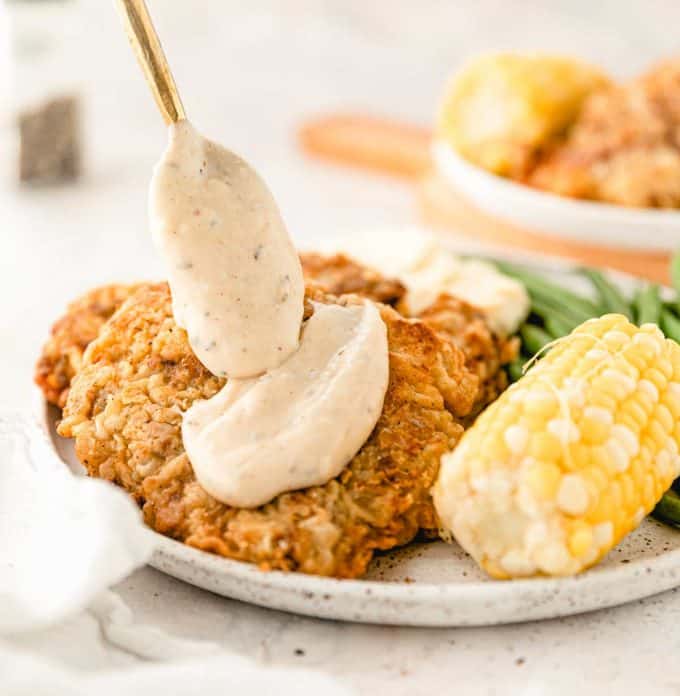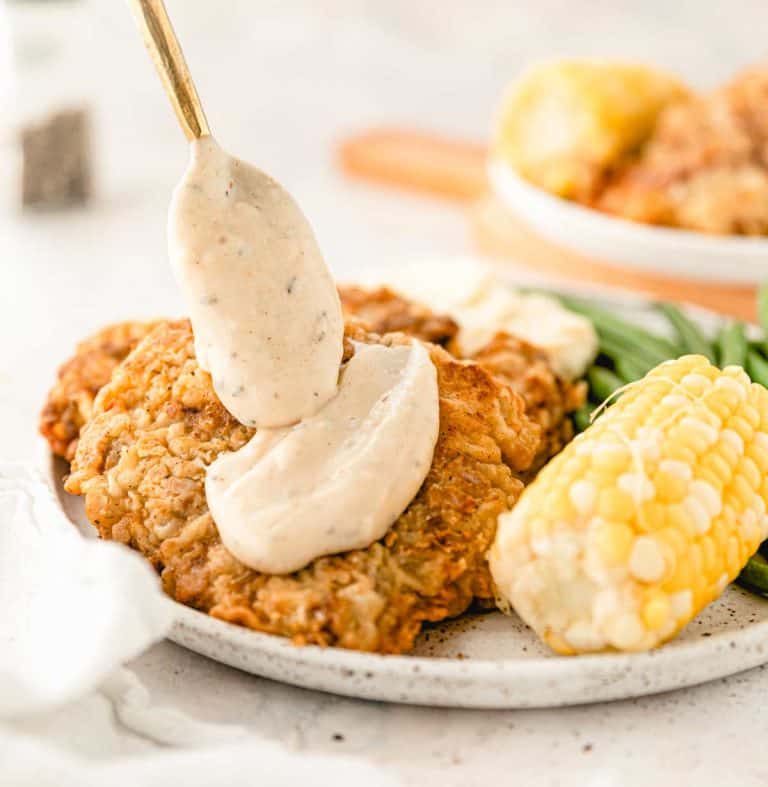 Variations of this recipe
Air fryer – if you own an air fryer, you can have chicken fried steak that's nearly as crispy as the traditional method, but with less mess! The air fryer directions will be right below the recipe in the "Chef's tips" section.
Oven – this method won't be as crispy, but in case you don't want to pan fry, and don't have an air fryer, I've included the oven directions down below.
Oil – when frying, you want to use an oil that has a high-smoke point, which means it can be cooked at higher temperatures without burning. For the best flavor, I prefer to fry in peanut oil. However, if you have allergies, vegetable, canola, or sunflower oil are great alternatives.
Buttermilk substitute – if you don't have buttermilk on hand, you can make your own! Add 2 Tbsp of lemon juice or white vinegar to a liquid measuring cup. Pour in enough whole milk to reach 2 cups. Stir and let it sit about 10 minutes. It may look a bit curdled, but that's okay. Stir and use in the recipe.
Double breading – for even extra crunch, coat the buttermilk marinated steaks in the flour, then dip them back into the buttermilk, then back into the flour again.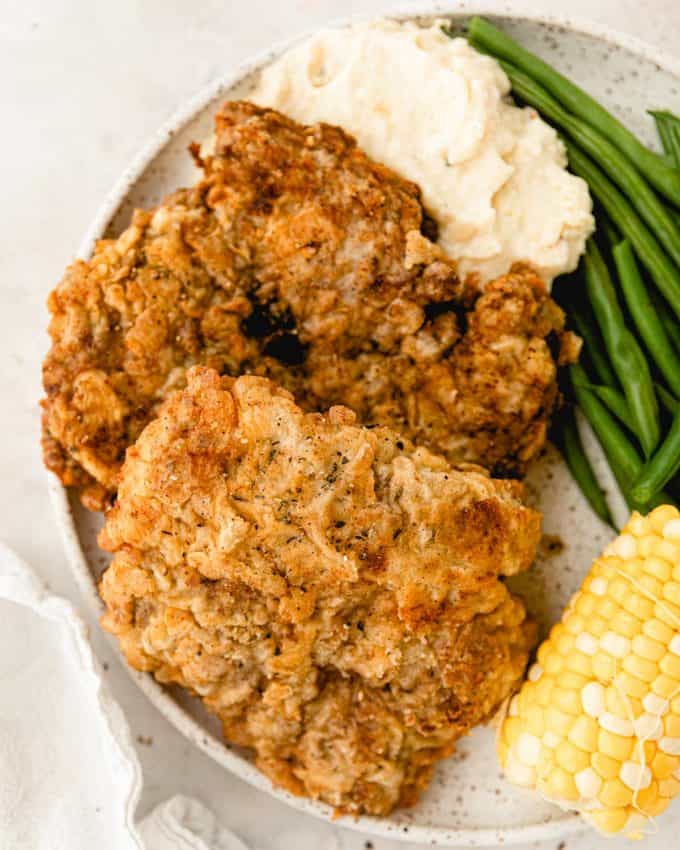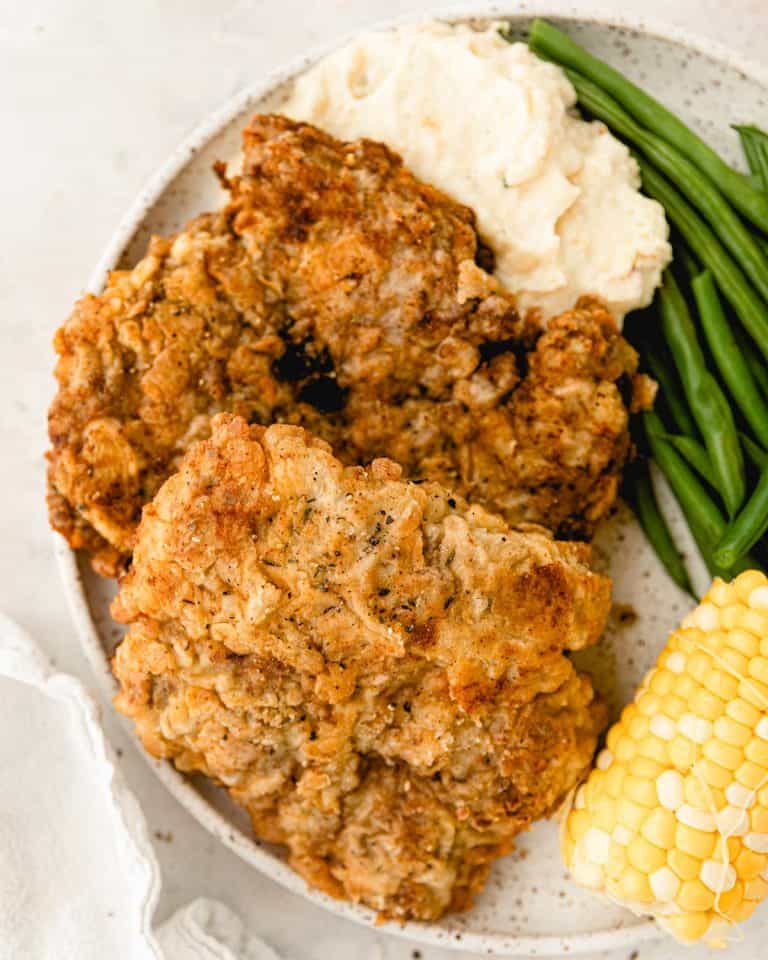 FAQ's
Is there any chicken in this chicken fried steak recipe?
Despite the very first word in the recipe name, there is no chicken in this recipe. It's all beef. The name comes from the way the steaks are prepared. They're breaded and fried, very similarly to the way classic fried chicken is made.
Is chicken fried steak the same as country fried steak?
A lot of people think the two are the same, but according to my research, country fried steak is just dredged in flour (rather than breaded), and once cooked, it's smothered in a brown gravy. Both are equally delicious though!
What type of steak is best for this recipe?
This recipe uses cube steak, which is a cut of meat that's been tenderized. This leaves the meat with little dimples all over it, making is resemble ground beef. You can use other types, but you'd have to do all the tenderizing yourself, otherwise it'd be tough and chewy.
Making chicken fried steak ahead of time
This recipe, like all fried foods, tastes best when made fresh.
You really don't want to coat the steaks in the flour mixture ahead of time, because the buttermilk can work it's way through the flour, and that can lead to a soggy breading.
However, the flour mixture can be whisked together ahead of time. This cuts down on some of the prep time involved.
Plus, the steaks themselves have to marinate in the buttermilk mixture for at least an hour or so, but this can be done overnight if you prefer!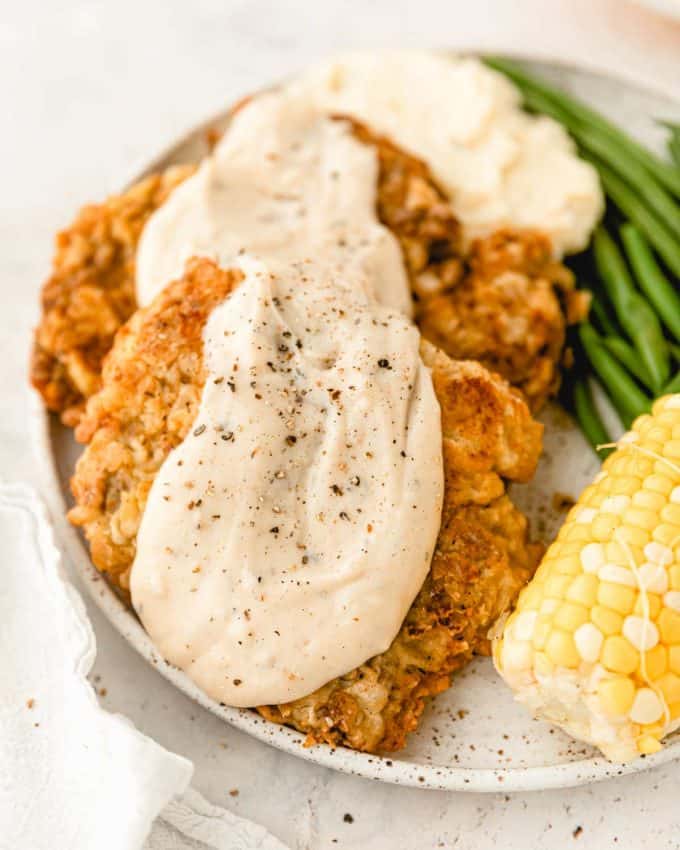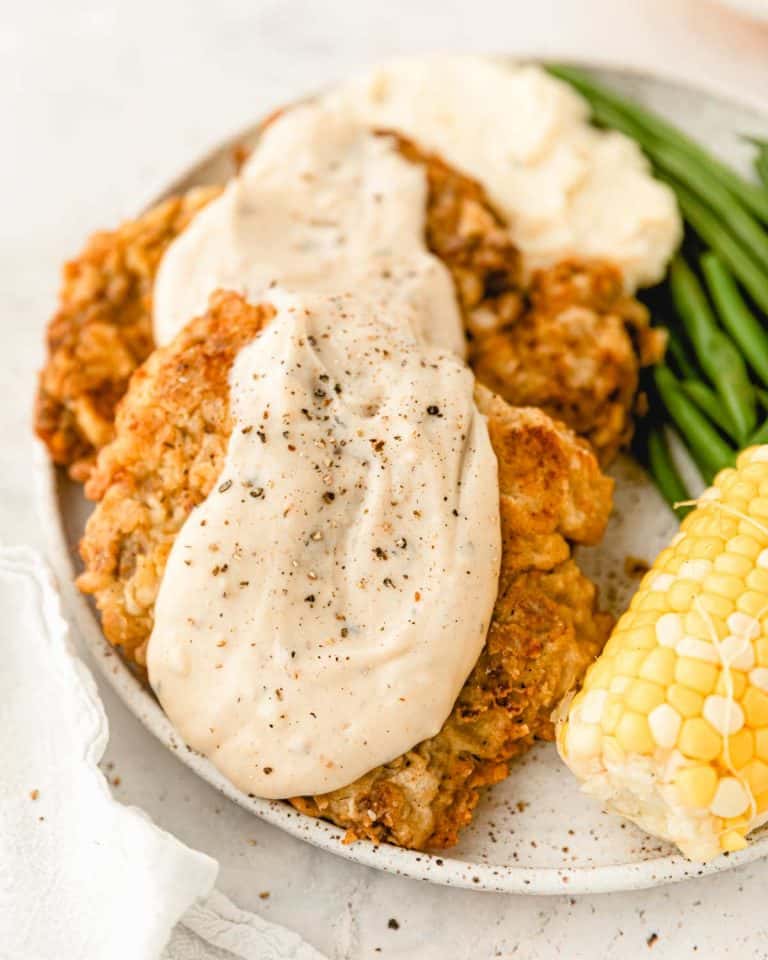 Storage
Leftover chicken fried steak should be refrigerated in an airtight container and eaten within 3-4 days.
Reheating leftover fried foods can be tricky, but I recommend baking the steaks in a preheated 400°F oven. Lightly top them with a sheet of foil and bake for about 15-20 minutes.
Steaks will crisp up a bit as they cool.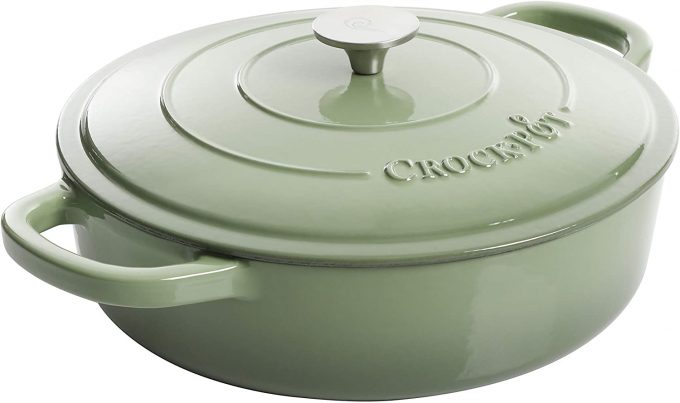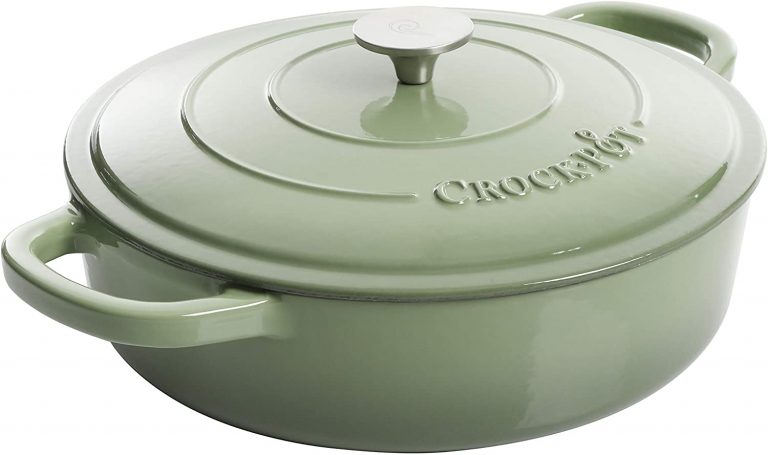 I love using this enameled cast iron pan to fry in. It's heavy bottomed, holds heat evenly, is shallow enough to be able to work in, yet deep enough so you don't get splatters of oil all over your stove!
Did you make this? Be sure to leave a review below and tag me @the_chunky_chef on Facebook and Instagram!
Chicken Fried Steak is a southern classic made with tender marinated cube steaks that have been breaded and pan fried until golden. And don't forget the creamy white pepper gravy on top!
Ingredients
4 cube steaks around 1/3 lb each
enough peanut or vegetable oil to fill your frying pot/pan about 3/4 – 1" up
white gravy (click on the ingredient name for the recipe for our favorite white gravy!)
Buttermilk Marinade
2 cups buttermilk
2 large eggs
1 Tbsp Tabasco or hot sauce
1 tsp kosher salt
1 tsp black pepper
Seasoned Flour
1 1/3 cups all purpose flour
1/4 cup cornstarch
1 tsp kosher salt
1 tsp black pepper
1/2 tsp smoked or regular sweet paprika
1/2 tsp onion powder
1/2 tsp garlic powder
1/2 tsp dried thyme
Instructions
Add marinade ingredients (buttermilk, eggs, tabasco sauce, salt and pepper to a large dish (I usually use a baking dish) and whisk to combine.

Pat cube steaks dry with paper towels, then add the steaks to the marinade, turning to coat.  Cover and refrigerate for at least 1 hour, up to overnight.

Add enough oil to be 3/4 – 1" deep in a heavy bottomed pot (I use a shallow dutch oven or deep cast iron skillet), and heat over MED heat until oil reaches 350°F.  The amount of oil needed will depend on the size of your pan.

Get out a rimmed baking sheet and top it with an oven-safe metal cooling rack.  Set close by the frying pan.  This will be where you place the fried steaks once they're done.

Combine seasoned flour ingredients (flour, cornstarch, salt, pepper, smoked paprika, onion powder, garlic powder, and dried thyme) in a shallow bowl and whisk to combine well.

Preheat oven to 225°F.  This is to keep the fried steaks warm until they're ready to be served.

When the oil is ready, coat one cube steak in the seasoned flour, then carefully add it to the hot oil.  Fry for 3-4 minutes per side, until golden brown.  Use a frying spider to remove steak from oil and place on prepared baking sheet/cooling rack.

Repeat with remaining cube steaks, frying one or two at a time (depending on the size of your pan).

When all the steaks are fried, place the baking sheet/cooling rack with the steaks on it to the preheated oven to keep warm while you make the peppered white gravy.

Serve chicken fried steaks with gravy poured over the top, sprinkled with a bit of extra pepper.
Want to save this recipe for later? Click the heart in the bottom right corner to save to your own recipe box!
Chef Tips
We like to serve our chicken fried steaks with this peppered white gravy
Air Fryer Directions
Preheat air fryer to 400°F.
Bread steaks as directed, then add to air fryer basket, in a single layer.  Spray liberally with cooking spray.
Air fry for 4-5 minutes, then flip steaks over, spray the other side with cooking spray, and air fry another 4-5 minutes.
Oven Directions
Preheat oven to 425°F.  Line a rimmed baking sheet with an oven-safe metal cooling rack.
Bread steaks as directed, then add to prepared baking sheet/cooling rack.  Spray with cooking spray.
Bake for 5-6 minutes, then flip steaks over and spray other side with cooking spray.
Return to oven to bake another 5-6 minutes.
Nutrition Disclaimer
The Chunky Chef is not a dietician or nutritionist, and any nutritional information shared is an estimate. If calorie count and other nutritional values are important to you, we recommend running the ingredients through whichever online nutritional calculator you prefer. Calories can vary quite a bit depending on which brands were used.